Top 10 Easy DIY Balloon Crafts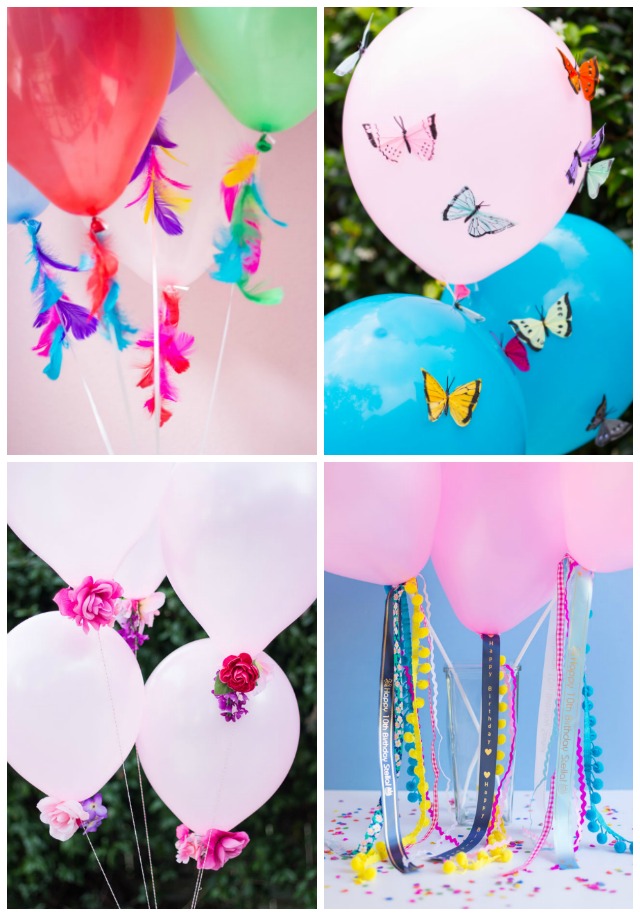 Easy DIY Balloon Decoration Ideas
Week 2 of National Craft Month on Design Improvised is all about balloons and I'm sharing my top 10 DIY balloon crafts along with my best tips and tricks for decorating balloons. I caught the balloon crafting bug 7 years ago when I made these pom-pom balloons and I have been in love with balloons ever since! Why use a plain balloon when you can add some crafty flair? You don't have to spend hours constructing one of those elaborate balloon arches that are all the rave to make a big impact. Here are a few simple ways you can transform a balloon in minutes!
This post contains affiliate links. See our full disclosure.
10 Easy DIY Balloon Crafts to Try at Home
These unique balloon decorating ideas use a variety of simple (and lightweight!) craft supplies such as feathers, faux flowers, stickers and markers to decorate balloons. All of these balloon project ideas can be used with either helium filled balloons or air-filled balloons on balloon sticks. Check out my list of tips and tricks below for best results!
The phrase "light as a feather" makes perfect sense for this craft! Add colorful feathers to balloon strings with a small dab of hot glue. They add a pretty texture to the balloons and a fun boho look. Tutorial here.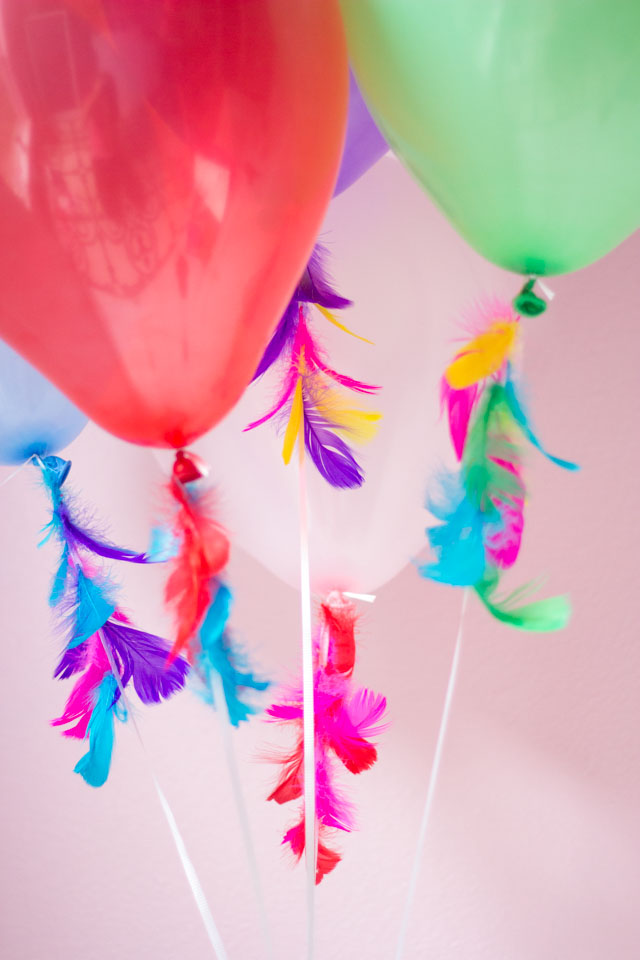 One of the simplest ways to decorate a balloon is with a Sharpie marker. Just inflate and decorate! I made these balloons to resemble maracas for an outdoor Cinco de Mayo party. I tied them to balloon sticks decorated with crepe paper streamers. Tutorial here.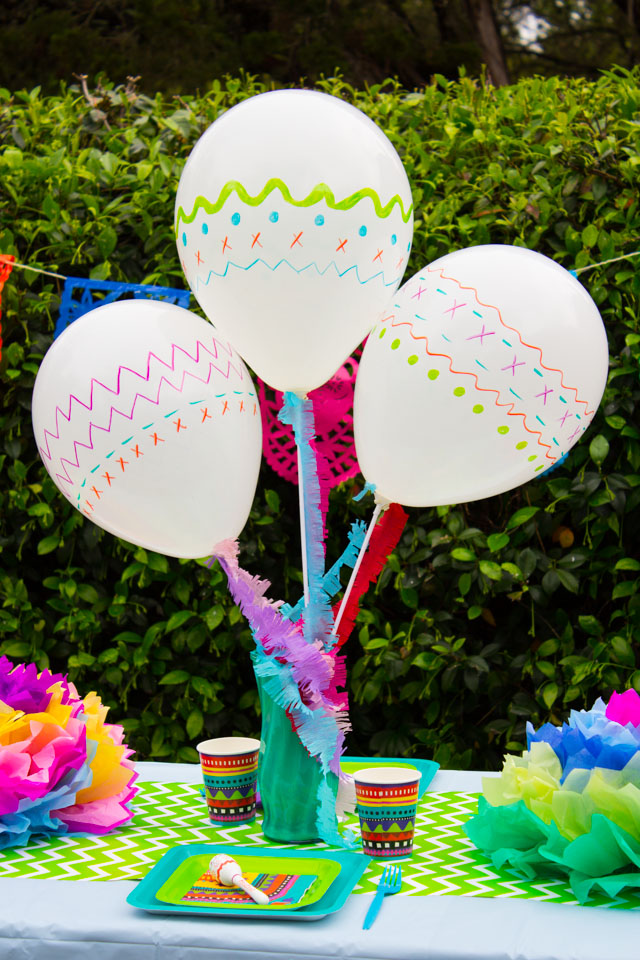 I came up with this idea a few years ago for Mother's Day. I started with large 11″ clear balloons and added flower shaped cupcake liners with a flower sticker in the middle. These would be pretty for a spring party or shower. Tutorial here.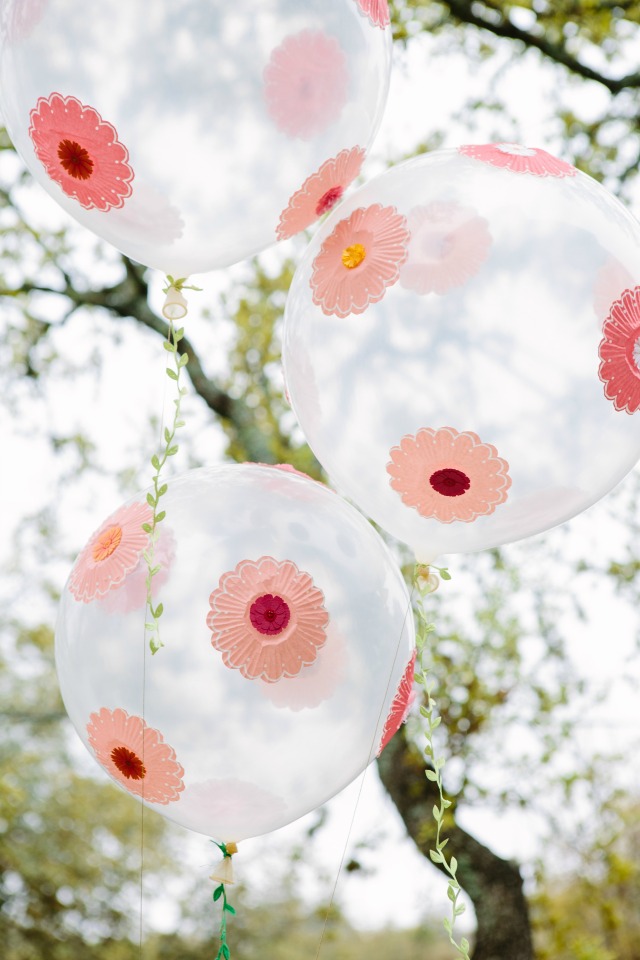 Stickers are another simple way to decorate balloons and are perfect for a kids project because they don't require any hot glue. You can use any lightweight stickers such as these letter stickers. For this 4th of July Balloon I used star stickers to spell out "USA" and then added paper American flags to the balloon strings. Check out my other DIY patriotic balloon ideas.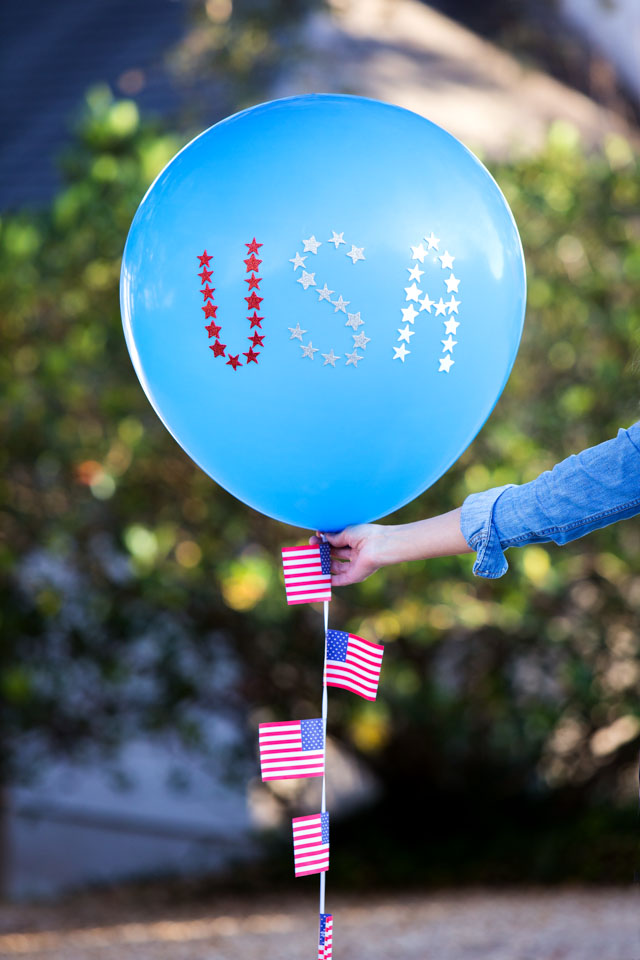 These are perhaps the prettiest balloons I have ever made! I would love to receive a bunch of these as a gift. These would make a beautiful birthday or Mother's Day balloon bouquet. Head to the dollar store for some artificial flowers to add to the base of balloons with a small dab of hot glue (on low setting). Tutorial here.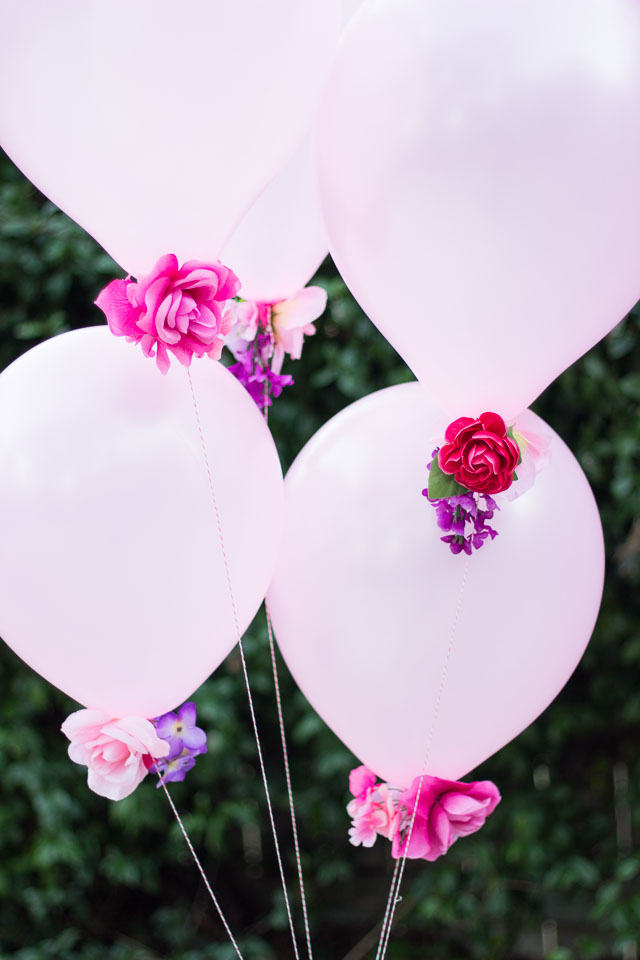 The balloon project idea that started it all! These pom-pom balloons went viral when I first created them back in 2013 and have been pinned on Pinterest over a million times! Lightweight glitter pom-poms are a simple balloon design for a birthday and look especially cool on clear balloons. Tutorial here.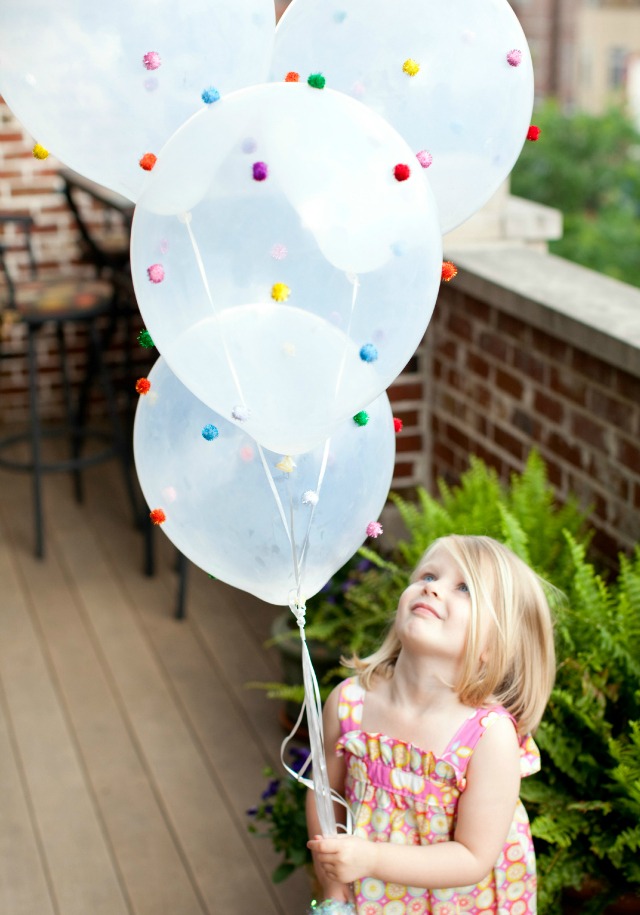 Mylar balloons are great candidates for decorating too! Their flatter surface allows them to be decorated with thin washi tape for a fun effect. Tutorial here.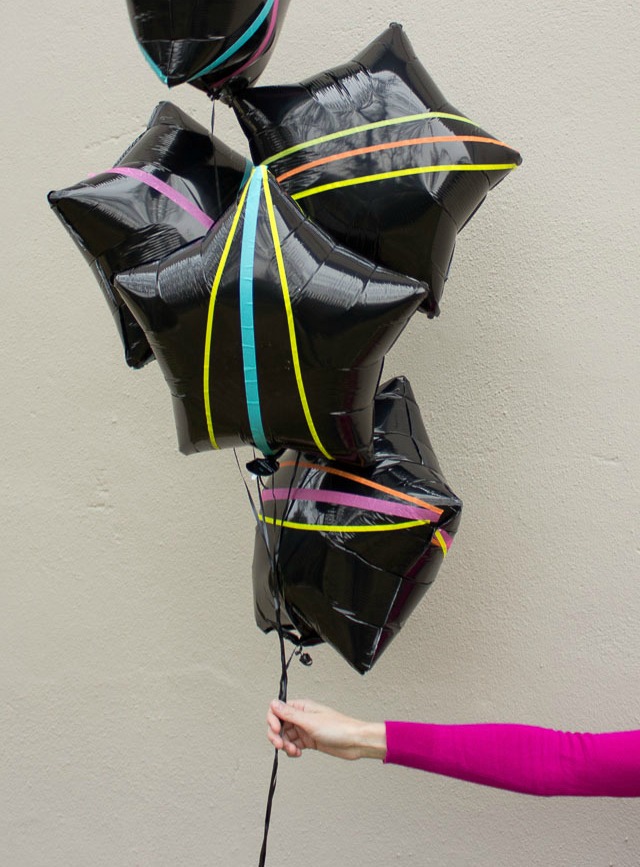 If you have a cutting machine like a Cricut or Silhouette, the options are endless for decorating balloons! You can even use a pair of scissors like I did to cut out triangles or other simple shapes to add vinyl "confetti" to balloons. Tutorial here.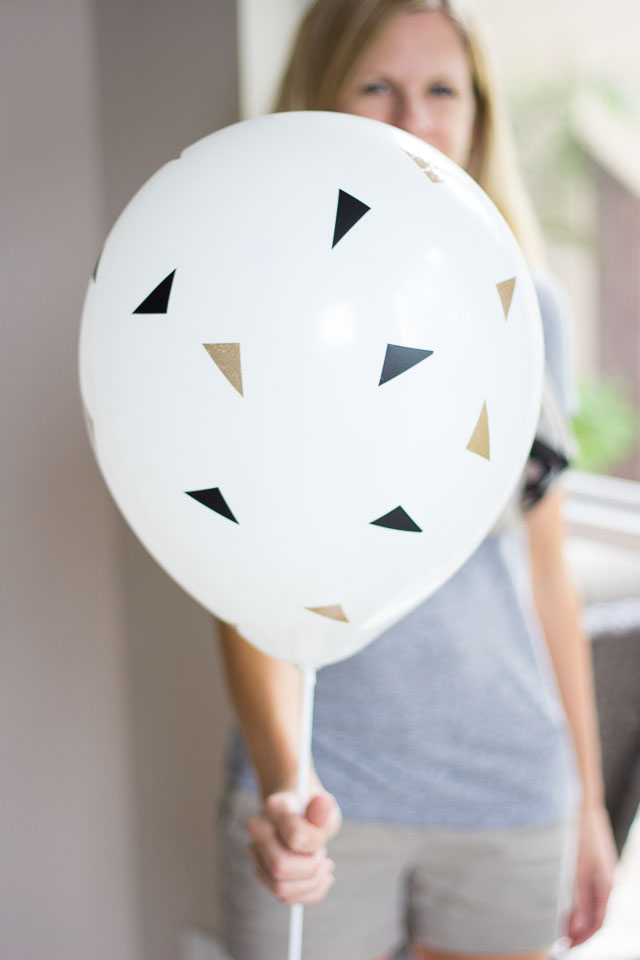 One of the more unexpected ways to decorate a balloon is to add feather butterflies! These are such a pretty balloon decoration for a spring party or a Mother's Day balloon decor. Tutorial here.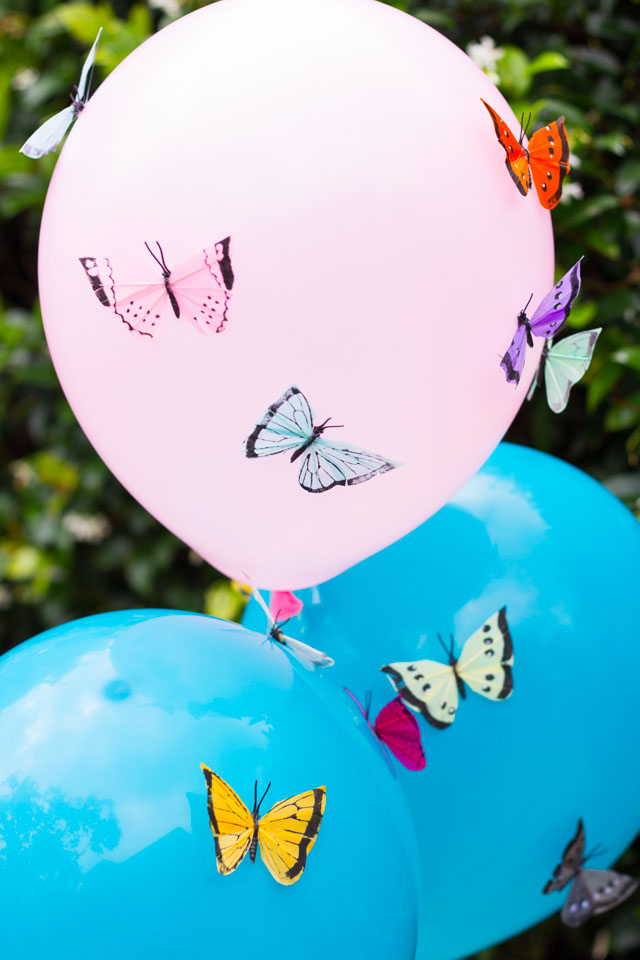 This is my most recent balloon idea! Create an instant balloon centerpiece by adding a variety of colorful ribbons to balloon sticks. I even customized some of the ribbons with the Brother P-touch Embellish ribbon printer. Tutorial here.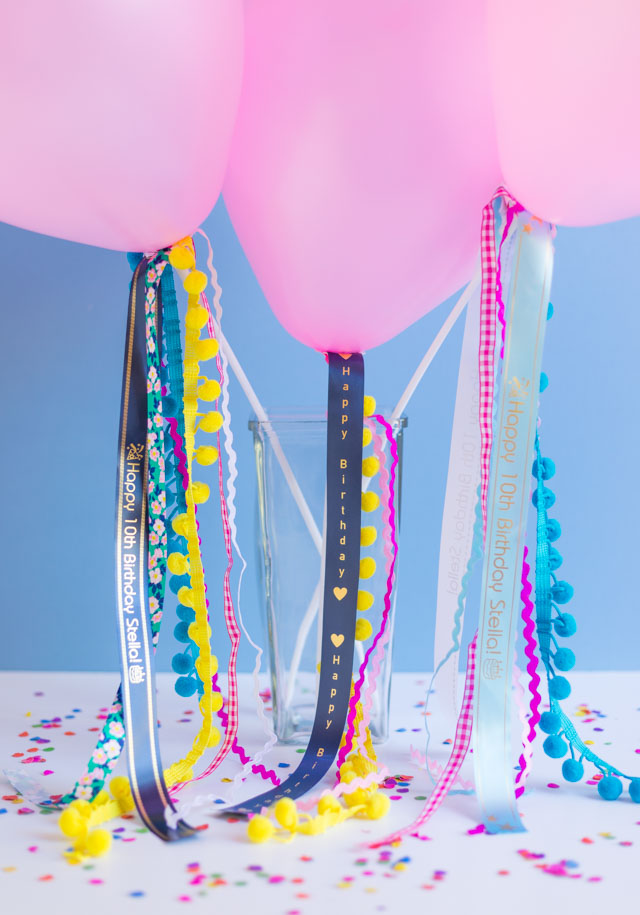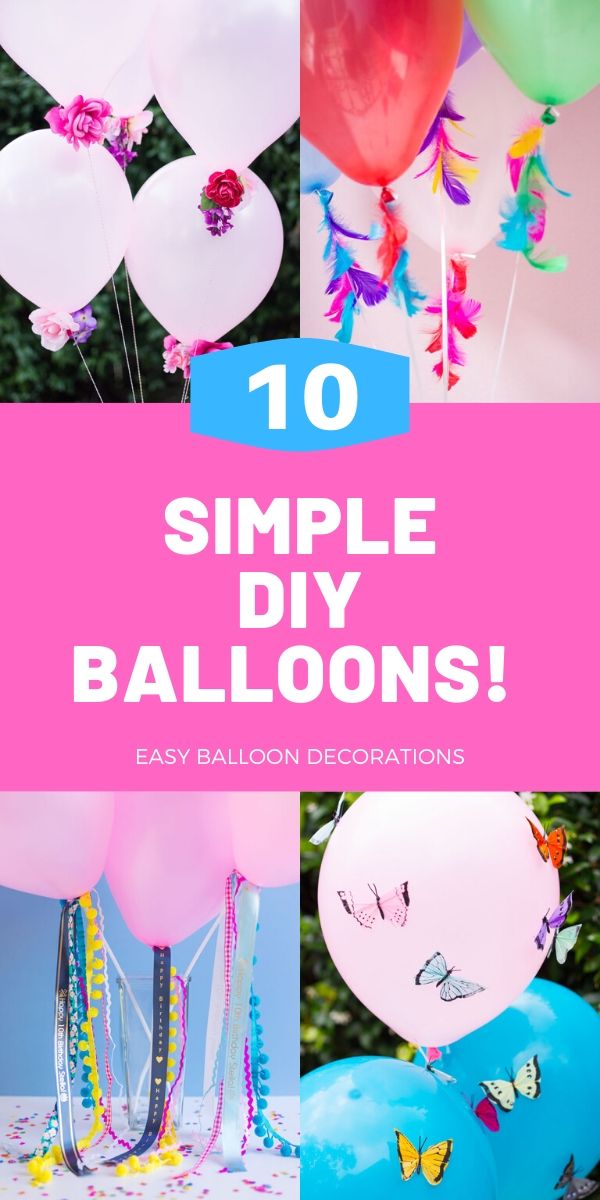 My Favorite Balloon Supplies
Over the years I have tried lots of different balloon supplies. I always have a personal helium tank on hand, and I have found that the quality of the balloon matters. Here are my favorite supplies for balloon crafting:
Helium isn't cheap, and these personal helium tanks run around $50. However, I have found it is worth it to have one on hand for an impromptu balloon decoration, or if you have a party coming up. They can blow up 20-30 9″ balloons so they will last you for awhile. It is a lot easier to inflate balloons at home then trying to wrangle them in your car to take home from the party store!
One great alternative to helium balloons is air-filled balloons on balloon sticks. First, they are cheaper since they don't require helium. Second, air-filled balloons last a lot longer than helium. They can stay looking good for weeks instead of hours. They also can take more decorations without the risk of sinking.
Not all balloons are created equal. For any helium balloon craft, you want to start with high quality balloons. They will pop less, stay inflated longer, and be able to handle decorations added with glue. I think Qualtex balloons are some of the best quality helium balloons on the market.
I love decorating with clear helium balloons because you can see through to the decorations such as pom-poms or butterflies on the other side. I tend to use a larger 11″ balloon for my clear balloon crafts.
Helium filled latex balloons typically only stay afloat for around 8 hours. Adding Hi-Float before inflating them will extend the life by several hours. Perfect if you want to inflate a bunch of balloons in advance of a party.
Helium Balloons vs. Balloon Sticks – Which is Best?
I love the look of helium balloons, and I love the challenge of finding ways to decorate them that don't cause them to sink. However, if you want to go with a no-fail approach that will stay looking good for days, I would go with air-filled balloons on balloon sticks. You can arrange the balloon sticks in a vase for an easy party centerpiece. Helium filled latex balloons tend to only last for around 8 hours before they start to sink. Adding decorations to them can make them sink faster. See my tips below for best results.
My Top Tips and Tricks for DIY Balloon Crafts
1. The lighter the balloon decoration, the better
For any DIY balloon craft, light as air is the motto! Look for lightweight decorations that won't weigh down the balloon, especially if you are using helium instead of air-filled balloons.
2. Inflate balloons directly before the party
The closer to the party you can inflate helium balloons, the better they will look. Don't make the mistake of inflating them the night before. They will all sink by the next day. This is specifically for latex balloons. You can use Hi-Float to expand their lifespan by a number of hours. Mylar balloons can also hold helium for longer than latex balloons and stay afloat for several days. Air-filled balloons on balloon sticks will stay looking good for days if not weeks!
3. Hot glue on low really does work!
I have used hot glue on a number of balloon decorations and have only had a balloon pop on me once. However I would still use caution with hot glue. Always use a dual temp glue gun set to the "low setting". Apply the glue to the decoration such as a pom-pom before sticking onto the balloon. You only need a small amount of glue for it to stick. If you apply hot glue directly to the balloon, do not touch the top of the gun to the balloon. Check out how I used hot glue to glue balloons together for these cactus balloons.
4. The bigger the balloon, the more decoration it can hold
I like using 11″ round helium balloons because they can hold a lot of decorations without sinking. Several of these balloon ideas work with 9″ latex balloons, but I wouldn't go much smaller than that. The bigger the balloon, the more helium they can hold, and therefore the more decorations they can hold.
But wait, there's more!