Nature Inspired Decor Ideas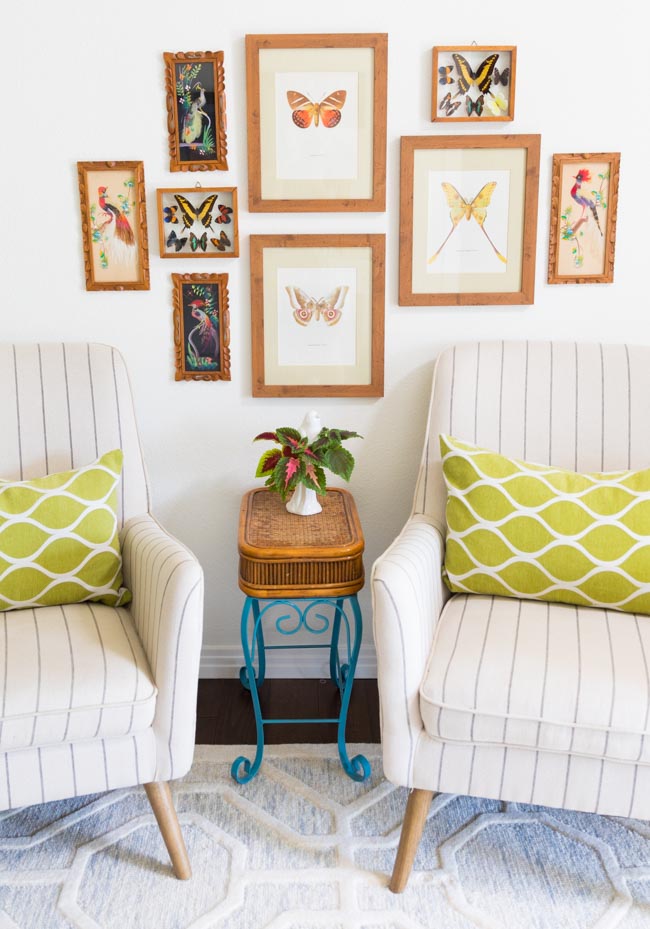 Nature Decor Ideas
Are you a nature lover like me? Well, as much fun as it is to head outside, sometimes we're stuck at our desk all day. That's why I wanted to bring the outside in with my new nature decor filled office! After years of crafting in my pink craft room, which I loved, I felt ready for a change.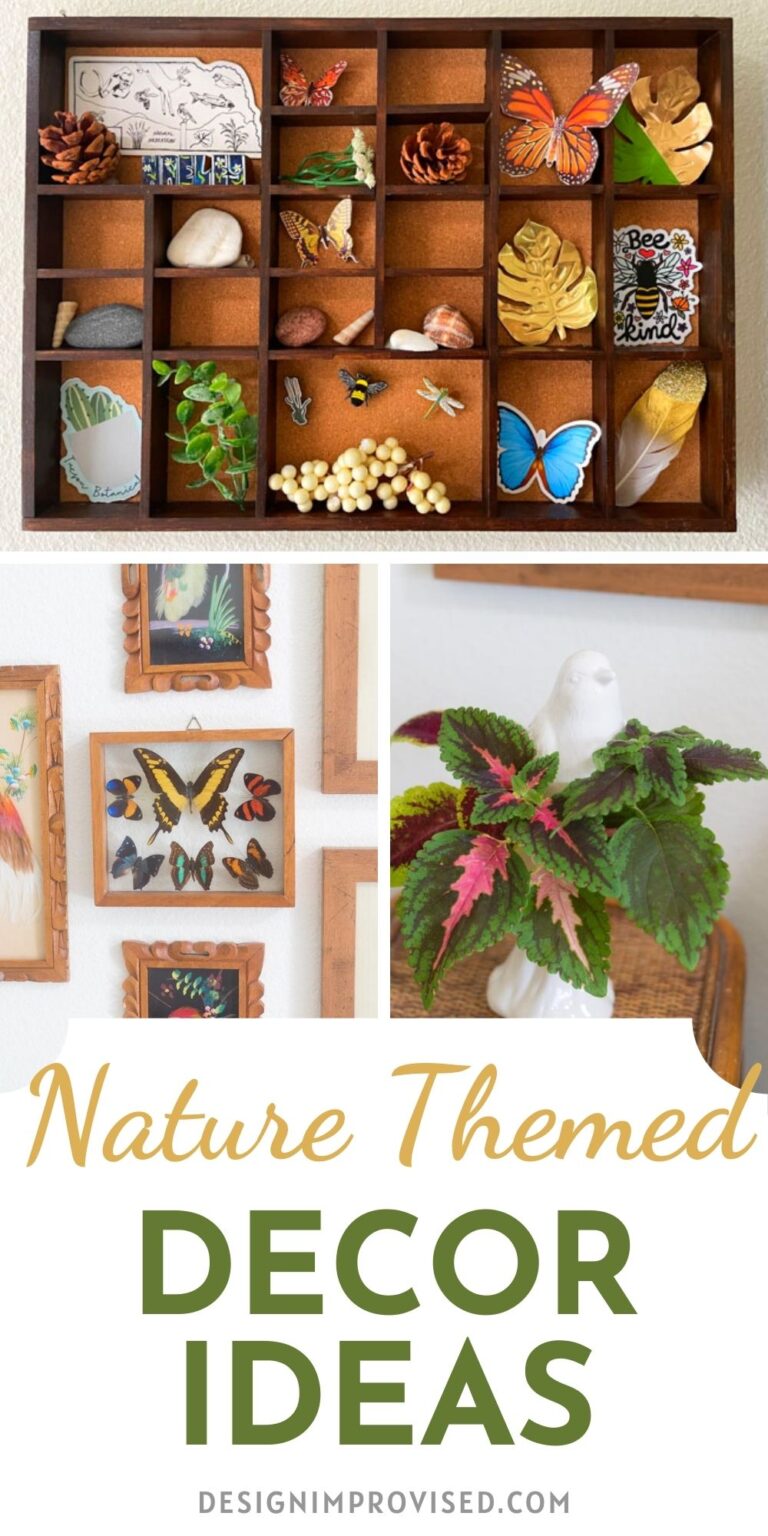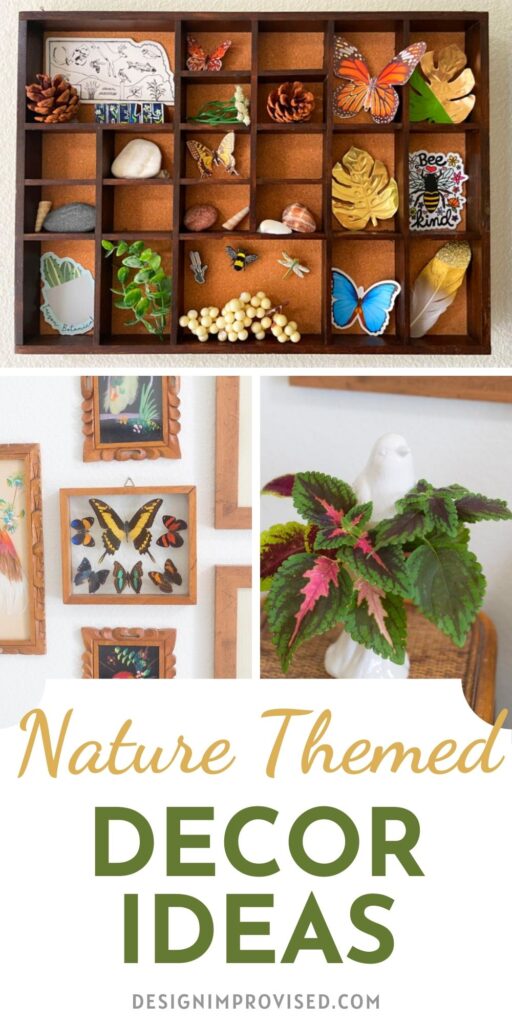 I needed more space and jumped on the opportunity to move into my daughters' playroom which they had outgrown. The pink craft room was converted to a yoga and Peloton room. The playroom was converted to my new nature filled office!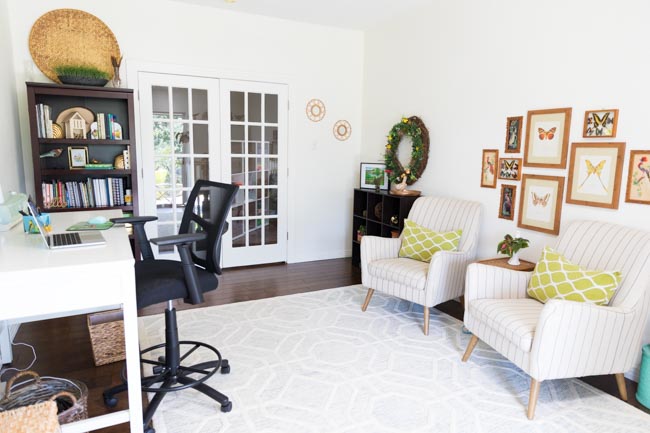 Below is what the room looked like before as a playroom. I switched out the rug, painted the walls white, and added a solar tube to bring more natural light into the room.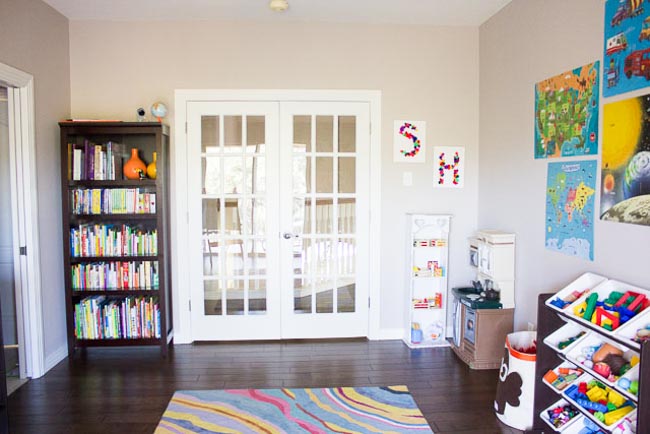 The closet which once held toys now holds all my craft supplies! Check out the original toy closet and my craft supply storage tips!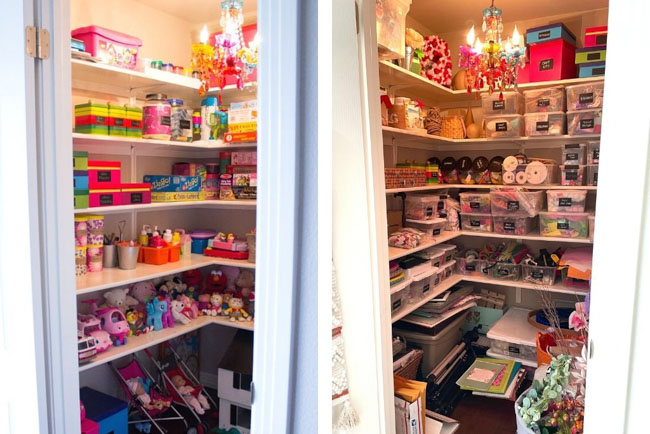 Ok, now let's get into the details of my nature room decor! I tried to repurpose items we already had along with thrift store finds as much as possible. I looked for decor pieces with a natural texture like dark wood, lots of plants (both faux and real)
This post contains affiliate links. See our full disclosure.
Nature Wall Art
1. Landscape Painting
Incorporating nature wall art, such as a landscape painting or other nature painting is a great start. Above my desk area, I hung a watercolor landscape painting. It's a print by Renee Mox Hall. I love landscape art, and this particular painting of a stormy sky on a farm reminded me of the summer thunderstorms in Nebraska where I grew up.
We've had this painting for many years, but it had been stored in a closet since we moved to San Antonio. I was excited to finally have a place to hang it!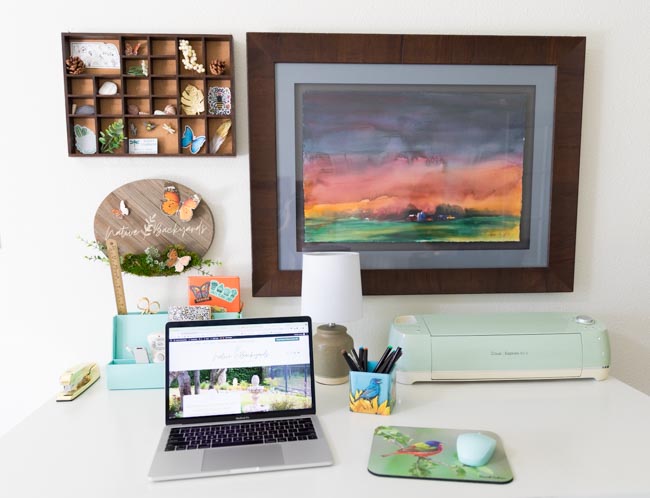 2. Nature Shadow Box
To incorporate more nature wall art, I added a small shadow box similar to this compartment box. I found my box at an estate sale. Thrift stores are also great places to find these trinket display boxes. I filled mine with a variety of nature themed decor items. Here are some ideas:
Small Nature Decorations to Incorporate:
Rocks
Seashells
Pine Cone
Feathers
Twigs
Dried leaves or flowers
Faux leaves or flowers
Butterfly cutouts
Nature stickers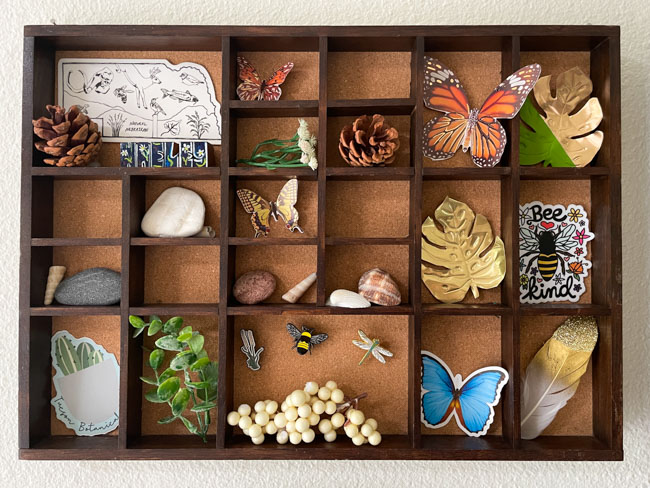 3. DIY Nature Sign
I thought it would be fun to make something with the logo of my new gardening website Native Backyards, so I created this DIY sign. Of course, you can put your own spin on this with or without words! I started with a basic wood plaque. Here are some similar circular wood slat signs. That I added paper butterflies, moss, and faux greenery sprigs with hot glue to create a nature scene!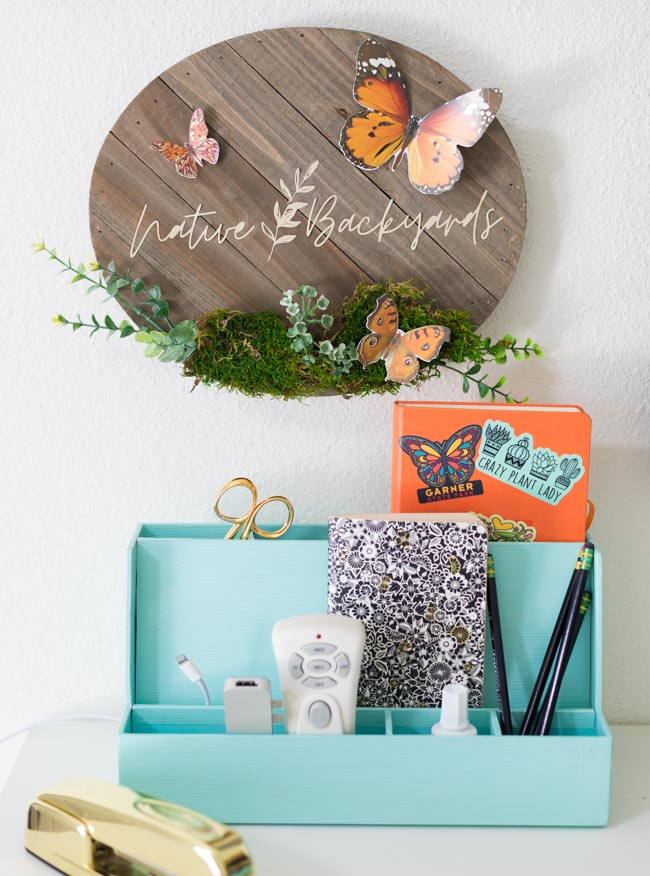 Natural Home Decor
In my bookcase I had fun incorporating a variety of different natural home decor including:
Natural Elements to Add to Your Decor:
DIY wood bee hotel
Bird figurines
Wildflower print
Floral vase
Wood slide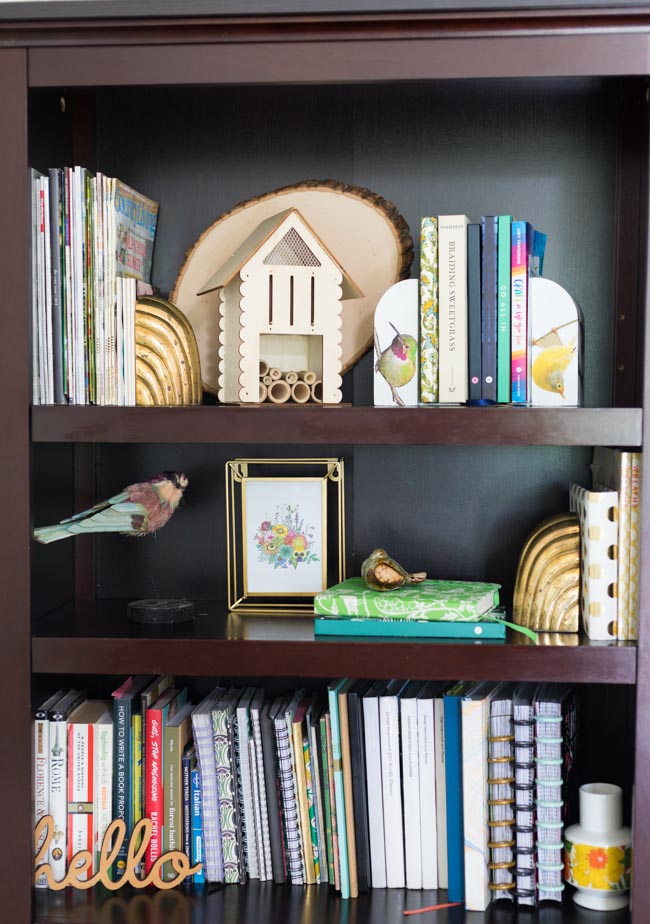 On another shelf I displayed more of my favorite nature decor including a very special watercolor that my grandmother painted with her left hand after a stroke prevented her from using her right hand. I also included a brass butterfly, wood bird, grapevine balls, and a variety of vases including my DIY Boho Vases.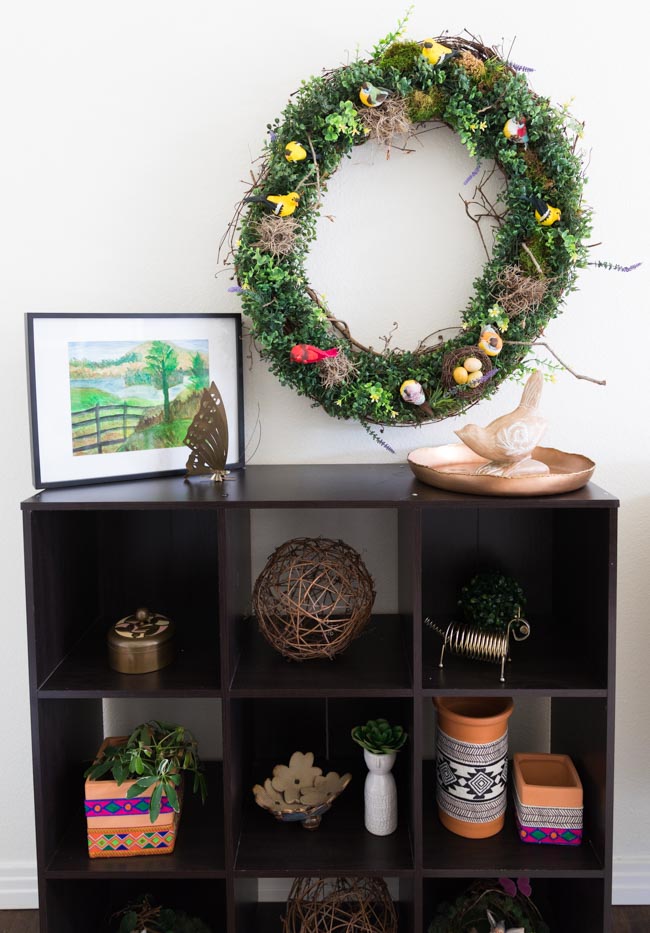 Natural Wreath
I think a natural wreath is a great way to bring some nature indoors. Wreaths aren't just for hanging on your front door. You can hang them inside too! I made this DIY bird wreath that I absolutely love. You can find the tutorial here.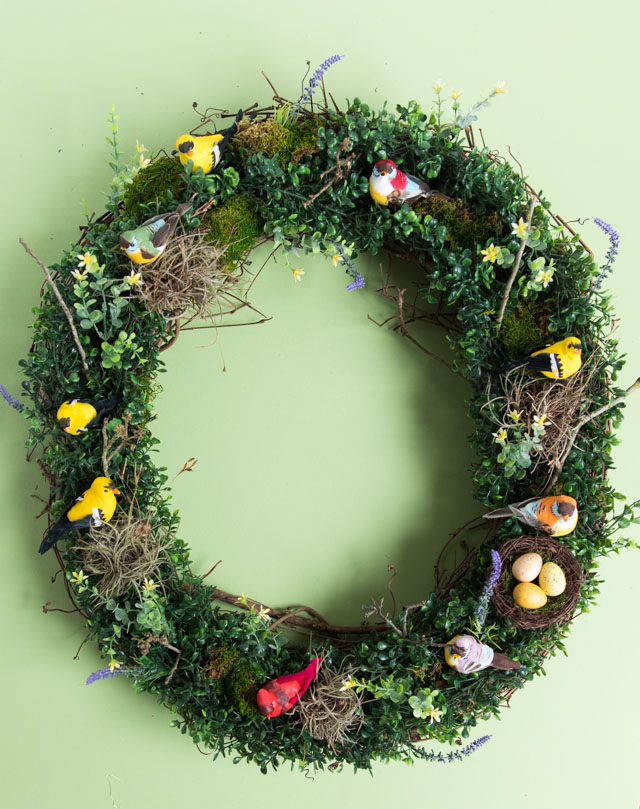 This cornhusk and feather wreath is another fun natural wreath to incorporate into your space.
Lots of Plants and Natural Light
You can't have a nature inspired office without at least a few plants! I incorporated both real and faux plants in my office, such as this real fiddle leaf fig in a natural woven basket. And this faux plant in a fabric hanging basket. A plant wall would be an amazing focal point in your nature themed room too!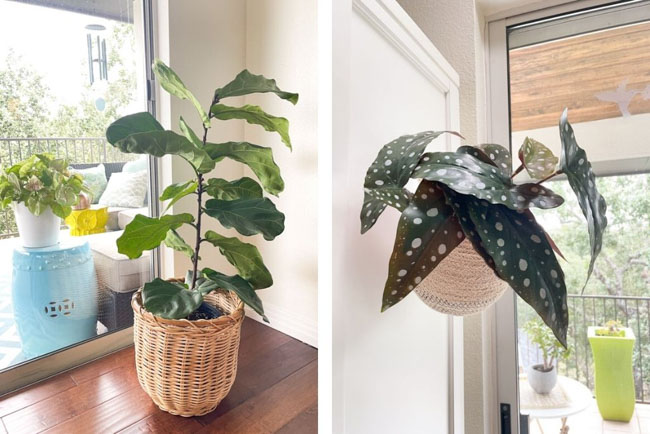 If you have a window in your room, be sure to let the light in! I love all the natural light that comes in through the balcony doors and the view of the big oak tree from my desk.
Bird Decor
I love, love, LOVE birds! So I just had to incorporate lots of bird decor into my office. I fell in love with this ceramic bird flower vase. I add some fresh sprigs of coleus to it from time to time.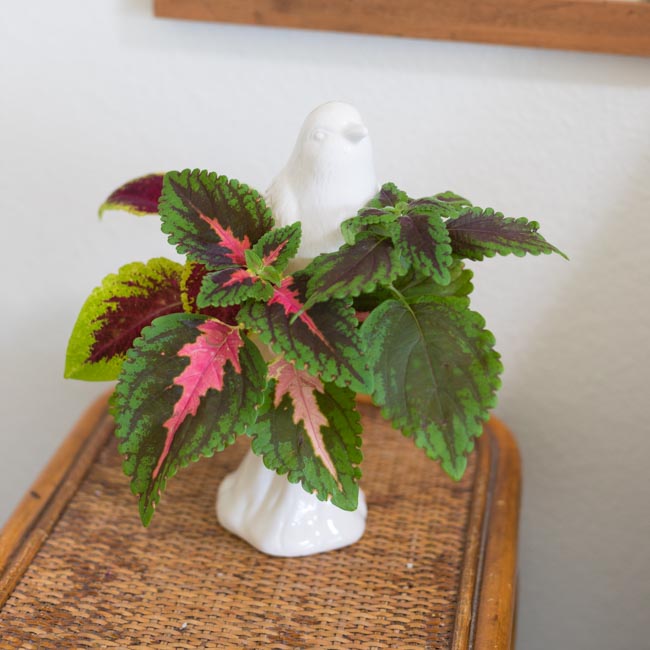 I've also made these DIY bird vases using decoupage. I use one as a pencil cup at my office desk. Next to it I have this sweet Painted Bunting mousepad featuring a photo by Darrell Cochran.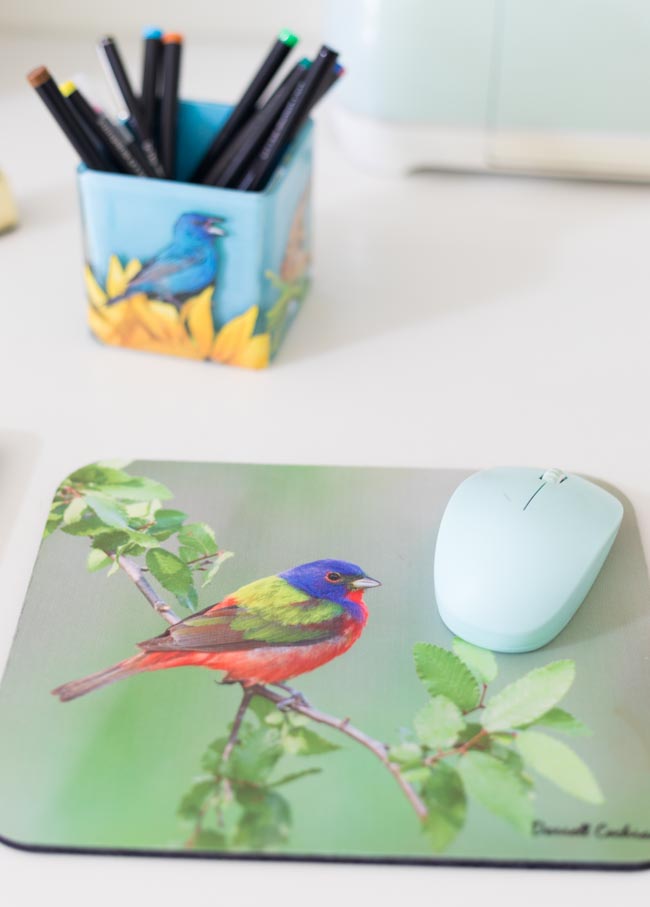 Bird figurines and a DIY wood slice box top my all-time favorite craft storage (by Martha Stewart, but no longer available unfortunately!).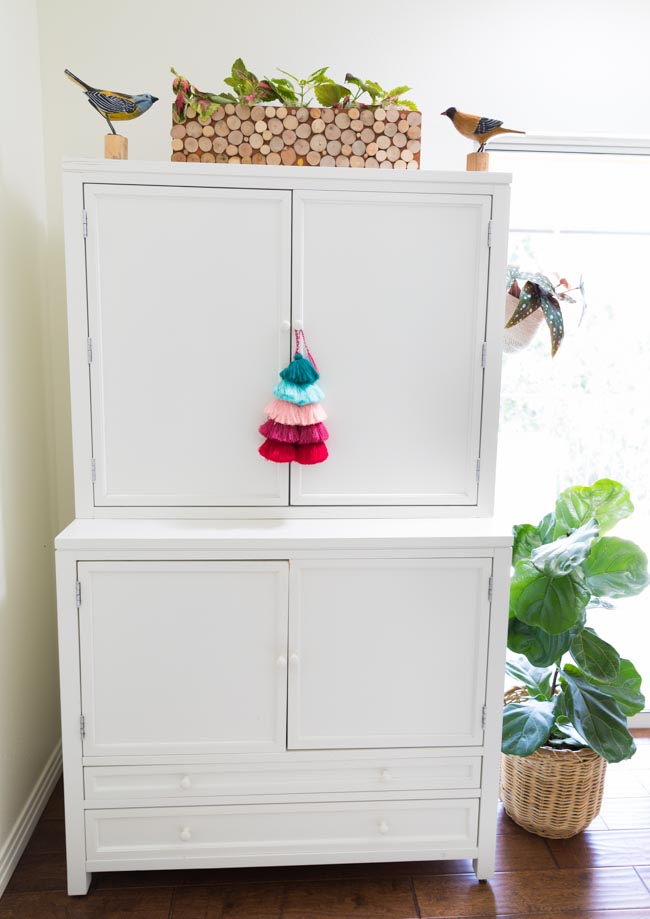 Butterfly Decor
Last but not least, I LOVE butterflies so I made butterfly decor the focal point of my office. I particularly loved this bird and butterfly gallery wall because it used 100% of butterfly wall art I already had on hand, and just repurposed from different rooms. I found the butterfly specimens at a vintage market years ago, along with the butterfly prints that I framed. Here are some similar vintage looking butterfly prints.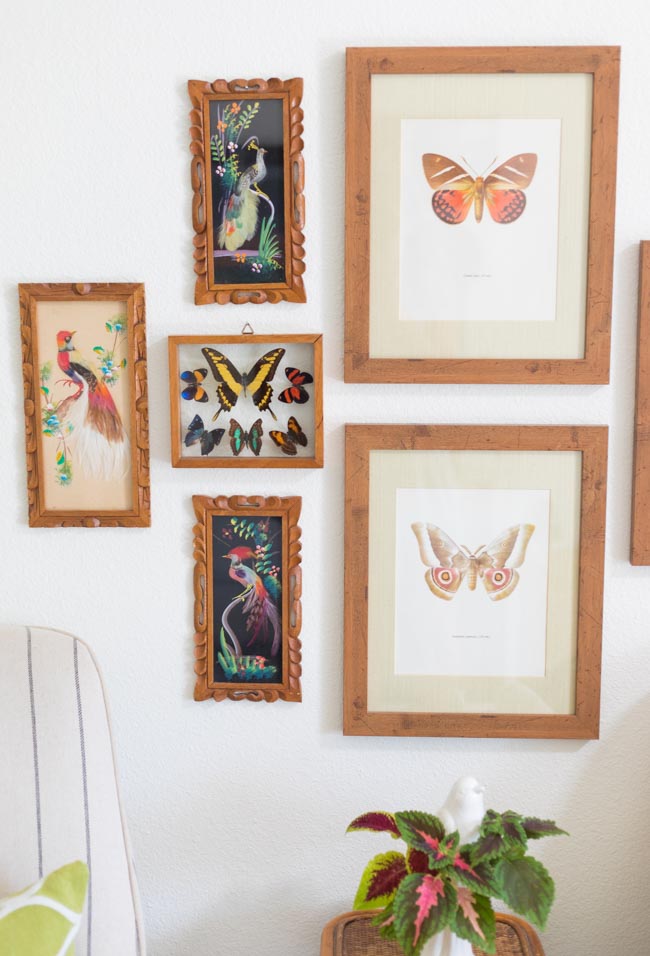 I found the Mexican feather bird art at the Goodwill. Such a cool find! You can find similar Mexican feather bird art on Ebay.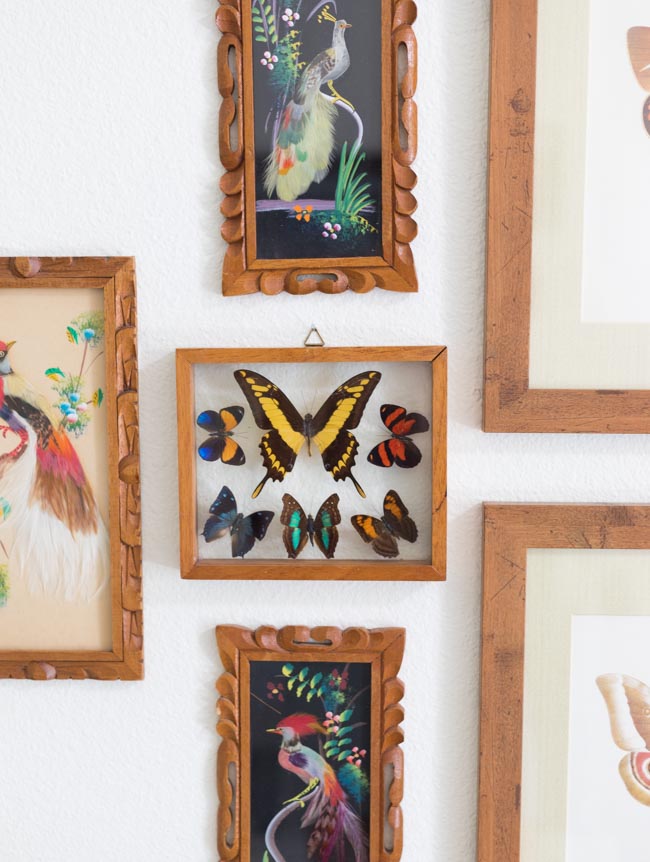 I love working in this bright, nature filled space, especially when I can open up the windows and let the sounds of birds float in to greet me. It's almost as good as being outside!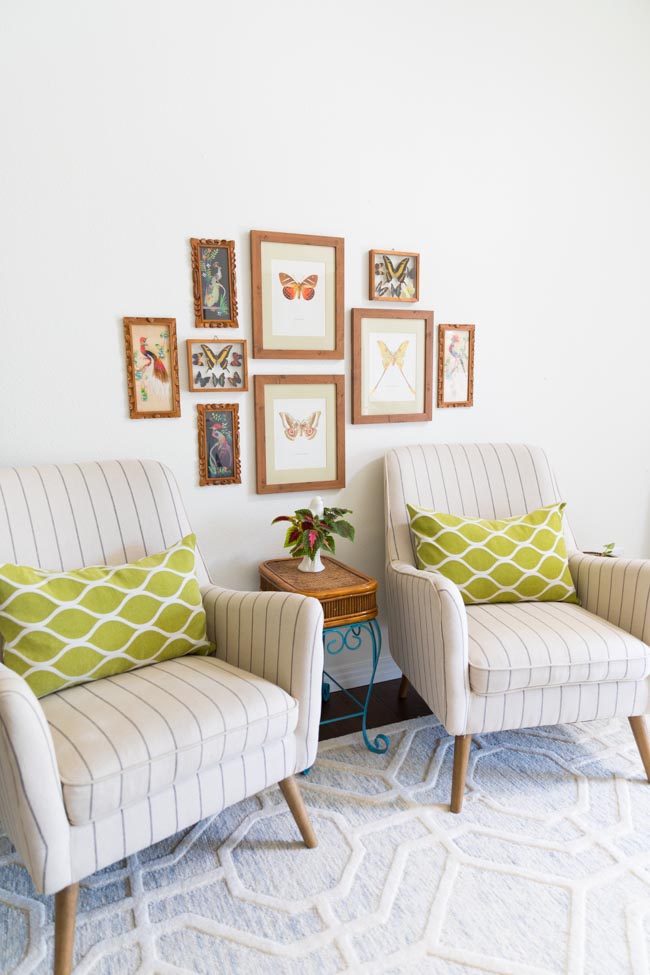 Love Nature?
Then be sure to check out my new website Native Backyards!