DIY Night: Pom-Pom Yarn Wreath
September 27, 2012 | FILED UNDER: Uncategorized

Introducing my new fall pom-pom yarn wreath – the result of the September
Design Improvised DIY Night
.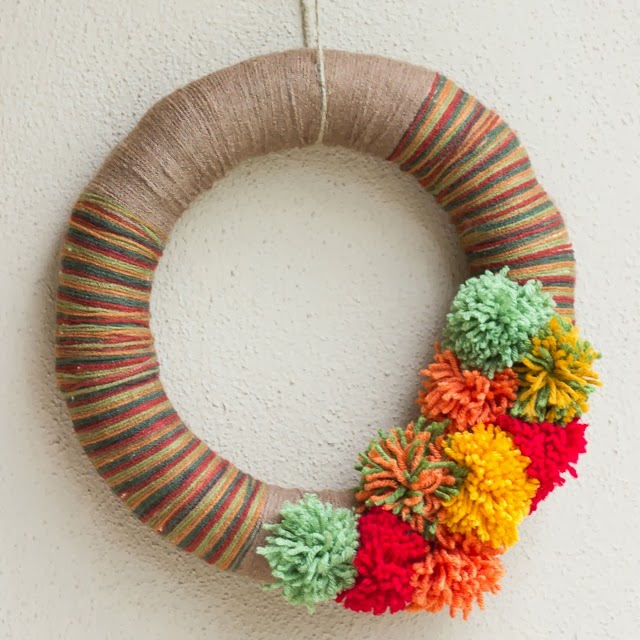 This wreath we chose to make for DIY Night was a melding of a couple ideas we'd seen on Pinterest – the addition of the pom-poms
on the wreath here,
and the color blocking on
this wreath
. Why not take two popular trends and blend them into one?! Here's how we did it:
Time and Supplies Involved
Total Time: 3 hours (the wrapping takes awhile!)
Total Cost: $10-$15 (depending on how many different colors of yarn you buy)
Straw wreath form – $5
2-4 skeins of yarn (depending on how many different colors you want in your wreath) – $2.50 each (you can buy cheap yarn for this project, and you won't come close to using all the yarn)
Hot glue gun
Scissors
How to Make a Pom-Pom Yarn Wreath

1) Choose your color palette – the key to making it look good is finding a fun combination of colors.
2) Keep the plastic wrapping on the wreath form to hold the straw in place (you don't want any poking out through the yarn). Affix a piece of yarn with a dab of hot glue on the back of the form. I also put a piece of tape on top of the glue just in case.
3) Start wrapping…and wrapping…and wrapping! Try to line up the yarn as close as possible so there are no gaps where the wreath form shows through (but don't worry about the back of the wreath being messy). If you are colorblocking, determine when you want to start the next color (you can eyeball it or mark it out on the wreath form before you start). Cut off the yarn and secure with more glue on the back of the form. Add the new yarn with another dab of glue and start wrapping.
4) Make your pom-poms. We followed
this tutorial
. You might need to make a couple practice ones before you get the hang of it.
5) Play around with the positioning of the pom-poms and the mix of colors you want use.

6) Once you have it arranged how you like, affix the pom-poms to the wreath with hot glue.
Finally, hang up with a ribbon and make yourself a cup of hot apple cider (or some other fall treat!) to celebrate.