Pom-Pom Easter Bunny Wreath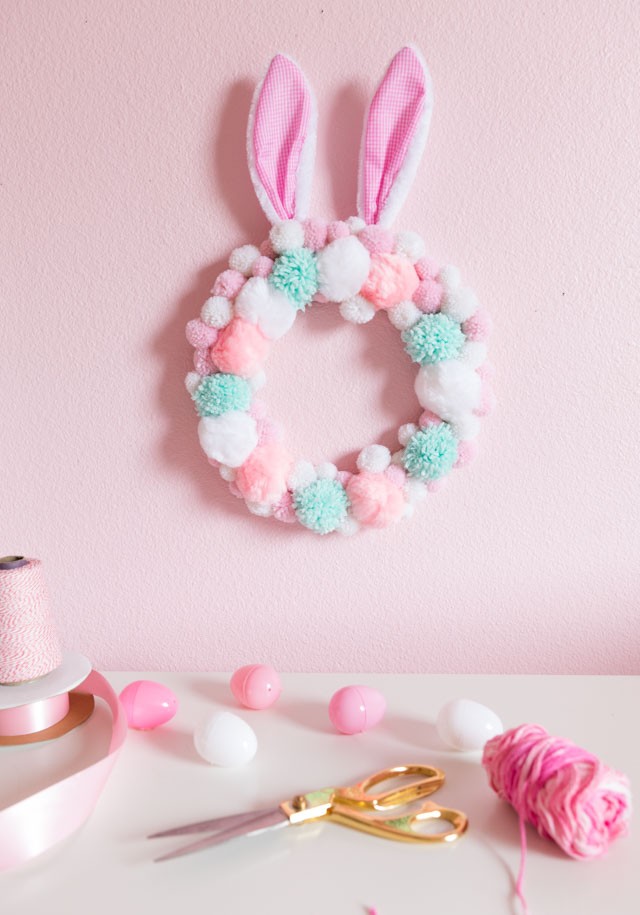 Pom-Pom Easter Bunny Wreath Tutorial
I have one final Easter project for you! This pom-pom Easter bunny wreath is easy to make with a mix of yarn and craft pom-poms and a set of bunny ears. I have my sister-in-law to thank for this idea. She saw a similar wreath at HomeGoods and wanted to see if we could make our own versions when she visited me in February. I rounded up my pom-pom supplies and we headed to Hobby Lobby for a pair of bunny ears!
Here is a behind-the-scenes shot from our crafternoon around the kitchen table. It was a creative, fun-filled mess!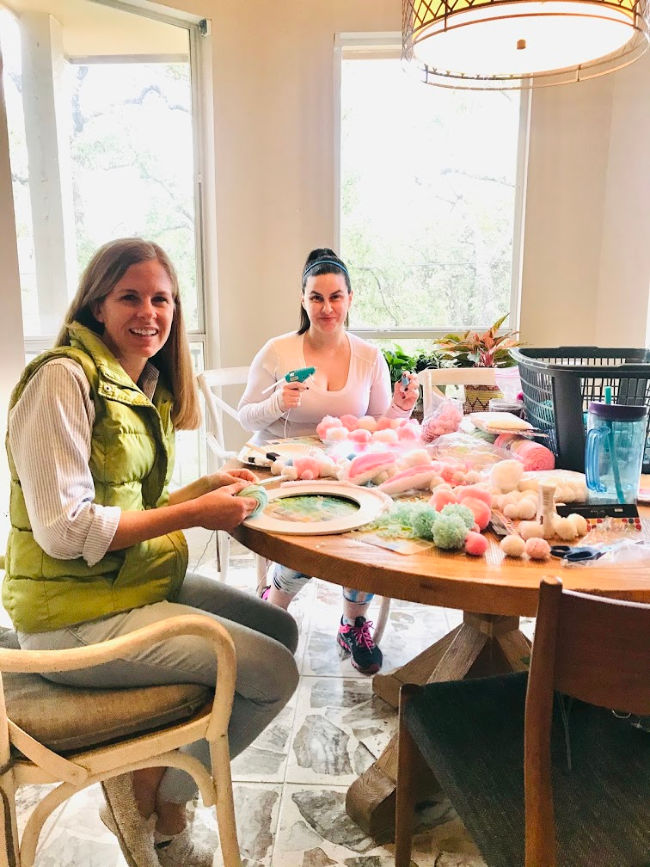 This post contains affiliate links. See our full disclosure.
Supplies for Pom-Pom Easter Bunny Wreath
How to Make a Pom-Pom Bunny Wreath
Step 1: Paint craft ring
If you are using a wood craft ring as your base, give it a coat of paint. I chose white paint to blend in with my pom-poms, but you can use any color you want! You can also use a styrofoam wreath in place of the wood ring. If you do, I would recommend wrapping it with some 1.5″ wide ribbon to give it a nice finished look before gluing on the pom-poms.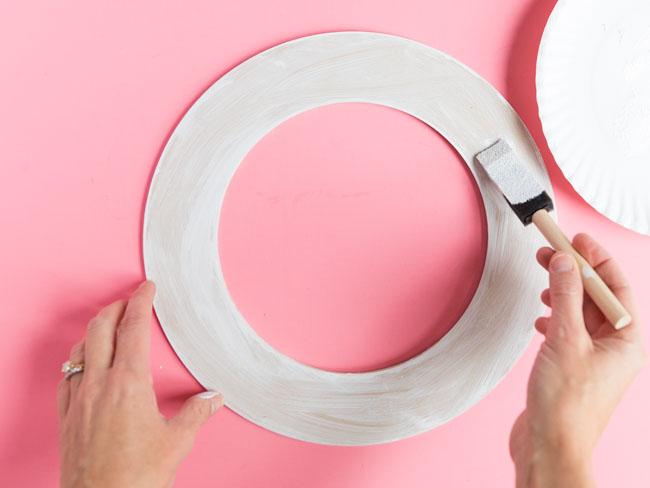 Step 2: Add bunny ears
The easiest way to add bunny years to your wreath is to glue on a pre-made bunny ear headband. I found this one at Hobby Lobby for $2. You can also use fabric or felt to create a pair of ears to glue onto the top of your wreath with hot glue.
Step 3: Make yarn pom-poms
I like this wreath because it uses a mix of yarn and craft pom-poms. I made a few large yarn pom-poms to mix into my wreath. If you've never made a yarn pom-pom before, check out this pom-pom making tutorial!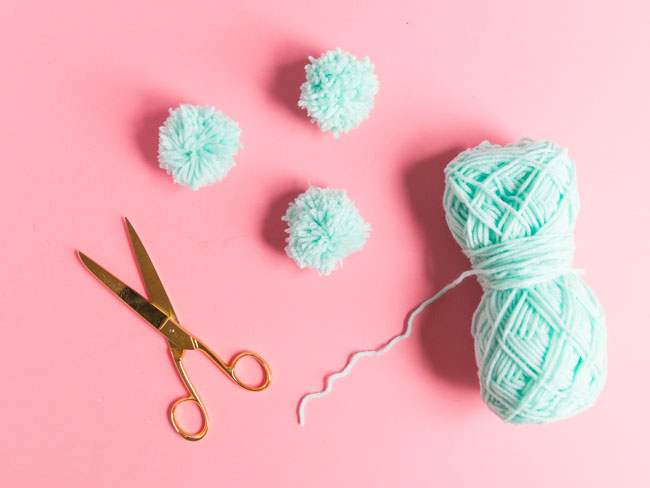 Step 4: Glue large pom-poms to wreath
To create the wreath, I first glued a mix of large craft pom-poms and yarn pom-poms around the wood ring with hot glue.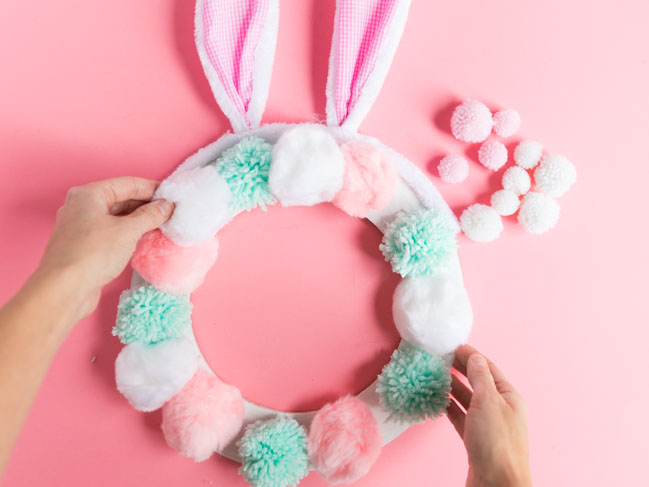 Step 5: Fill in gaps with small pom-poms
To create a fuller wreath, I used small pre-made yarn pom-poms to fill in the gaps around the large pom-poms. You can always make small yarn pom-poms by hand, but these pre-made ones are a great timesaver!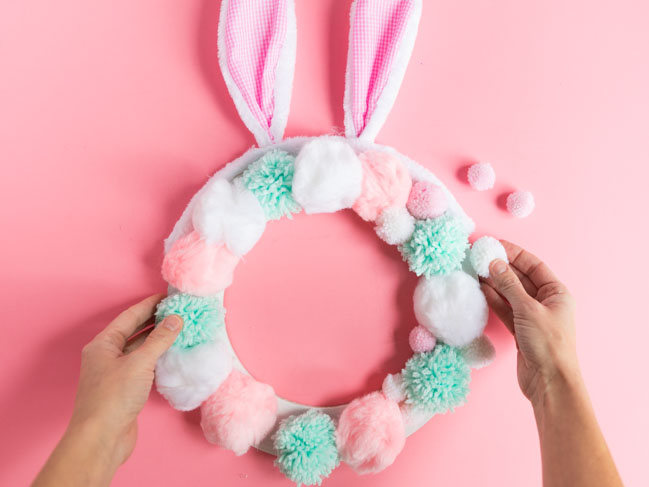 You can improvise on this bunny wreath ideas in so many different ways based on the supplies you have on hand. Have fun with it!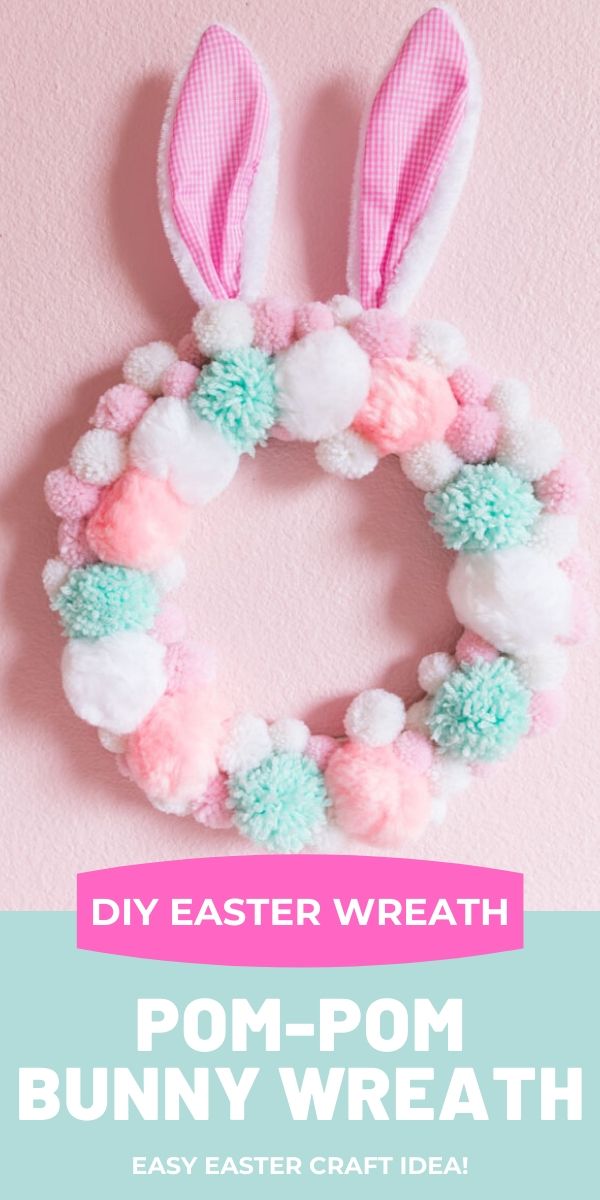 Like this wreath idea? Then don't miss my other DIY Easter Crafts!