17 Amazing DIY Ornament Wreath Ideas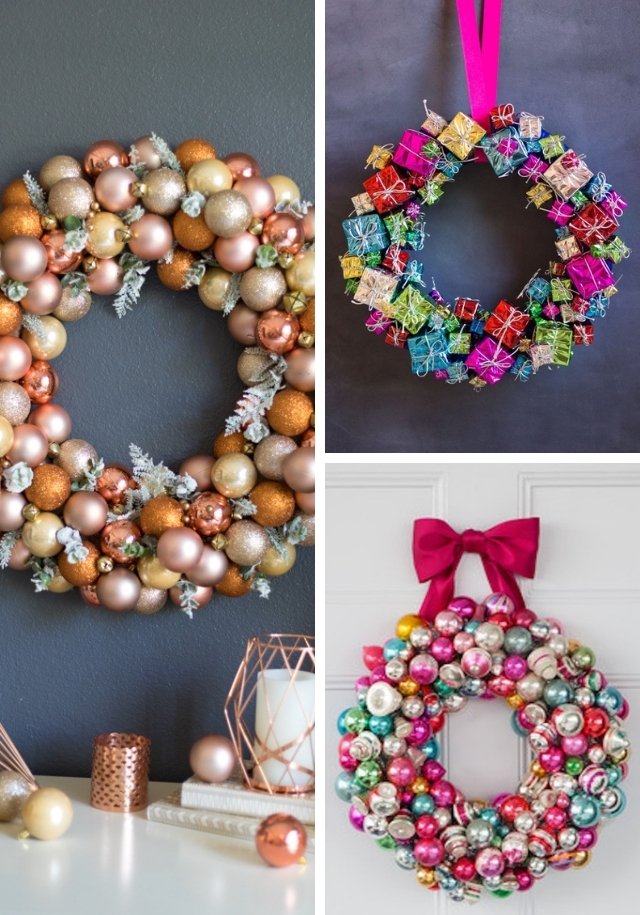 17 DIY Ornament Wreath Ideas
When it comes to DIY Christmas wreaths, I think ornament wreaths are among my favorites. There is something about them that is so cheery and festive. Plus there are so many different ways you can improvise on them. Ornament wreaths are a great way to display vintage ornaments or use extra ornaments you have but don't want to hang on the tree. Some of the most common wreaths feature Christmas balls, baubles or bulbs. Whatever you prefer to call them! I also love creative uses for different types of ornaments from snowflake ornaments, to vintage wood ornaments to mini present ornaments. I'm sharing all of these ideas below, along with different techniques for making ornament wreaths. I hope you enjoy these ideas!
This post contains affiliate links. See our full disclosure.
6 Different Techniques for Making Ornament Wreaths
There is no one way to make an ornament wreath! Ornament wreaths can look very different depending on the type of wreath base you use and the types of ornaments you choose. Check out these six different ways to make an ornament wreath: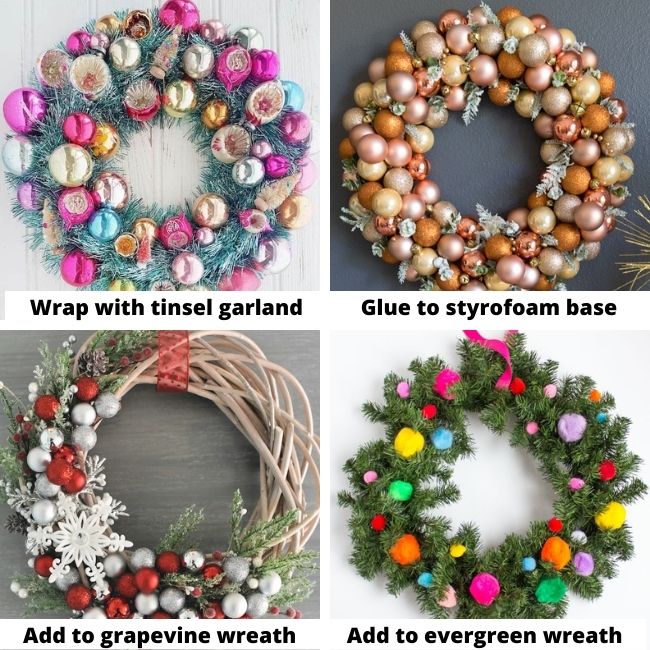 1. Wrap a wreath with tinsel garland
Wrap a wire wreath or styrofoam wreath with tinsel garland. Then nestle the ornaments into the garland, securing them with glue. This is a great way to feature ornaments without having to have a ton of them. Also, the tinsel adds a nice retro touch to show off vintage ball ornaments.
This Vintage Bauble Wreath by Martha Stewart

is a great example!
2. Glue directly to styrofoam wreath
Start with an 18″ or larger styrofoam wreath base. You can first wrap the styrofoam base with ribbon to give it a finished look on the sides and back. Or you can just start gluing the ornaments directly onto the styrofoam.
This DIY ornament ball wreath I made for Fun365.com uses a 20 inch styrofoam wreath base.
3. Use pool noodles for a giant oversized wreath
Want to make an oversized wreath for a big statement piece to hang over the mantel or an outdoor window? Then pool noodles are the way to go. Connect two together to make a circle and then glue on ornaments. Caution – you'll need a lot of ornaments for this style of wreath!
This

Pool Noodle Ornament Wreath Tutorial

via Milk Paint

is certainly an eye-catcher!
4. Use a wire coat hanger to make an ornament wreath
Just bend the wire coat hanger into a circle and thread the ornaments on. This creates a nice full ornament wreath.
Check out this

Hanger Wreath with Ornaments

via Six Sister Stuff
5. Add ornaments to a grapevine wreath
One of the simplest ways to make an ornament wreath is to glue some to a grapevine wreath form. No need to cover the entire wreath. Just cluster some Christmas balls on the base or side of the wreath and incorporate some greenery as well. You can even incorporate a strand of white lights like I did with this DIY

Lighted Christmas Wreath.

This

DIY Grapevine Ornament Wreath

via Mommy Suite is a great example of an easy grapevine ornament wreath.
6. Use an evergreen wreath base
Finally you can use a faux evergreen fir wreath to nestle ornaments in between the branches. You can find inexpensive evergreen wreaths for a few dollars at the craft store during the holidays. Just add ornaments with hot glue.
I used pom-poms to mimic ornaments for this simple and colorful pom-pom ornament wreath.
Christmas Ball or Bauble Ornament Wreath Ideas
Christmas ball wreaths filled with round baubles are so shiny and bright! I love the lush look of these wreaths. You can go monochrome or rainbow with your ball wreath. The more ornaments the better.
Stick with a single color of ornament to match your holiday decor. A variation of sizes and sheens (some matte, some shiny, some glittery) keep it interesting. Top with a bow!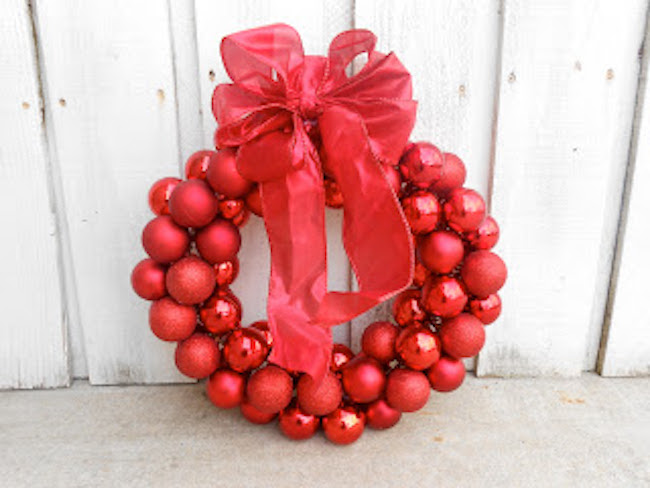 Choosing a set of monochrome Christmas balls creates a chic look. I interspersed some faux greenery and gold jingle bells among the baubles for this statement ornament wreath.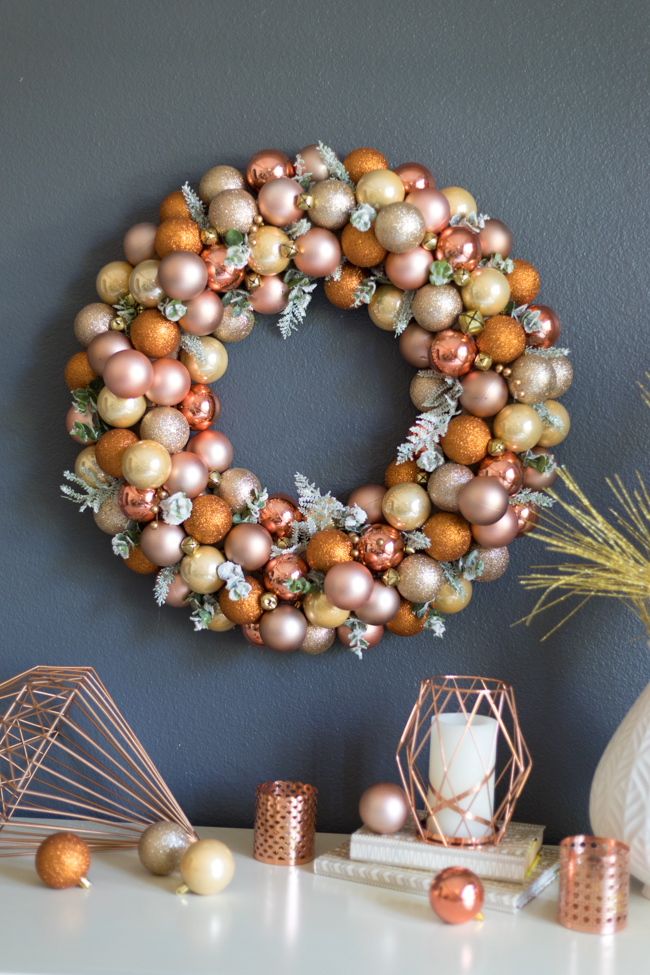 Rainbow order will never go out of style! This Rainbow ornament wreath is a fun way to display colorful Christmas balls.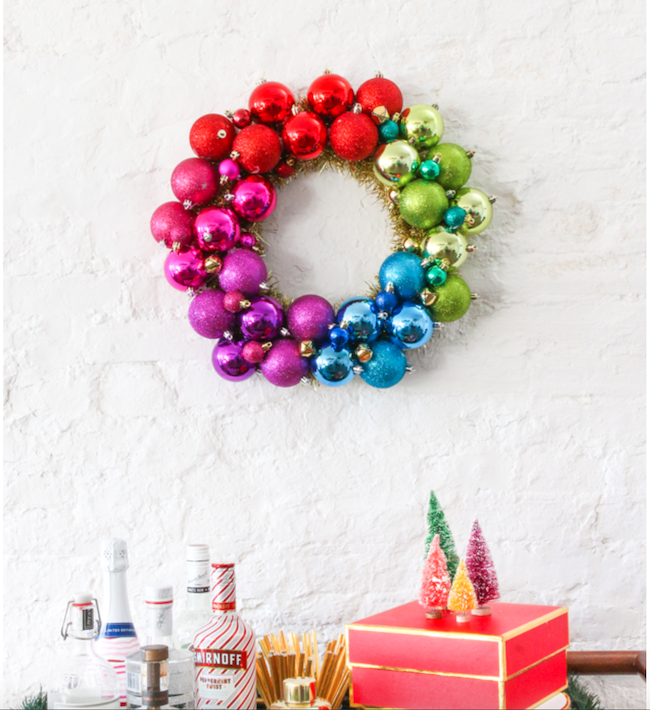 These wreaths show an example of how beautiful it can be to decorate a faux evergreen wreath with ball ornaments. I love how she adds a pretty bow to top it off!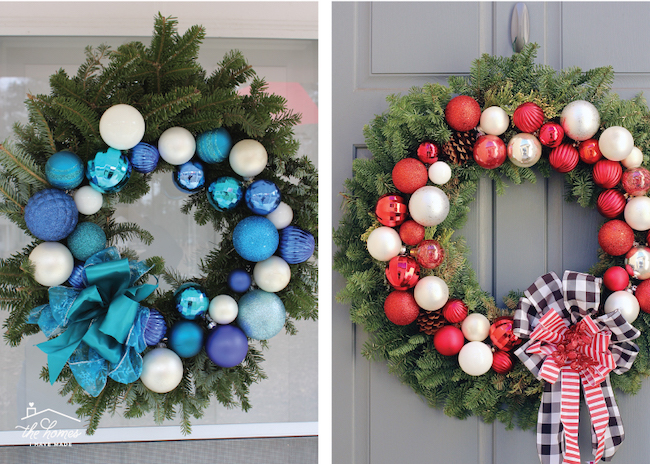 Vintage Ornament Wreath Ideas
Wreaths are a great way to display vintage ornaments. Perhaps you have some heirloom ornaments passed down through the family but don't want to hang them on your tree. This is a great alternative way to display them! Whether they are vintage bulbs or wood ornaments, they look really sweet in wreath form!
The pastel color palette of this DIY Christmas Bauble wreath makes it shine! It features shiny vintage bauble ornaments and mini bottle brush trees nestled in a store bough frosted tinsel wreath. Just attach the ornaments with hot glue!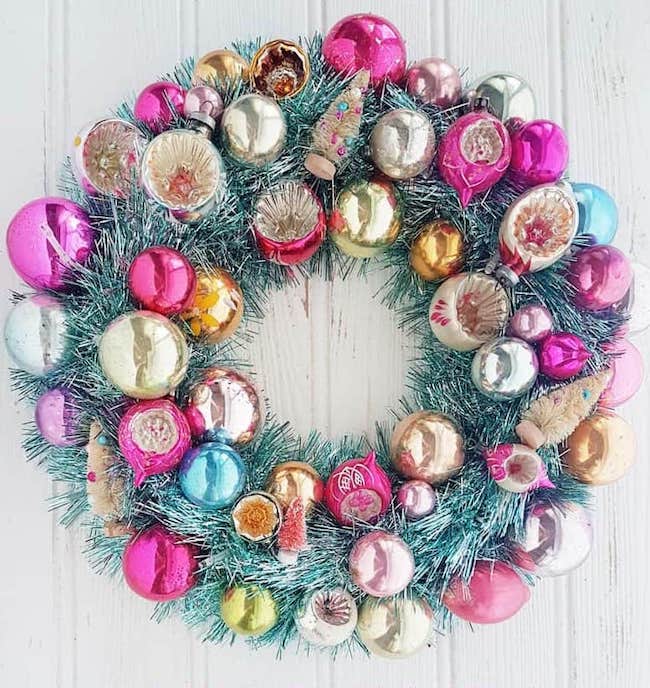 This wreath uses a styrofoam base covered in glittery white Christmas garland. The thrifted wood vintage ornaments really pop against the white backdrop of the wreath. This would be cute on a child's bedroom door for the holidays!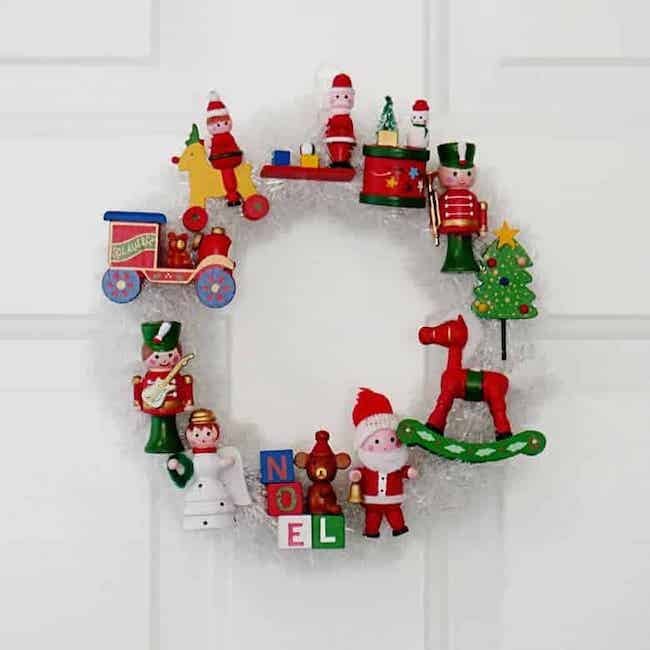 Another fun ornament wreath from the blog Bre Pea. This one features a variety of vintage ornaments given to her by her grandmother. Such a fun idea!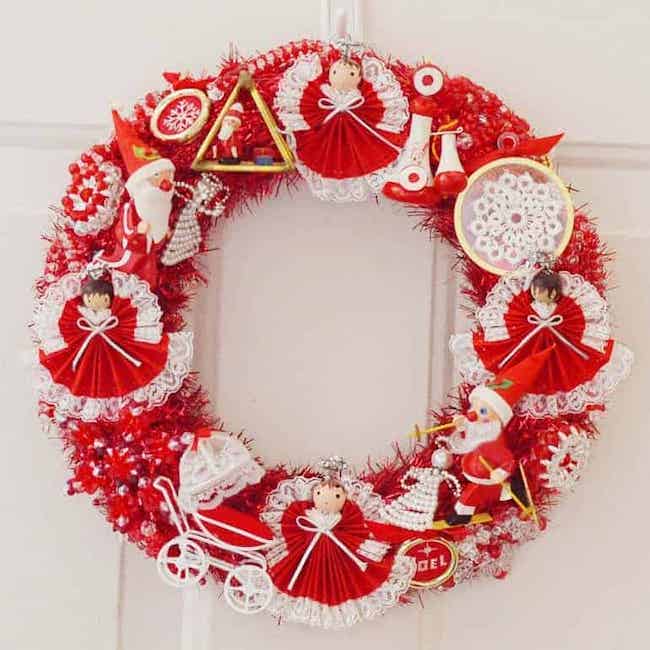 This wreath uses a frosted evergreen wreath base to feature vintage looking truck ornaments and large jingle bells. Just nestle them among the branches and secure with glue!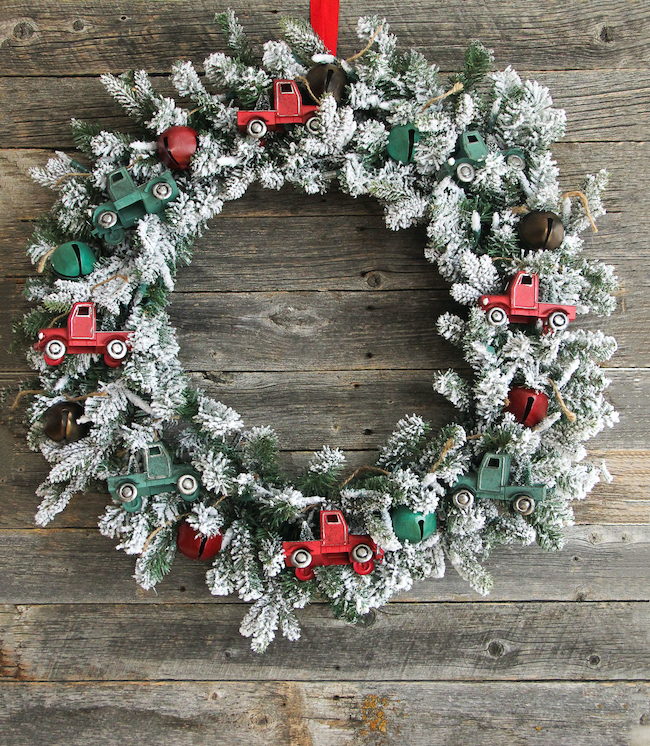 Ornament Wreaths with Unique Christmas Ornaments
Any ornament can be a candidate for a wreath! Here are a few more ideas using unique ornaments.
You can find these little shiny package ornaments at the craft store. No need to wrap them individually yourself! Just glue to a styrofoam wreath.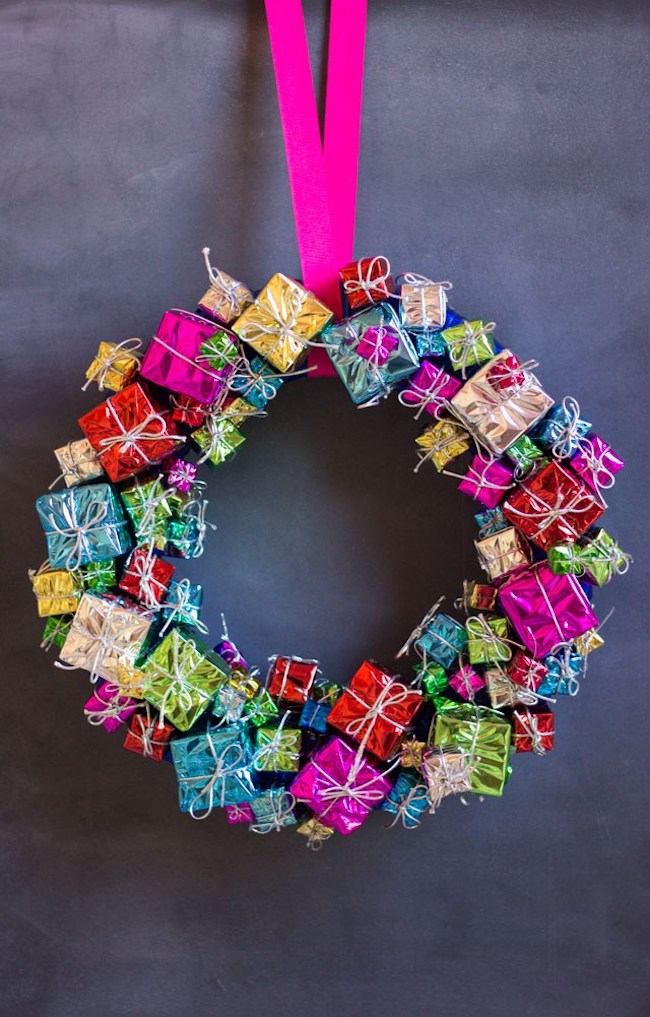 Snowflake ornaments are easy to find at the dollar store and craft stores during the holiday. These inexpensive ornaments make a beautiful wreath, especially when strung with white lights to make it glow at night!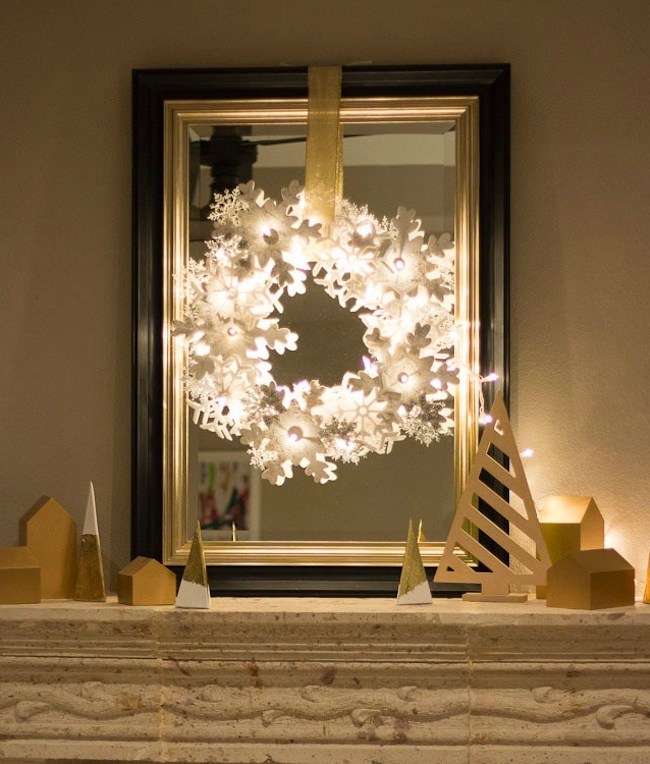 Make a wreath for each family member featuring ornaments that represent their favorite things!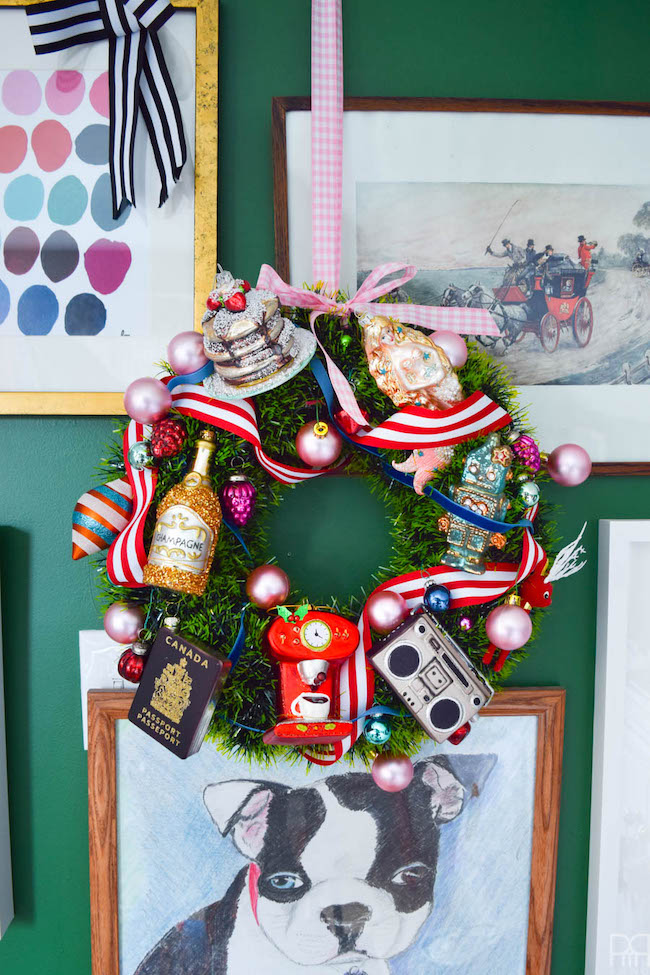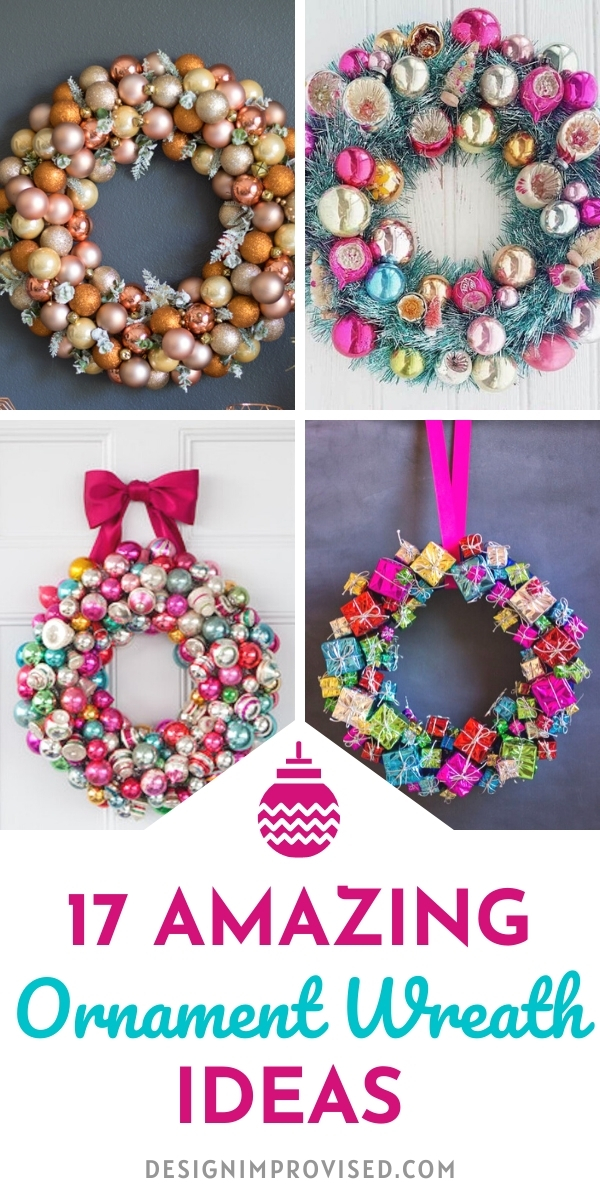 Wish you had time to make wreaths?
Then you need my new ebook Make a Year of Wreaths!