DIY Burlap Wreaths: The Ultimate Guide!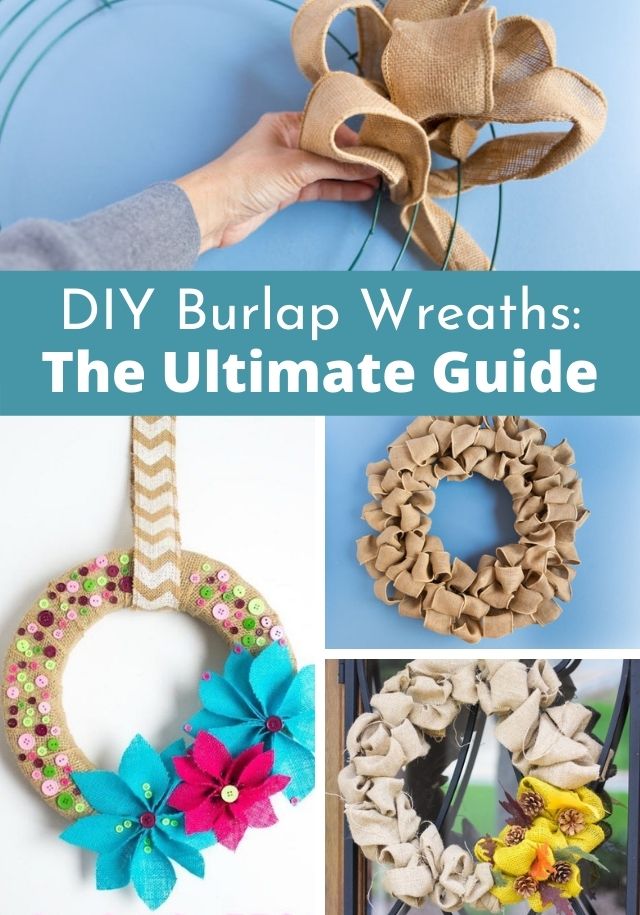 The Ultimate Guide to Making DIY Burlap Wreaths
If you love to make wreaths, then DIY burlap wreaths are a must for you to try! They are easy to make and so versatile. Burlap works as a great neutral base for a variety of different wreath embellishments.
There is no one way to make a burlap wreath, so I've created the ultimate guide for you. It is full of burlap wreath crafting techniques and ideas. I'm also including my favorite burlap wreath supplies and examples of wreaths you can make for each season of the year! Let's start with how to make a basic burlap wreath.
This post contains affiliate links. See our full disclosure.
Want to Make More Wreaths? Get My Ebook!
Do you love to craft, but struggle to find time to do it?

Do you get overwhelmed with ideas on Pinterest?

Is your front door currently blank and uninviting?
In this ebook, I walk you step-by-step through the process of making a year of wreaths for your home. I promise to help you overcome any fears about wreath making being too complicated, expensive or time consuming!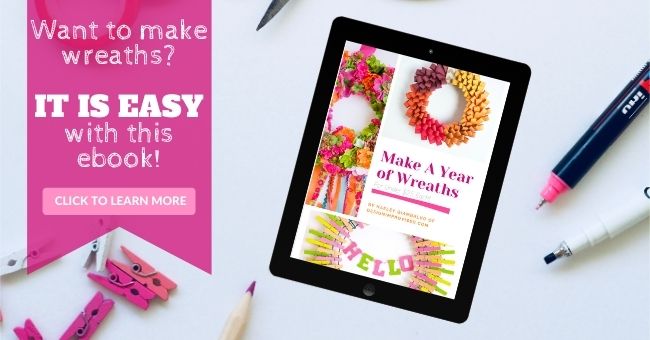 How to Make a Basic Burlap Wreath
This type of looped burlap wreath can also be referred to as a bubble wreath or a twisted burlap wreath. It is one of the easiest wreaths to make and it looks so nice even without additional decoration! As an added bonus, it requires very few supplies. All you need is burlap ribbon and a wire wreath form. You can make it for under $10 in supplies!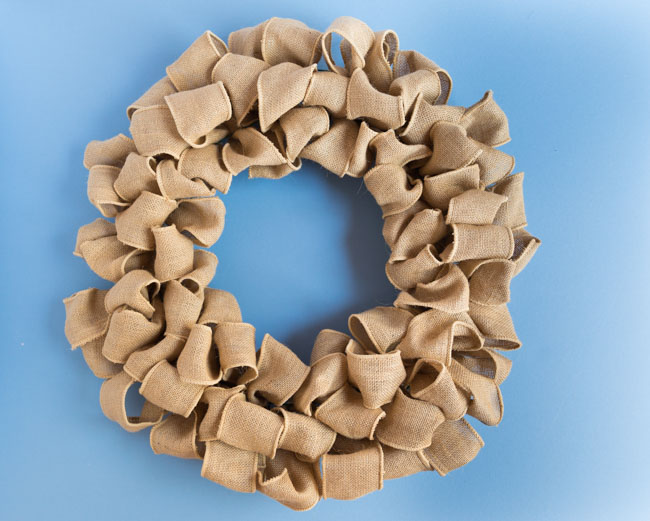 Step 1: Tie burlap to frame
Pull the burlap ribbon through the wire wreath frame and tie the burlap in a knot on the back of the frame. You can use either wire burlap ribbon or a more rougher edge burlap shown here. I like to use between a 3″ to 6″ wide ribbon for this technique. There is a lot of flexibility in the type of burlap ribbon you choose. You could even cut burlap fabric into long strips!
Step 2: Pull burlap up to create a loop
Flip the wreath frame over to the front and pull the burlap ribbon up between two of the wires on the frame to create a loop that is a few inches long.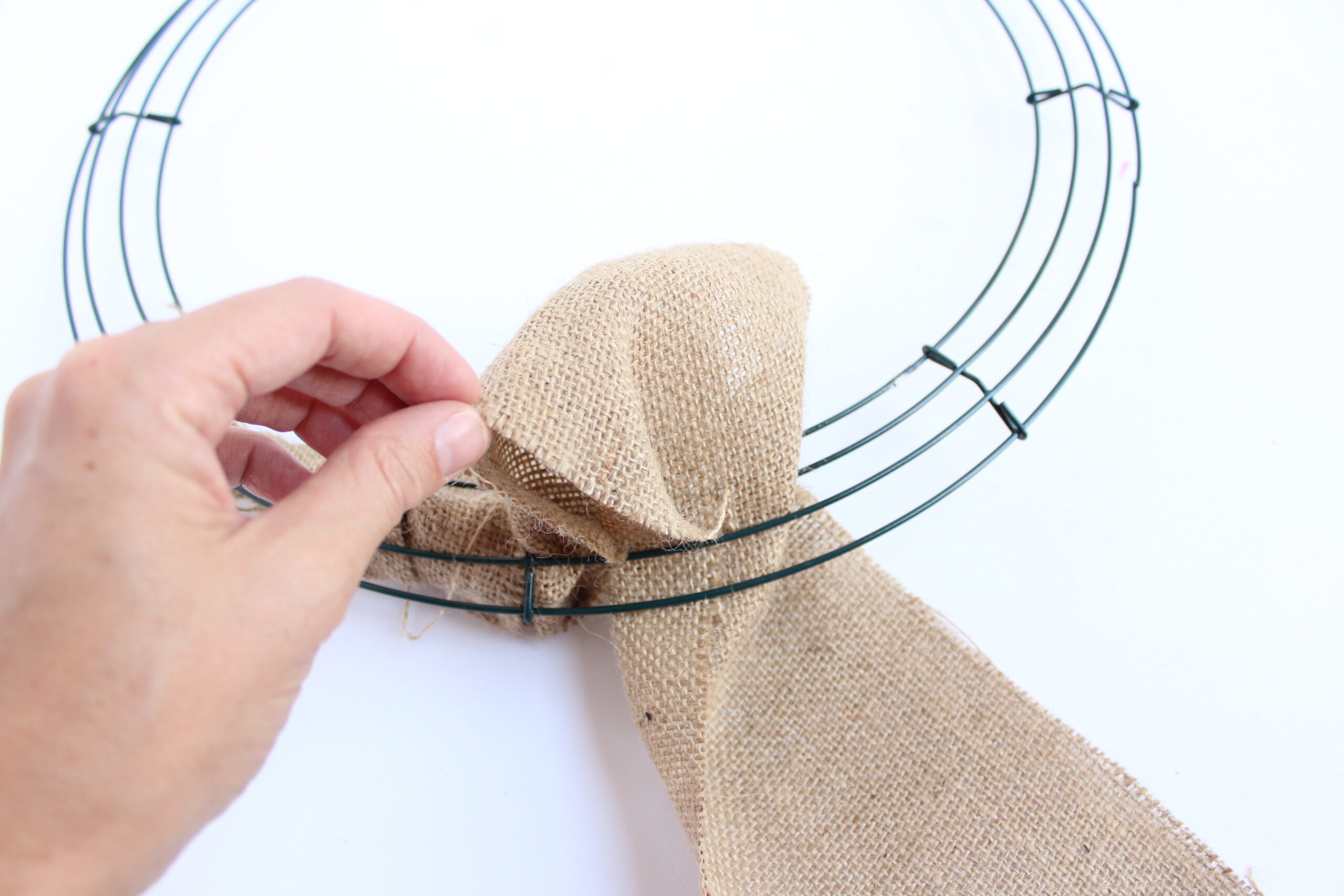 Step 3: Twist the ribbon and repeat
Twist the burlap ribbon at the base of the loop and then pull it up between another row of the wire wreath form to create a new loop. Keep repeating the process of twisting the burlap and pulling it through another set of wires.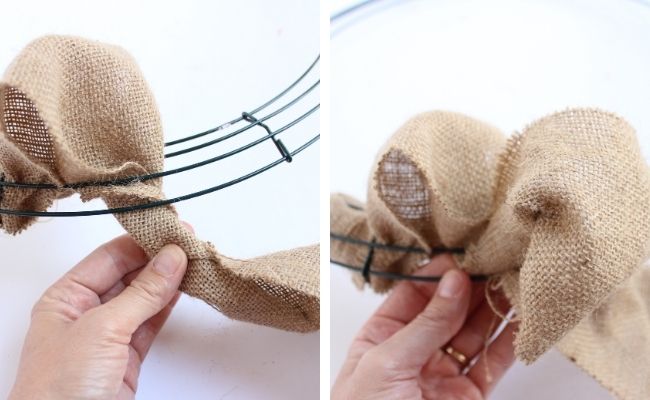 Step 4: Push together the loops as you go
You'll see the wreath start to form as use push the loops together as you go. Keep continuing the process of pulling up a loop of ribbon through the frame and then twisting at the bottom. If you run out of ribbon, just knot the end to a new roll and keep going.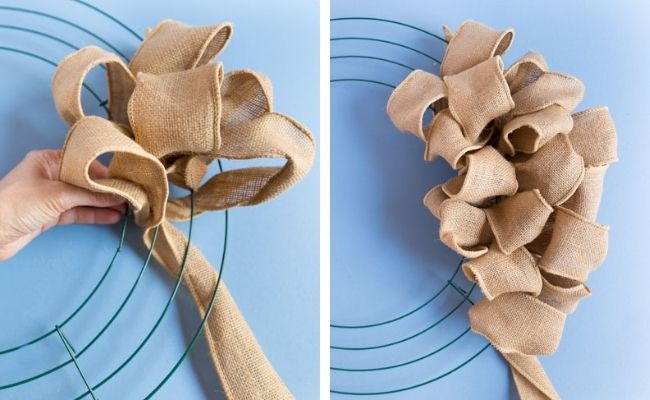 Step 5: Tie burlap to frame
To end your wreath, this the end of the burlap ribbon to the back of a frame in a knot.
4 Different Ways to Make DIY Burlap Wreaths
The looped wreath shown above is just one way to make a burlap wreath. That is why burlap is so fun to work with. Here are four other ways to use burlap fabric or ribbon to make a wreath. Which is your favorite?
1. Wrap a styrofoam wreath
The easiest way to use burlap on a wreath is to wrap it around a styrofoam wreath base such as this Burlap Button Wreath that I made. I also used colored burlap to make simple flowers.
2. Make a rag wreath with burlap strips
You can also cut short strips of burlap for a wreath. This technique creates a homespun looking rag wreath.
This

Burlap Rag Wreath Tutorial

via Ginger Snap Crafts uses two yards of burlap fabric cut into 1″ by 12″ strips. They are tied around a wire wreath form.
3. Poke burlap through a wire hanger
Rather than use a store bought wire wreath form, you can also bend a wire hanger into a variety of shapes including a circle or a heart. Sturdy floral wire is another alternative. For this technique you actually poke the wire through the middle of a burlap strip. You then accordion fold the burlap, poking the wire through each fold.
4. Fold burlap into triangles and add to wreath
To create a sophisticated and cleaner look for your wreath, you can try folding the burlap. This Folded Burlap Wreath Tutorial from Skip to My Lou uses burlap squares folded into triangles and then pinched together.
Burlap Wreath Supplies You'll Need
If you like making wreaths, it is helpful to have the basic supplies on hand so you are ready to craft when the mood strikes! The nice thing about burlap wreaths is that you can customize them in so many ways. Here are my favorite supplies for making burlap wreaths:
1. Burlap ribbon
2. Burlap fabric
3. Wire frame
How Much Burlap Do You Need for a Wreath?
To make a looped bubble style burlap wreath you'll need at least 10 yards for a 12″ wire wreath and 20 yards for an 18″ wire wreath.
How Do You Make Burlap Flowers?
You can use burlap to make a variety of different flowers, such as this simple flower I made below by cutting out petals and gluing them together. Get the step-by-step tutorial here.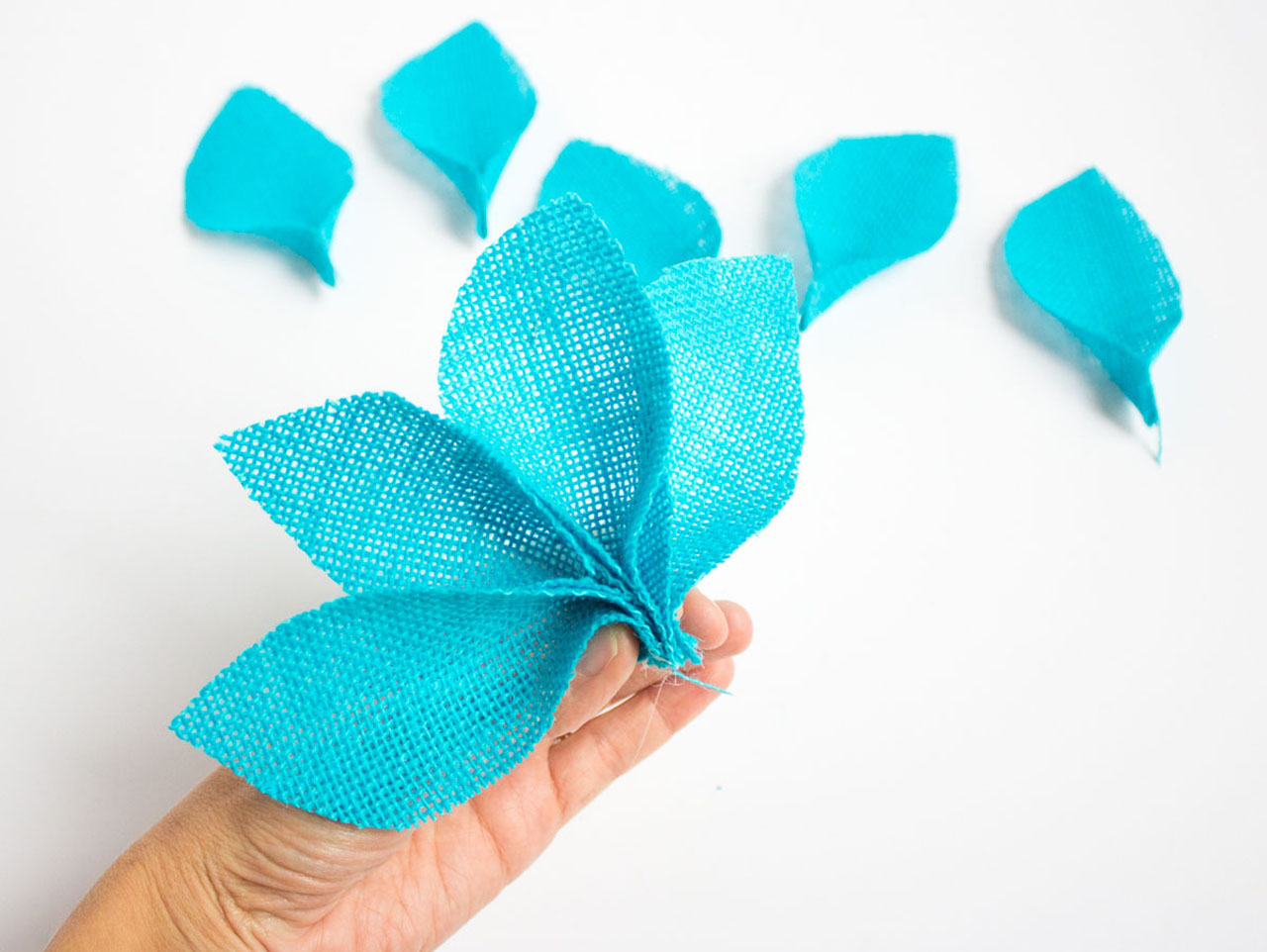 Here are several other versions of DIY burlap flowers including burlap roses and rustic burlap rosettes:
DIY Burlap Wreaths by Season
There are burlap wreaths out there for every holiday and every season. I've rounded up some of my favorites from Design Improvised and other makers. They use a variety of different types of techniques!
Spring Burlap Wreaths
For a spring burlap wreath you can added colorful flowers like the ones I made for my wreath below. Or you can top a basic wrapped burlap wreath with a mini rainbow banner and felt shamrocks for St. Patrick's Day! Also try experimenting with different colors of burlap or printed burlap: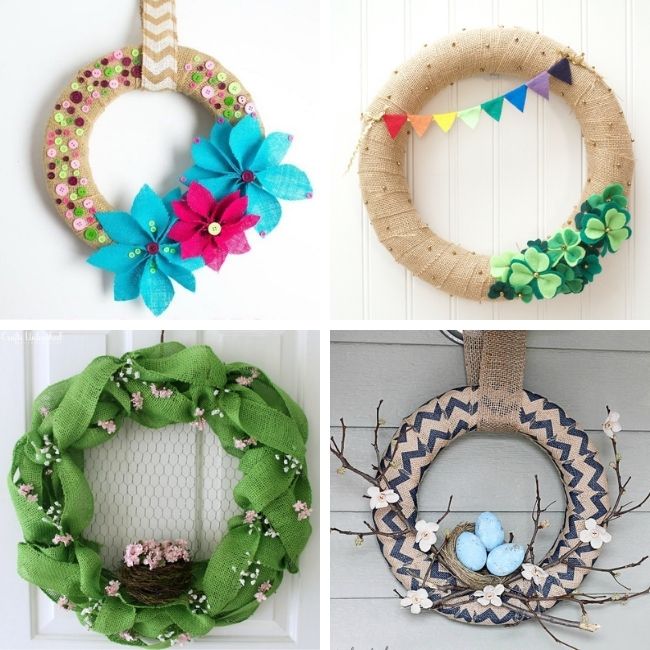 Summer Burlap Wreaths
For summer, think patriotic red white and blue. Or make a sunflower burlap wreath with yellow and brown burlap. I also found a fun ocean inspired wreath that uses blue and webbed burlap ribbon: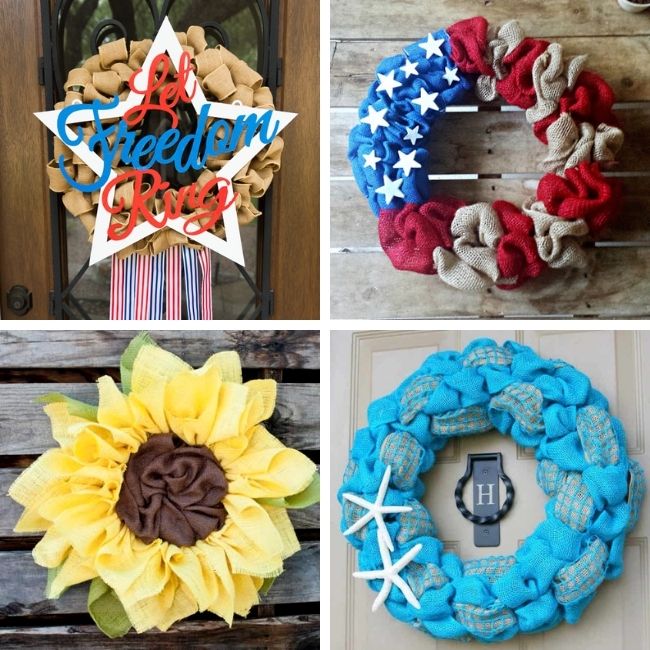 Fall Burlap Wreaths
Burlap is the perfect rustic touch for a fall wreath. Add faux gourds, feathers, pine cones, or faux berries as embellishment. You can even roll burlap into a rustic fall rosette.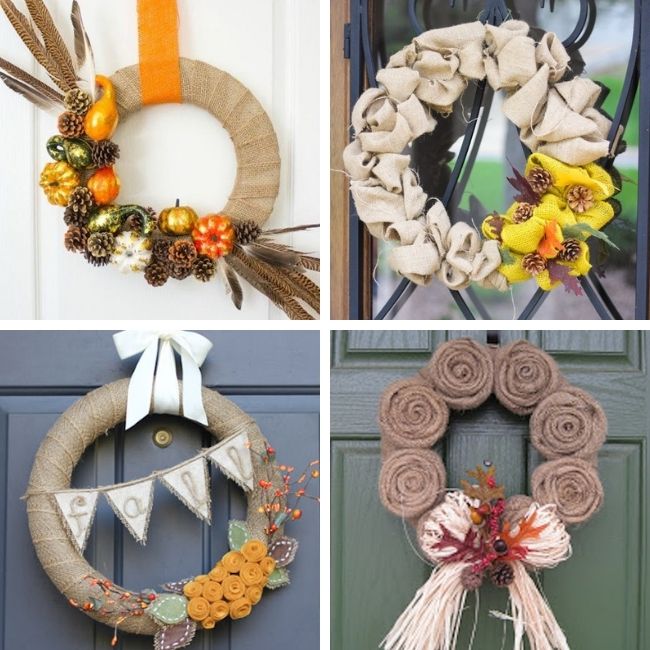 Winter Burlap Wreaths
I found a couple beautiful wreaths for both Christmas and Valentine'sd Day. Think red burlap and heart shaped wreath forms: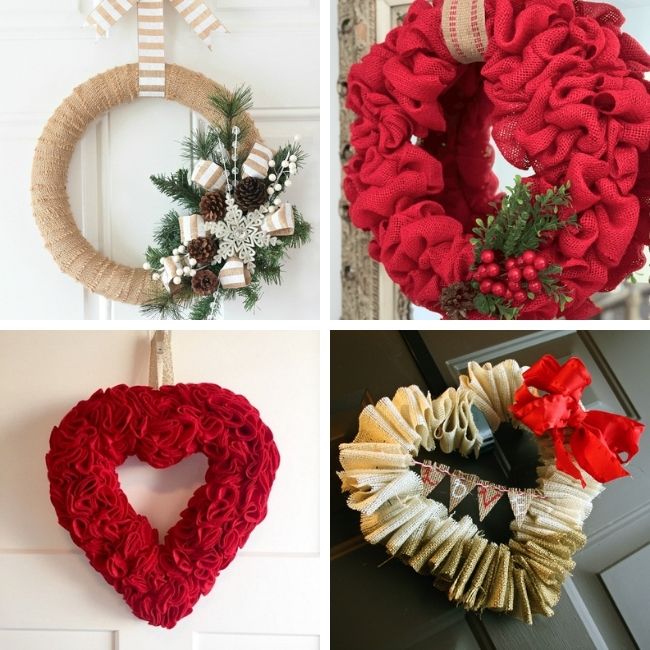 I hope you found this ultimate guide to making burlap wreaths helpful. Leave a comment below if there are any other questions you have about wreath making. Happy Crafting!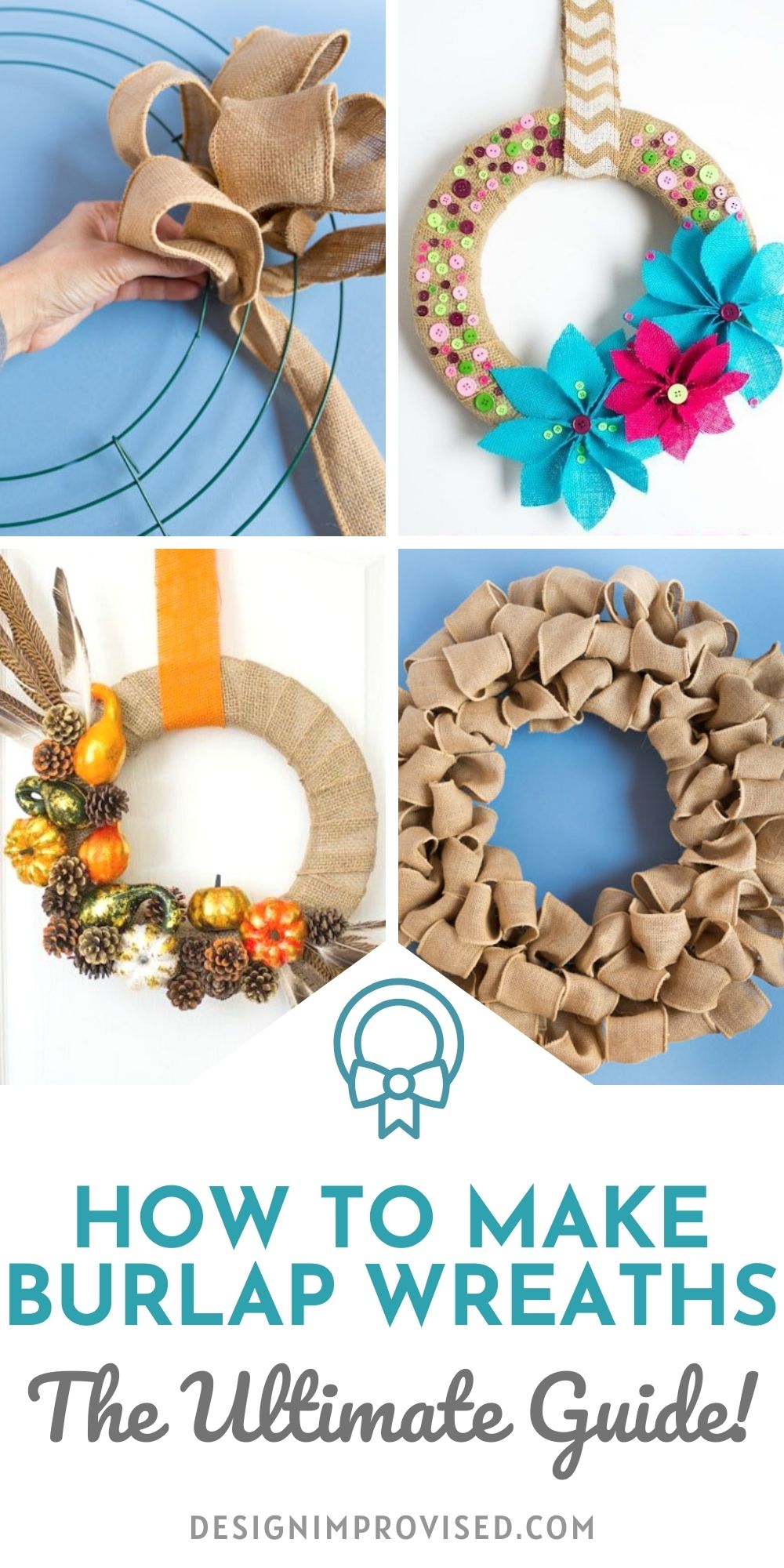 Like this ultimate guide to burlap wreaths?
Then download my Make a Year of Wreaths Ebook!