The Cutest DIY Fall Gnome Wreath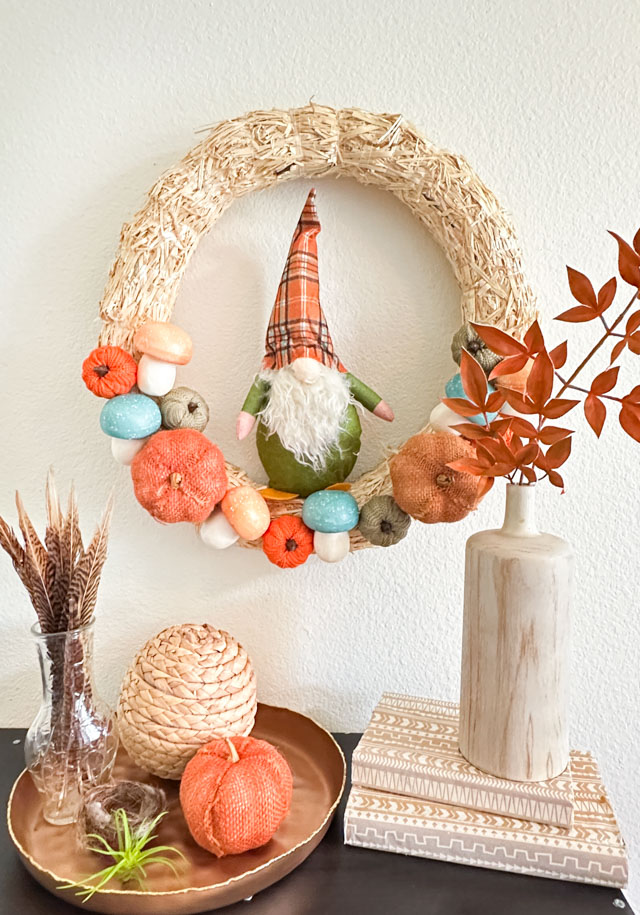 Want to make the cutest gnome wreath for your front door this fall? You can make this fall gnome wreath in 10 minutes using items from the Dollar Tree – no joke!
The only item not from the dollar store is the straw wreath form I used. All the rest of the craft supplies came from Dollar Tree and totaled $10. What a deal for the cutest and easiest wreath ever!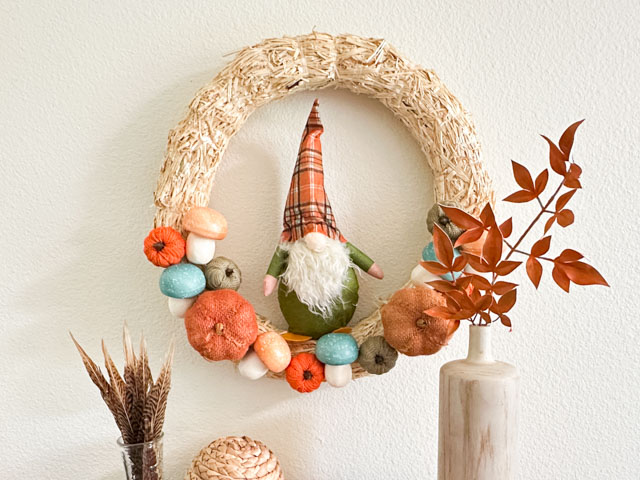 Gnomes are definitely having a moment, and I have seen lots of Christmas gnome wreath ideas, but never a fall wreath, so I thought it would be so much fun to create one! Gnomes can work for any holiday season, right?
This beautiful wreath can add a touch of whimsy to your fall decor. The orange and light teal color palette give it a modern and fresh feel. Check out the easy steps below or watch my video tutorial to see just how easy it is to make!
This post contains affiliate links. See our full disclosure.
Supplies for DIY Fall Gnome Wreath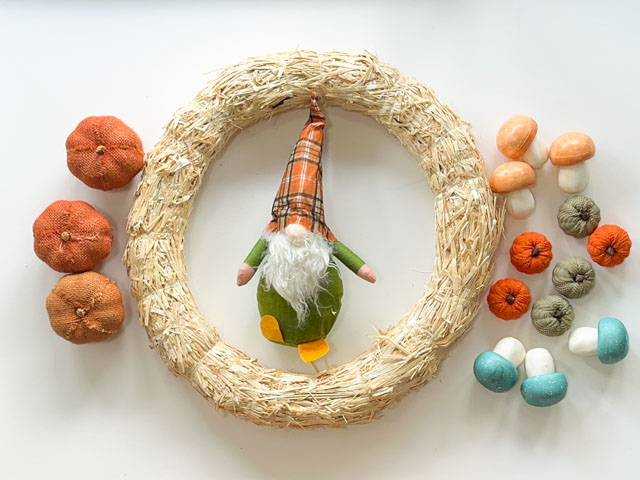 Is your local Dollar Tree out of these particular supplies? You can order them online in bulk and gather some friends together for a gnome wreath crafting night! You can get free shipping if you choose the "ship to store" option.
How to Make a DIY Gnome Wreath
1) Glue on gnome
If your straw wreath is its original packaging, you'll want to remove the plastic wrap first. Start by adding a generous amount of hot glue to the base of the gnome to attach it to the bottom of the wreath at the base.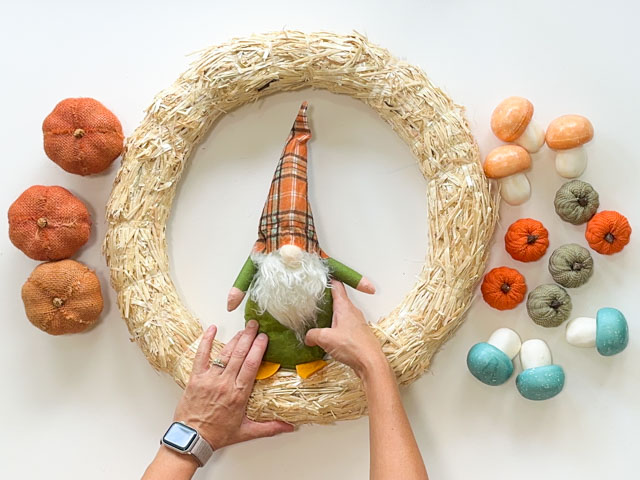 I love the size of these particular gnomes because the fit perfectly in the middle of the 18 inch wreath, with the cute pointy gnome hat filling the space nicely.
2) Add large pumpkins
Glue two large burlap pumpkins at the base of the wreath on each side of the gnome.
3) Fill in bottom of the wreath with small pumpkins and mushrooms
Fill in the empty space by gluing on the small pumpkins and mushrooms, positioning them at different angles for an organic feel. I pulled out the metal clips from the back of the pumpkins before gluing them on.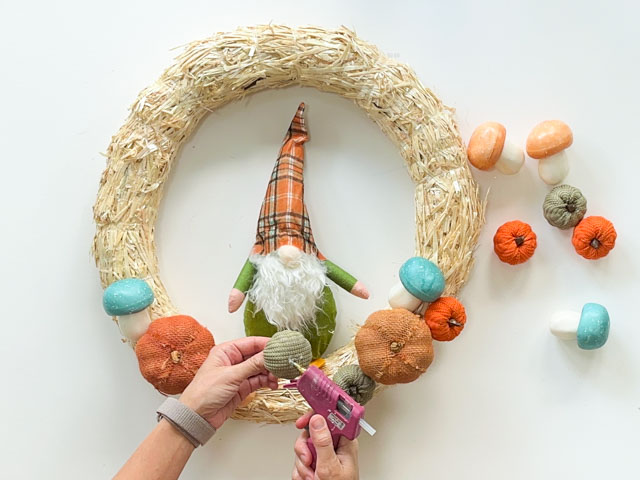 You can also make the wreath your own by adding other dollar store embellishments such as pine cones, oak leaves, and fall floral picks.
4) Hang your wreath
Use a loop of floral wire or a zip tie to hang your wreath on the front door for a festive fall welcome!
This turned out so cute, I may have to head back to Dollar Tree in a few months to look for winter gnomes to make a Christmas wreath.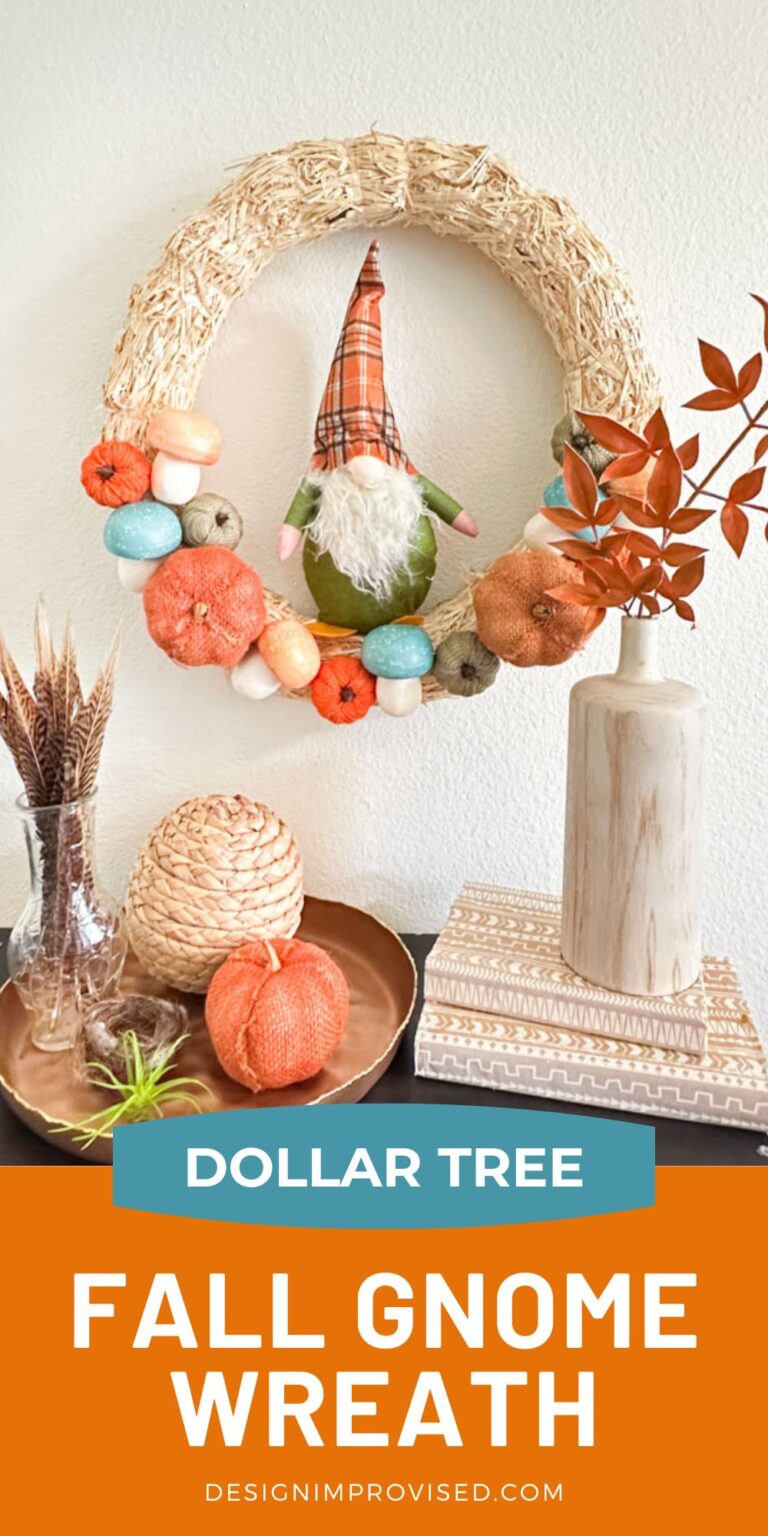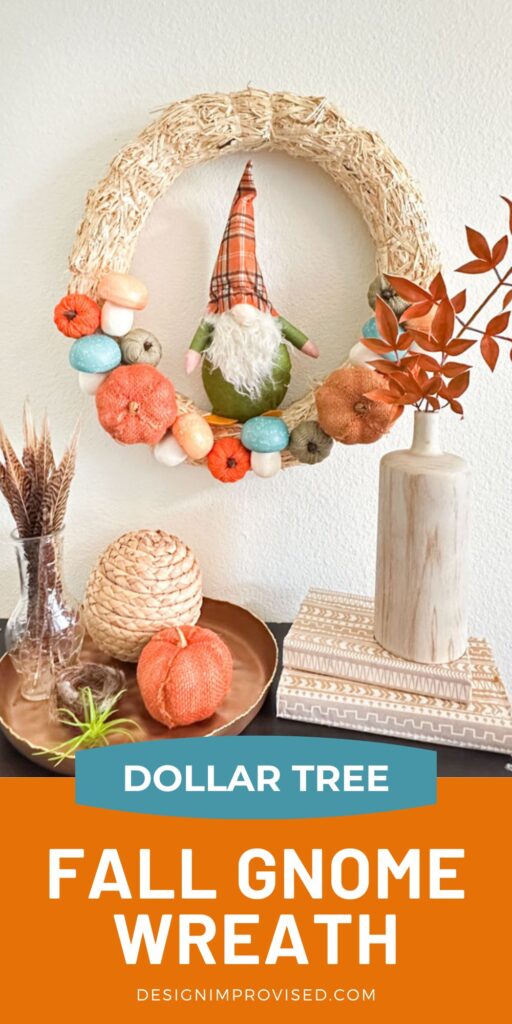 In 10 minutes and under $20 in supplies you have the cutest fall wreath. Wreath making for each festive season is one of my favorite things to do. Check out all my other wreath ideas!
Love Dollar Tree Crafts? Don't Miss These!