DIY Velvet Pumpkin Wreath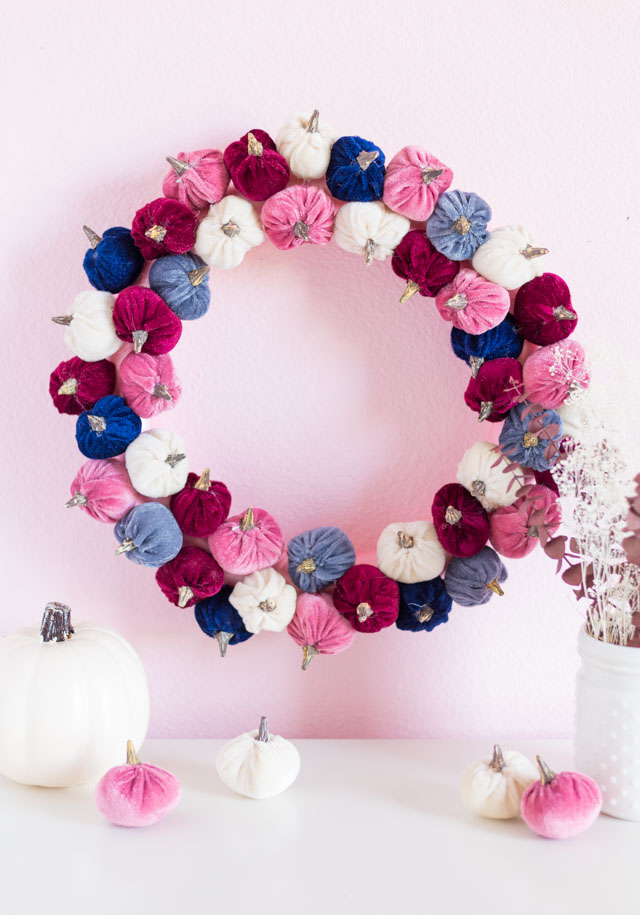 How to Make a Velvet Pumpkin Wreath
I stumbled across the sweetest mini velvet pumpkins at Hobby Lobby the other day and knew I had to make something from them. Introducing my DIY Velvet Pumpkin Wreath! I was drawn to the nontraditional fall colors of the pumpkins such as mauve, cranberry, blue and cream. They give the pumpkin wreath a fresh, modern look that takes minutes to make. These velvet pumpkins would also look great incorporated into a fall bouquet or scattered among real white pumpkins. Their little stems are so cute!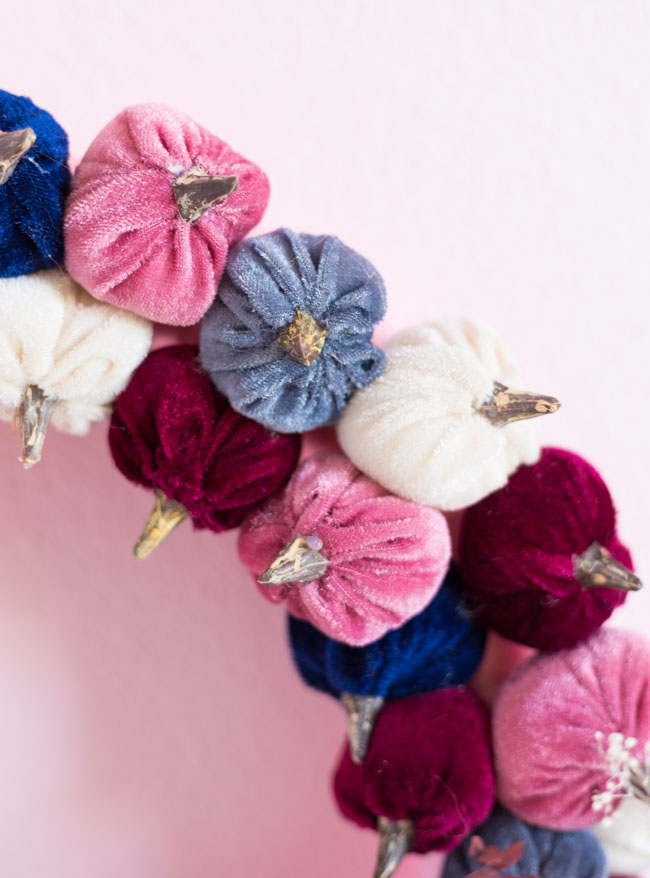 This post contains affiliate links. See full disclosure.
I like this wreath project because it looks like you went to the trouble of making each of the individual velvet pumpkins, but you are able to skip that step by buying them pre-made! They come in packs of 12 for $4.80 (when 40% off). I used four packages to make the wreath. It takes less than an hour to glue them onto a styrofoam wreath form.
Supplies for Velvet Pumpkin Wreath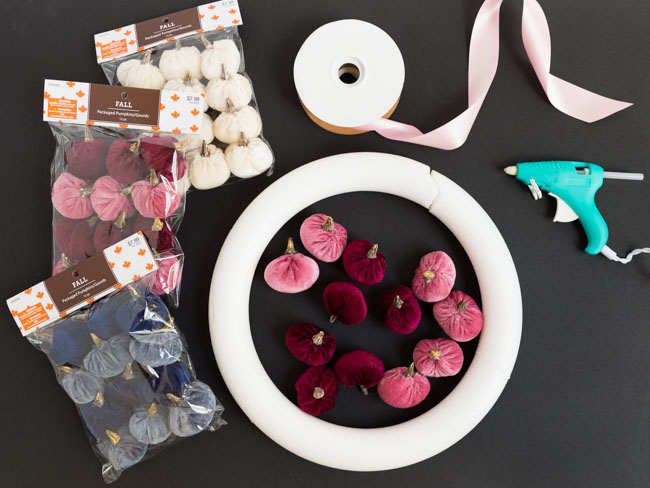 How to Make a Modern Pumpkin Wreath
Step 1: Wrap wreath with ribbon
Start by wrapping the 12″ styrofoam wreath with 1.5″ wide ribbon to give it a finished look. Slightly overlap the ribbon as you wrap it around the wreath so none of the styrofoam peeks through. Secure the ends with hot glue. I chose a light pink ribbon but any coordinating color would work well!
Step 2: Add pumpkins to wreath in groups of three
Glue pumpkins to the top of the wreath with hot glue, working in groups of three. Mix of up the color combinations as you go to give the pumpkins a random look. Also glue the pumpkins at different angles rather than having them all positioned straight up to give the wreath a more organic feel.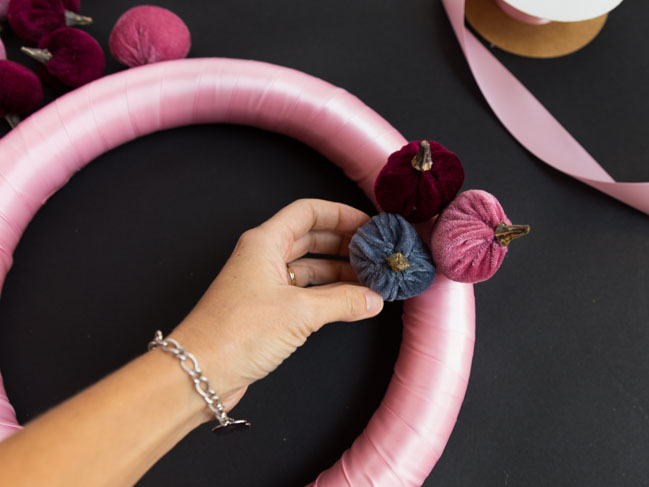 Step 3: Fill in any gaps
Continue working your way around the wreath until it is covered. Use your remaining pumpkins to fill in any big gaps. For small gaps between pumpkins you can use a generous dab of hot glue to glue pumpkins together to close the gap. Hold in place until set.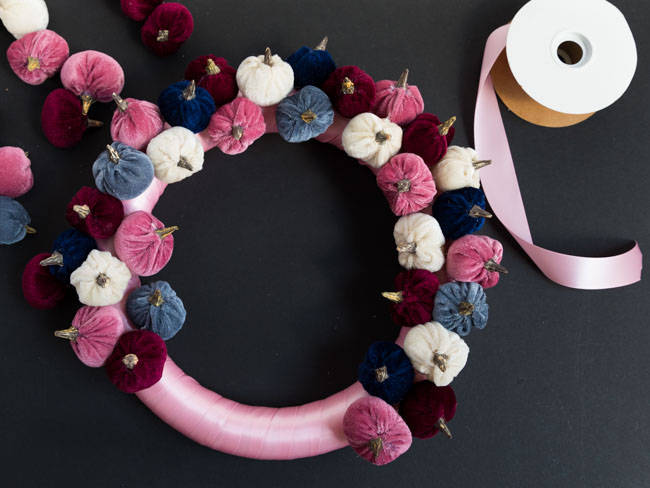 This sweet wreath is best hung inside as part of your fall arrangement. Hang it over a fireplace mantel or above a table with mini pumpkins scattered underneath!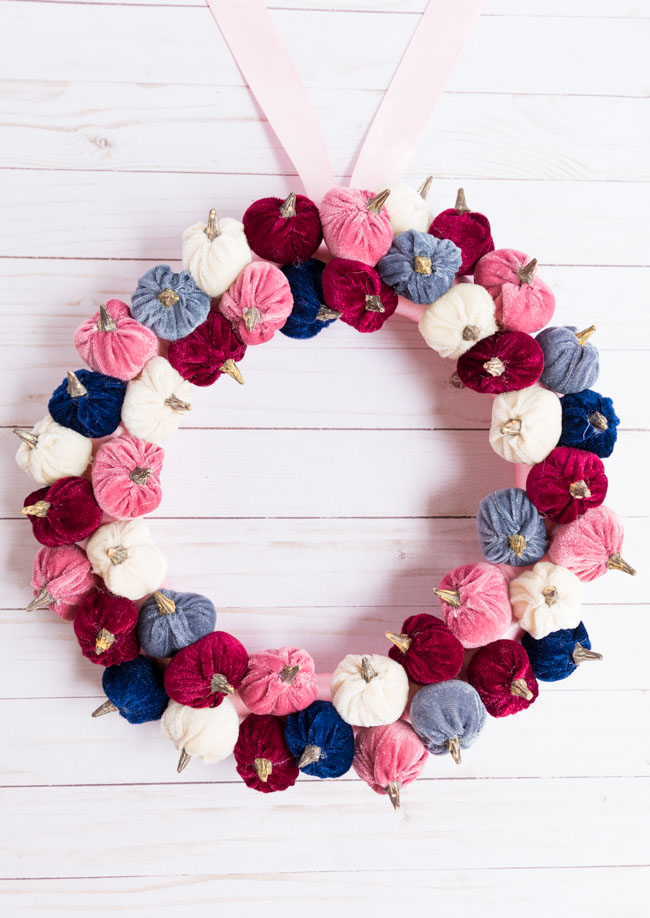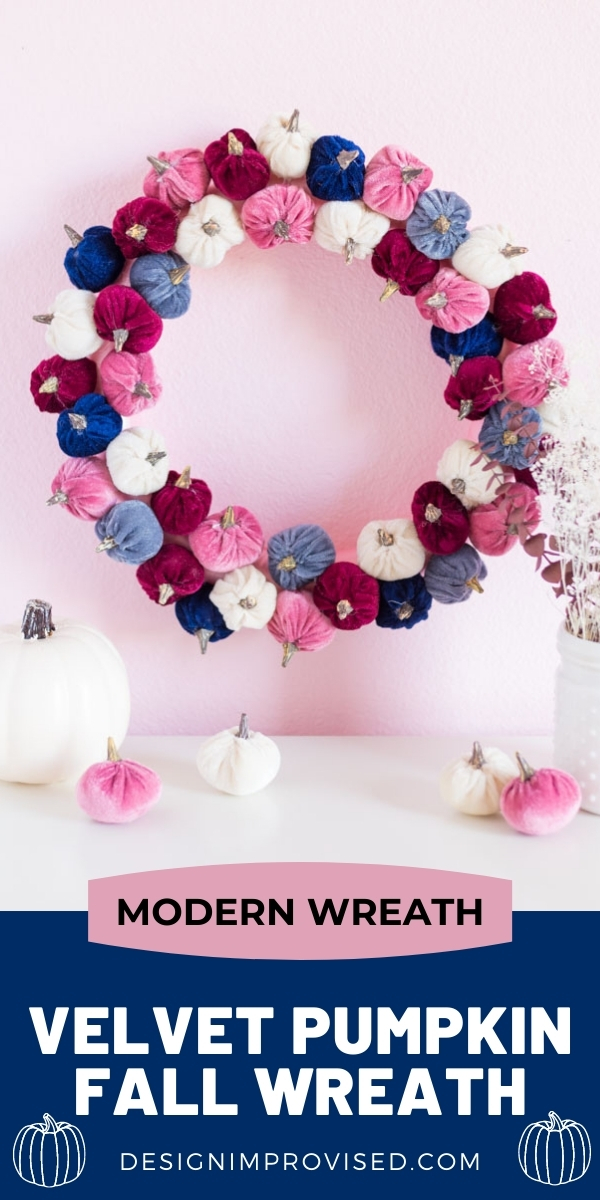 This this modern pumpkin wreath?
Then don't miss these other fall craft ideas!