Spooky Dollar Tree Pumpkin Wreath!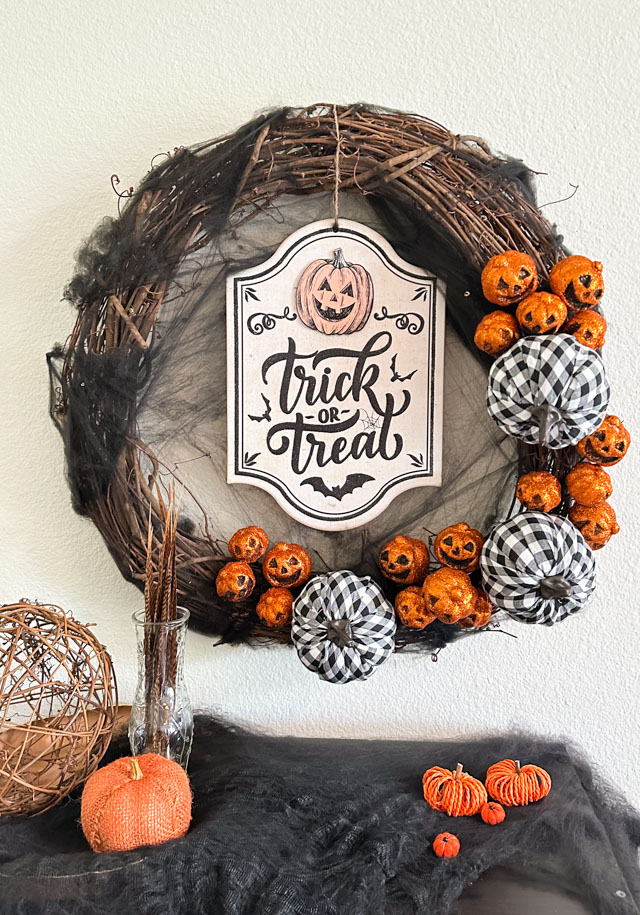 Want to have an eye-catching front door this Halloween and fall season? This DIY Dollar Tree Pumpkin Wreath looks like a million bucks! No one has to know it is made from Dollar Tree Halloween decorations. Check out these other simple wreaths I've made with supplies from my local dollar store.
This post contains affiliate links. See our full disclosure policy.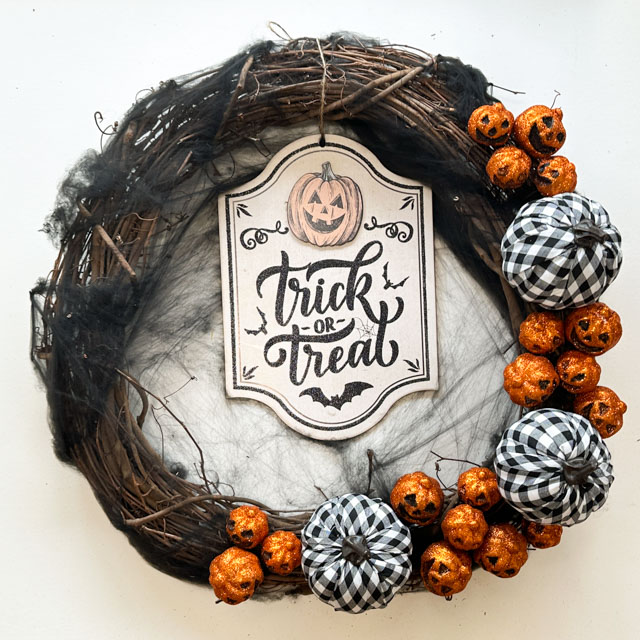 I was blown away by the variety and quality of Halloween home decor and pumpkin decor at my local Dollar Tree store – from this Dollar Tree pumpkin wreath form to these cute fall gnomes! I wanted to take it all home.
Fall is my absolute favorite time of year to work on DIY projects, and I came home full of DIY fall decor ideas, including this Halloween pumpkin wreath and this cute fall gnome wreath!
See below for the full instructions, or watch my quick video tutorial!
Dollar Tree Pumpkin Wreath Supplies
Here is what you'll need to make your own wreath for your front porch. All supplies are dollar store decorations, except for the 24 inch grapevine wreath. Unfortunately, it is hard to find large grapevine wreaths at the dollar store. I got mine at Michaels craft store.
Using a large wreath form is a great way to elevate dollar store supplies into a beautiful wreath. The wreath forms available at the dollar store are too small to make a big impact on your front door. It is worth the extra cost to get a bigger wreath. Although this wire wreath frame would make a darling pumpkin wreath!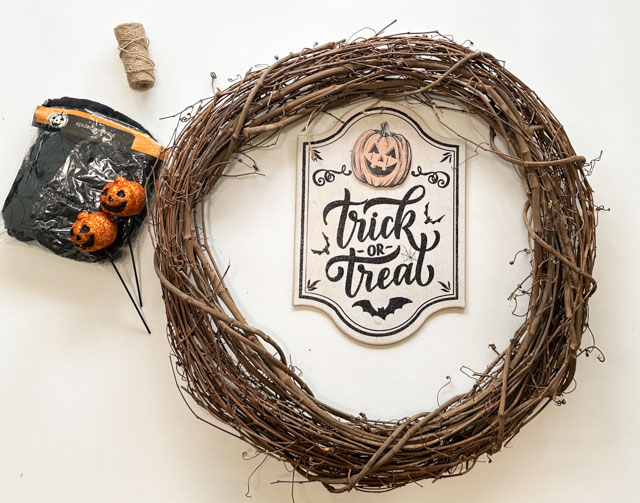 Head to your local Dollar Tree store for these DIY wreath supplies or order them in bulk online. The best part? The entire wreath costs less than $20 to make!
How to Make Halloween Pumpkin Wreath
You can make these DIY Dollar Tree halloween wreaths in under 20 minutes. Here's how:
1) Stretch fake cobwebs across wreath
Stretch a piece of black cobwebbing over the grapevine wreath for a spooky effect. The grapevine will hold the web in place easily without glue.
2) Glue on large buffalo plaid pumpkins
Add a generous amount of hot glue to the bottom of a buffalo check pumpkin and hold it in place on the wreath until the glue dries. Repeat with the other two pumpkins, spacing them out around the right side of the wreath.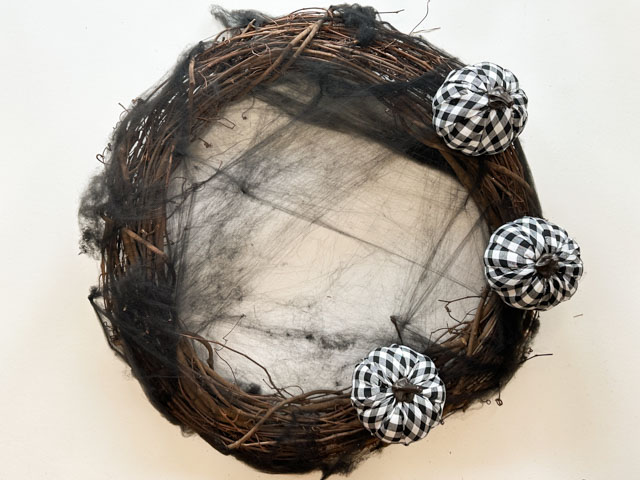 3) Add jack-o-lantern pumpkin picks
Cut the pumpkin shape picks so to around 2 inches. Stick the pumpkins into the wreath. Be sure to angle the face on the top of the foam pumpkins outward and secure it in place with a dab of hot glue.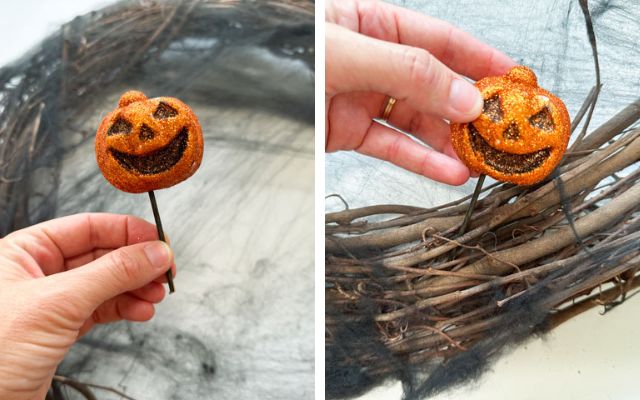 You can fill in just one side of the wreath like I did, or you can fill in the full wreath with pumpkins.
4) Hang the Halloween sign from the center
These Trick or Treat signs are some of my favorite Dollar Tree supplies. Secure the sign to the top of the wreath with a piece of twine. Hang your fall pumpkin wreath with a piece of ribbon or floral wire.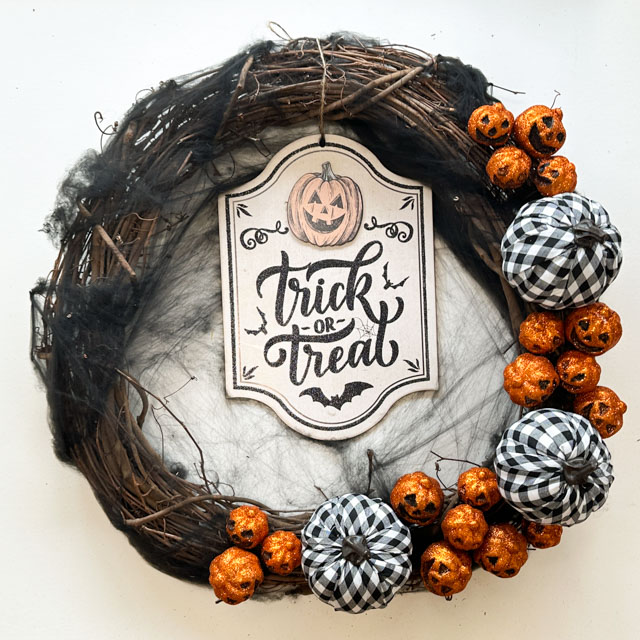 Check out my other DIY Halloween wreaths including this Dollar Tree Fortune Teller wreath with decorative mesh.
Save this cute Halloween wreath to Pinterest!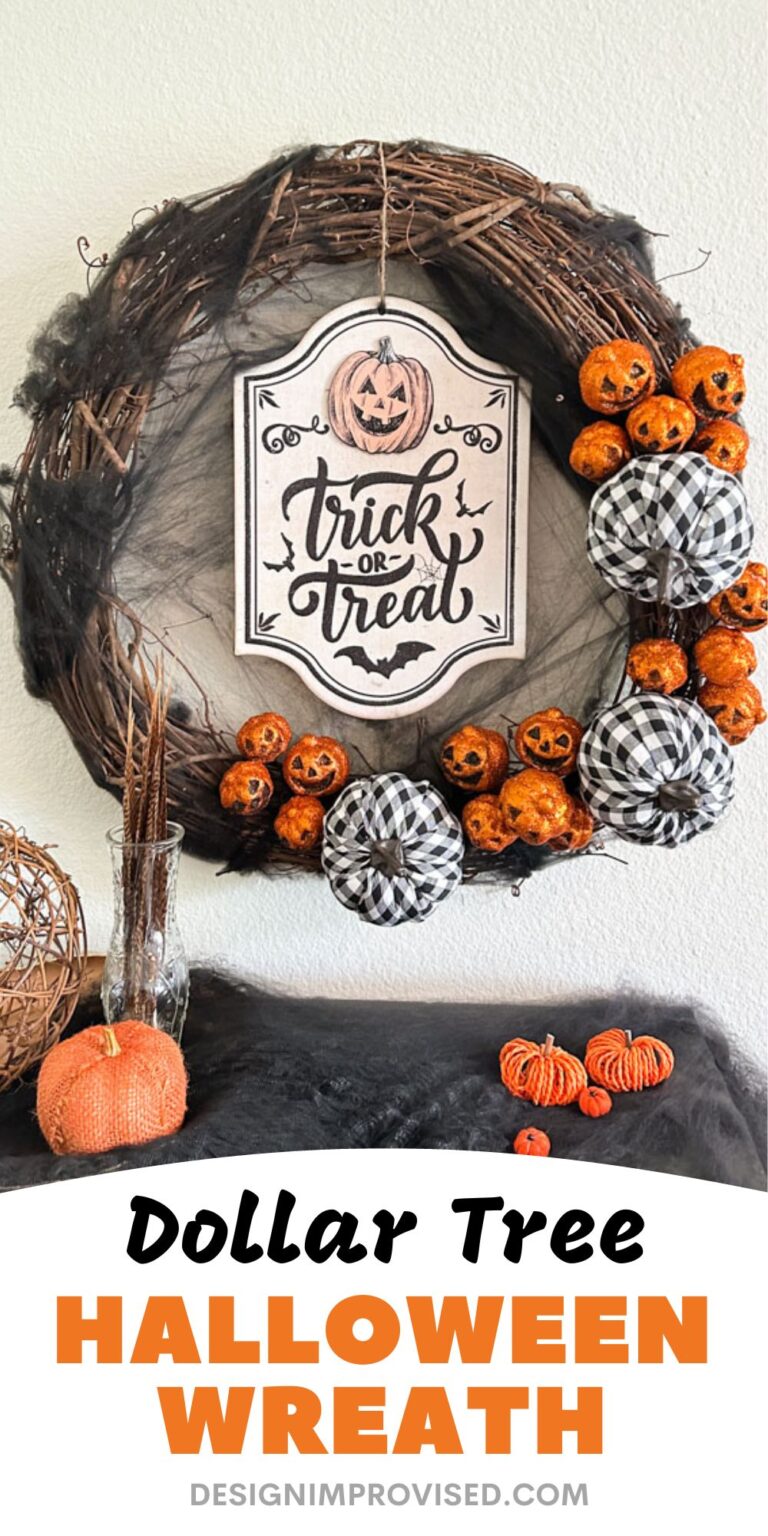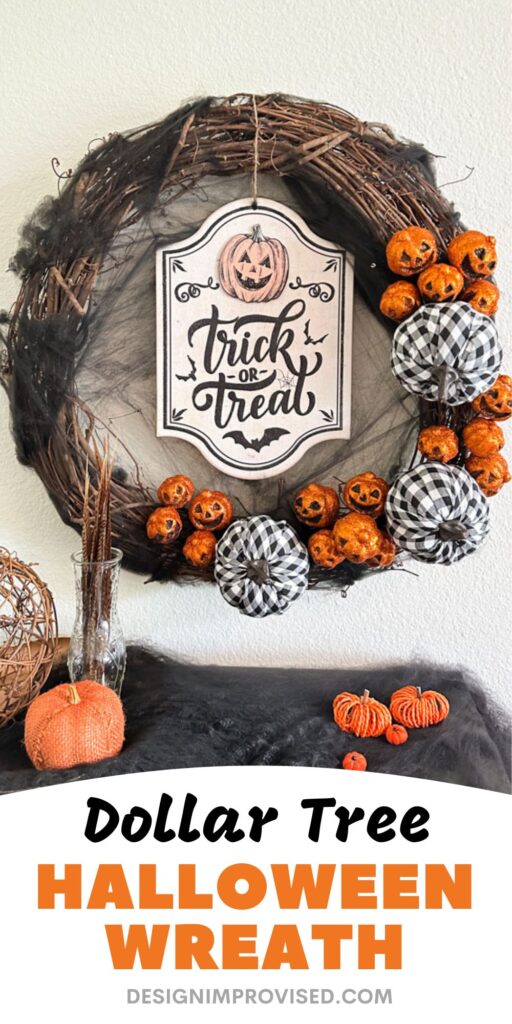 Like this dollar store Halloween idea? Check out these other dollar store crafts for each holiday season!