The CUTEST Dollar Tree Snowman Wreath!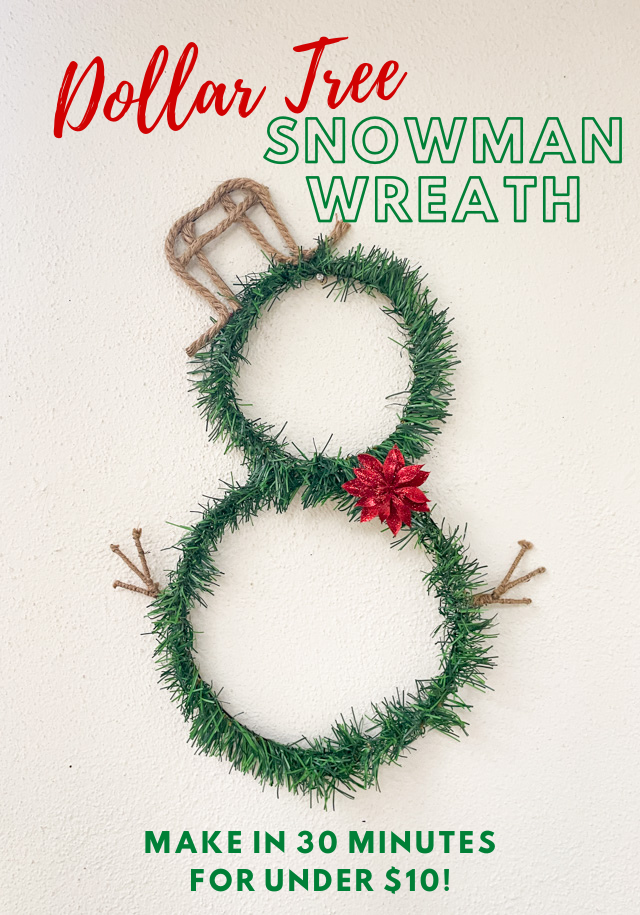 Need a super simple DIY wreath for your front door? This dollar tree Snowman Wreath can be made in under 30 minutes for under $10, with all supplies from Dollar Tree! They have the cutest snowman wreath form, complete with a winter hat, for only $1.25.
I love making DIY Christmas Wreaths and have them displayed throughout my home during the Christmas season. Don't miss all my DIY Christmas crafts!
This post contains affiliate links. See our full disclosure policy.
Dollar Tree Snowman Wreath Supplies
Head to your local dollar store for the following items. This wreath was made with under $10 of Dollar Tree supplies: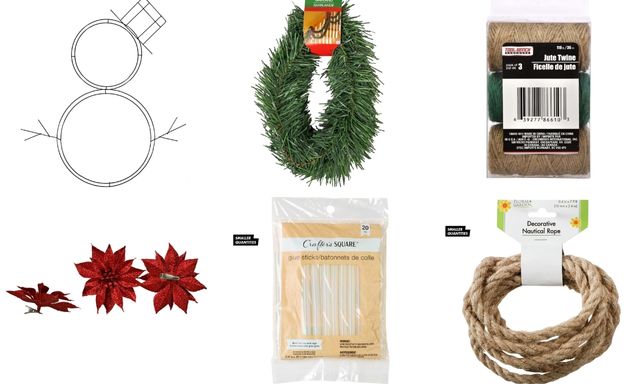 Shop these Dollar Tree supplies:
You can also get similar supplies at craft stores like Hobby Lobby, but you can beat the Dollar Tree prices!
Check out the video tutorial to make this cute wreath!
Dollar Tree Snowman Wreath – Video Tutorial
I've seen some Dollar Tree snowman wreath ideas using this frame and deco mesh, but I wanted to make a more natural, rustic look for this snowman wreath.
How to Make the DIY Snowman Wreath
Short on time during this busy time of year? You can make this simple and fun craft in under 30 minutes:
1. Glue wire greenery to wire frame
Add a dab of hot glue along the bottom circle of the snowman wreath form. Run the greenery around the wire form, adding more hot glue as you go along. Once you're done with the large circle, repeat step 1 by adding greenery to the small circle and trimming the end with scissors.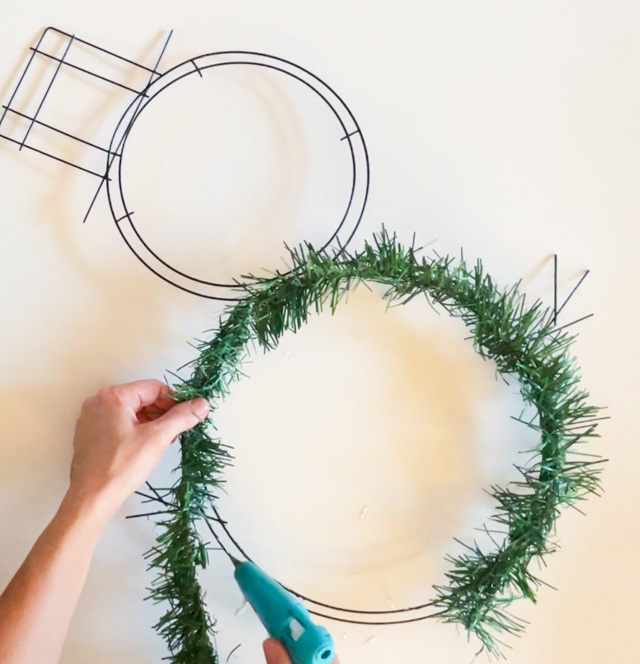 Pro Tips:
Use low temp hot glue, or a finger protector to avoid burning yourself!
Protect your work surface from hot glue drips with a Dollar Tree poster board.
You could also use twist ties or a piece of green floral wire to connect the greenery to the wreath if you don't want to use glue.
Gluing the greenery to the front of the wire frame is a lot easier than wrapping it, and uses a lot less. You can leave the back side bare!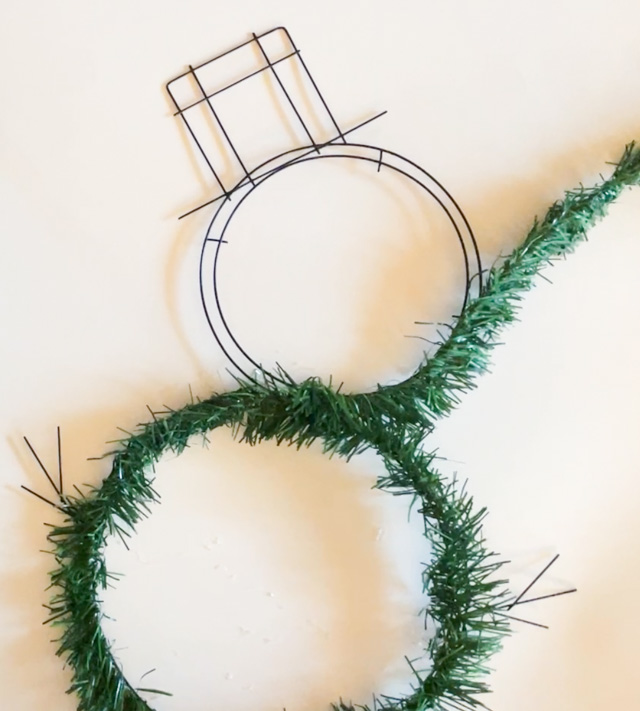 2. Wrap snowman arms with twine
Cover the snowman arms by wrapping them with jute twine. Secure the ends with a dab of hot glue.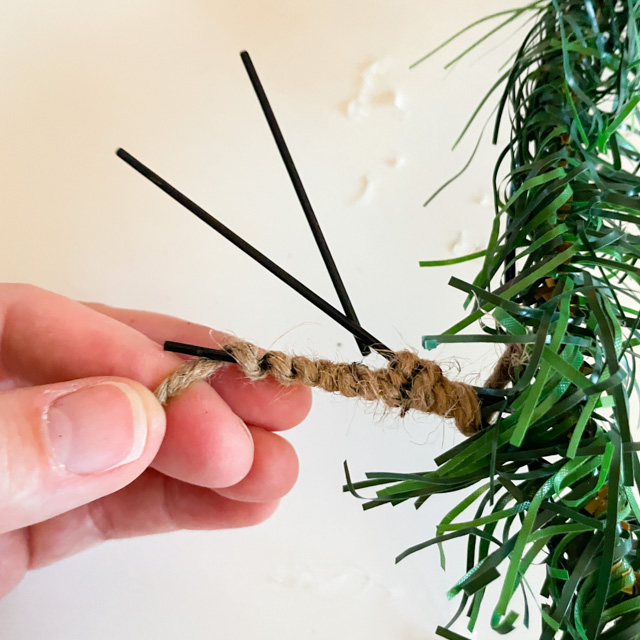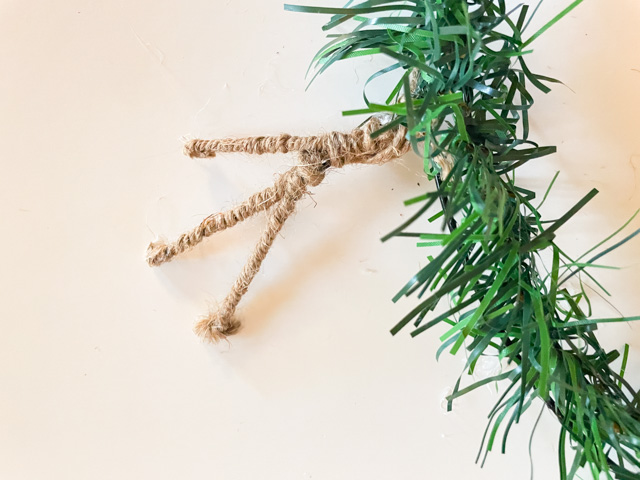 3. Cover snowman hat with rope
Wrap the snowman hat with thick jute twine or nautical rope. Cut it into strips and secure with a little hot glue. You cold also use black rope or thick black yarn if you want to make a black hat for your snowman.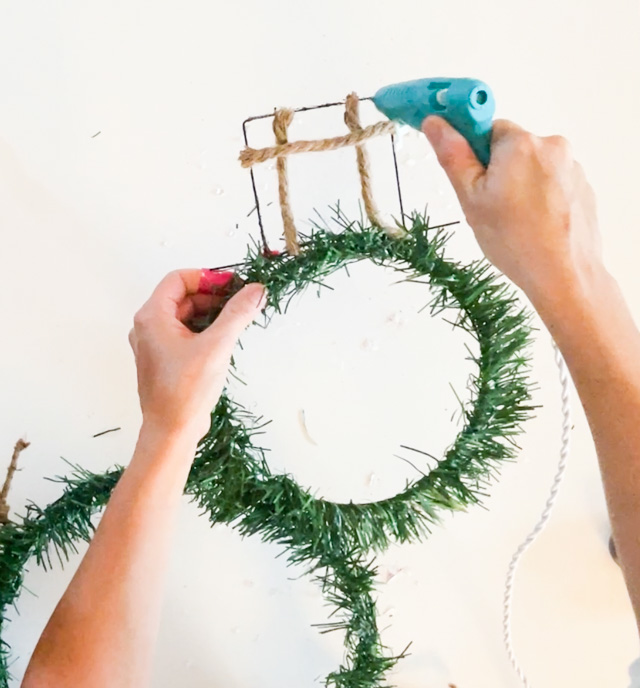 4. Embellish snowman with a poinsettia
Add a small faux poinsettia clip to the center of the wreath, or the brim of the hat to give your snowman extra pizzazz! Of course you can add any other embellishments you want. There are lots of cute options at Dollar Tree.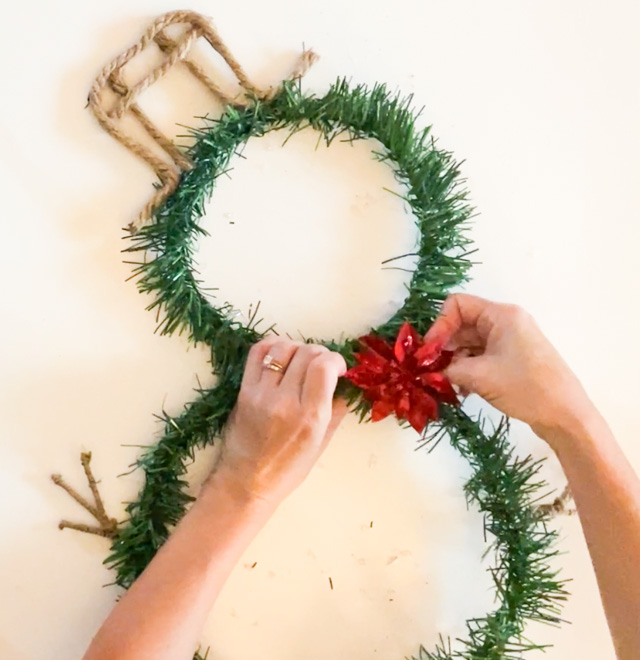 Hang your snowman on your front porch door to enjoy throughout the holiday season!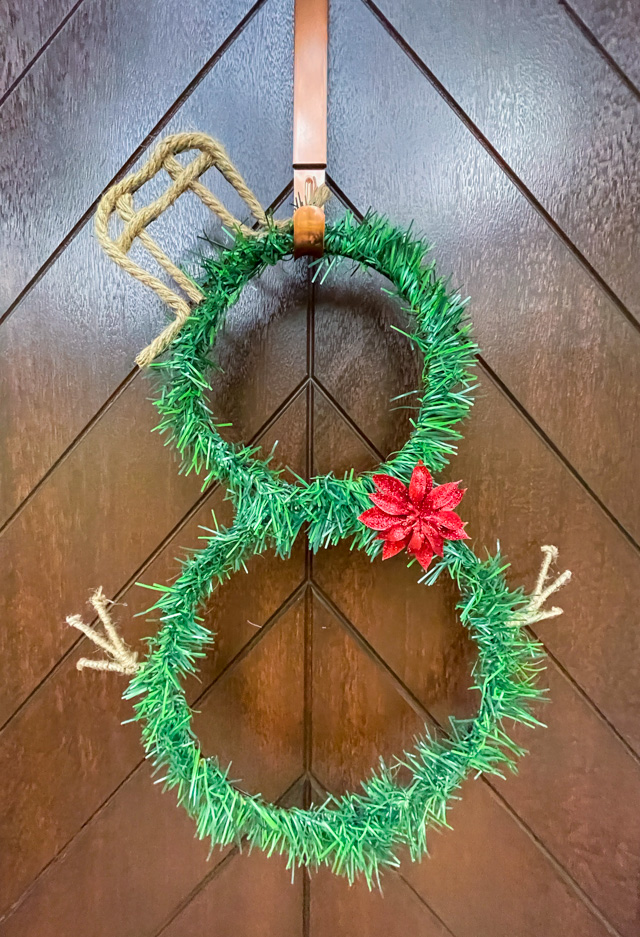 Pin This Idea to Save it For Next Year!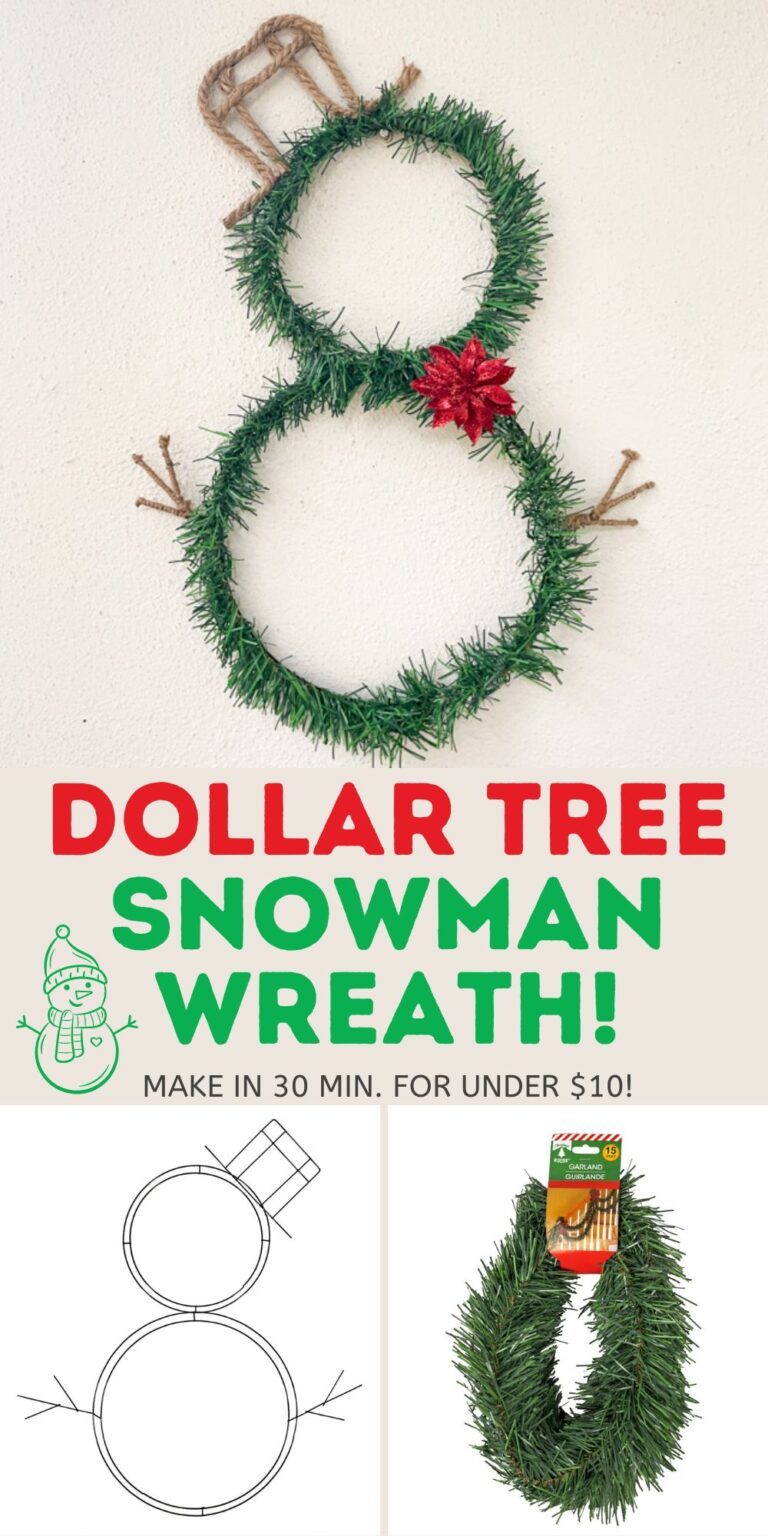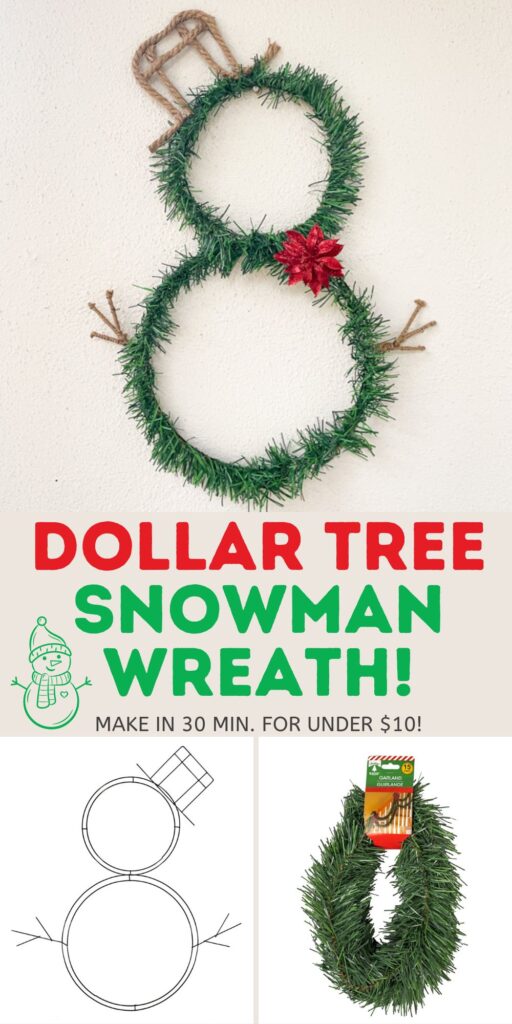 Like this Dollar Tree Snowman Wreath Idea?