Never to young to start…
February 28, 2012 | FILED UNDER: Uncategorized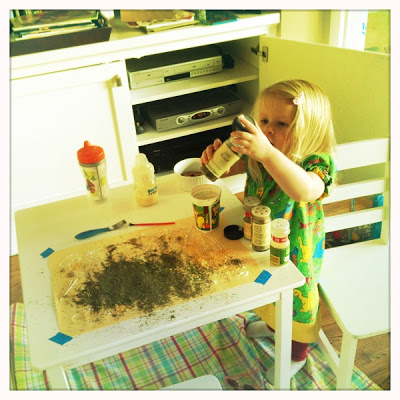 …grooming the next generation of 'design improvisers'! If you follow this blog regularly, you know that my 2.5 year old daughter Stella is often tinkering around with me on projects. She is just starting to be at the age where she can do simple crafts, help with cooking, etc. Needless to say, I am thrilled! I can only hope that she and her sister grow up loving this stuff as much as I do.
I have found an awesome source for crafty, messy, fun projects perfect for toddlers and wanted to share. It is a blog called
Play Create Explore
that I came across on Pinterest. A mom with two young boys (3 yrs and 6 months) writes the blog about all the fun little projects she does with her 3 year old. And boy, does she have some fantastic, easy ideas. Many of the ideas are art / craft based and utilize stuff you have in your kitchen cabinets.
Stella and I have already done several of them over the last couple weeks. They are all things I would have never thought of doing on my own… it has been a great way to spend a little more one-on-one time with Stella during Hazel's nap. The best part is, I have as much fun (more fun?) doing the projects as Stella does.
Here's a picture overview of the fun things we've done so far, with a link to the 'how to'…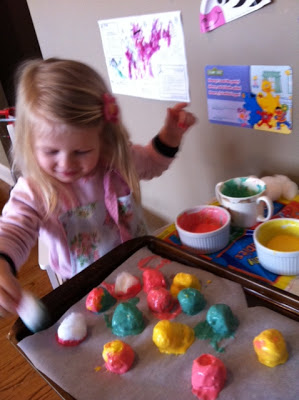 Baked cotton balls – dip them in a mixture of water, flour and food coloring and put them in the oven…
….they turn into "rocks" with a hard shell that you can smash open to reveal the soft inside!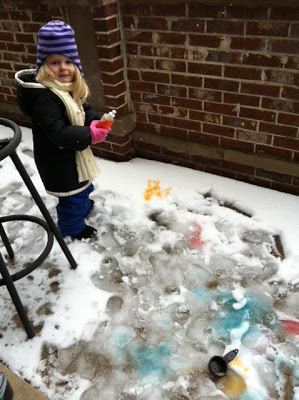 Painting snow – put food coloring and water in squeeze bottles and 'voila!'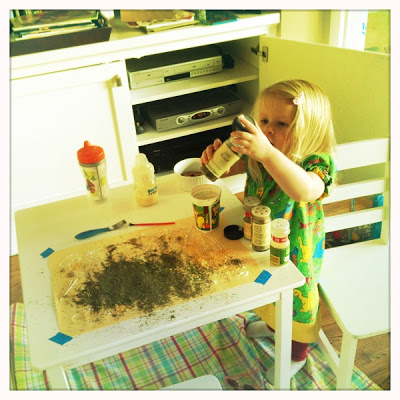 Spice painting – get out some of those old spices that need to be tossed, let them squeeze glue on paper and then sprinkle on the spices
If you have a toddler between 1-3 years, definitely check out her
site
. And if you know of any other great sources for toddler activities, let me know!