100th Day of School Shirt Idea: 100 Days of Blooming!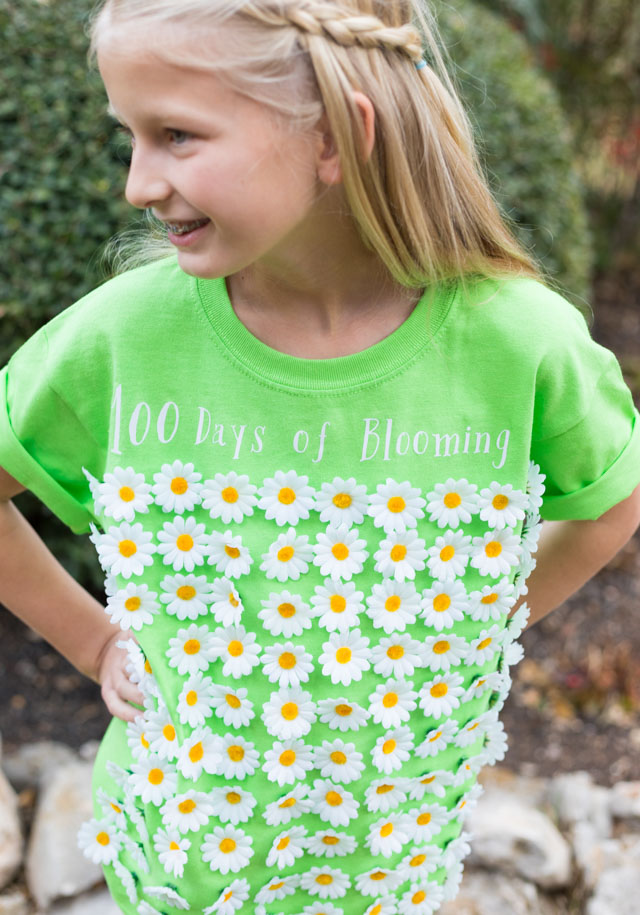 100 Days of Blooming Shirt for 100th Day of School
Do your kids celebrate their 100th day of school? Then this 100th day of school shirt idea may come in handy! I partnered with Aleene's Glues to create a flower filled shirt with 100 artificial daisies that says "100 Days of Blooming".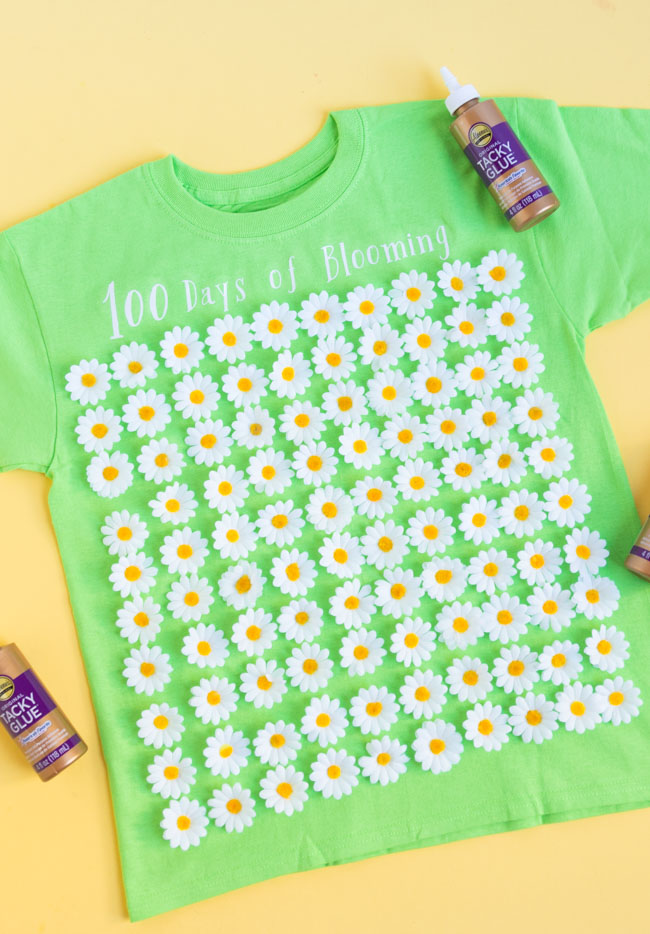 1ooth Day of School 2020
Thanks to Pinterest, elementary children around the world are counting down to their 100th day of school and celebrating with special snacks, poster boards and shirts all including 100 things! Since start dates vary by school, you'll have to check with your local school calendar to find the correct 100th day of school for 2020. Or ask your kids! 🙂 If I did the math correctly, I believe our 100th day of school is next week, on Jan. 29th. It's hard to believe they have already been in school for nearly 100 days this year!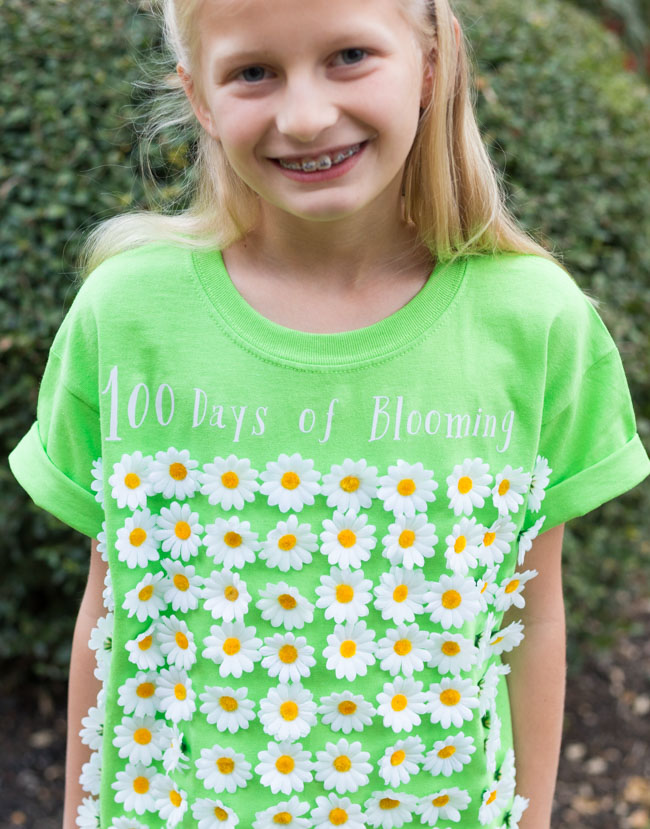 I thought this flower shirt would be an especially fun 100th day of school shirt idea for girls. You can use a single variety like the daisies I chose and make a grid with them. Or you can try a variety of different artificial flowers in a more random design.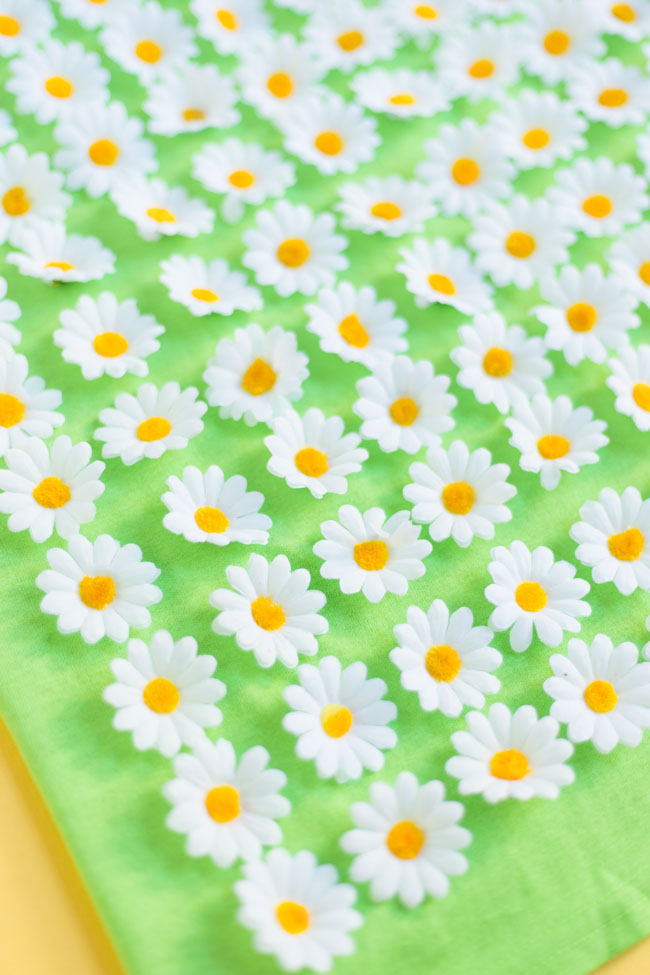 This post contains affiliate links. See our full disclosure.
**NOTE: because I used removable vinyl letters and craft glue, this shirt is a one time use. If you wanted a shirt that withstands the washing machine I would recommend using Aleene's fabric glues to adhere the flowers, and iron-on letters or puffy fabric paint for the words.
100 Days of School Shirt DIY: What You'll Need
Wire cutters or strong scissors
Vinyl letters or puffy fabric paint
Cardboard (for fabric insert)
How to Make 100 Days of Blooming Shirt
1. Insert a piece of cardboard between the shirt layers to prevent any glue from seeping through.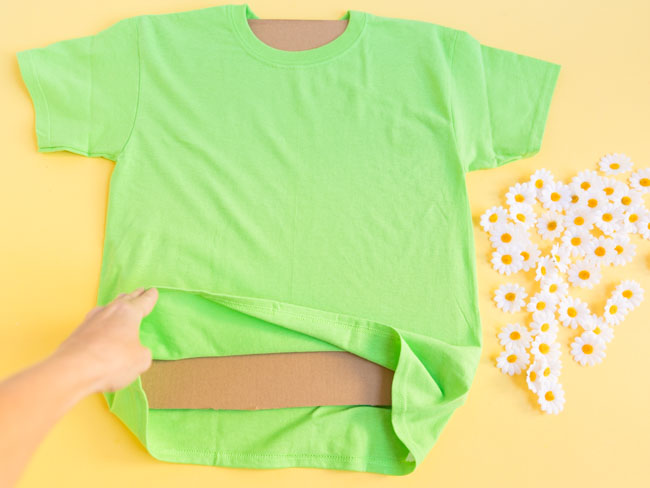 2. If your flowers have stems, use wire cutters or a strong pair of scissors to clip them off as close to the flower as possible so it will lay flat on the shirt.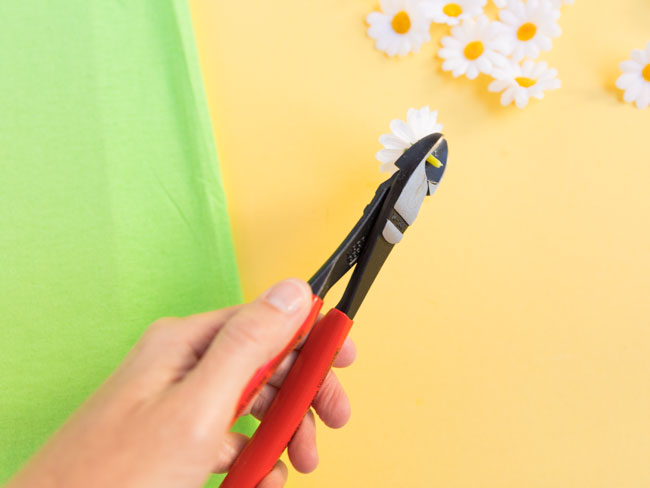 3. Lay out the flowers to create a 10×10 grid on the shirt.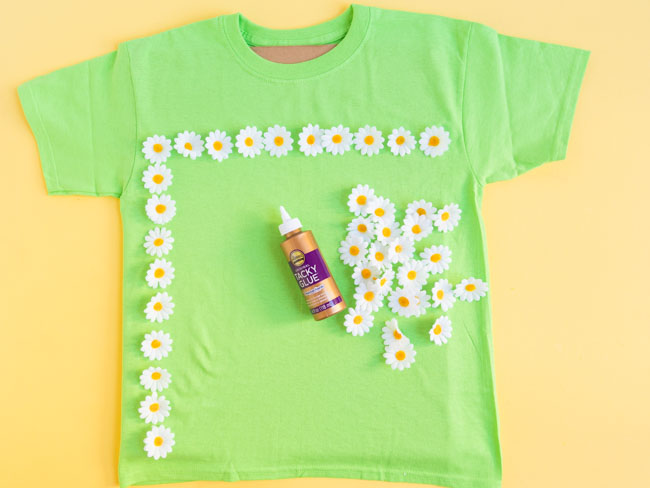 4. Once you have the flowers positioned where you want them, adhere to the shirt with a dab of Aleene's Original Tacky Glue on the back. To create a more permanent shirt, be sure to use fabric glue.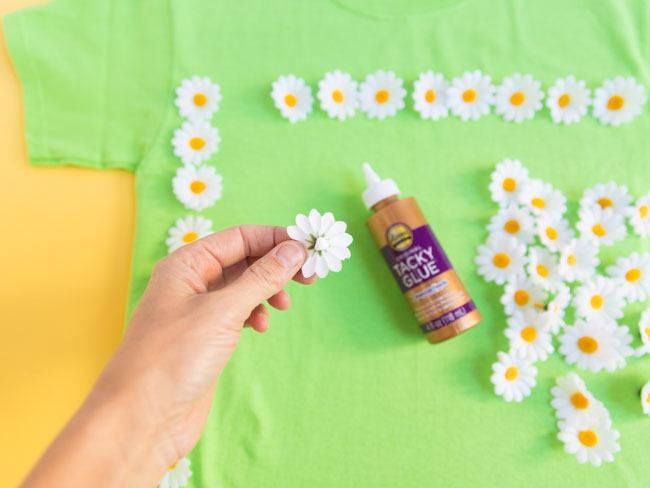 5. Add the words "100 Days of Blooming" to the top of your shirt. I used my Cricut machine and removable vinyl. For a machine washable shirt, you'll want to use iron-on vinyl or puffy fabric paint instead.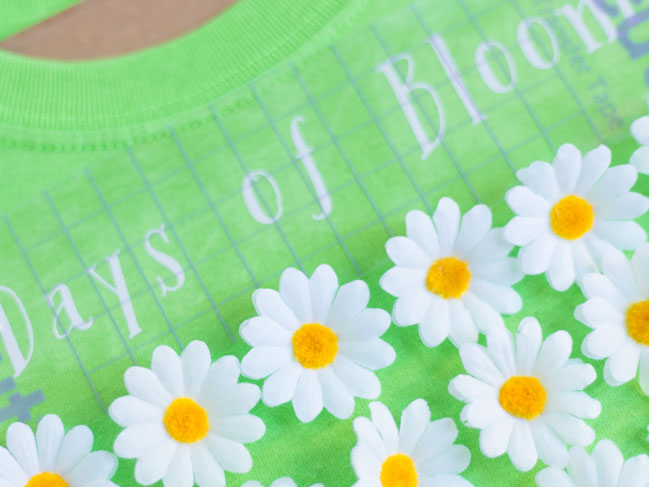 I love how bright and sunny this shirt turned out!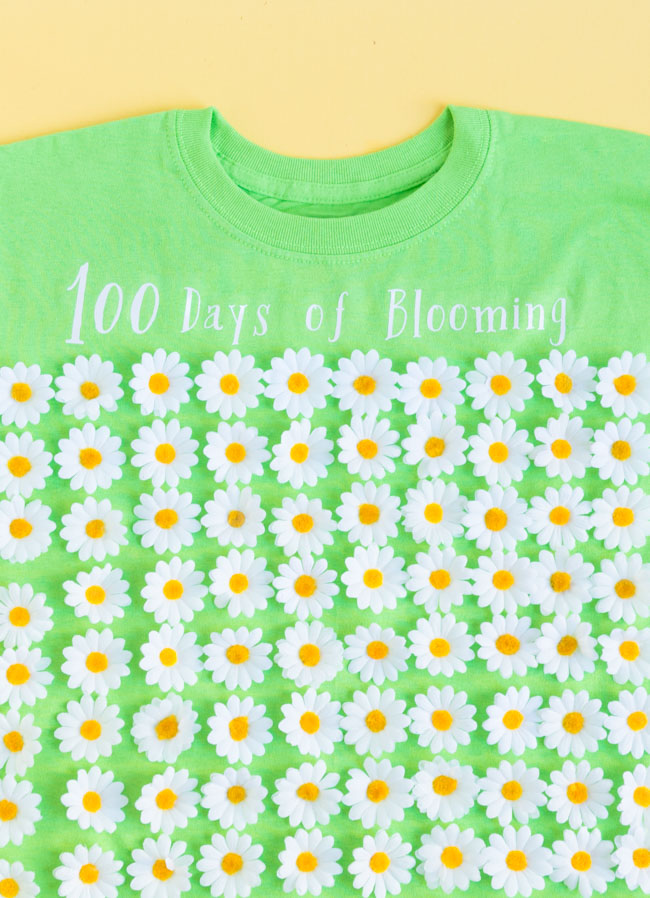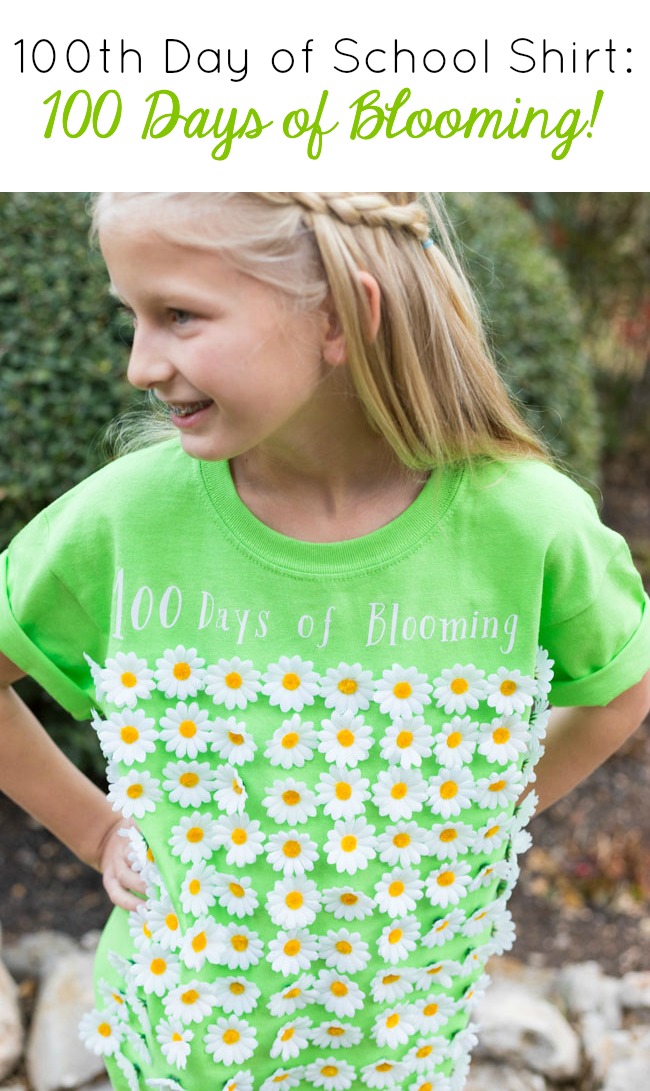 Like this 100 days of school idea? Then don't miss these DIY kids projects!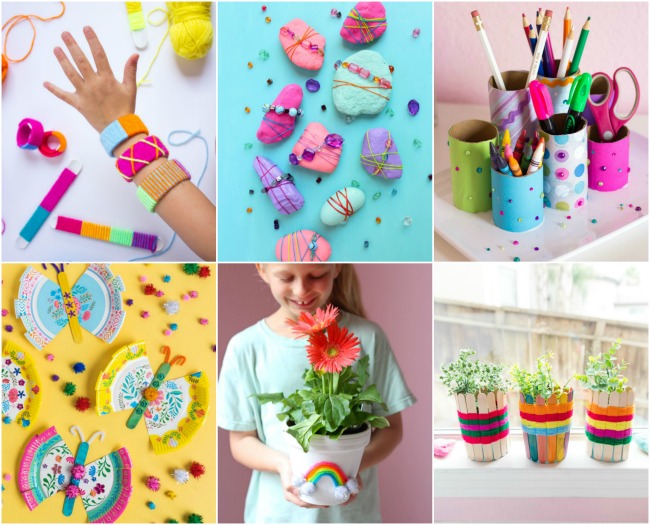 This post is sponsored by Aleene's Glues.