The Cutest Hocus Pocus Pumpkins!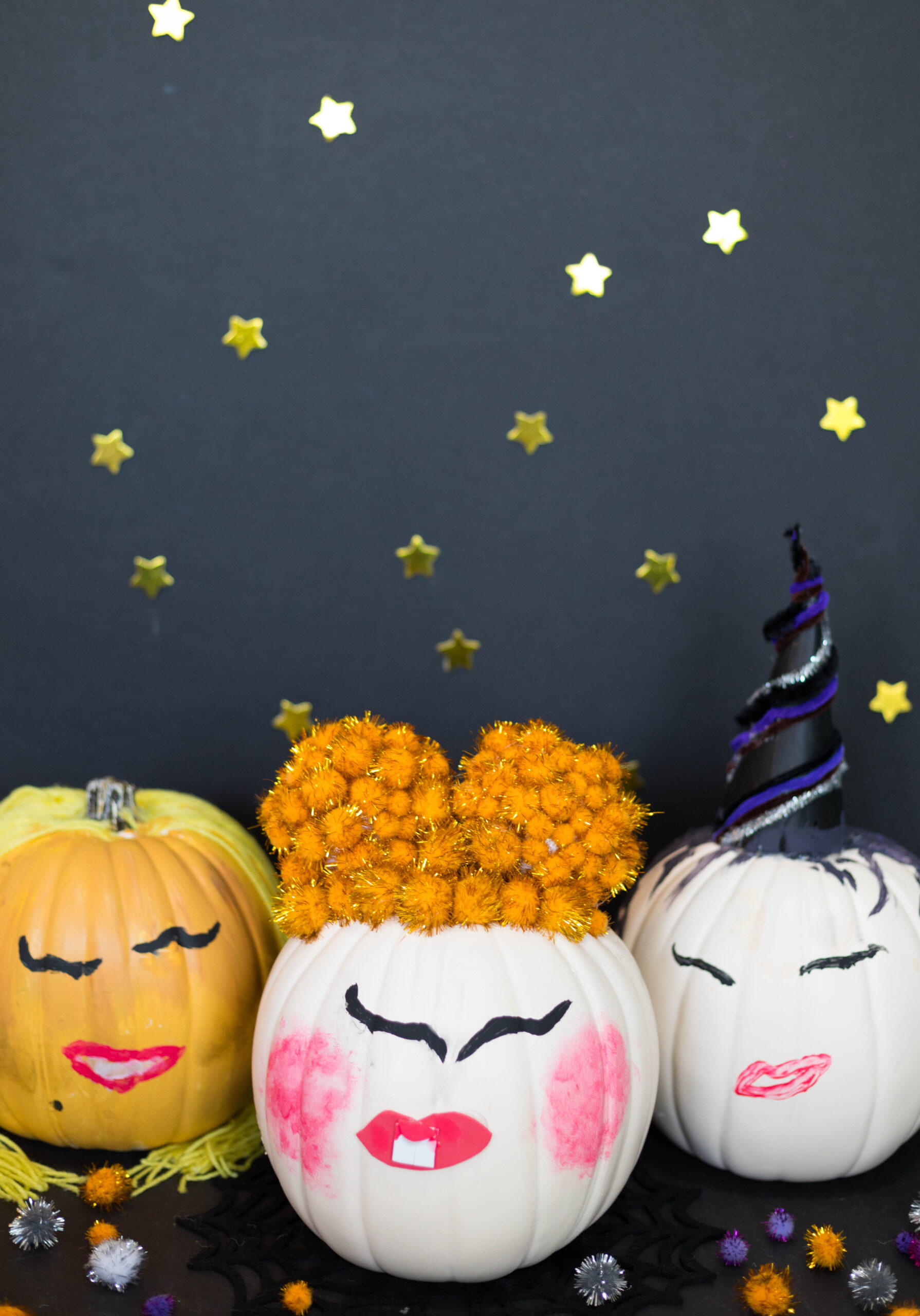 THE CUTEST HOCUS POCUS PUMPKINS!
Bring the Sanderson sisters to your home this Halloween night with these DIY Hocus Pocus Pumpkins. No black flame candle needed! You can make them with craft paint and a few simple supplies. In fact, these pumpkins are so easy to make, my 11 year old daughter Hazel made them all by herself! I was so impressed by her creativity, I had to share them with you.
Pin this Hocus Pocus Pumpkin Idea: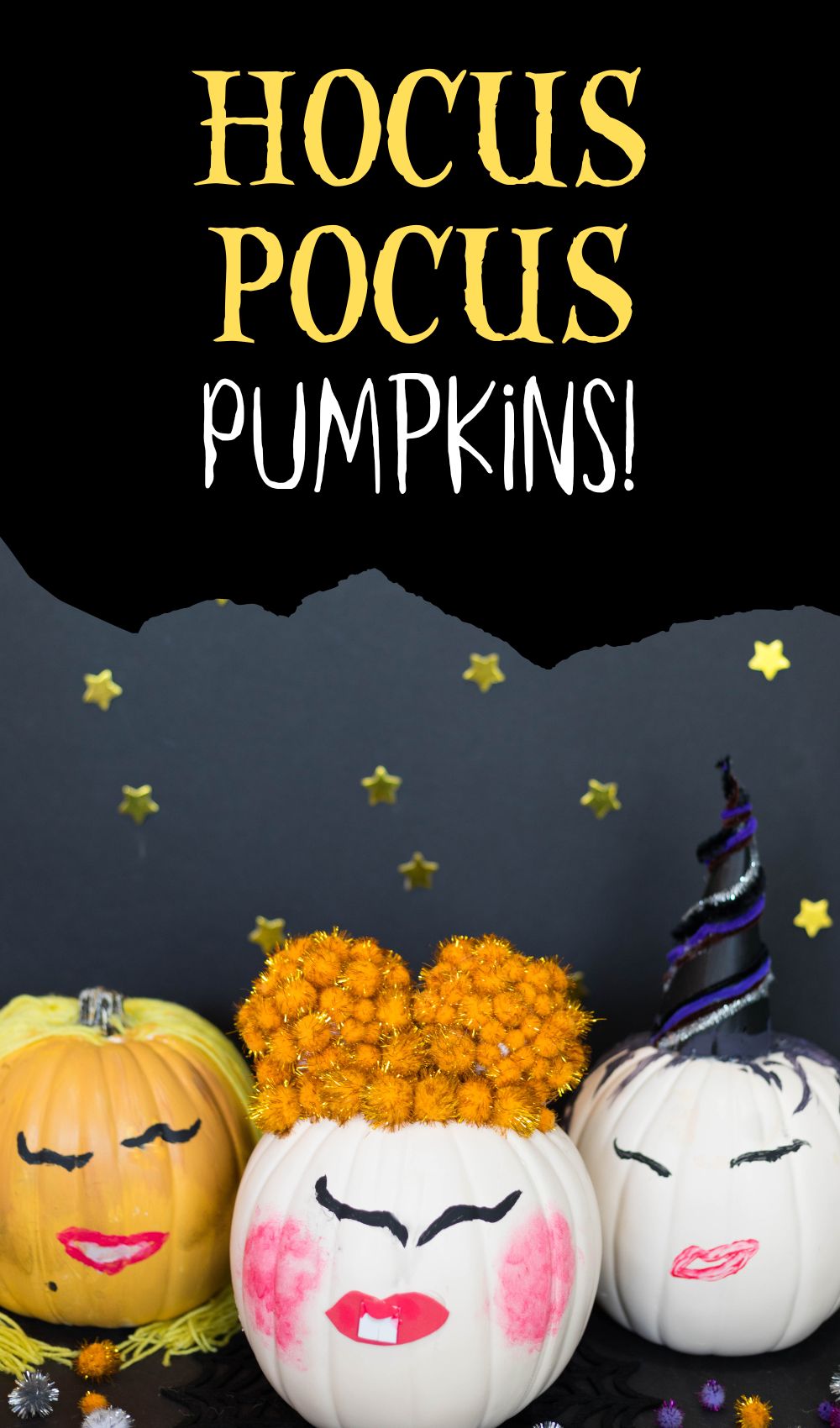 Our family loved Disney's Hocus Pocus 2 with Bette Midler as Winifred Sanderson, Sarah Jessica Parker as little sister Sarah Sanderson, and Kathy Najimy as Mary Sanderson. Not quite as good as the original movie from 30 years ago, but still a fun new addition to our favorite Halloween movies!
Need a last minute Halloween decoration that will be a big hit with your trick or treaters? Make the witch sisters from the beloved film these with faux pumpkins!
Hocus Pocus Pumpkin #1: Winifred Sanderson
Show off all of Winifred's best features including her fluffy orange hair, rosy cheeks and big teeth! The hair is made by covering two foam balls with sparkly pom-poms. White and red foam give the mouth and lips a 3D effect.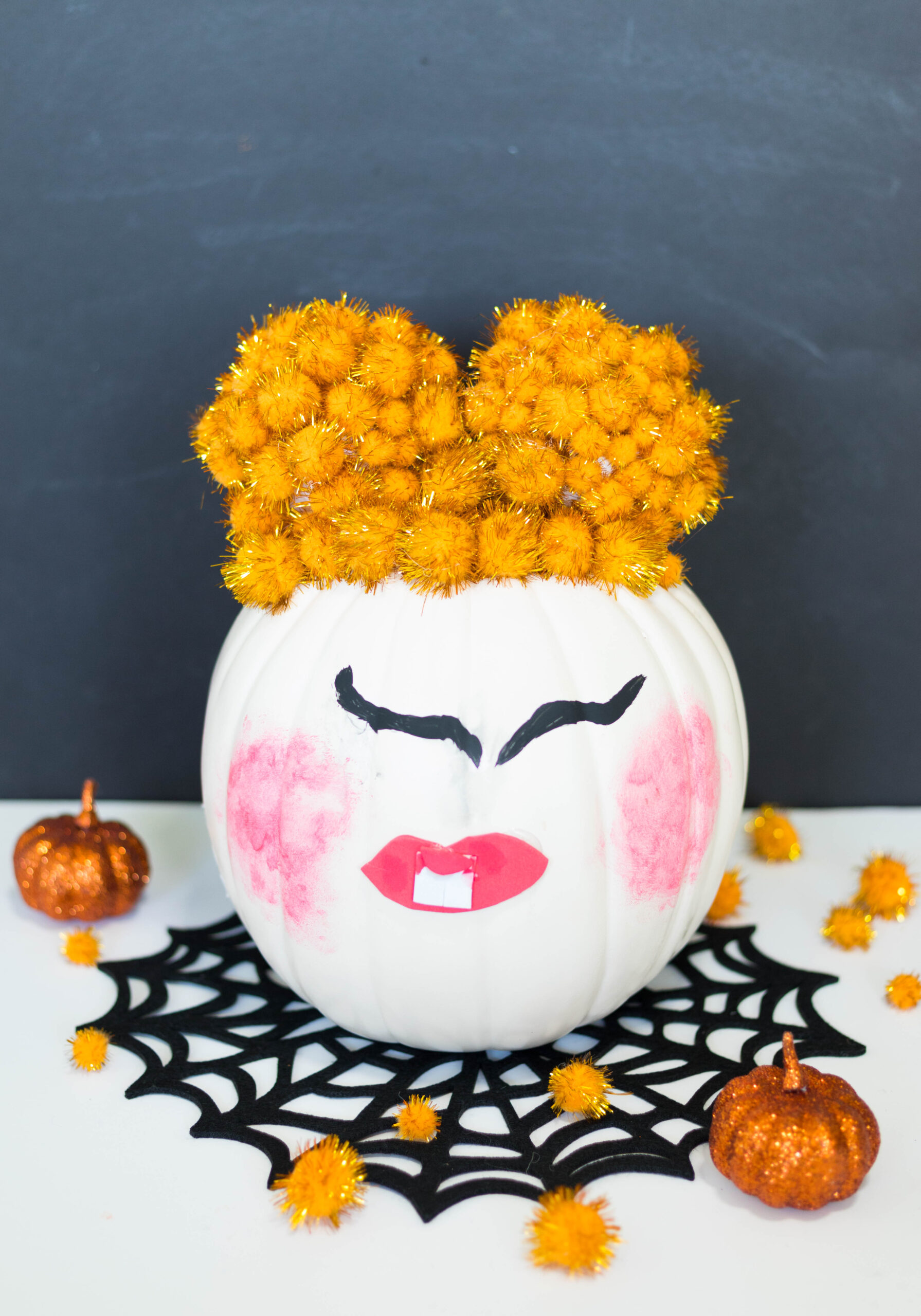 Supplies for Winifred Sanderson Pumpkin
White craft pumpkin pumpkin
Two white foam balls
Orange glitter pom-poms
Wood dowels (optional)
Red and white craft foam
Craft paint
Hot glue
How to Make a Winifred Sanderson Pumpkin
Use craft paint to add eyes and rosy cheeks to the front of a white craft pumpkin.
Cut out a pair of bright red lips and two front teeth from foam and glue to the pumpkin with hot glue.
Cover two foam balls with glitter pom-poms. Adhere with hot glue. Stick a small wood dowel into each foam ball and poke it into the top of the pumpkin. (Optional: you can also glue the foam balls to the pumpkin directly).
Glue additional glitter pom-poms around the base of the foam balls to create Winifred's hair.
Hocus Pocus Pumpkin #2: Mary Sanderson
Sister Mary is known for her hair that takes on the shape of a witch's hat, and her silly facial expressions when she is sniffing around for children to eat!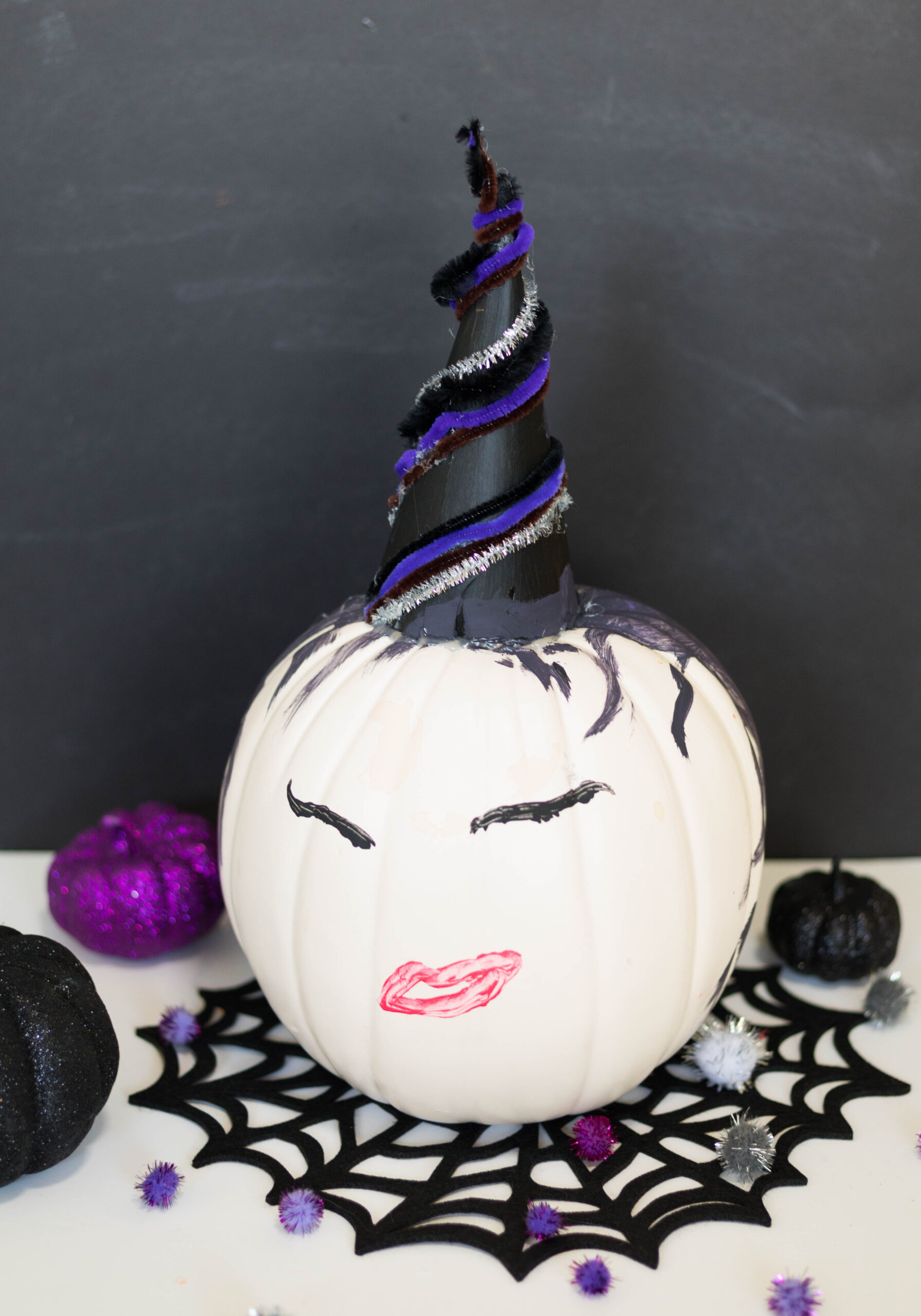 Supplies for Mary Sanderson Pumpkin
White craft pumpkin
Black paper cone
Black, purple, and silver pipe cleaners
Craft paint
Hot glue
How to Make a Mary Sanderson Pumpkin
To create Mary's hair, make a cone out of black cardstock. Glue pipe cleaners around the cone and twist together at the top.
Glue the cone "hair" to the top of the pumpkin with hot glue.
Add facial features and additional black hair with craft paint.
Hocus Pocus Pumpkin #3: Sarah Sanderson
Sister Sarah is known for her golden locks and bright red lips. Don't forget her signature wart!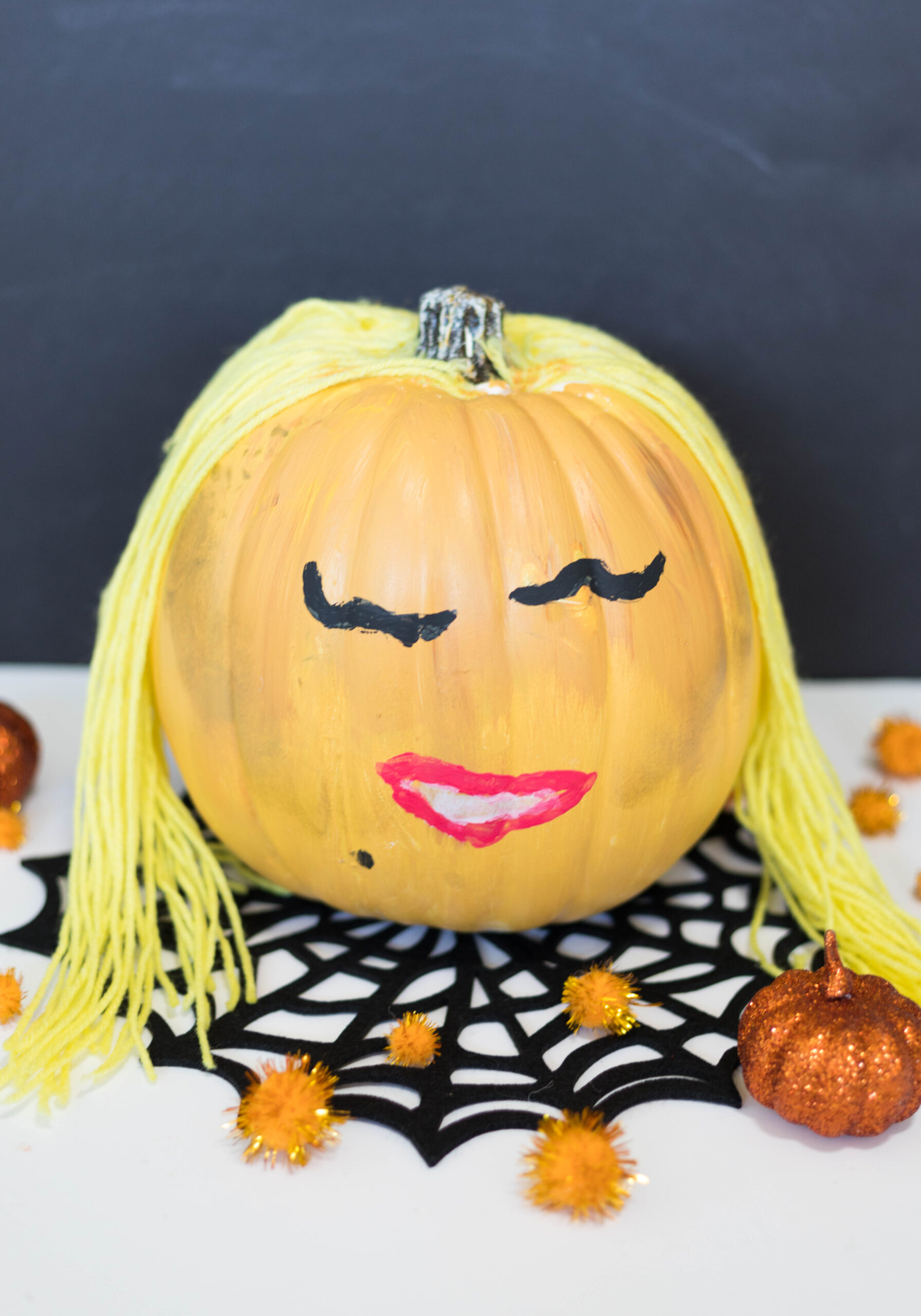 Supplies for Sarah Sanderson Pumpkin
White or orange craft pumpkin
Craft paint
Yellow yarn
Hot glue
How to Make a Sarah Sanderson Pumpkin
If you want you can leave your craft pumpkin white, or paint it to give it a gold skin tone.
Cut long strips of yellow yarn and glue it around the top of the pumpkin with hot glue.
Add facial features with craft paint.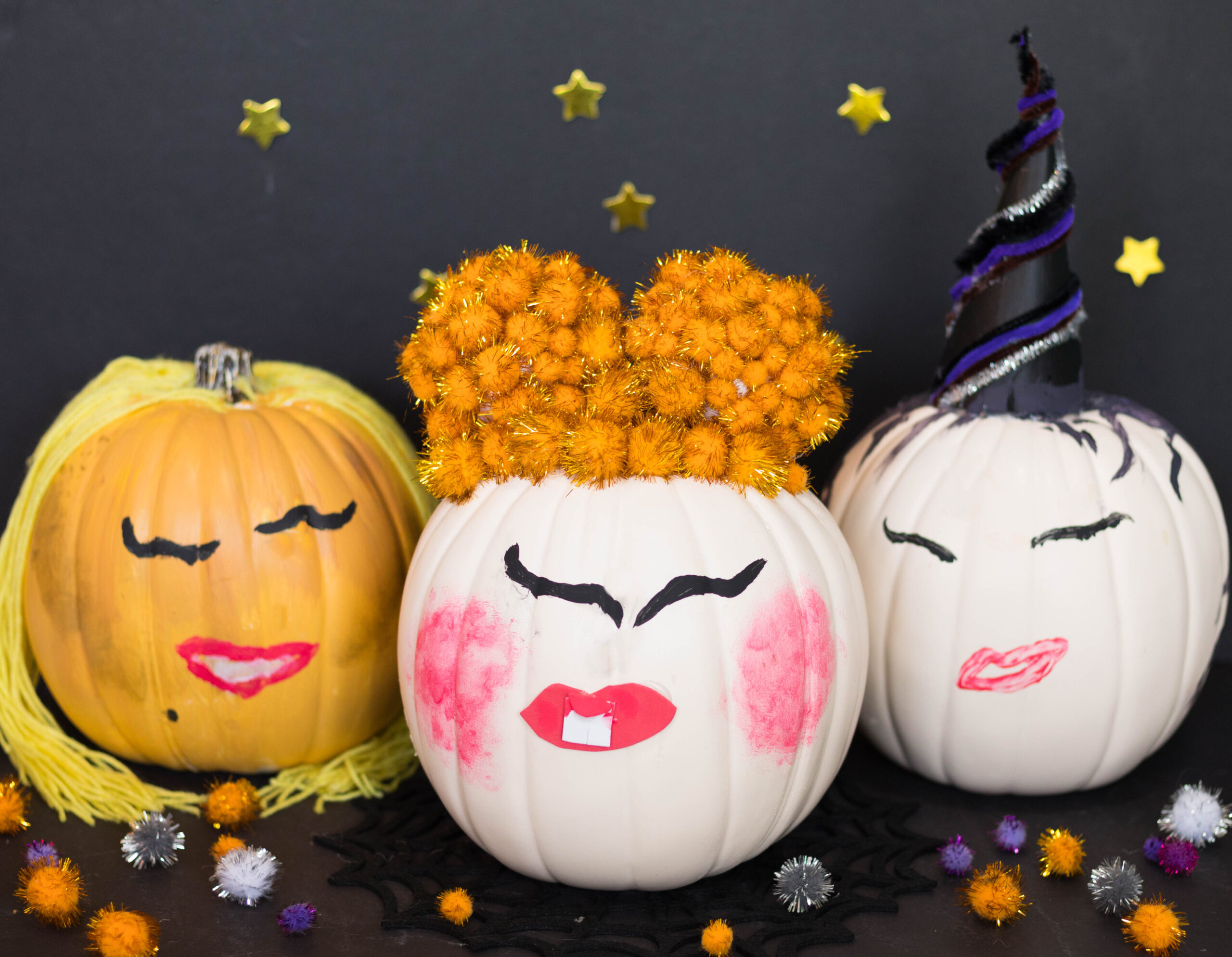 Have fun making pumpkins from other characters from Disney's Hocus Pocus such as Billy Butcherson (played in the movie by Doug Jones) or the talking cat. Get creative with the craft supplies you have on hand to put your own spin on these pumpkins!