Hazel's Pastel Pink Bedroom Reveal!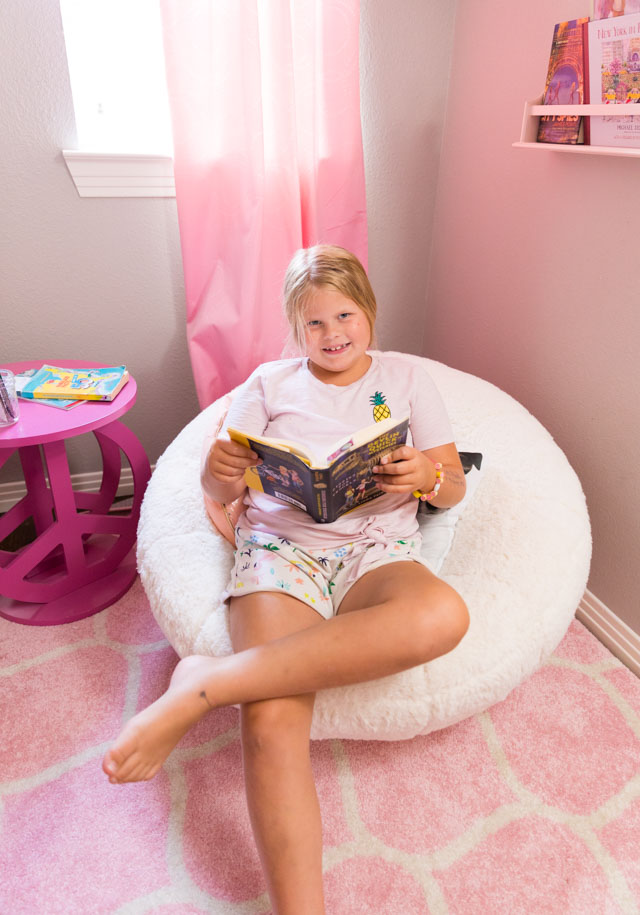 Pastel Pink Girls Bedroom Ideas
Introducing Hazel's "Pastel Pink" bedroom reveal! This week I am sharing my daughters' new bedrooms. After eight years of sharing a bedroom, the two sisters were dying for their own space. What better time than a quarantine to make that dream a reality?! Yesterday I shared Stella's "Teal Paris" bedroom and today I'm sharing Hazel's room. Hazel designed this space all by herself and I am so proud of her. She stayed in the girls shared bedroom and made it her own, while Stella moved over to the adjacent guest bedroom.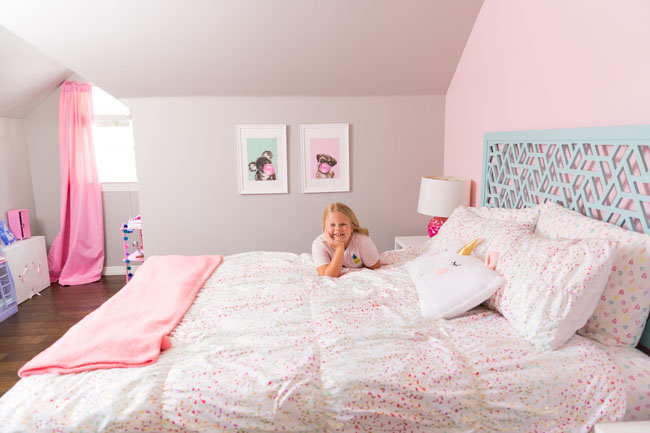 You may notice that there are quite a few similar elements between the sisters' new bedrooms. Because, although they think they are very different from each other, they have quite similar tastes, and get inspiration from each other. 🙂
Hazel's Pastel Pink Bedroom Mood Board
To come up with her bedroom design, I let Hazel play around with my Design Files app. It allows you to clip images from retailers' websites and add them to a mood board. Hazel got the hang of it quickly and was making her own mood boards in no time flat! While we ended up swapping out some products from her original room design based on cost and availability, the room was completely designed by her.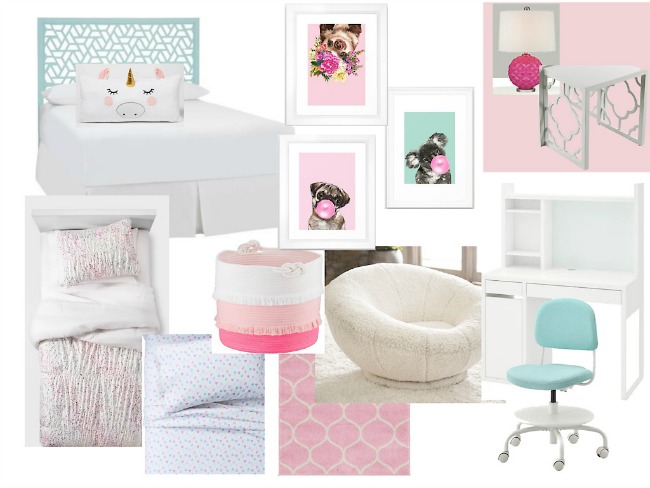 This post contains affiliate links. See our full disclosure.
Product List (clockwise from top left)
Want more information about a specific product in Hazel's room? Check out the links below!
The room has some little alcoves that make for the perfect reading nook. You can see what the room looked like when the girls shared a room here. Although in the years since those photos were taken the room changed pretty dramatically has they acquired more stuff!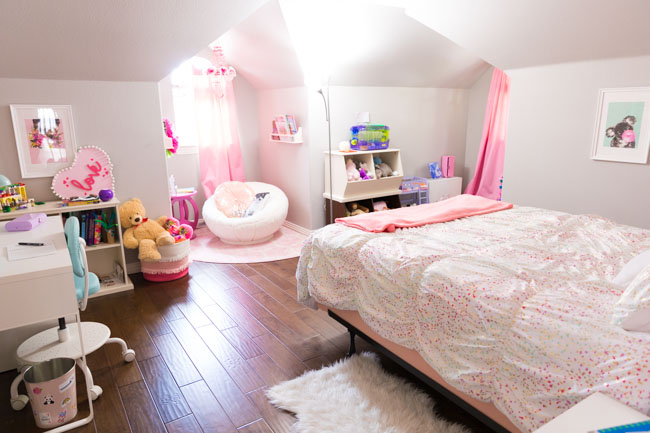 Pastel Pink Accent Wall
The room was previously painted in Light French Gray by Sherwin Williams, but Hazel chose a pastel pink accent wall to go behind her bed. The color is Impatiens Petals by Sherwin Williams. It is the same color that I painted my craft room! Tip: if your kids want to paint their room, try to get them to go with an accent wall instead of painting the entire thing. It saves a lot of time! The wood cutout headboard we found looks pretty paired with the pink wall. Hazel brought in a few teal accents like her sister's room. We decided not to hang any art over the bed and make the headboard the focal point.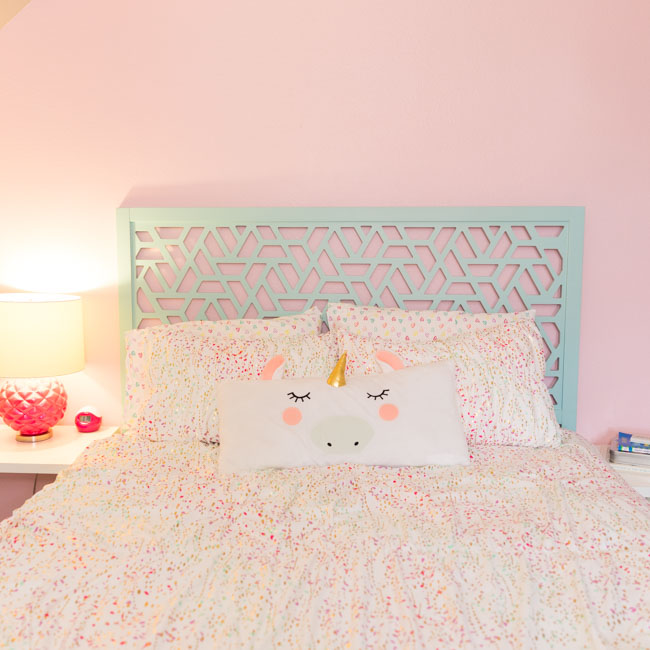 Cute Animal Wall Art
On the adjacent wall, Hazel has her favorite art – a koala and pug blowing bubbles. Hazel LOVES pugs, so I knew she would find a way to incorporate them into her room! She found these prints on Society 6. Her sister liked them so much, she picked out a llama for her room!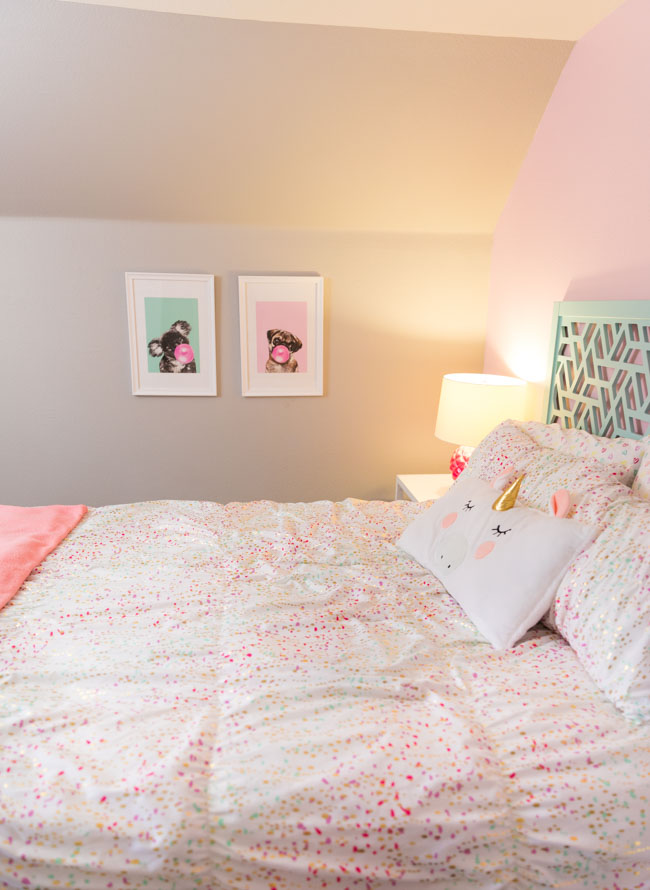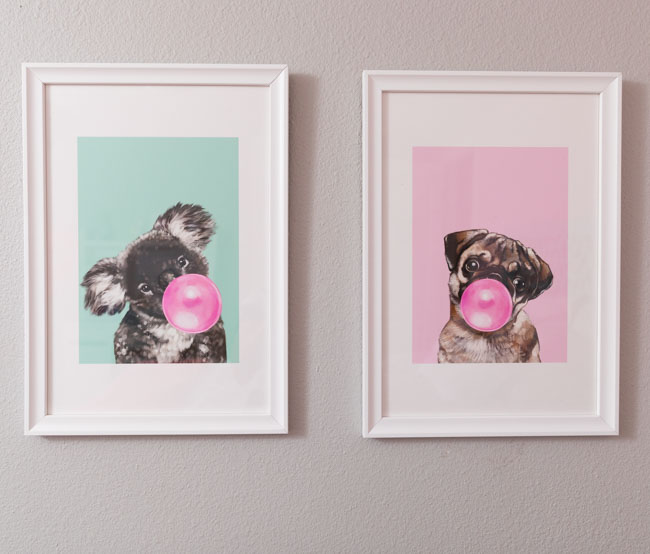 Desk and Bookcase Area
Hazel had been wanting a desk for a long, long time. In fact, that is the thing she talked about most when asking to get her own room. This IKEA Micke desk couldn't be any more perfect for her. It has plenty of space to display all her treasures and has a white board that she can decorate and write important reminders on. Hazel is not prone to organization, but something about having her own room has lit a fire under her. She has made her bed every day and kept it clean and uncluttered for a few months now!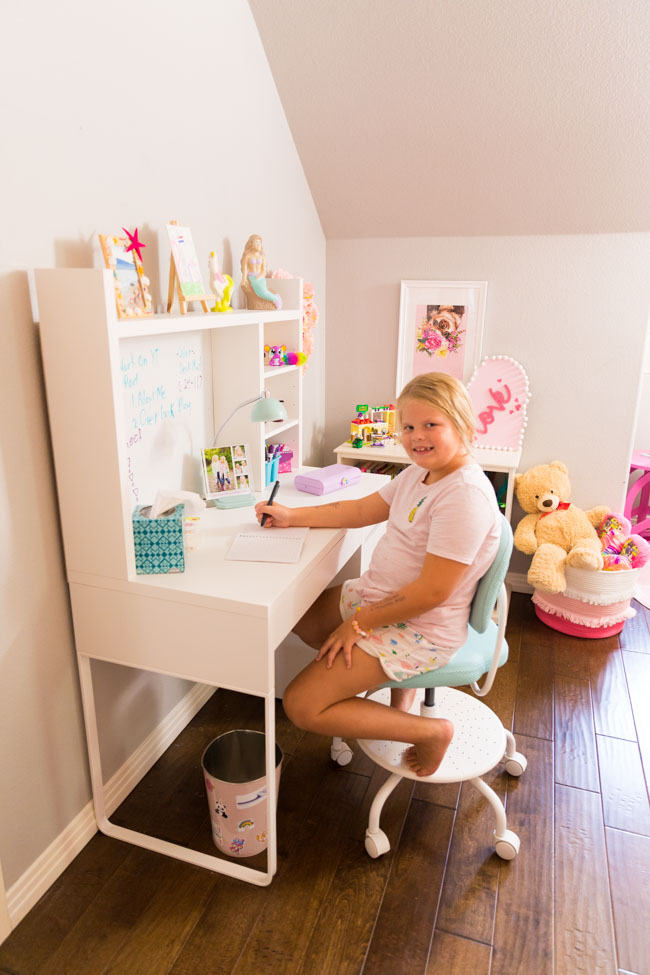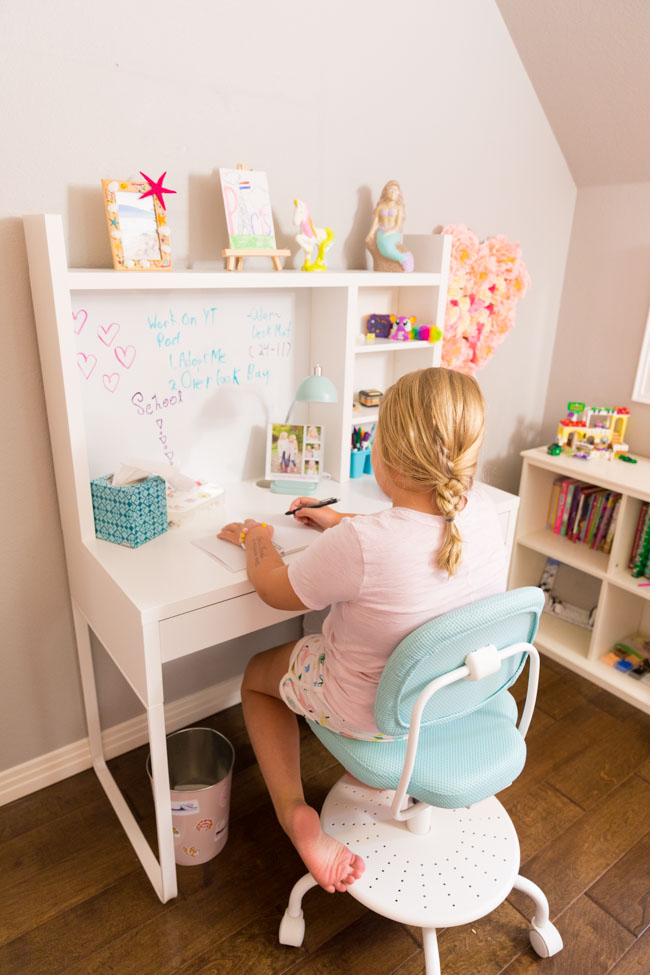 Reading Nook
This little alcove has always served as the reading nook in the bedroom. Many stories have been read aloud on the mini couch we had here previously. Hazel was excited to update her seating with this faux fur swivel chair. The peace sign side table was repurposed from her old bedroom.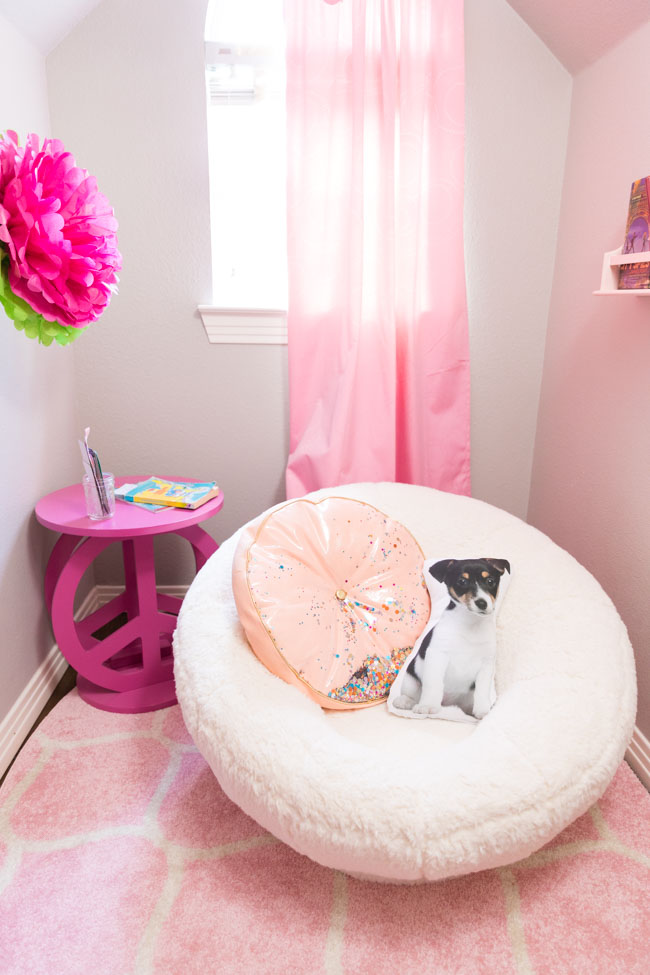 Hazel also repurposed these stackable bookshelves and storage bins from her old room. I loved that she wanted to incorporate some of my craft projects such as this wood "love" heart sign and this giant floral heart!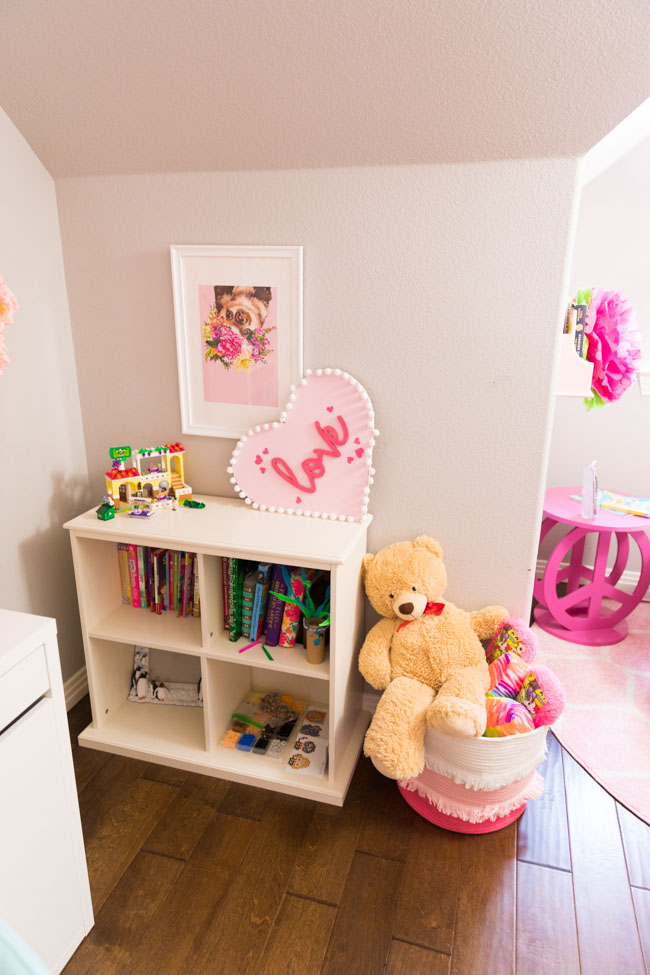 Doll Corner
Hazel's doll London got her own little alcove of the room complete with her bunk bed and closet!
Q&A with Hazel about her Pastel Pink Bedroom
What was your inspiration for the bedroom?
"I like pastels and pretty things. I thought it would all look very good together. They are the types of things I really like."
What did you dislike about sharing a room with your sister?
"Stella had more space than I did. It takes a long time to get ready in the morning when you share a room with your sister. We also had to agree on what we both liked to put in the room."
What do you miss about sharing a room?
"Nothing! Although now she barges into my room when she isn't supposed to!"
What is your favorite part about your new room?
"I like my desk the best because I think I decorated it nicely and it is really pretty. I like having my computer there. My bed is also my favorite part because it is big and comfy!"
What was the hardest part about designing your own room?
"Making sure everything matched!"
What advice would you give to other kids that want to design their own room?
"They should make sure that they choose things for their room that they are going to like for a long time."