Stella's Teal Paris Bedroom Reveal!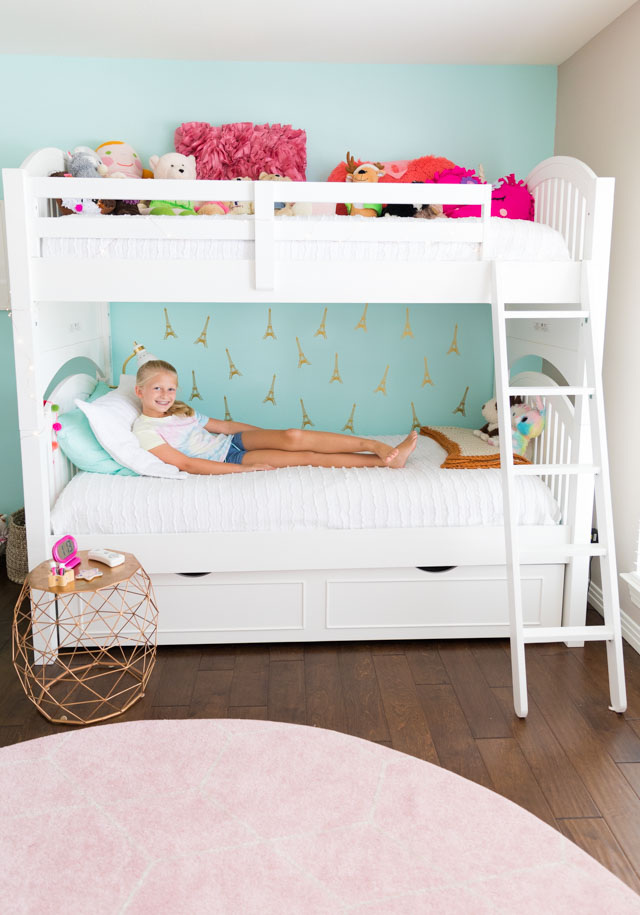 Paris Bedroom Ideas for Girls
Introducing Stella's "Teal Paris Bedroom" reveal! This is a project that has been in the works since the start of quarantine. In fact, it happened because of quarantine. I had told my daughters (Stella, 10 and Hazel, 9) they could have their own room once Stella goes to middle school a year from now. But the long months together at home made the issue more pressing! I have loved having the girls share a bedroom all these years, but the time had come for them to branch out on their own. The pandemic gave us the much-needed downtime to make it a reality!
This project was particularly fun because it was led entirely by my daughters. I gave them a budget and they got to plan out and design their own rooms from scratch. They decided Hazel would take over their shared bedroom and Stella would move into the guest bedroom. We tried to repurpose as much furniture as possible to keep costs down.
The Rooms Before the Bedroom Makeover
This is the room my daughters have shared for the last 7 years since we moved to San Antonio. So many happy memories in this room. I will miss reading together snuggled up on the little couch before bed. Or hearing them laughing, singing (and frequently yelling) at each other when they woke up in the morning. 🙂
The styled room photos don't do justice to the amount of STUFF they collected over the years. They did the best to try to organize their own little corners and make them their own, but it was getting a little overwhelmed with their treasures.

This pretty room was one I had decorated in conjunction with Hayneedle. It was nice to have an extra guest room when family came to visit. It has a nice big window that lets in lots of light. It looks quite different now that it is Stella's room.
Stella's Teal and Paris Bedroom Mood Board
To come up with her bedroom design, I let Stella play around with my Design Files app. It allows you to clip images from retailers' websites and add them to a mood board. Stella got the hang of it quickly and was making her own mood boards in no time flat! While we ended up swapping out some products from her original room design based on cost and availability, the room was completely designed by Stella. I am so proud of her!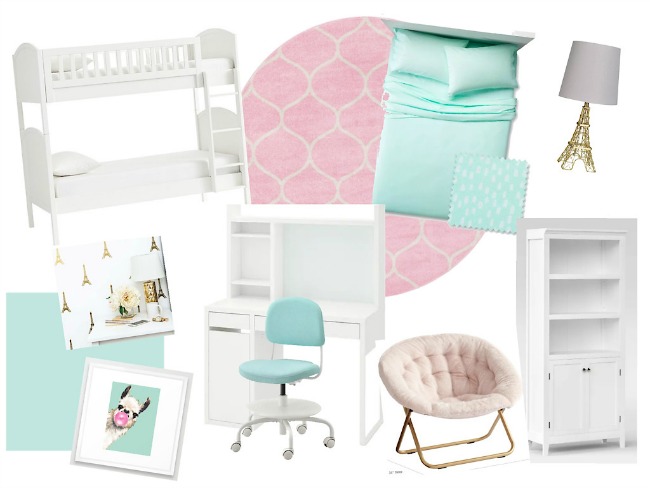 This post contains affiliate links. See our full disclosure.
Product List (clockwise from top left)
Want more information about a specific product in Stella's room? Check out the links below!
Stella's Teal and Paris Room Details
The girls' twin beds from their shared room were actually a bunk bed set, so Stella got to use them as bunk beds in her new room: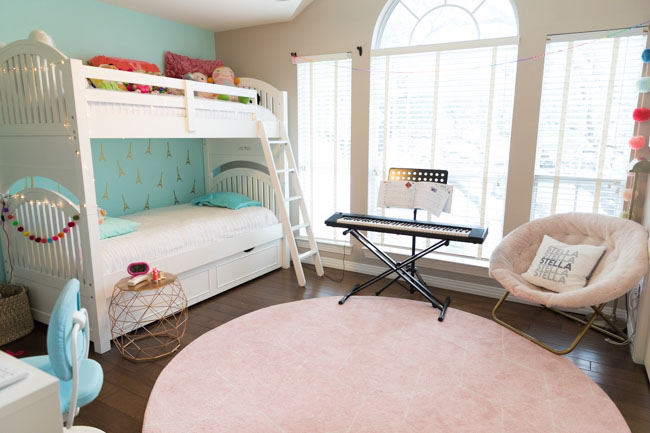 Teal Accent Wall with Eiffel Tower Decals
Stella lives in a teal world. If you go through her closet, many of her clothes are teal. Many days you'll see her wearing teal from head to toe! It is not a surprise she picked teal for the color of her bedroom accent wall. She picked a beautiful subtle teal called Tame Teal from Sherwin-Williams. It is the lightest color of the color-way, something I recommend choosing if you are going with a bold color like teal! Here she is painting the wall. The paint always dries considerably darker than it looks when you first put it on the wall.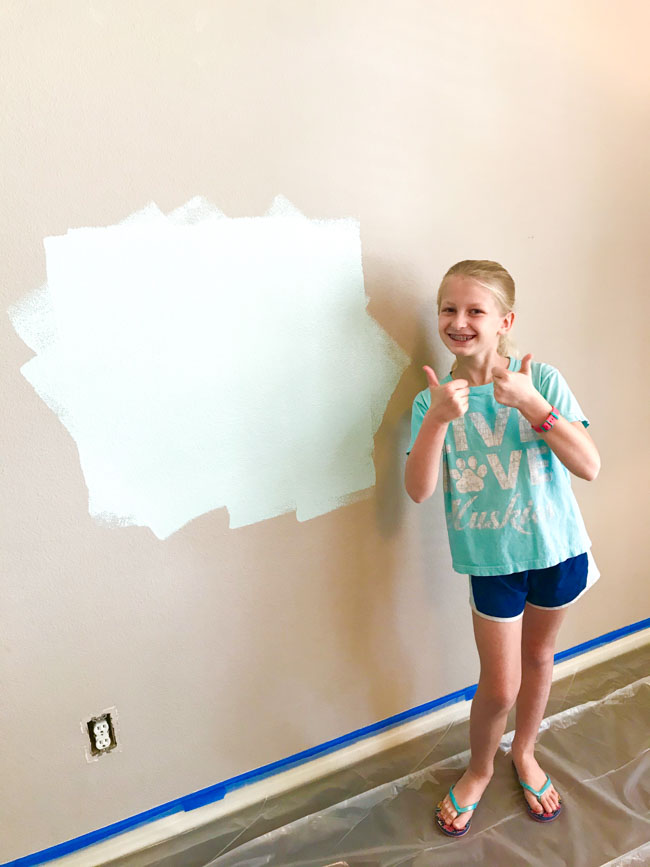 Stella found some gold Eiffel tower decals on Etsy and decided to put them on the wall just under her bunk bed, rather than the whole wall. She scattered them randomly rather than trying to line them up in perfect rows. My kind of girl!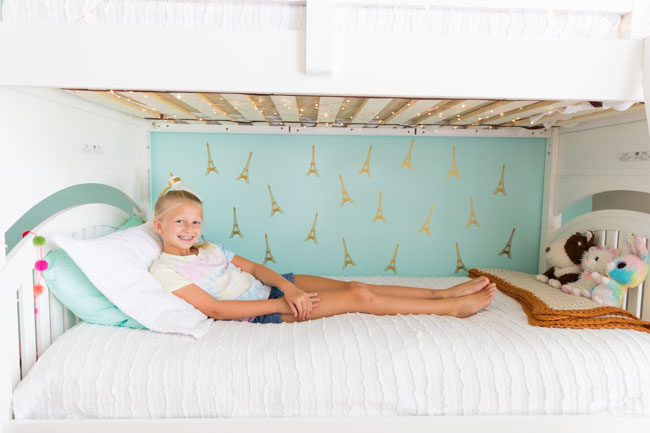 I thought about making these vinyl decals myself on my Cricut and then realized how much "weeding" I would have to do to remove all the negative space. It would have taken hours! Once in awhile it really is better to buy instead of DIY. 😉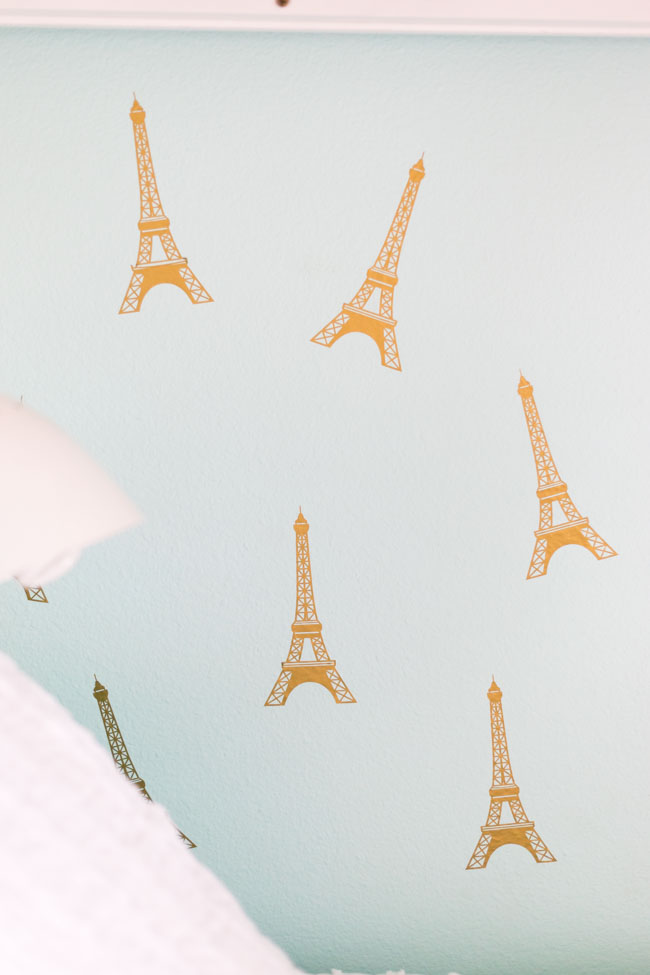 Reading Nook
Stella used light pink as the second accent color in this room and chose this comfy saucer chair in light pink for her reading nook. I let her have one of my prized pom-pom garlands because it matched her room perfectly!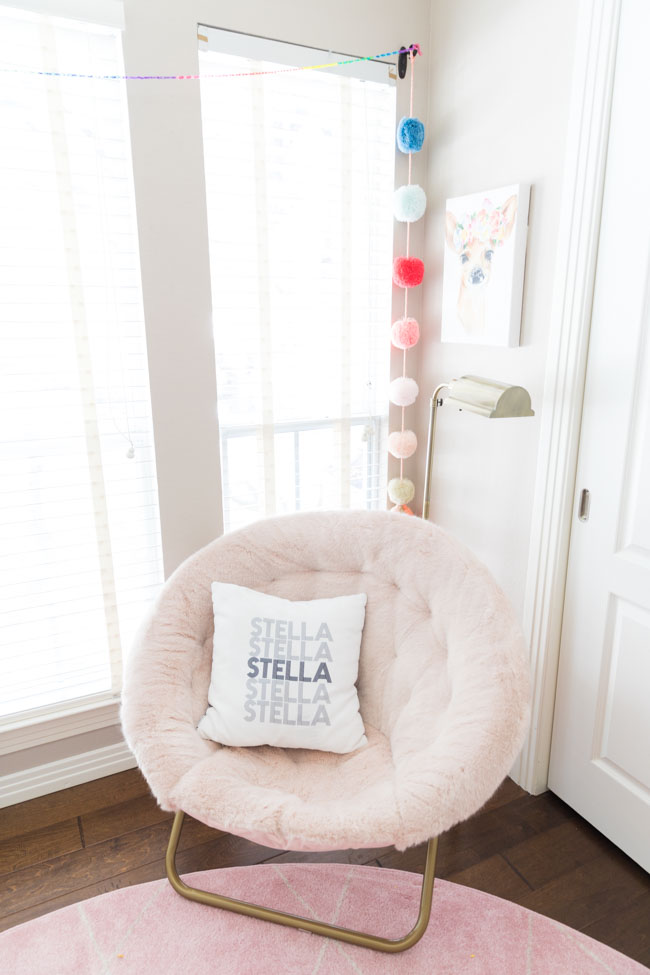 Bookcase and American Girl Doll Area
One of Stella's must haves for her new room was a big bookcase to display her favorite books and all her special knick knacks!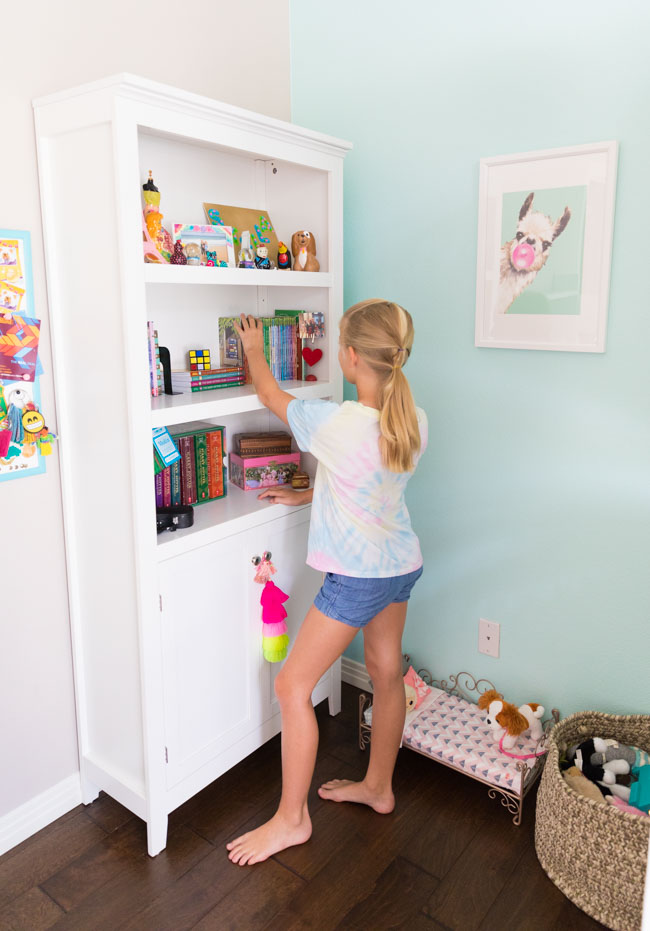 Needless to say, she is already a talented stylist at the age of 10. She has a penchant for arranging her books in rainbow order.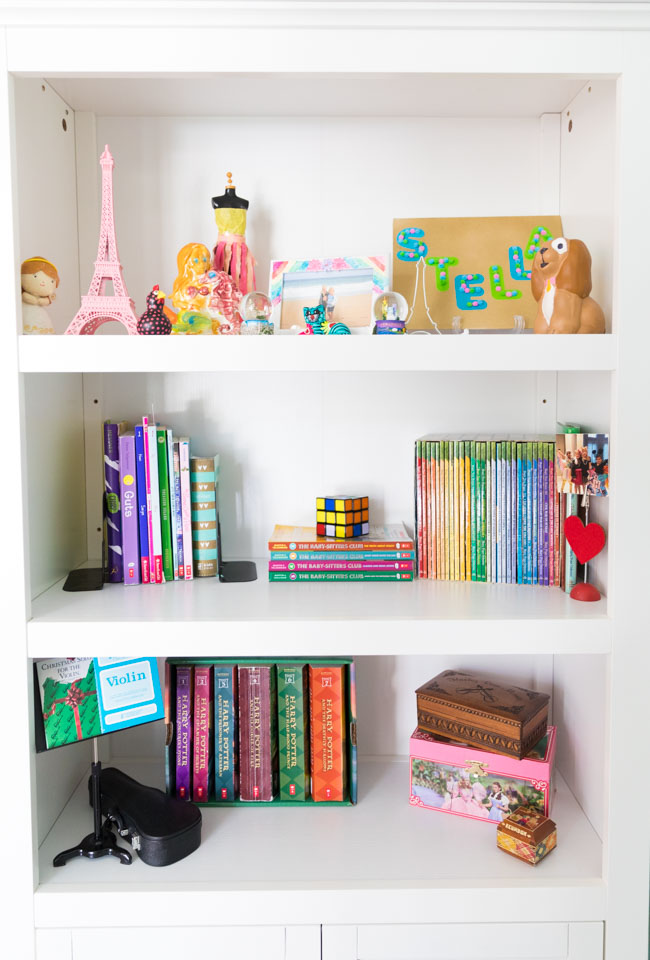 In addition to her bookcase, this little corner serves as the bedroom for her American Girl doll, Allie.
Teal Llama Wall Art
Both Stella and Hazel fell in love with this wall art of animals blowing bubbles. In addition to being silly and cute, it just happened to have the perfect teal background to match her room!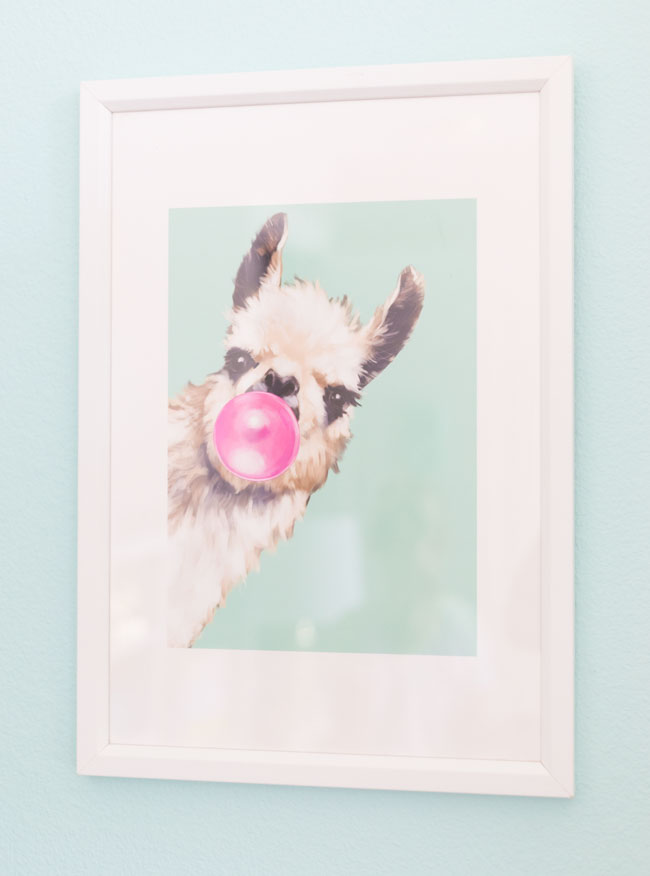 Desk and Bulletin Board Area
One thing my daughters lacked in their shared bedrooms was a desk space to work at (and most importantly to house all their notebooks, pencils, and eraser collections!). They both chose this cute IKEA desk and hutch. We were happily surprised to find that the hutch includes a built in dry erase board. The teal rolling desk chairs are also super comfy for kids. I'm glad we have these for their long hours of virtual learning.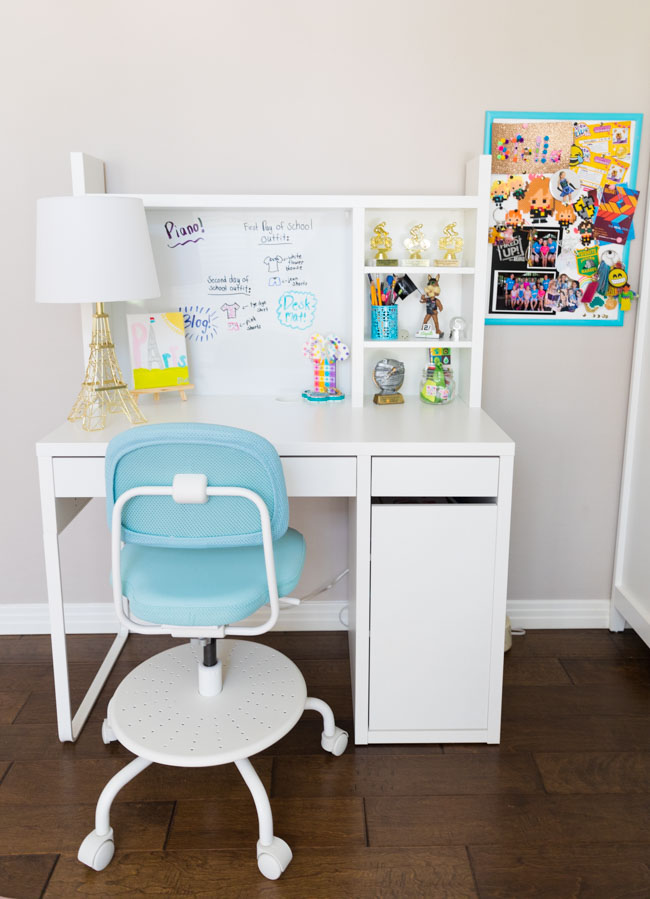 I love seeing what important to do's the girls put on their memo boards. Here is Stella planning out her first day of school outfit!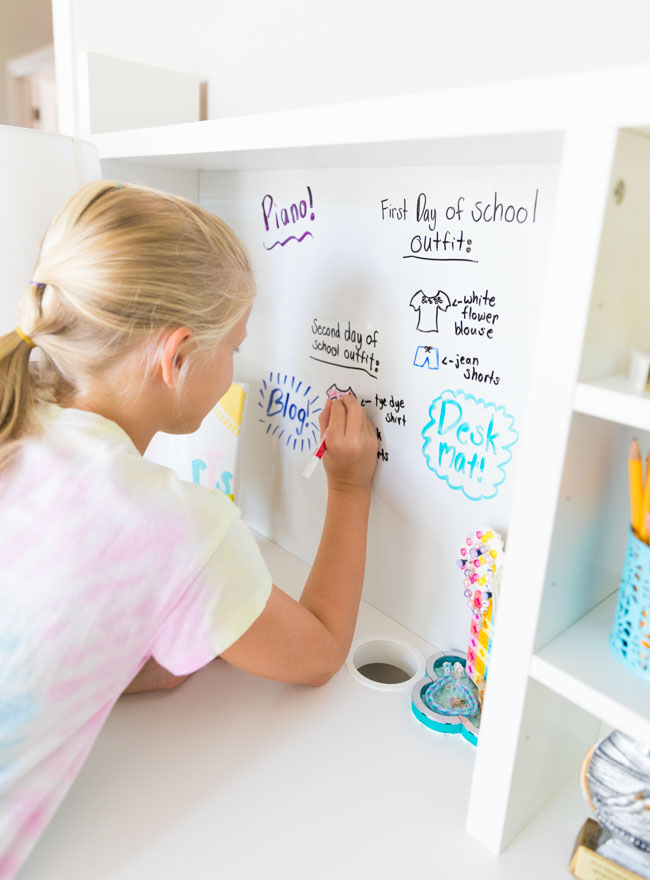 Q&A with Stella about her Teal Paris Bedroom
What was your inspiration for the bedroom?
"My favorite colors are teal, gold and pink, so I wanted my room to include those. I also wanted enough space to store all my stuff like my books, doll clothes, trophies and random things like my Magic 8 Ball. I also wanted a good place to read.'
What did you dislike about sharing a room with your sister?
"All of Hazel's stuff was in there, and there was not enough room for me to have my own space. I just had a little organizer and night stand by my bed. I like to keep stuff organized the way I want it. Now I don't have to tell Hazel to organize the closet, and I can also have some privacy."
What do you miss about sharing a room?
"Nothing really! I do miss my corner with the bed, and having our shared corner for our dolls. I miss reading together before bed."
What is your favorite part about your new room?
"My desk. It is a place where I can do my work. It's comfortable and organized. I also love my bed. I like to go to my top bunk and read. It has three beds for a sleepover with my friends some day."
What was the hardest part about designing your own room?
"The hardest part was knowing what I wanted in my room. It is also hard to find stuff that is the right size and price range. Knowing how all the furniture would fit was hard, but all the details were fun."
Did your final room turn out like you had envisioned it?
"I first wanted to paint my room white with teal designs on the wall, but now I'm glad I just painted a teal accent wall. I also didn't expect to have a computer in my room (but now she does for virtual learning). I hadn't expected a circle rug but it ended up being the right shape for the room."
What advice would you give to other kids wanting to design their own room?
"Find some colors that you really like and pick a theme you think you'll like for a long time."