5 Colorful Girls Bathroom Ideas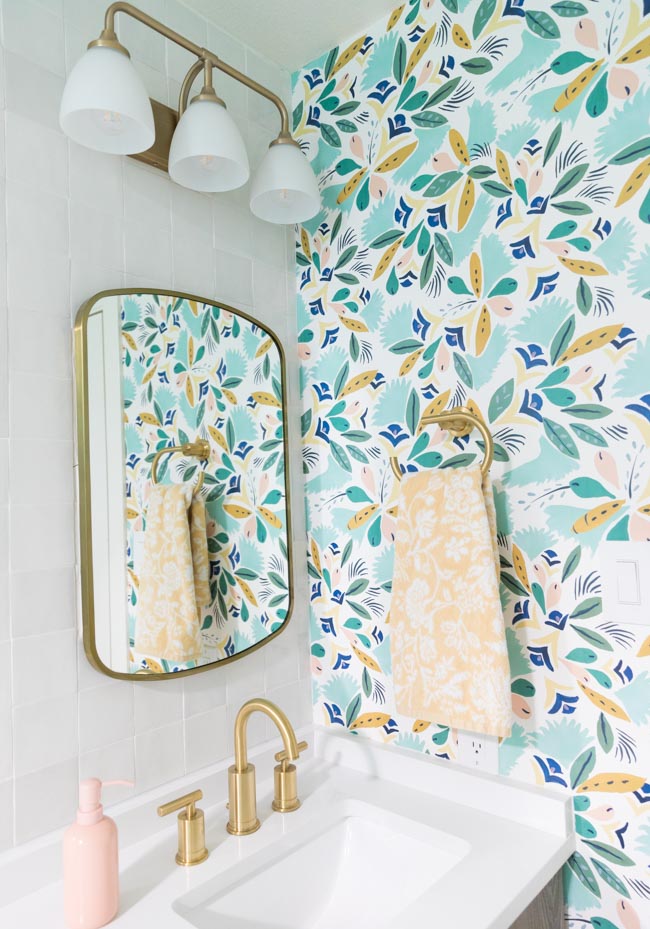 5 Colorful Girls Bathroom Ideas
Do you have tween daughters at home? Our 10 and 12 year old girls share a bathroom and we just went through a big renovation of it! Check out these girls bathroom ideas based on the pain point areas we tried to address through the remodel. This upstairs bathroom space went from dark and outdated to bright and full of blooms!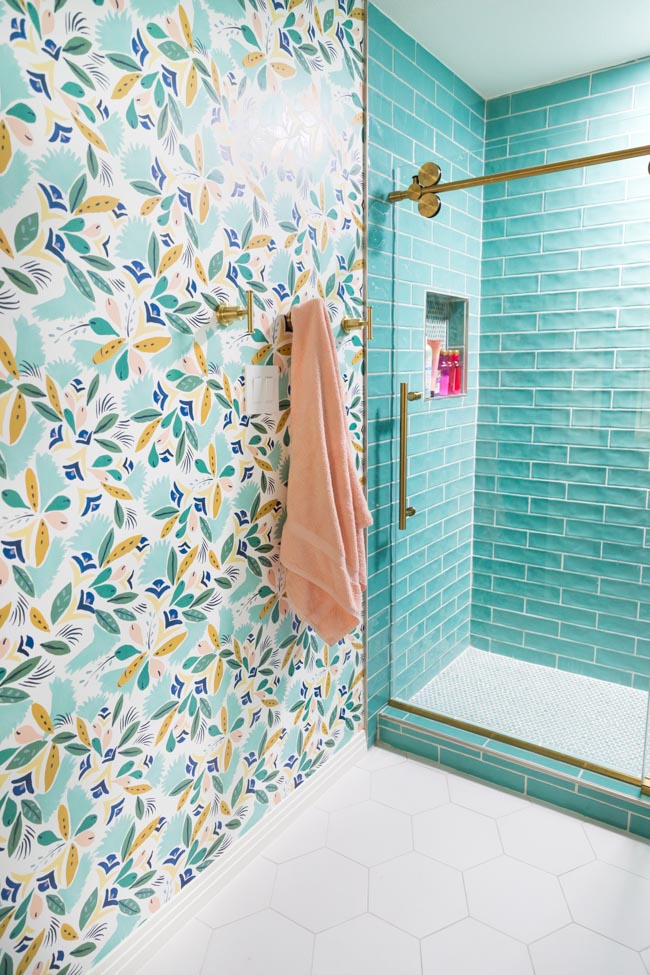 This is the first major bathroom renovation we've done, and we enlisted a contractor to help. It was a much bigger undertaking than our recent powder room makeover.
Girls Bathroom – Before Photos
We moved into our home eight years ago, and this was one of the rooms that we did only minor upgrades to when we moved in.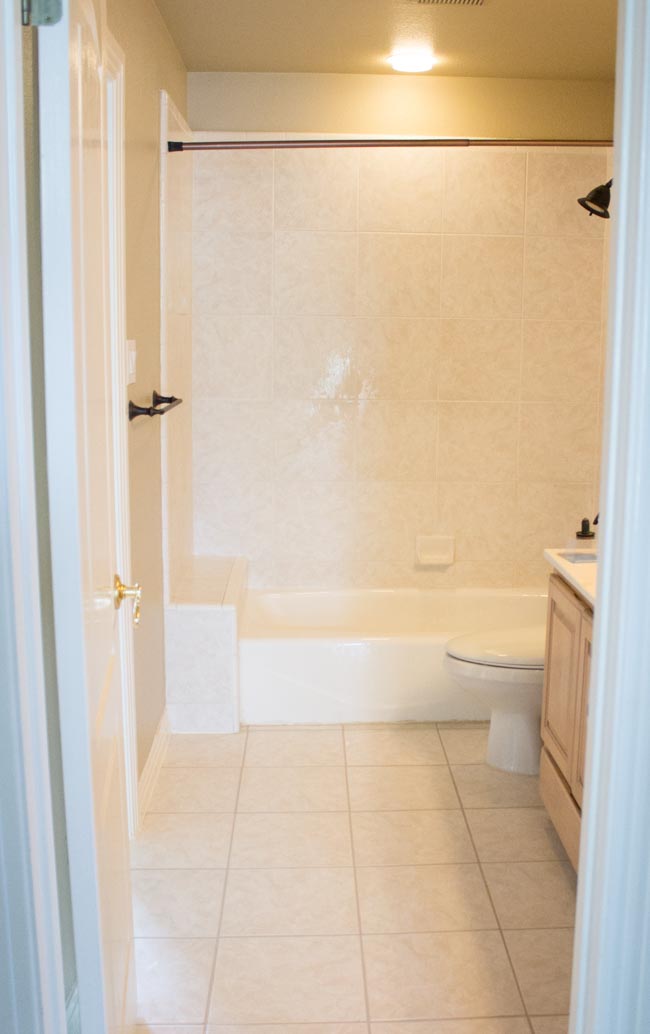 We painted the cabinets light gray and added newer fixtures since these photos were taken, but otherwise everything remained the same. I added a colorful shower curtain and some kids art on the walls, but I must not have liked it that much, because I couldn't find a single photo of the room from over the years!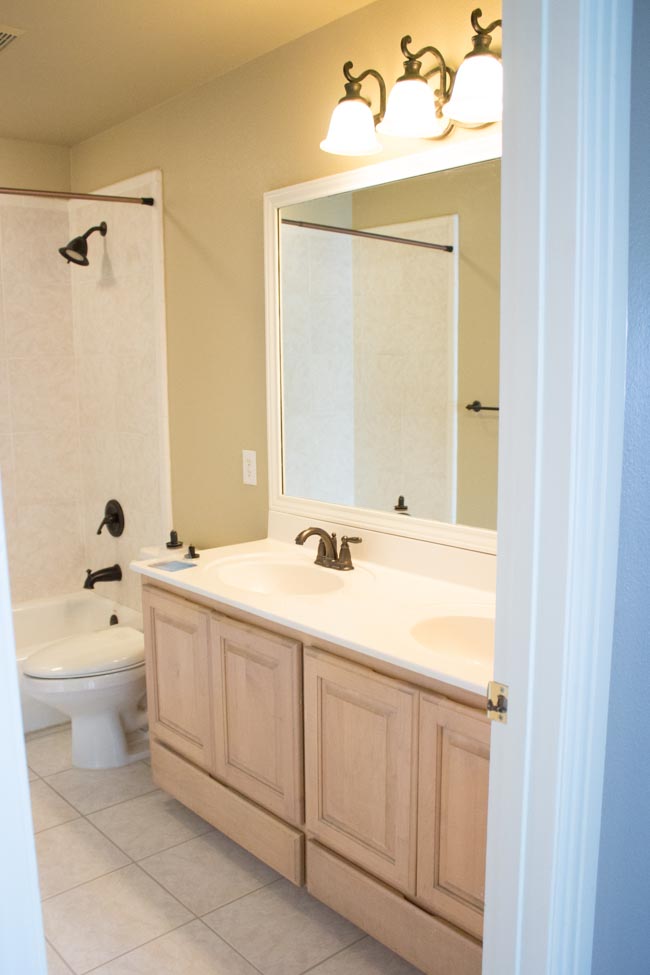 The Bathroom During Renovations
My heartbeat raced after demo day thinking "What have we done!". It is always a little intimidating to dive into a big remodel.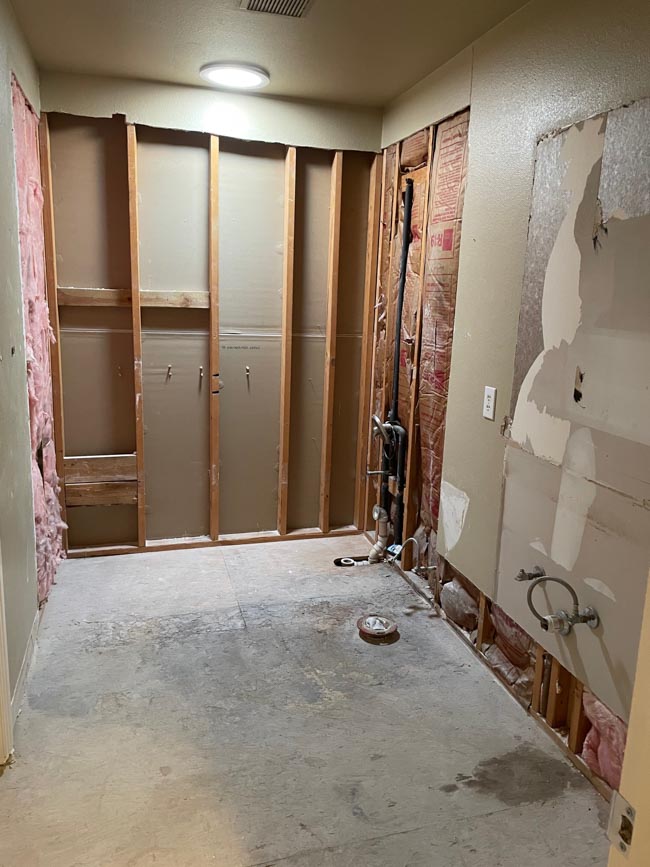 This post contains affiliate links. See our full disclosure.
Girl Bathroom Inspiration – Shop the Look
Here are some of the materials we used in our bathroom remodel:
Girls Bathroom Ideas – How to Address Problem Areas
Girls Bathroom Idea #1: Install a Solar Tube
This upstairs bathroom was dark and windowless. A great way to bring light into an interior room is through a solar tube. Solar tubes are similar to a skylight but instead of being a window in the roof directly above, they use a sunlight capturing dome and reflective tube to deliver light indirectly. This allows for more flexibility in terms of where you put the solar tube.
We were able to install one for around $1,000 from a company called SolaTube. You can also get a federal tax credit for installing solar tubes because they help cut down on electricity use. That is a win win!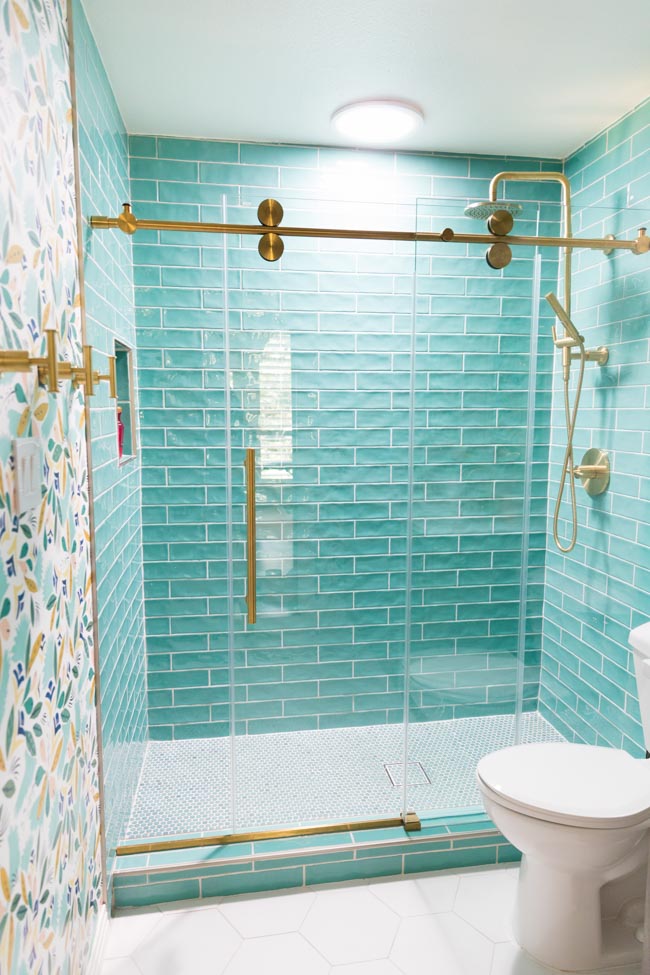 You can see the solar tube directly above the shower area. It makes a world of difference in the room. Now the room is never completely dark when you walk by during the day. Having the solar tube positioned over the shower also helps show off the pretty new tile!
Girls Bathroom Idea #2: Get Rid of the Tub
Our tween daughters have long outgrown their nightly bath and prefer a shower instead. A tall tub is a pain to have to step over and a shower curtain makes the space darker than it needs to be. We wanted to open things up with a walk-in shower and glass enclosure. Teal subway tile was a fun way to add a major pop of color and turn the shower into a statement wall.
Girls Bathroom Idea #3: Maximize Storage
As our girls get older, they love to amass more and more products – from body sprays to nail polish! The old cabinets with a low set of drawers underneath were awkward for storing anything beyond towels. We installed a new set of cabinets that included a middle set of drawers deep enough to hold bottles and hair dryers. Storage baskets and organizers within the drawers help keep things organized.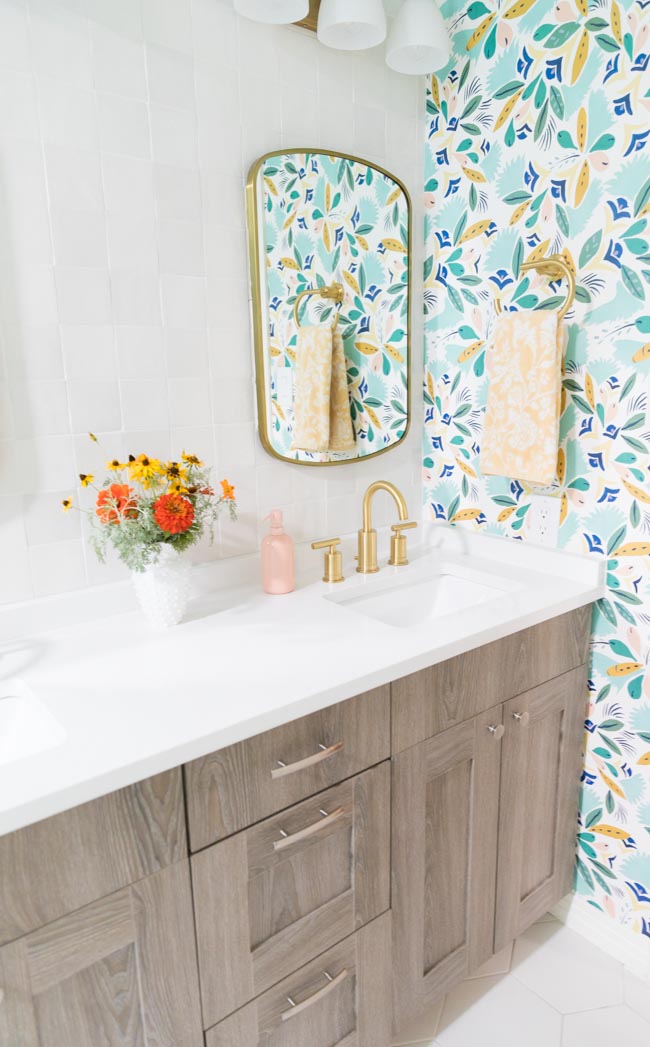 The new gold mirrors above each sink are actually medicine cabinets from CB2 that provide even more storage for storing smaller toiletries.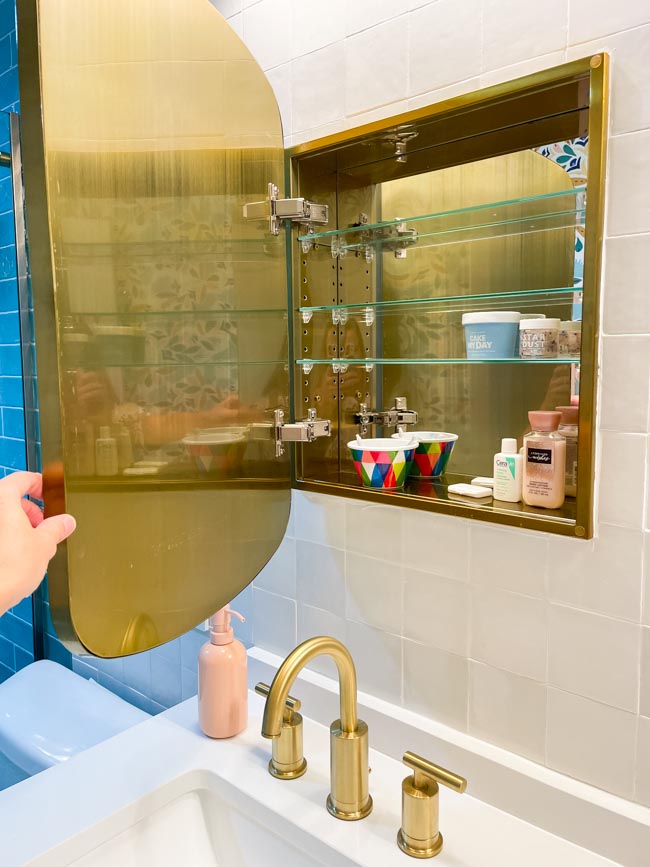 Girls Bathroom Idea #4: Add Plenty of Hooks
Gone are the days of the awkward towel rack. We incorporated several gold hooks for the girls to hang their towels and robes on. A separate over-the-door hanger provides even more space to hang things, as there never seems to be enough!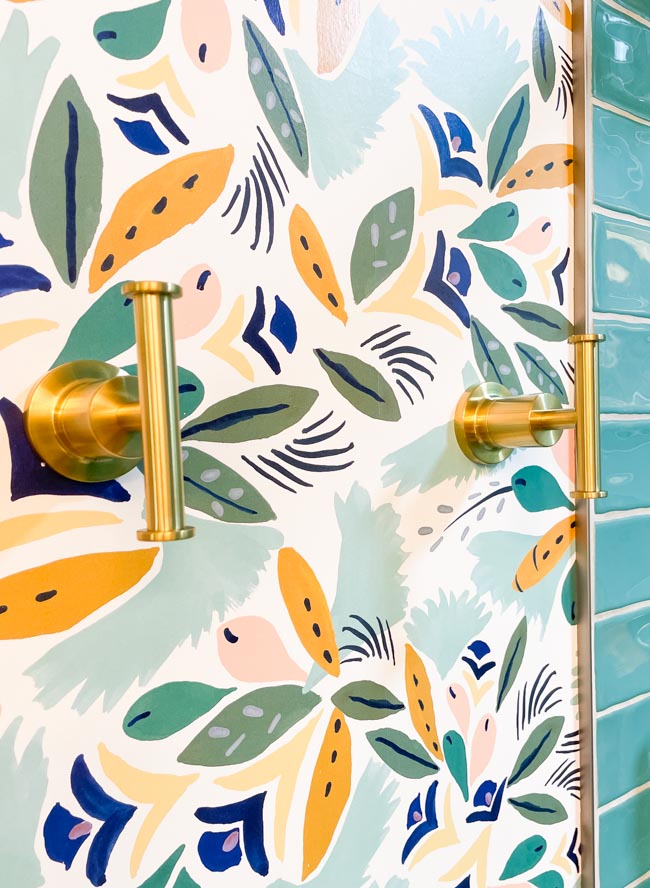 Girls Bathroom Idea #5: Bring in the Color!
The old bathroom was pretty bland in terms of its neutral color palette. We replaced the beige paint on the back wall with a bold floral print wallpaper from Anthropologie. That paired with the colorful subway tile in the shower screams fun!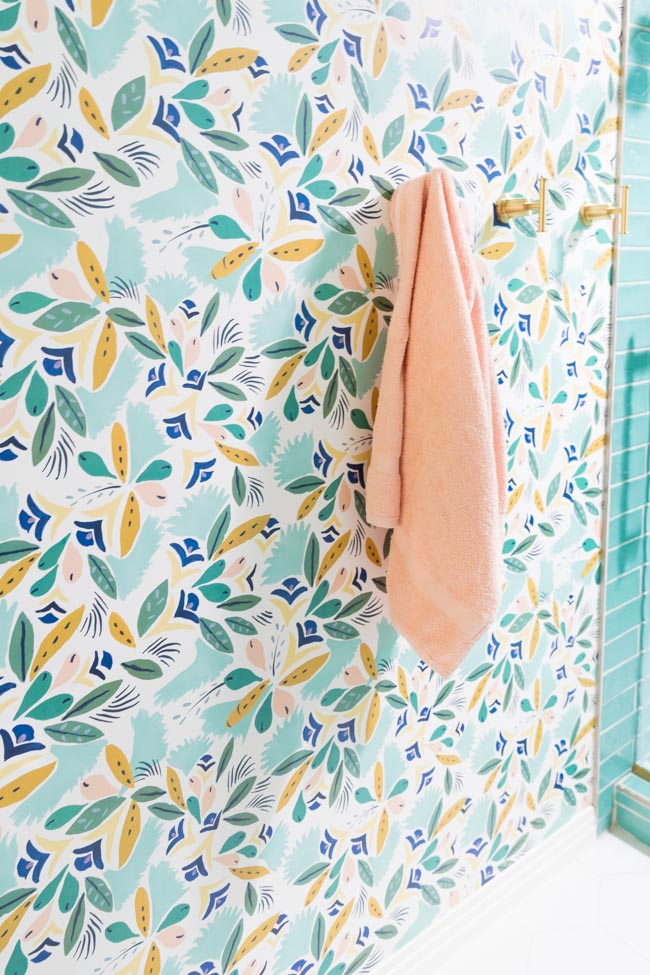 While we kept the wall above the sinks neutral, we added a fun texture with Zellige glazed ceramic tile from Marazzi. We wanted to create a timeless look while still keeping it fun and girly. We hope they'll enjoy the bathroom as much 10 years from now as they do today.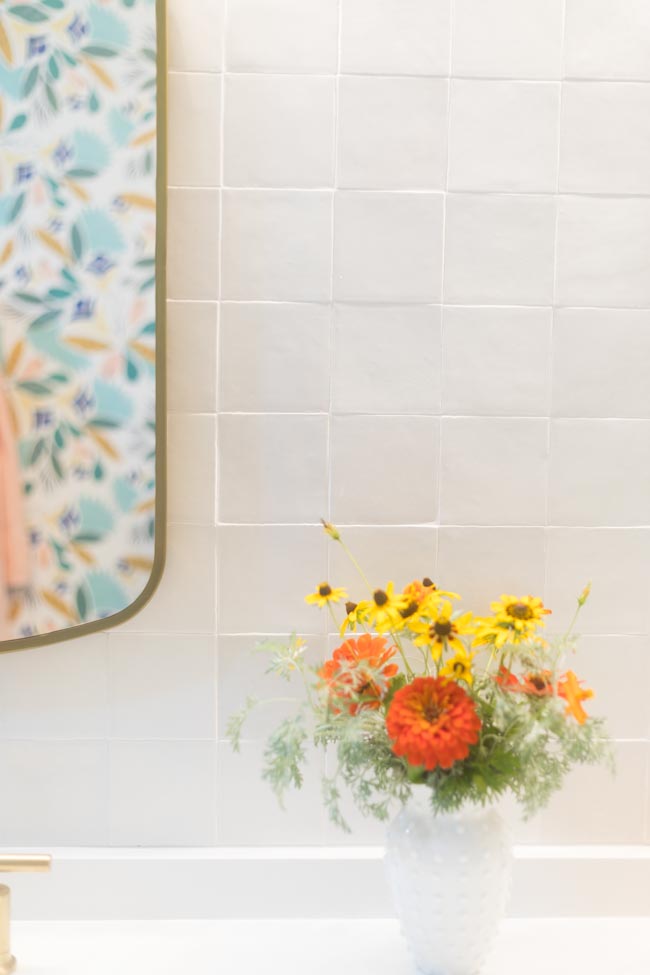 Like these girls bathroom ideas? Then pin this for later!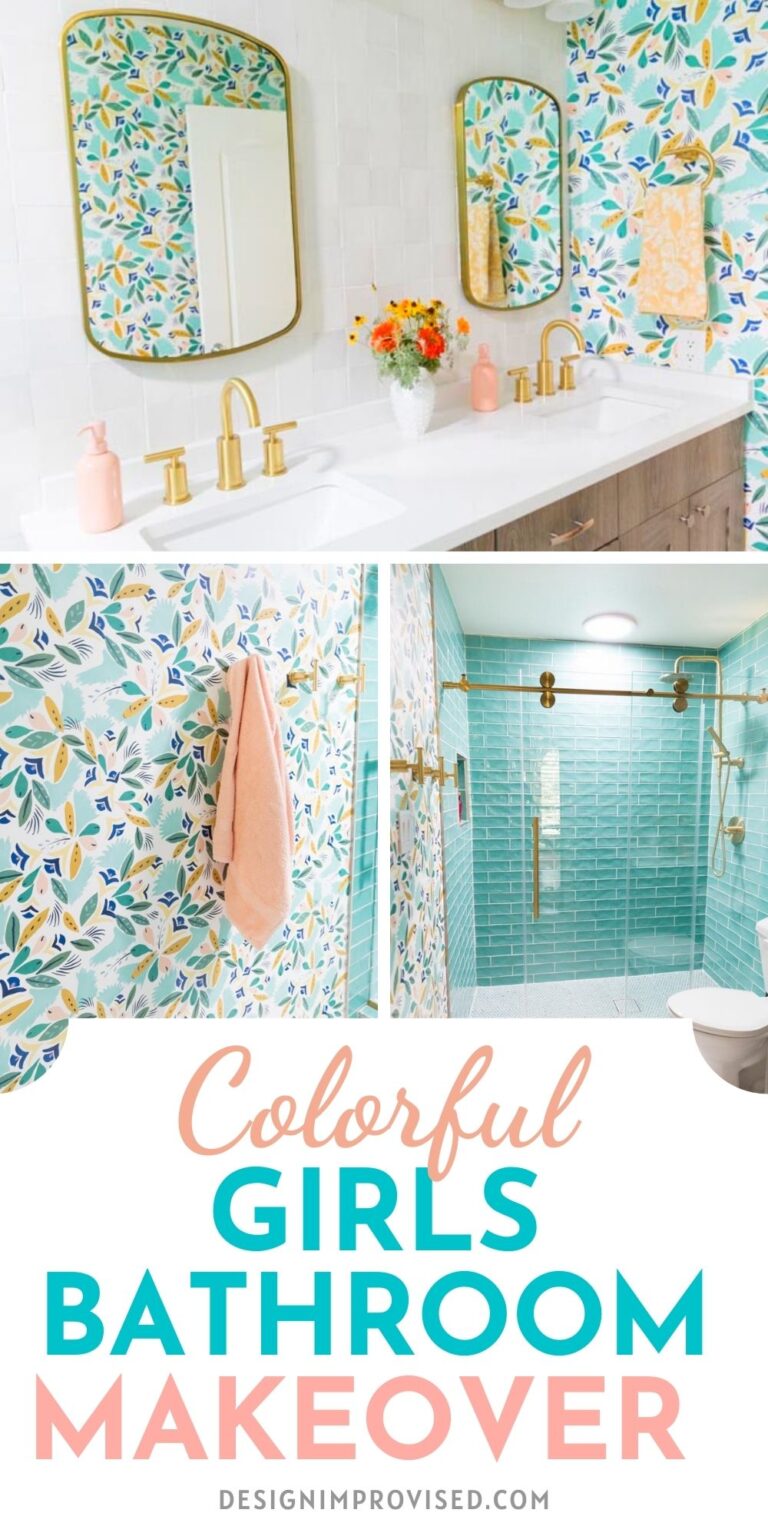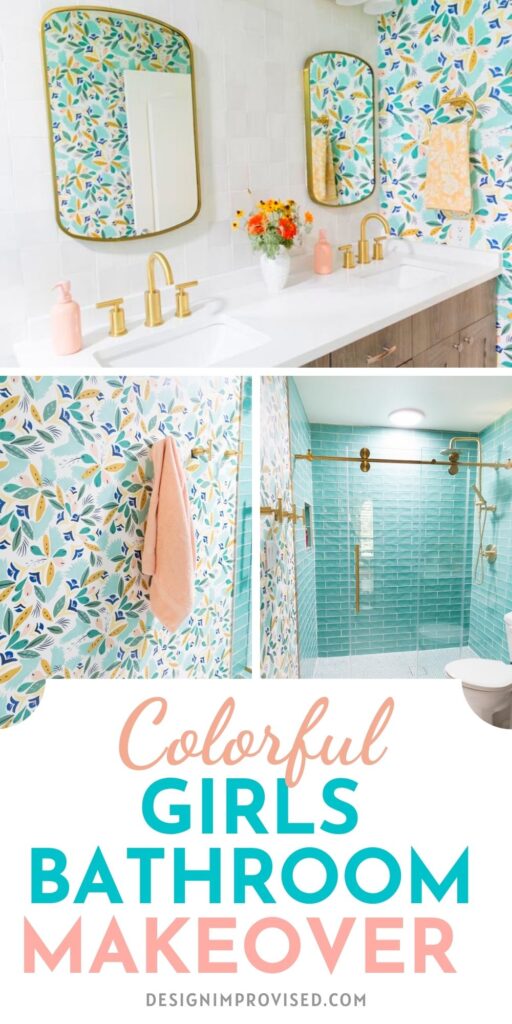 Check out my Bathroom Pinterest board for more girls bathroom inspiration!