45 Tissue Paper Crafts: The Ultimate Guide!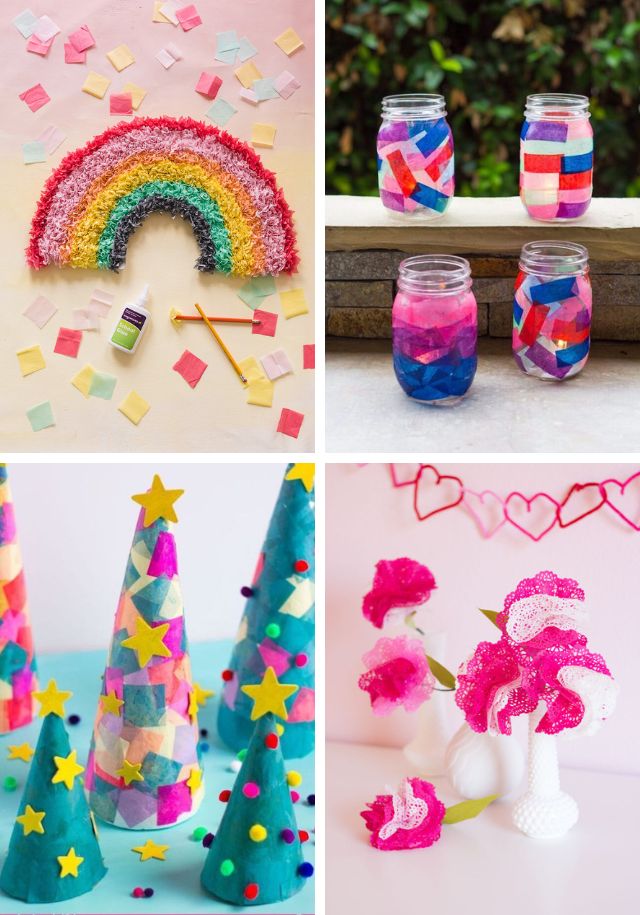 45 Tissue Paper Crafts: The Ultimate Guide!
Looking for fun tissue paper crafts? You've come to the right place! Here are 45 different ideas to inspire your next craft session – from kids crafts, to adult crafts, to holiday crafts – all featuring inexpensive tissue paper.
Don't have any tissue paper on hand? Head to the dollar store to pick some up today!
This post contains affiliate links. See the full disclosure.

Tissue Paper Craft Supplies
Most of the ideas below only require a few craft supplies. Many you may already have on hand at home! If not, here are some supplies you can order from Amazon:
Tissue Paper Flowers
Unlike real flowers, tissue paper blossoms last forever! These delicate flowers are just tissue paper doilies layered together and added to a floral wire stem. Make a bouquet of these to surprise someone special! Get the tutorial here.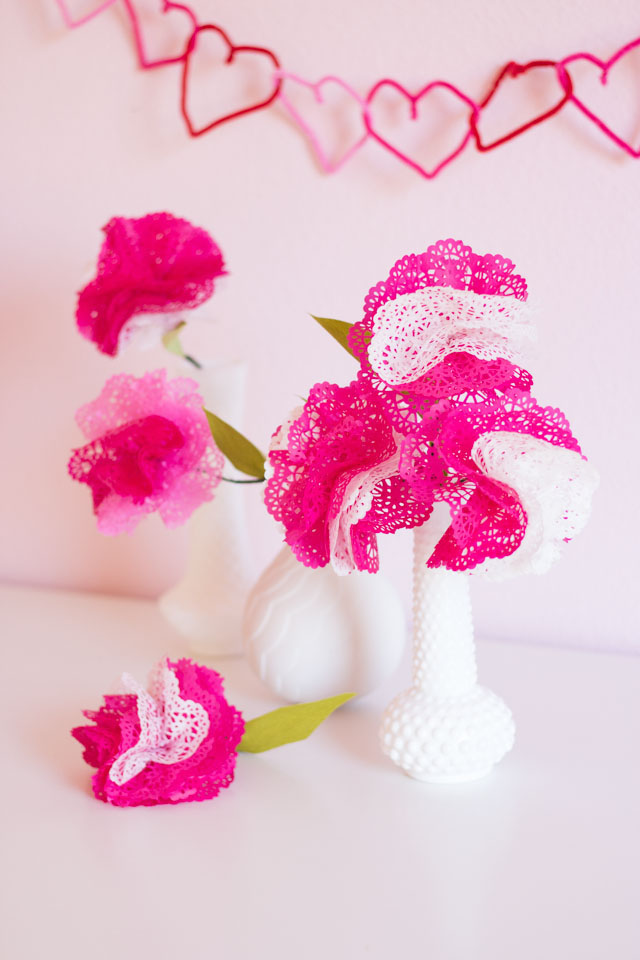 Here is another version of tissue paper blossoms that uses multiple layers of tissue paper circles and chenille stems. A simple trick of edging the circles with a marker adds extra definition to the blooms. Get the tutorial here.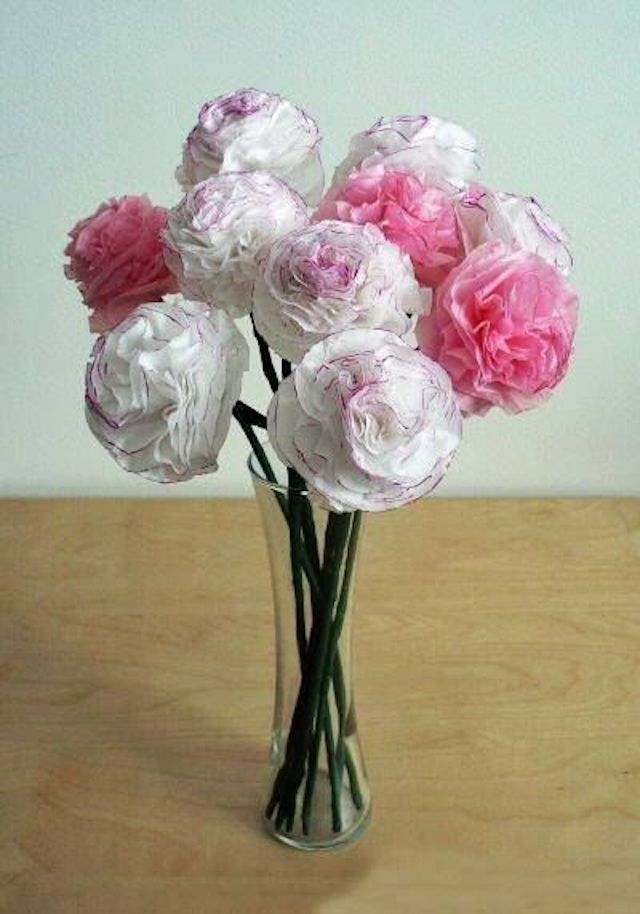 No need to buy these giant tissue paper flowers at a party store – you can make them yourself! This step-by-step tutorial shows you how to make and hang these pretty flowers in bright colors for a birthday party decoration. Get the tutorial here.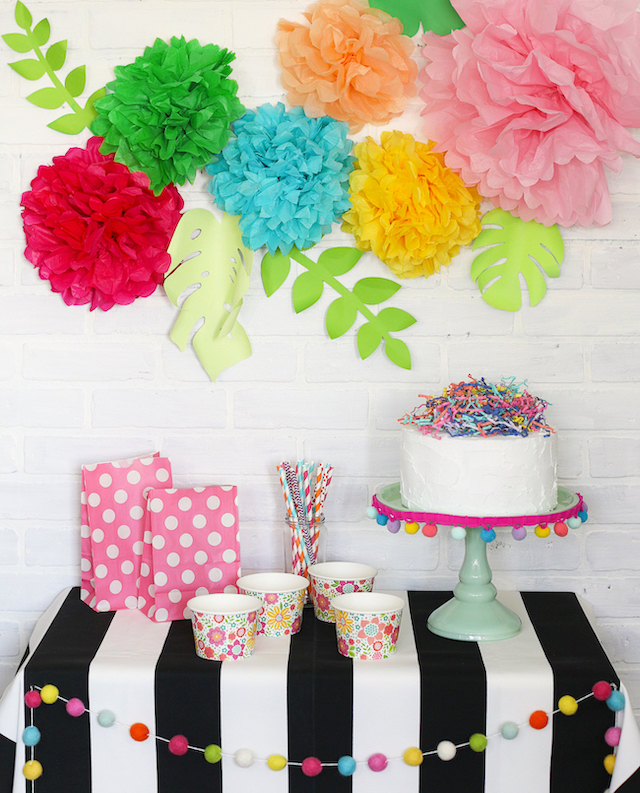 These showy tissue paper carnations are a surprisingly easy craft to make for kids of all ages. This is a great idea for a Mother's Day gift using simple materials such as tissue paper, beads, and pipe cleaners. Get the tutorial here.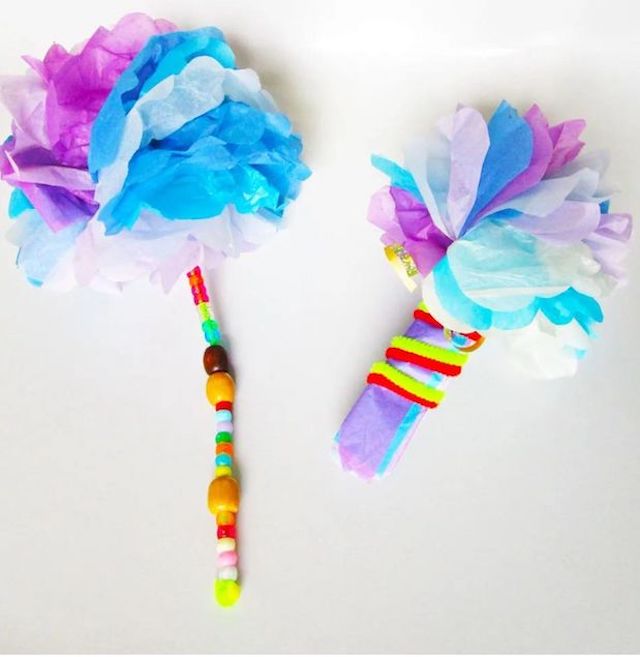 Tissue Paper Pom-Poms
This easy DIY tissue paper pom-pom idea for a backdrop is perfect for your next party. Make a mix of different sized pom poms and use both solid color and patterned tissue paper for a big impact! Get the tutorial here.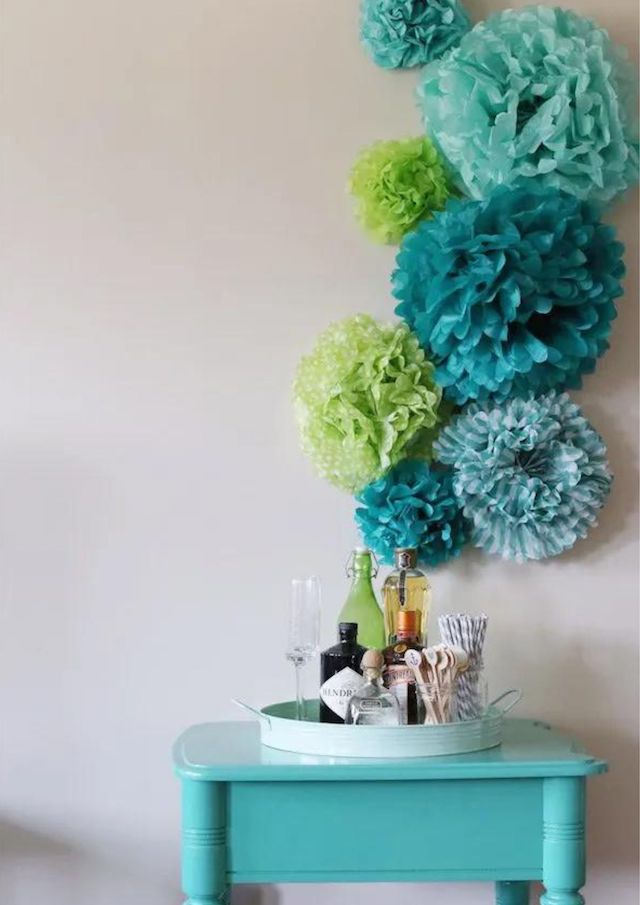 Smaller versions of tissue paper pom-poms make a sweet garland to decorate your holiday mantel or party backdrop. Customize the colors to your party or holiday. Get the tutorial here.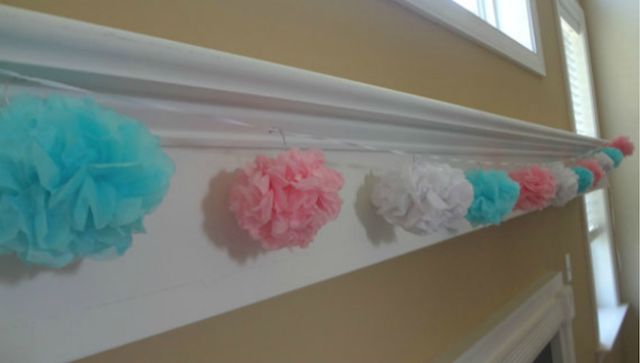 Give store-bought tissue paper pom-poms a burst of color by painting them! In addition to parties, these would make for pretty wall decor for a nursery or girls bedroom. Get the tutorial here.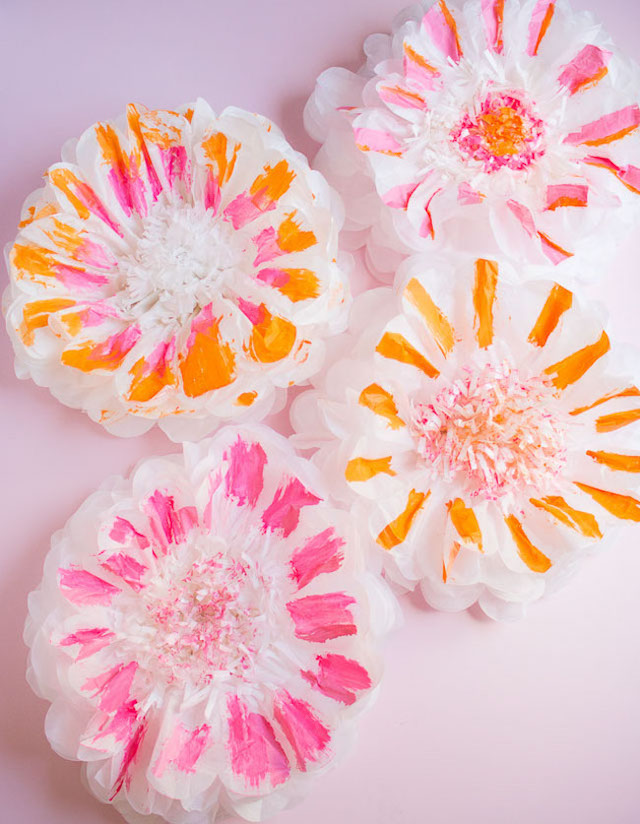 Bleeding Tissue Paper Art
Check out this cool tutorial on how to make the color in the tissue paper bleed when you get it wet. How much fun is this technique? Use it to create a watercolor paint effect, such as this beautiful serving tray! Get the tutorial here.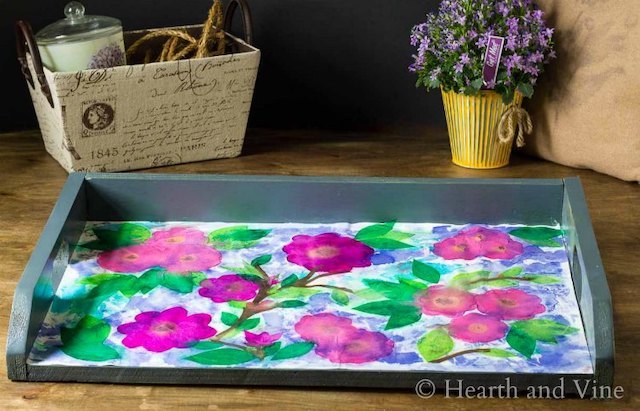 Tissue paper can be incorporated in your art projects, and not just with decoupage. You can make stunning wall art using the bleeding tissue paper technique by using different color sheets of tissue paper and water. How cute are these birds? Get the tutorial here.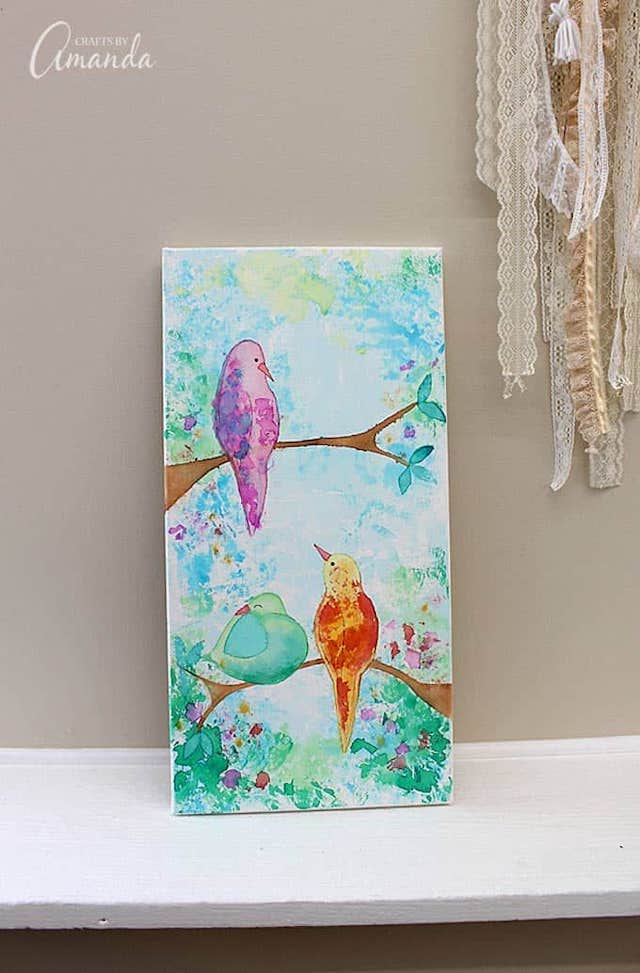 Here is a great way to create a tissue paper collage using this versatile craft material. Sealing the art with Mod Podge or white glue gives it a nice glossy finish. Get the tutorial here.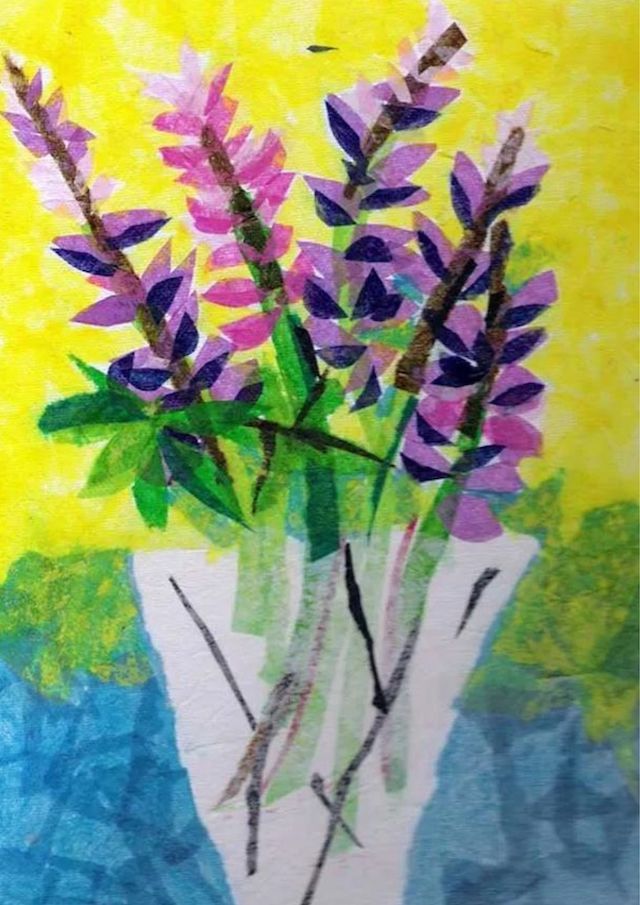 Tissue Paper Plate Crafts
Need an easy project for a kids birthday party? Decorate paper plate party hats with colorful tissue paper collage. You'll need tissue paper squares or some scissors so that the children could cut their own shapes. Provide some some glue in a bowl with a brush and some pom-poms for extra embellishment! Get the tutorial here.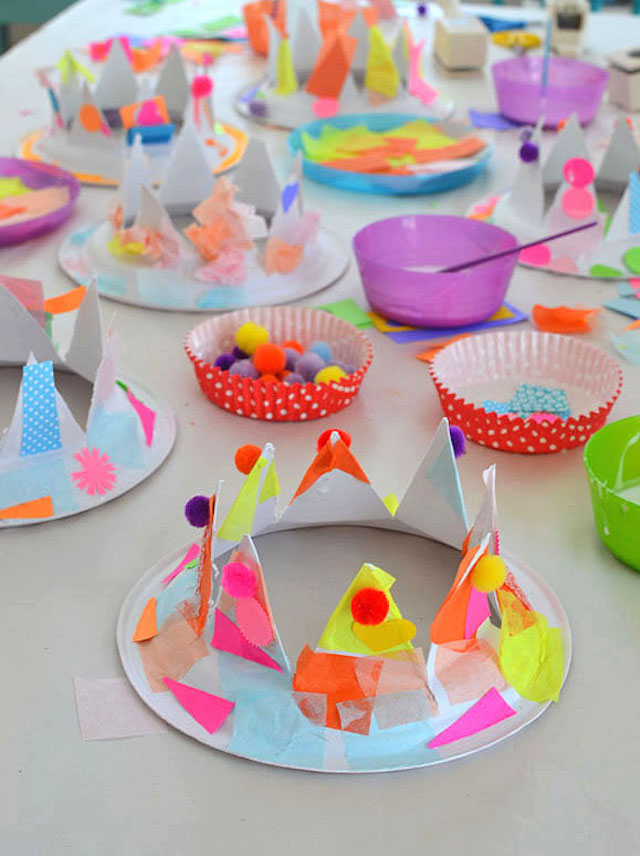 This fun paper plate flamingo tissue paper craft is sure to be a hit with kids! It is so cute you won't mind displaying it proudly in your home. This could be a fun activity for a summer kids party. Get the tutorial here.
This paper plate ladybug craft is a fun tissue paper craft easy to make for kids of all ages. You'll need simple craft materials like like tissue paper, construction paper, and googly eyes. Get the tutorial here.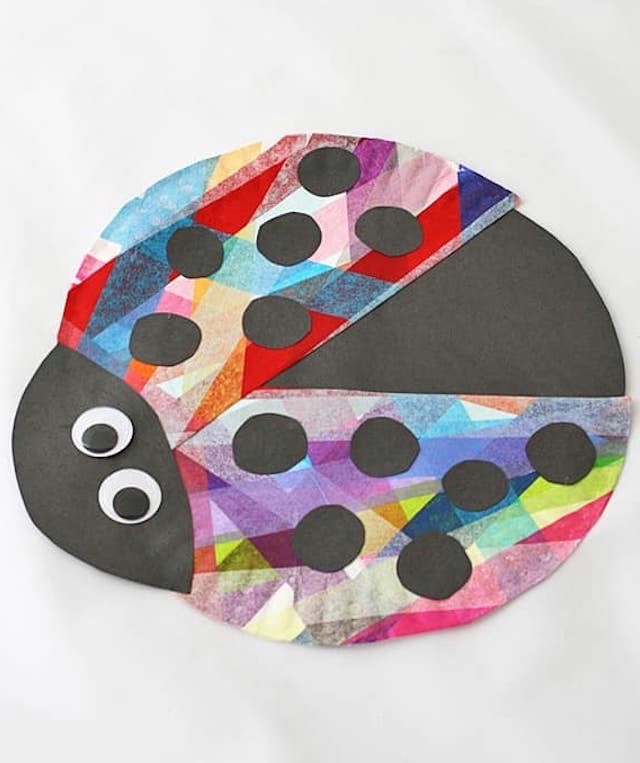 Tissue Paper Sun Catchers
The transparency of tissue paper makes it the perfect craft supply to make suncatchers. Want to make a suncatcher that has a stained glass windows effect to it? Add a design cut from black cardstock to clear contact paper, then fill in with tissue paper squares in different shades. Get the tutorial here.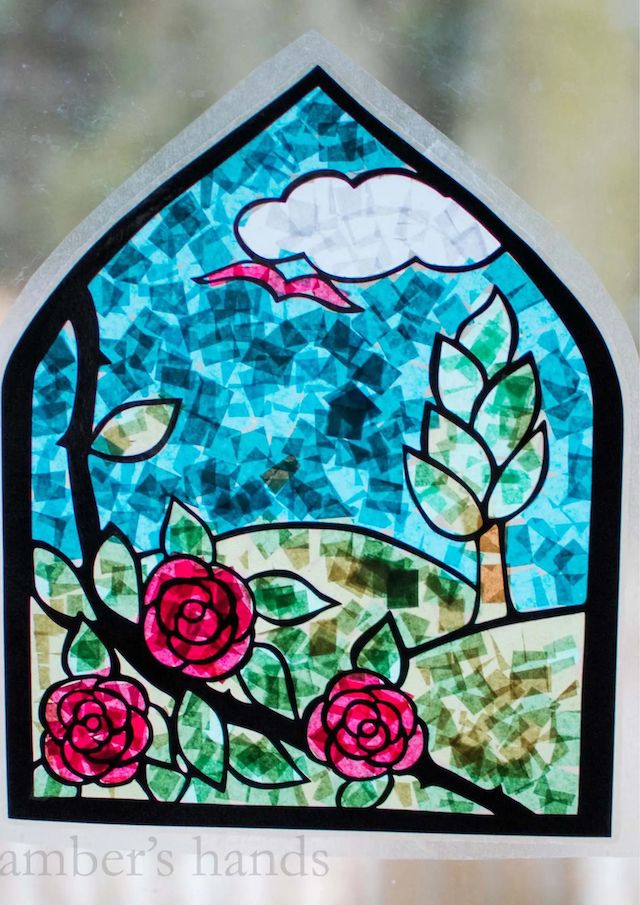 This cute craft combines tissue paper with fluffy feathers that let the sunlight through for a sweet bird scene. It would be a fun craft to make at the beginning of spring to brighten up your window! Get the tutorial here.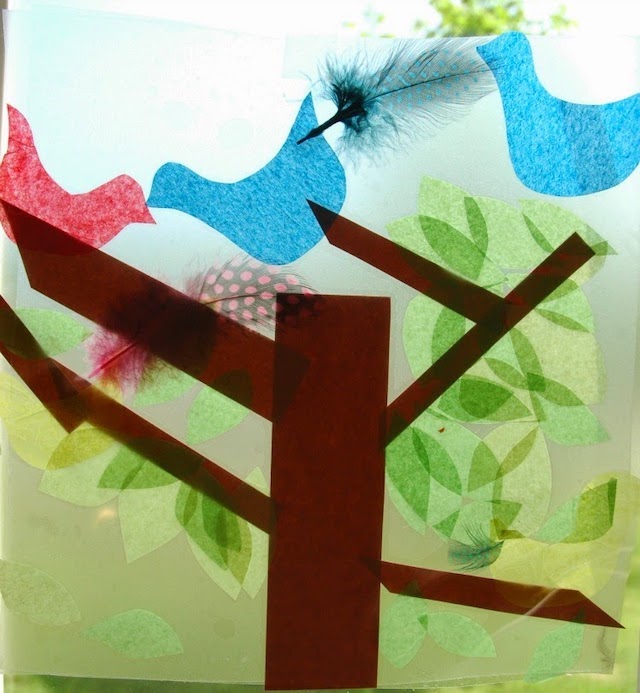 Tissue Paper Mason Jar Crafts
Similar to suncatchers, you can use tissue paper to make pretty votives or lanterns. Just start with a mason jar and add strips of tissue paper to the outside with Mod Podge to create a multi-color glow. Get the tutorial here.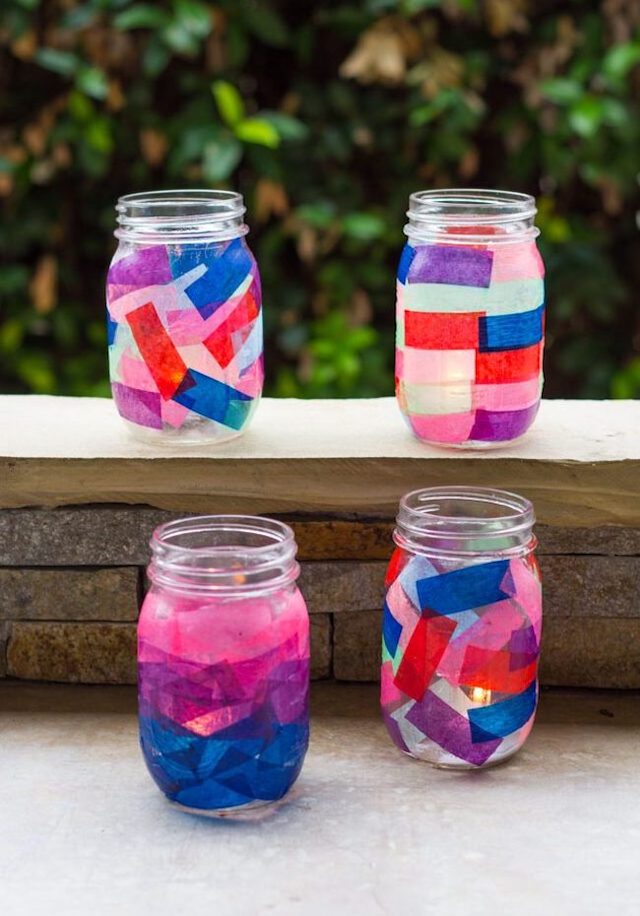 A gorgeous beaded handle takes the tissue paper lanterns up a notch. Plus, it provides the perfect opportunity for fine motor skills practice! This is a fun summer project for kids of all ages. Get the tutorial here.
Aren't these jars cute? And they look so great holding wildflowers, cuttings from the garden that you're rooting, or even candles. Get creative adding designs to tissue paper with a permanent marker before adding to the jar. Get the tutorial here.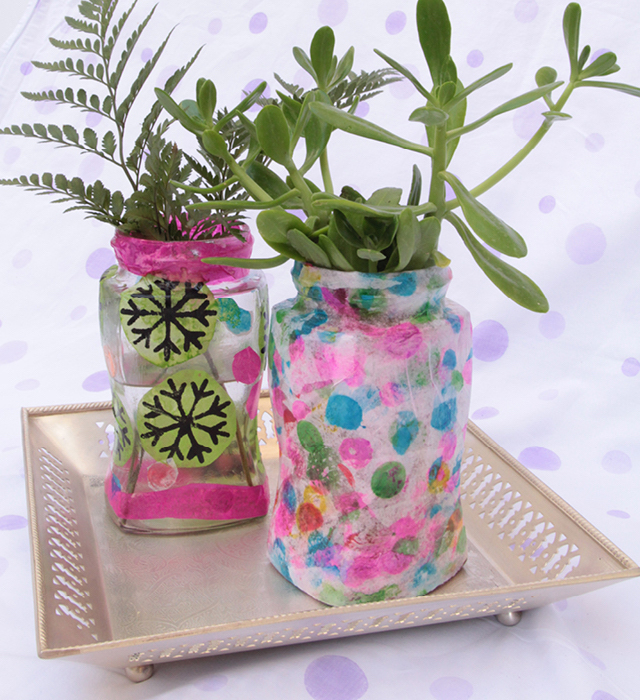 Tissue Paper Tassels
These tissue paper tassels are a super cute craft. Use a pair of pinking shears to give the tissue paper strips a pretty edge. Make different sizes of tassels by simply cutting the strips of tissue paper in bigger pieces. Get the tutorial here.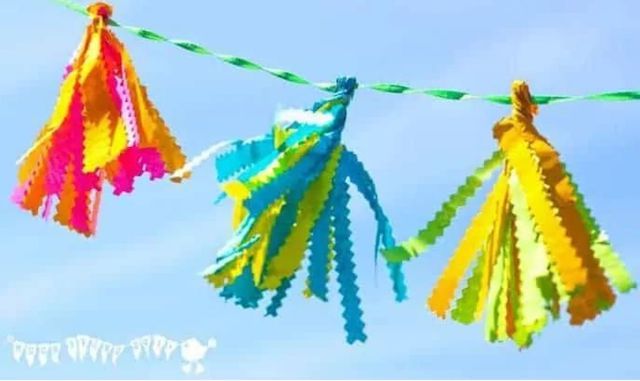 No need to buy these tassel garlands for a party when you can make your own! This craft takes some precision. You'll want a ruler to create equally wide strips of tissue paper for the tassels. Get the tutorial.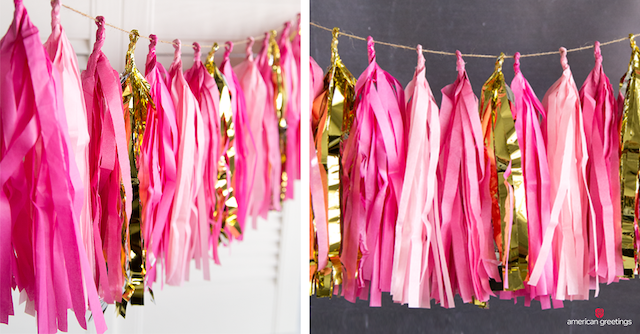 Tissue Paper Home Decor Crafts
Add a festive touch to your front door for Cinco de Mayo or all summer long with this wreath! It uses pre-made tissue paper flowers and streamers. But you could incorporate your own DIY tissue paper flowers as well! Get the tutorial here.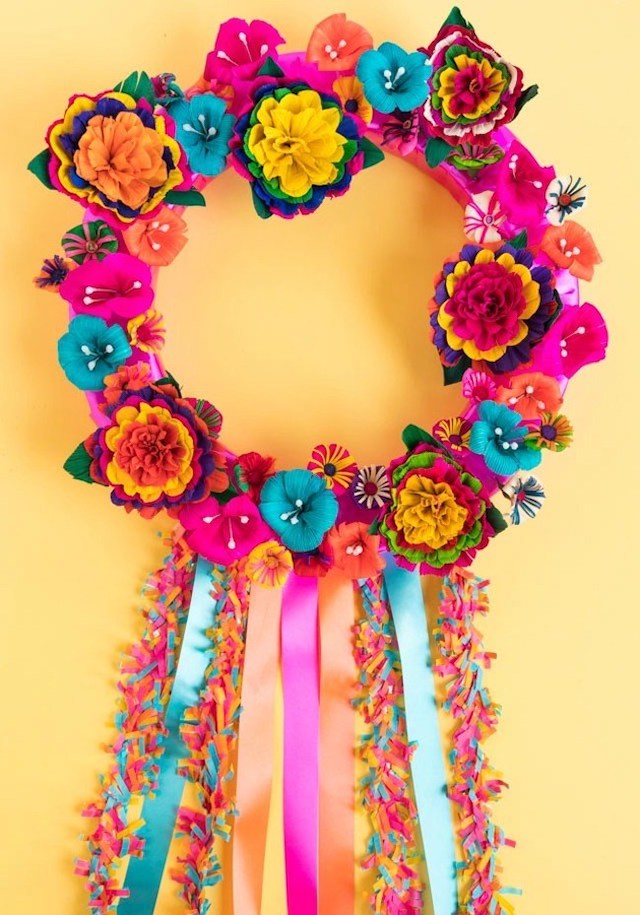 Tissue paper can be used to make some beautiful wall art too! Starting with precut small squares of tissue paper saves tons of time. How cute would this rainbow art look in a kids playroom or bedroom? Get the full tutorial here.
This tissue garland DIY is gorgeous and is a great way to make sophisticated home decor on a budget. What looks like a high-end wall hanging can be made with dollar store tissue paper and a branch found in nature! Depending on how big you want to make this, it does take a good amount of time, so make sure you're ready to tackle it! Get the tutorial.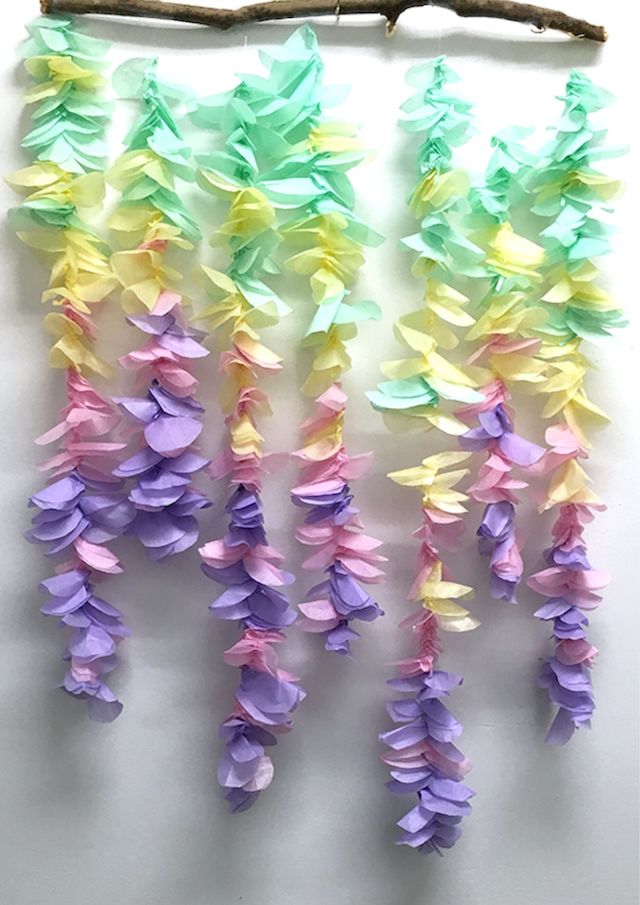 Covering pots with a rainbow of tissue paper stripes screams happy, and with some cute cacti in each pot it's just perfection. The best part? They are waterproof so you can put them outside on your patio! Get the tutorial.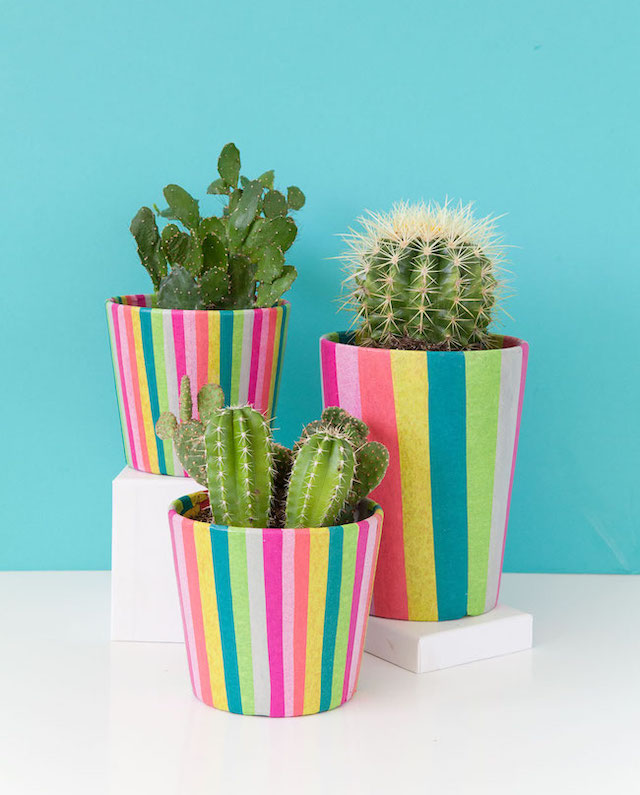 Tissue Paper Crafts for Young Children
You can make this puffy tissue paper butterfly using different colors of tissue paper sheets or crepe paper. It's a great way to practice some fine motor skills with younger kids. Get the tutorial.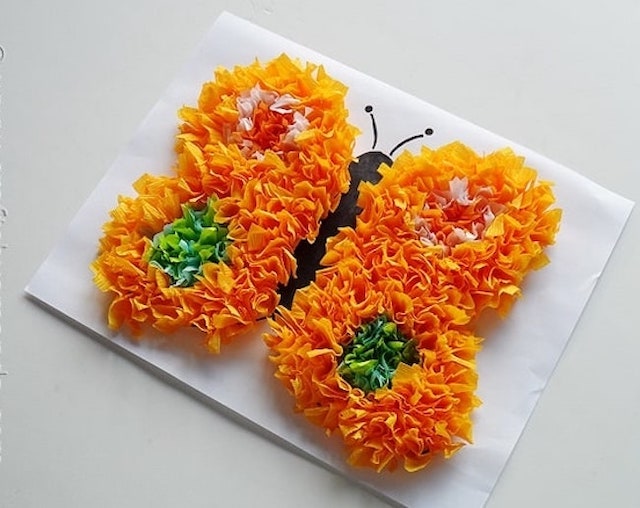 This fun kids craft combines two different techniques – crayon resist and tissue paper bleeding – to make colorful art. Get the tutorial.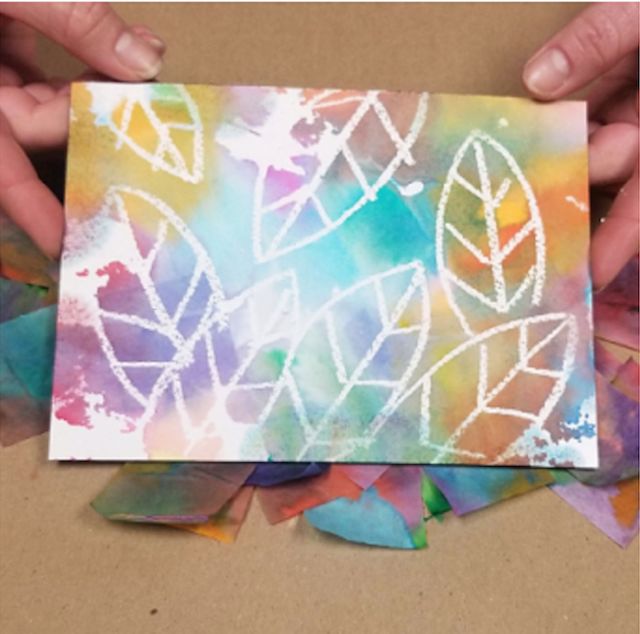 These butterflies are easy tissue paper crafts for young kids. You only need two materials to make them – tissue paper and chenille stems. Using precut 4 inch tissue paper squares will make this project simple for younger children to enjoy. Just accordion fold and secure with a pipe cleaner antenna! Get the tutorial.
Tissue Paper Crafts for Older Kids
This cute Asian-inspired craft is made out of toilet paper rolls and tissue paper circles. Overlap the circles to create the look of fish scales! This craft is very kid friendly if the paper is cut into circles and strips ahead of time. Get the tutorial.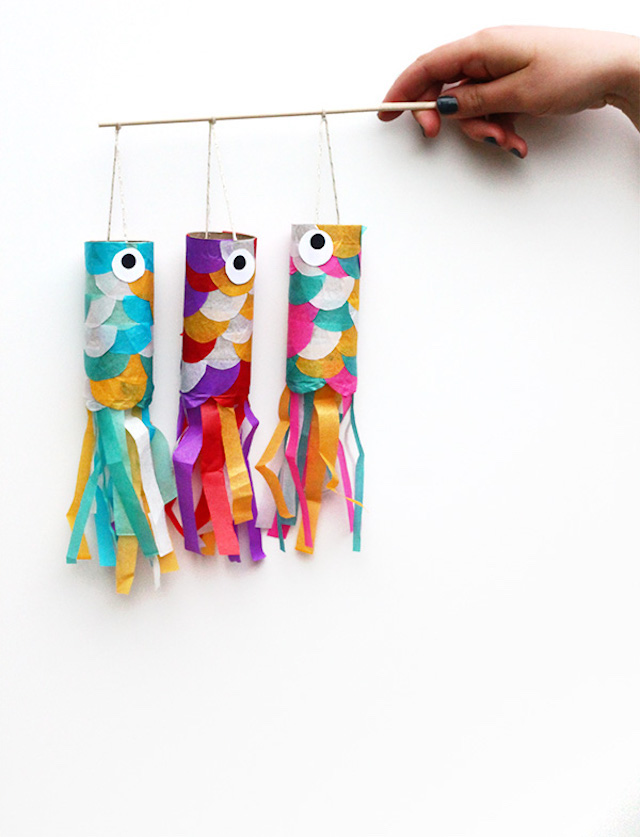 Here is another creative idea using our versatile craft material with beads to make beautiful tissue paper flower bracelets. Get the tutorial.
Transform a styrofoam ball into a globe with just tissue paper and glue! A fun project for Earth Day or to accompany geography lessons at school! Get the tutorial.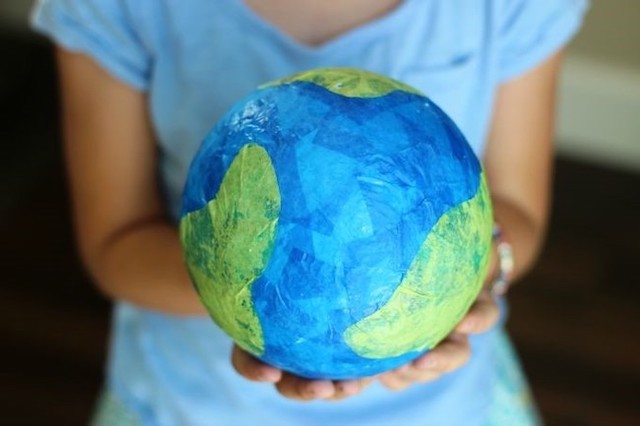 Need a creative way to spend rainy days? Kids will love this craft because it involves popping a balloon to reveal a colorful bowl! It is a cool combination of art and science, and a different take on pasting newspaper strips to balloons for paper mache. Get the tutorial.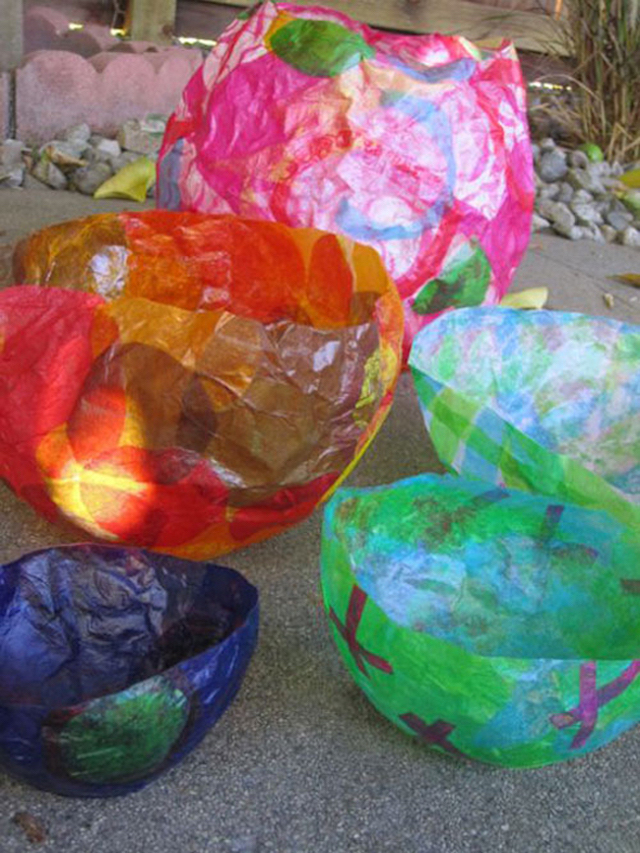 Tissue Paper Crafts for Adults
Did you know you could tie dye tissue paper? This craft uses large sheets of white tissue paper and a tie dye technique to create one-of-a-kind gift wrapping. If you want to get fancy with the patterns, look online for tie dye techniques used on shirts, and try them on tissue paper! Get the tutorial.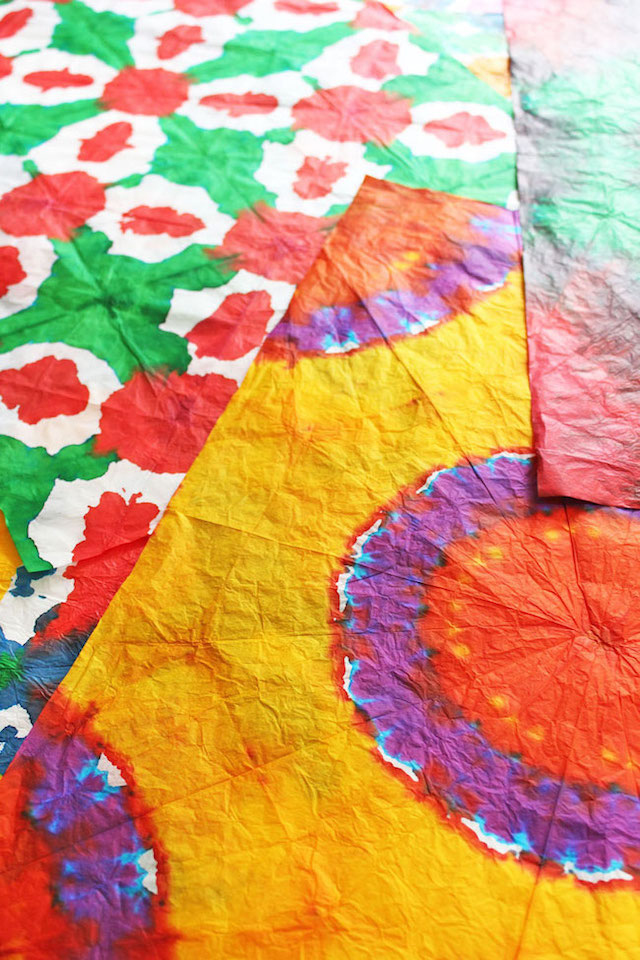 Make colorful drink coasters with tissue paper and wood squares. These would make a fun handmade gift for a friend! A coat of Mod Podge seals the coasters and makes them hold up against any spills. Get the step-by-step tutorial.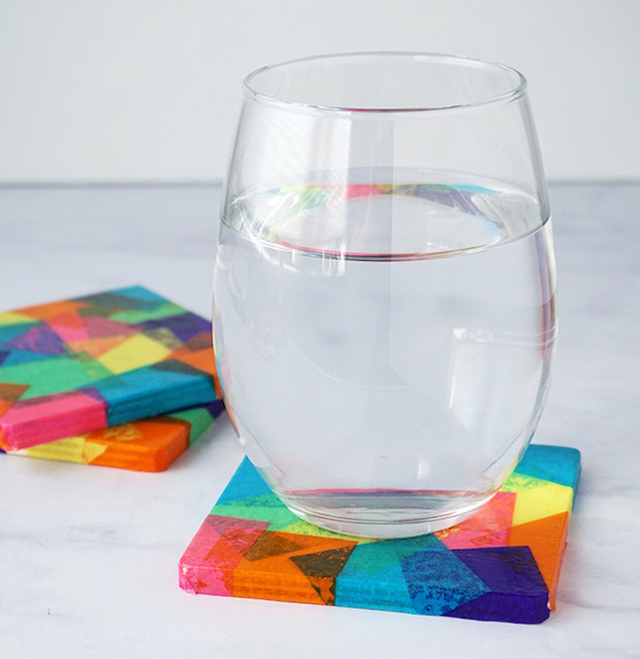 I've got one great craft idea for 'Cinco de Mayo' for you – a honeycomb ball wreath made from honeycomb balls and tissue paper flowers! You can change the theme and use different colors or just to match your home decor. Get the tutorial here.
This DIY Ruffled Tissue Garland is an easy craft and the great thing is that it costs next to nothing. You won't even use a pack of colorful tissue paper to make all three strands of garland. Get the tutorial here.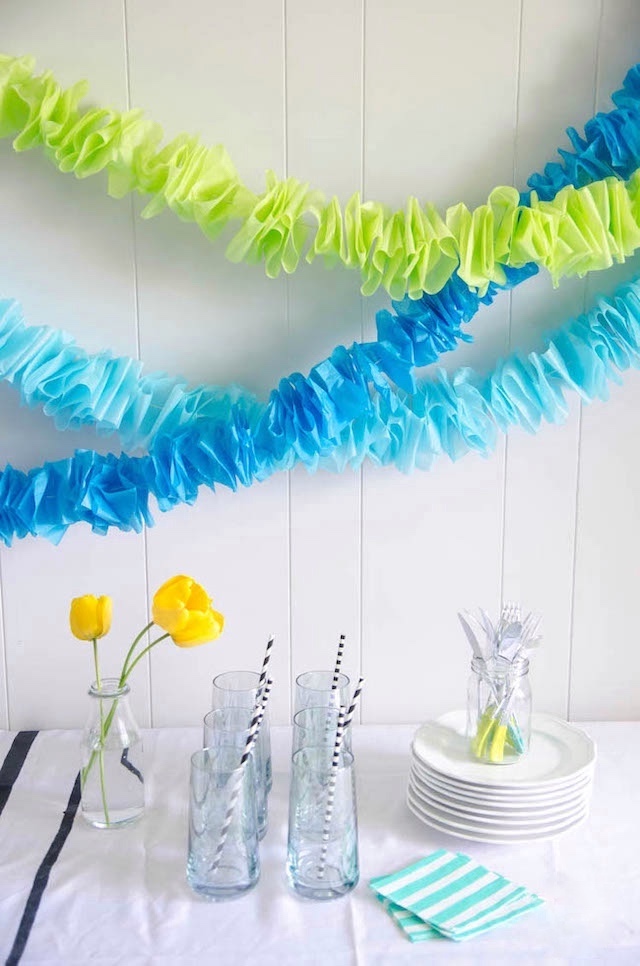 Seasonal Tissue Paper Crafts
I'm frequently daydreaming about balloon crafts, and as soon as the idea of taking some Mod Podge and tissue paper hearts and pasting them onto balloons came to me, I just had to try it!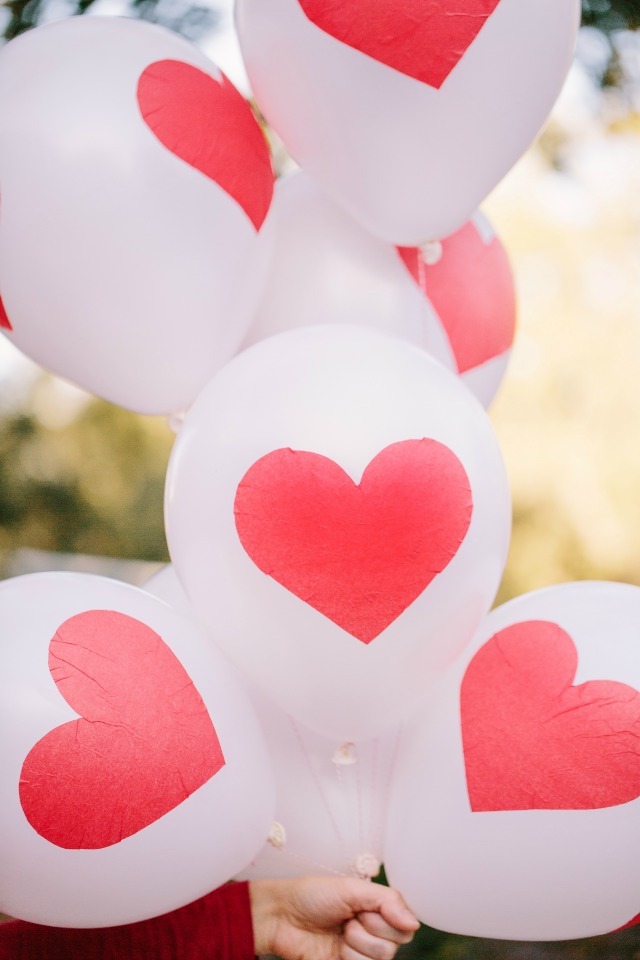 Tissue paper is the perfect craft material to make traditional English crackers filled with surprises. Just fill a cardboard tube with trinkets and wrap with tissue paper. These are made for Valentine's Day, but you can customize them for any holiday. Get the tutorial.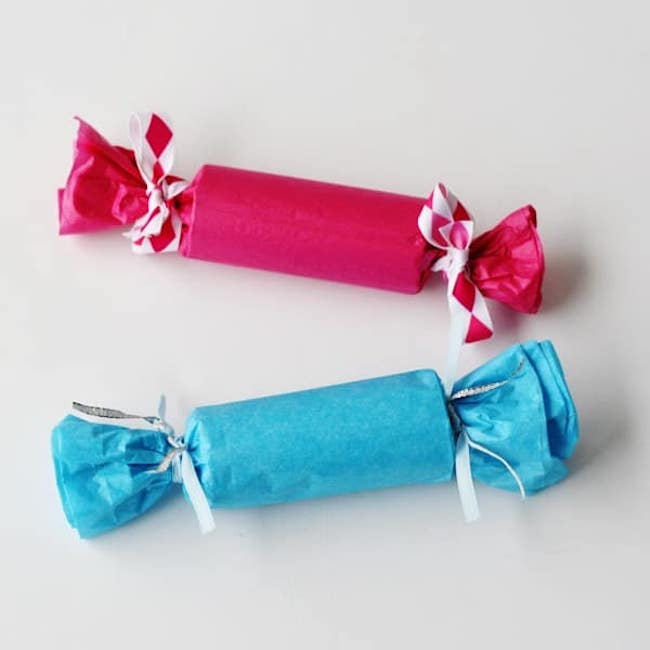 Here is a great tutorial on how I turned and thrifted oval platter into a giant Easter egg with just a little tissue paper and Mod Podge. A great way to add into your Easter home decor.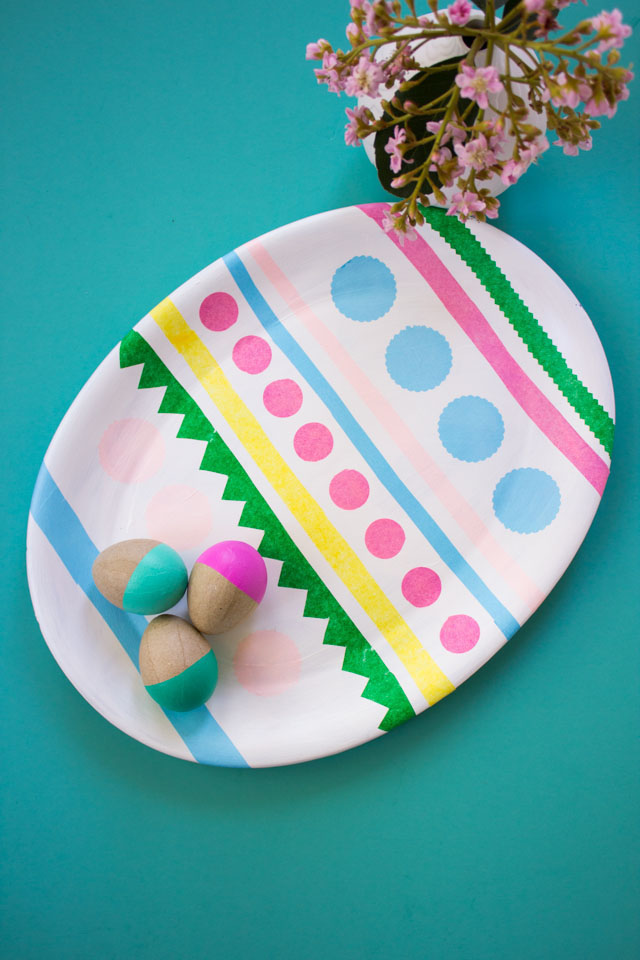 Tissue paper + Mod Podge + eggs is a no fail combo and easy and perfect way to get the little hands busy. This tissue paper easter eggs craft is ideal to work with kids of all ages.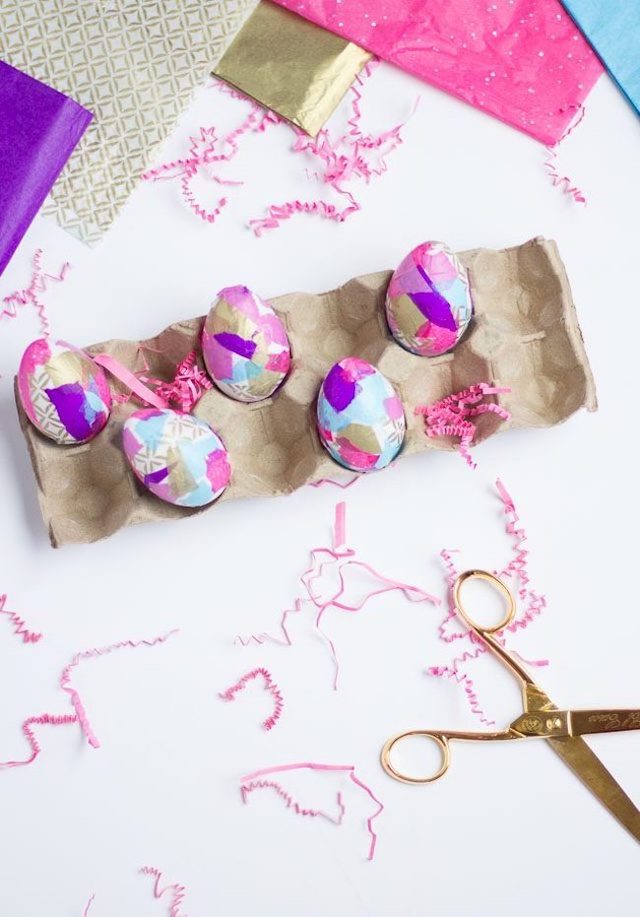 This patriotic flower wreath makes a great DIY 4th of July decoration. Cut red, white, and blue tissue paper into petals and glue on a paper plate for a simple wreath for your front door. Get the tutorial.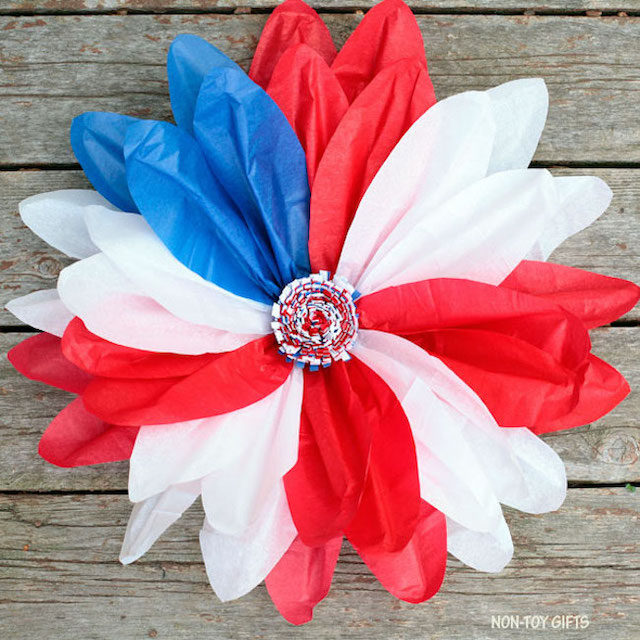 These cute tissue paper suncatchers are the perfect way to spend some time with the younger kids and get their little hands busy. A fun craft to celebrate fall! Get the tutorial.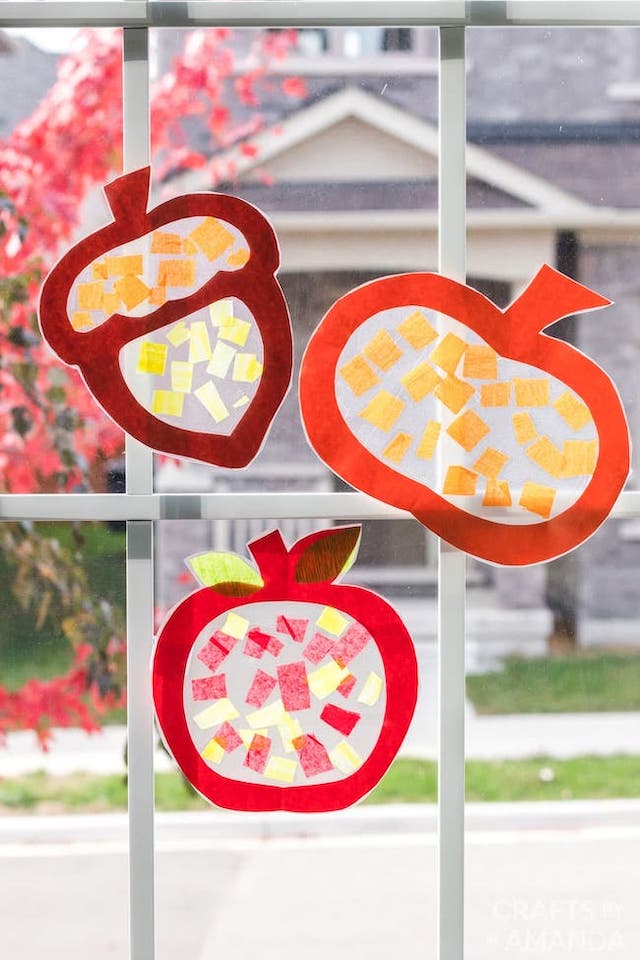 Skip carving and use tissue paper to decorate your pumpkins! This technique can work on real or craft pumpkins, and can be customized in so many ways with different colors and shapes of tissue paper. Get the tutorial.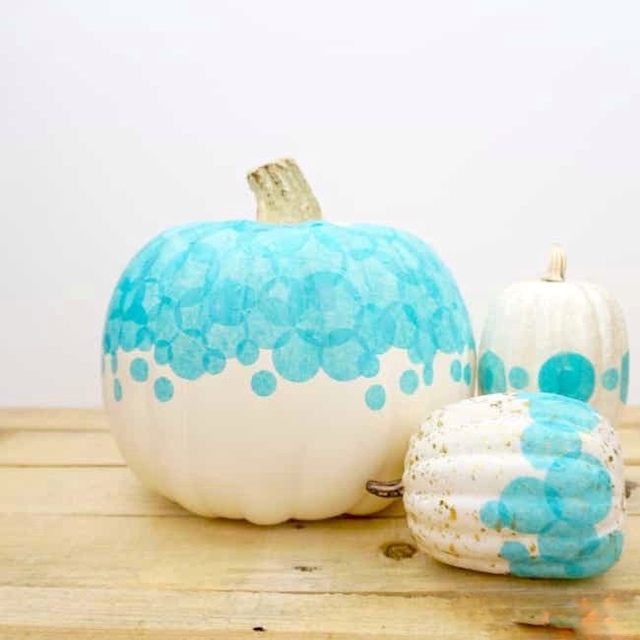 Turn foam cones into colorful tissue paper Christmas trees with precut tissue paper squares and Mod Podge. Decorate your trees with mini pom-poms, and don't forget the stars on top! This is a fun project and easy craft for kids of all ages. Get the tutorial.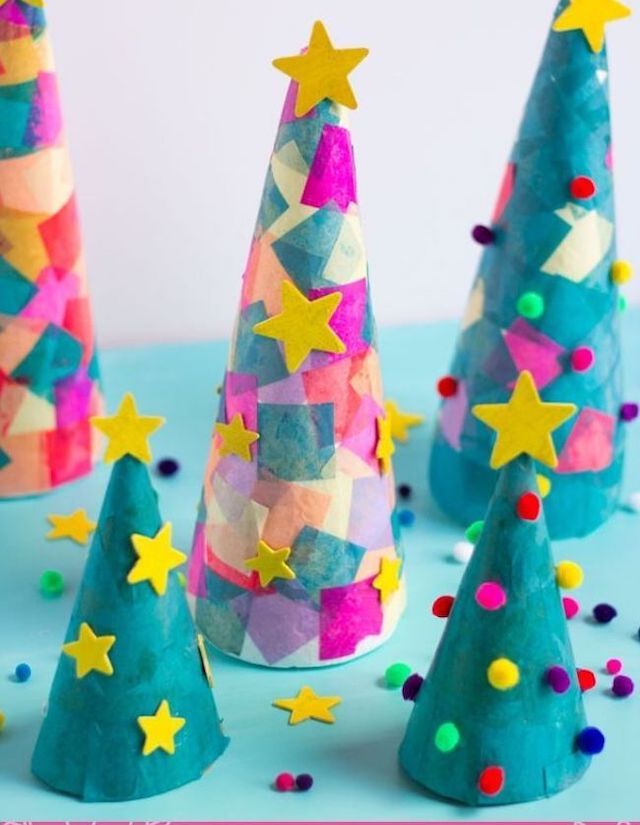 Create a unique garland for your tree with tissue paper and a fringe cutter. This inexpensive and delicate garland lets the tree lights sparkle through. Get the tutorial.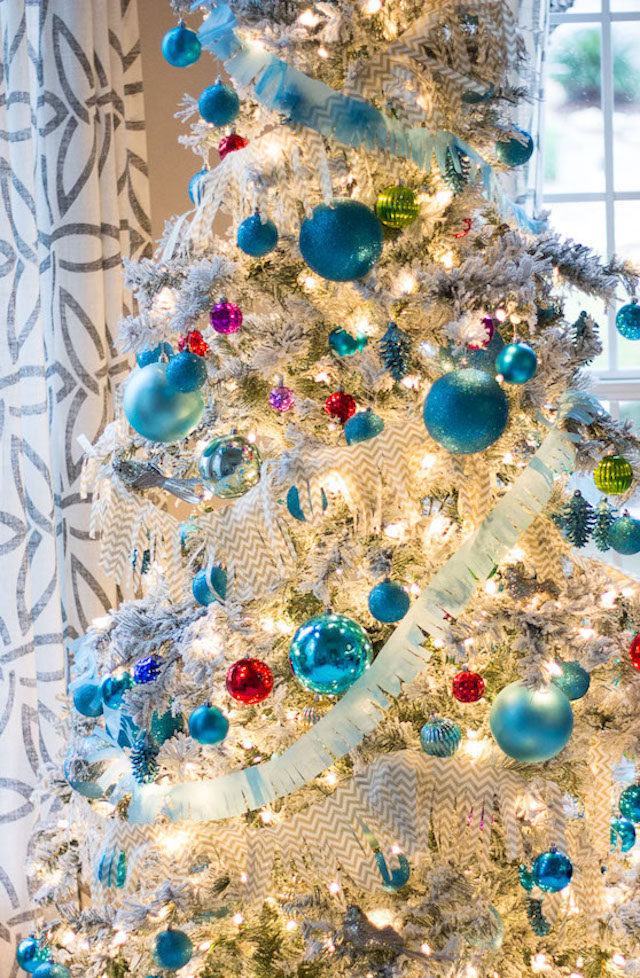 Make a Christmas tree from tissue honeycomb balls in minutes. It's the perfect way to decorate a tight space like an entryway for the holidays, or when you just don't feel like putting up a traditional Christmas tree! Get the tutorial.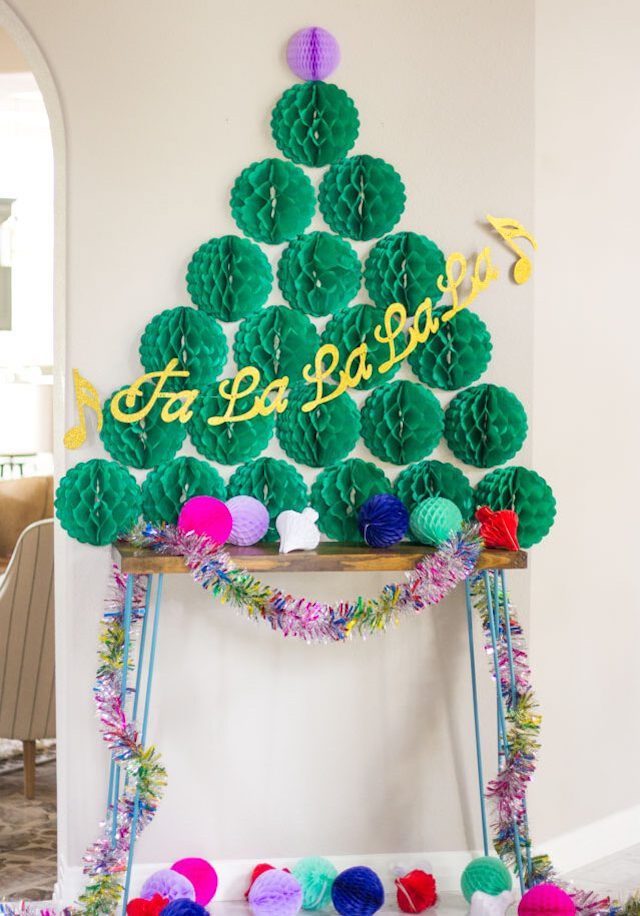 Like these tissue paper craft ideas?
Then check out these other paper crafts!