The Prettiest Salt Dough Ornaments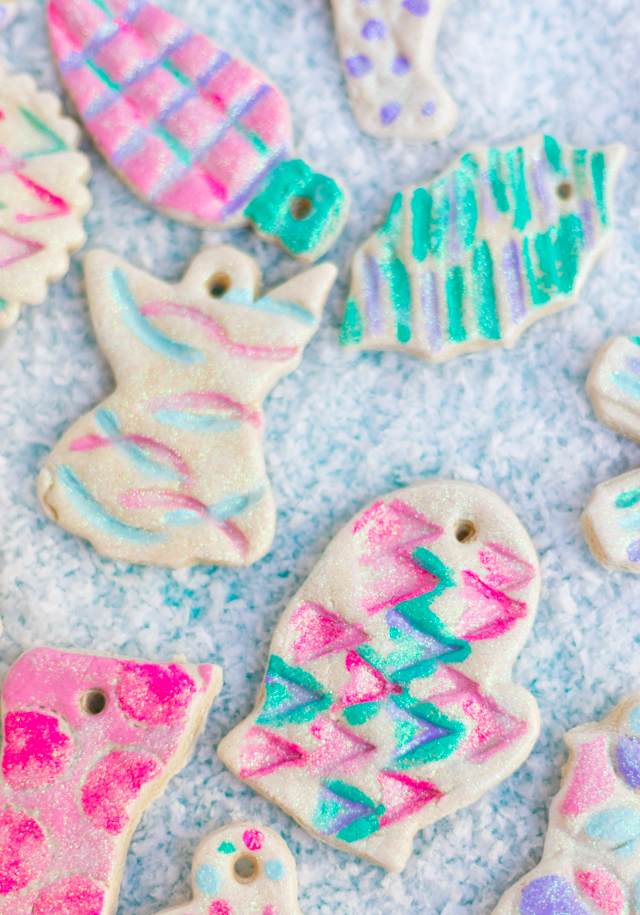 Introducing my kids Christmas tree filled with glittery salt dough ornaments! I'm one of several bloggers sharing kid-friendly Christmas decor ideas in a blog hop today and tomorrow. We've got 12 amazing ideas for you, so I hope you hop to each blog to check them out (see them all at the end of this post). If you're coming over from The Organized Mama – hello! You've come to the right place for simple DIYs that make a big impact. If you love Christmas crafts, I have tons of ideas for you. In the meantime, read on for all the details on how to make your own salt dough ornaments including a printable salt dough recipe!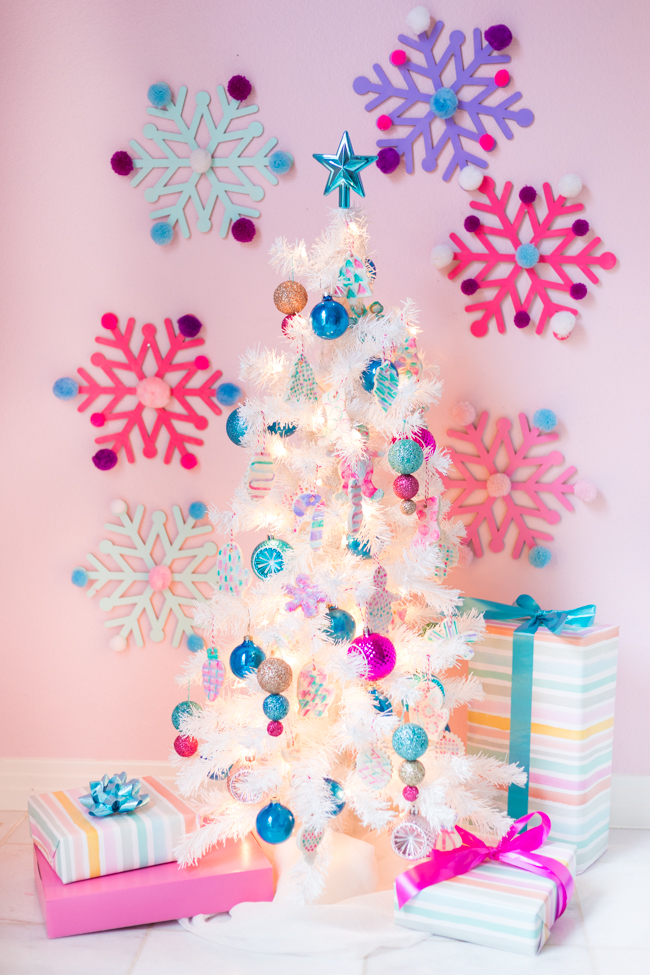 This tree was inspired by some salt dough ornaments my sister and I made when we were kids. Both of us loved making things from an early age! Each year we decorated our small family Christmas tree with a new theme. One year we made a bunch of salt dough star ornaments and spray painted them gold. They looked so beautiful on the tree! I remember keeping them for years and years after that. They really do keep a long time!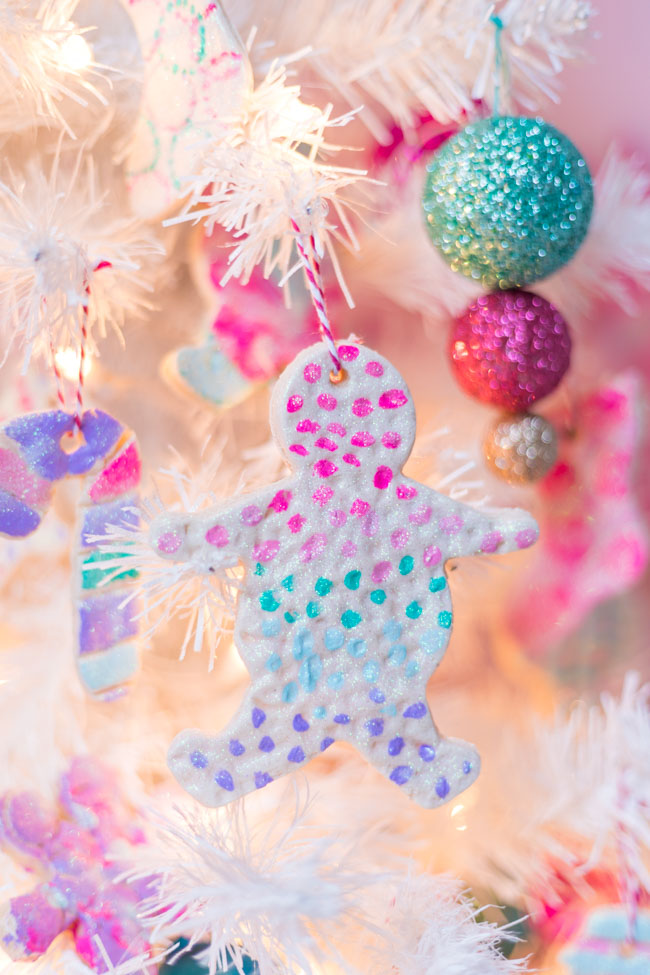 This time around, my daughter Stella (11) and I spent a fun Saturday afternoon making the salt dough and cutting out the ornaments with cookie cutters. Stella used a variety of kitchen utensils to stamp patterns onto the ornaments and then we baked them in the oven. The next day my other daughter Hazel (9) joined us for a painting party! We brought the ornaments to life with a pretty palette of pinks, blues and purples. Once dry, we finished them off with a coat of Mod Podge and a sprinkle of white glitter so they truly glimmer on the tree!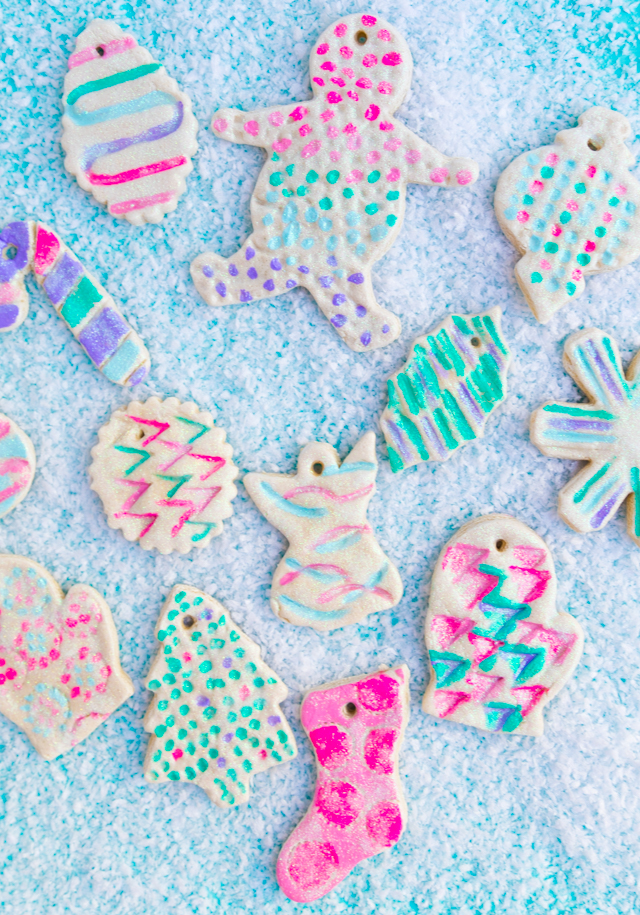 Easy Salt Dough Ornament Recipe for Kids
Want to make your own ornaments? Making salt dough is so easy and the basic recipe uses just three ingredients. You likely already have these on hand – salt, flour, and water. If you are ever in a need of a last minute activity to keep kids occupied, this is it!
Ingredients for Salt Dough Ornaments
You'll want to use regular all-purpose flour and table salt (not coarser salt like kosher salt):
4 cups of flour
1 cup of table salt
1 1/2 cup of water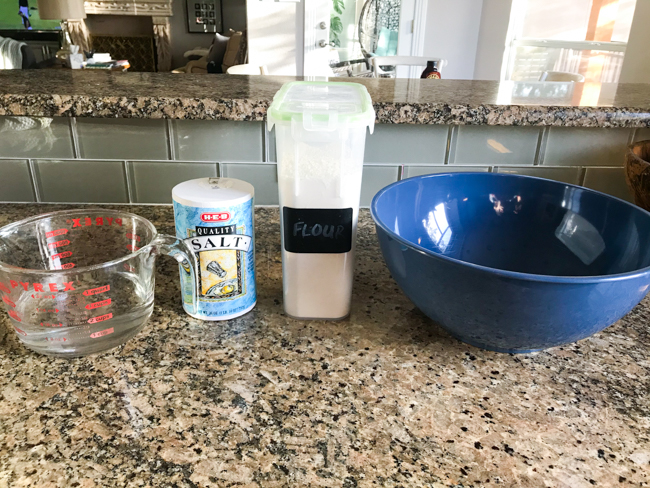 Making Salt Dough
Step 1: Whisk flour and salt
To make the salt dough, first mix the 4 cups of flour and 1 cup of table salt together with a whisk in a large bowl.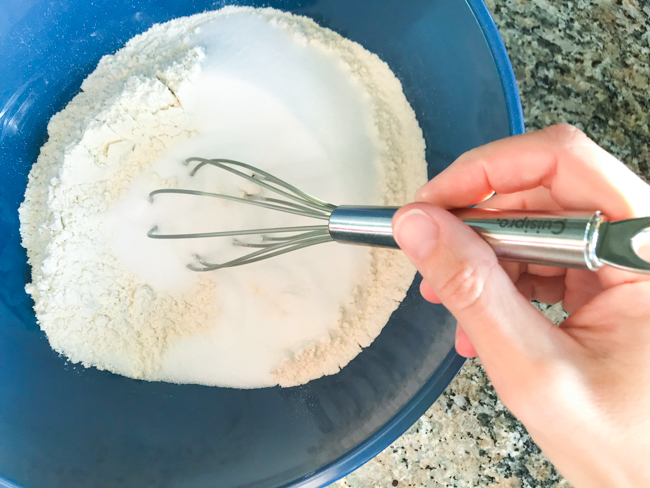 Step 2: Add water
Slowly add the 1 1/2 cups of water.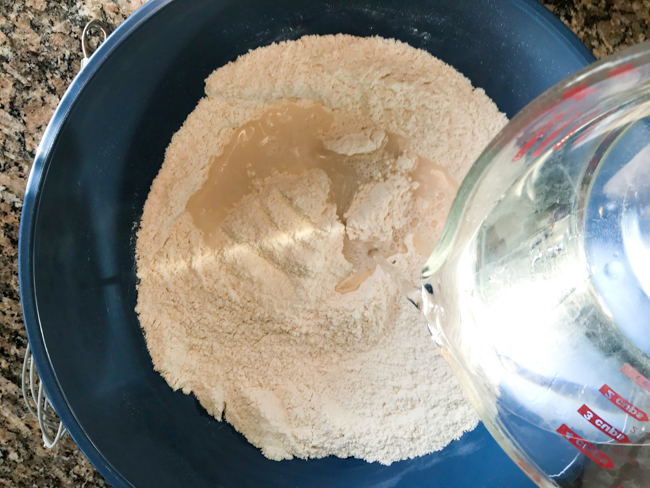 Step 3: Stir with spoon
Stir with a wooden spoon until a dough starts to form.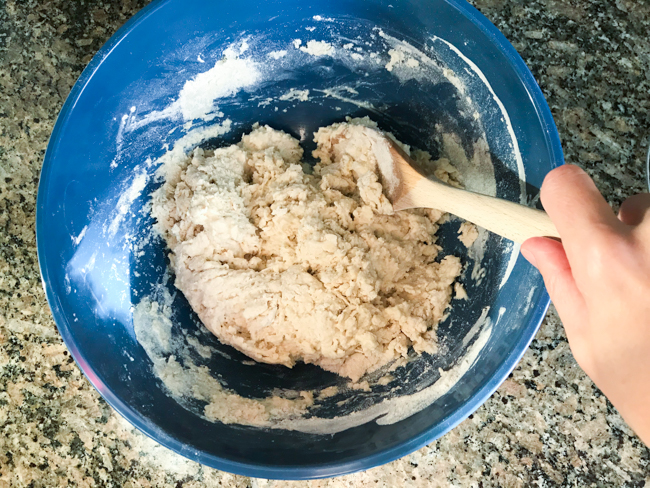 Step 4: Knead dough
You can use your hands to knead the dough. If the dough feels too sticky after kneading you can add a bit more flour. I also found that chilling the dough for an hour helped make it less sticky and easier to roll out.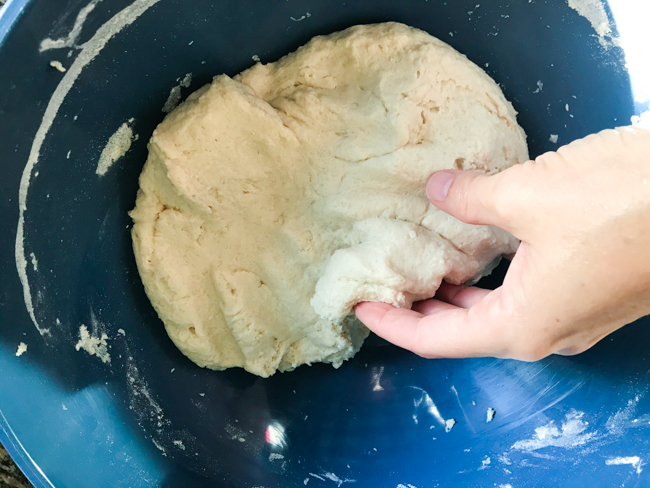 Cutting Out Salt Dough Ornaments
Step 1: Roll out dough
Roll out the salt dough to between 1/4″ and 1/8″ thickness. You can roll it between two pieces of parchment paper if you like. I find that if the dough is slightly chilled it is easier to roll and cut.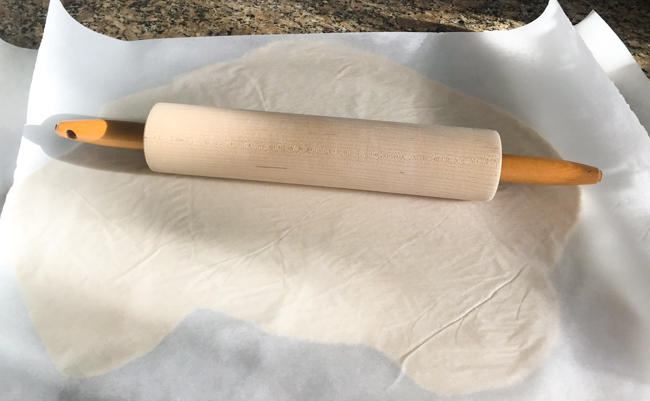 Step 2: Cut out ornaments
Use a variety of Christmas cookie cutters to cut out the ornaments. Peel away the excess dough and roll out again to make more ornaments! If the dough ever gets sticky you can add more flour or put it in the refrigerator for a bit.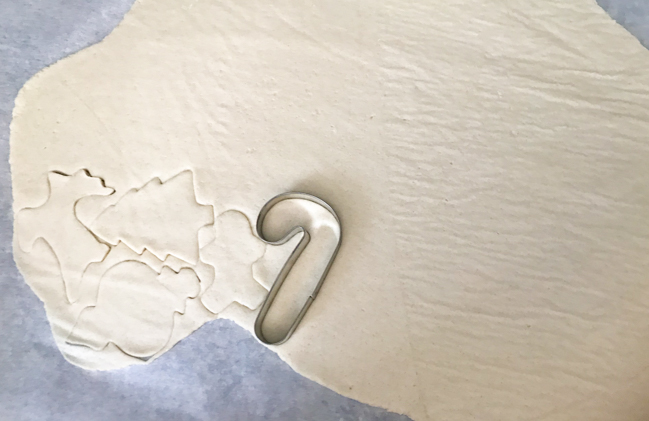 Step 3: Make hole in ornaments
Use a straw or a skewer to make a hole in each ornament so you can hang it.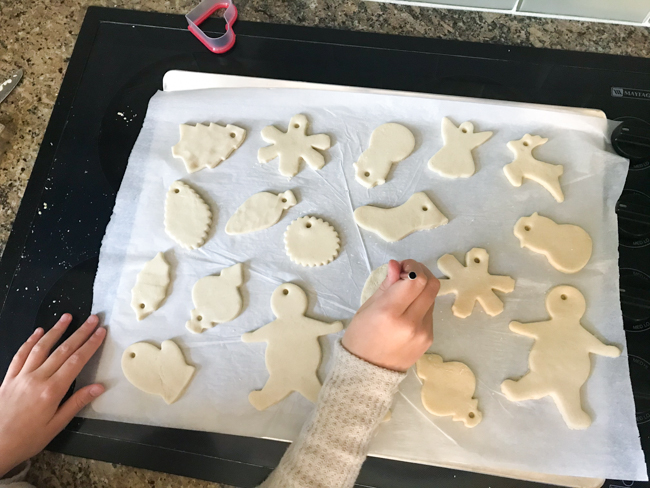 Step 4: Stamp ornaments to decorate
Now for the fun part! Use a variety of kitchen utensils to stamp designs on the top of the salt dough ornaments. We used a potato masher, vegetable peeler, can opener, fork, apple corer, and drink muddler. This is the perfect opportunity to get creative!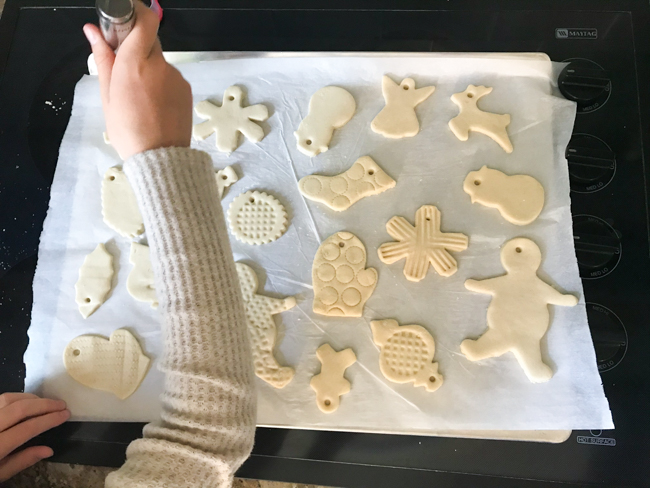 Baking Salt Dough Ornaments
Preheat the oven to 300 degrees F and bake the ornaments for one hour. The ornaments should be hard when they come out of the oven. Let cool completely.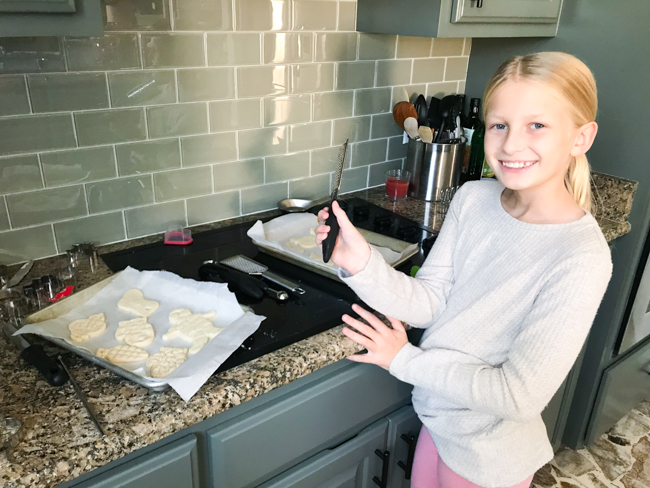 How to Decorate Salt Dough Ornaments
Once the ornaments are cool and hardened you can further embellish them with paint and glitter. I recommend dividing this activity up into two days – a baking day and a painting day!
Step 1: Decorate with craft paint
Use small paint brushes and colorful craft paint to decorate the stamped parts of your ornaments. We stuck with a limited color palette to make all of our ornaments look coordinated!
Step 2: Seal with Mod Podge
Once the paint is dry, add a layer of glossy Mod Podge to the top to seal the ornament.
Step 3: Sprinkle on glitter
Immediately sprinkle on some fine white glitter while the Mod Podge is still wet. The glitter will stick and make the ornaments truly sparkle on the tree!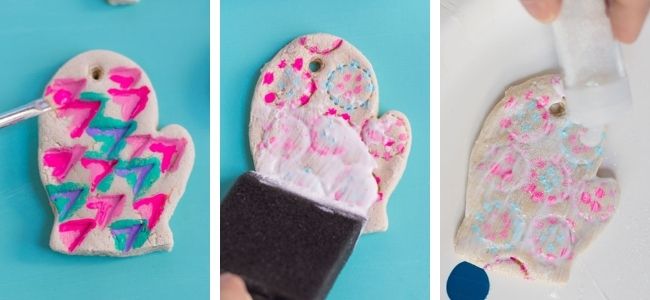 Hang your sweet ornaments from the tree with a loop of baker's twine!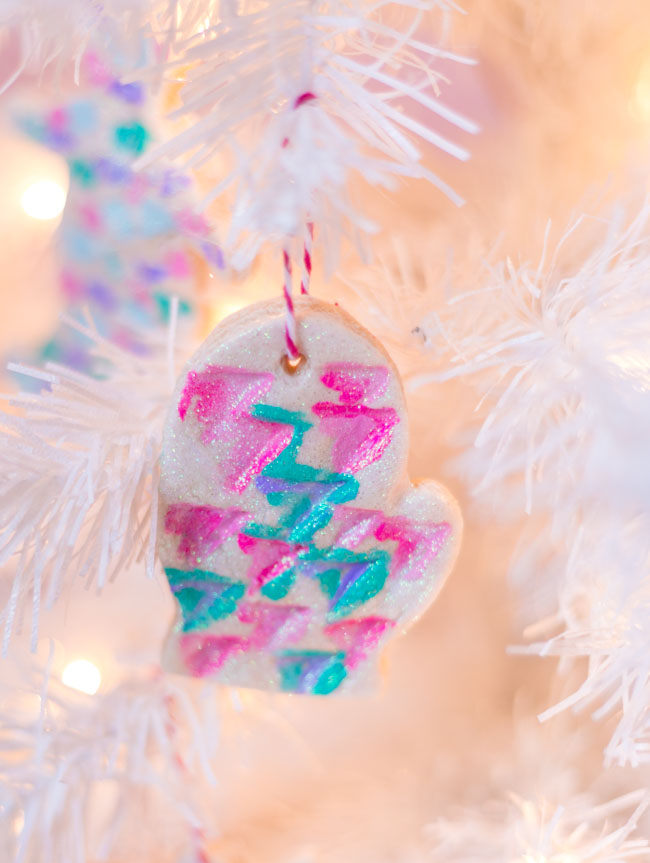 It was so fun working on these ornaments together with my daughters. I hope they'll want to pass the tradition on to their own kids some day! We hung the ornaments on their little white tree along with some colorful bulbs. I hung my giant pom-pom snowflakes on the wall behind the tree for a sweet Christmas vignette!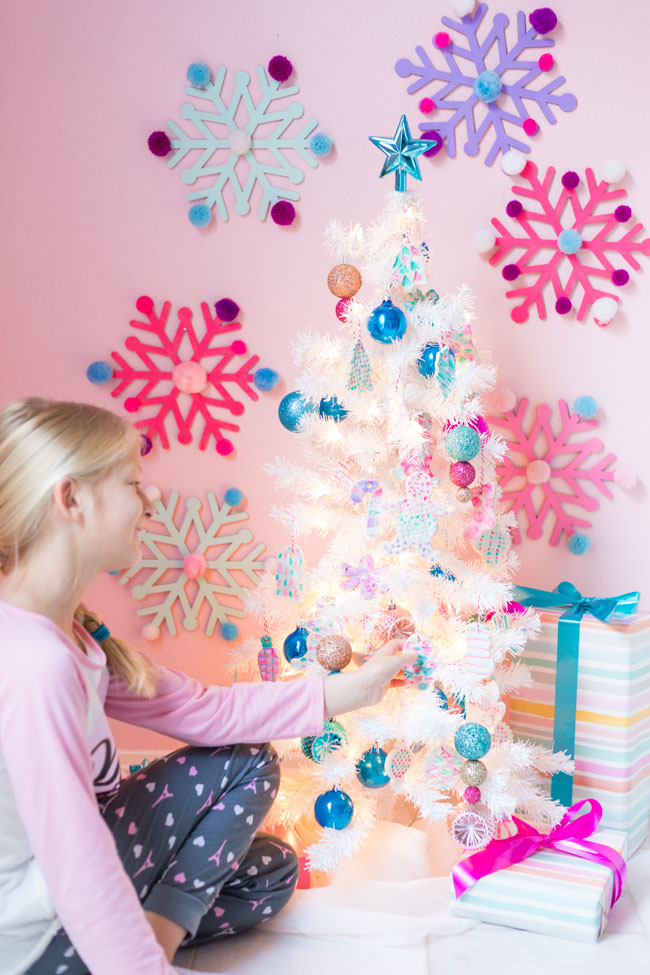 Holiday Home Tour – Kid Edition
I've teamed up with some of my talented blogger friends who are also sharing their fun and festive spaces for the Holiday Home Tour – Kid Edition. Next on the blog hop is a cute kids Christmas Art and Game Room over at Inspiration for Moms. Check it out along with the rest of these adorable kids spaces!
MONDAY
Two Twenty One // Love and Renovations // Lemon Thistle // Stacie's Spaces

The Organized Mama // Design Improvised // Inspiration for Moms // Bright Green Door

TUESDAY
Making Home Base // T. Moore Home // Casa Watkins // Up to Date Interiors

Living Letter Home // Home on Poplar Creek // DIY Decor Mom // Kate Decorates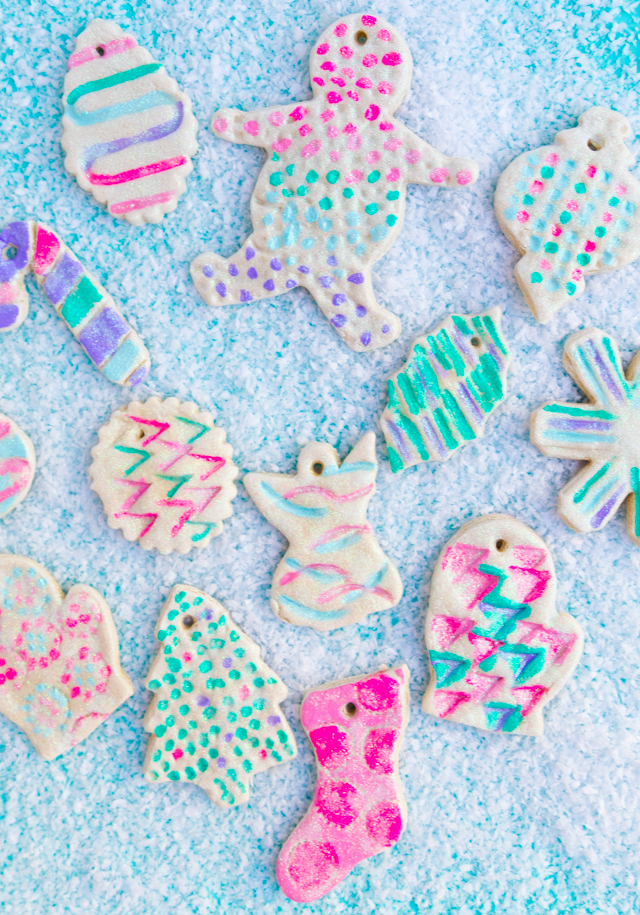 The Prettiest Salt Dough Ornaments (PRINTABLE RECIPE)
Total Time:
2 hours
45 minutes
Salt dough ornaments are such a classic kids Christmas craft and so easy to make! Kids will love cutting out the ornaments with cookie cutters and stamping designs on them with kitchen tools. Once baked, the ornaments are painted and sealed with Mod Podge and sparkling glitter. These pretty ornaments glimmer on the tree!
Ingredients
4 c. flour
1 c. table salt
1 1/2 c. water
Acrylic craft paint
Glossy Mod Podge
White glitter
Instructions
Mix the 4 cups of flour and 1 cup of table salt together with a whisk in a large bowl.
Slowly add 1 1/2 cups of water and stir with a wooden spoon until a dough starts to form.
Knead dough with hands. If it is still sticky, add a little more flour. You can also chill it for an hour in the refrigerator to make it easier to roll out.
Roll out dough with a rolling pin to 1/4" to 1/8" thick and use cookie cutters to cut out shapes.
Create a hole in the top of each shape with a straw and make "prints" on the top of the shapes with kitchen tools such as forks, potato mashers, and apple corers.
Bake for 60 minutes at 300 degrees F. Let cool and harden completely before decorating.
Paint the ornaments and let dry. Seal with glossy Mod Podge and sprinkle with iridescent white glitter.