DIY Kids Christmas Ornaments: The Ultimate Guide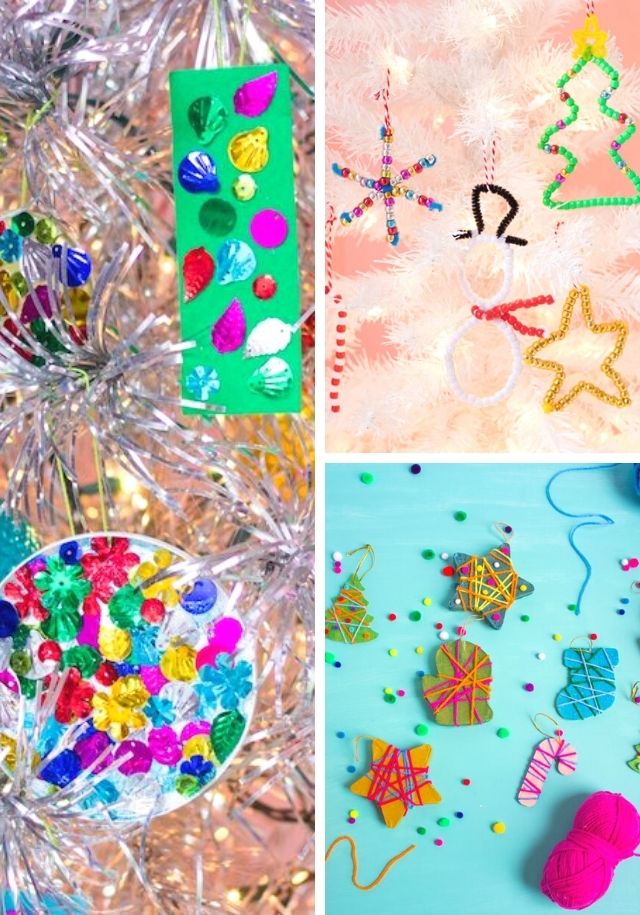 DIY Kids Christmas Ornaments
I have made a lot of DIY kids Christmas ornaments over the years and I thought I would round them up here for you. I'm also including my favorite kid ornament ideas from other crafty bloggers. Consider this your ultimate guide to making kids ornaments! From popsicle sticks to yarn to salt dough, I'm covering all the basics for making a classic kids ornament. I mean is there anything sweeter than going through ornaments your kids have made over the years? I hope you like these ideas and you and your kids give them a try!
My Top Kids Ornament Ideas
These glittery salt dough ornaments are my most recent ornaments. I made them with my daughters by cutting out shapes with Christmas cookie cutters and "printing" them with kitchen utensils. Once baked, we painted them and covered with a layer of Mod Podge and sparkly glitter. They were inspired by some gold star salt dough ornaments that my sister and I made to cover our tree when we were kids! Get the tutorial here.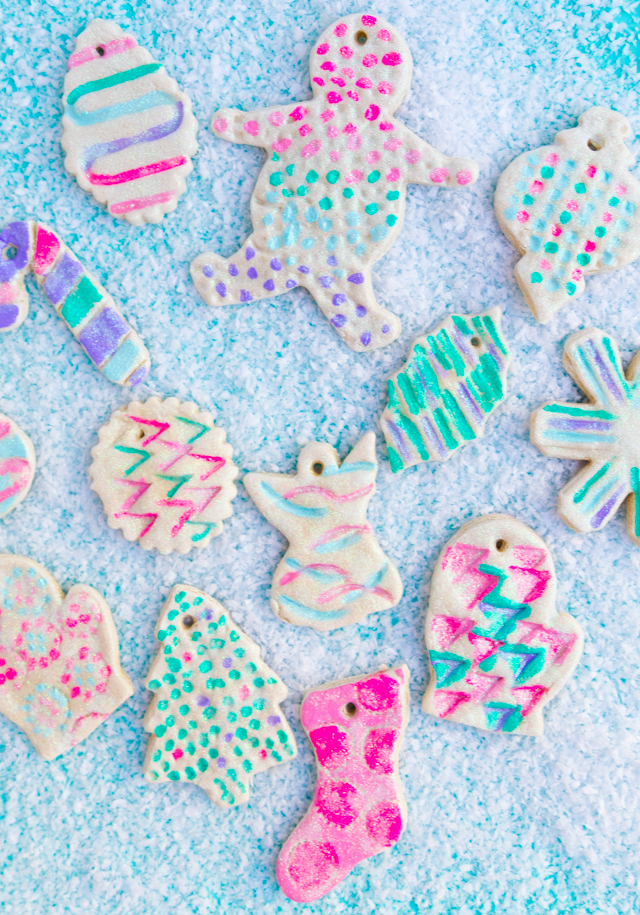 I also made these pony bead ornaments this year for Oriental Trading's Fun365.com. You can find the tutorials for each ornament there. Pony bead ornaments are a classic kids craft. All you do is string the beads onto pipe cleaners and bend into shapes! I made a pony bead snowman, snowflake, Christmas tree, star and candy cane. There are so many different versions of these you can make. Get the tutorial here!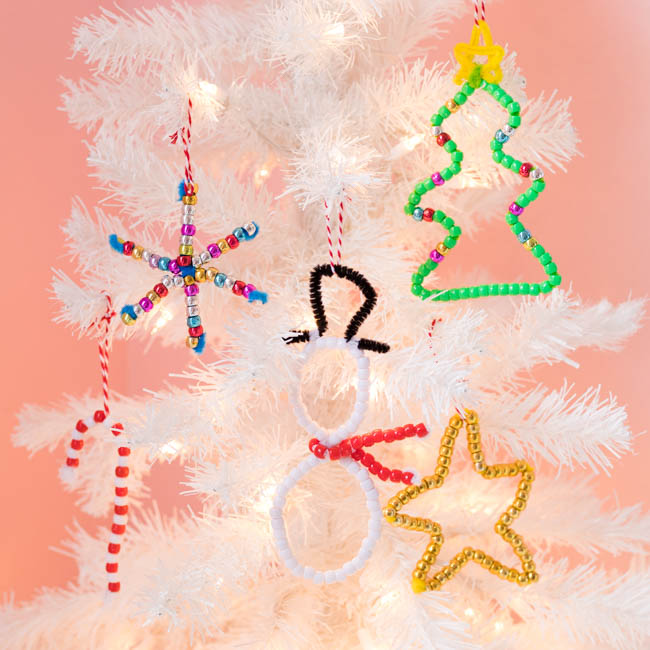 I love paper mache ornaments and think they are the perfect blank canvas for kids ornament crafts! They also make for great adult crafts. Check out these painted paper mache ornaments I made with a sophisticated touch! For these yarn wrapped ornaments, we first painted paper mache and wood ornaments with craft paint. Then we wrapped them with colorful yarn. A few pom-poms make them extra special! You can find the tutorial here.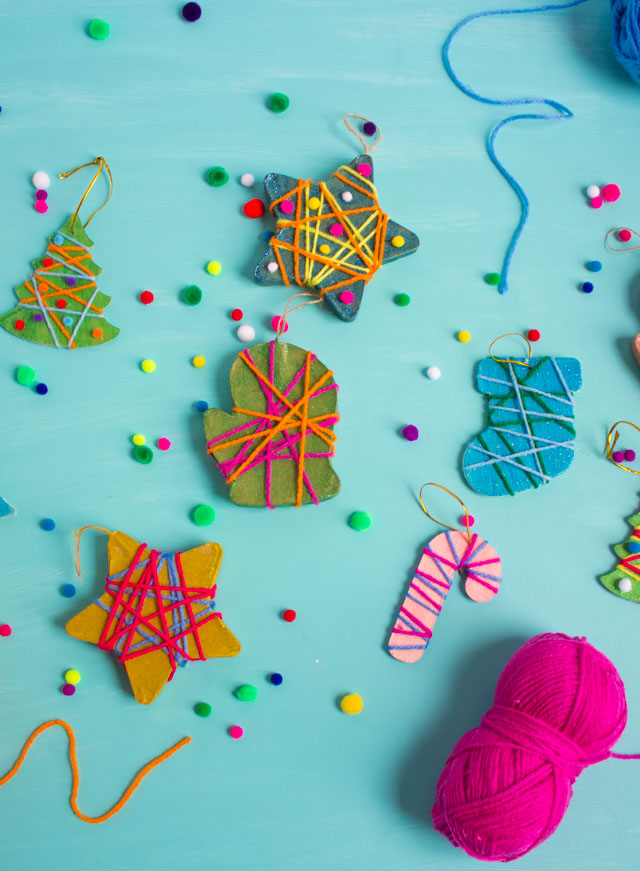 These sweet little guys were a project I made for Kid Made Modern using beads, pipe cleaners and felt from their colorful craft kits. You could put your own spin on these based on the type of beads you have on hand! Get the tutorial here.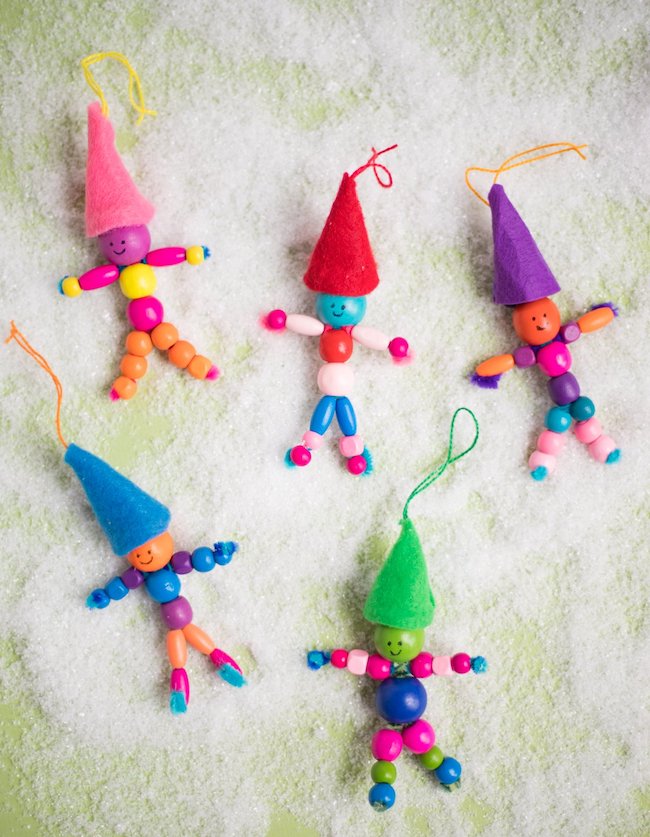 This is another fun craft using Kid Made Modern sequins and felt. However I also incorporated some recycled materials! I covered the inside of container lids with glue before sprinkling with colorful confetti. Get the tutorial here.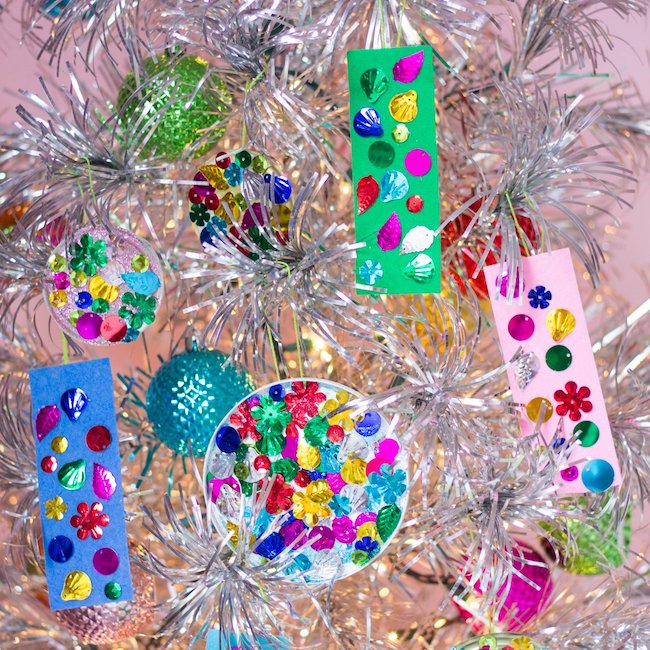 One of my first ever kids ornaments as evidenced by how little Hazel (now 9) is in the photo! These snow ornaments are far one of the easiest and perfect for preschoolers. Start with a clear plastic ornament with an opening on the top. Stick in some polyester fill to create "snow". Sprinkle a little silver glitter on top of the snow to make it glimmer on the tree. Get the tutorial here!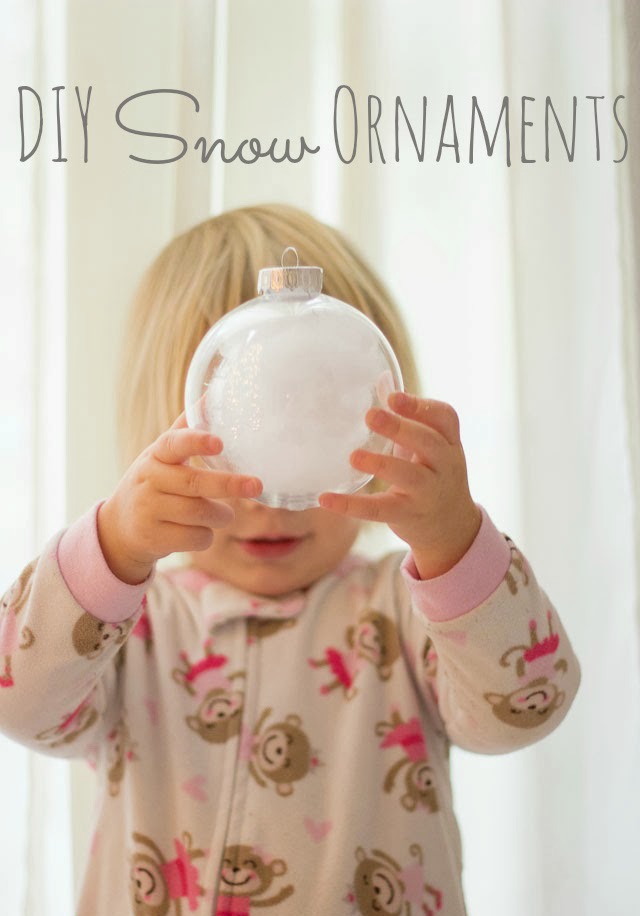 This post contains affiliate links. See our full disclosure.
Must-Have Supplies for Kids Ornament Crafting
It seems like there are a handful of go-to supplies when it comes to make making kids ornaments. Make sure you have plenty of these on hand for a Christmas crafting session!
More DIY Ornament Ideas!
In addition to the ornaments I've made, I've also searched for my favorite DIY ornaments around the web. I found some super cute ones! I've linked to all the sources so you can head their for the step-by-step tutorials:
Popsicle Stick Ornaments
Popsicle sticks or craft sticks are such a classic craft supply for kids ornaments. Who knew you could make so many cute things from these simple wooden sticks! Of course the Christmas trees with mini pom-poms are my fave:
Popsicle Stick Snowflake Kids Can Make

via The Best Ideas for Kids

Craft Stick Christmas Tree Ornaments via One Little Project
Popsicle Stick Reindeer Ornament via the Crafty Sparrow
Popsicle Stick Santa Ornament via One Little Project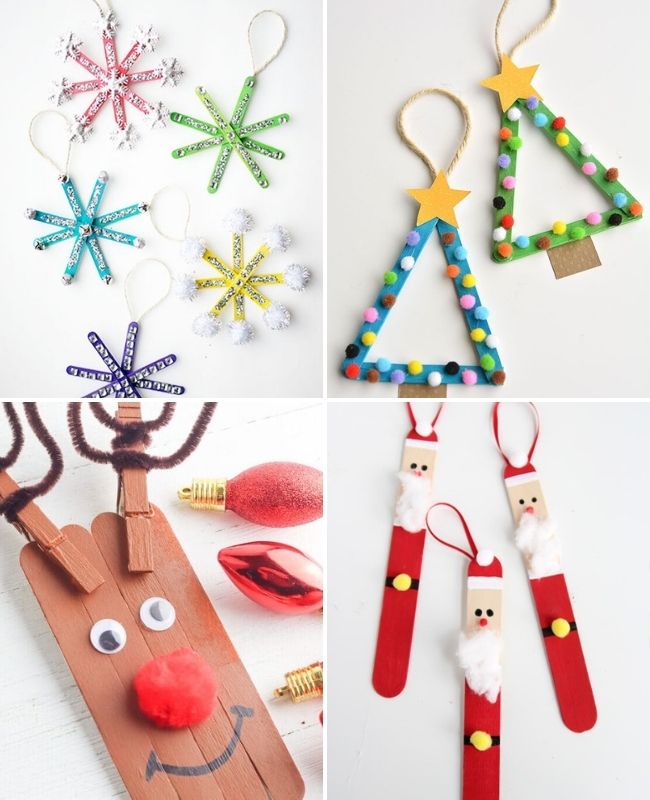 Fingerprint and Handprint Ornaments
The perfect preschool ornament idea. Imprint their sweet little handprints and fingerprints on an ornament to cherish forever! I still have the little Santa handprint ornament that Hazel made as a two year old in preschool. We love comparing her now much bigger hand to that tiny little print!
Reindeer Fingerprint Ornament

via Little Bit Funky

Handprint Snowman Ornament via Savvy Saving Couple
Santa Handprint Ornament via The Best Ideas for Kids
Fingerprint Christmas Lights Ornament via The Happier Homemaker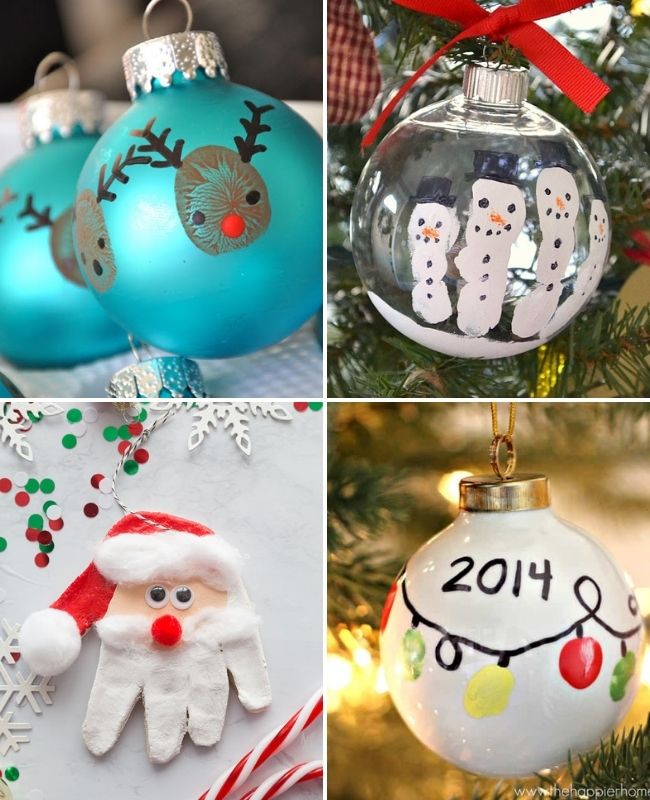 Snowman Ornaments
There is no one way to make a snowman! Think circles in groups of three, such as bottle caps or wood slices. I also love this clear ornament filled with marshmallows, but polyester fill or cotton balls would also work: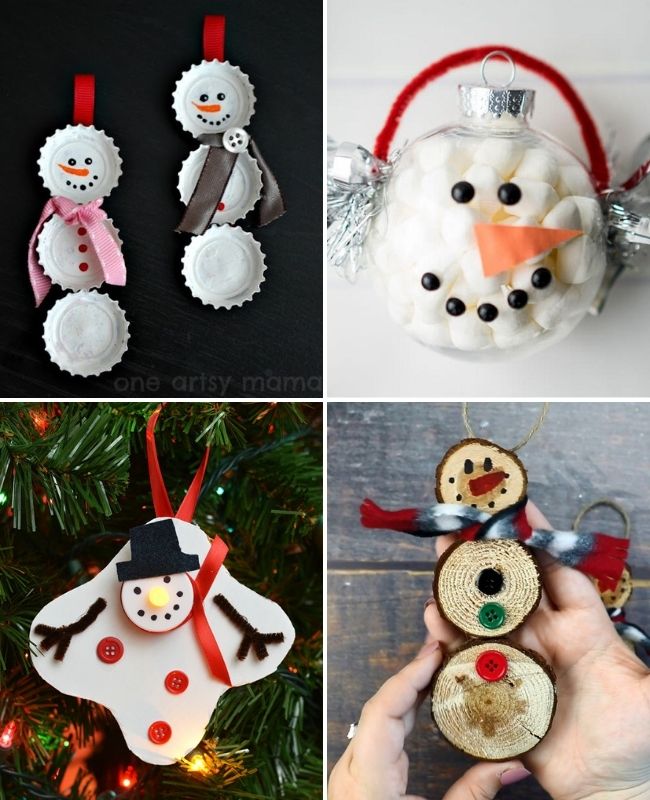 Christmas Tree Ornaments
Christmas tree ornaments to hang on a Christmas tree? Why not! These are some of my favorites because they are so colorful. I love the use of buttons, pom-poms and star stickers for ornaments:
Cinnamon Stick Tree Ornaments

via Crafts Unleashed

Handprint Christmas Tree Salt Dough Ornaments via Mod Podge Rocks
Paper Doily Christmas Tree Ornament via Buggy and Buddy
Paint Chip Christmas Tree Ornament via Girl in the Garage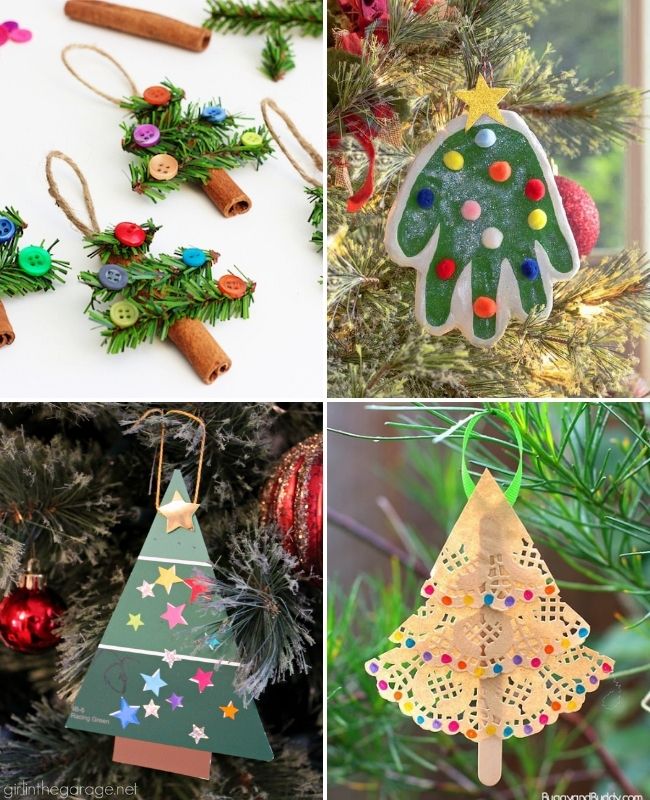 Reindeer Ornaments
I love these different versions of Rudolph with his shiny red nose! The photo option is especially cute:
Clear Reindeer Ornament via Reading Confetti

Wood Slice Reindeer Ornament

via Natural Beach Living

Rudolph Kids Photo Ornament via Hello Wonderful
Toilet Roll Reindeer Ornament via Happy Hooligans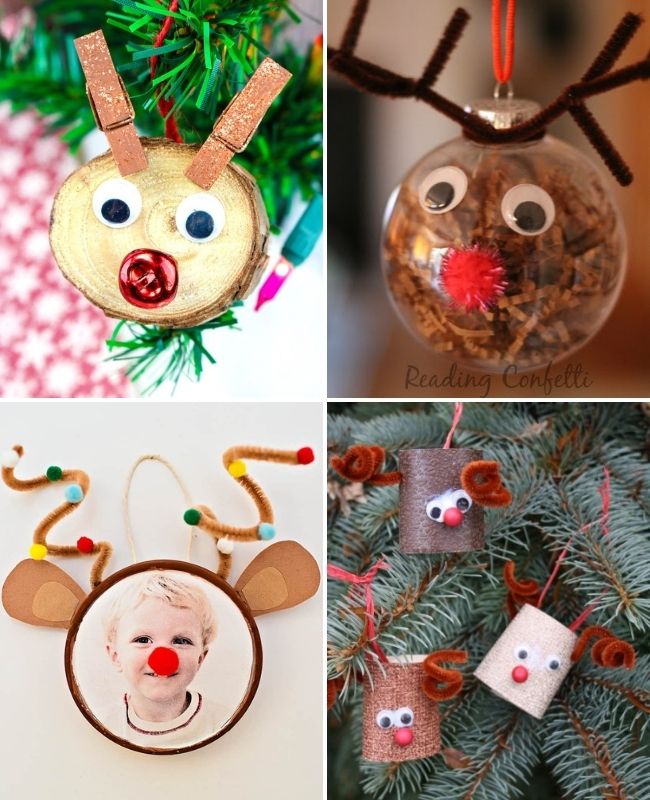 Snowflake Ornaments
Last but not least, snowflakes are such a Christmas ornament staple. From clothespins, to popsicle sticks to pipe cleaners, just cris-cross a few of them to form a snowflake shape and decorate!
Clothespin Snowflake Ornament

via The Best Ideas for Kids

Plastic Bottle Snowflake Ornaments via Ornament Shop
Pipe Cleaner Snowflake Ornaments via One Little Project
Button Snowflake Ornament via Easy Peasy and Fun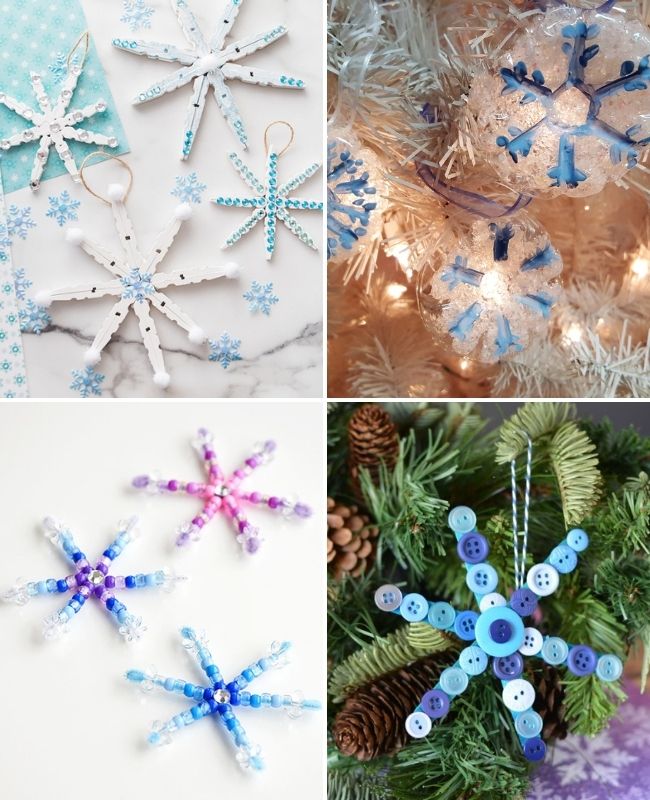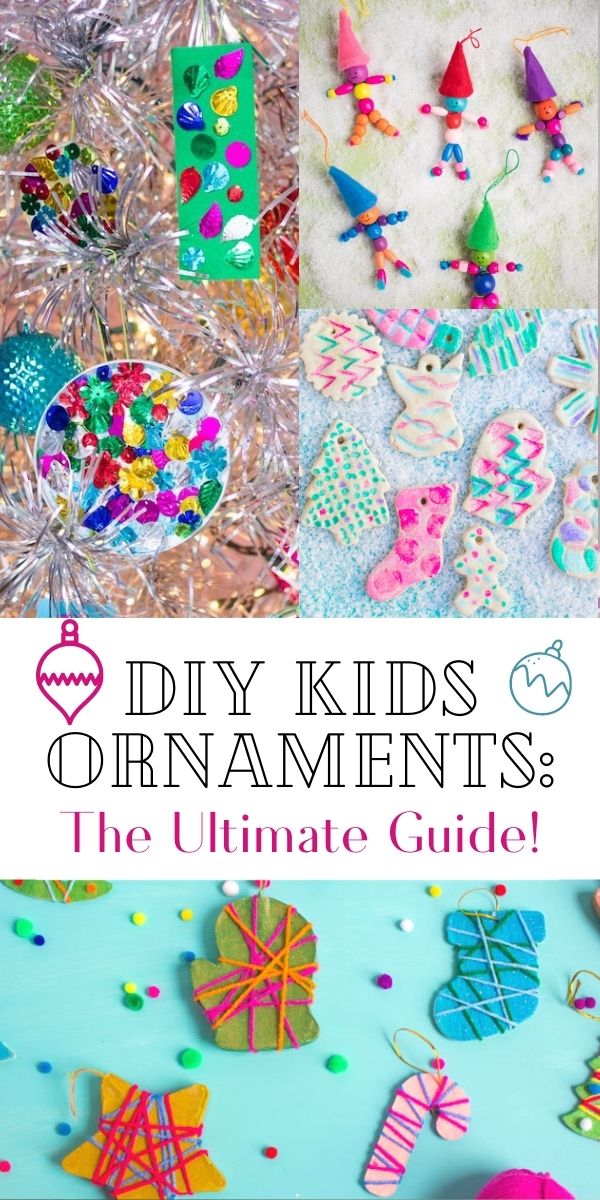 Did you like my Ultimate Guide to DIY Kids Ornaments?