Top 10 Peloton Room Ideas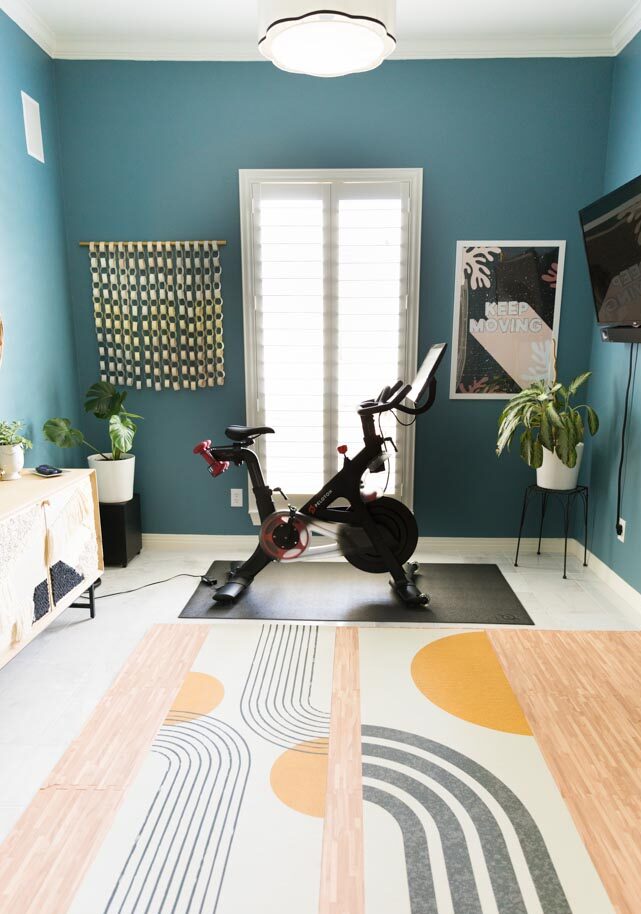 PELOTON HOME GYM INSPIRATION
Have a Peloton or other exercise bike hanging out in your bedroom? We did for over a year until transitioning my craft room into our new Peloton room! Whether you have a designated room or you're carving out a space in a bedroom or living room, I hope these Peloton room ideas give you some inspiration for taking it up a notch!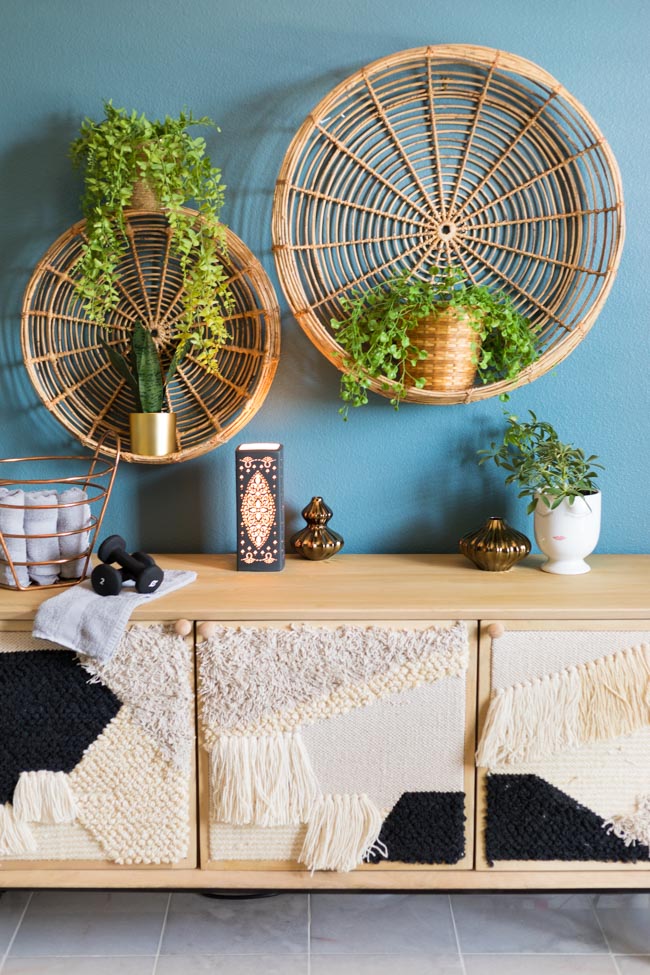 With a few additions, we were able to make this new home gym a highly functional room that we look forward to working out in. When I walk by it I get excited for the next time I can escape to shut the door, crank up the volume, and hop on the bike!
This post contains affiliate links. See our full disclosure.
Home Peloton Gym: Shop the Look
Here are some of the items we incorporated into our Peloton workout room: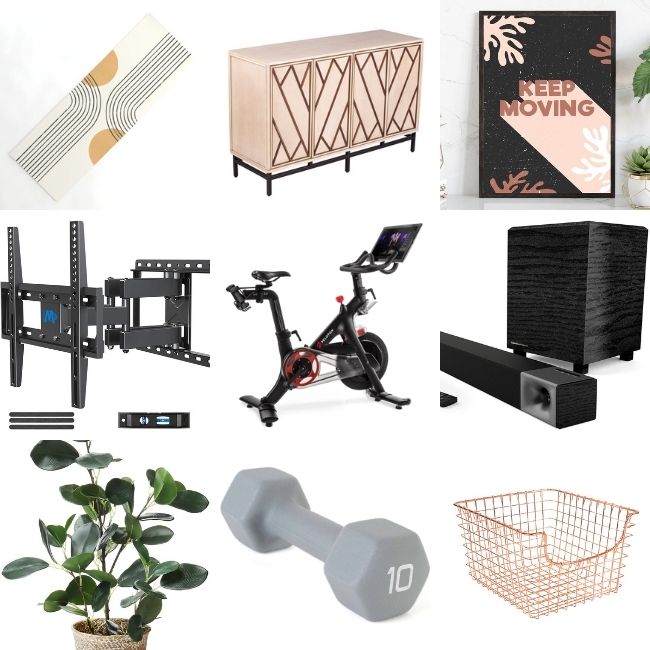 First row:
Second row:
Third row:
Top 10 Peloton Room Ideas to Try at Home
1. Bring in the natural light
I don't know about you, but even though I'm biking inside, I like to connect with the outdoors when I'm on my Peloton. I put the bike by the window so I could look outside at the trees and sky while I ride. Even if you don't want to be right by the window, having some natural light in your Peloton room is nice.
If you place a bike near a window or wall, make sure there is enough room on each side for you to fully extend your arms out. This is important for the rides that incorporate arms segments with the light weights.
2. Create a designated stretching area
You'll always hear the Peloton instructors talk up the importance of the post-ride stretch. Make sure you have ample room to stretch out. A yoga mat is a nice addition to your Peloton room, especially for longer full body stretches, or the yoga classes offered through the app. I love these Mid Century Modern yoga mats from Society 6.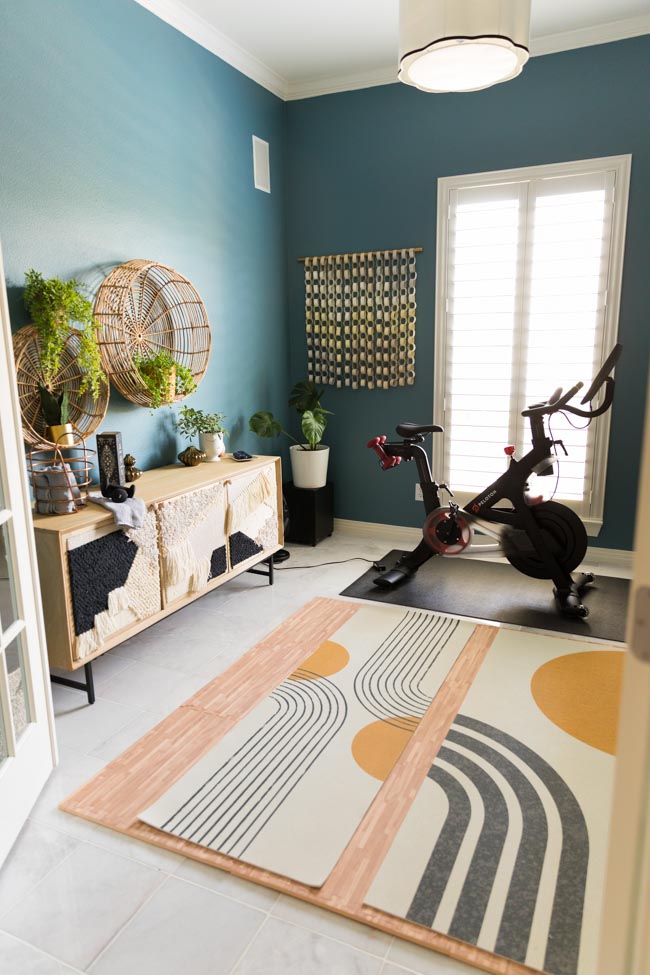 3. Screen mirror to a TV
If you have the room to do it, a separate TV that you can mirror your bike screen to is extra handy for the variety of strength and yoga classes offered by Peloton. It can be hard to follow along with a yoga class when you are leaning over to see the screen on your bike. To screencast, you'll need a Bluetooth enabled TV. Go to the Settings on your Peloton screen and choose "Bluetooth" and then "Screen Cast" to locate the TV to mirror your screen to.
Another helpful feature is using an extendable, full motion TV mount for your TV. This can allow you to adjust the screen to face towards the bike, or towards the mat, when you are doing different workouts.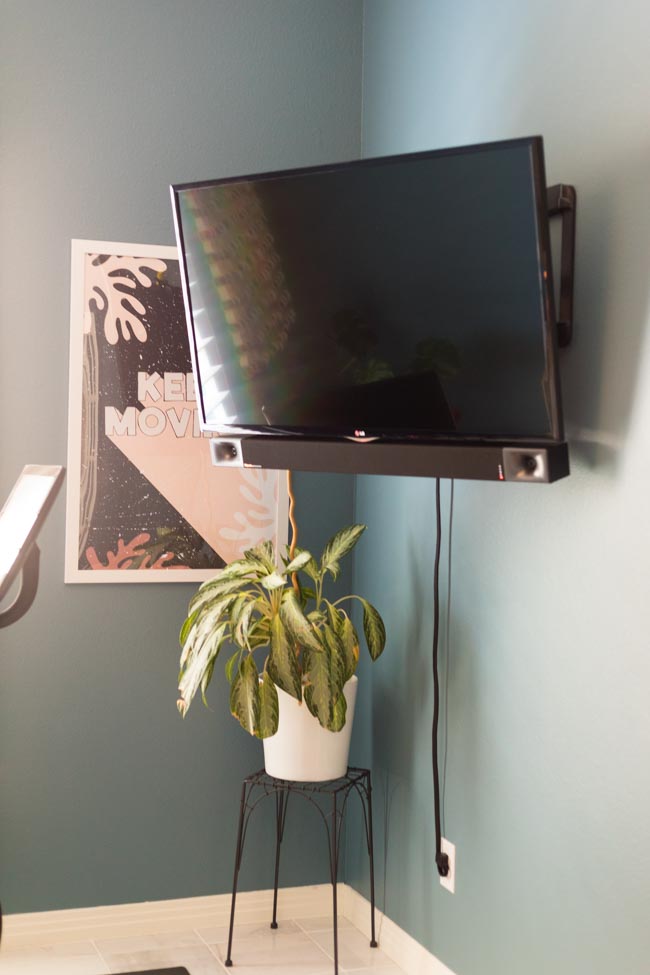 4. Add a sound bar
Want the real Peloton studio experience? A sound bar amps up the sound so you feel like you're in the same energy charged room as Alex Toussaint! This addition to our Peloton home gym was all my husband's doing. I questioned whether we needed it, but I am totally sold on it now. We got this Cinema 400 Sound Bar + 8Inch Wireless Subwoofer. Being surrounded by music helps get me through a hard ride.
5. Try this mirror hack for your Peloton room
Large mirrors can be expensive, but to get a true gym feel, you want to go big. We were able to create our own gym style mirror for a fraction of the cost by using this  60″ by 36″ polished glass mirror from Lowes. We then attached it to the wall along with this Metal Mirror Mounting System and these Metal Mirror Hooks. It has a sleek look and is larger than any type of standing mirror you can buy online. Here I am snapping a photo of the mirror!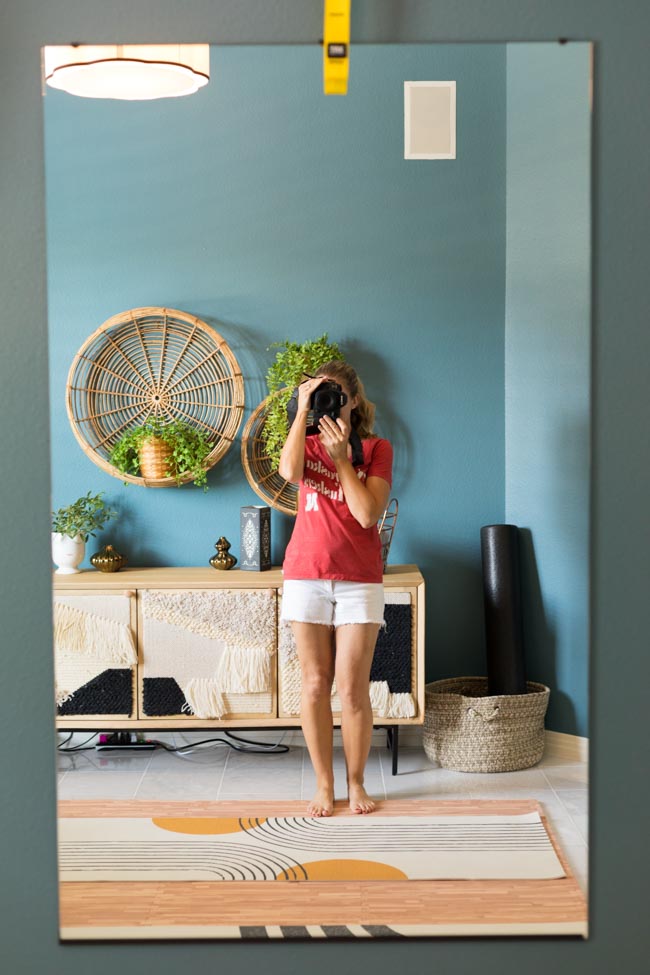 6. Roll your towels!
It is impossible to get through a sweat drenched Peloton ride without a towel. Keep a set of small towels within reach. Find a pretty container like this thrifted wire basket, and roll the towels up for a true gym aesthetic. Here is a pretty rose gold basket for a similar look.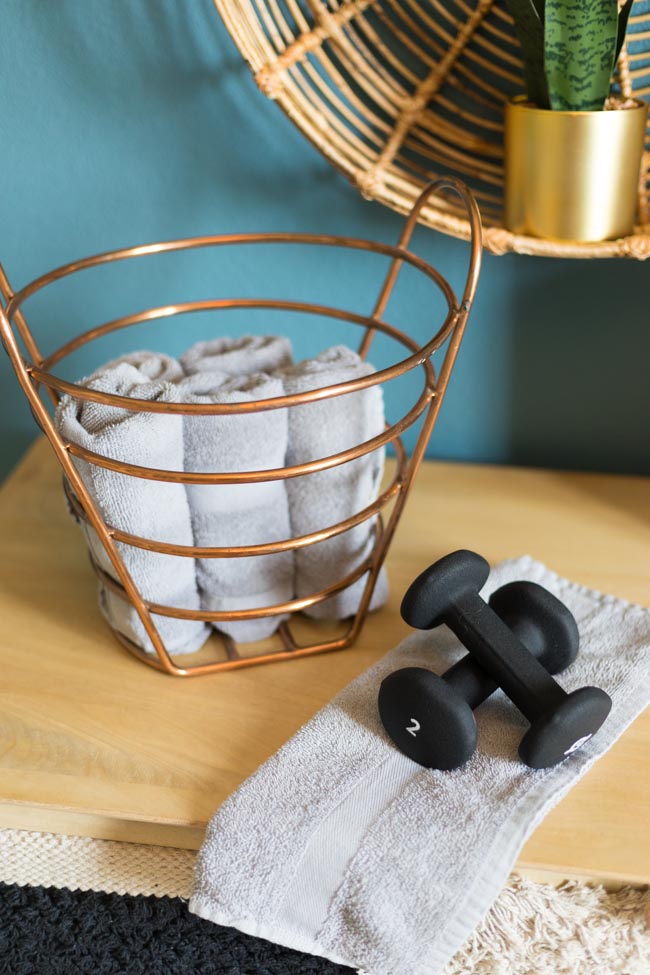 7. Store your shoes
Rather than leaving your Peloton shoes scattered on the floor, why not store them away. We repurposed this funky boho buffet cabinet into storage for our Peloton gym. Here is a similar boho buffet (ours was from Wayfair but sold out).
In addition to providing a place to store shoes, we have Clorox wipes, additional weights, yoga blocks and more stored in there.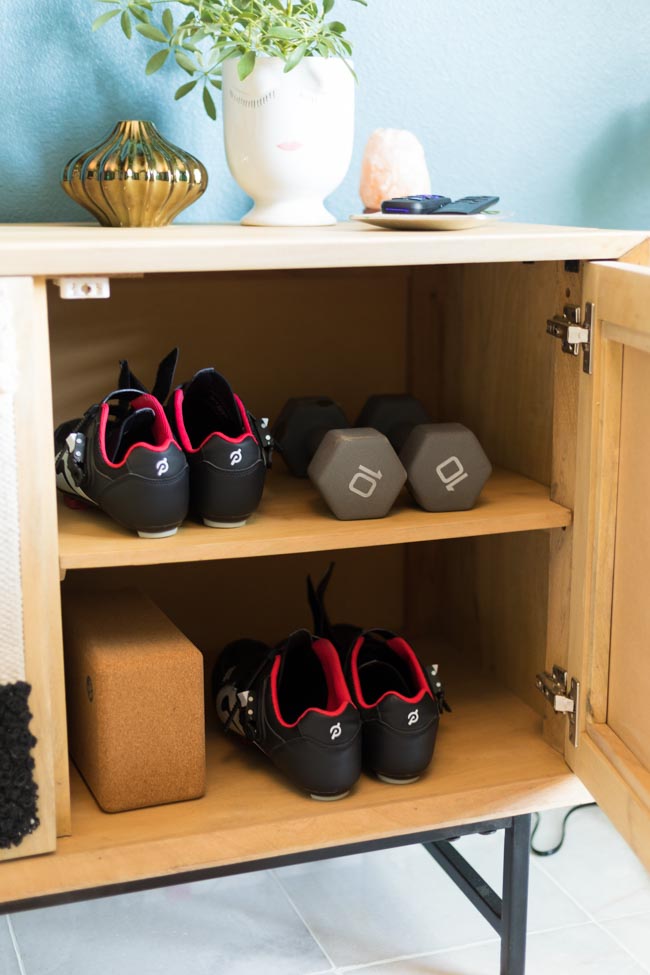 8. Plants, plants, plants
Something about the addition of plants that instantly improves the mood of a room. It is fun to work out when you have plants to look at (or is that just me?). If you don't have a green thumb, don't fret! There are some awesome fake plants out there that look just as good. In fact, our Peloton workout room includes a mix of faux and real plants. Can you tell which ones are which? Michaels has a great selection of realistic artificial plants like this hanging philo bush.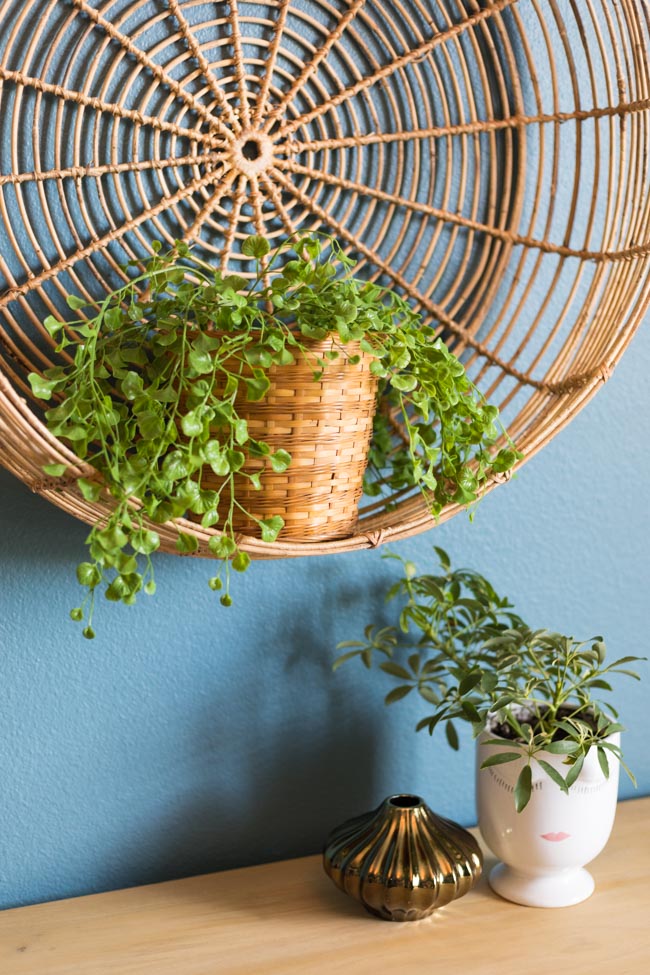 9. Incorporate inspirational wall art
This "Keep Moving" art caught my eye on Etsy. I chose the 24″x36″ print and modified the words to make them pop against our dark walls. Then I framed it in this white poster frame from Michaels.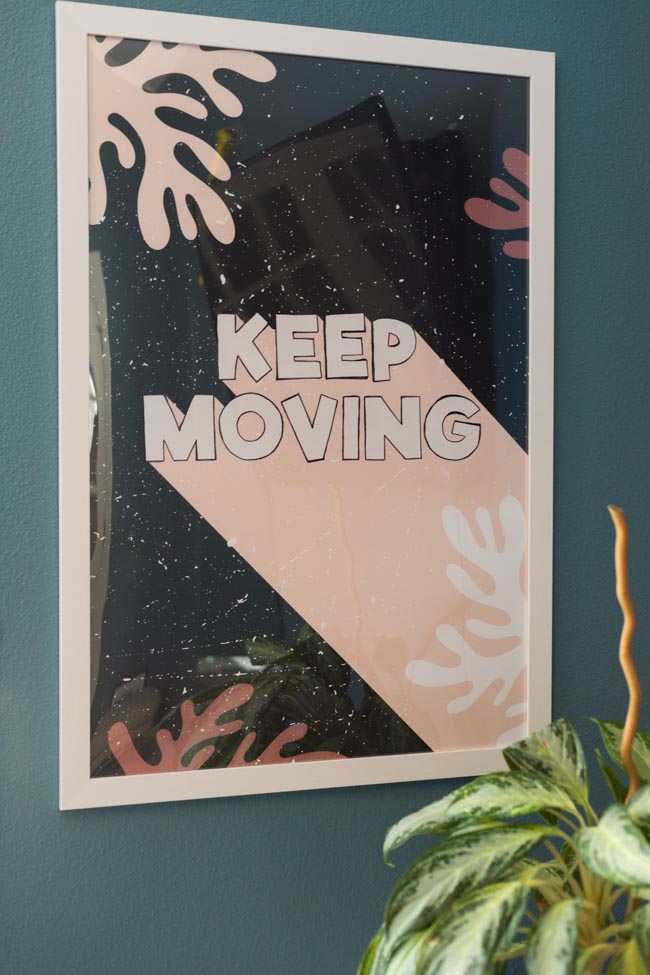 I also made a paper chain wall hanging for the other side of the window. Want to make your own? You can find the step-by-step tutorial for making a paper chain wall hanging here.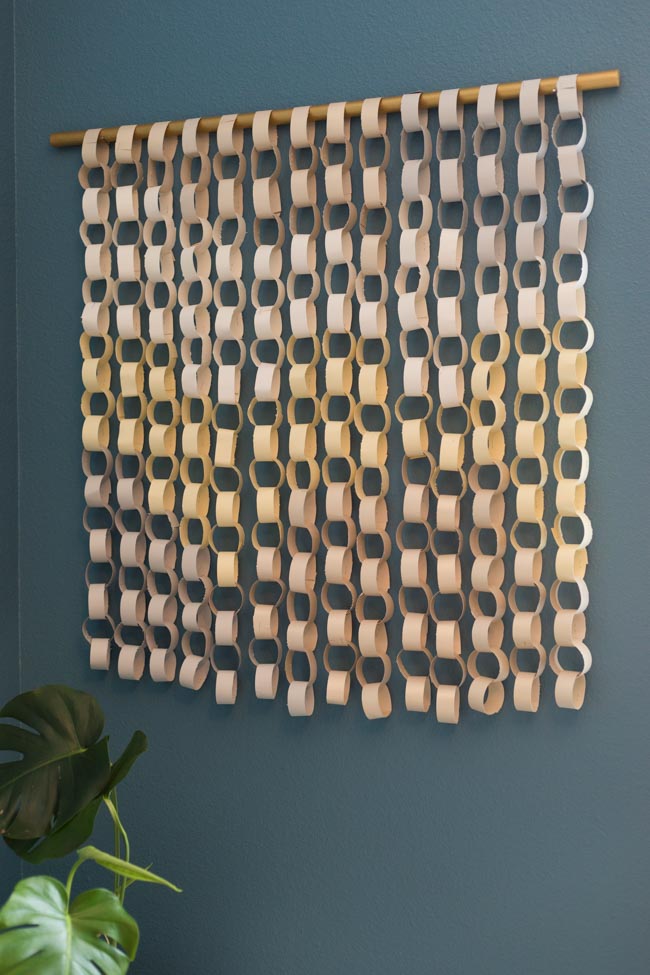 10. Keep up the good work!
A Peloton room can look as pretty as you want, but it doesn't matter if you aren't using it. Hop on the bike and get pedaling!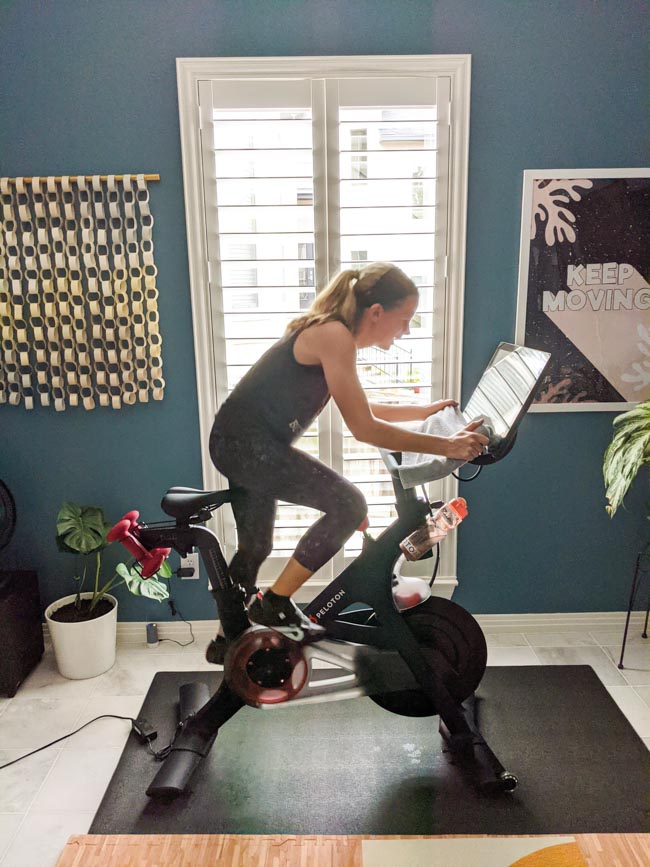 Like these Peloton room ideas? Then be sure to pin this!