Easter Egg Design: The Ultimate Guide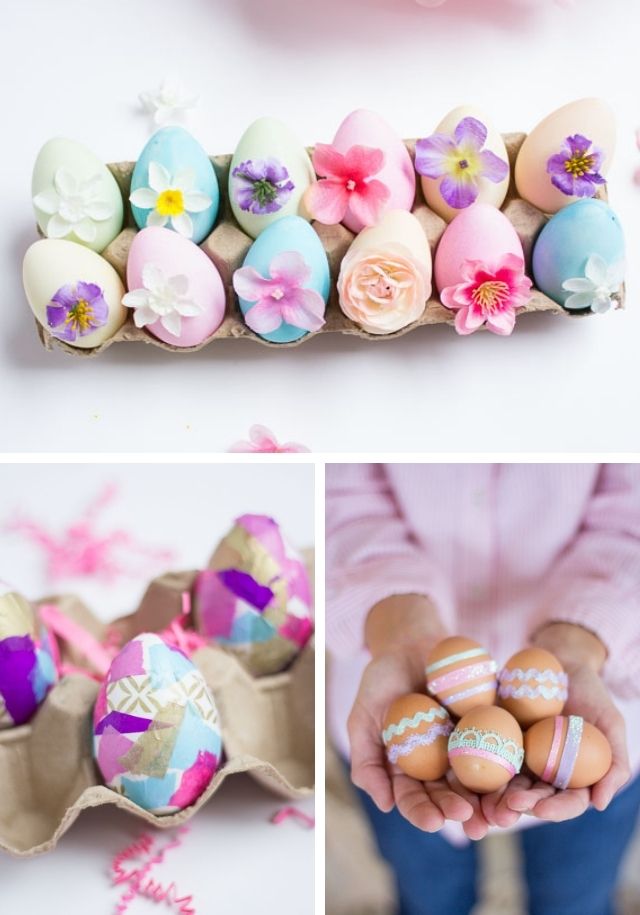 Easter Egg Design: The Ultimate Guide
Looking for cool ways to decorate Easter eggs this year? This Ultimate Guide to Easter Egg Design is here for you! This guide goes beyond the basic dyed eggs to include clever Easter egg design hacks, eggs decorated with paint, decoupage, stickers and more. I've also included my favorite supplies for egg decorating to get you started. I hope you enjoy these ideas!
This post contains affiliate links. See our full disclosure.
Best Supplies for Easter Egg Design
Craft Eggs
I prefer to use craft eggs instead of real eggs because then I can enjoy my decorated eggs year after year. You never have to worry about them cracking or going bad. You can use white plastic and ceramic eggs, or for a more natural look try kraft paper mache or wooden eggs:
Egg Coloring Supplies
Many of the ideas in this guide go beyond basic egg dyeing, but it is always good to have some egg dye on hand. It can make a pretty colored base for extra decorations.
Cool Easter Egg Hacks
Plain Easter egg dye is boring compared to these Easter egg design hacks that use shaving cream, nail polish, oil and brush pens! If you have never tried one of these hacks they are worth a shot, and kids will love them too.

Flower Easter Egg Designs
I love the combination of Easter eggs and flowers. It is the perfect look for spring. You can glue on small artificial flowers, add flower stickers or floral lace to your eggs, or even use a paper punch to cut out small flowers: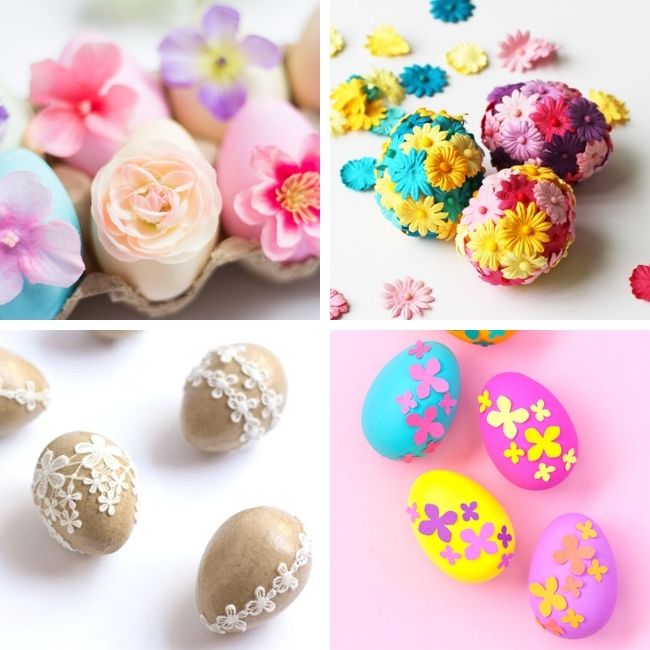 Easter Eggs Decorated with Stickers and Tape
Possibly one of the easiest ways to decorate Easter eggs is with stickers! You can customize eggs by adding initials or or words with small letter stickers. You can use colorful dot stickers from the office supply store. Try wrapping eggs with thin washi tape. Get creative with whatever you have on hand! Stickers are an especially easy (and mess free) way for kids to decorate eggs.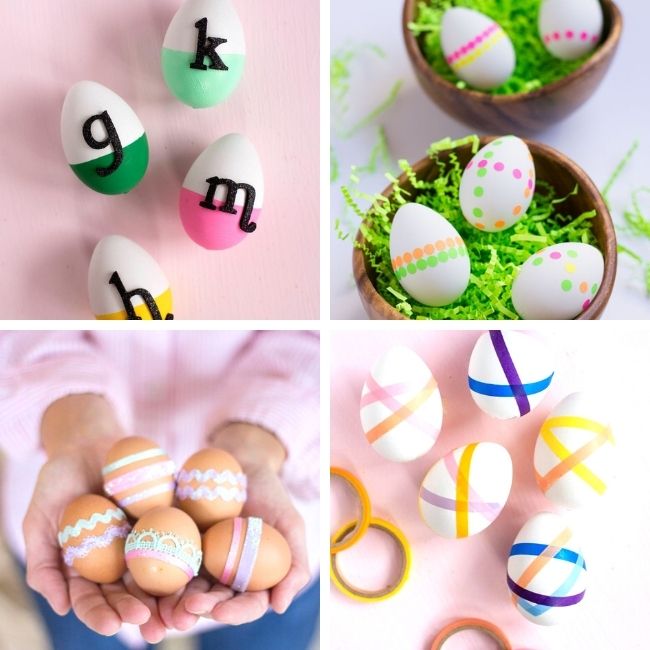 Decoupage Easter Egg Design Ideas
I love the look of decoupage Easter eggs. This technique uses a thin layer of Mod Podge and a brush to adhere delicate pieces of paper to eggs such as tissue paper or patterned napkins. The results are stunning and it is easy enough for kids to do!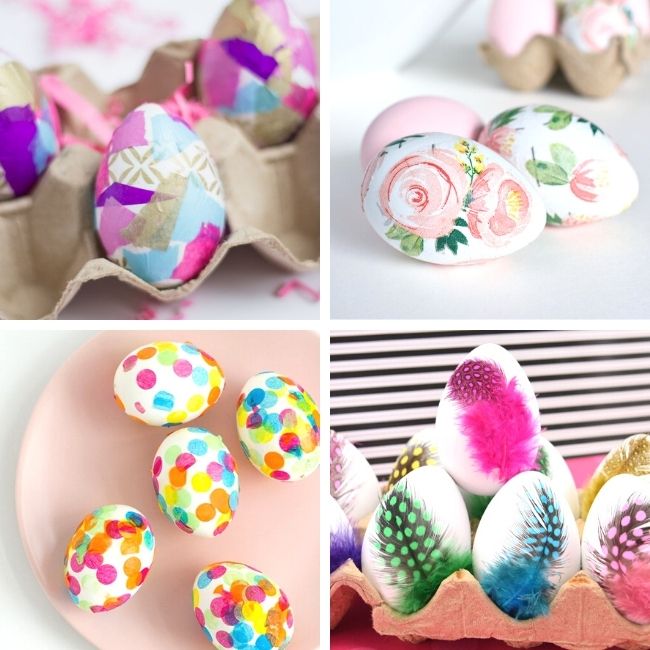 Painted Easter Eggs
Painting eggs is another fun alternative to dyeing eggs. You can use paint to stencil eggs, add a fun design, or even create a splatter paint Easter egg design: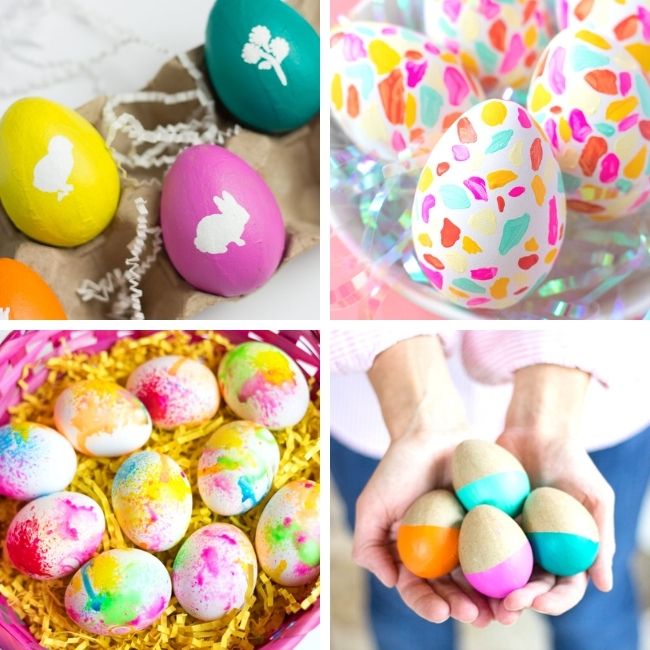 Dyed Easter Eggs
Here are some dyed Easter egg design ideas for you traditionalists out there! Even if you use dye, you don't just have to dip the eggs. Try mixing colors, drizzling the dye on the eggs, or wrapping the eggs with rubber bands before you dip them: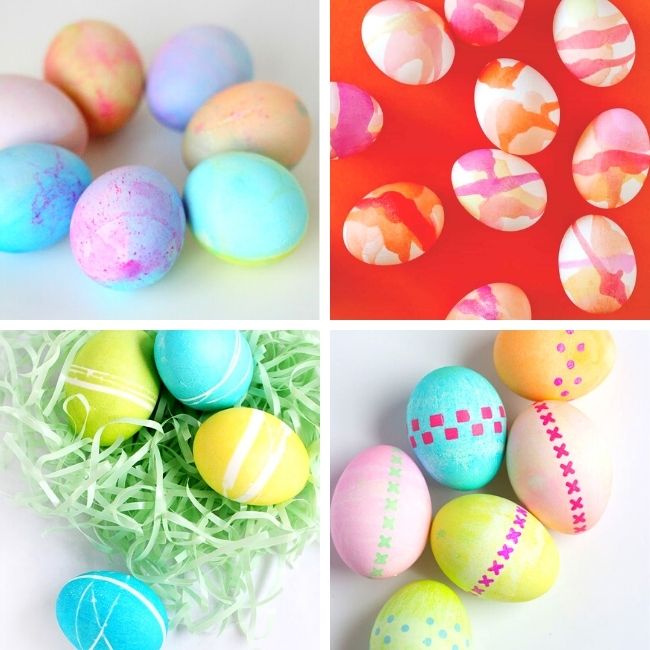 Silly Easter Egg Design Ideas
The sky is the limit when it comes to transforming eggs into cute little animals and other characters kids (and adults!) will love. Here are a few of my favorites from around the web: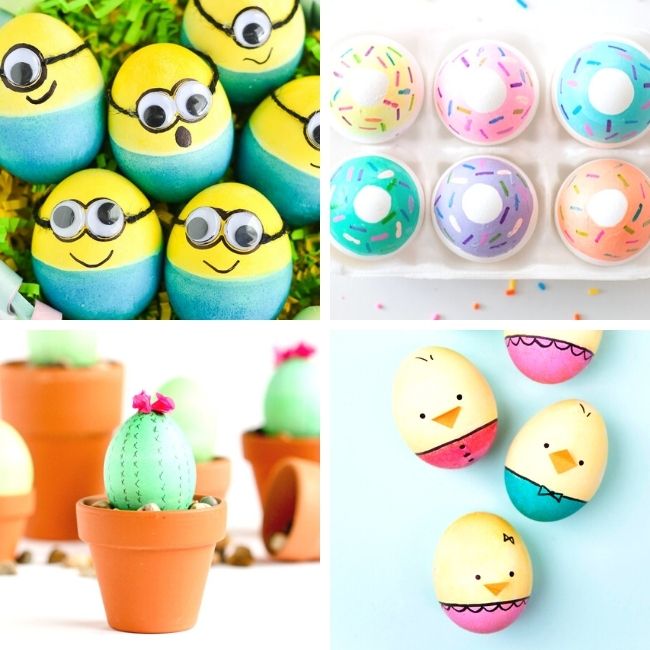 Pin this to save these Easter egg design ideas: