Top 20 Easter Charcuterie Board Ideas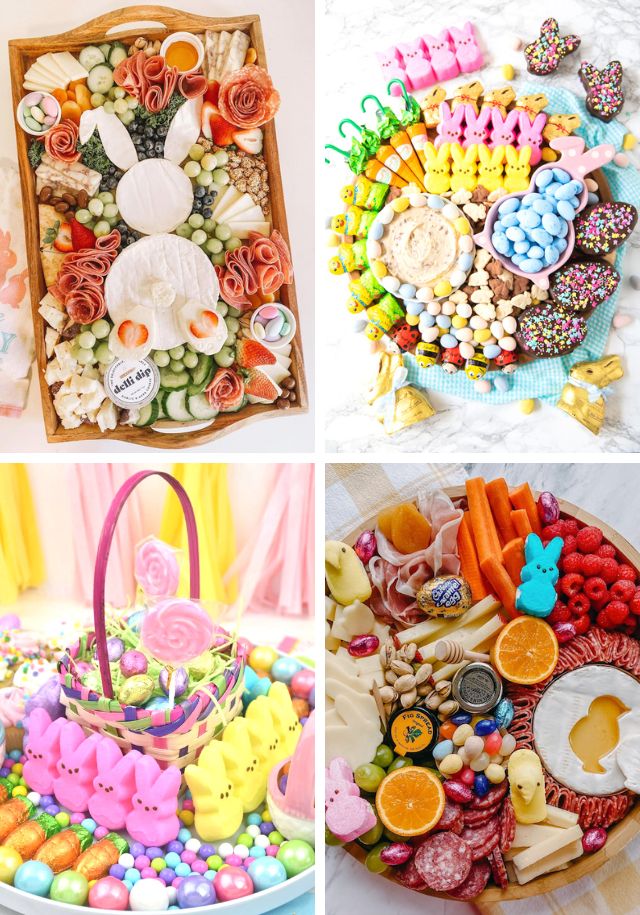 Hosting Easter at your home and need a simple way to please a crowd? An Easter charcuterie board is the way to go! You can make an appetizer board to snack on before the meal, or a dessert or candy board to wow your guests with afterward. Check out all these cute Easter board options we found to inspire you!
This post contains affiliate links. See our full disclosure.

Easter Bunny Charcuterie Board Ideas
Turn rounds of Brie cheese into the cutest Easter Bunny ever for this charcuterie board. Head to your local grocery store for fruits, veggies, and salami to fill in the rest of the tray. Include a couple small bowls with sweet treats like candy-coated almonds in pastel colors. See on Instagram here.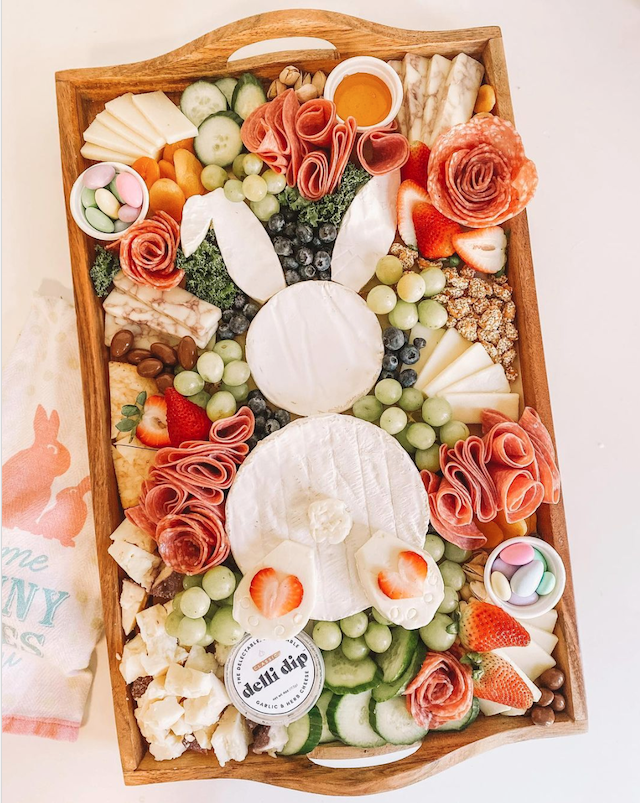 You don't have to have crazy design skills to make a cute bunny. Start with bowl of hummus and add carrot whiskers, blueberry eyes, and a strawberry nose. Layer crackers to make ears. Voila! Fill in the rest of the board with healthy fruit, cheese and crackers. Get the tutorial here.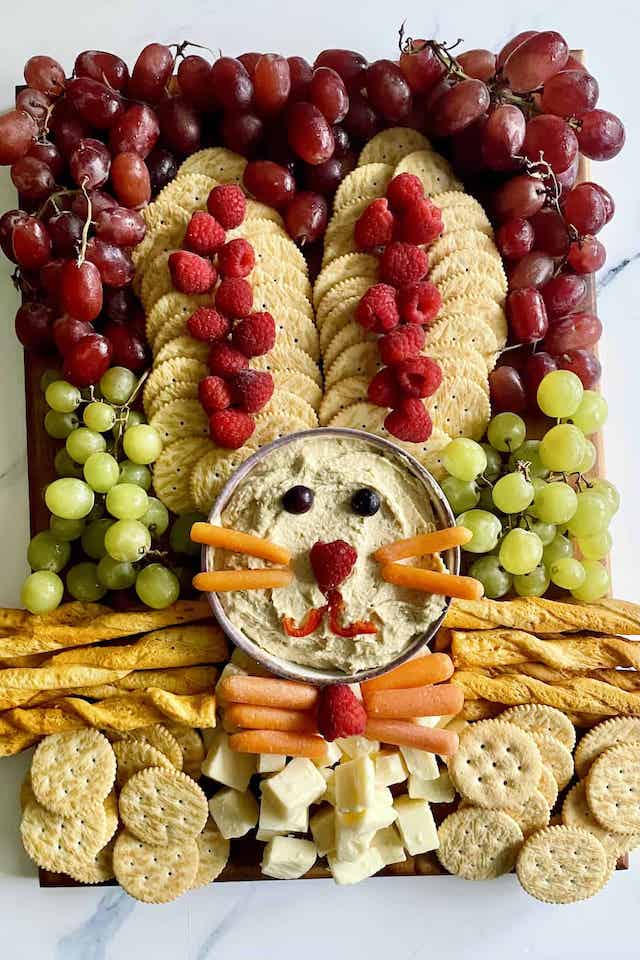 Starting with a bunny platter can transform any food items into an instant Easter charcuterie board! See on Instagram.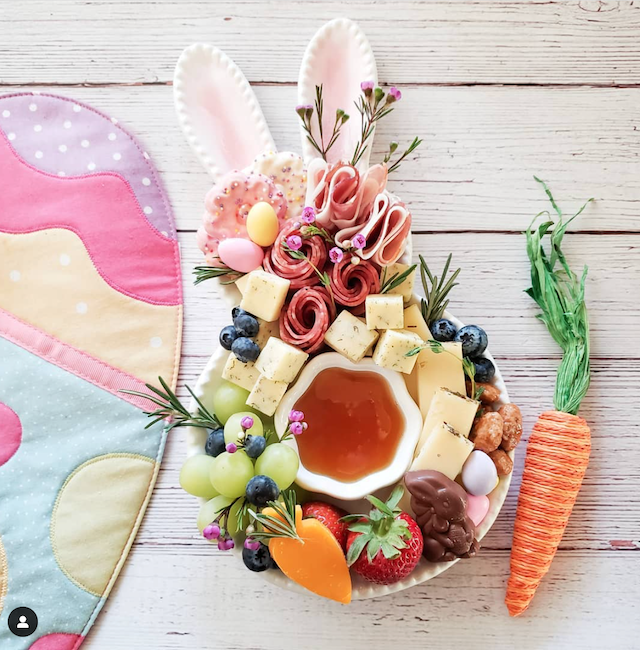 Easter Egg Charcuterie Board Ideas
Create an Easter egg template with parchment paper and then cover it with rows of meats and cheeses for this beautiful egg-shaped board. Incorporate a small flower or two in each row to make it look extra elegant. See on Instagram.

Incorporate chocolate bunnies in beautiful gold wrappers and some candy Easter eggs to make any charcuterie board an instant Easter-themed board! An oval platter is a simple way to create an Easter egg shape. See on Instagram.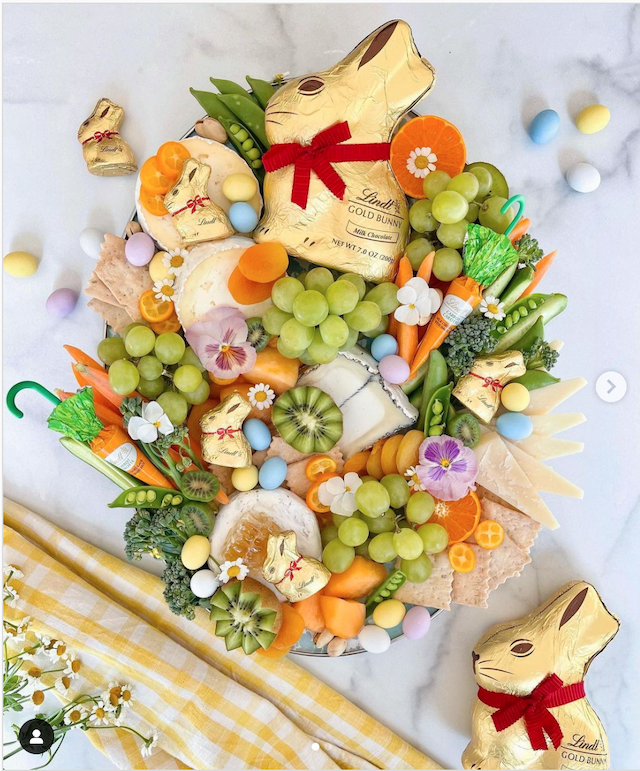 You don't have to go over-the-top with your board, like the idea above. You can make a simple egg by arranging rows of veggies and pretzels on an egg-shaped board. Easy and cute! Get the tutorial.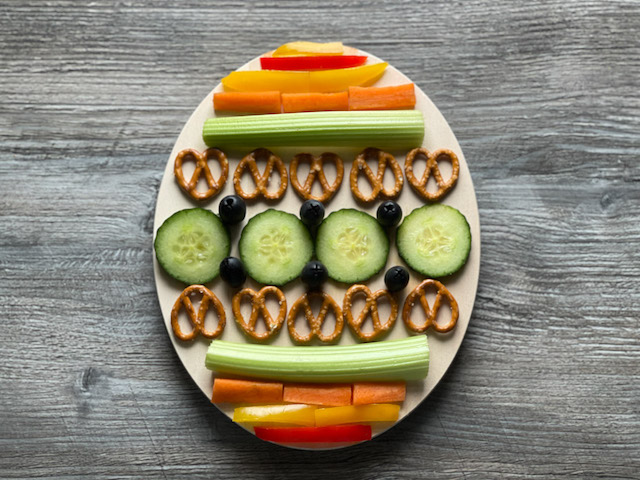 Easter Brunch Charcuterie Board Ideas
Forget the traditional charcuterie boards with meats, cheeses, and crackers. Try an Easter brunch board instead! This large platter is crammed with brunch treats including waffles, hot cross buns, fruit, and lots of sweet treats like chocolate eggs and jelly beans. Get the tutorial here.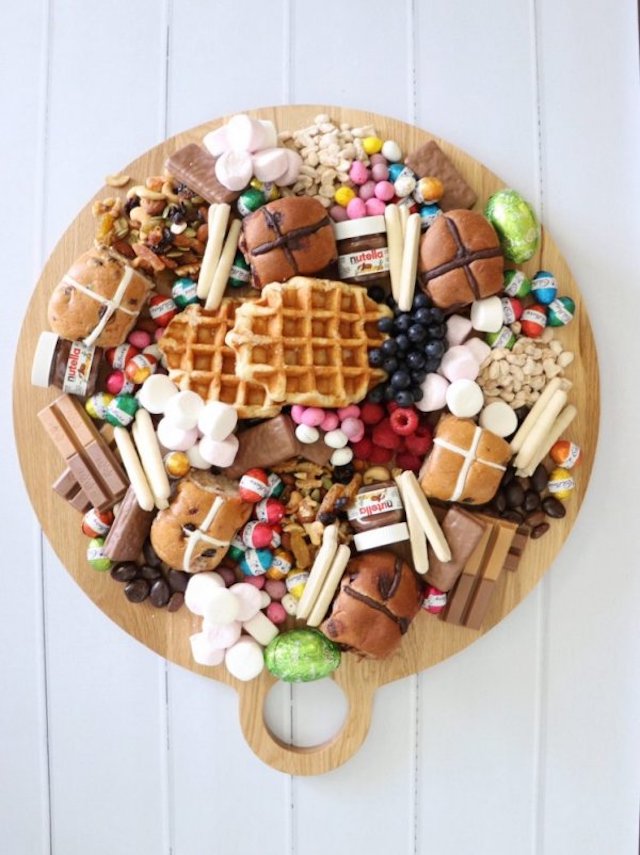 8) How To Make The Perfect Easter Brunch Board via The Table by Harry and David
Eggs Benedict on a charcuterie board? Why not! This decadent brunch board incorporates cinnamon rolls, fruit, and a giant chocolate bunny for an extra special Easter brunch. Get the tutorial here.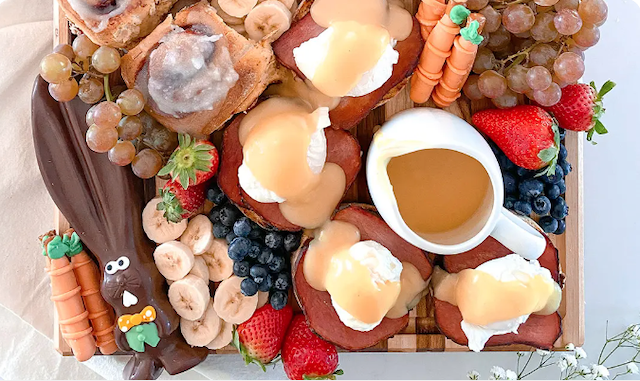 Classic and colorful Italian Easter breads are the stars of this unique Easter brunch board. Get the tutorial.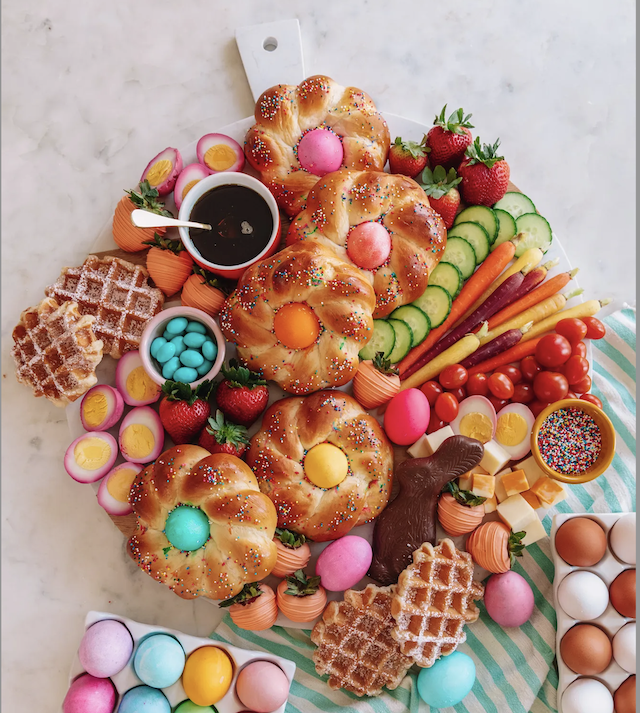 Healthy Easter Charcuterie Board Ideas
Kids will eat healthy snacks when it is arranged in a board like this! Arrange small pieces of fruits and veggies along with hard-boiled eggs and crackers. Cut a bell pepper in half and use it as a cup for dip or candies. So clever! Get the tutorial here.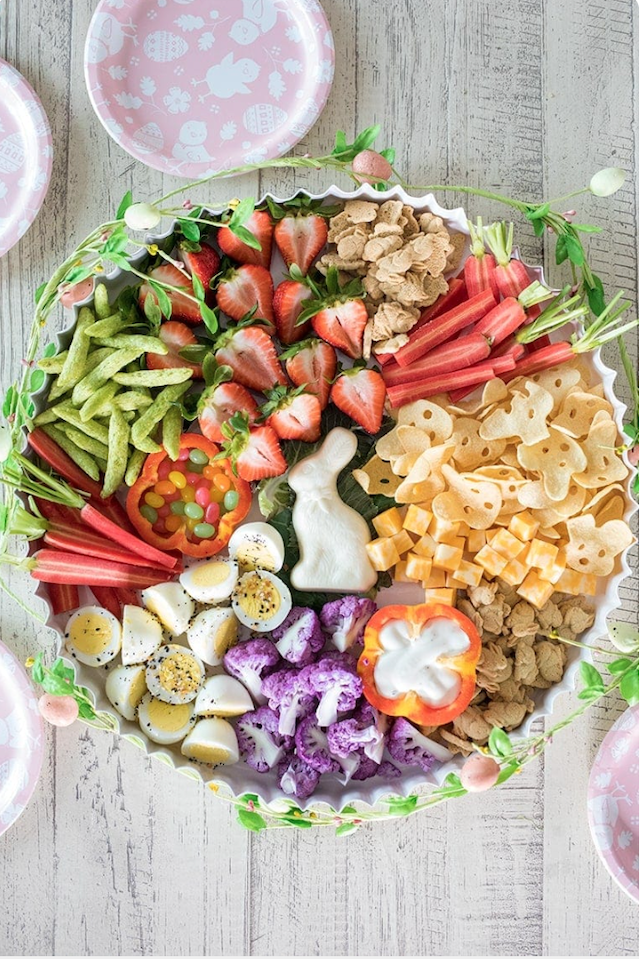 Fresh spring vegetables, such as radishes and carrots with their leafy green leaves, make this healthy Easter board look extra fresh and chic. Cute little bunny dishes hold salt and a cheese spread. Get the tutorial here.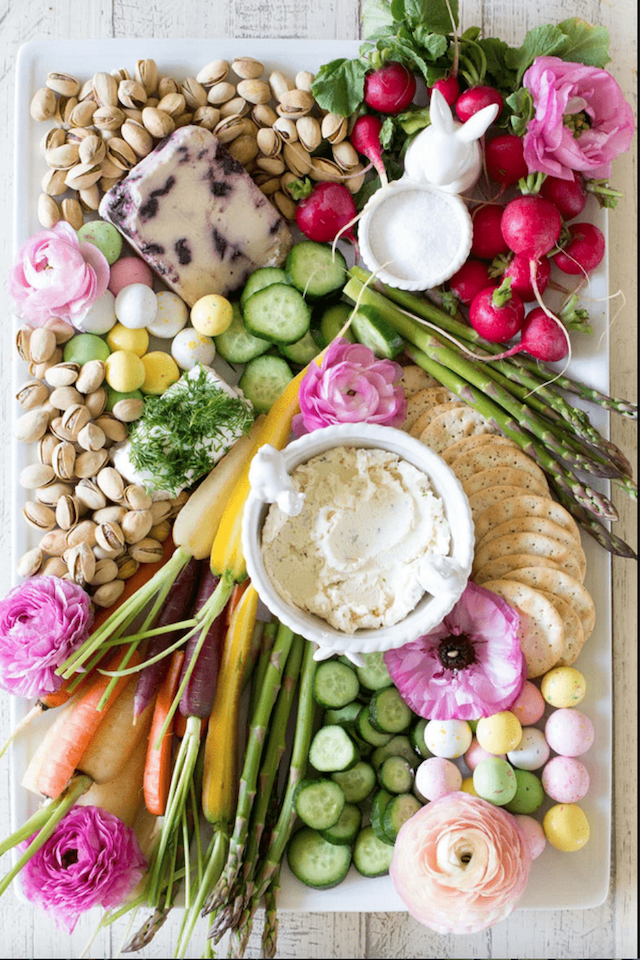 A carrot appetizer dish filled with olives and a bunny cut from cheese are the stars of this healthy Easter board will filled with fruits and veggies (and a few treats too!). Get the tutorial here.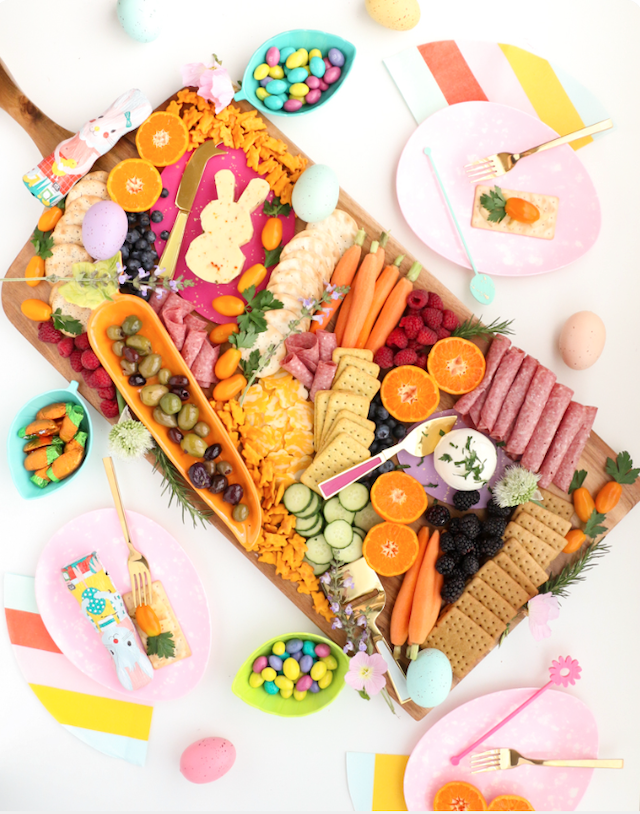 This circular charcuterie board is a great mix of healthy and savory food items on the top half and sweet treats on the bottom half! Get the tutorial here.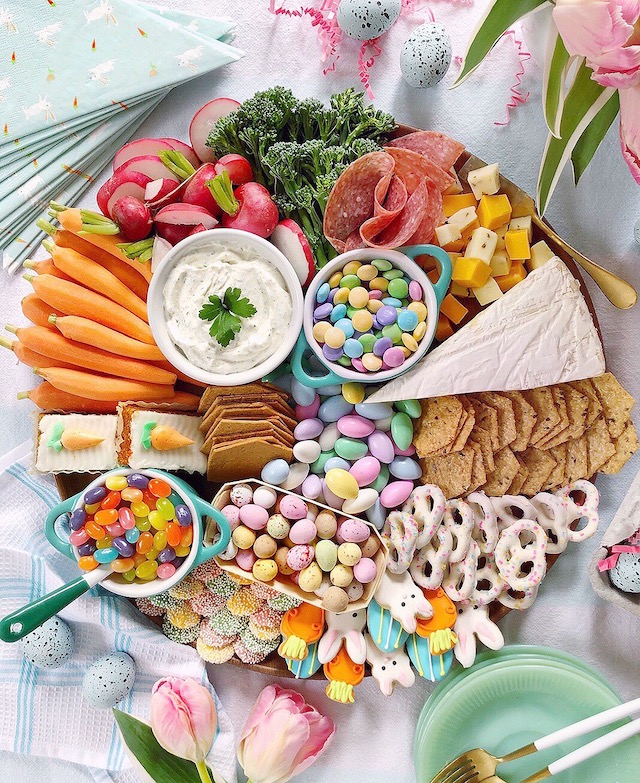 14) Charcuterie Platter, The Perfect Way To Celebrate Easter Holiday via Beyond The Board
Fill a circular tray with different types of meats and cheeses. I love the chick cutout made on the soft cheese with a chick cookie cutter. See on Instagram.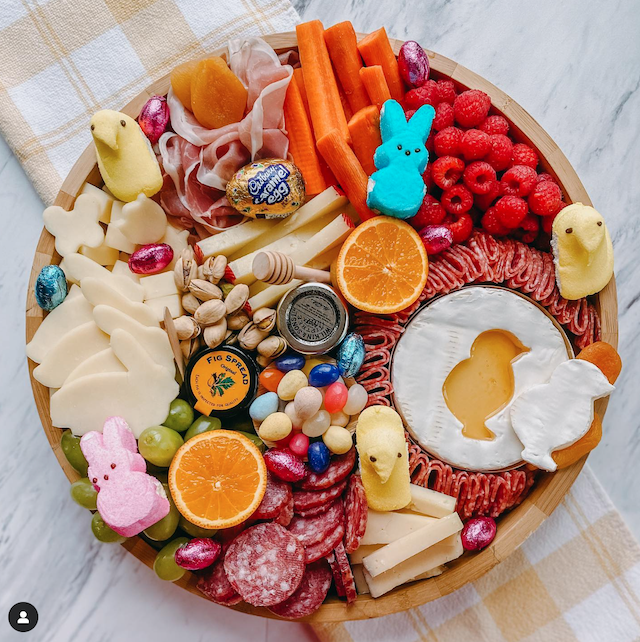 Easter Candy Charcuterie Board Ideas
The best ending to your Easter dinner? A dessert charcuterie board would be a huge hit with your guests! Make it in advance of your Easter gathering on a wooden board with a variety of store-bought sweets to keep prep time to a minimum. Get the tutorial here.

A sweet lovers dream! Scatter a variety of sweet and salty treats on a board. Make sure to incorporate pastel colored Peeps®️ and candy robin eggs to complete your Easter dessert board. Get the tutorial here.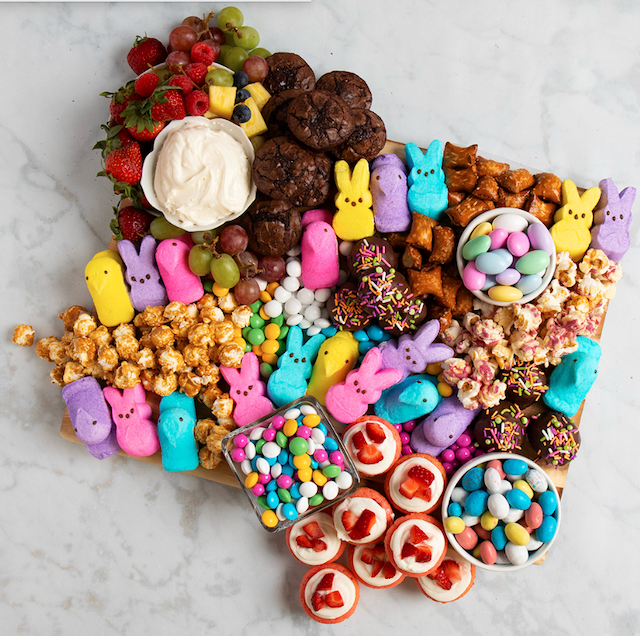 Just because adults don't get Easter baskets doesn't mean they can't indulge in some classic Easter candy like Reeses eggs and jelly beans. This giant board filled with colorful candies is a fun way to top off your Easter meal. Get the tutorial here.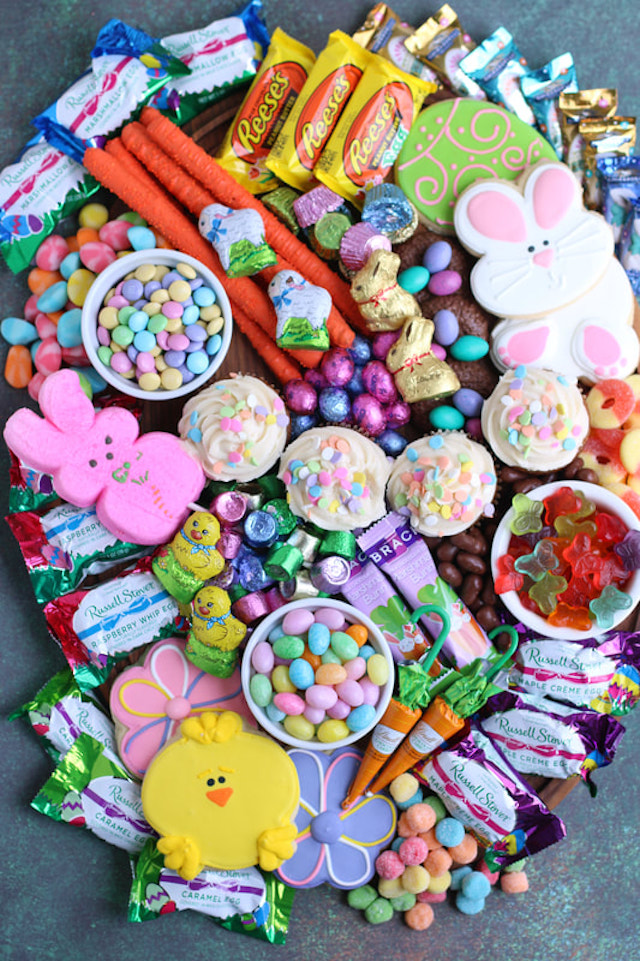 Store-bought cakes and candies can look like a million bucks when they are arranged as cute as this. Get the tutorial here.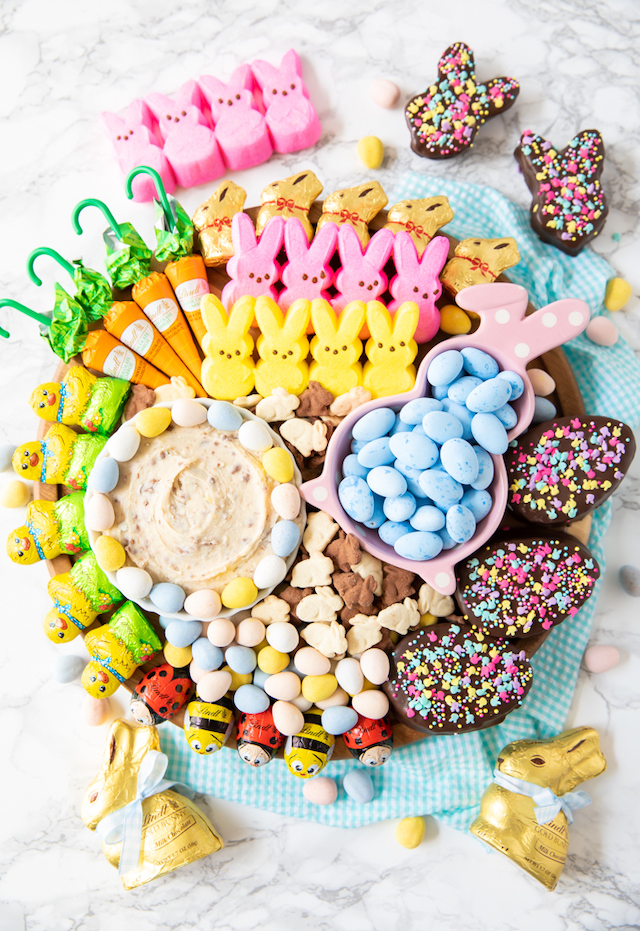 A large serving tray with high sides is a great way to corral a variety of small bites and candies. Start by incorporating a few small appetizer dishes and then fill in the gaps around them. Faux birds nests make super cute holders for robin egg candies! Get the tutorial here.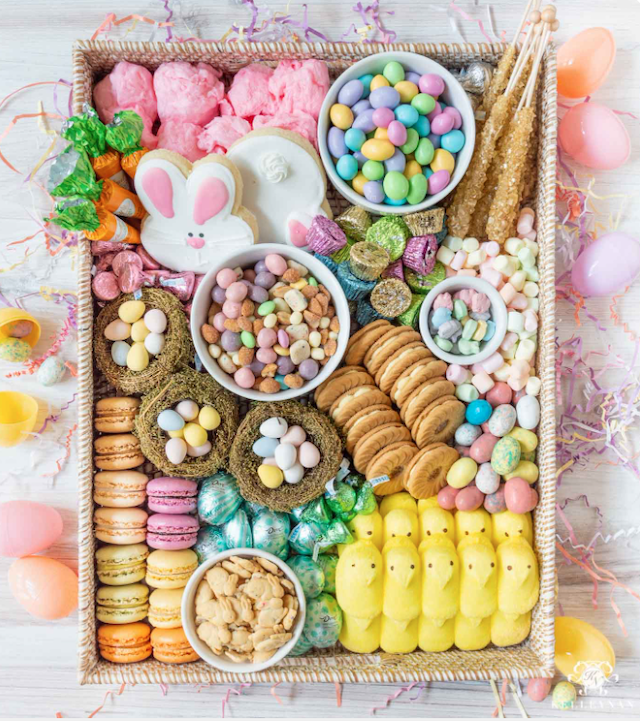 You can incorporate Easter baskets into your charcuterie board too! It is a great way to make a focal point. Fill a small basket with Easter grass and chocolate eggs and surround with marshmallow Peeps and other Easter candy. Get the tutorial here.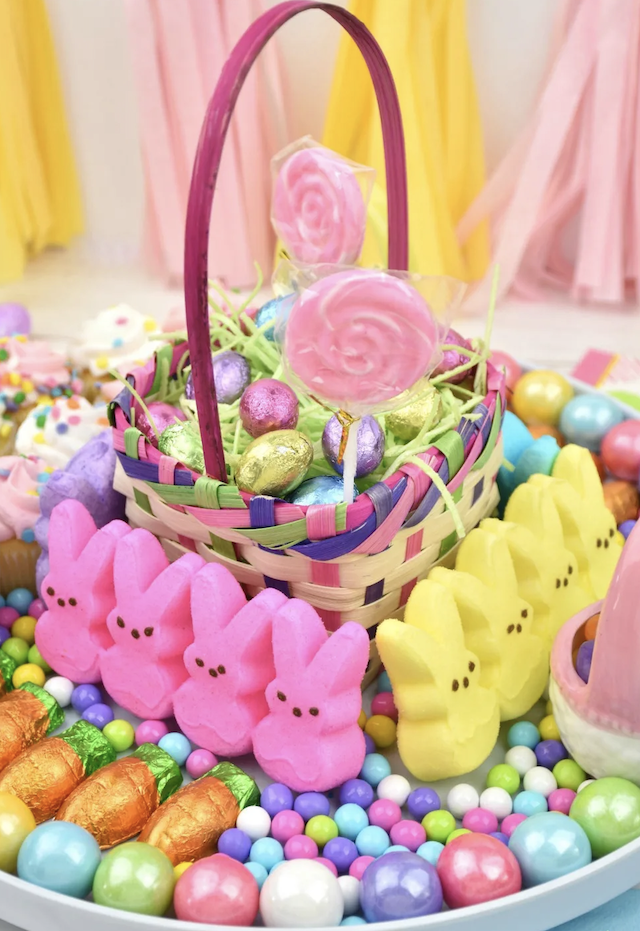 Easter Charcuterie Board: Shop the Look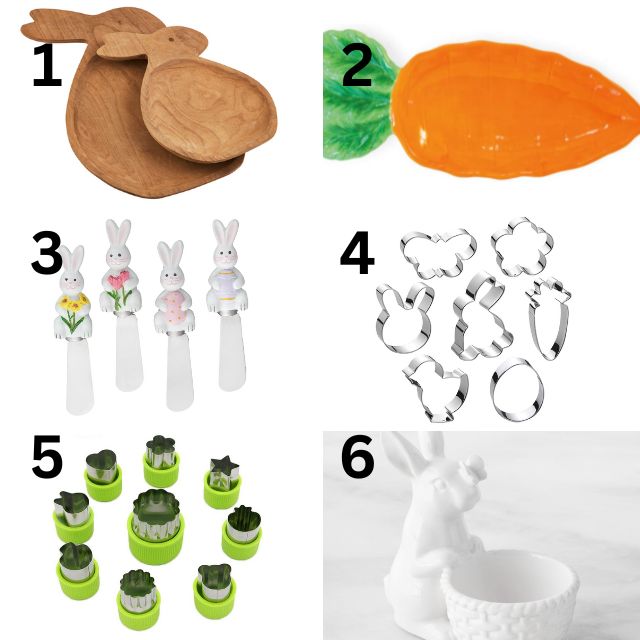 More Charcuterie Board Ideas!