Tissue Paper Mason Jar Lanterns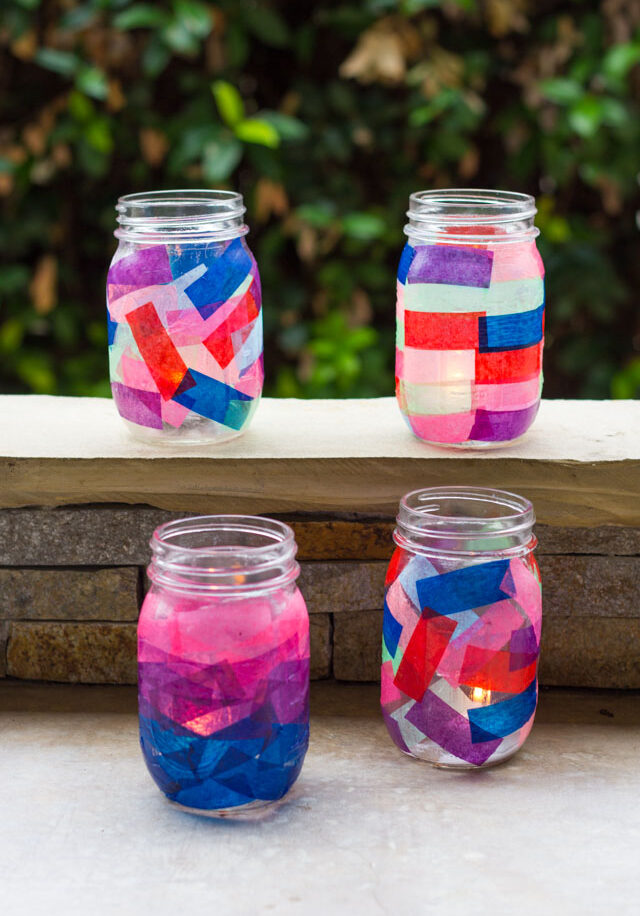 Make Mason Jar Lanterns with Tissue Paper
These DIY tissue paper mason jar lanterns are so easy to make. Oh the mason jar and your endless crafting possibilities! Who knew a simple glass jar would be so loved by crafters everywhere? For June's Supply of the Month Challenge with Oriental Trading, we were given a set of mason jars and set loose to make whatever we wanted. With summer on my mind, I decided to turn the glass jars into colorful outdoor lanterns. Read on to see how simple these are to make.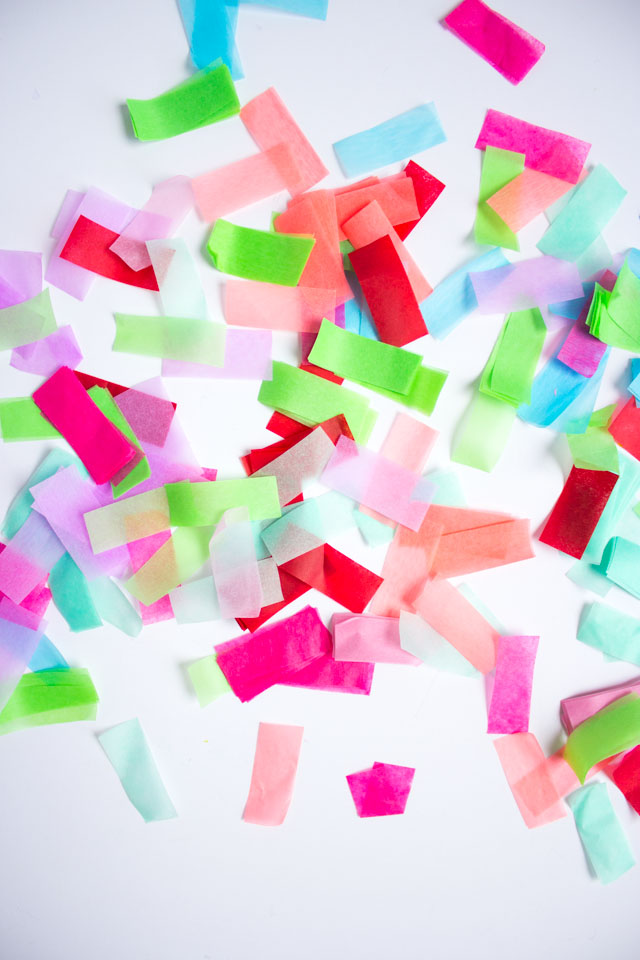 What You'll Need for Tissue Paper Jar Lanterns
Tissue paper and Mod Podge are a match made in heaven, and I love this precut tissue paper confetti from Oriental Trading (here are similar precut tissue paper squares). Having tissue paper already cut into smaller pieces makes this craft a cinch, but you could also use scissors to cut large sheets of tissue paper for this craft too! Stick with a coordinating color palette of a few select colors. I used pink, red, purple and blue tissue paper for these. You could always change it up such as orange and black for Halloween or red, green and white for Christmas! You can use any size of mason jar or Ball jar for these tissue paper lanterns.
How to Make Tissue Paper Jar Lanterns
To add the tissue paper to the jar, you first use a small brush to cover the jar with a thin layer of Mod Podge, Next press the tissue paper strips on top, overlapping them slightly. Seal with another layer of Mod Podge and let dry. If you've never tried decoupage before this is the perfect introductory project and it is a really fun one for kids too!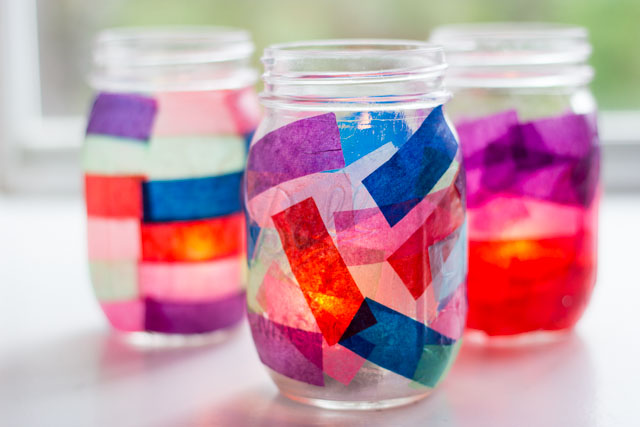 Turning a jar into a lantern is as simple as adding a small tea light candle inside. The high sides of the mason jar make it a perfect vessel from protecting the candle from the wind. Battery operated tea lights are another great option for these lanterns.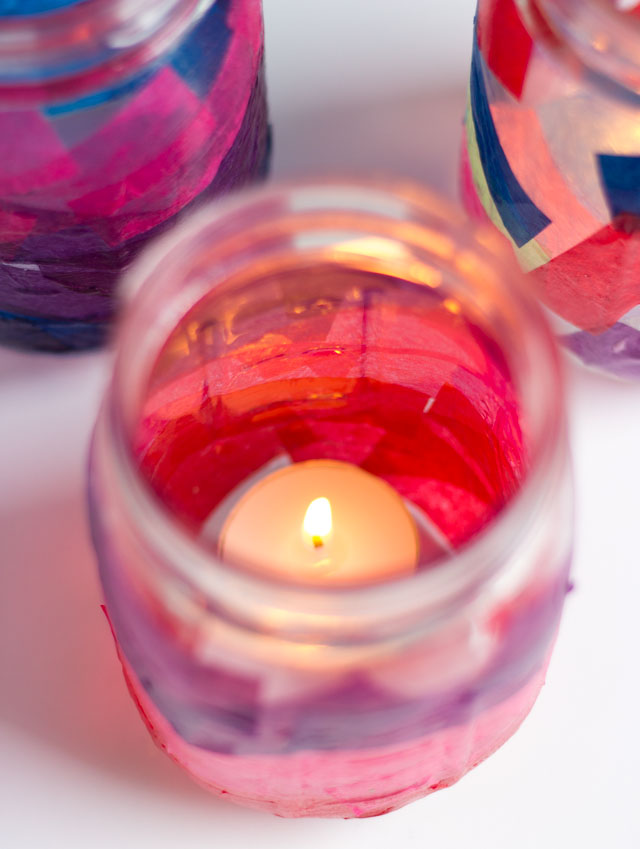 Head to Oriental Trading's blog for the step-by-step tutorial and to check out these other fun mason jar crafts!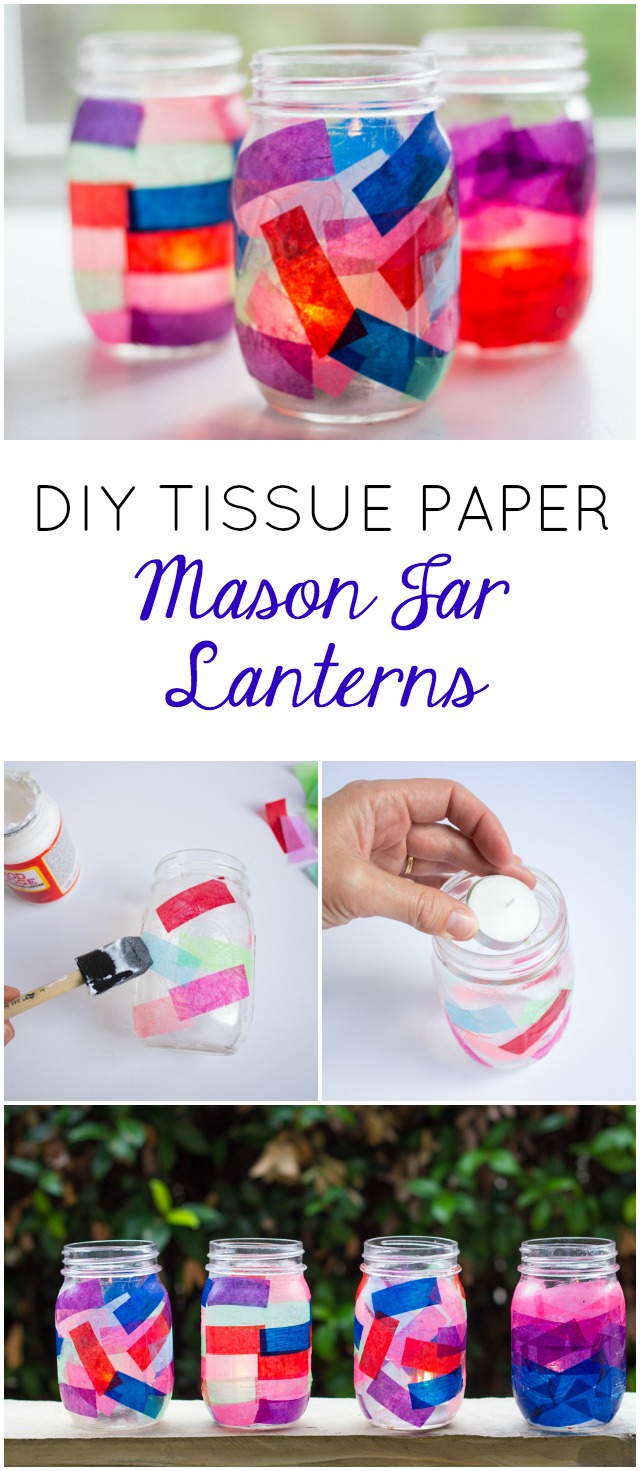 Like this easy craft?