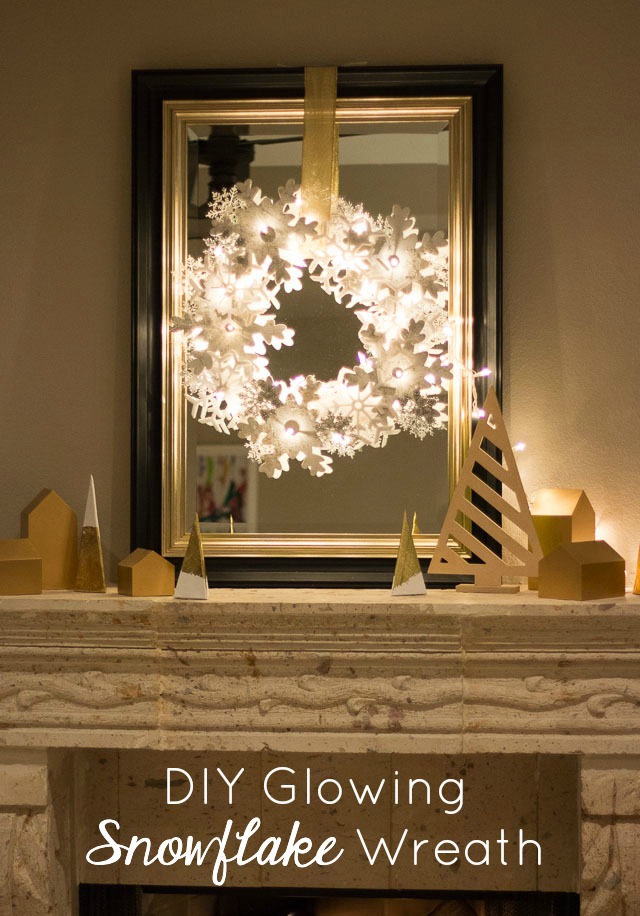 Snowflake Wreath
I have been dreaming up this glowing snowflake wreath for awhile and was waiting for the moment when I'd have a chance to sneak away to my craft room and try it out. However, I wasn't sure if my idea to use a combination of snowflake ornaments and white lights for the wreath would work – but it did! I'm so excited about how it turned out and it couldn't have been easier to make. Read on for the snowflake wreath DIY.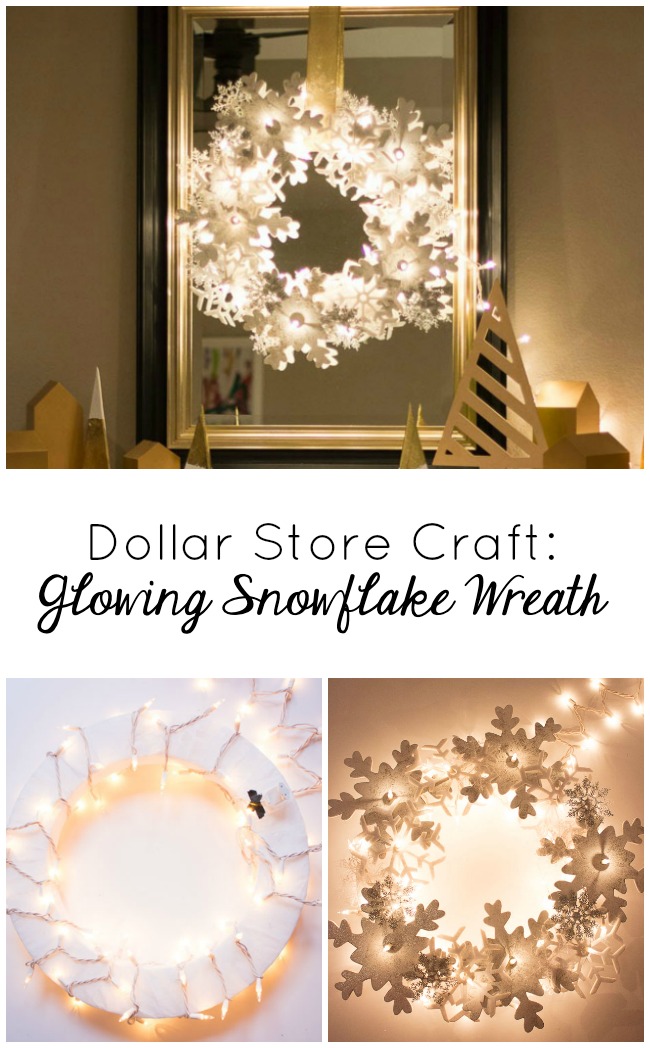 Dollar Store Snowflake Wreath
The great part of this wreath is that it is made up of snowflake ornaments from the Dollar Tree. All of the snowflakes used on this wreath were $1 or less each. Some you can purchase in a pack of 10 for a $1. I bought these over the last couple years to use on my Christmas tree, but this year I switched up the look of the tree and wanted to find a new use for the ornaments.
This is my first experiment with a lighted wreath, and I love the soft glow it provides over our fireplace. Luckily it looks just as pretty and delicate during the daytime too!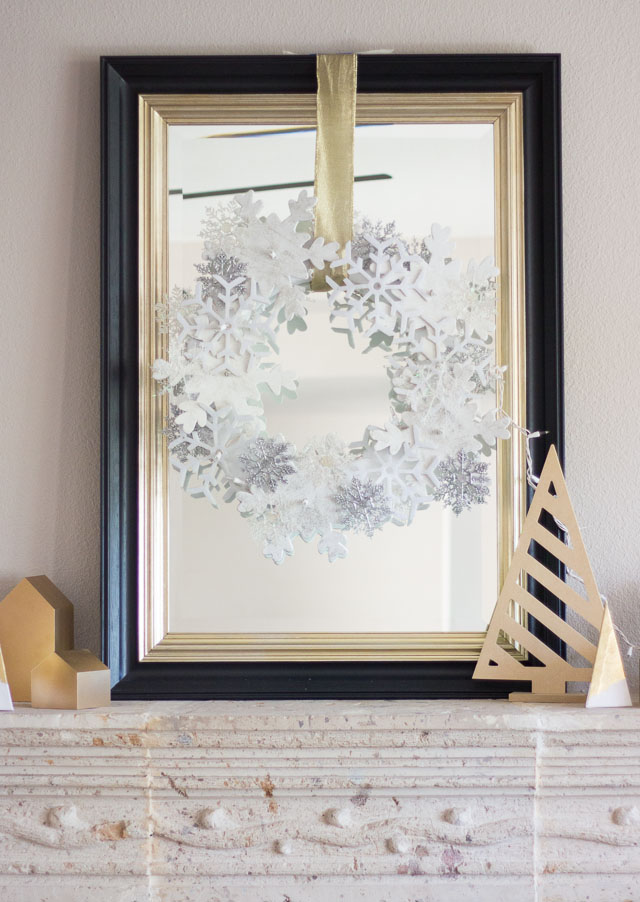 Supplies for Snowflake Wreath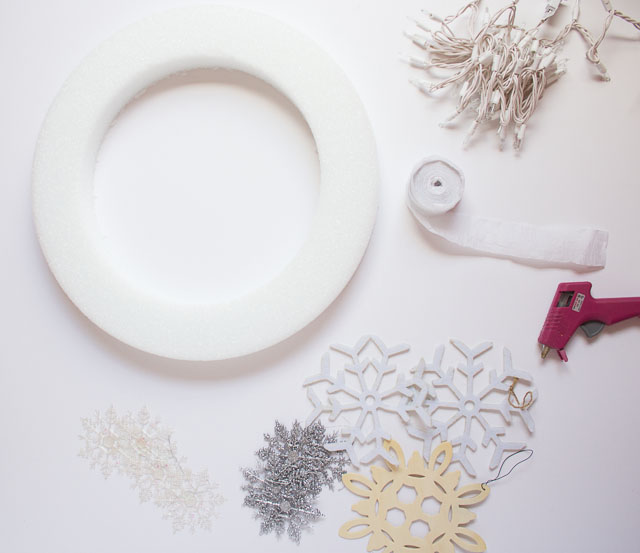 Snowflake Wreath DIY Steps
Step 1: Wrap with ribbon
Wrap your foam wreath form in ribbon to cover the raw foam. Secure the end with a dab of hot glue.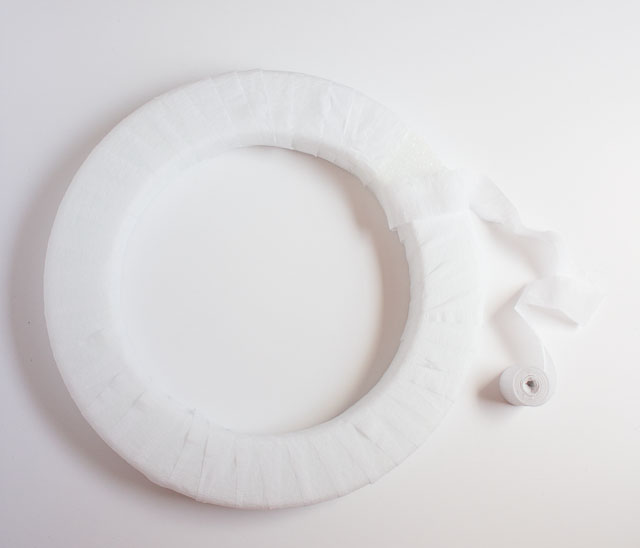 Step 2: Wrap lights around wreath
Take a strand of white lights – I used 100 small white lights. You could use a battery operated strand or the standard plug-in version like what I used. Start wrapping the strand around the wreath form by securing the beginning of the strand on the back of the wreath form with a couple pieces of masking tape. Work your way around the wreath.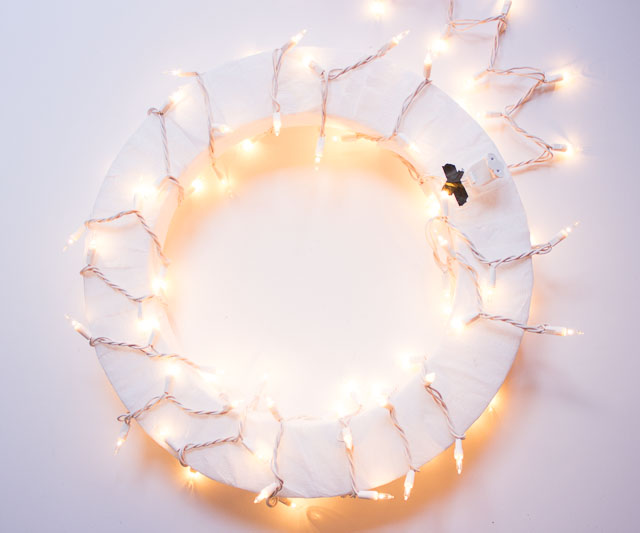 Step 3: Add large snowflakes to wreath
Start adding snowflake ornaments, using your largest ornaments first. First I started by spacing out five of these large foam snowflakes around the wreath. Then I used scissors to poke a hole in the middle to put a light though. If you can't find similar foam ornaments, you can always buy a sheet of white craft foam, trace a simple snowflake outline on it, and cut it out!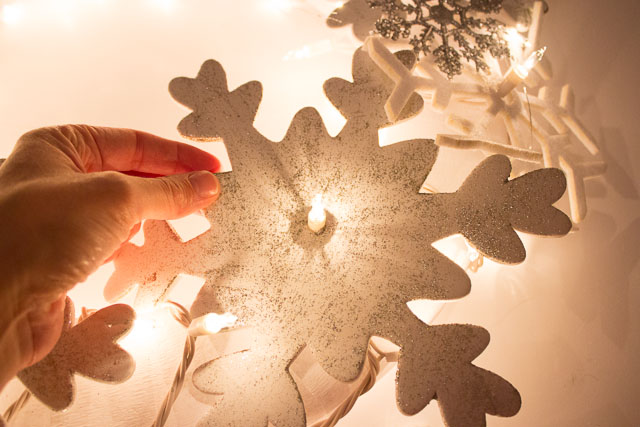 Step 4: Layer on smaller snowflakes
With the 5 large foam snowflakes as the base, I started layering on more ornaments. I first just laid them around the wreath and once I had the look I wanted I secured them with a dab of hot glue.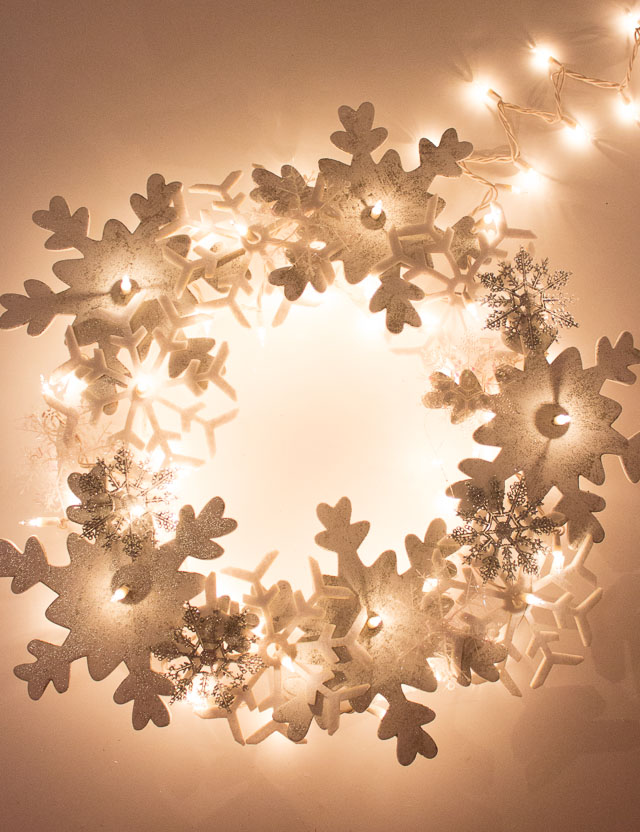 Some snowflake ornaments had a hole in the middle for a light to stick through, others I just situated around the lights.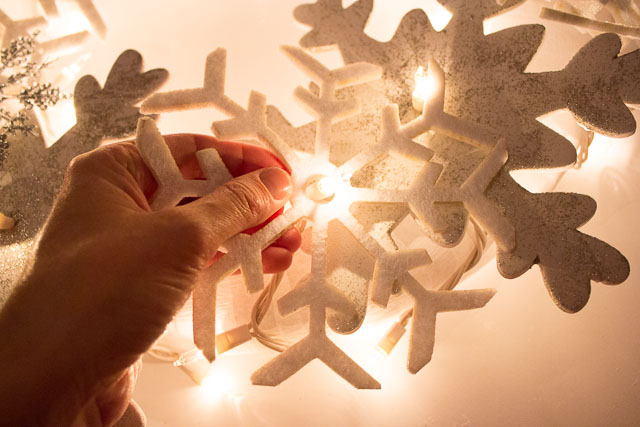 For those ornaments, I used a couple dabs of hot glue on the back to secure in place. I would just keep the hot glue away from the light strand to be careful!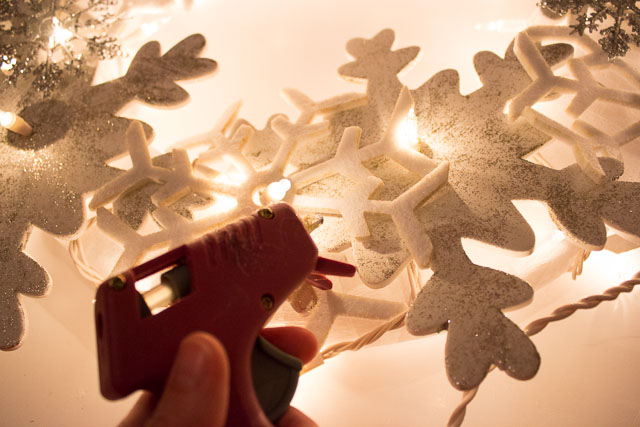 Step 5: Hang with a ribbon
Hang your DIY snowflake wreath with a pretty ribbon and plug in. The reflectiveness of the mirror behind the wreath makes it extra sparkly at night!
I always love finding ways to repurpose things I already have on hand, and I'm so happy I found a new way to enjoy my snowflake ornaments. If you have some ornaments like these, I hope you try it out. Otherwise, be sure to hit up the after Christmas sales to buy these ornaments for pennies and save them to make the wreath next year!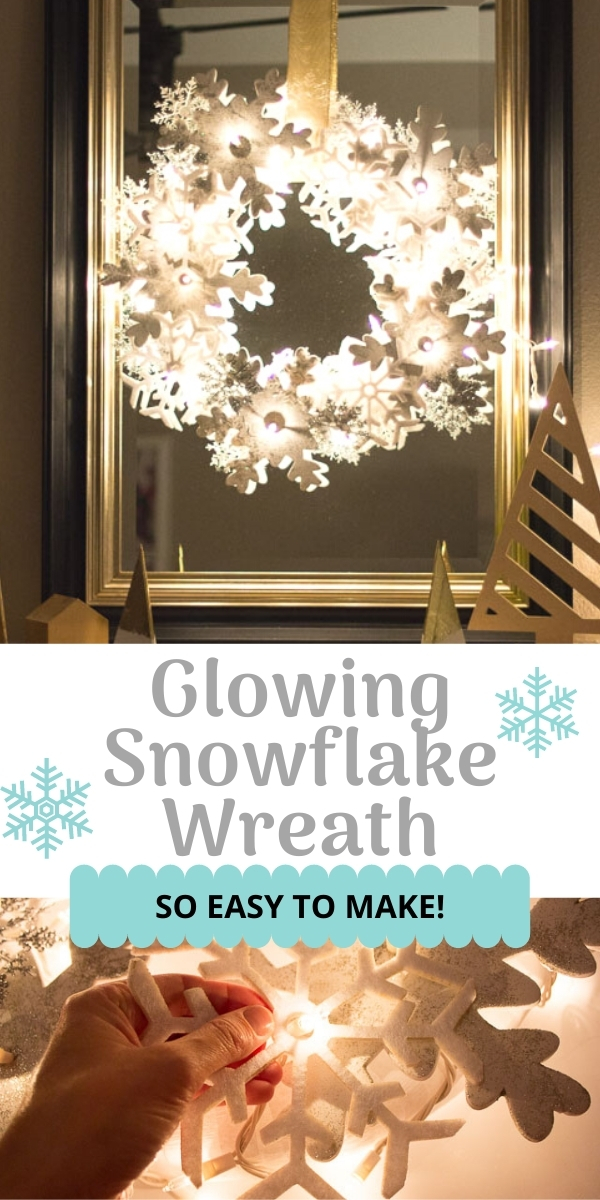 Like this snowflake wreath DIY?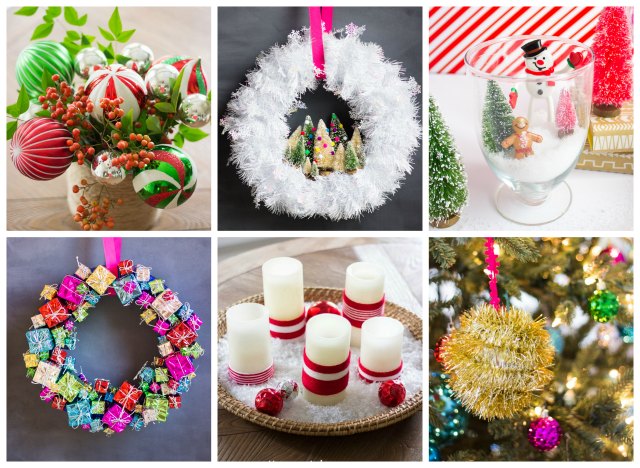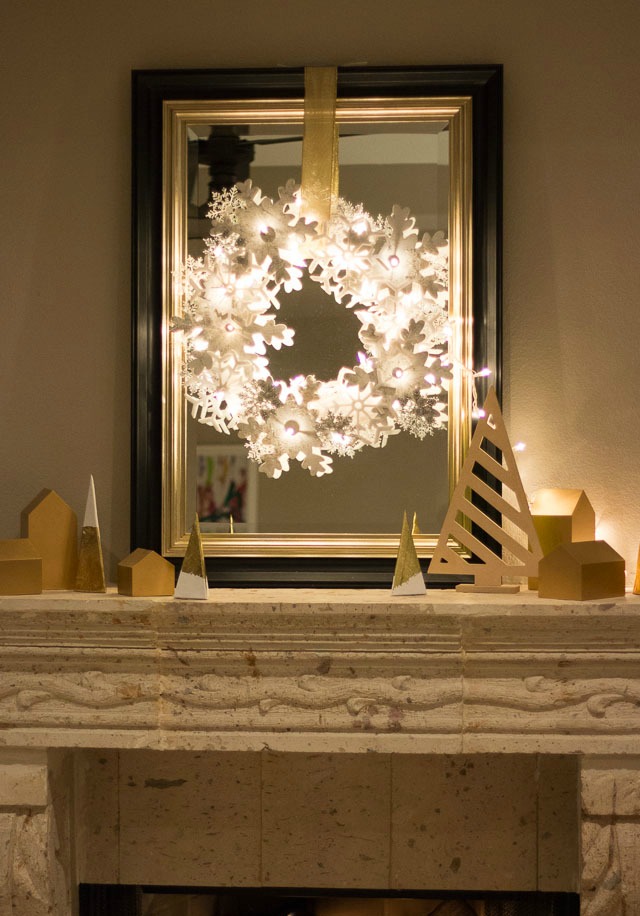 DIY Snowflake Wreath (PRINTABLE INSTRUCTIONS)
This dollar store snowflake wreath can be make with inexpensive snowflake ornaments. The best part is that it GLOWS thanks to a strand of white Christmas lights!
Materials
Instructions
Wrap the foam wreath with ribbon and secure with hot glue.
Wrap the strand of white lights around the wreath and secure in a few places with masking tape.
Add the 6" foam snowflakes around the wreath. I used five large snowflakes for mine. Poke a hole in the center of the snowflake with scissors and run a bulb from the white lights though the hole. Add hot glue to the back of the snowflake to hold it in place.
Fill in the rest of the wreath with snowflake ornaments. Secure with hot glue and allow the white lights to peak through.
Hang with a pretty ribbon. It looks especially nice hung over a mirror!
Notes
You can use a traditional strand of white Christmas lights or a battery operated strand of white lights or fairy lights to make this wreath.
Recommended Products
As an Amazon Associate and member of other affiliate programs, I earn from qualifying purchases.