Try This Simple Hot Cocoa Bar Idea!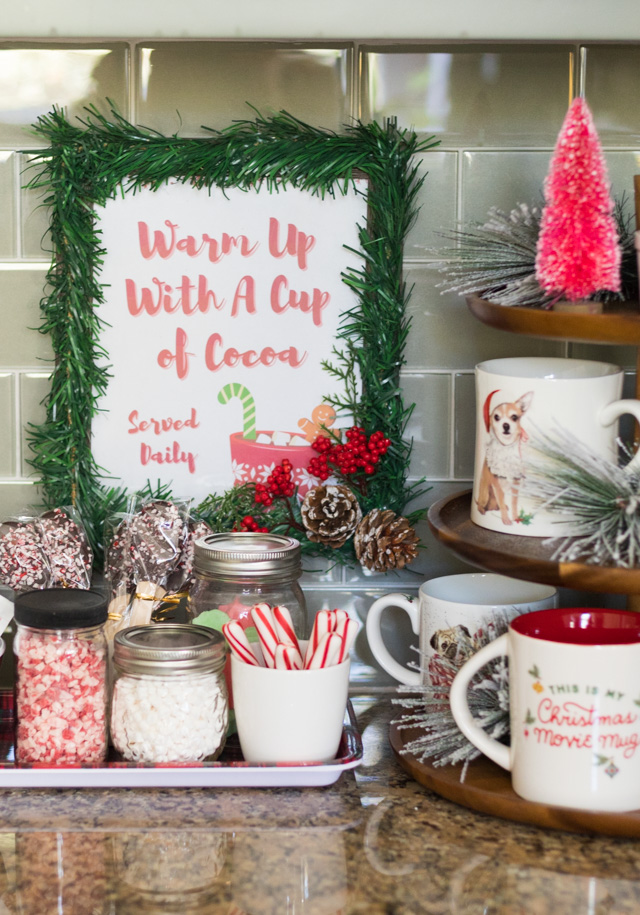 Want a simple way to bring a little holiday cheer to your kitchen this holiday season? Make a hot cocoa bar! This fun idea is as simple as setting out hot cocoa mix or hot cocoa bombs along with your favorite toppings like candy canes and mini marshmallows.
If you already have a coffee station on your kitchen counter like I do, you can convert the area to a hot chocolate station. It doesn't have to be elaborate. A few mason jars filled with sweet treats and a hot cocoa bar sign are all you need. A tiered tray is a great way to display everything and make it look instantly chic!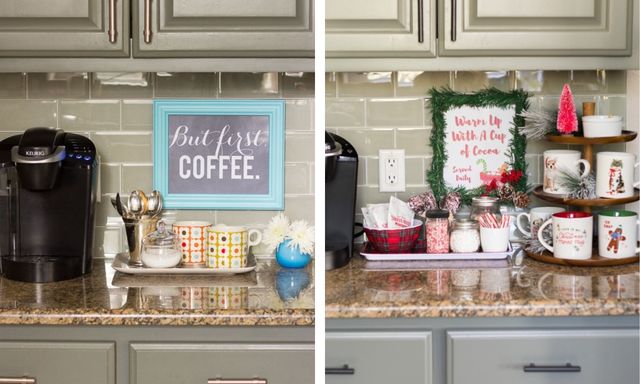 In fact, my 11-year-old daughter made her own hot chocolate bar this year. Didn't she do an awesome job? The hot chocolate bar sign was designed by my 13-year-old daughter, thanks to some creative work on Canva. You can download a free printable copy for your cocoa bar if you like!
This post contains affiliate links. See our full disclosure.
Hot Cocoa Bar Ideas: Ingredients
Hot Cocoa Mix Options
For your hot cocoa ingredients you could add: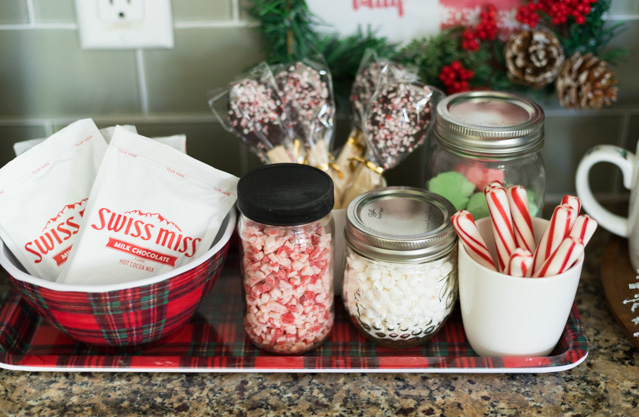 Fun Toppings for Hot Cocoa Bar: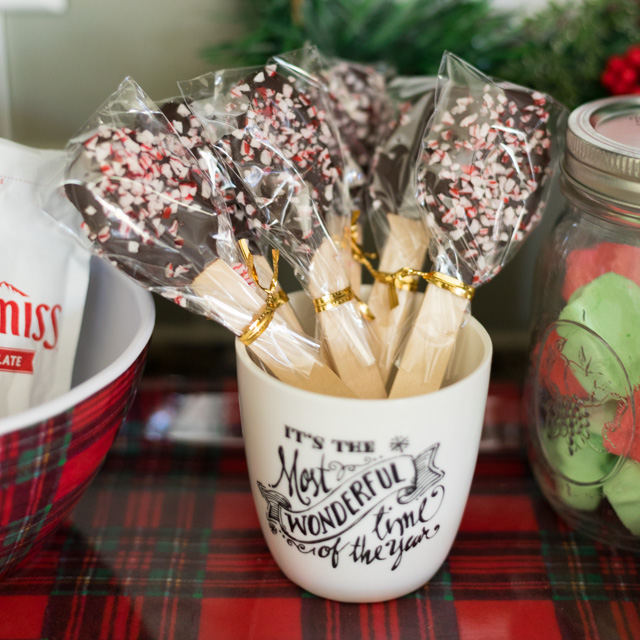 These small peppermint sticks are the perfect size for stirring into your cup of cocoa: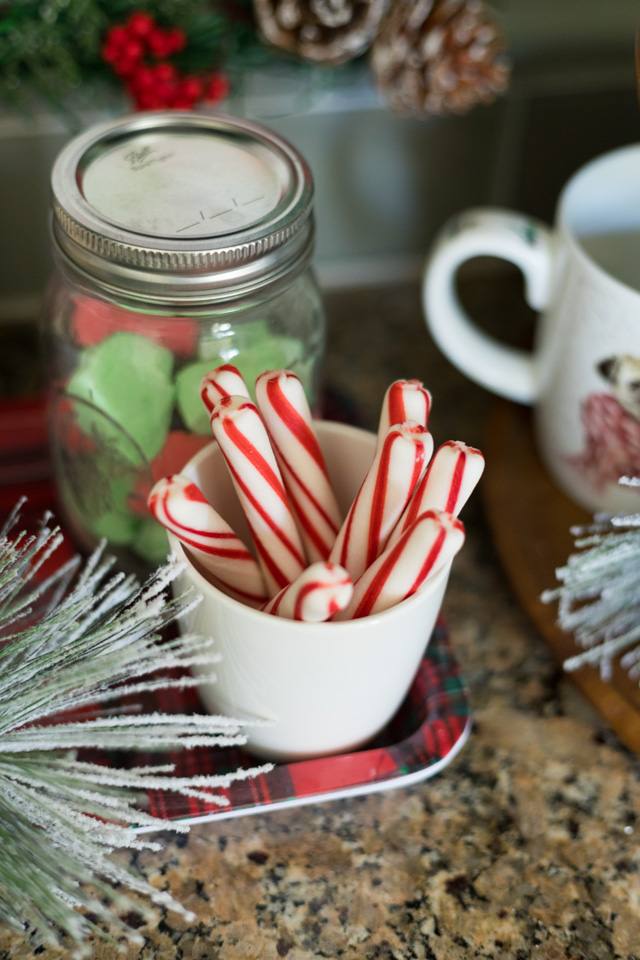 Ingredients to Keep in Fridge:
Whipped Cream or Cool Whip
2% or whole milk
Non-dairy milks such as coconut milk or almond milk
Chocolate sauce or caramel sauce
Adult add-ins such as peppermint schnapps or Irish cream
Hot Cocoa Bar Ideas: Decor
There is no wrong way to decorate a hot cocoa bar. The great thing is you can make it is simple or decked out as you want!
Tiered Platter
A tiered platter is a fun way to display your hot cocoa mugs or jars of toppings. Just make sure if you are putting it on your kitchen counter you choose a platter that is short enough to fit under your upper cabinets. This two-tiered wood platter would work great.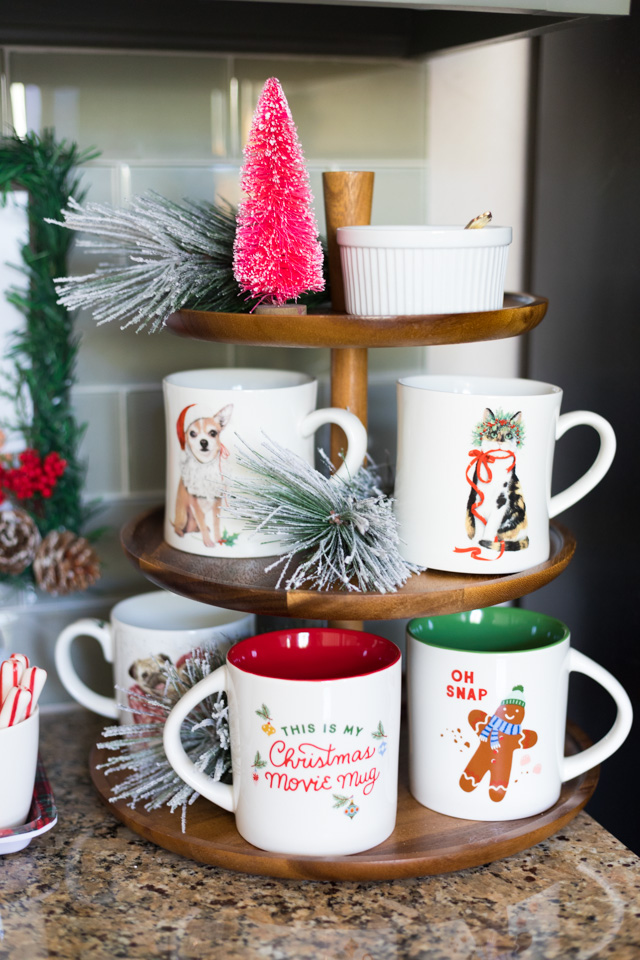 Serving Tray
A small serving tray can also work great for corralling ingredients. I love the look of plaid with Christmas decor. Here is a set of two buffalo plaid trays that are similar in size to the one we used.
Favorite Coffee Mugs
Holiday-themed mugs make it extra fun. We found this Holiday Movie mug and Oh Snap! mug at Target for $5 a piece!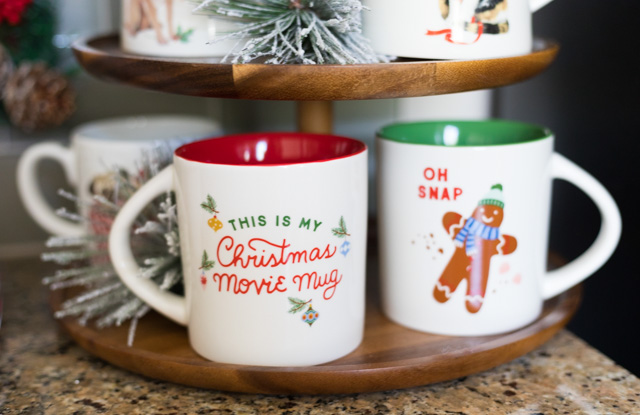 Mason Jars
Mason jars are the perfect way to store your ingredients. Decorate with baker's twine and labels if you'd like.
Keurig
If you already have a Keurig maker for your coffee or tea, have it do double-time to make drinks for your hot cocoa bar too. We converted my coffee bar into the hot cocoa bar. A red Keurig machine would look particularly festive.
Hot Cocoa Bar Sign – Free Printable
Like this cute sign? Download a free printable copy here!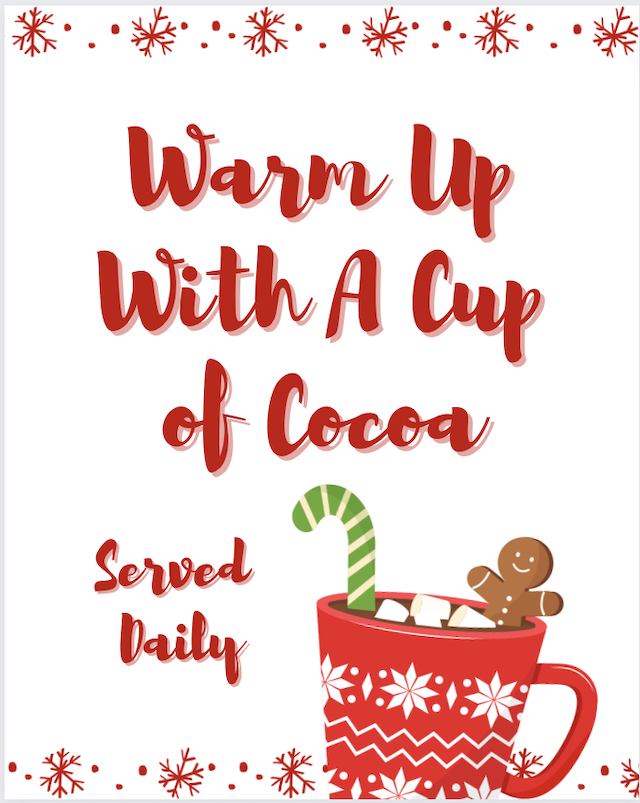 We put ours in a DIY Christmas frame I had made last year. You can get the frame tutorial here. This super affordable craft uses a frame and greenery from the Dollar Tree. We used 3M Command strips to attach the frame to the kitchen backsplash. You can also Google "hot cocoa bar sign" to find more free printables.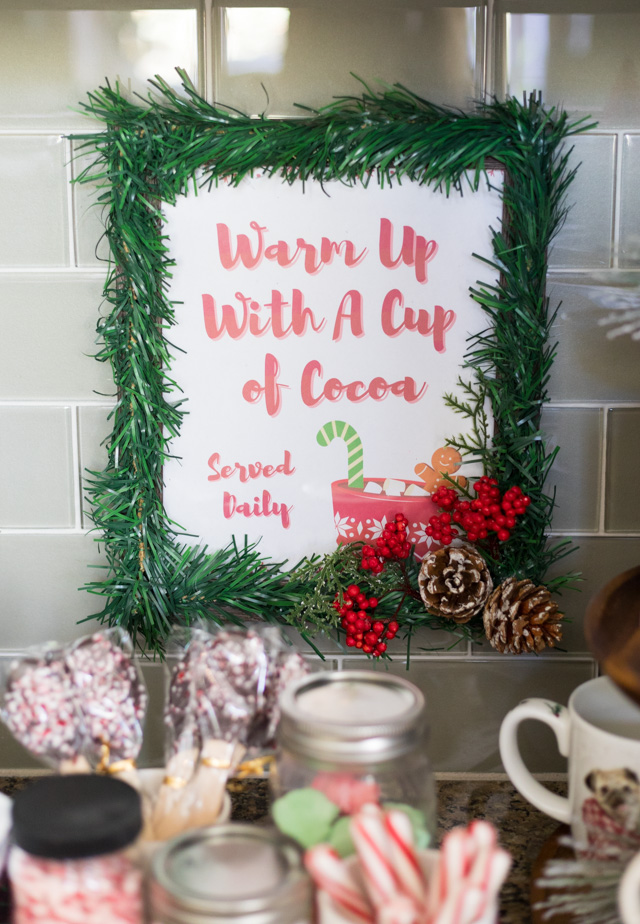 Hot Chocolate Bar Party Ideas
Hot cocoa bars are a great idea for Christmas parties in addition to having one in your kitchen. Here are some hot chocolate bar ideas if you are setting it up for a party:
Keep premade hot chocolate warm in a slow cooker so guests can serve themselves easily and just have to add toppings.
Keep an electric kettle for guests to warm up hot water quickly or a Keurig with k-cups to make it even easier!
Make it the ultimate hot chocolate bar by pairing it with a Christmas charcuterie board! Check out these ideas for savory and sweet holiday-themed charcuterie boards that would be the perfect addition to a hot cocoa bar.
If you don't have room on your kitchen counter, you could make a simple setup on a bar cart in your living room or dining room.
If you make homemade hot chocolate for your Christmas party, send the guests home with hot chocolate mix recipe.
Use paper cups to keep cleanup to a minimum.
My Favorite Homemade Hot Chocolate Recipe
If you prefer homemade hot cocoa recipes over mixes, I have a great one for you. It couldn't be easier to make in the microwave and is one of my favorite recipes.
Here's what you need (makes 2 servings):
2 T. cocoa powder (I like Guittiard cocoa)
2 T. sugar
1/4 c. of water
Add this to a microwavable container (I use a large Pyrex measuring cup). Whisk together and microwave for 30 seconds. Whisk again and combine with:
2 c. of milk (I use 2%)
1 t. vanilla
Heat in microwave for 90 seconds (or more or less depending on how hot you like it!).
Pin this hot cocoa bar idea!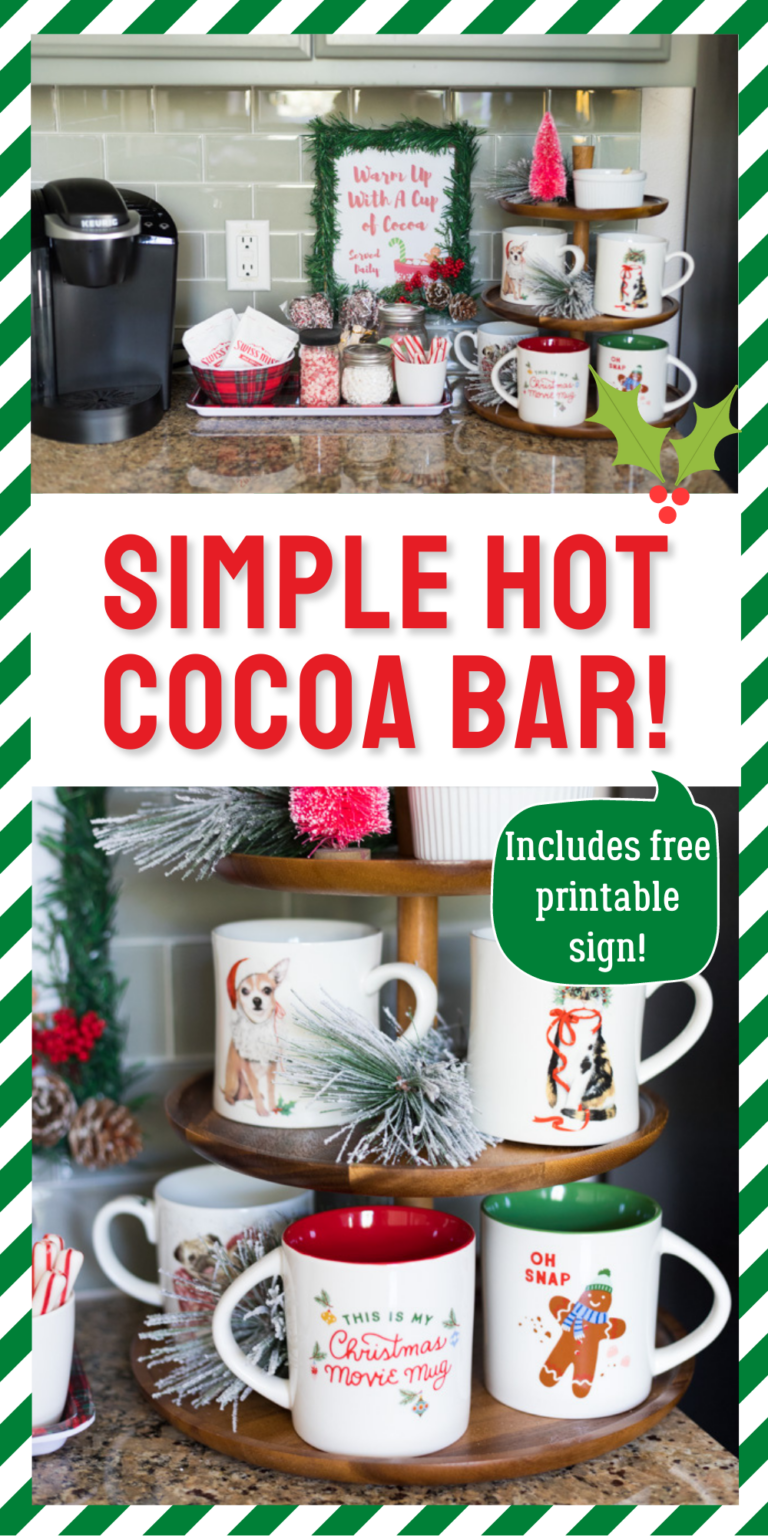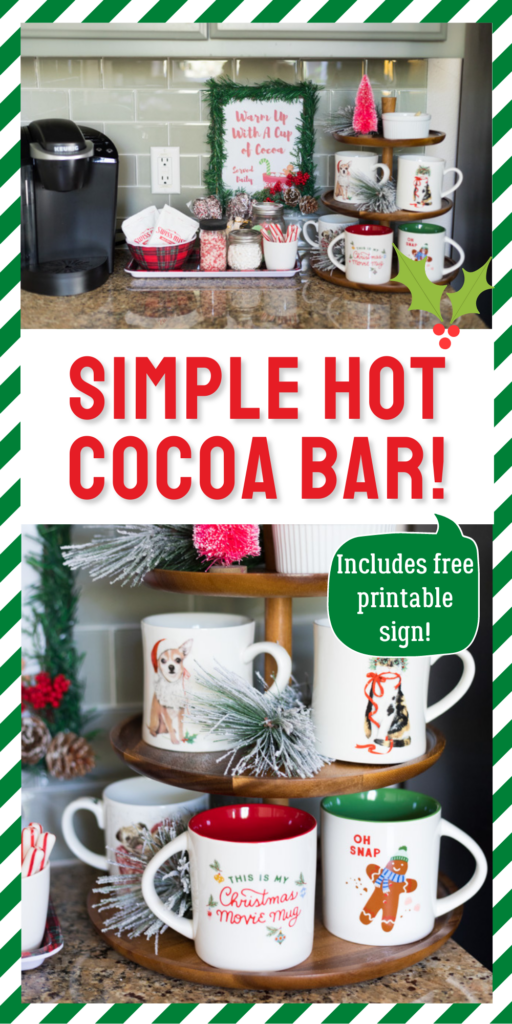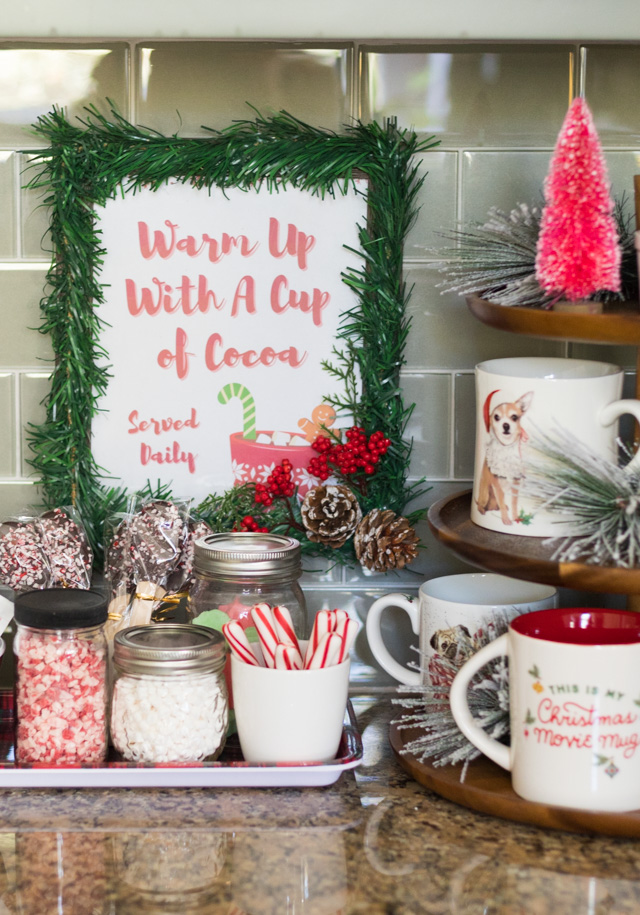 Yield:

2 servings
So Simple and SO Delicious Hot Cocoa Recipe
Whip up some hot cocoa in 2 minutes with these easy recipe using pantry ingredients and your favorite milk.
Ingredients
2 T. cocoa powder
2 T. sugar
1/4 c. of water
2 c. of milk
1 t. vanilla
Instructions
Add cocoa powder, sugar, and water to a microwavable container (I use a large Pyrex measuring cup). Stir together and microwave for 30 seconds.
Stir the mixture again (it should now be a chocolate syurp) and add milk and vanilla.
Heat in microwave for 90 seconds (or more or less depending on how hot you like it!).
Pour in two mugs and add your favorite toppings.
Notes
I used 2% milk but you can use your favorite milk. My favorite cocoa powder to use is Guittard.