5 Steps to a Spooky Halloween Front Porch!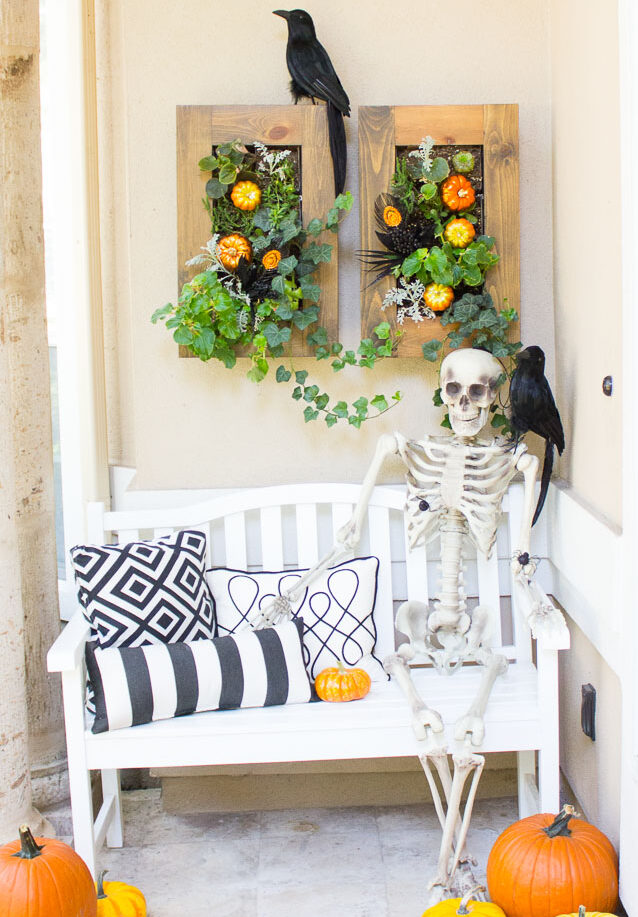 Spooky Halloween Front Porch Ideas
I'm excited to show you our spooky front porch decorated with items from the Martha Stewart Living line of Halloween decor!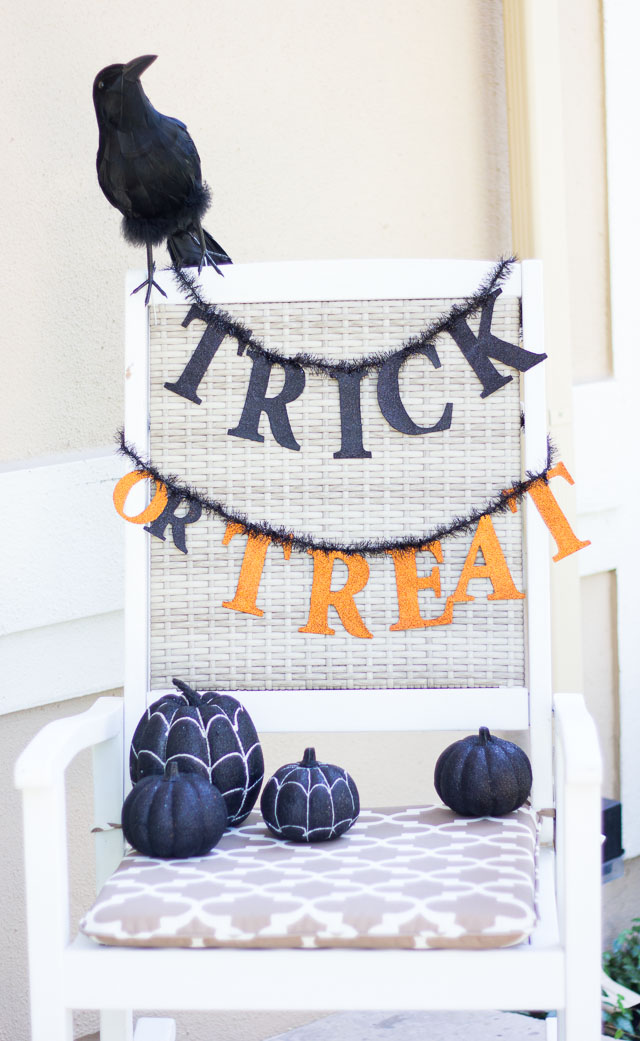 Remember our front porch makeover this past spring? Well, having those few pieces in place like a bench and planters makes it easy to switch up the decor for the holidays. Here are my five tips for getting your own entryway Halloween-ready!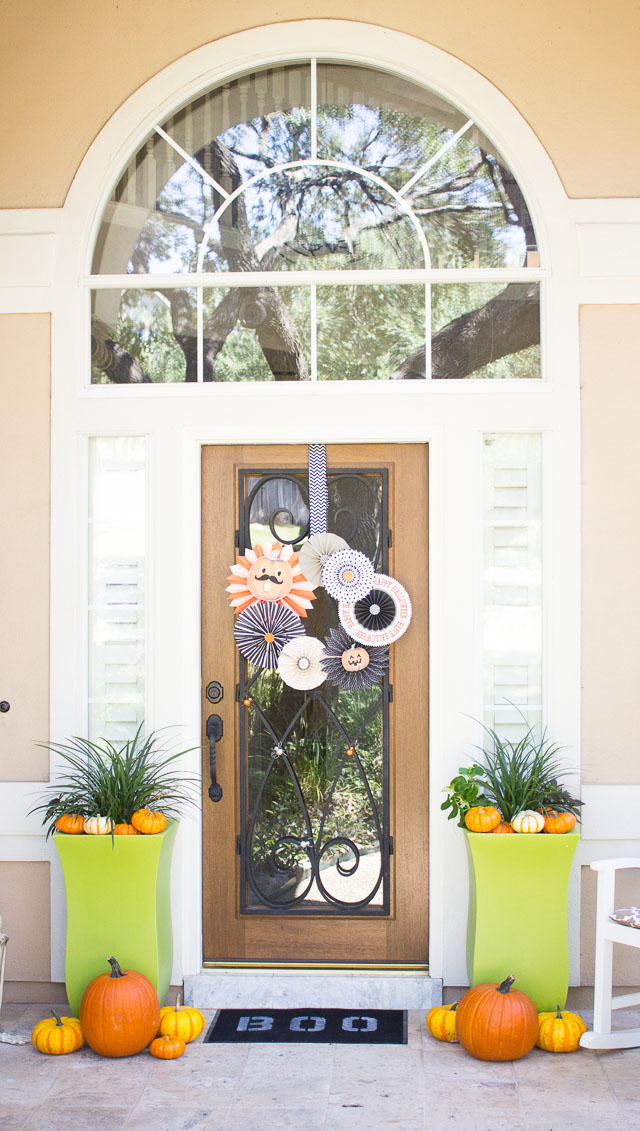 5 Steps to a Spooky Halloween Front Porch
1. Find a spooky statement piece
This life-sized skeleton is the star of our front porch. He is super light-weight, easily adjustable, and even hangable. I decided to have him lounging on our bench to great visitors. Whether it is a skeleton or something else, a large focal piece near the door sets the stage!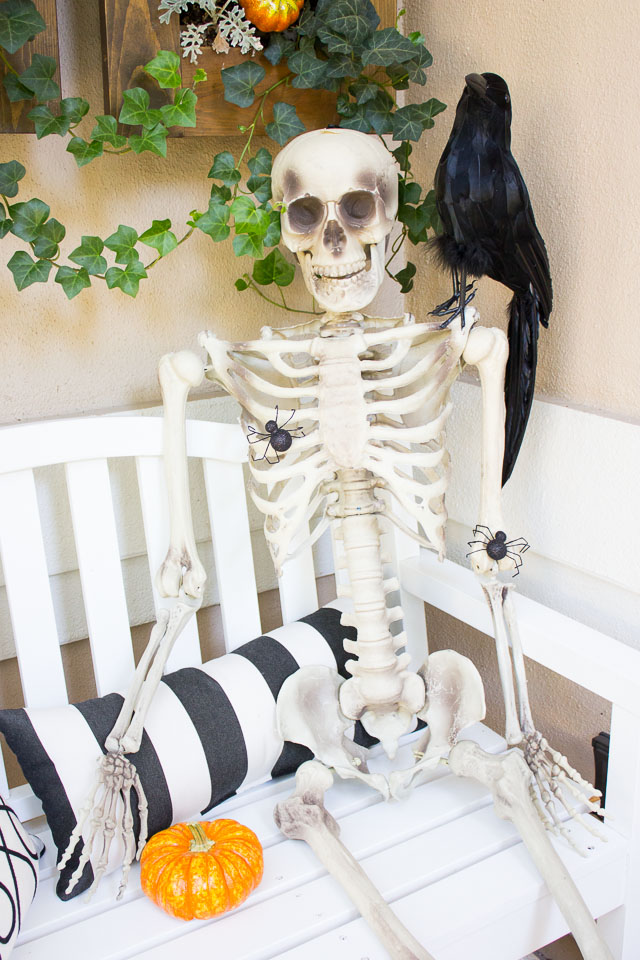 2. Add a surprise factor
These big black crows are my favorite part of our porch. They are so lifelike, I'm sure they're making the neighbors do a double take! An element of surprise like these birds or a motion sensor that moves or makes noise as you come up instantly makes your porch spooky!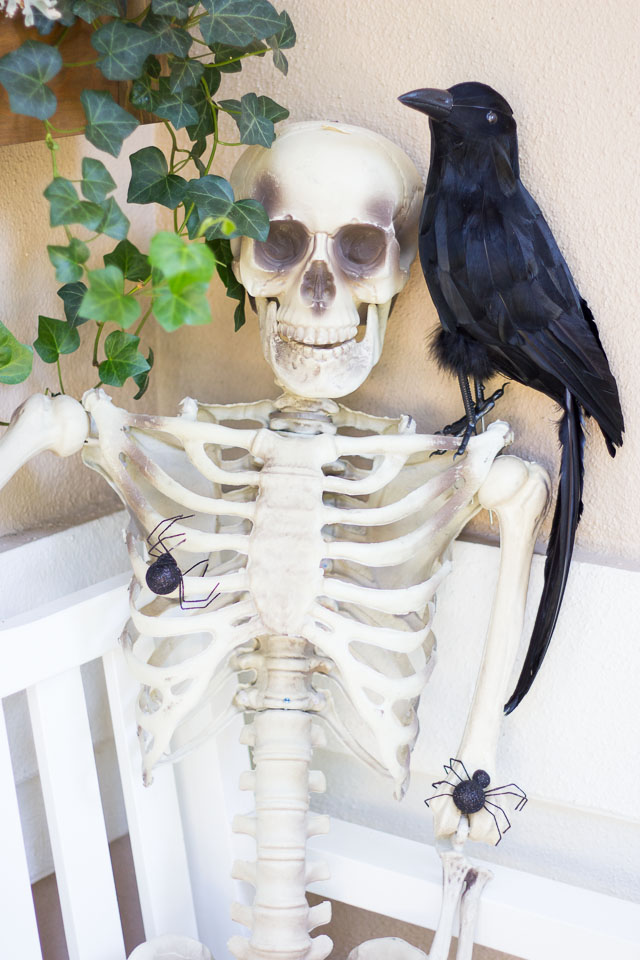 3. Pumpkins, pumpkins, pumpkins
Can you ever have too many? I think not! While not spooky on their own, they are a great way to add festive color to a Halloween porch. Pumpkins can be expensive so shop around for the best deals. I found a variety of small striped pumpkins at our local grocery store.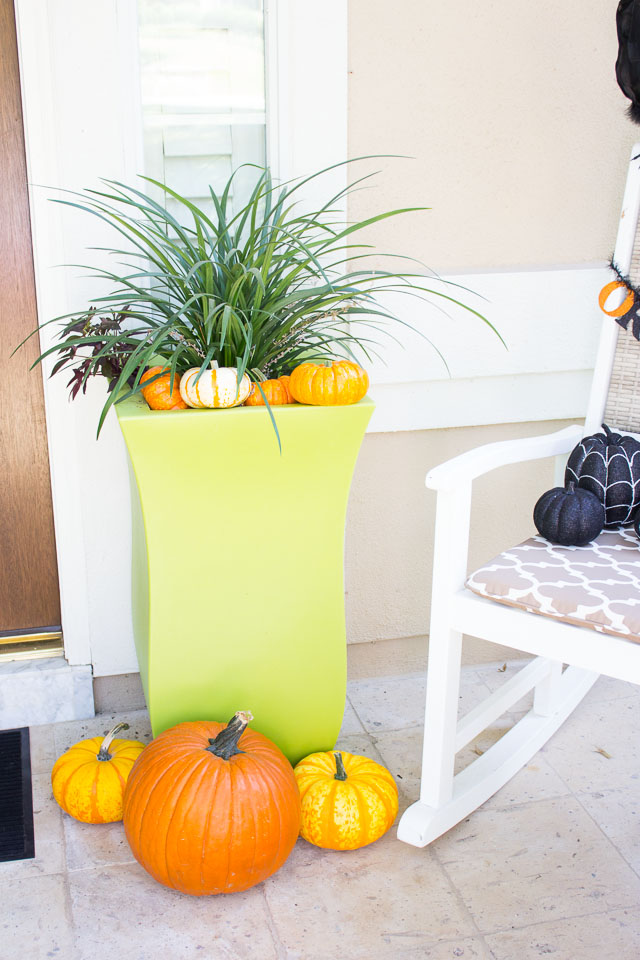 If you have planters on your porch, adding some pumpkins can help brighten them after the summer blooms have faded. I scattered small decorative pumpkins around the top and larger ones at the base.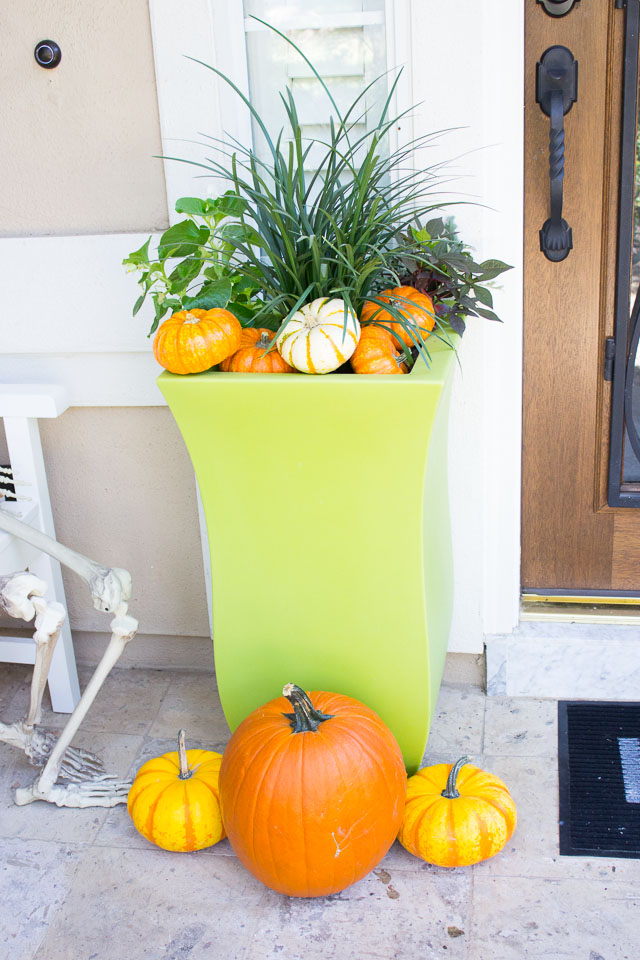 Your pumpkins don't have to be real either! I used a few brightly colored pumpkin floral picks from Hobby Lobby to add some fall color to my wall planters. Jack-o-lanterns would also be an awesome addition and I'm a big fan of the carved faux pumpkins with an LED candle inside – no rotting in the Texas heat!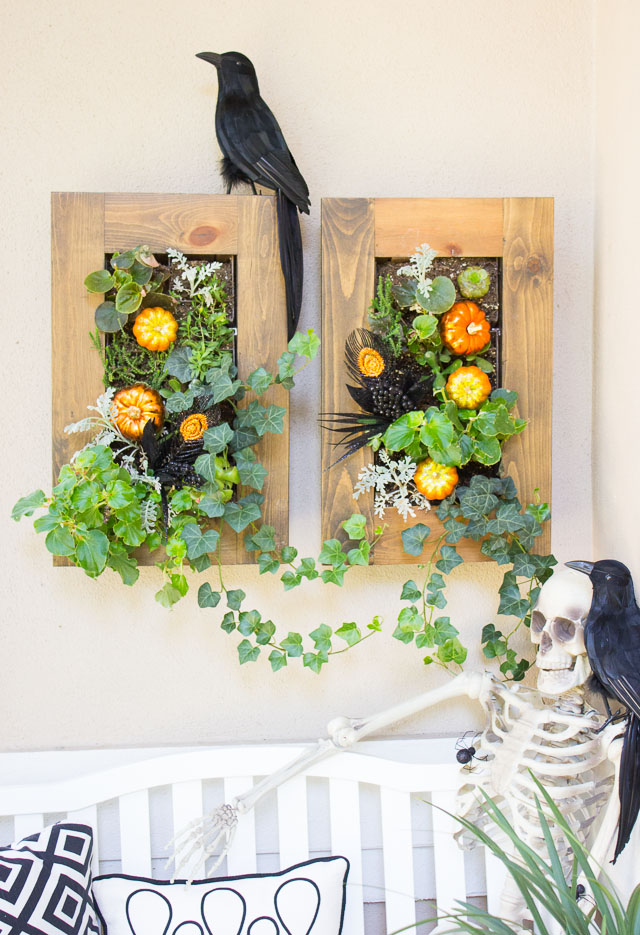 4. Bring some indoors outside
Shop your house for pieces that can temporarily move outdoors for Halloween. This works especially well if you have a covered front porch that is protected a bit from the elements! For instance I swapped out the pillows on our bench for a few black and white pillows I stole from other rooms in our house. I particularly love the bold black and white stripes on this pillow – it is outdoor fabric too!
Halloween party decor can work outside as well. I thought this Trick or Treat banner would look cute draped on our rocking chair.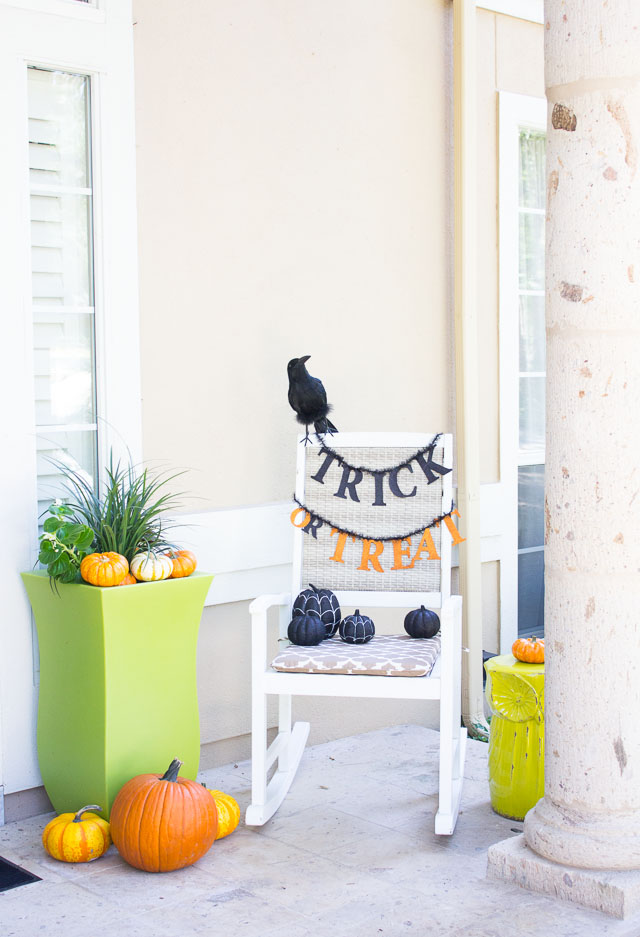 5. Don't forget the front door
A festive wreath can go a long way to making your porch Halloween ready. Switching up the doormat for the holidays is also an unexpected touch. Check out my party fan Halloween wreath and BOO mat tutorials to see how you can make your own.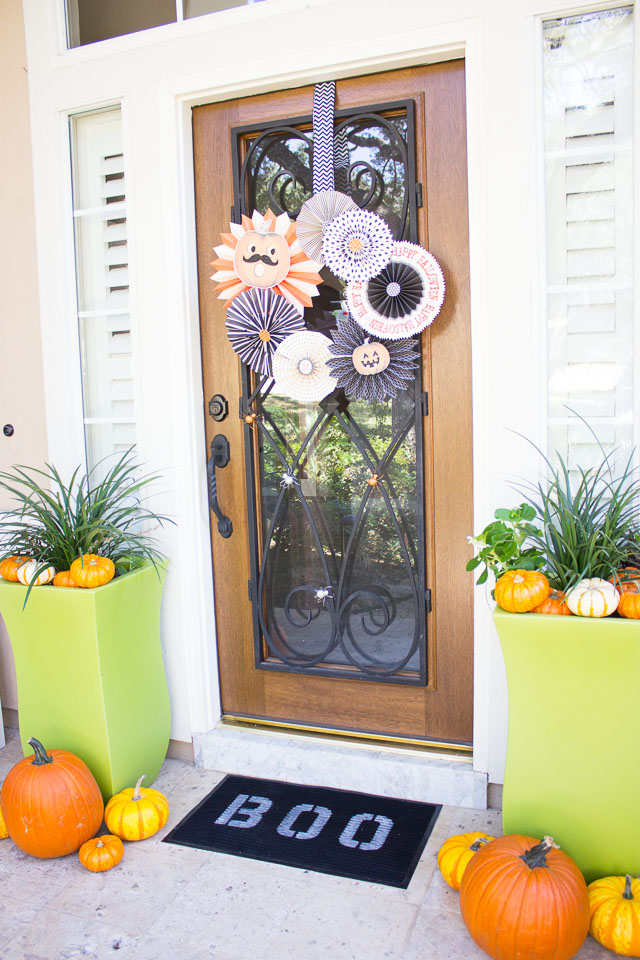 One last surprise on front porch – once you get up to the door you'll find these cute glittery spiders crawling up it!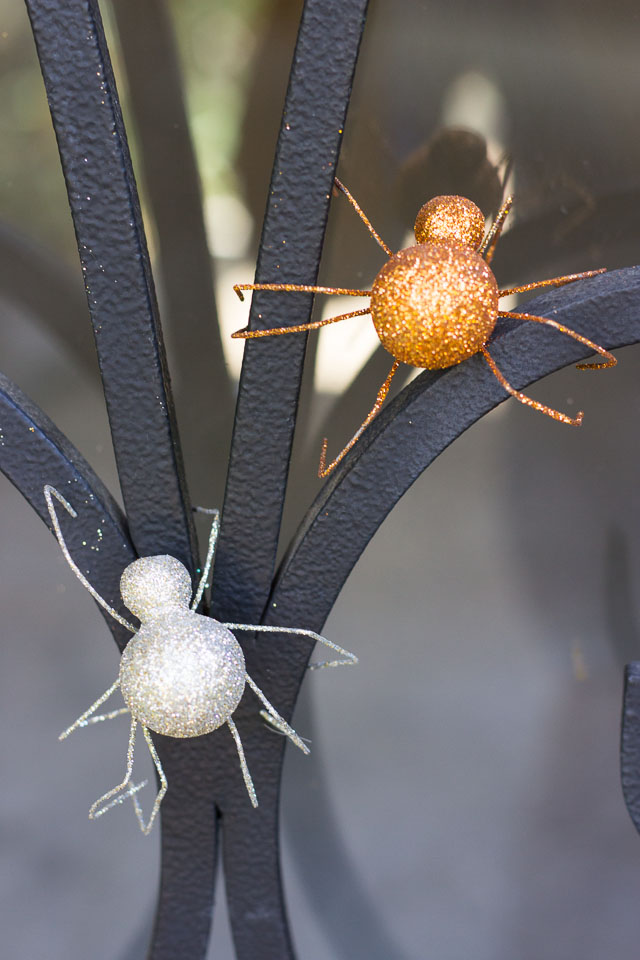 I hope you've enjoyed our Halloween front porch reveal and are inspired to add a little more spookiness and fun to your own!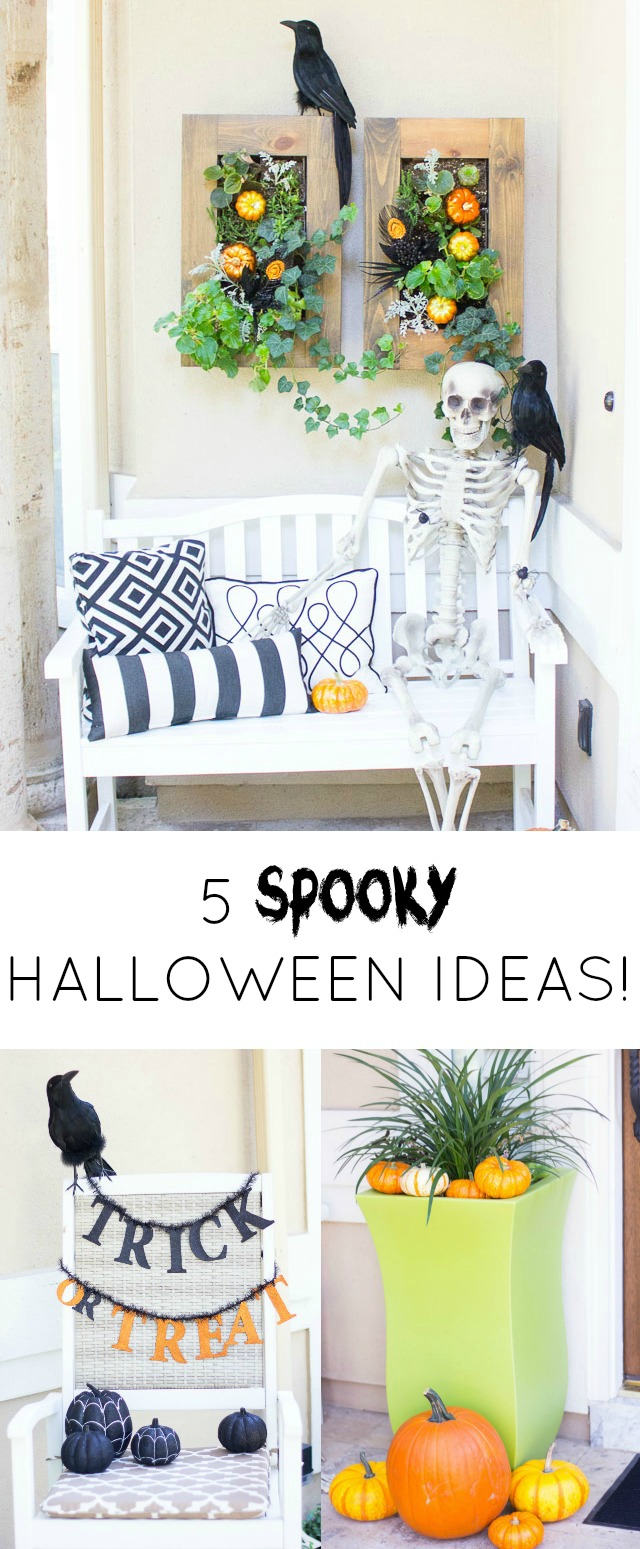 Like this spooky Halloween front porch?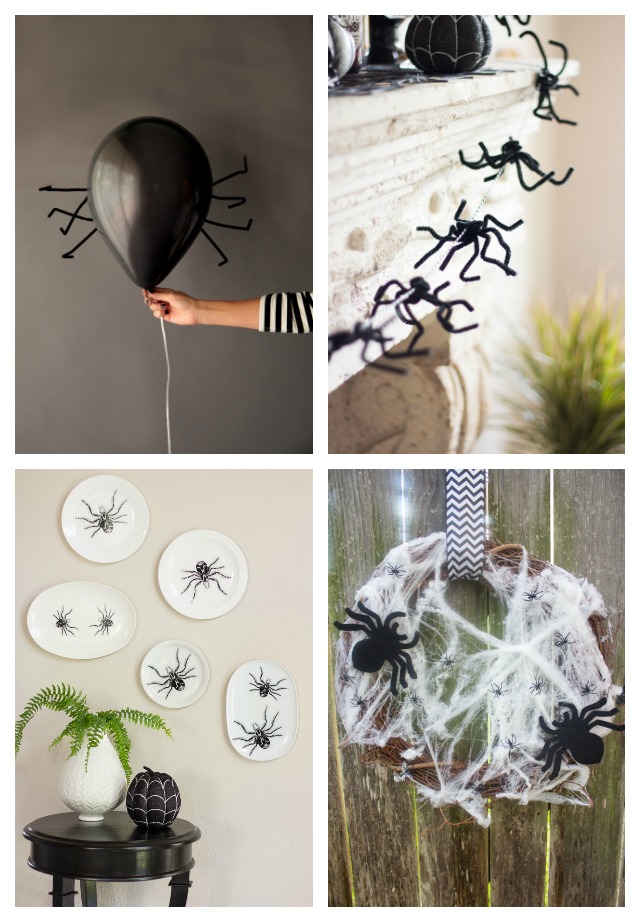 This post is sponsored by Home Decorators Collection. All content and opinions are my own.