Dollar Tree Fortune Teller Wreath – So Cute!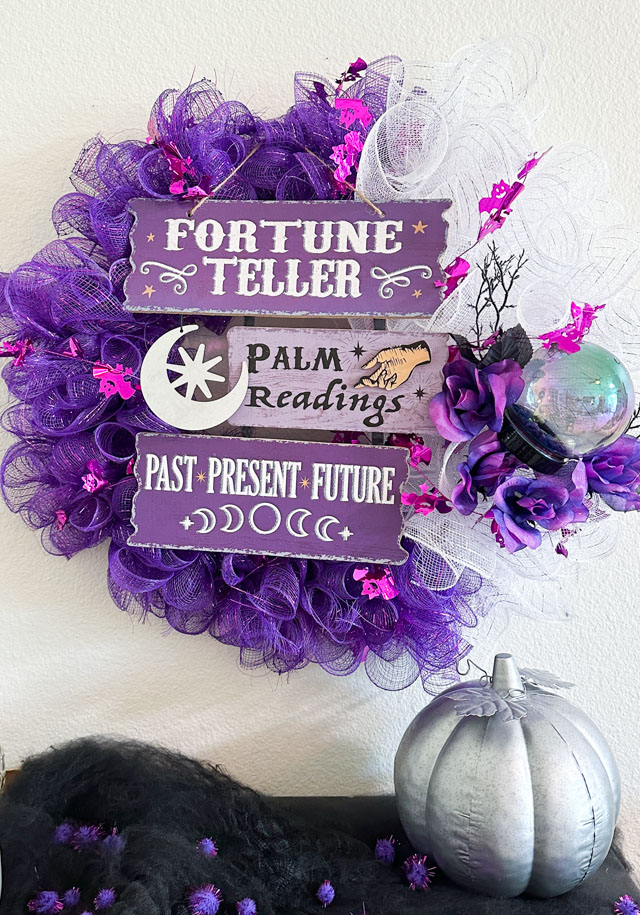 Make this clever DIY Dollar Tree Halloween wreath for your front door this holiday season! This fortune teller wreath is a great way to use inexpensive Dollar Tree supplies like decorative mesh and fortune teller decor. The best part? You can make it for under $20 in supplies!
I love the fortune teller decor that is popular at Dollar Tree this year. It is the perfect wreath for a not-so-spooky or gory vibe!
DIY dollar store wreaths are some of my favorite crafts to make. Check out this Dollar Tree pumpkin wreath I also made for the Halloween season.
This post contains affiliate links. See our full disclosure.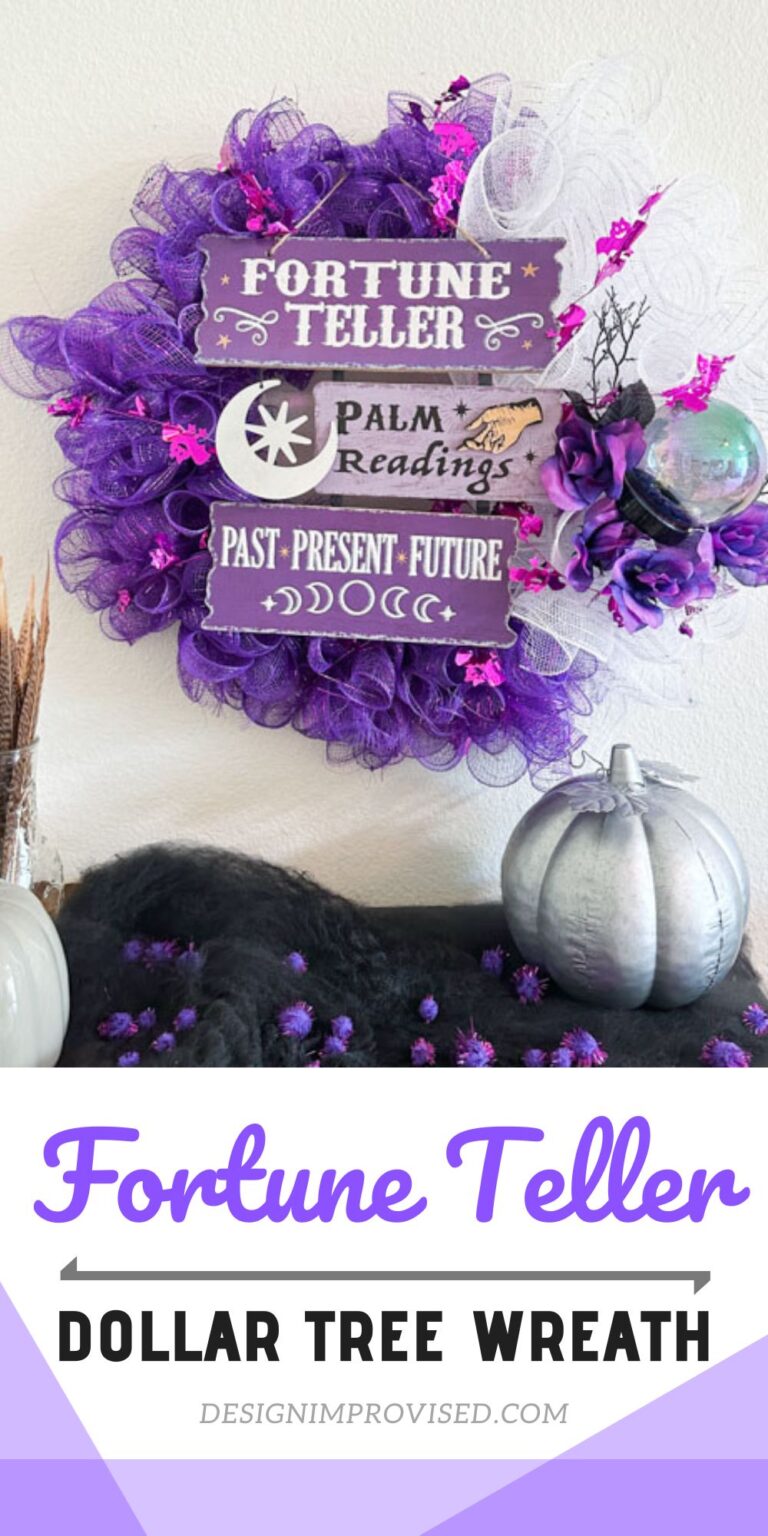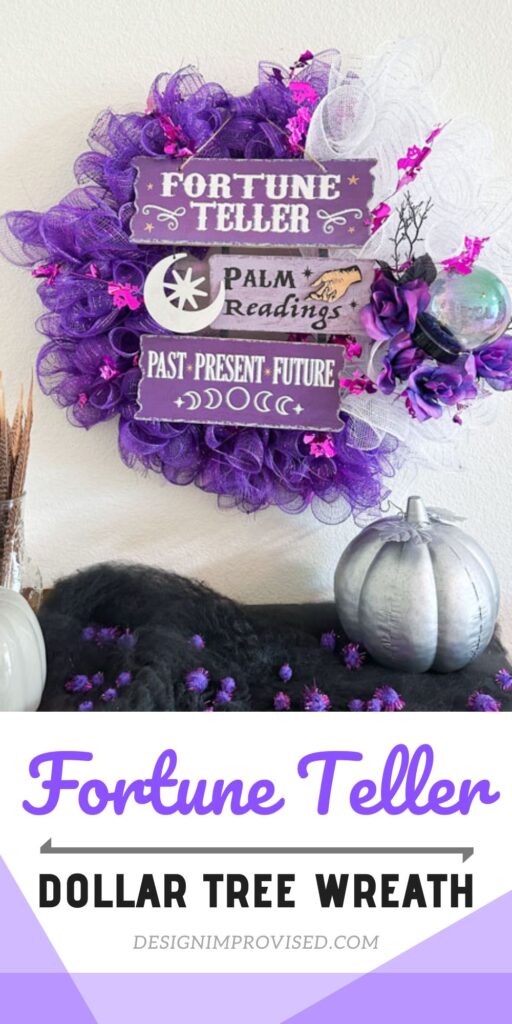 Head to your local Dollar Tree store for all these inexpensive supplies before they're gone!
Supplies for Dollar Tree Halloween Wreath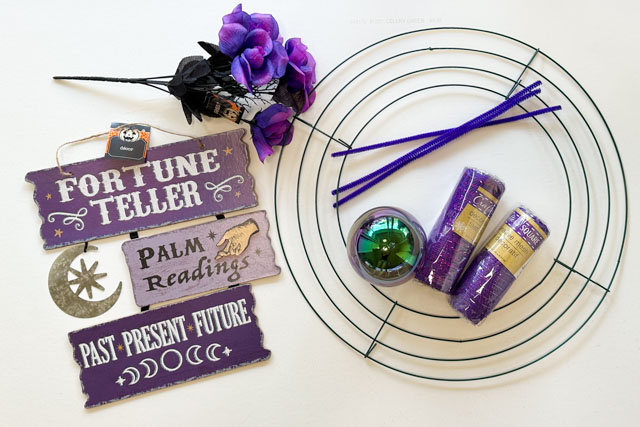 How to make Dollar Tree Fortune Teller Wreath
​Step 1: Create bows with decorative mesh
Decorative mesh is a great base for DIY Halloween Wreaths. To add the deco mesh to the wire wreath, I cut roughly 18 inch long strips. I also cut several purple chenille stems into thirds.

Roll up the each end of the deco mesh strip a couple times (first photo below), then accordion fold the remainder of the strip and bunch together to create a bow (second photo). Secure in the middle with a chenille stem (third photo).

Step 2: Tie deco mesh bows to wreath
Make enough bows to cover wreath. Use the ends of the chenille stems to attach the deco mesh to the wire wreath form. Wrap the chenille stems around the back of the wreath and then twist them together.

Note: I added a section of white deco mesh to my wreath because I ran out of purple decor mesh. This is optional! You can make your full wreath purple if you want!
Step 3: Wrap wreath with wire Halloween garland
If you want to add a little extra sparkle and flair to your fall wreath, wrap a thin garland around it and secure in place by twisting the ends together. You can also get creative and incorporate other dollar store items into your fortune teller wreath!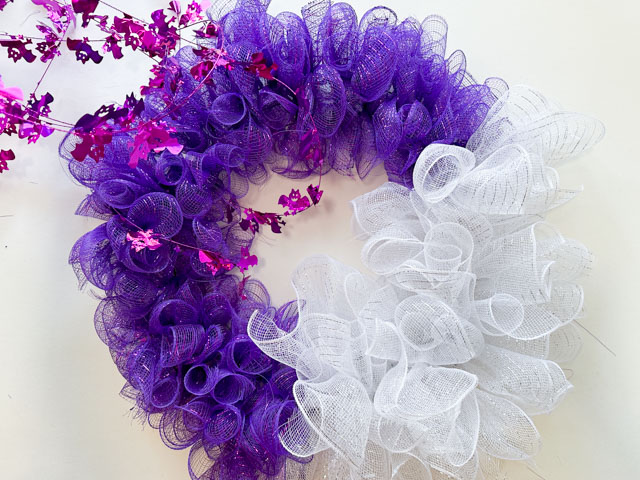 Step 4: Glue on crystal ball and roses
You can't have a fortune teller wreath without a crystal ball! Use a generous amount of hot glue to secure the plastic crystal ball to the side of the wreath.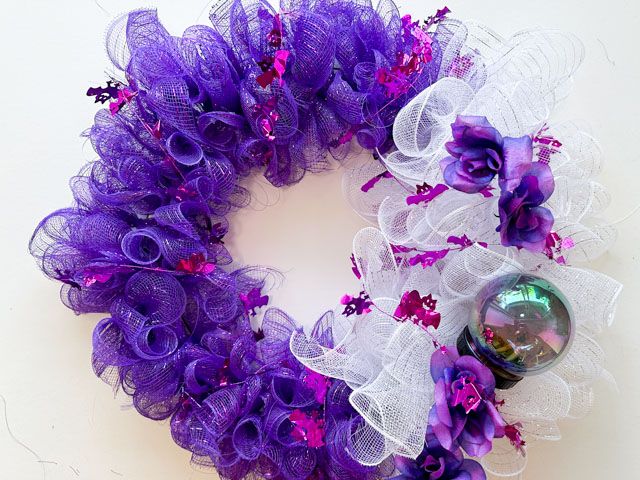 Cut purple roses from their stems with a pair of wire cutters and add them to the wreath around the base of the crystal ball with a dab of hot glue.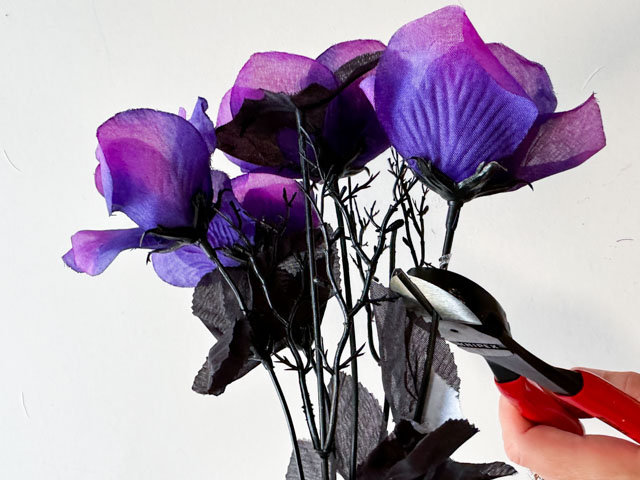 Step 5: Add the Fortune Teller Sign
Finish by hanging the wood sign from the top of the wreath with a chenille stem or floral wire.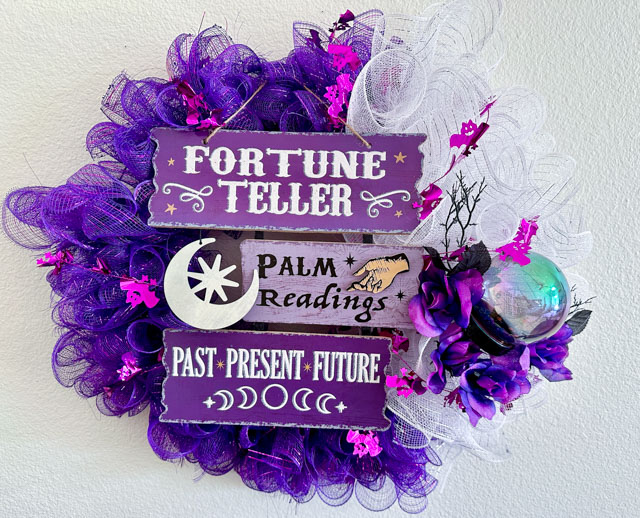 I bet your trick-or-treaters will compliment you on your beautiful wreath! They may even ask to come inside for a palm reading!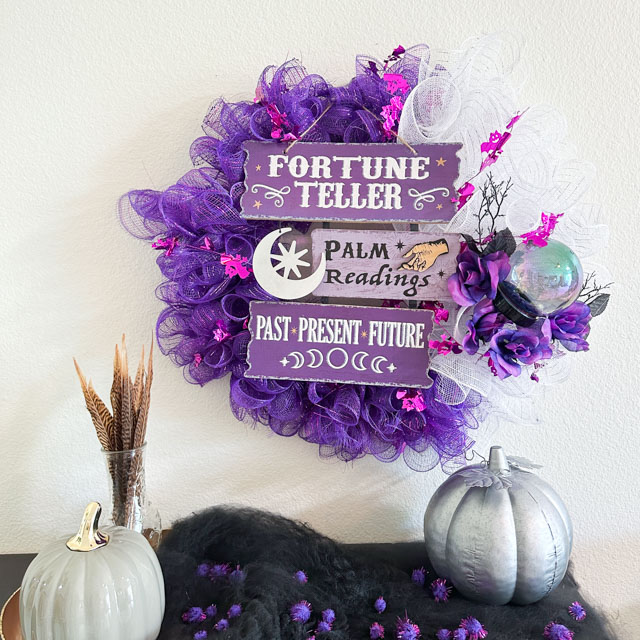 Want another cute Halloween wreath idea? Check out this Dollar Tree pumpkin wreath! This DIY wreath uses a grapevine wreath form and inexpensive items from the Dollar Tree including fake cobwebs, foam pumpkins, and a Trick or Treat sign.
Like this Dollar Tree DIY Halloween Wreath? Check out these other Dollar Tree Crafts: