A Creepy Crawly Pumpkin Decorating Idea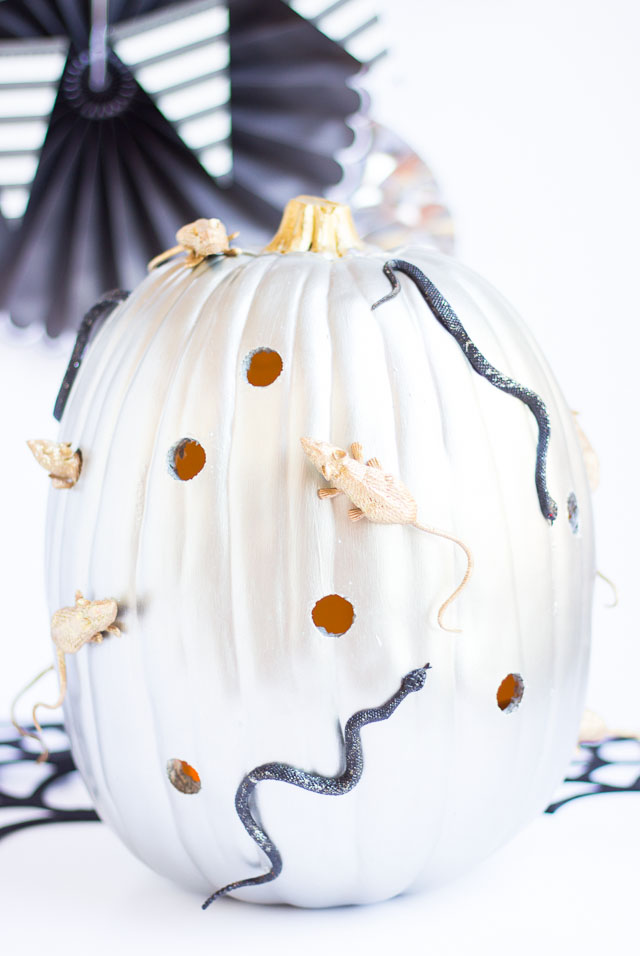 A Creepy Crawly Pumpkin Decorating Idea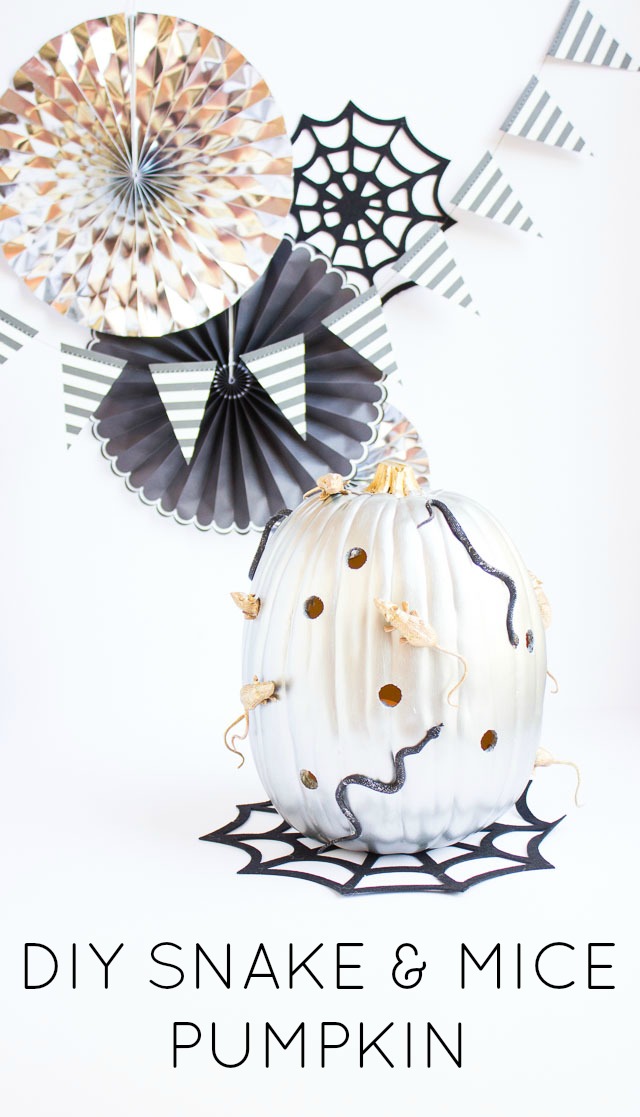 When it comes to Halloween decor I tend to go for cute over creepy crawly. However, when my friend Cat asked if I would decorate a spooky pumpkin for her company's charity auction, I accepted the challenge! Introducing my spooky (yet chic!) pumpkin decorating idea. It's a pumpkin teeming with snakes and mice!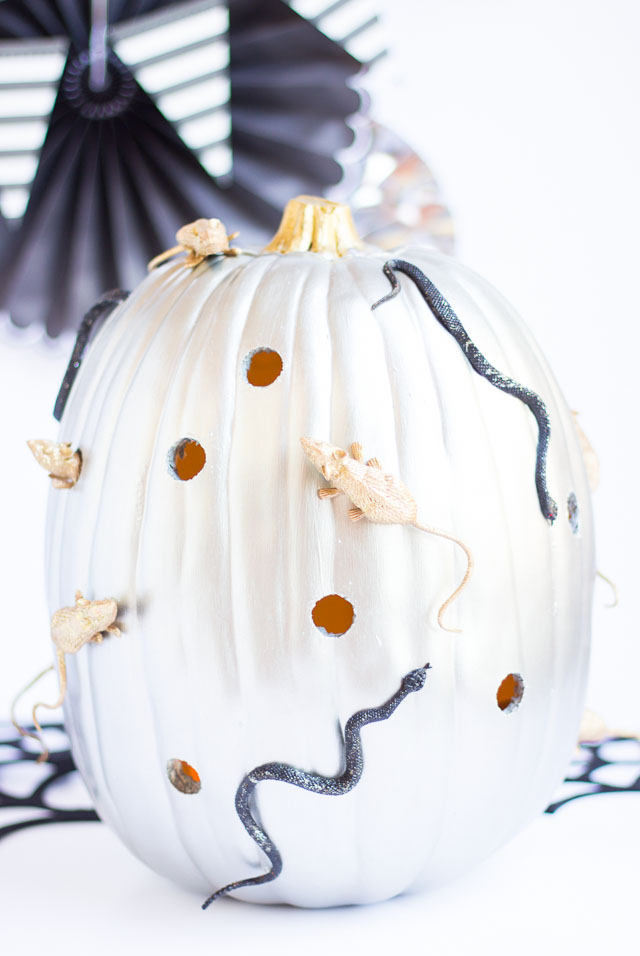 The previously white rubber mice are now gold and glittery. They are crawling all over the pumpkin and into and out of some of the holes (which were created with an apple corer!).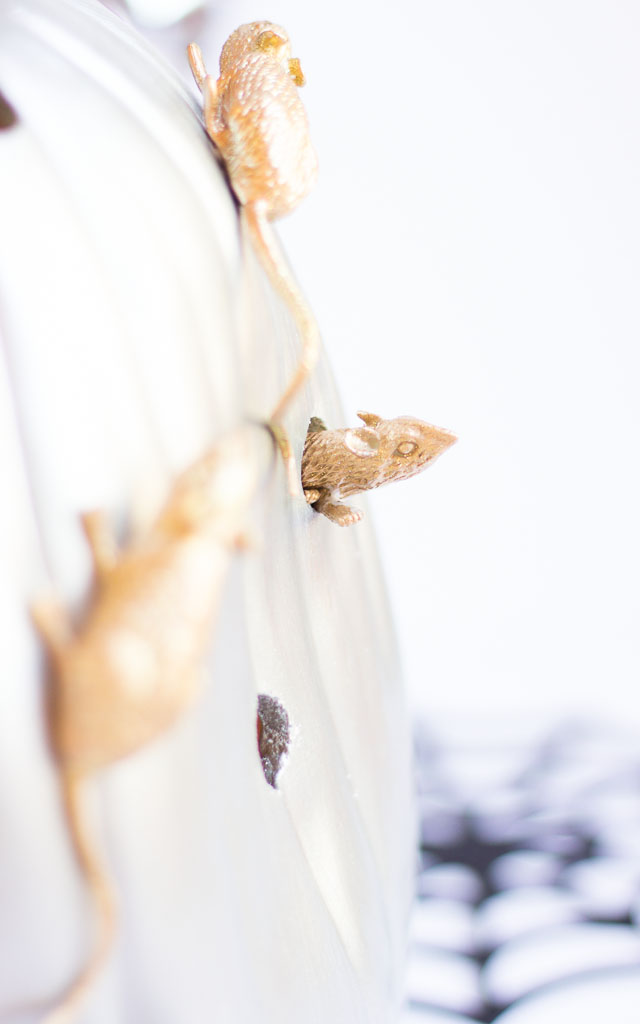 The black snakes add a nice contrast to the gold and silver and another dose of ickiness.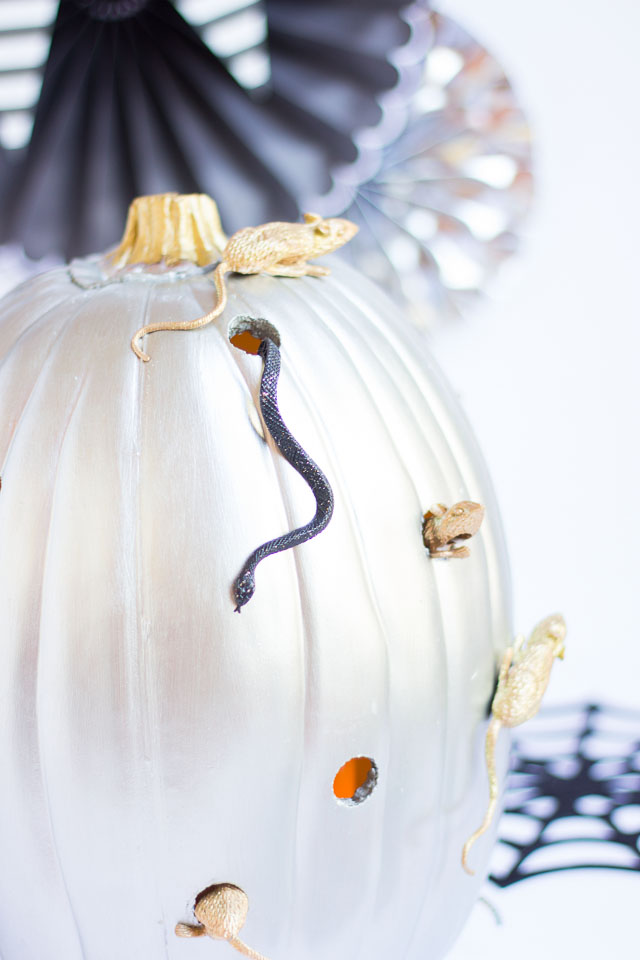 I'm hoping the metallics give it just enough classiness to display on your mantel. 😉 Add a flameless candle and it gives a nice little glow through the holes at night!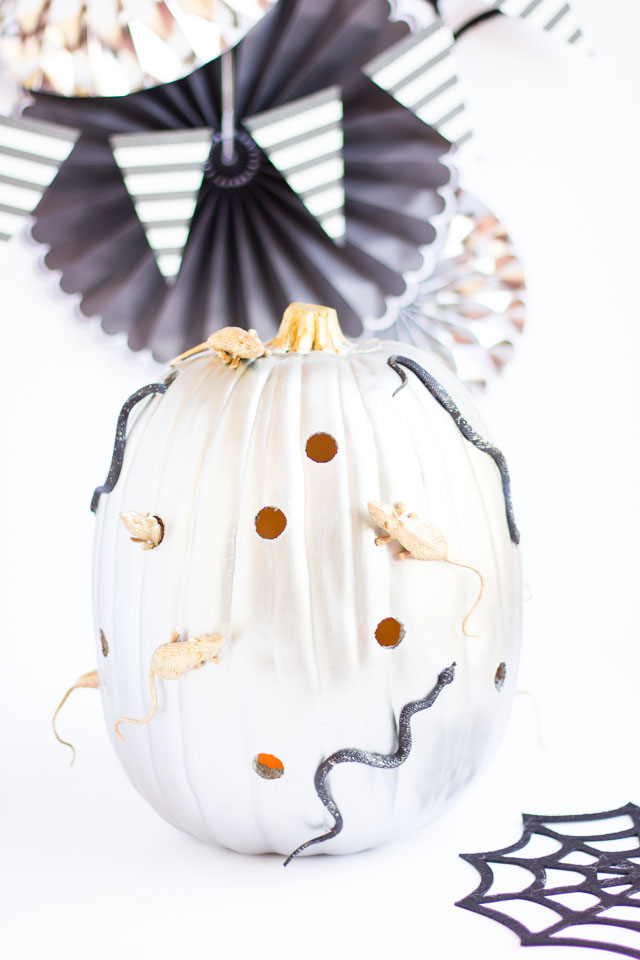 Read on to see how you can transform a basic craft pumpkin into a creepy crawly one!
Supplies for Snake and Mice Pumpkin
Craft pumpkin
Apple corer
Rubber or plastic mice and snakes
Silver metallic craft paint (I used Martha Stewart metallic craft paint)
Gold metallic craft paint
Small brush
E6000 or other craft glue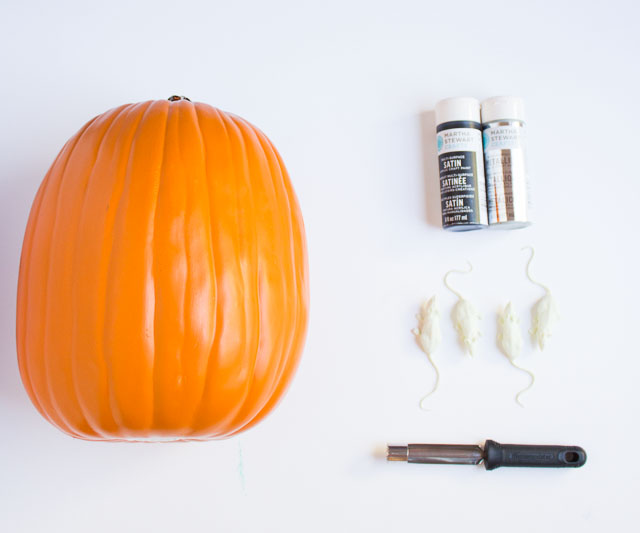 How to Make Snake and Mice Pumpkin
1. Use your apple corer to poke holes randomly around the pumpkin. If you plan to put an LED candle in the pumpkin, use a knife to cut a circle around the stem.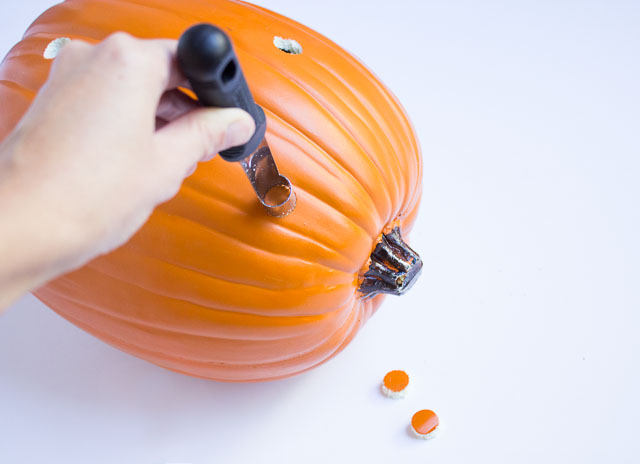 2. Cover the entire outside of your pumpkin with silver craft paint. Mine required a good 3 coats for even coverage. You could also use silver spray paint, which could be quicker. I just used craft paint because I had it on hand!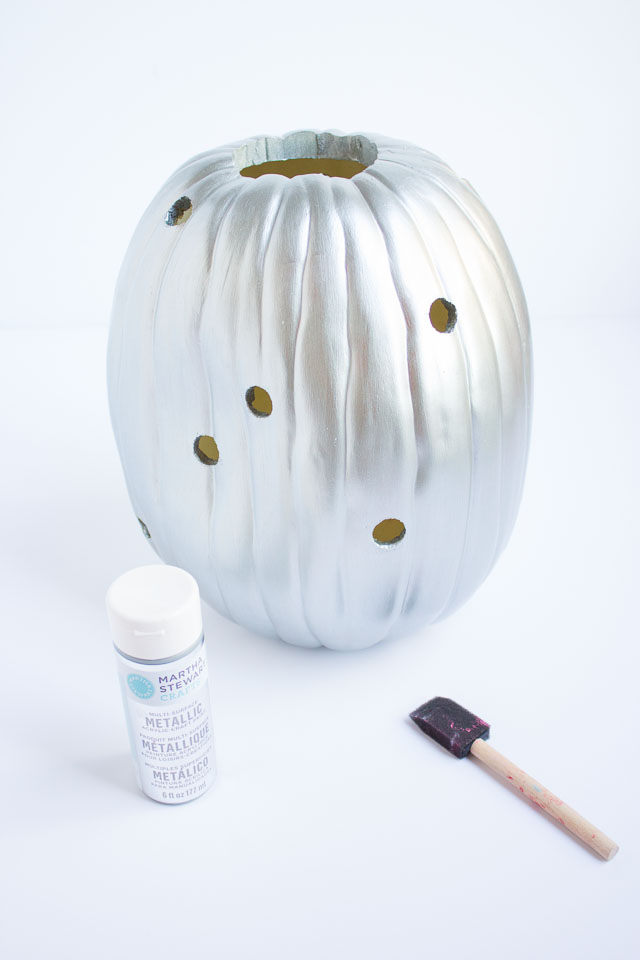 3. My mice were white to begin with so I painted them gold and and added a coat of gold glitter paint on top. My snakes were already black, so I just added a layer of silver glitter paint to make them sparkle.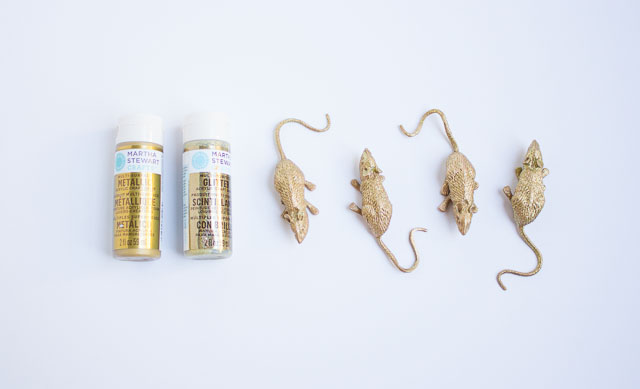 4. Use a strong craft glue like E6000 to position the mice and snakes around the pumpkin. I had some of my mice and snakes coming in and out of the holes for a fun effect.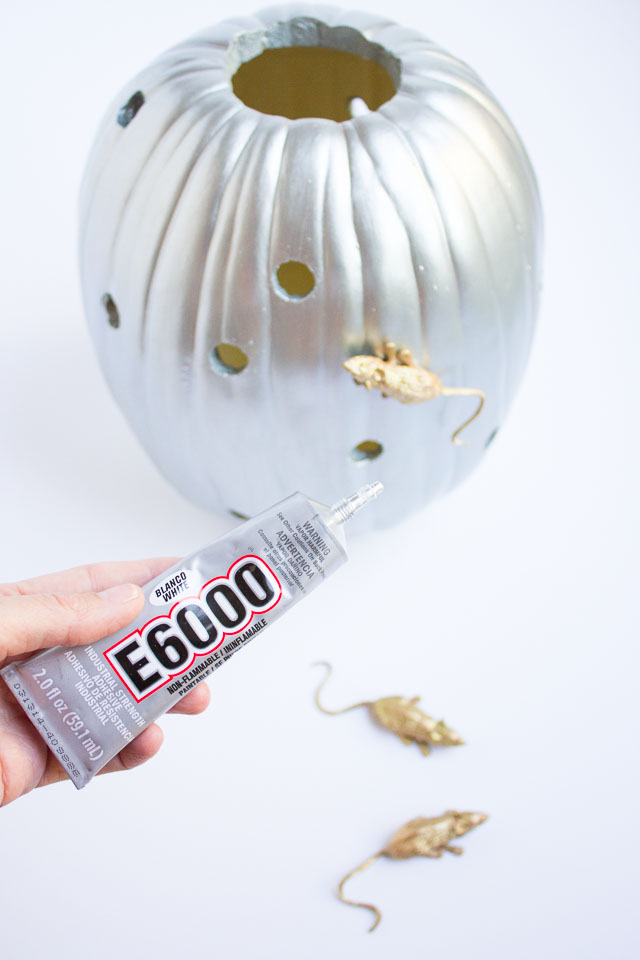 Fill with a flameless candle (don't use real candles in craft pumpkins – they are flammable!).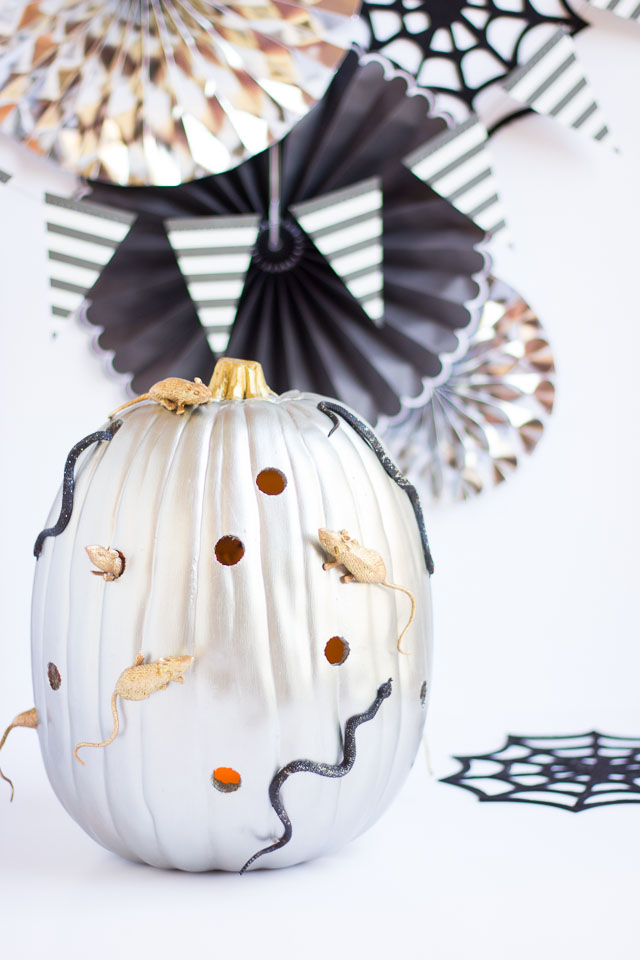 You've got yourself a creepy, crawly, yet chic pumpkin that you can use year after year! The auction I created this for is on Thursday and the proceeds benefit an organization that provides stuffed animals to women's shelters and children's hospitals. I hope it sells for a high price!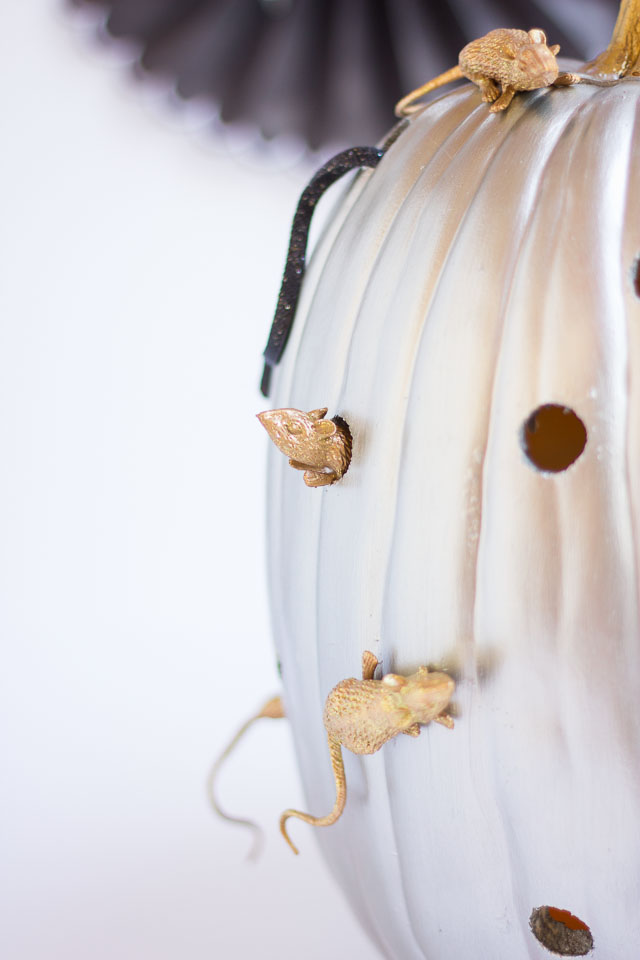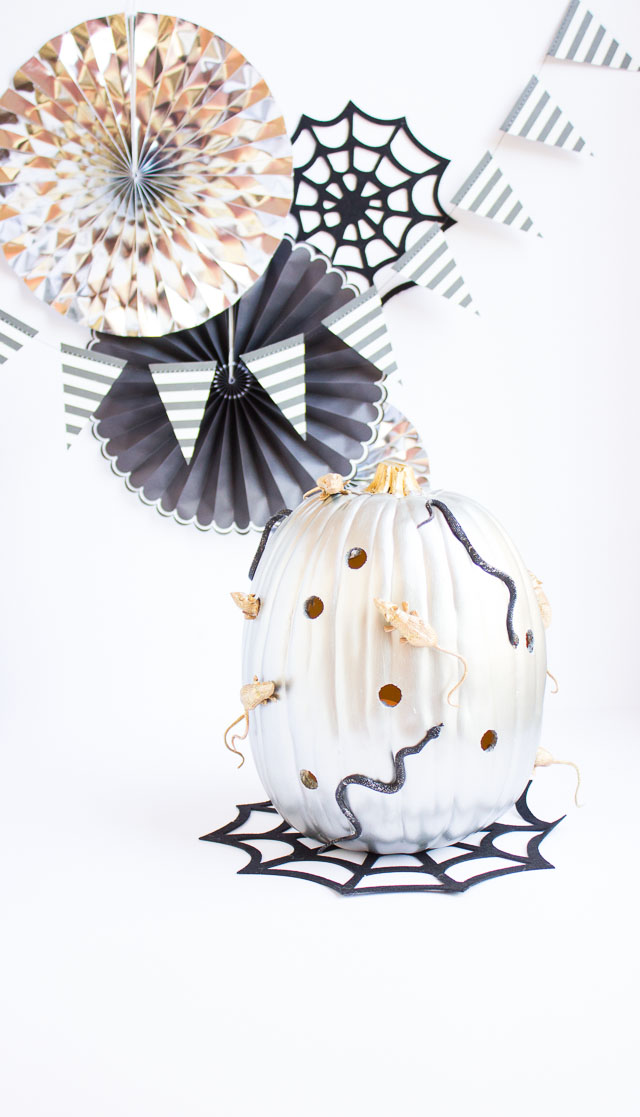 Love this snake and mice pumpkin decorating idea?