Our Powder Room Remodel – Before Photos!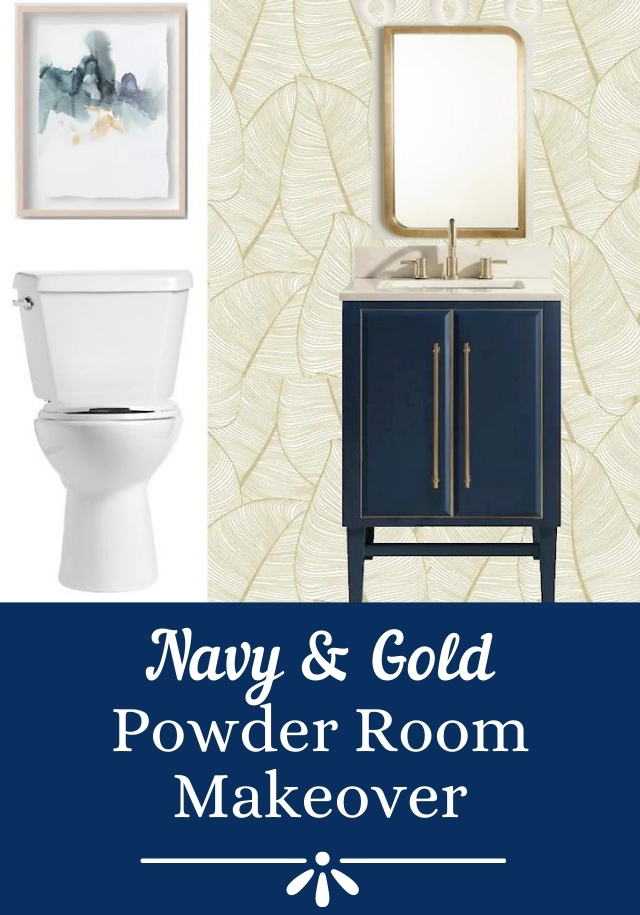 Before Photos of Our Powder Room Remodel
In the seven years we've lived in our home, we've managed to update most all the rooms in some way. Our powder room was one of the few exceptions. It has been begging for a makeover. As much as I love decorating, bathroom design just feels intimidating to me, so it was easy for me to put off. However, over the quarantine we got the ball rolling on a number of home projects including our exterior renovations and the girls' new bedrooms. We were finally ready to take on the powder room as well! I have partnered with Mansfield Plumbing on this project and I can't wait to share it with you.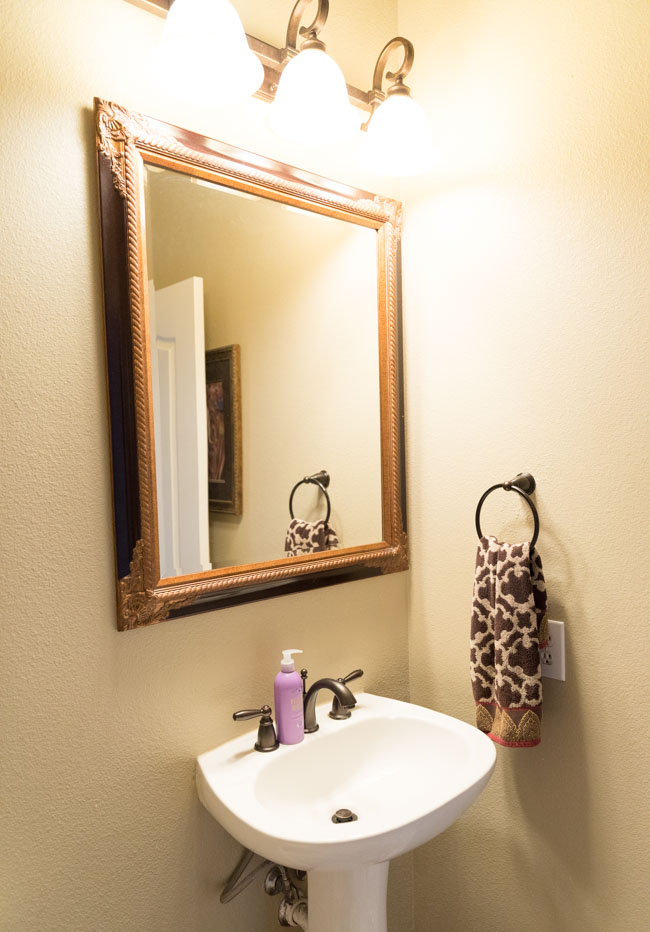 The Powder Room: Before
Here is the current state of the powder room. There is nothing terribly exciting about it and it doesn't blend well with the style in the rest of our home. In particular, I haven't been crazy with the vanity mirror and bronze fixtures. But the biggest pain point was the pedestal sink that offered zero storage and barely had enough space to set a soap bottle on top. The bottle was constantly being knocked off by my kids and left creating a pool of soap on the floor!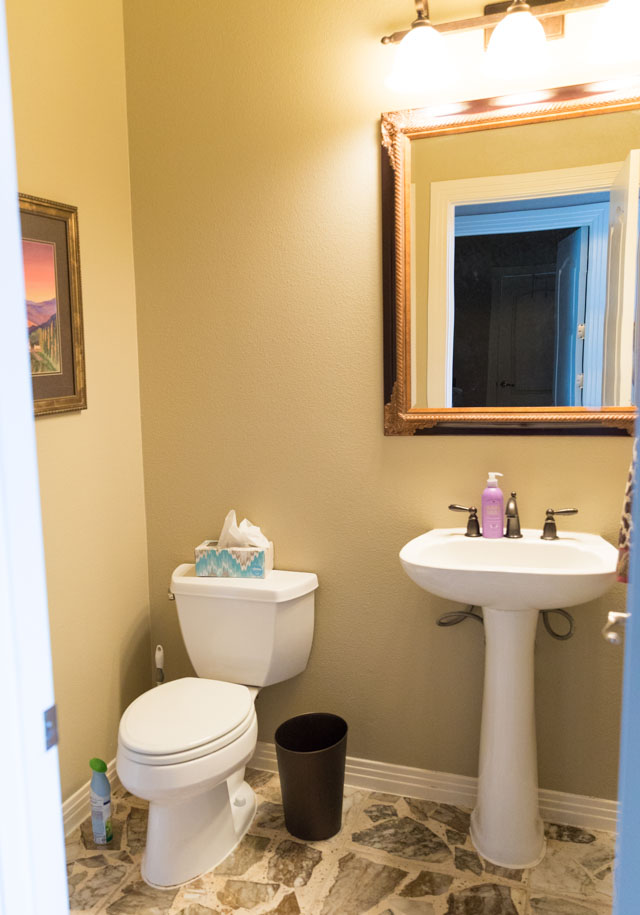 What I do like about our powder room are the agglomerate stone floors. This tile extends throughout most of our first floor including our kitchen and family room. The tile is a pretty busy, so I wanted to make sure any updates to the powder room complemented them instead of competed with them.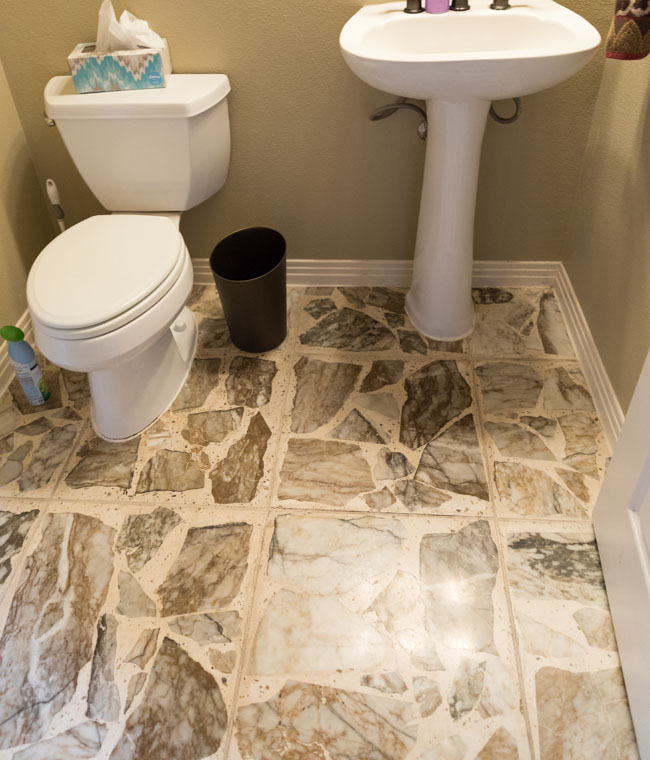 The New Powder Room Design
Introducing our elegant gold and navy blue powder room design! We knew we wanted to add in some trendy gold elements to this room, and the wallpaper was our first inspiration piece.

This post contains affiliate links. See our full disclosure.
Sources for Navy and Gold Powder Room Design
Vanity
Avanity Mason 25-in Navy Blue Single Sink Bathroom Vanity with Crema Marfil Marble Top
The deep blue in this vanity caught our attention right away. We wanted a unique piece for the powder room and this is where we splurged. I love the combo of the navy blue with the gold details in the room. Plus, it offers storage!
Toilet
Denali® 1.28 Elongated Smartheight™ CTK
We wanted a fresh new toilet to go with our new bathroom and the folks at Mansfield Plumbing reached out to partner with me at the perfect time. Their American made toilets offer a classic design and the Denali toilet we chose comes with an elongated Smartheight™ making it a little taller than our current toilet. It also includes the MagnaFlush™ high performance flushing technology.
Wallpaper
Walls Republic Gold Fine Leaves
We don't have wallpaper anywhere in our home but we thought our powder room would be a fun place to experiment with it! We chose to wallpaper just the main wall behind the sink and toilet to save money. I love the botanical feel of the leaf wallpaper and the gold that reflects light off of it.
Mirror
Shades of Light Rounded Corner Rectangular Mirror
I've noticed that asymmetrical mirrors are really having a moment in design, and was drawn to this funky gold mirror with both rounded and straight corners.
Vanity Light
Kichler Jasper 3 Light Bathroom Vanity Light
We chose a globe vanity light that has the same brushed gold details as the other fixtures in the bathroom.
Gold Fixtures
Moen Voss Bathroom Collection in Brushed Gold
This is the first time we're using gold fixtures in our home. Pretty much everything else is brushed chrome! But I think you can mix things up in a powder room and not break too many interior design rules! I plan to start swapping in some more gold fixtures in our home when we update the laundry room and our daughters' shared bathroom. More on that to come!
Artwork
16″ x 20″ Blue and Gold Watercolor Framed Print
I'm still debating on the type of wall art we want to include in our powder room, but I included this one in the mood board as I liked the abstract look with a touch of navy blue. I'm in the process of using Minted's free art styling service to find some more options. You can text them a photo of your room and they will send you back art ideas for free. I'm excited to see what they come back with!
I'm excited to see the room come together. The wallpaper and lighting is already up and the toilet and vanity are being installed next week. I can already see what a major improvement it is going to be!
Stay tuned for the powder room remodel reveal in a couple weeks!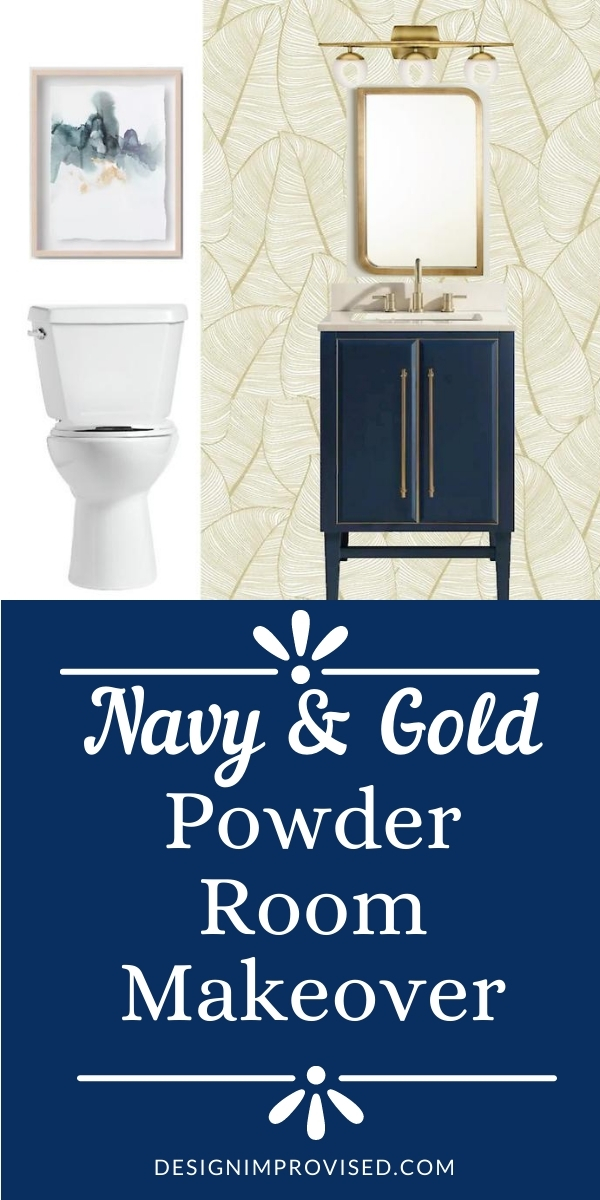 This post is sponsored by Mansfield Plumbing. All content and opinions are my own.