Navy and Gold Powder Room Makeover – Reveal!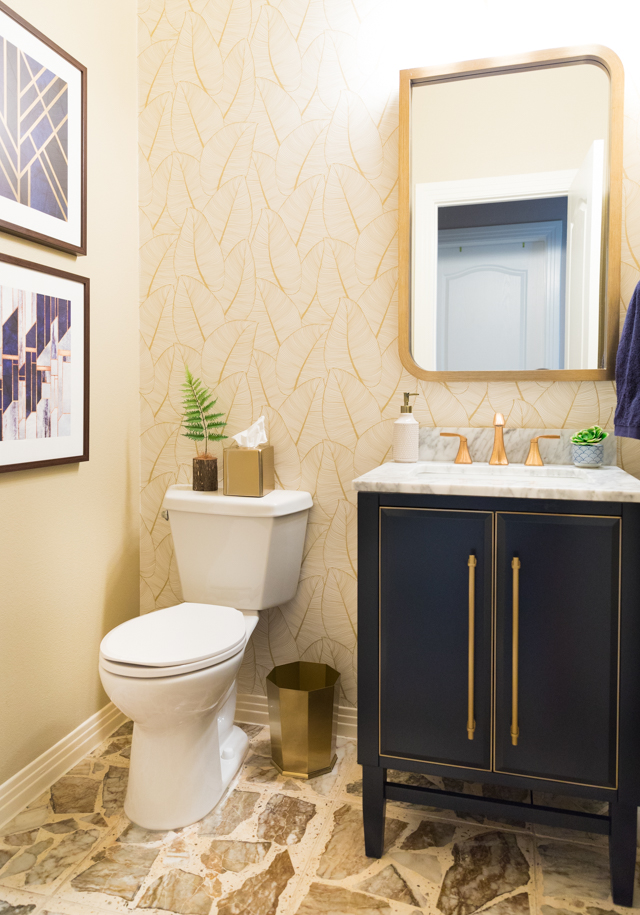 Modern Powder Room Makeover Before and After
The time has come for our powder room makeover reveal! It is a project that we've had in the works since July, so it feels great to have it done. While I love decorating rooms, I found the idea of a bathroom remodel intimidating! I kept putting it off, even though the bathroom is right off of our kitchen and used a lot. It has been begging for a makeover for years. Here is proof:
Powder Room Makeover: Before Photo
As I mentioned in my powder room planning post, we were so anxious to get rid of the pedestal sink. It offered zero storage and I didn't care for the exposed plumbing. Also, the oil rubbed bronze fixtures in the bathroom didn't jive with the vibe in the rest of our home.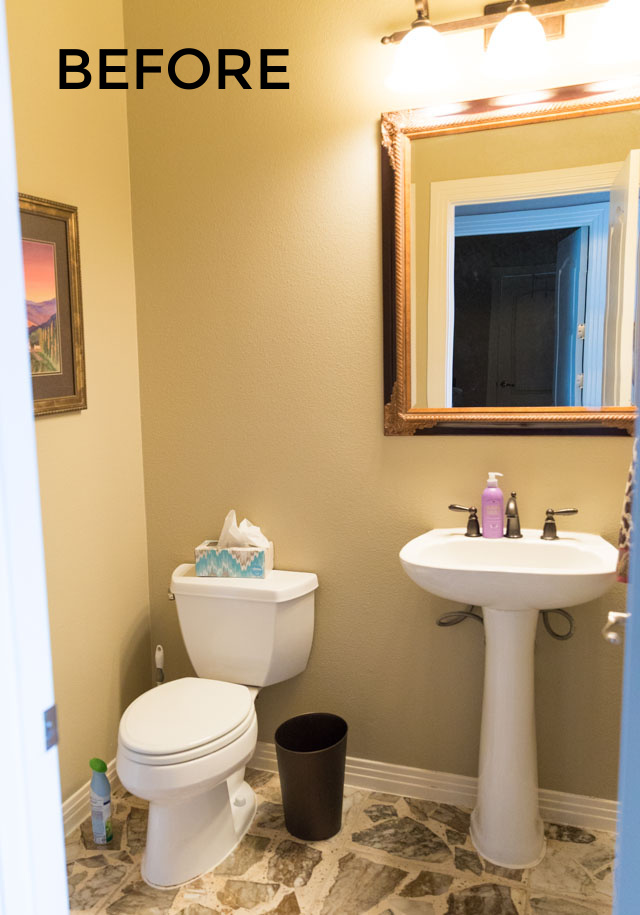 Powder Room Makeover: After Photo!
When Mansfield Plumbing reached out to see if I would be interested in trying one of their toilets available at Lowes.com, I knew it was a sign. I needed to finally overcome my fears and just do the remodel! What a difference a little wallpaper and a new toilet and vanity can make! This wasn't a major overhaul, but it shows that swapping out a few key pieces can really transform a room. All said and done it was a really doable project.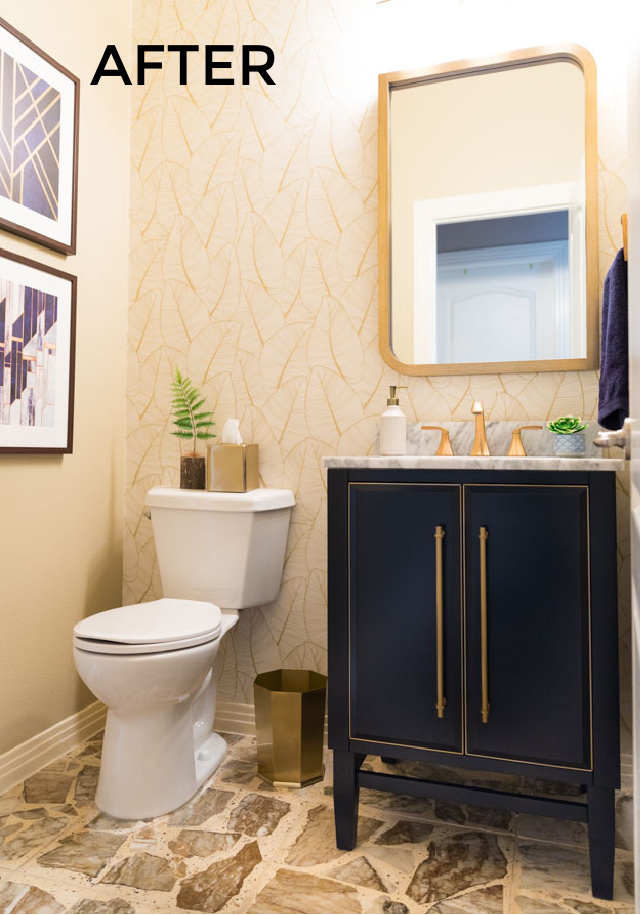 Denali Toilet from Mansfield Plumbing
Of course, a bathroom isn't a bathroom without a great toilet and we chose this Denali® White WaterSense Elongated Toilet. Mansfield Plumbing toilets are made in the USA and available through Lowes.com. The Denali® definitely has a sleeker shape than our previous toilet. Hazel, our 9 year old, noticed the soft close seat right away when she was used to slamming it shut! It also has a powerful MagnaFlush™ high performance flushing technology, which is a step up from our old toilet.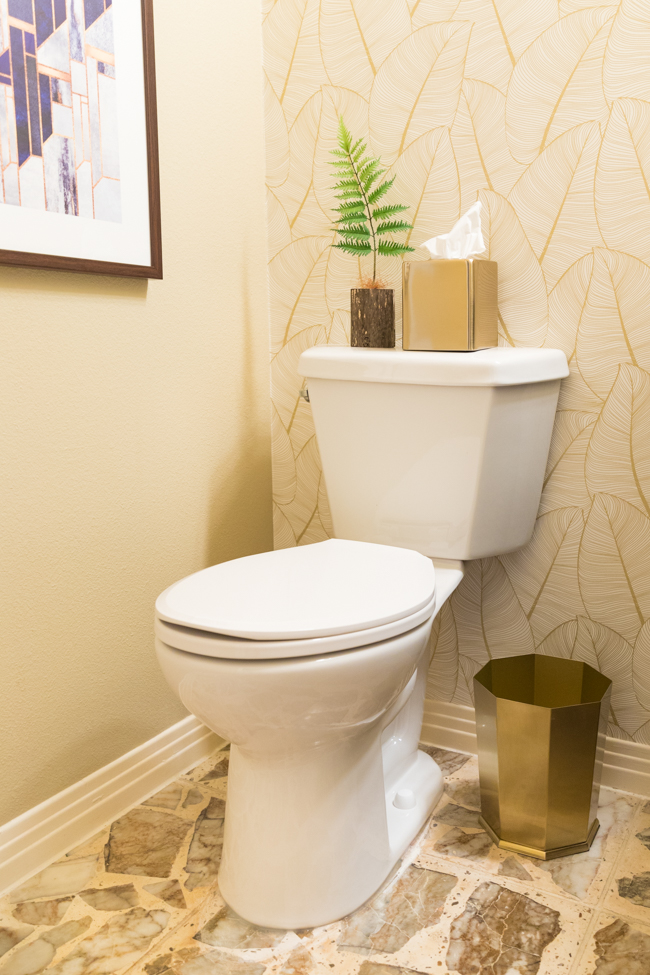 This post contains affiliate links. See our full disclosure.
Gold Leaves Wallpaper
The best way to overcome your fear for decorating a new room is to create a mood board! Here is the mood board I created for our bathroom makeover. I find that with any room I design, I first need an inspiration piece to get me started in the right direction. For our powder room it was this gold leaves wallpaper. To save money and time we chose to just wallpaper the main wall and left the rest of the walls their original beige color.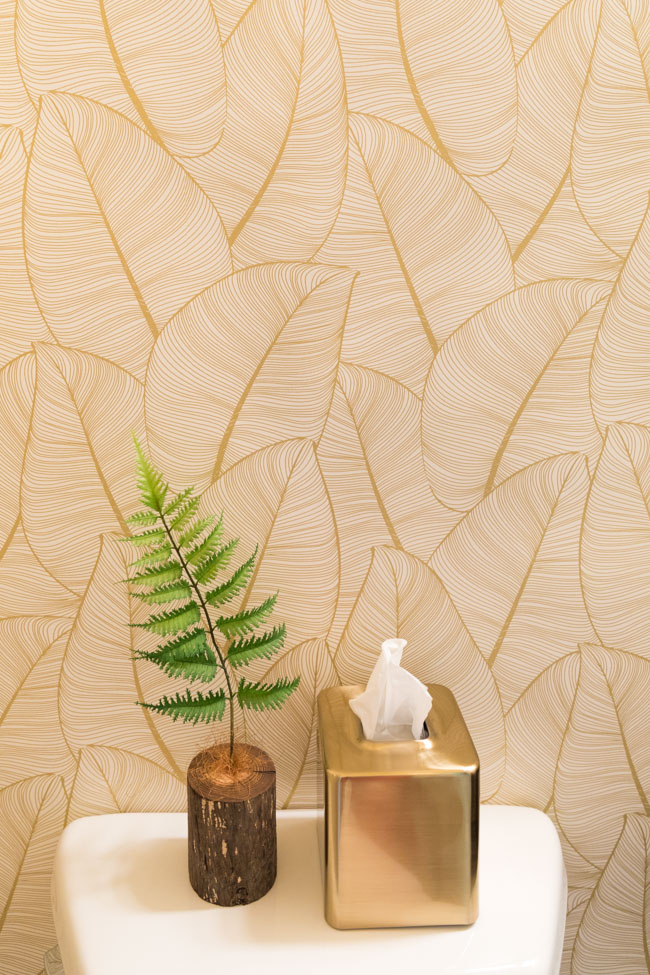 Navy Blue Vanity
This navy blue vanity was the second piece we found and I loved that it offered a pop of color to the room. The deep navy blue color paired with gold accents was the perfect elegant touch to transform the bathroom and unlike any other vanities we've seen.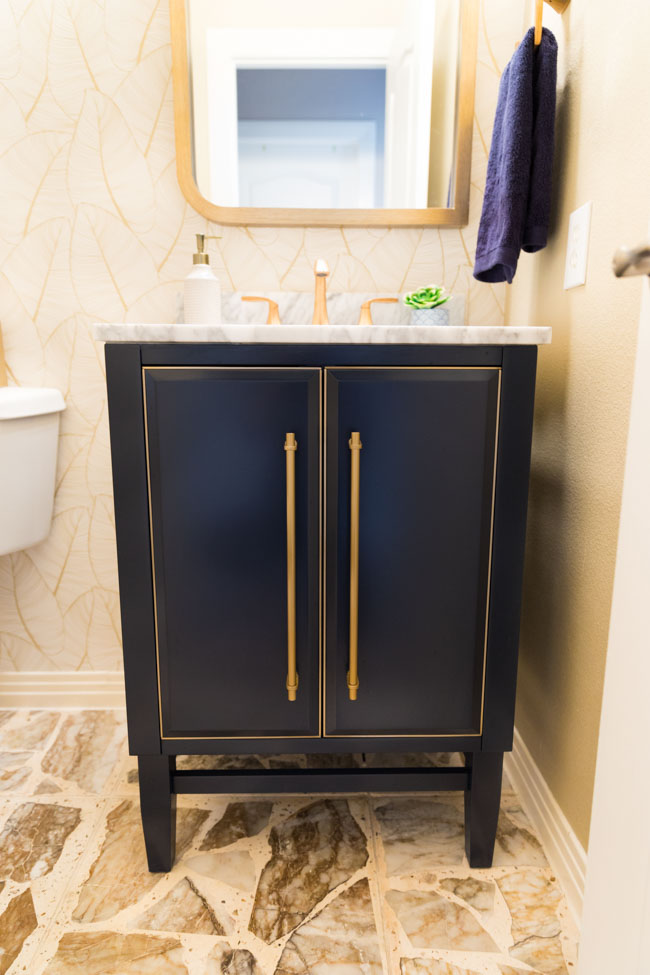 Navy and Gold Powder Room Accents
The other gold fixtures and wall art came together pretty easily once we had our inspiration pieces to work from. I found this art deco style wall art at Society 6. The top print is called Art Deco Midnight and the bottom print is called Blue Winter Sky.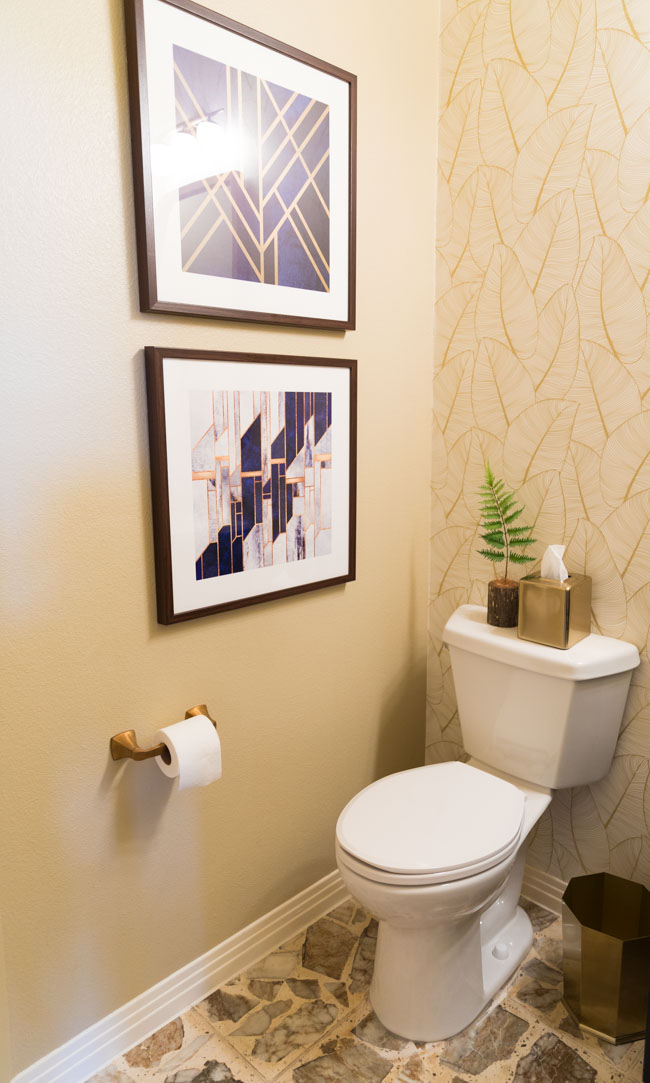 Isn't the asymmetrical look of this gold mirror from Shades of Light neat?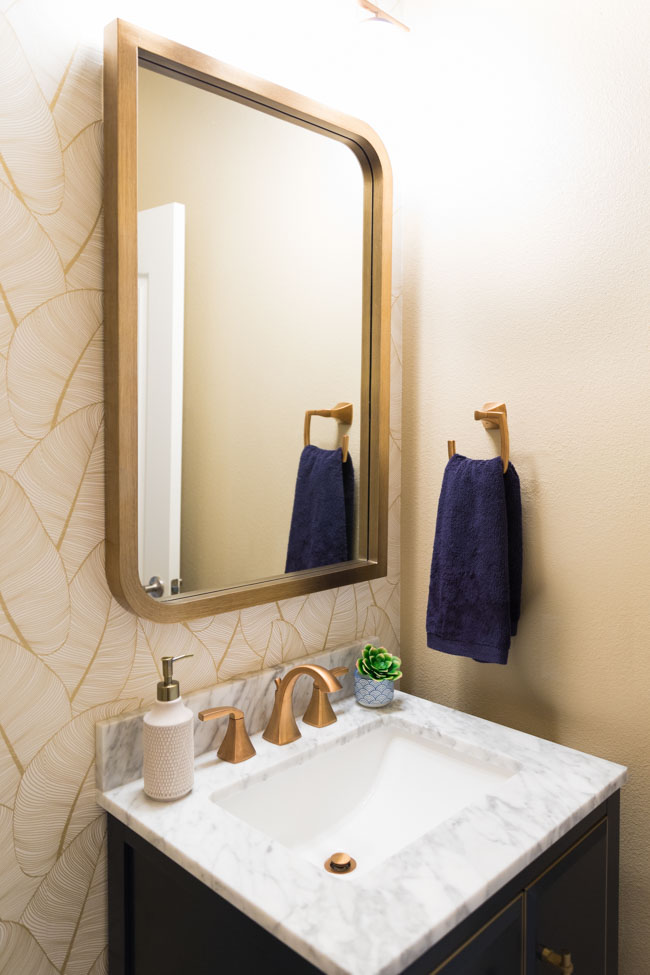 This is the first bathroom we have in our home with gold bathroom fixtures (this style is specifically called "brushed gold" or "brushed brass"). I love it! The fixtures we used are from Moen. It feels good to have a much needed house project done. It has inspired us to take on Stella and Hazel's shared bathroom next. More gold to come. Stay tuned!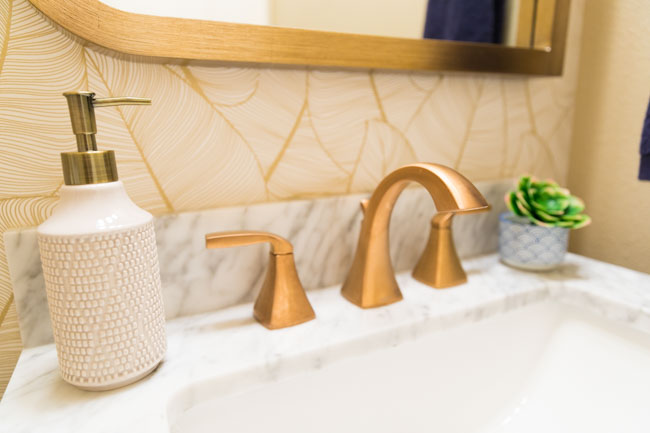 Like this powder room remodel?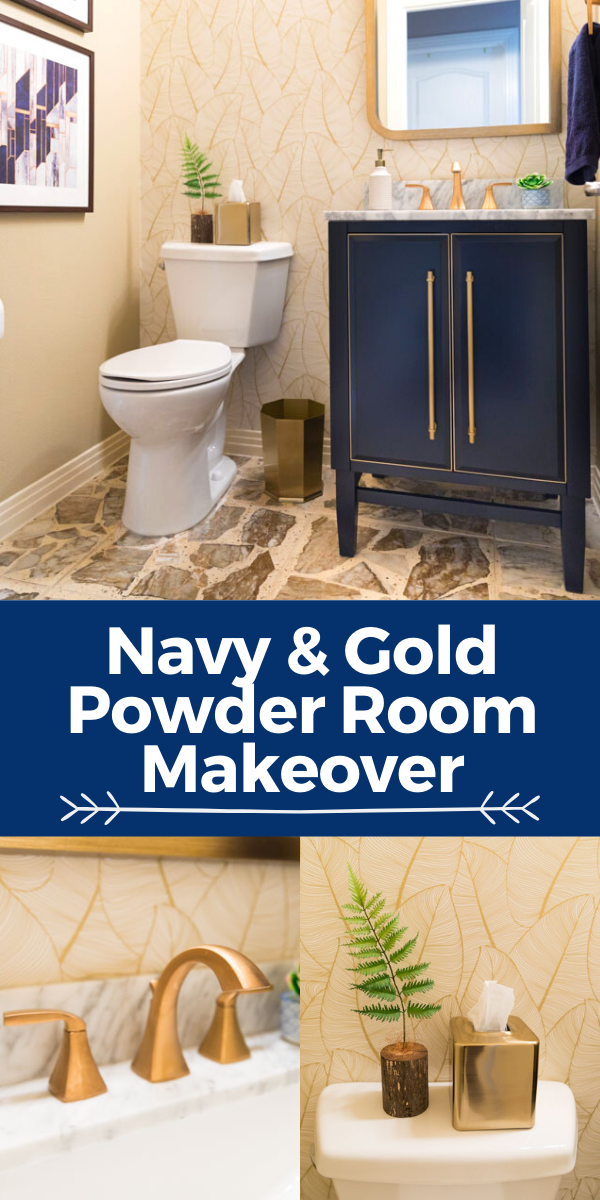 Looking to remodel your bathroom?
Head to Lowes.com to check out the Mansfield toilets!
This post is sponsored by Mansfield Plumbing. All content and opinions are my own.