Foyer Makeover with a Great Piece of Art!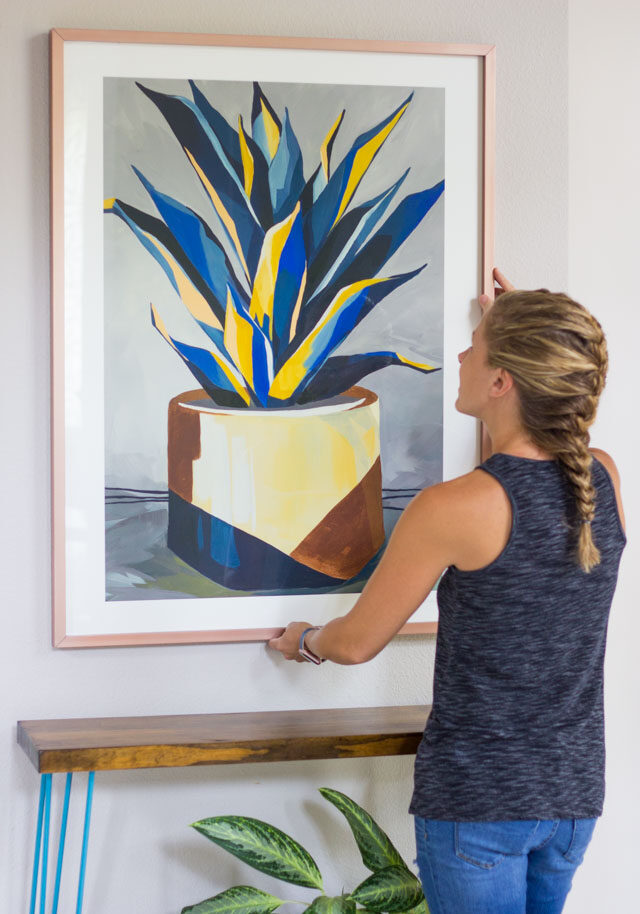 How to Choose Art for Your Home
Do you have those problem areas in your home that you can never get quite right? Do you struggle with how to choose art for your home? At my home, that tricky spot is our foyer. Of course it just has to be the first thing guests see when they come into our home!
I recently partnered with Minted, my go-to company for amazing fine art prints and paper goods from independent artists, to tackle this problem area once and for all. The right piece of art can really transform a space – read on my tips on how to make it work!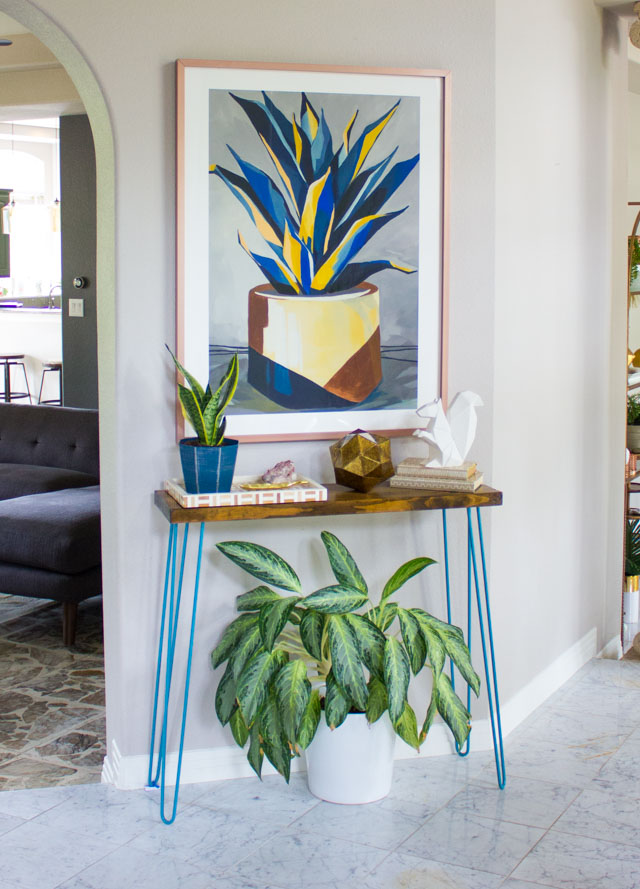 You've probably seen plenty of photos of this small wall before because it is a prime holiday decorating area in my home. There has been a spooky Halloween entry, a honeycomb ball Christmas tree, and some tropical summer vibes happening on this wall. I love to use the space to decorate for the holidays, but it is the other days of the year that it felt like it needed a little more pizazz, and that is exactly what this new piece of art provides: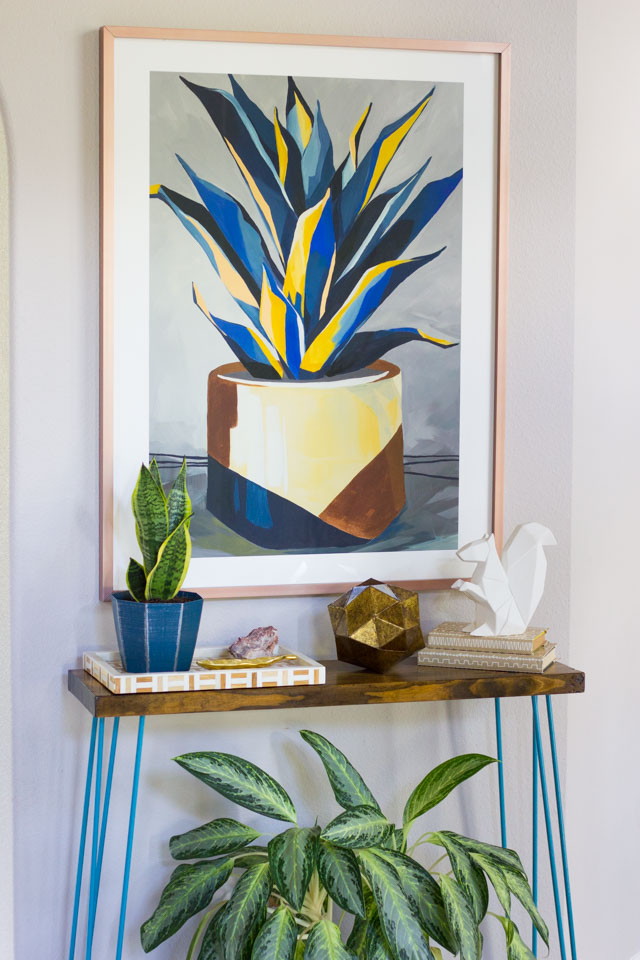 Not only does the art have a great name (it is titled "Get to the Point"), I was drawn to the bold lines and unique color palette. Plus, I am a plant lover so this print immediately made it to the top of my favorites list when I was searching through the 200+ new art prints that Minted has added to their collection. I also learned that this art was created by Marla Beyer, a Midwestern muralist, garden designer, pet portrait painter, and mom of four. I means a lot to me to support other independent creatives in doing what they love!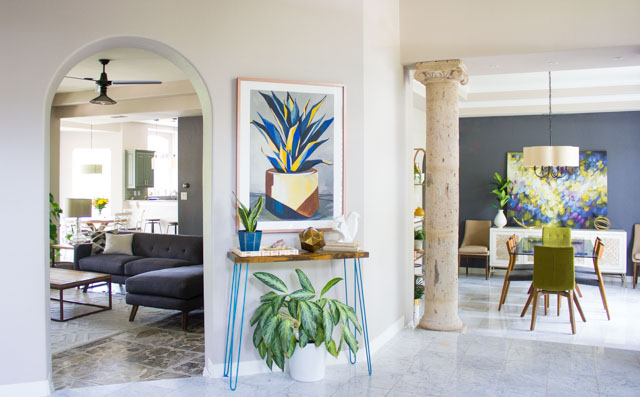 How to Choose Art for Your Home
Here are some questions I asked myself when trying to find just the right piece for the foyer. I thought you might find them helpful too in case a new piece of art might transform your 'problem area' too!
How does the space flow?
For me the key to decorating a space like our foyer is flow. When you step into the foyer, not only do you see the wall, you see the living room to the left and the dining room to the right, each with their own color palette and pieces of art. I wanted something that would complement vs. compete with the other rooms while still making a statement.
What size works best for the wall?
The first thing I wanted was something BIG. While the wall is narrow, it is tall and I wanted to maximize that real estate. The cool thing about Minted art prints is that you can get them in sizes up to 44″x60″. Now that makes a statement! I chose a 30″x40″ size for this print. Over the years I have found myself choosing bigger and bigger pieces of art for our walls. I have found I prefer a single big statement piece over a grouping of small pieces, and one thing you definitely want to avoid is having a small picture floating in the middle of an otherwise blank wall. Not a good decorating idea!
What colors work best in the space?
Choosing the right color was also a key part of the process. Both our living and dining rooms have a palette of blue and gray. I wanted the art to jive well with those, since you can see them at the same time. The blues and yellows in this print blended perfectly with the art in the other rooms without being too matchy-matchy. If you see a Minted print you like, but aren't sure about the color, many of the prints on the site come in multiple color-ways for you to choose from. I like to print out a copy of the print or hold my phone up to the space to see how it flows with the rest of the art in view.
Frame choice also is important when it comes to picking a style that works with the rest of your home. Minted has 15 different frame styles to choose from. They range from reclaimed barn wood to champagne silver. The matte copper frame we chose worked perfectly with the warm gold and copper metals we have throughout the house.
What speaks to you?
More than anything, you want to love whatever you put up on your wall. You're going to see it every day! It should make you feel something. This print reminds me of my love for growing things. Its succulent vibes also feel right at home in the hot climate of San Antonio.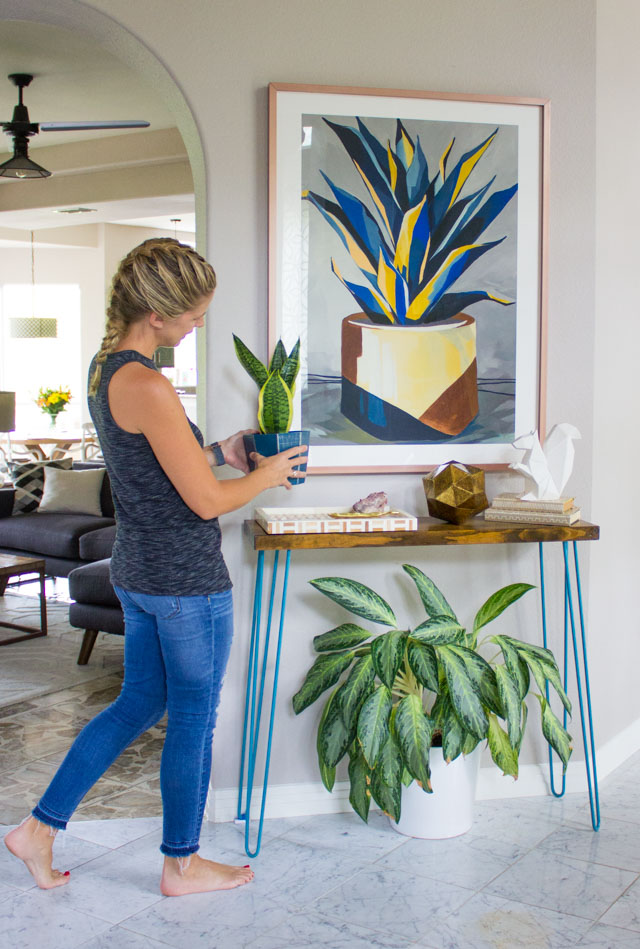 This plant-loving girl is so happy with her new art that I bought a new plant. I chose a sansevieria that reminded me of the plant in the art print. Now let's just hope I can keep it alive!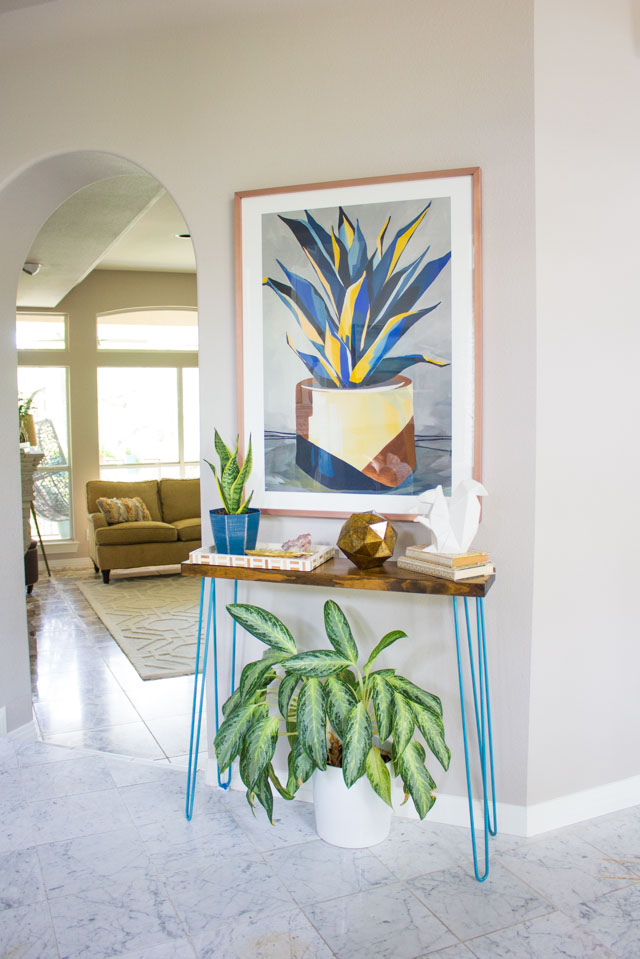 Support independent artists around the world and check out over 200 new fine art prints at Minted, ranging in size from 5″x7″ to 44″x60″.
This post is sponsored by Minted. All content and opinions are my own.