How to Organize Toys – 8 Clever Ideas!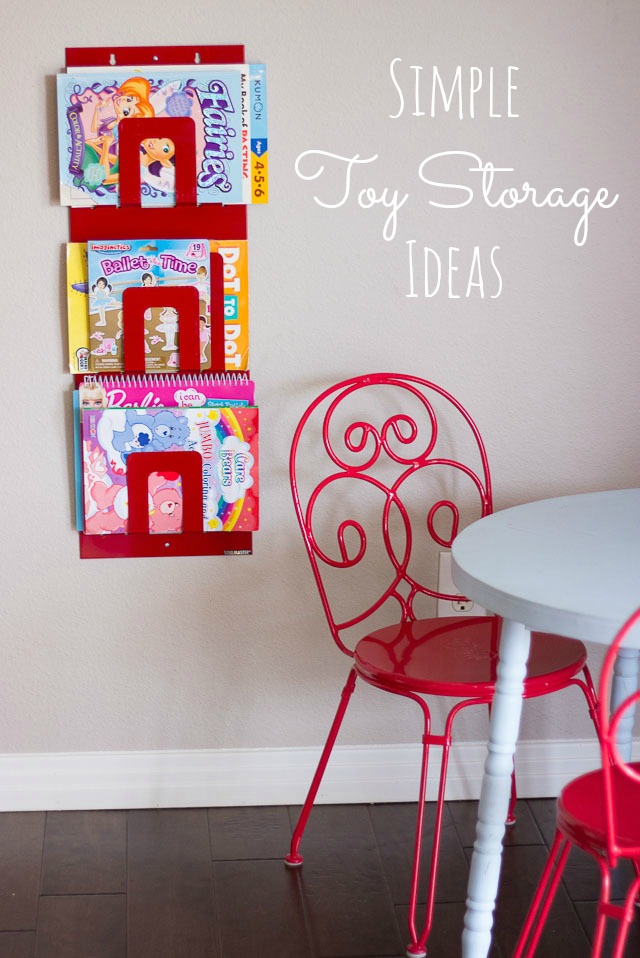 How to Organize Toys
I've been on a mission to create better storage lately! Today I want to share a few solutions I've come up with for how to organize toys. It is my attempt to try to manage the chaos. As you can imagine, the toy room is never as clean as these pictures!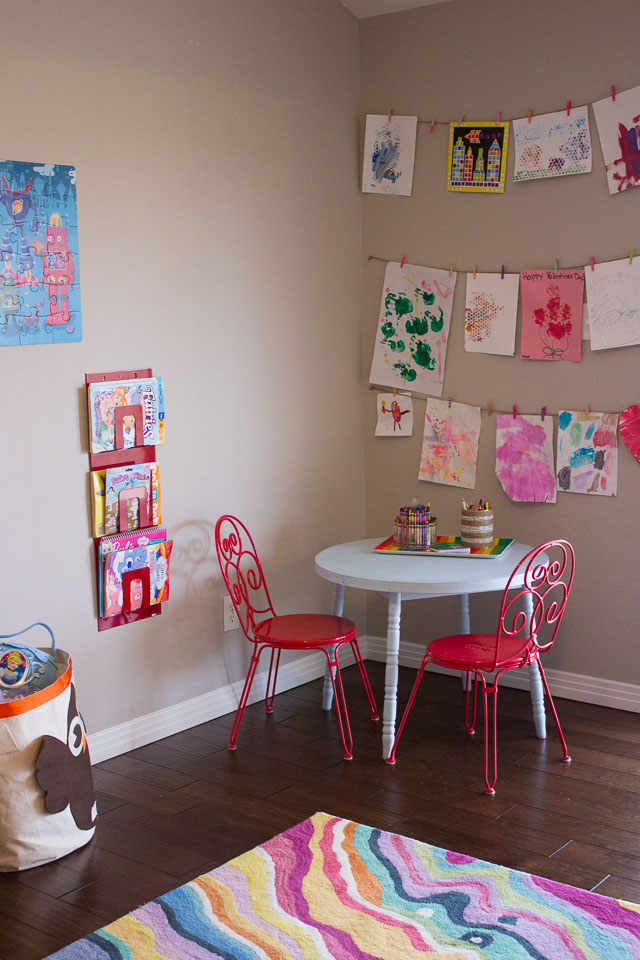 This post contains affiliate links. See our full disclosure.
How to Organize Toys – Simple Storage Solutions
1. Coloring Book Storage
This red magazine rack that I found on Amazon is the most recent addition to the room. I think wall-mounted magazine racks are great for storing coloring and activity books. I find that my girls tend to reach for them more often if they are out and visible vs. stacked up in a heap. This particular rack comes in several fun colors!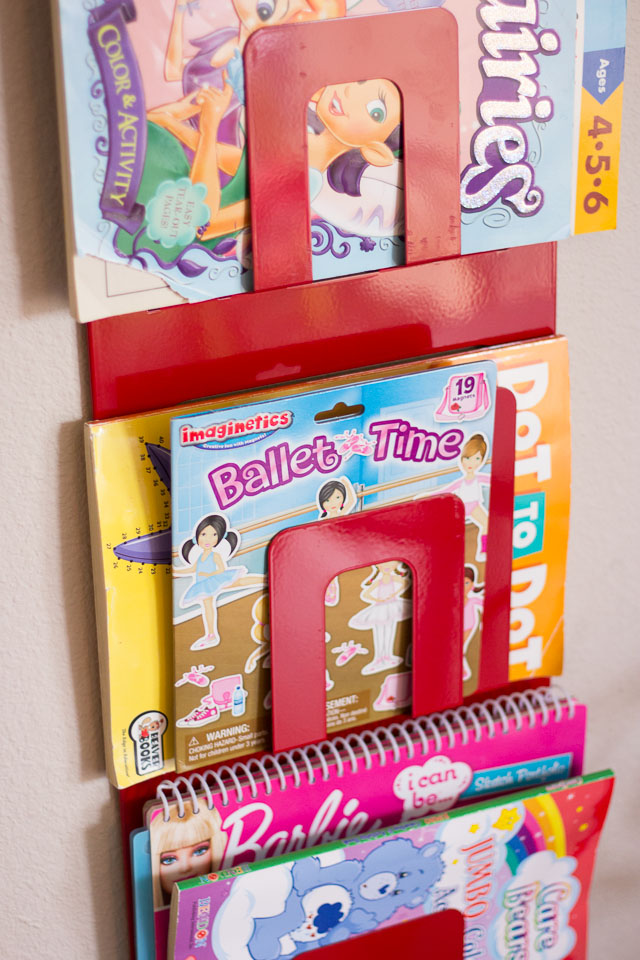 2. Crayon Storage
I think it is totally worth paying a little extra for this Crayola crayon tower the next time you need to refresh your kids' crayon supply. It keeps them nicely organized and holds up much better than the cardboard box over time. Plus, I love the built-in crayon sharpener to help extend the life of your crayons!

3. Puzzle Storage
If you have a lot of wooden puzzles, a rack is a great alternative to stacking them on top of each other. I love this inexpensive Melissa & Doug puzzle rack because it fits both small and large puzzles. I keep our rack on the floor, but it would also look nice on a shelf.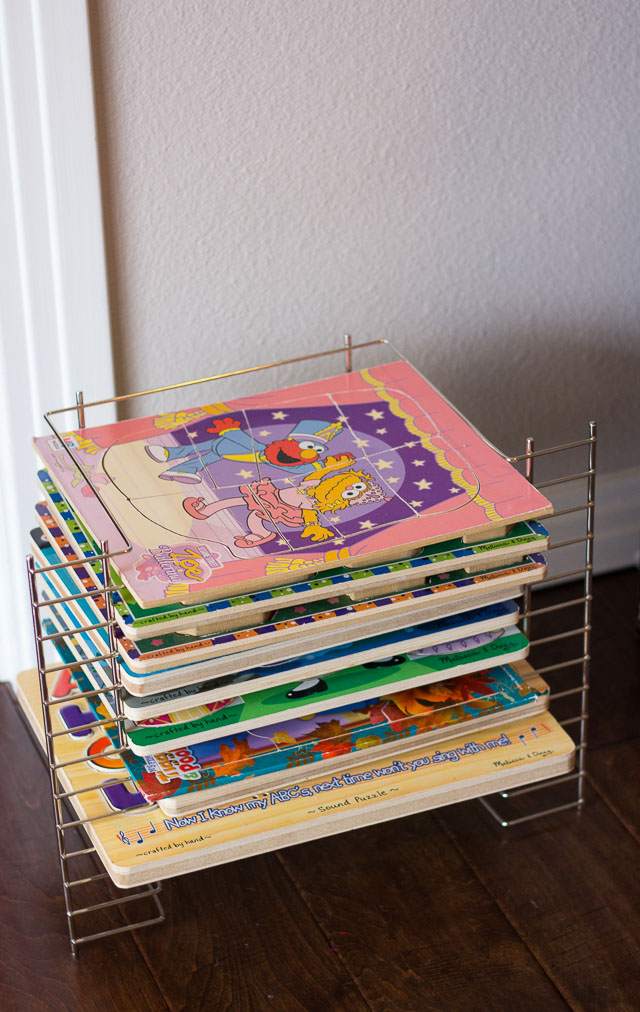 4. Small Toy Storage
This toy organizer made up of bins is perfect for small toys like blocks and all those random Happy Meal toys you collect but can never bear to throw away! I love this particular toy organizer because the espresso and white color combination has a more modern feel than the primary colored bins you typically find with these. I also love that the girls can just pull out a bin that they want to play with and bring it over to the rug.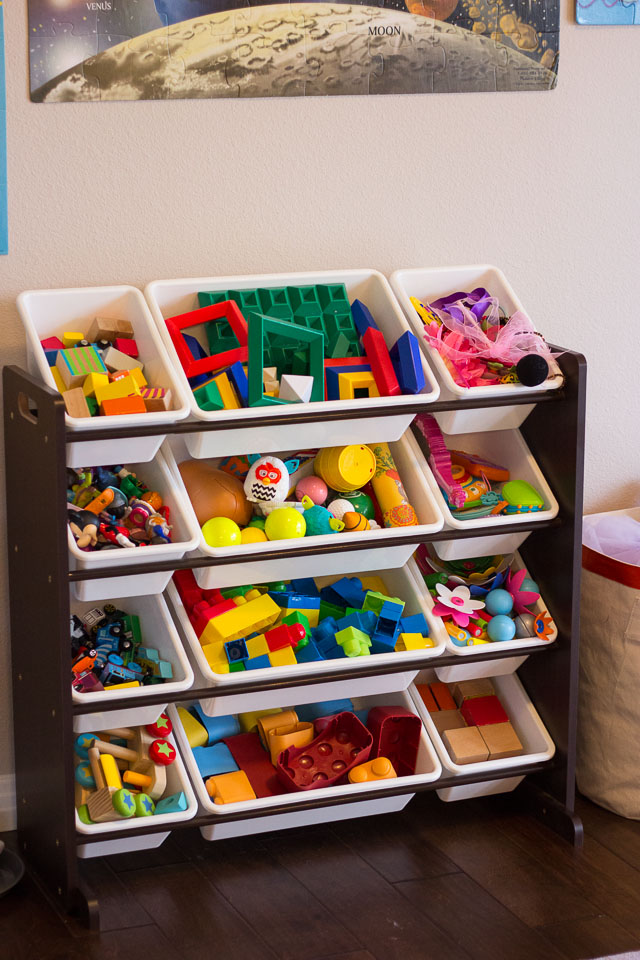 5. Dress Up Clothes Storage
My girls love playing dress-up and have amassed quite a collection of clothes. I recently added these colorful wall hooks to the playroom closet. Here are some similar colorful wall hooks. We hung them just at their height so they can easily grab something and go!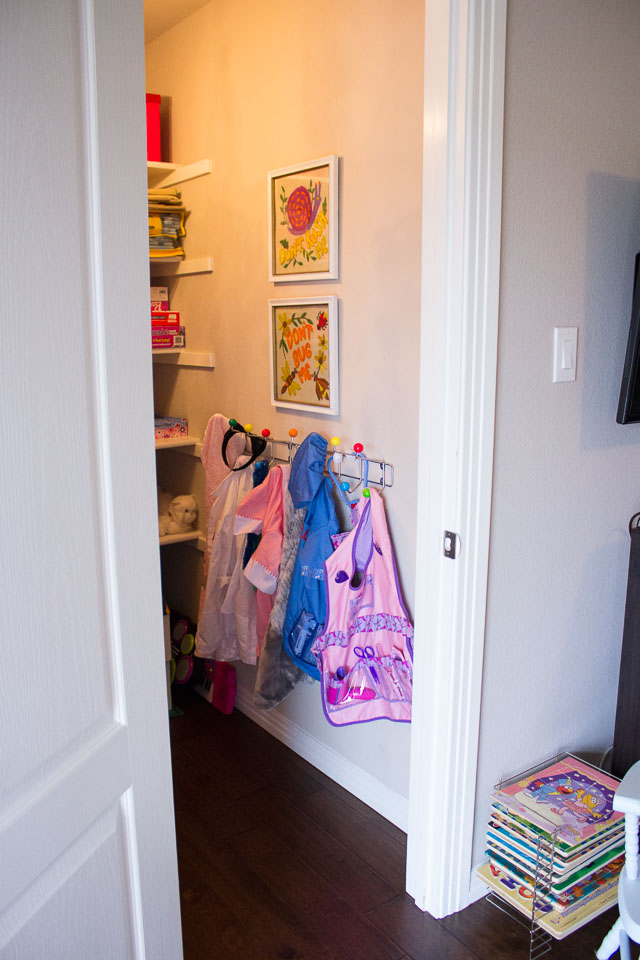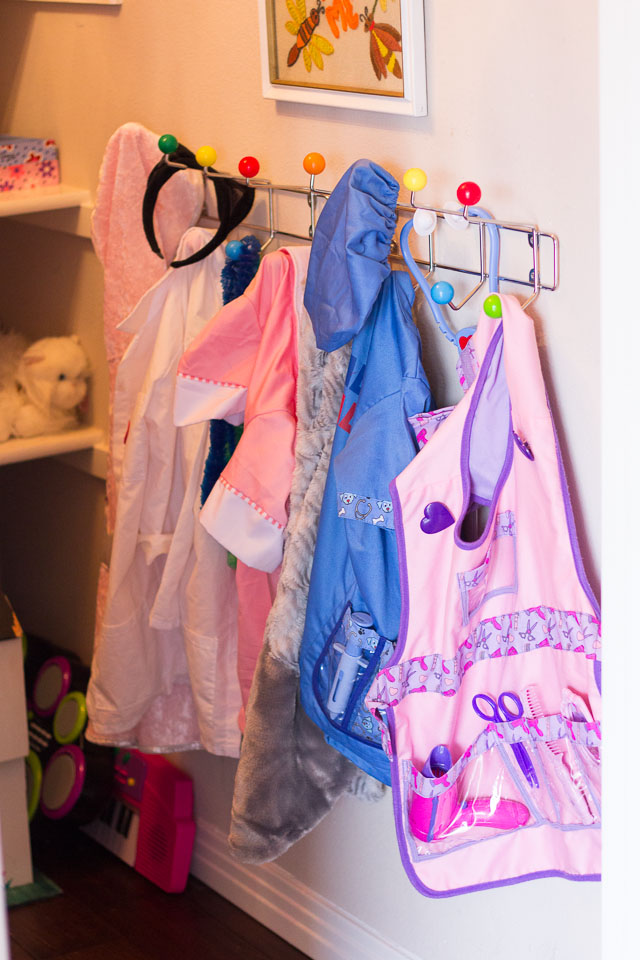 6. Dress Up Accessories Storage
My girls' play necklaces and bracelets used to be all in a tangled mess, but then I saw this plastic jewelry organizer for only a few dollars at the craft store. I think it is meant to hold beads and small craft supplies, but it is perfect for holding their accessories.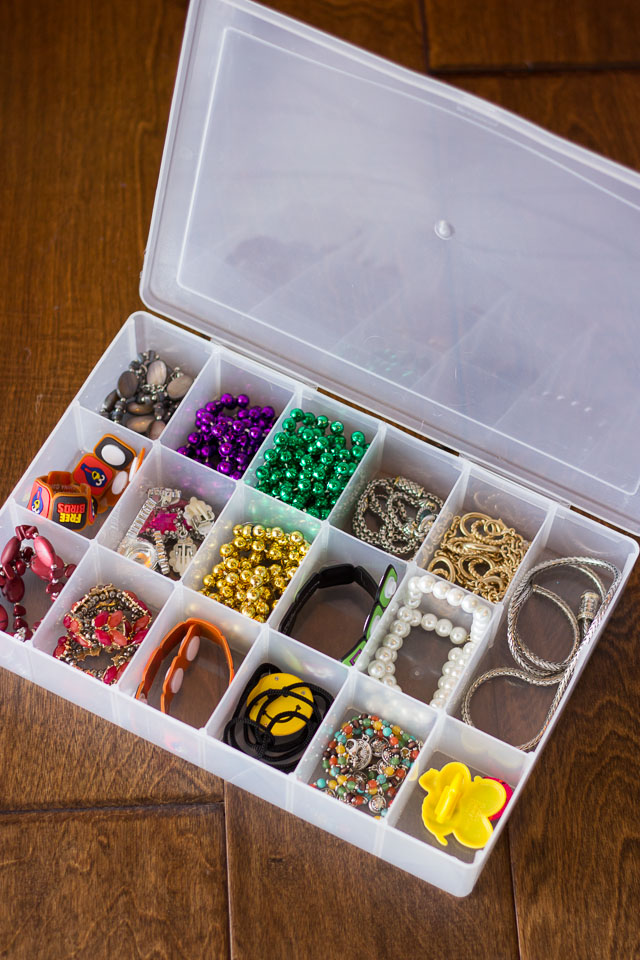 7. Display kids art
Get your kids art off the floor and onto the wall with this simple idea for how to display kids art! Just hang a few strands of twine on a blank wall and clip art to them with clothespins. It makes switching out the art easy!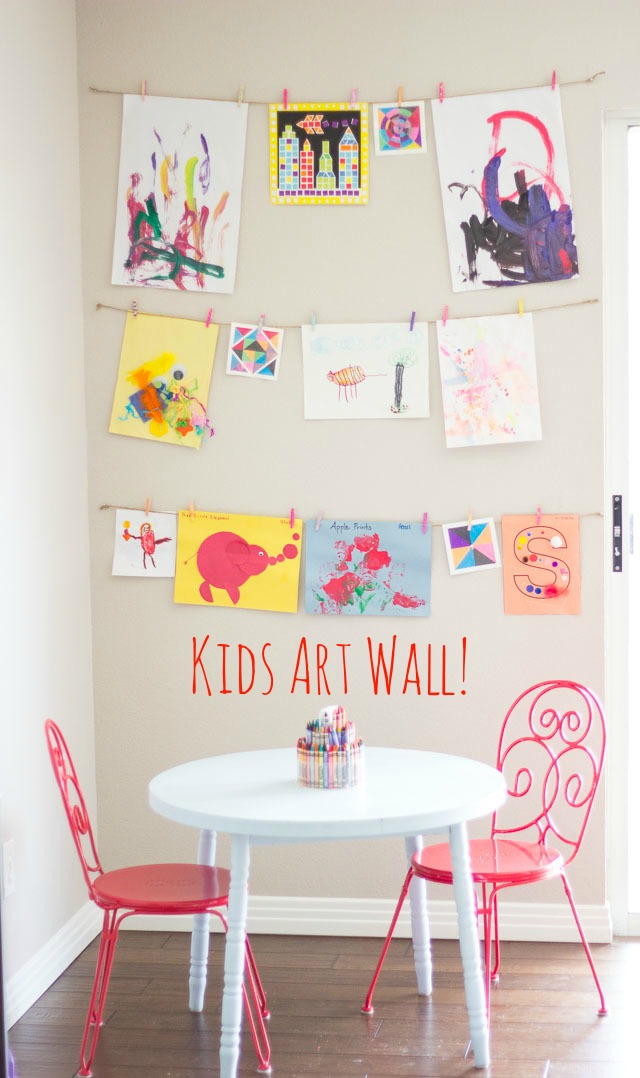 8. Make a puzzle wall
You may remember the puzzle art wall from our Chicago condo. It's a fun way to give new life to some of your kids' favorite puzzles that they've outgrown.
Just know that once you glue the pieces together for wall art, you can't do the puzzle again! 🙂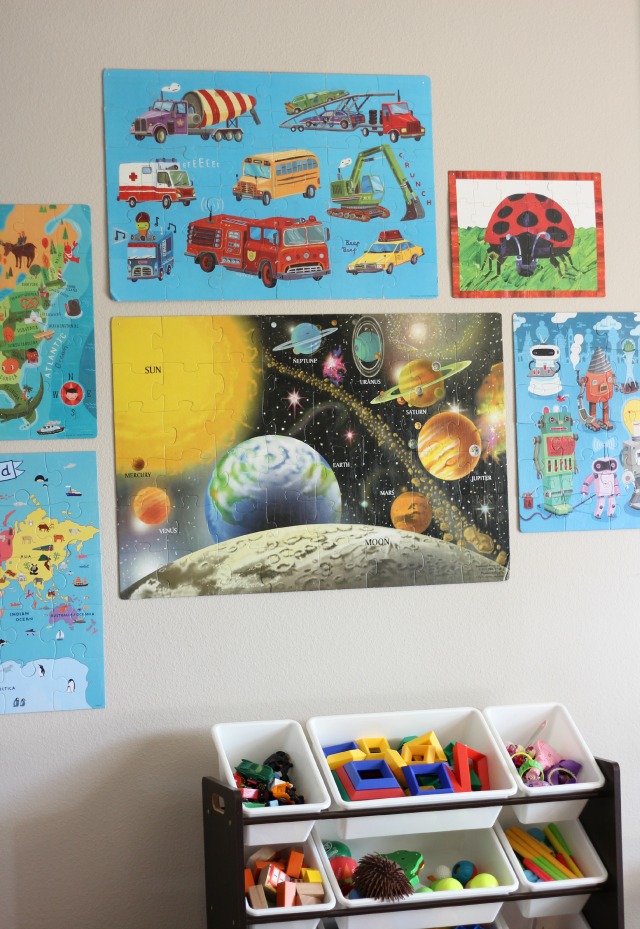 It is so great to have this space for the girls to play in…and so nice to be able to shut the door at the end of the day (I just avoid looking through the windows – ha!)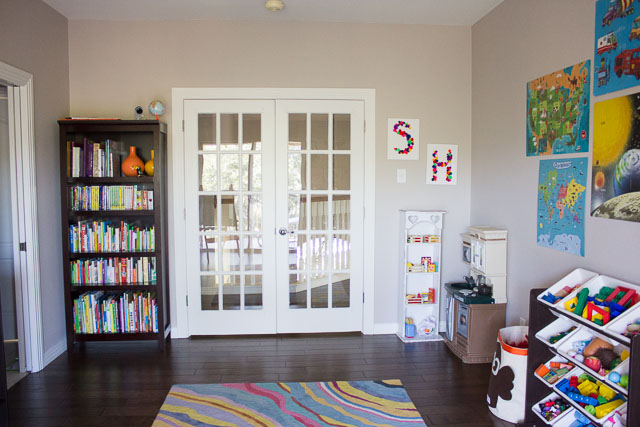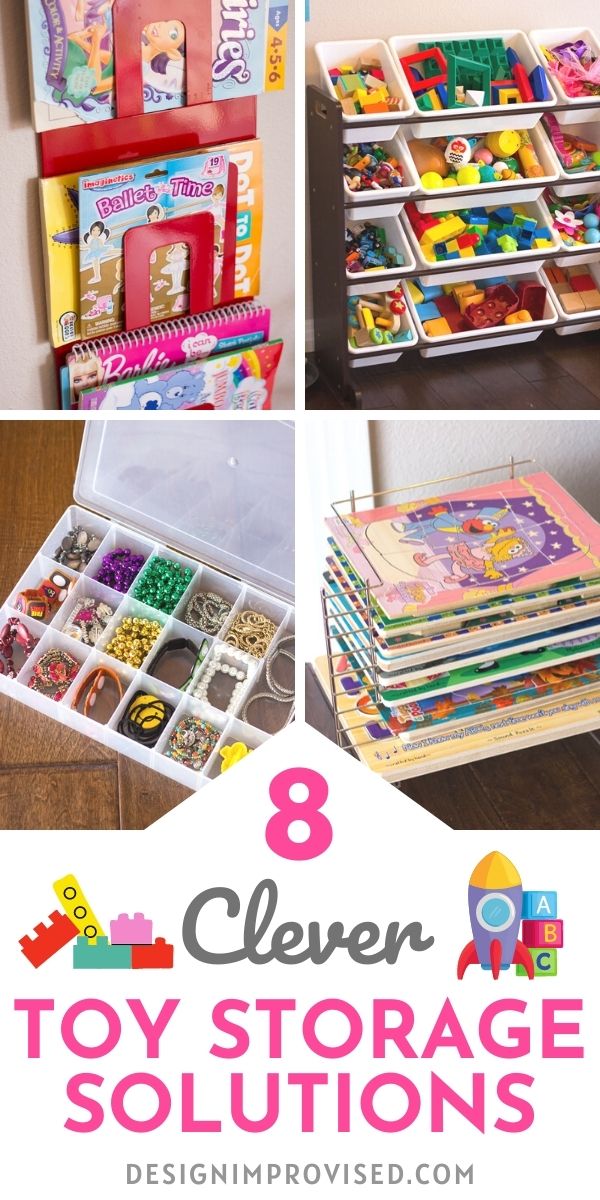 Want more ideas for how to organize toys?