16 DIY Butterfly Decor Ideas for Adults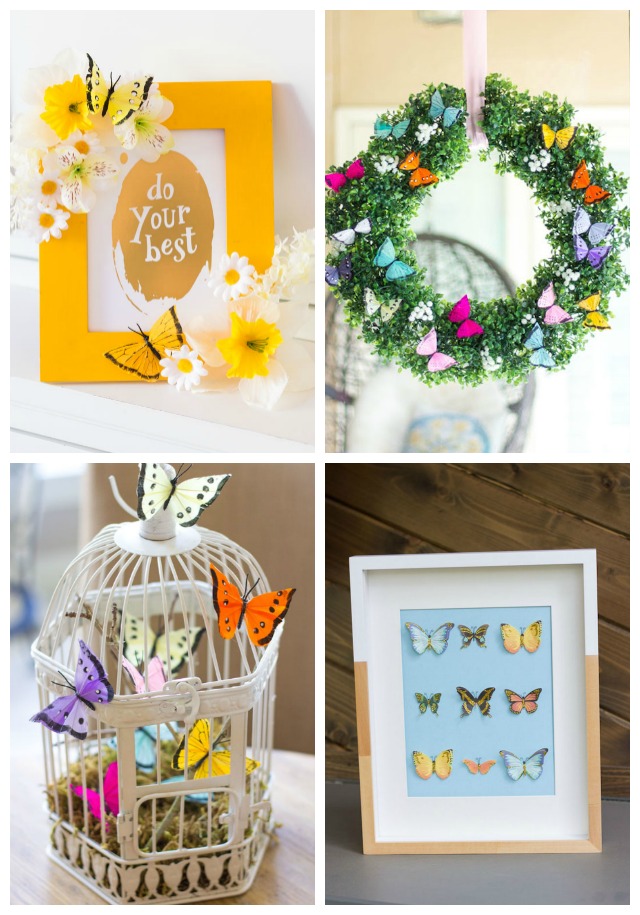 Easy DIY Butterfly Decor Ideas for Your Home
If you search for butterfly crafts on Pinterest, you're going to mostly find kids crafts. But don't be dismayed! I'm on a mission to show that adults can craft with butterflies too! These 16 DIY butterfly decor crafts are proof that it is possible to incorporate butterflies into your decor in a sophisticated and chic way. I have always loved butterflies. In fact, I have a guest bedroom filled with butterfly decor, I spend my Mondays volunteering at a local butterfly pollinator garden, and I realized I've done close to 10 butterfly crafts on this blog!
This post contains affiliate links. See our full disclosure.
My Favorite Butterfly Craft Supplies
The ideas below incorporate faux (not real) butterflies including:
16 DIY Butterfly Decor Ideas for Adults
Here are my favorite ways to decorate your home and special occasions with butterflies. I hope you try one out!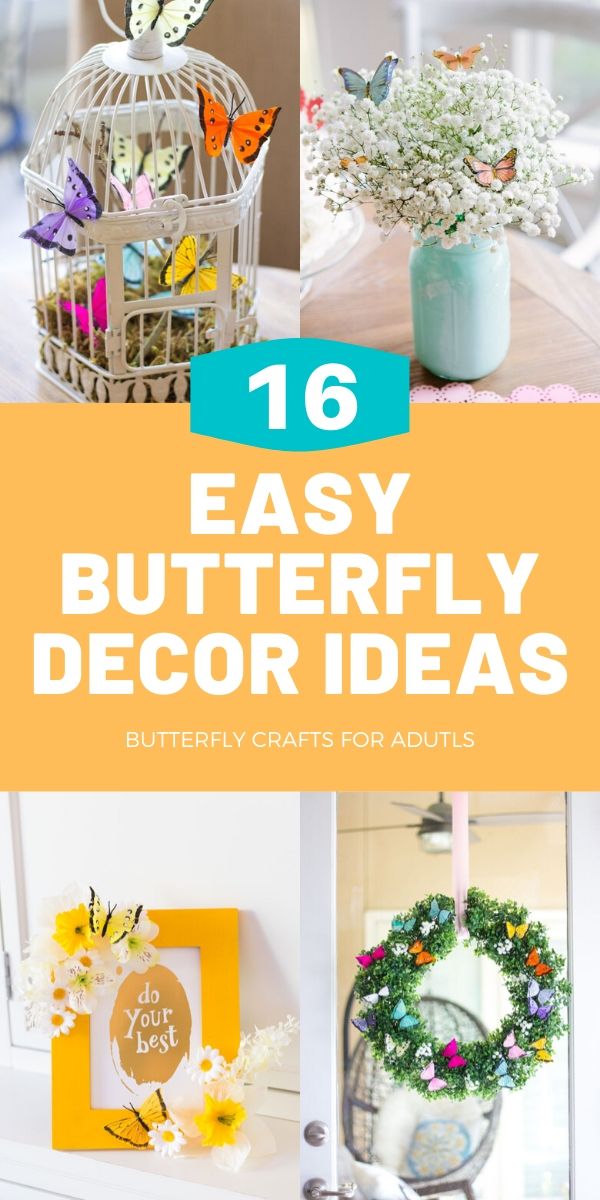 Make a Butterfly Wreath
There is no one way to make a butterfly wreath! Here are a few of my favorite ideas:
This is one of my favorite wreaths I have made, and one of the most popular ones with you all too. I wrapped a wire frame with a boxwood garland and dotted it with these feather butterflies from Oriental Trading. So easy! Tutorial here.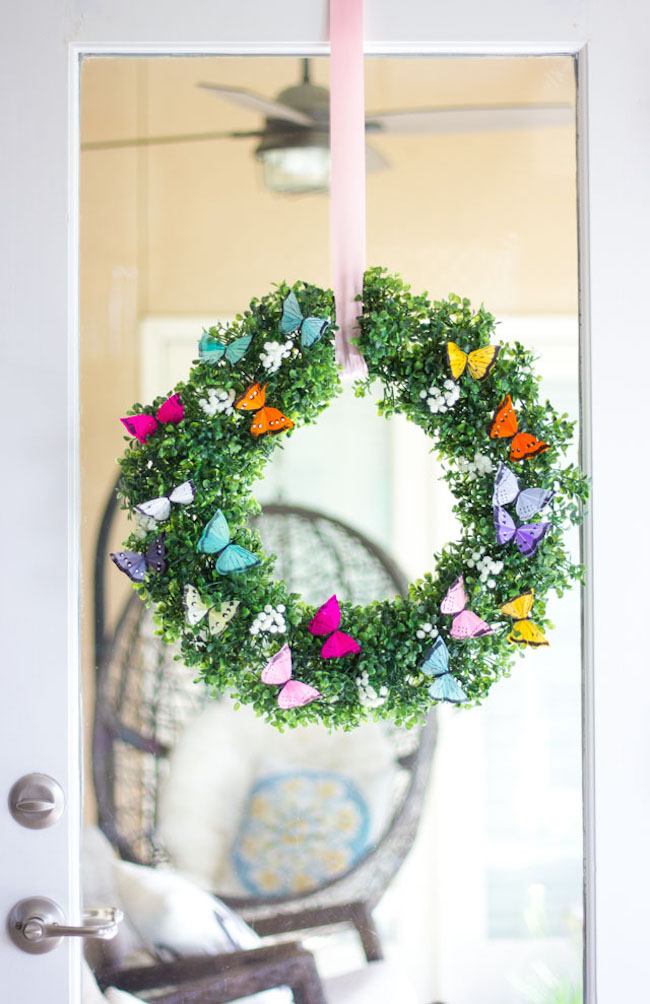 My friend Carrie of Dream Green DIY also used the feather butterflies in a completely different way starting with a foam wreath wrapped in burlap. I love how she grouped the butterflies all on one side of the wreath. Tutorial here.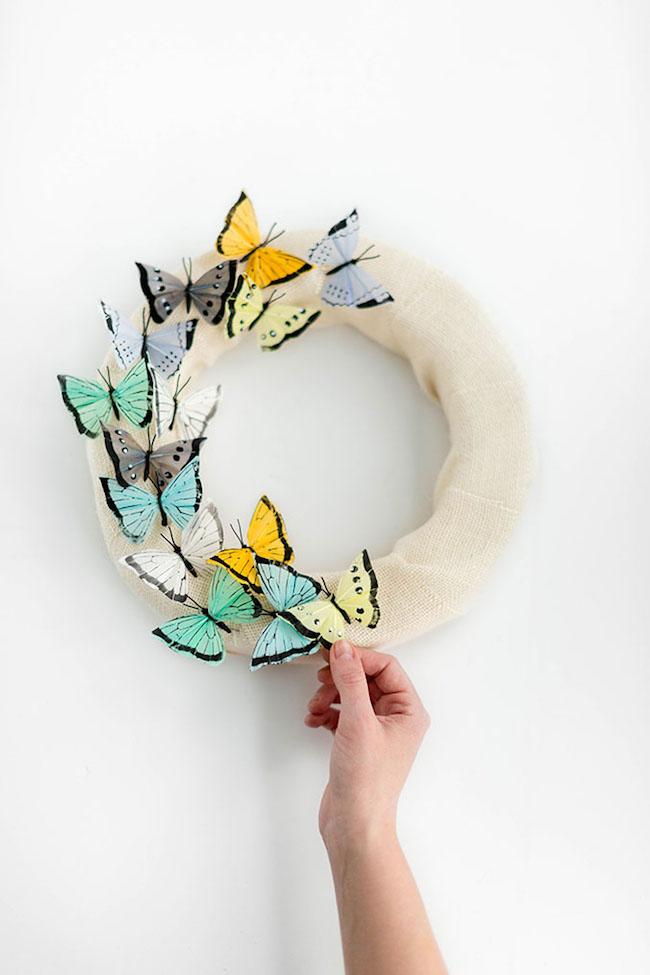 I love the rustic, natural look of this simple wreath using branches bent into a wreath shape. You could also start with a basic grapevine wreath and get a similar look. Tutorial here.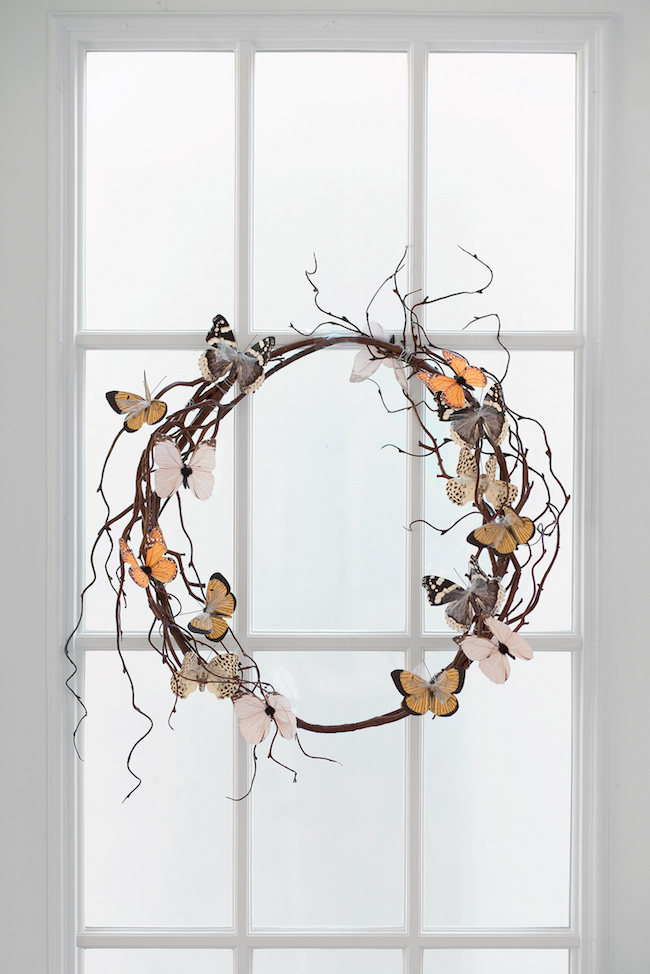 Display Butterflies on Branches
Bring a little nature indoors by displaying faux butterflies in a natural scene. You can use branches, terrariums, or even fill a decorative birdcage with them.
Gather some branches from your yard, give them a coat of white spray paint, and add butterflies for this simple idea that would make a beautiful statement on a table or mantel. Tutorial here.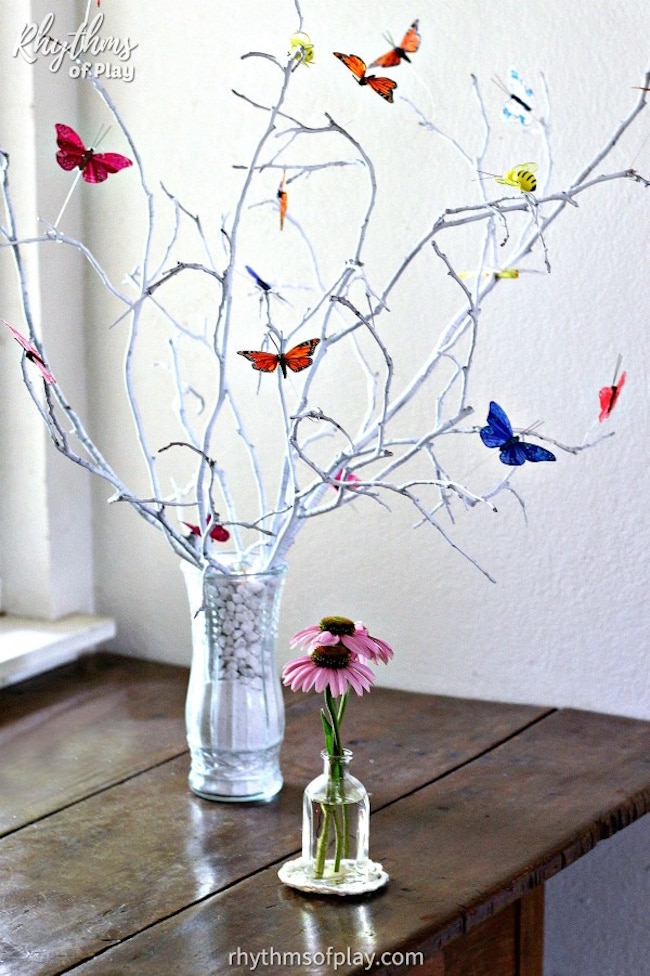 A decorative birdcage filled with moss, branches, and lots of feather butterflies makes a pretty piece of decor for spring. Check out how I incorporated it into my spring mantel. Tutorial here.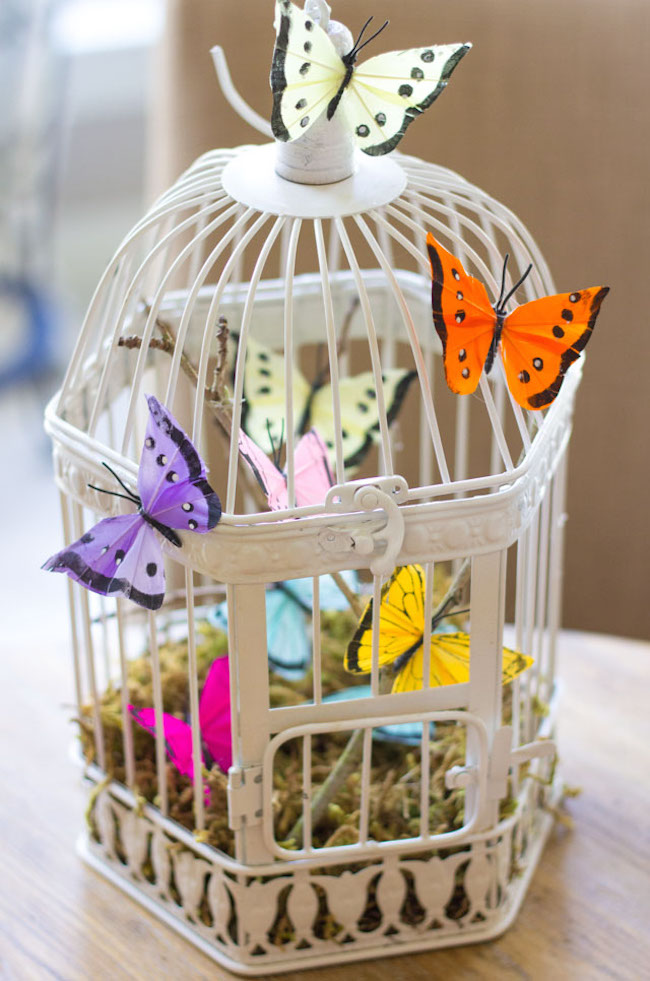 Similarly you can fill a glass cloche to create a butterfly terrarium. I love how realistic it looks! Tutorial here.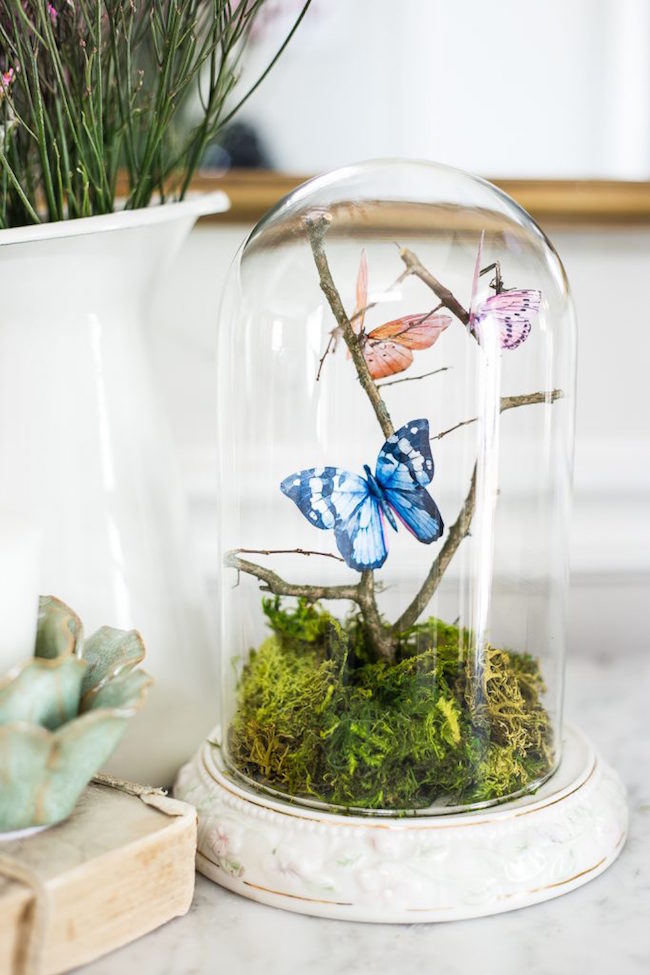 Create DIY Framed Butterfly Decor
One of these easiest pieces of decor you can make! Create the look of vintage butterfly specimens by framing 3d butterfly stickers arranged in rows. Tutorial here.
I love the juxtaposition of nature in this craft. Use leaves to create beautiful butterflies! Tutorial here.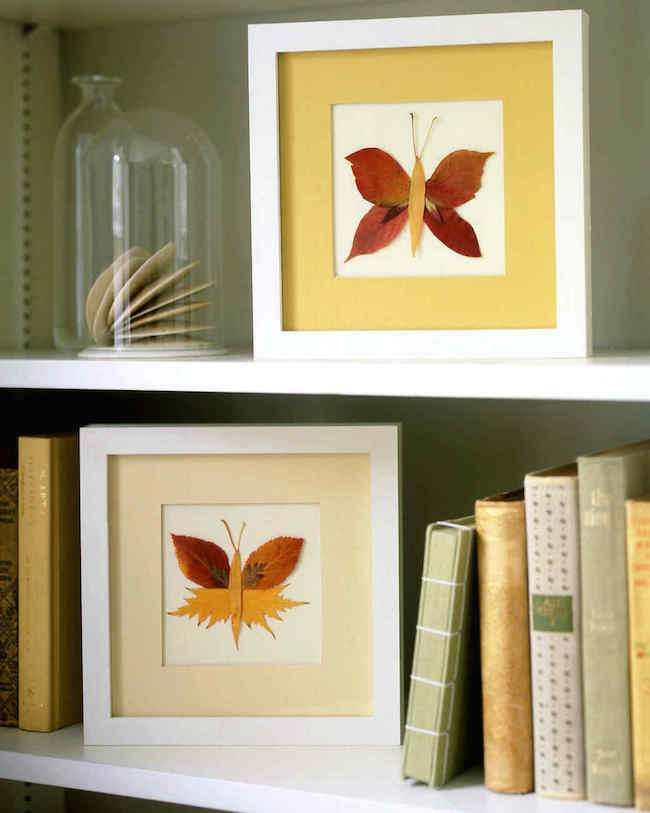 Rather than framing your butterflies, add them to the frame along with a few flowers. This is a fun way to give an old frame a spring makeover. Tutorial here.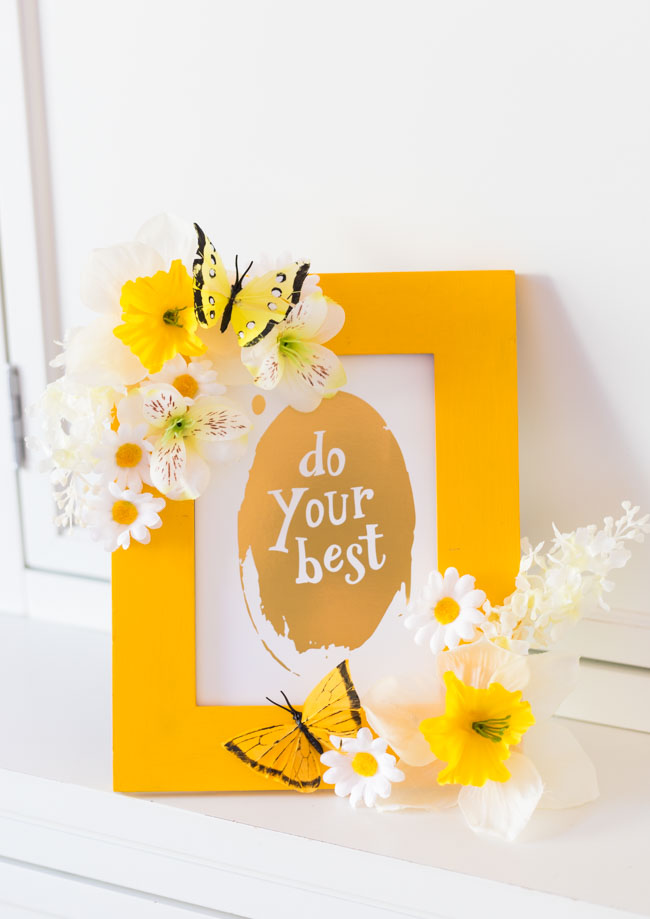 Make Butterfly Bouquets
Butterflies and flowers go hand in hand, so why not add them to a bouquet?
It doesn't get any easier than this, folks! Buy a bunch of inexpensive baby's breath at the grocery store and top with butterflies for an instant bouquet. Check out how I incorporated this into a Mother's Day brunch table.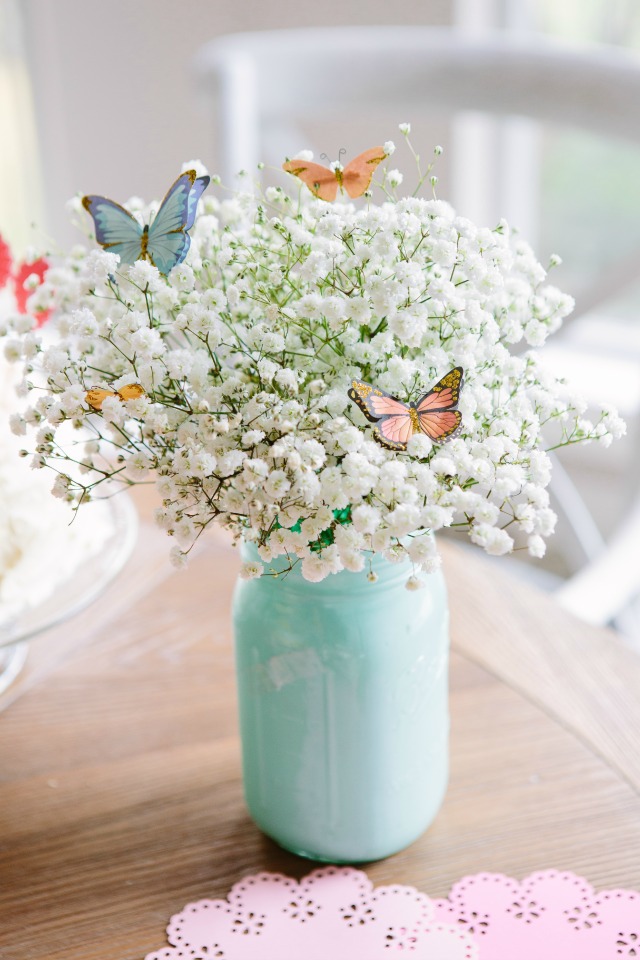 If you want to stretch your crafting muscles a little more you can make your own butterfly filled bouquet using a cutting machine with this idea from Martha Stewart. Tutorial here.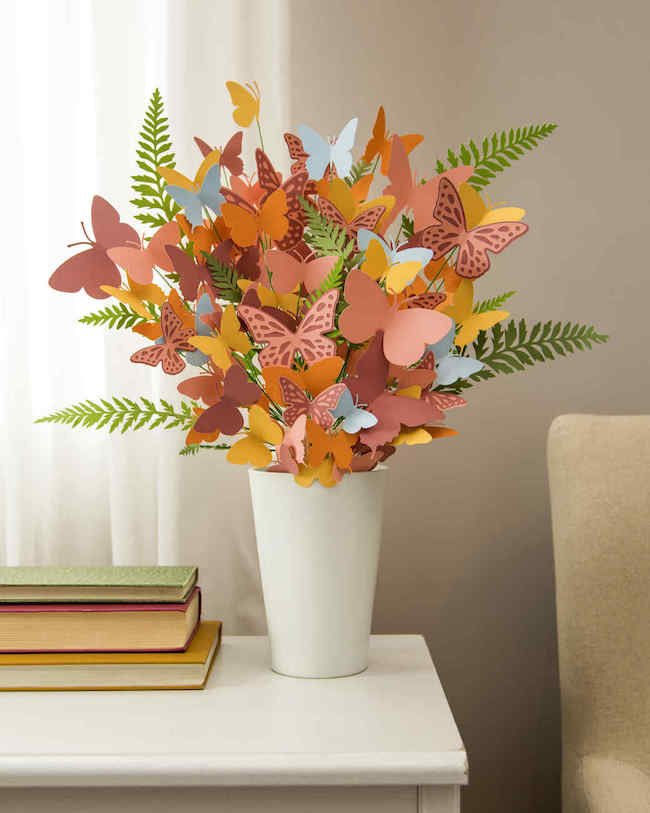 Create Butterfly Lanterns
Light up the night with butterflies with these lantern ideas.
A pretty and unique idea for a paper butterfly lantern. Tutorial here.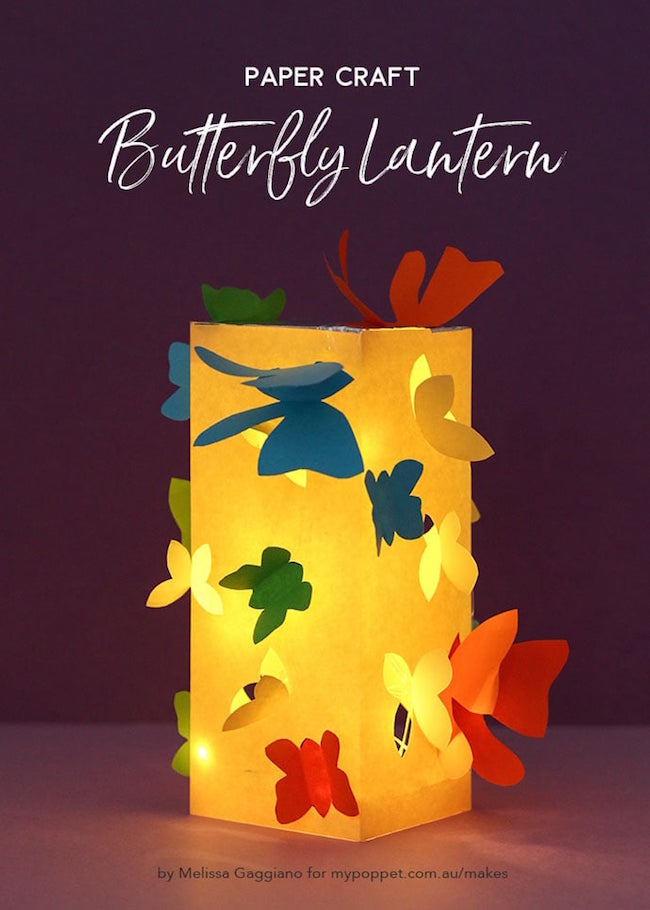 A simple way to update a plain paper lantern or lampshade is with some butterflies! Tutorial here.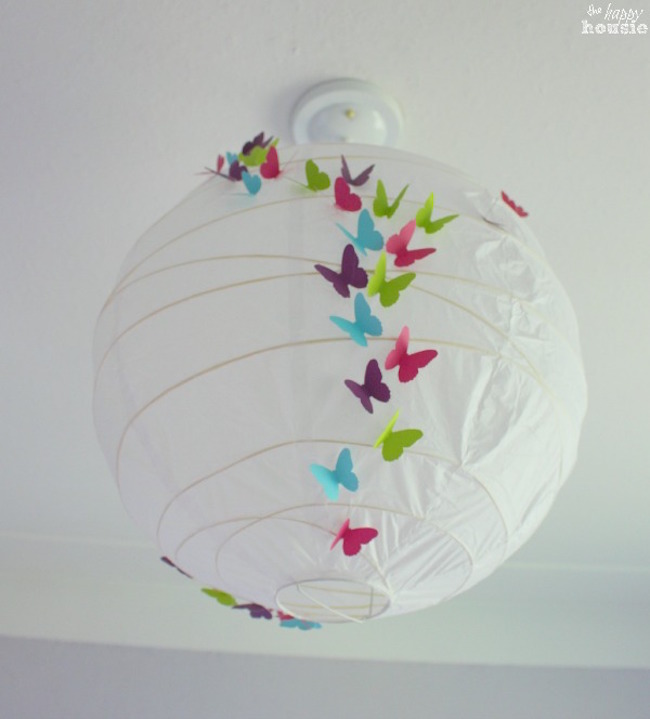 Add Butterflies to Your Party Decor
Spring parties including baby showers, birthdays and Mother's Day brunches are all the perfect candidates for butterfly decor.
Add an unexpected touch to balloons with feather butterflies. They are light enough to use on helium balloons, but you can also add them to air-blown balloons attached to balloon sticks.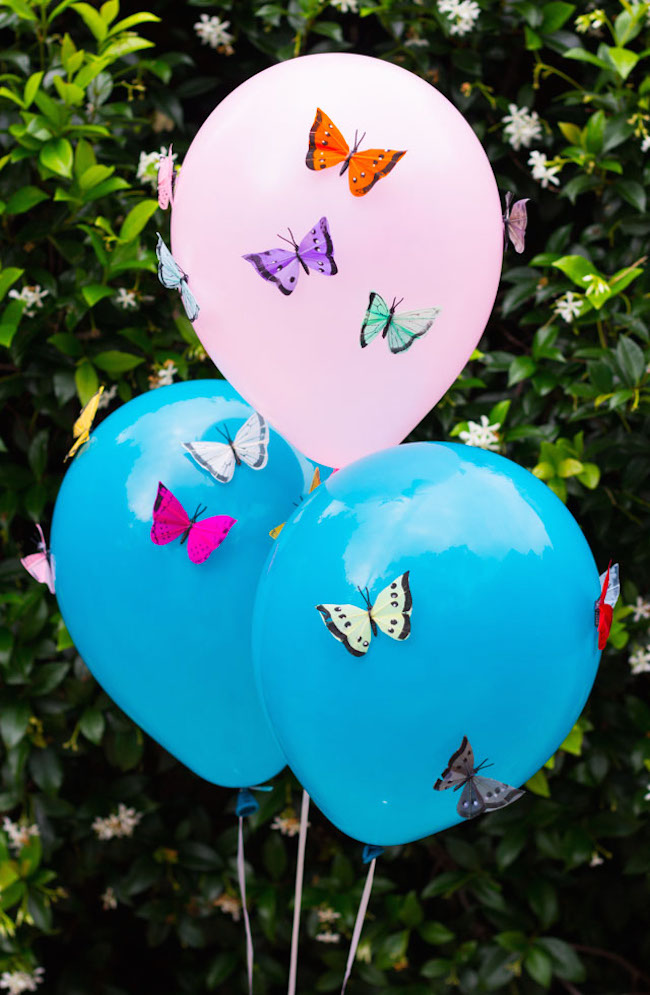 Add butterflies to a cupcake or cake stand, or glue them onto bamboo sticks to make cake toppers! Tutorial here.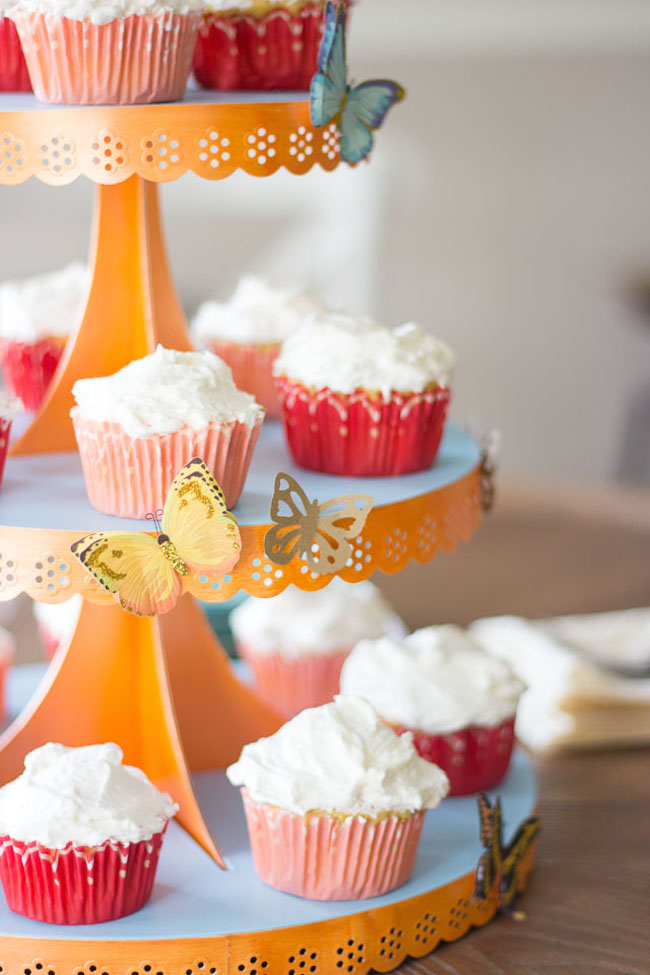 My last easy idea is to create a simple napkin ring using a piece of pretty ribbon topped with a 3d butterfly sticker. So pretty for spring parties, such as my Mother's Day brunch.