Mother's Day Brunch Ideas with Martha Stewart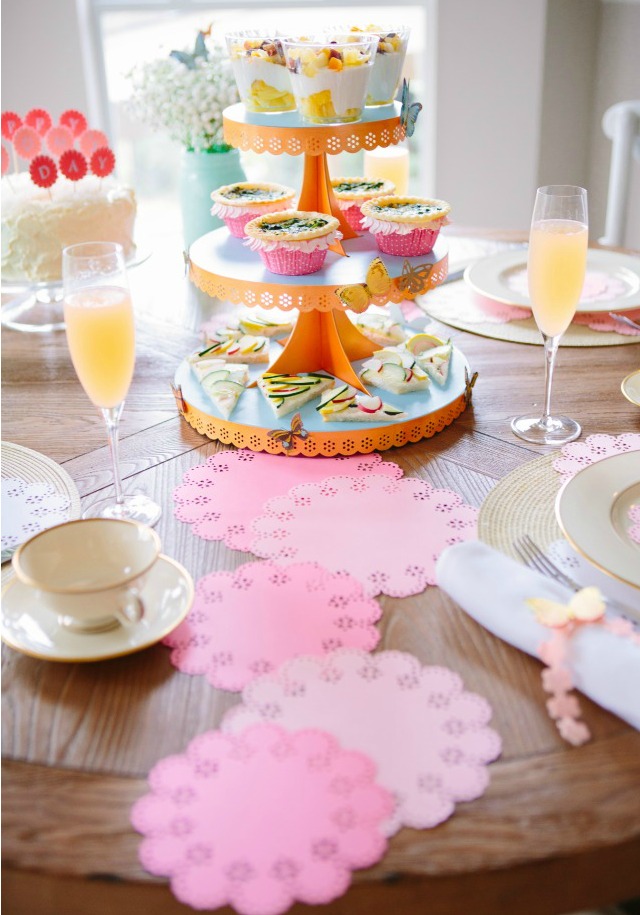 I recently had the opportunity to create a Mother's Day brunch for the folks at Martha Stewart as part of the 12 Months of Martha program. I'm hoping this tablescape using simple craft supplies gives you some easy ideas for your own special Mother's Day brunch!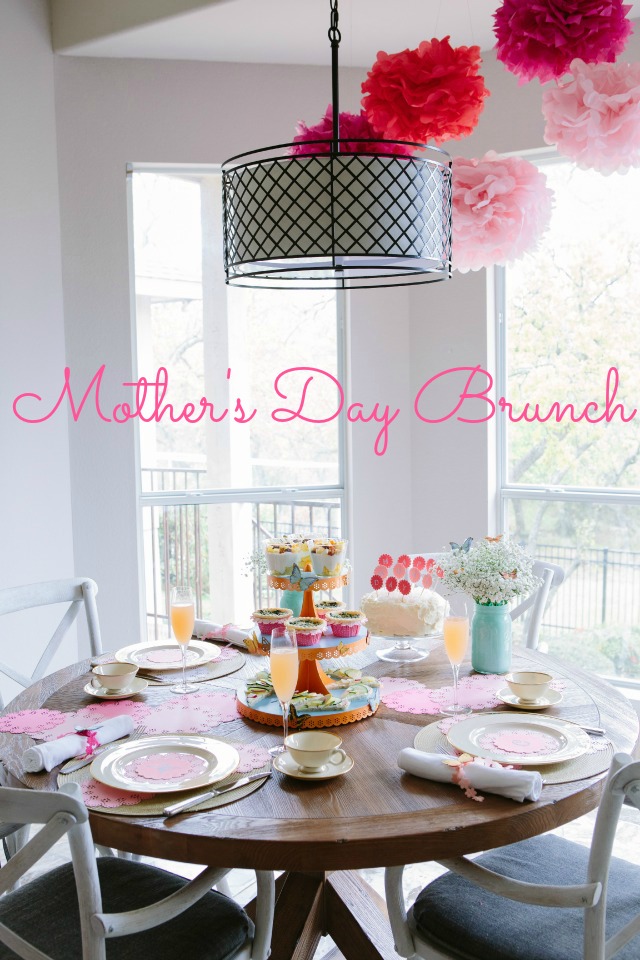 The timing of this brunch actually worked out perfectly, as both my mom and mother-in-law visited me a couple weeks ago (they're buddies!). It was so fun to put together a special brunch for them to enjoy, rather than just doing it for the sake of a photo shoot.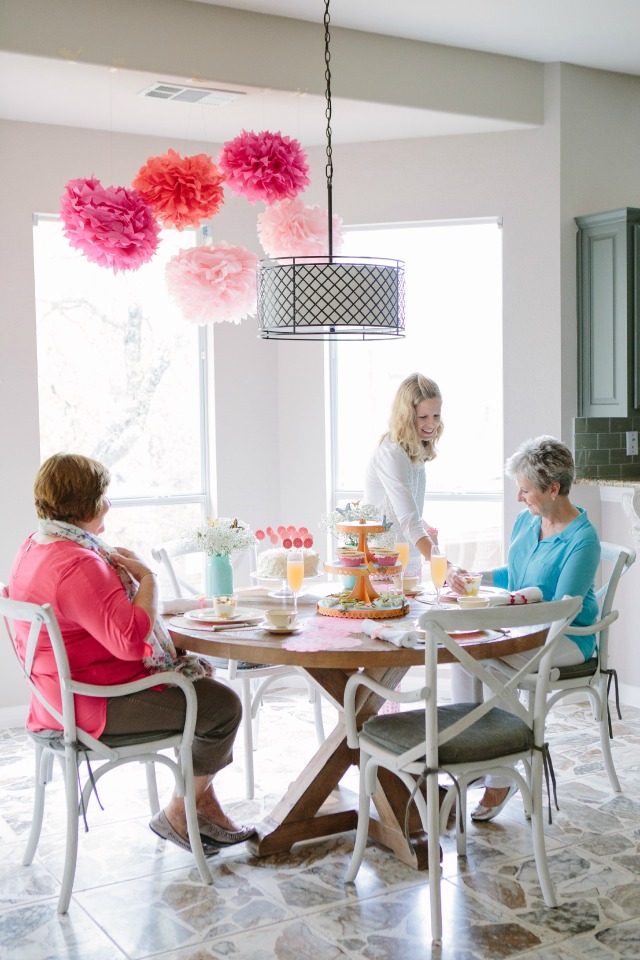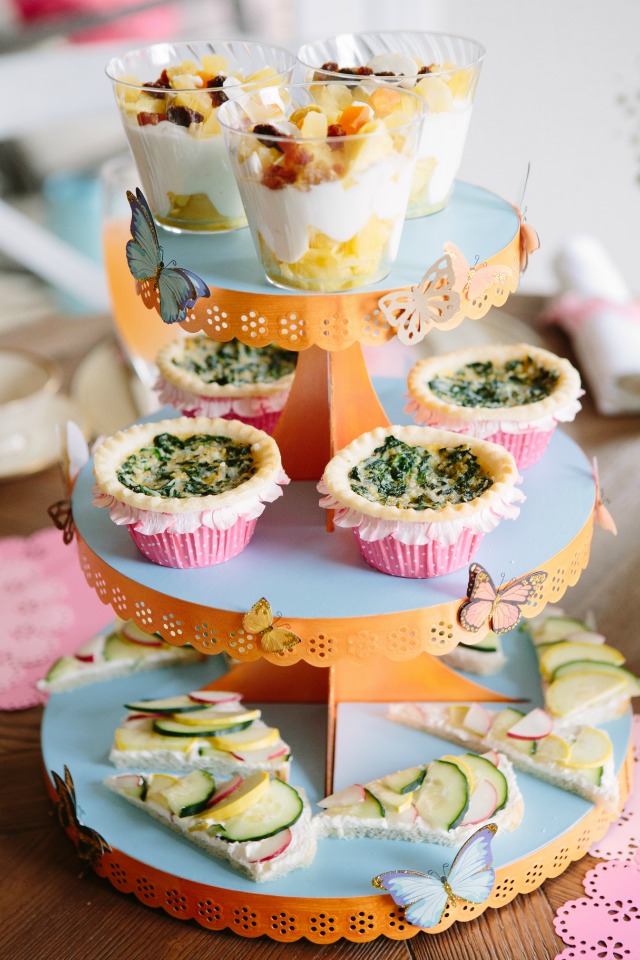 This party is made up of a bunch of simple elements that come together for a big impact. I've detailed them all out below in case you want to do the whole shebang or just try a couple ideas!
Mother's Day Brunch Ideas
Mother's Day Brunch Recipe Ideas
Our Mother's Day brunch consisted of the following menu and it turned out so yummy. Of course you can improvise on this however you like based on your favorite recipes. I include some tips below for minimizing cooking time and prep!
Whipped yogurt with pineapple and dried fruit – a Martha Stewart approved recipe! Plain yogurt gets a gourmet touch when whipped with heavy cream and honey and layered with fresh pineapple and dried fruit. So pretty in clear disposable cups!
Individual spinach quiches – head to the grocery store freezer section for these. No cooking required for this one! Make them look as good as homemade by placing them in pretty paper baking cups.
Vegetable tea sandwiches -white sandwich bread, cream cheese and some thin sliced vegetables are simple ingredients for this fancy treat. You can even find crustless bread at the grocery store to make prep easier.
Coconut cake – this super easy and delicious coconut cake starts with a yellow cake mix and adds vanilla and coconut pudding. It's a winner! If you are pressed for time you can buy a pre-made angel food cake and top with the coconut frosting in this recipe for another yummy option.
Coffee and red grapefruit mimosas
Mother's Day Centerpiece Idea
A Martha Stewart cupcake stand did double duty as both a pretty centerpiece and a fun way to serve the brunch food. I embellished the cupcake stand with some craft paint and butterfly stickers. You can find the tutorial here. This particular stand is no longer available, but here is a good alternative cake stand for only $6.99!
Mother's Day Cake Coconut Cake
I used pretty Martha Stewart food picks and adhesive letter stencils to spell out "Happy Mom's Day" for a simple and fun cake topper. Just press the adhesive stencil on top of a food pick, dab on a little acrylic craft paint with a foam brush, remove the stencil and let dry! Note: unfortunately these picks are no longer available. However you can make your own with a 1 inch scalloped hole punch, pink cardstock and toothpicks or bamboo skewers! Add small letter stickers.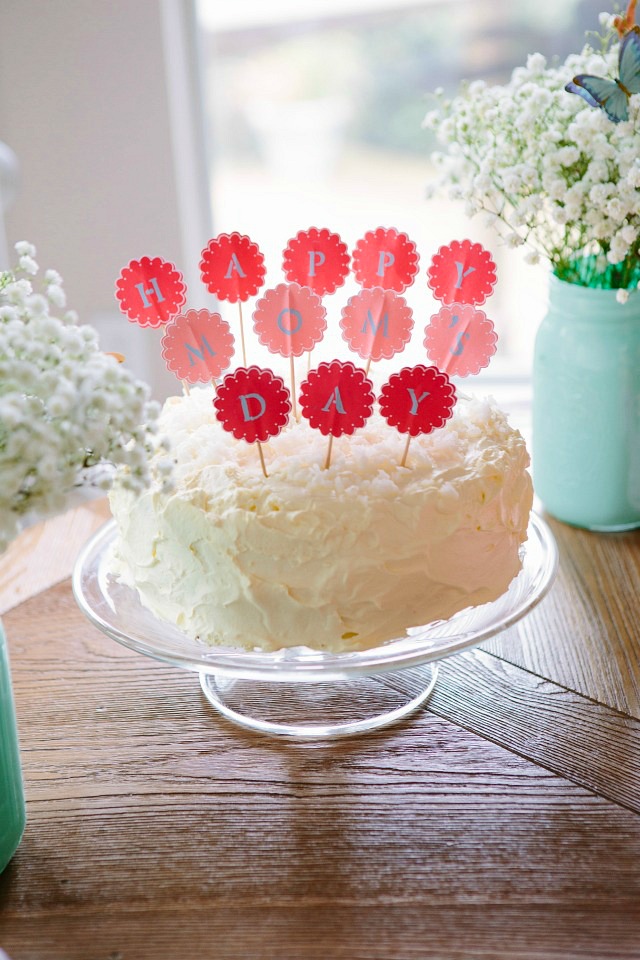 Mother's Day Table Setting Ideas
Paper doilies in different shades of pink are a super easy way to create a "table runner" down the center of the table. You can also scatter some around a basic round placemat. I also added a doily on top of the plate and made a little place card out of a pink coaster. I added a monogram with a stencil and craft paint, but these letter stickers would work great too!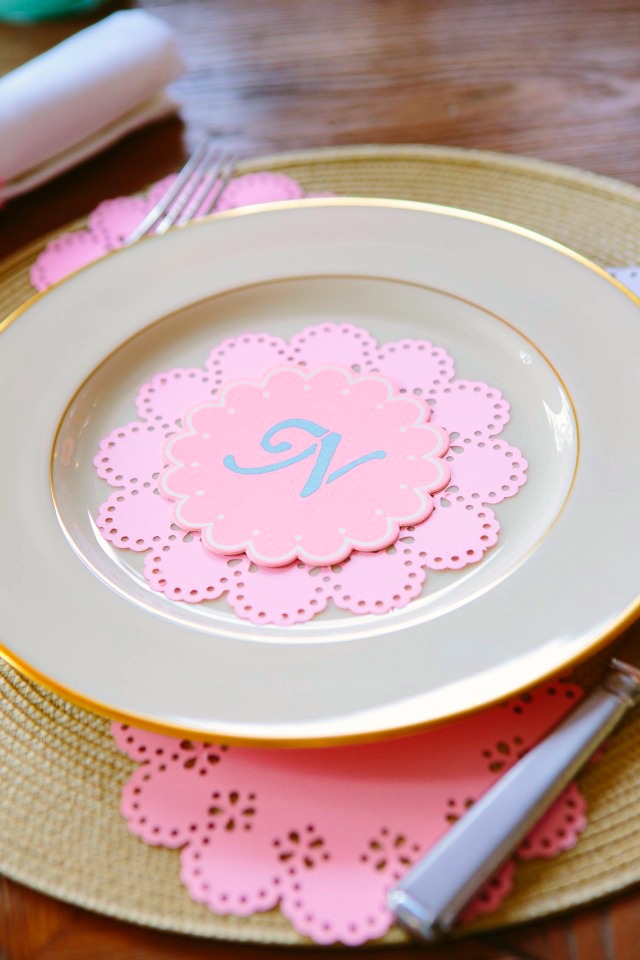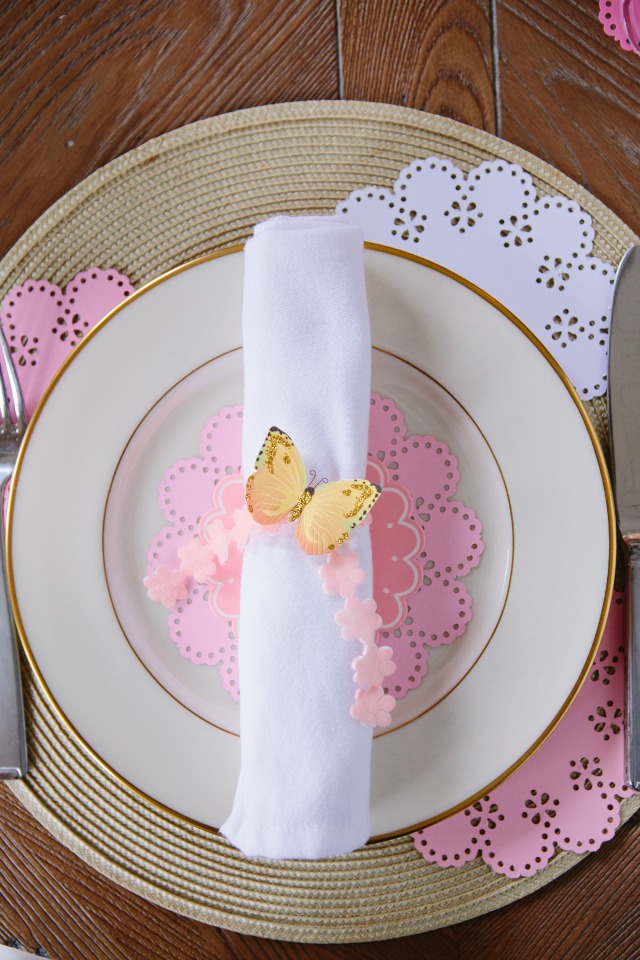 Butterfly Napkin Rings
For simple napkin rings, I tied a piece of pretty ribbon (this pink lace ribbon is similar) around a rolled up napkin and topped it with a beautiful butterfly sticker. It doesn't get much easier than that!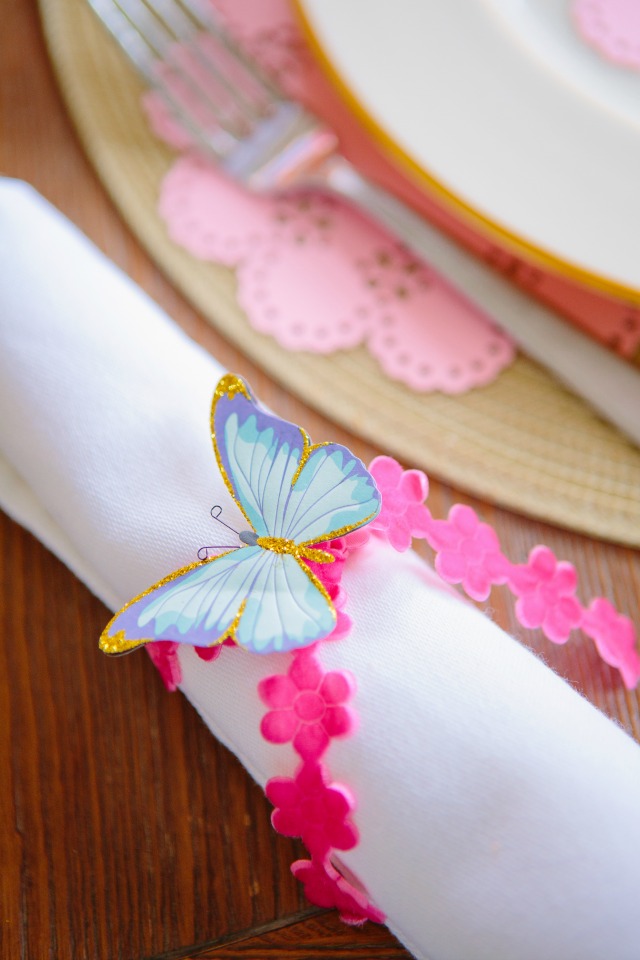 Butterfly Baby's Breath Bouquets
I loved the butterfly stickers so much, I made a couple flower arrangements to show them off. The stickers set into inexpensive baby's breath makes them appear like they are flying among the flowers. I used mason jars painted with Martha Stewart acrylic craft paint as colorful vases. You can get the painted vase tutorial here.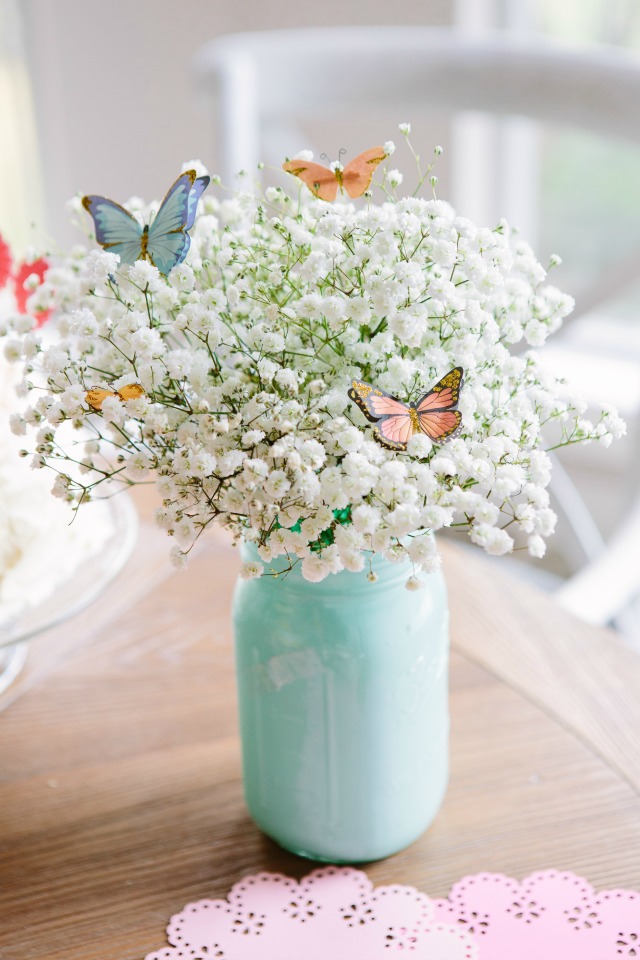 Tissue Pom Pom Decorations
Lastly for the tissue pom poms, I just fluffed them up according to the package directions and hung them from my ceiling. They are such an easy way to transform any room into a special space and add a big pop of color to the party. I plan on decorating my pink office with them now that I'm done using them for the brunch. 😉
The brunch turned out so pretty, and the food so yummy! It was a special morning spent with two special ladies. I hope you take away an idea or two to help you create a brunch in celebration of the moms in your life this upcoming Mother's Day!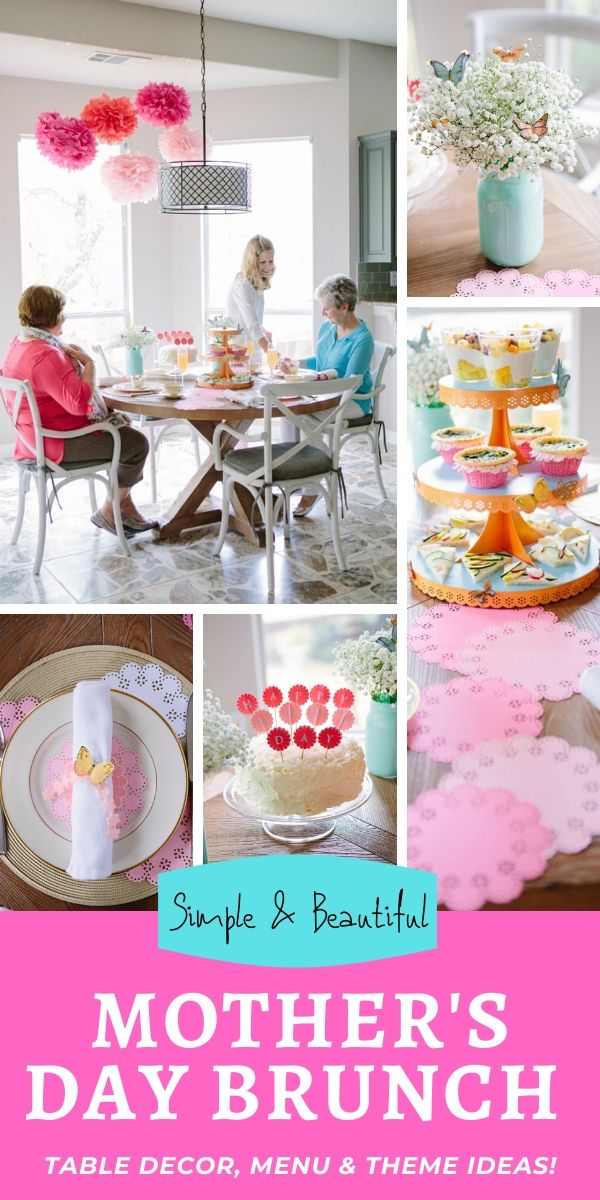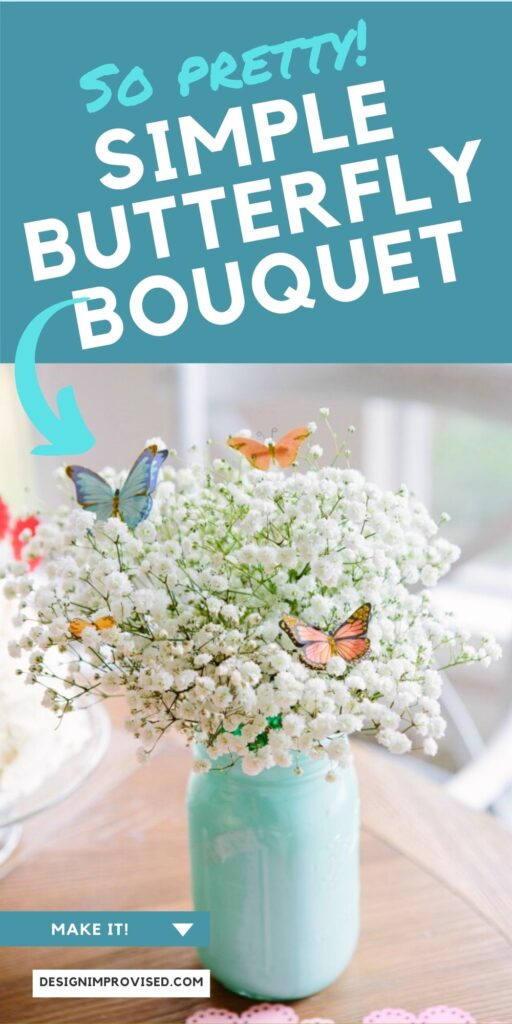 This is post is sponsored by Martha Stewart Living Omnimedia as part of the #12MonthsofMartha program. All content and opinions are my own. A big thanks to Candice Stringham for taking all the gorgeous photos!