Trying a Sutera Pillow for the First Time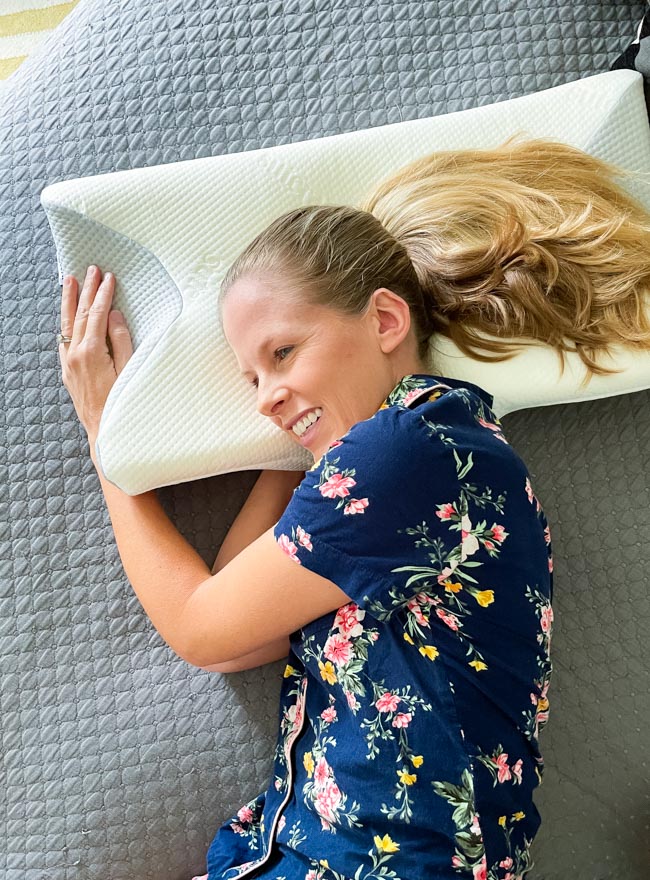 This post is sponsored by Sutera. All opinions are my own.
How happy are you with your current bed pillow? Be honest! I'd probably say a 5 out of 10 for me. I've never had an amazingly comfortable pillow, but always stuck with the same set of pillows we've had for years anyway. Because pillow shopping can be hard!
I've wasted lots of money on pillows that felt good in the store but ended up being too firm or too flat once I brought them home. That's why I was excited to partner with Sutera to try out their memory foam pillows. I have never owned a memory foam pillow before. What a difference a Sutera pillow makes. Click this link to get 20% off Sutera today!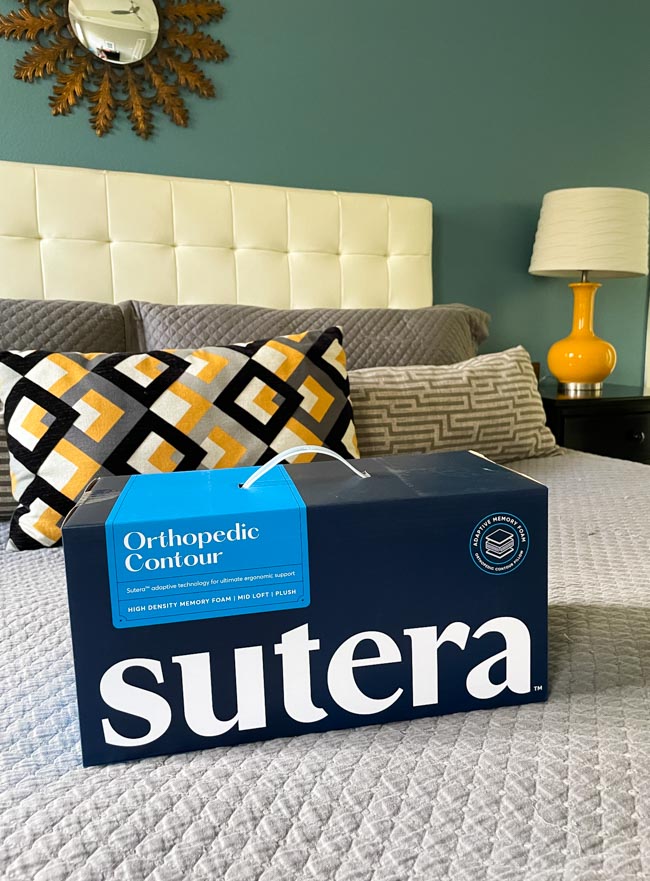 When it comes to a good night sleep, the right pillow can make all the difference in the world. Just ask my husband. He's struggled for years to find the right set of pillows to get a comfortable night sleep. A stomach and back sleeper with big shoulders, he has a very difficult time finding a position that doesn't leave his shoulders and neck aching in the morning. It often involves a hilariously complicated setup of three different pillows to achieve some level of comfort.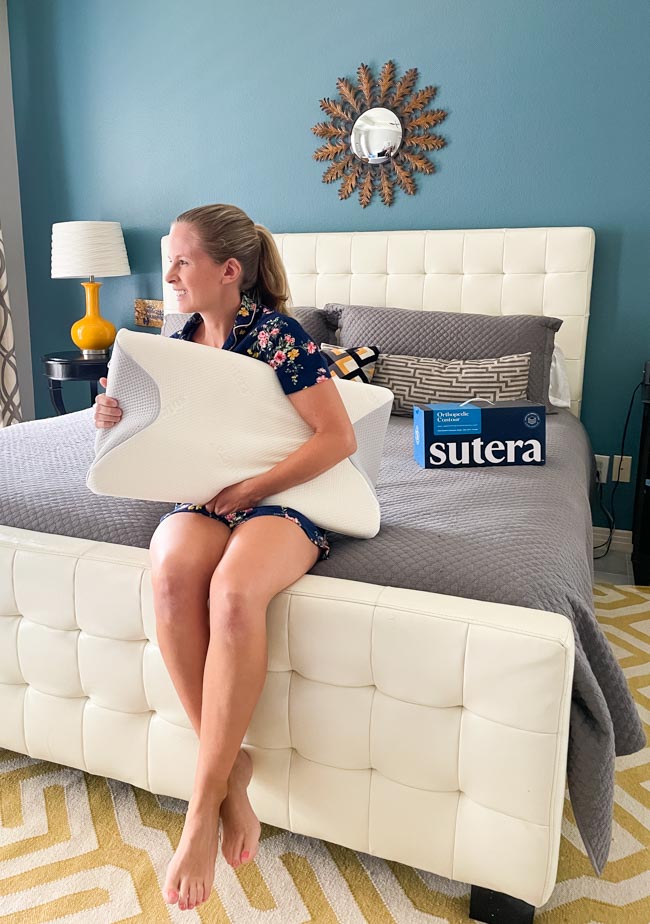 I have tried other pillows for my husband without success, and was excited to give the Sutera pillow a try. Sutera sent us two of their memory foam pillows – the Lavender Zen for me, and the Dream Deep pillow for my husband.
Sutera Lavender Zen Pillow
I'm a big fan of aromatherapy and lavender is by far my favorite sent. In fact, I often spritz my pillow with a lavender linen spray before bed! The Lavender Zen pillow is a plush, high density foam pillow that molds to the contours of your head and neck to relieve pressure. It is infused with real lavender essential oil to give off a subtle lavender scent.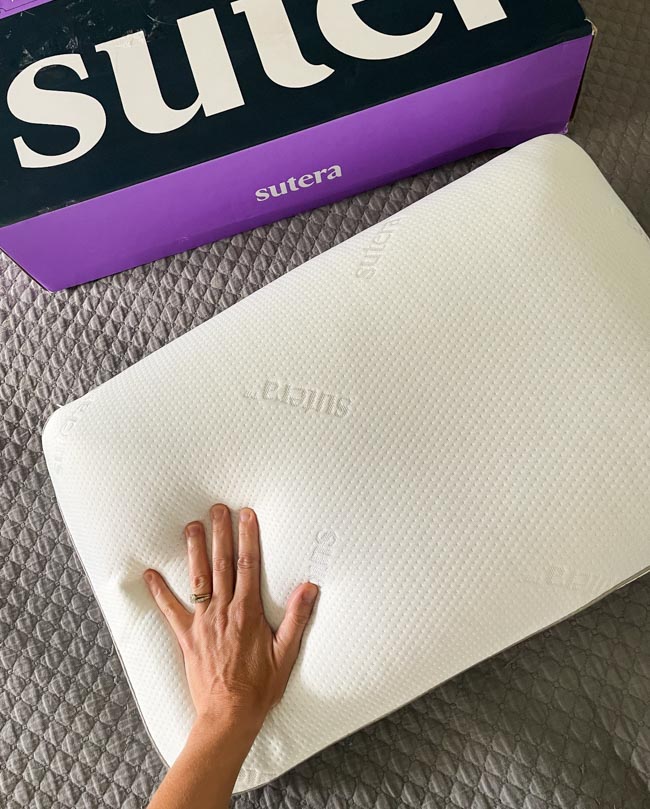 I'm a back and side sleeper, often trying to sleep with two pillows, but I ditched them both after trying the Lavender Zen pillow. It is uber comfortable on my neck! Here are its features:
Lavender Zen Pillow Features
Works for all sleep positions
Adaptive high density memory foam
Infused with lavender essential oil
Removable machine washable cover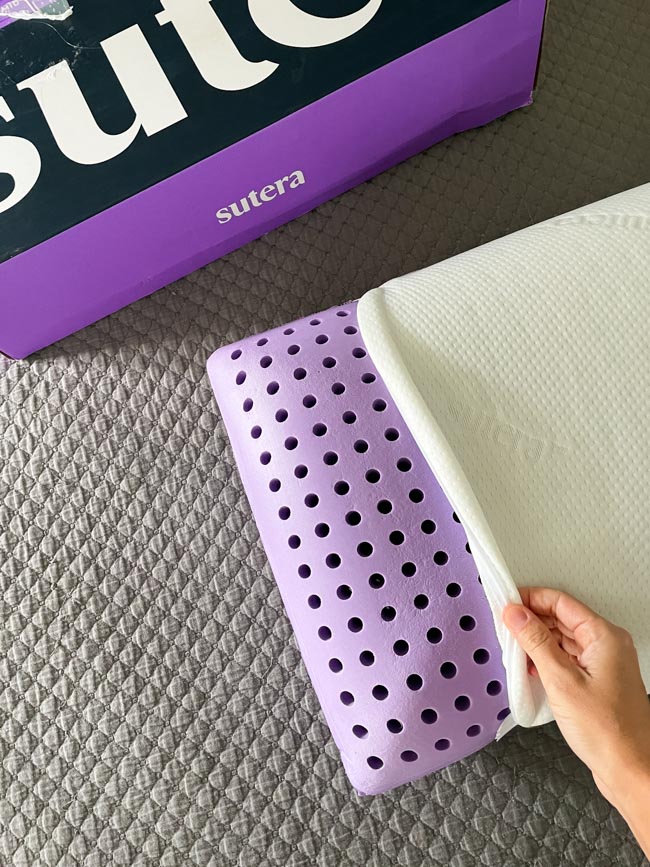 Sutera Dream Deep Pillow
This pillow is unlike any I've ever seen. The Dream Deep pillow is an orthopedic contour pillow that is designed to optimize all three sleeping positions – back, stomach and side. For my husband, the indentation that helps hold his neck in the right position relative to his shoulders is key. As are the slots on the side of the Sutera pillow that cradle his arms when sleeping on his stomach.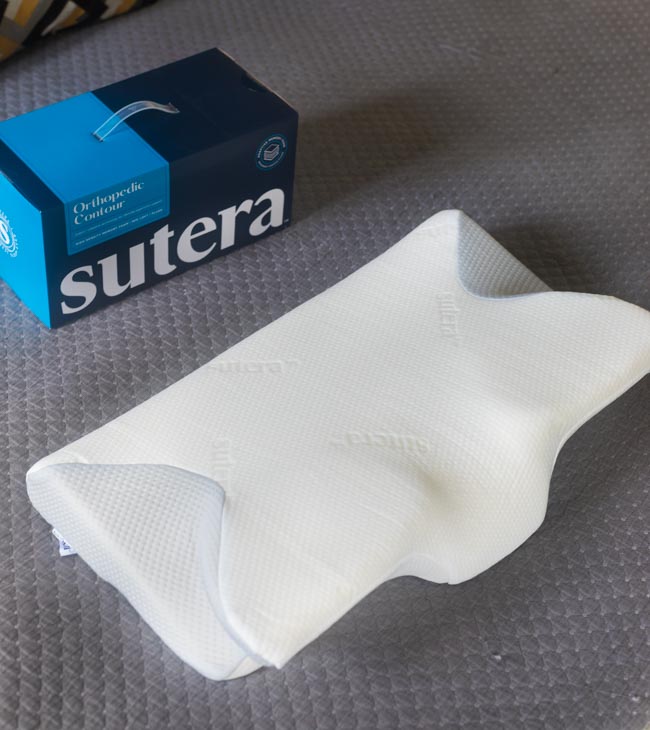 The memory foam adapts to promote correct alignment of your head and neck no matter what position you are in. Unlike our feather pillows, it will never go flat or lose its shape.
Dream Deep Pillow Features
Butterfly shape provides ergonomic support for back, neck and shoulders
Works with side, stomach and back sleepers
Never goes flat or loses its shape
Removable machine-washable cover
Both my husband and I have been really happy with our Sutera pillows. If you're experiencing neck and shoulder problems when you sleep, I would highly recommend you try them out.