12 Modern Christmas Wreath Ideas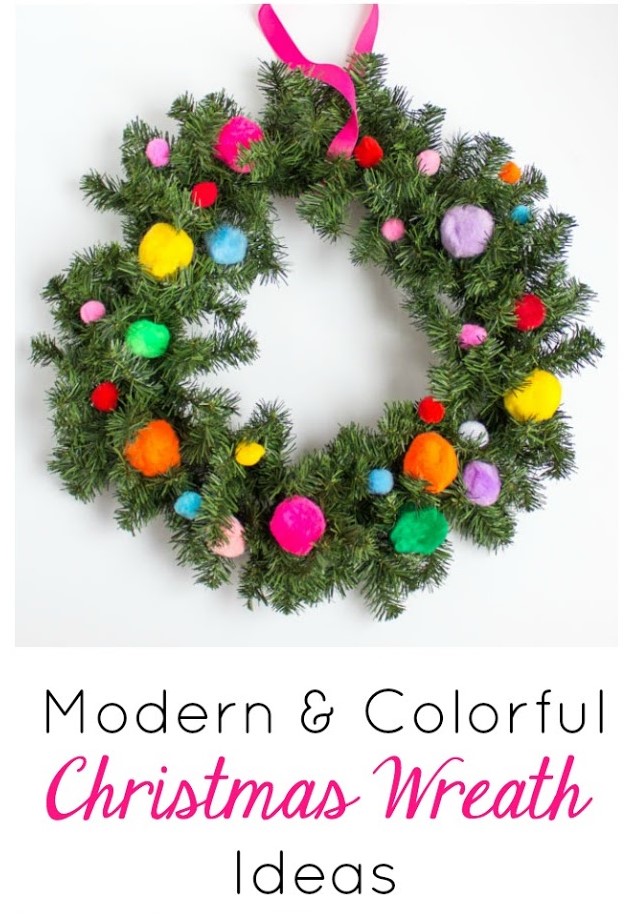 Modern Christmas Wreath Ideas
Man, do I love a good Christmas wreath! I tend to make a new one each year, and just counted a total of eight different Christmas wreaths that I've made since starting this blog. I can't let this holiday season go by without making another wreath, so I've been looking for some inspiration to get my creative juices flowing! I've pulled together my 12 favorite wreaths from some of the best DIY bloggers out there (and a couple Design Improvised favorites thrown into the mix). They are all modern, color-packed, and totally unique! Check them out and let me know your favorite.
Top 12 DIY Modern Christmas Wreaths
This could be the easiest Christmas wreath you'll ever make! Just poke pom-poms of different sizes and colors into a faux evergreen wreath. You can get these inexpensive wreaths at the craft store for under $5 each. The colorful pom-poms give it a playful and modern look.
I bet you never thought to make a Christmas wreath out of balloons before! I love this oversized wreath for Studio DIY. Perfect for a Christmas party. The air-blown balloons will stay looking good for days.
This Christmas light wreath is old and new at the same time. The bulbs have a vintage vibe, but the way they are wrapped around a bare wire frame gives them a totally modern look!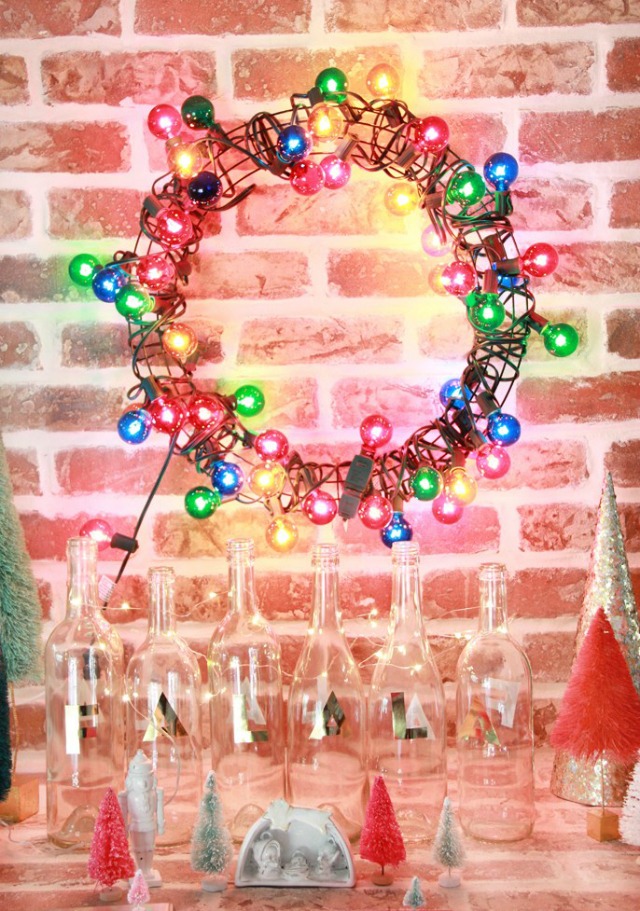 Good things come in small packages! This mini present wreath isn't your traditional Christmas wreath. You can buy these mini package ornaments at the craft store. No need to wrap them yourself!
Disco balls are such a fun modern piece of decor. Add a bunch to a wreath and the look like giant Christmas bulbs. This wreath would sparkle nicely surrounded by white string lights.
Oversized holly made from felt make this modern wreath so chic! Of course, I love whenever pom-poms are incorporated into a wreath too!
Forgoing traditional red and green and trying out a new color palette of golds and pastels is a great way to put a modern spin on traditional Christmas decor like jingle bells!
Simple, clean and beautiful. This modern jingle bell wreath white poinsettia flowers made from felt hits all the right notes!
Honeycomb balls aren't just for parties. They look great in wreath form too! I've made a fiesta wreath from them before, but I love this Christmas version from Oh Happy Day!
Mini wreaths spray painted in an ombre effect adorn this modern Christmas wreath!
Add mini bottle brush trees topped with pom-pom ornaments to a snowy wreath!
Anything in rainbow order makes a wreath feel modern and fun!
Like these modern Christmas wreath ideas?
Then don't miss the rest of my DIY Christmas crafts!