How to Turn a Cardboard Box into Wall Art!
July 05, 2016 | FILED UNDER: Wall Art, Paint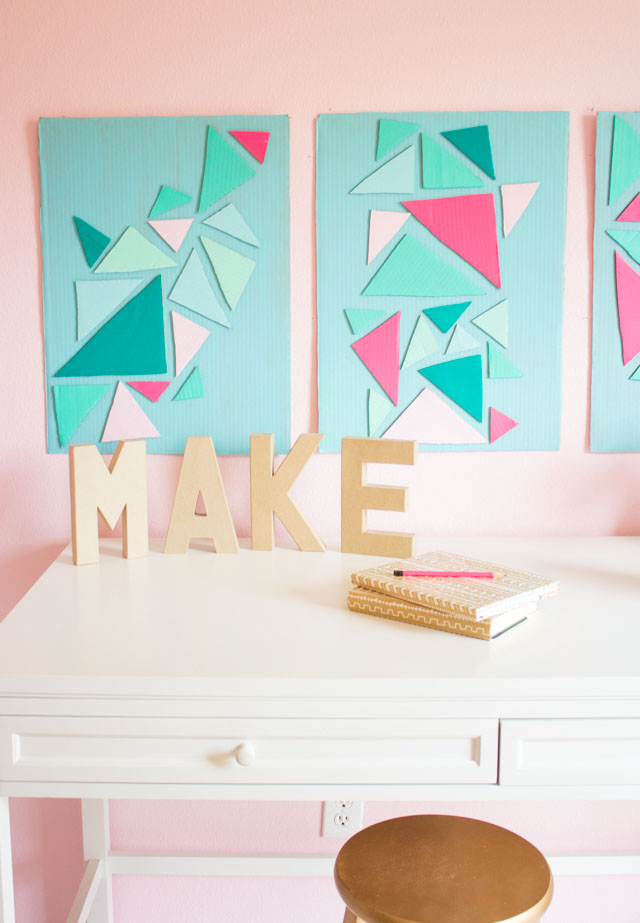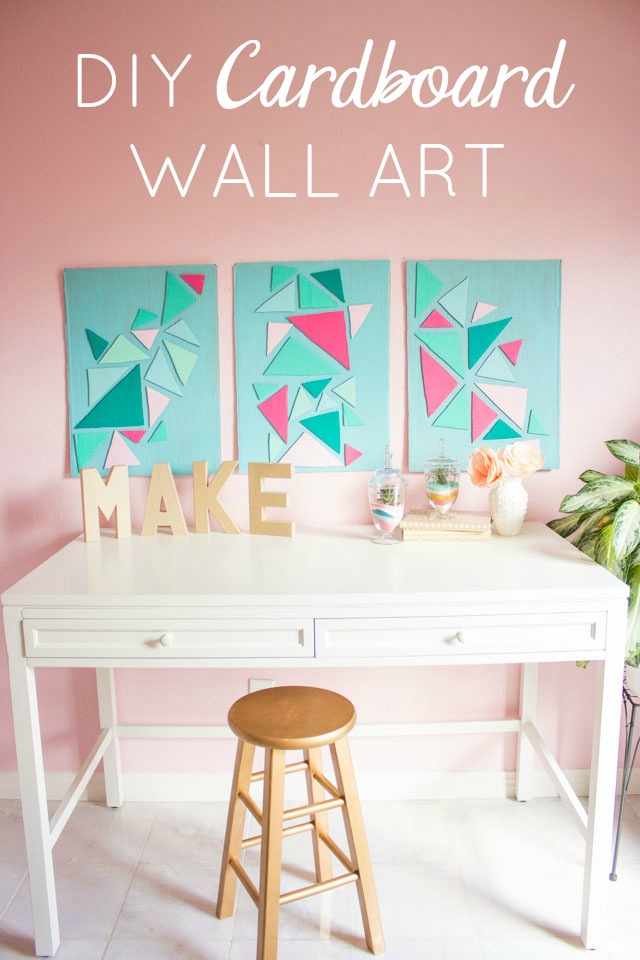 I love a good craft challenge, especially when it involves taking something uncool and making it awesome! So when
Two Men and a Truck
asked me to make anything I wanted out of cardboard for their 
Great Cardboard Craft-Off Contest
I got out my craft paint and glue gun and got to work. Would you believe my new DIY wall art is made from a single cardboard box?
Want to try your hand at some cardboard crafting? You're in luck! The Great Cardboard Craft-Off contest runs through July 27 and all you have to do is
share a photo of something you've made from cardboard
for a chance to win some amazing prizes (1st place is $1000 and a Cricrut Explore Air Gold!). I'm honored to be one of the judges of the contest and can't wait to see what you create!
Read on for more contest details and a tutorial for turning your own box into modern wall art!

My new office wall art started as a large moving box from
Two Men and a Truck
! I used 3 side panels from the box to serve as the background and cut the rest of the panels into triangles to go on top.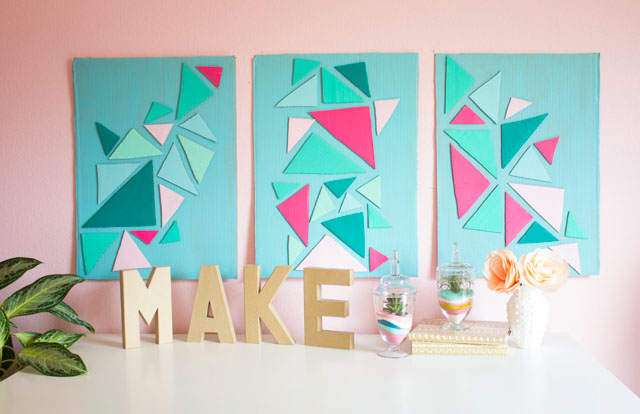 I love the dimension created by the cardboard and I chose a fun color palette of greenish blues and some pops of pink to give it a modern touch.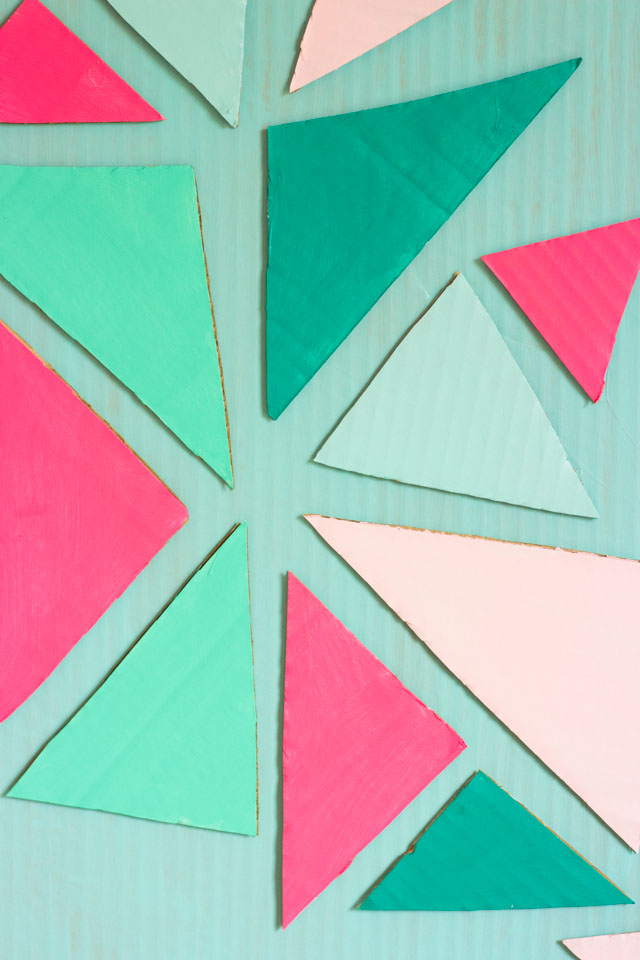 The project is as simple as freehand cutting triangles and painting them, but it takes a little longer than a typical Design Improvised project. This is the perfect project for a Sunday afternoon this summer!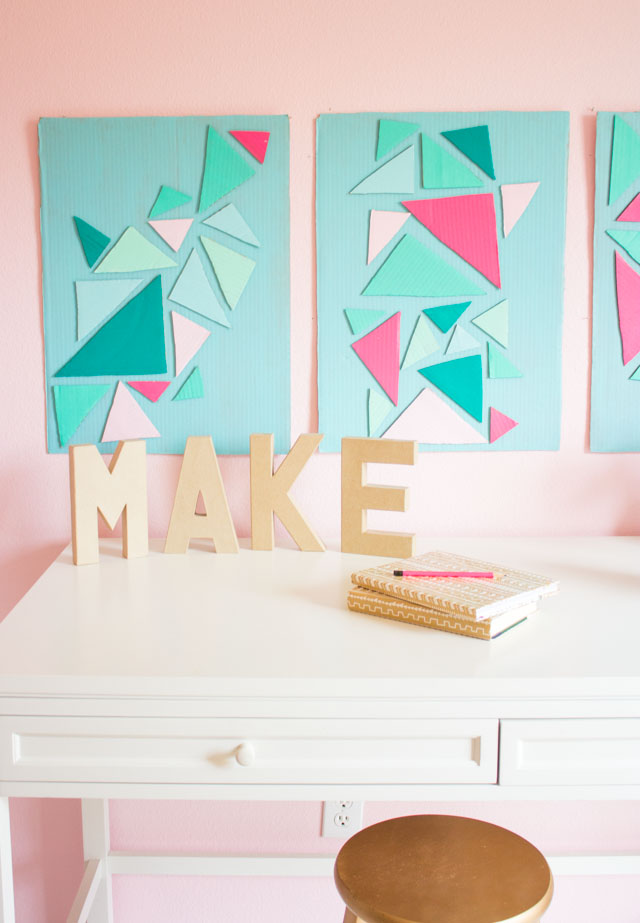 Supplies for Cardboard Box Wall Art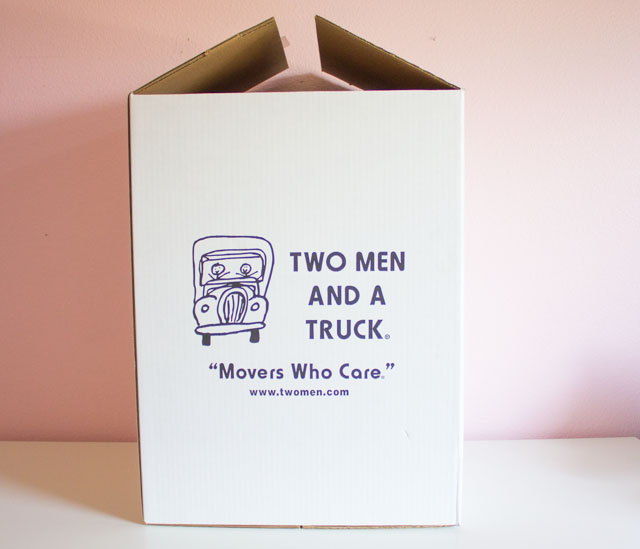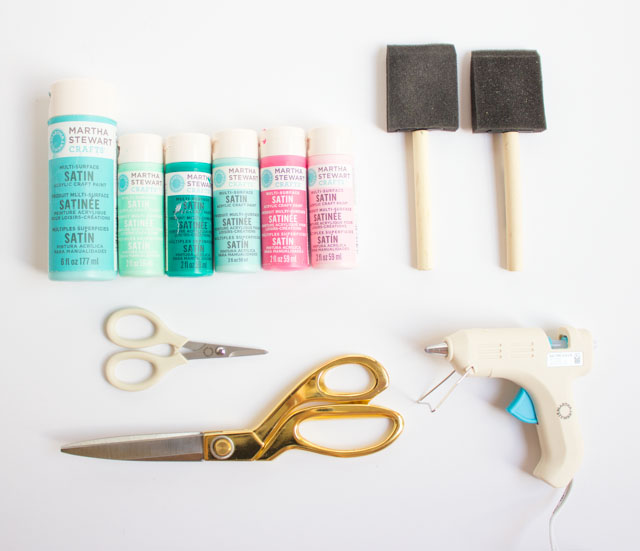 How to Make Cardboard Box Wall Art
1. Start with a large box in good condition. Use a sturdy pair of scissors to cut the box into pieces. You will use 3 of the side panels for the background for your art.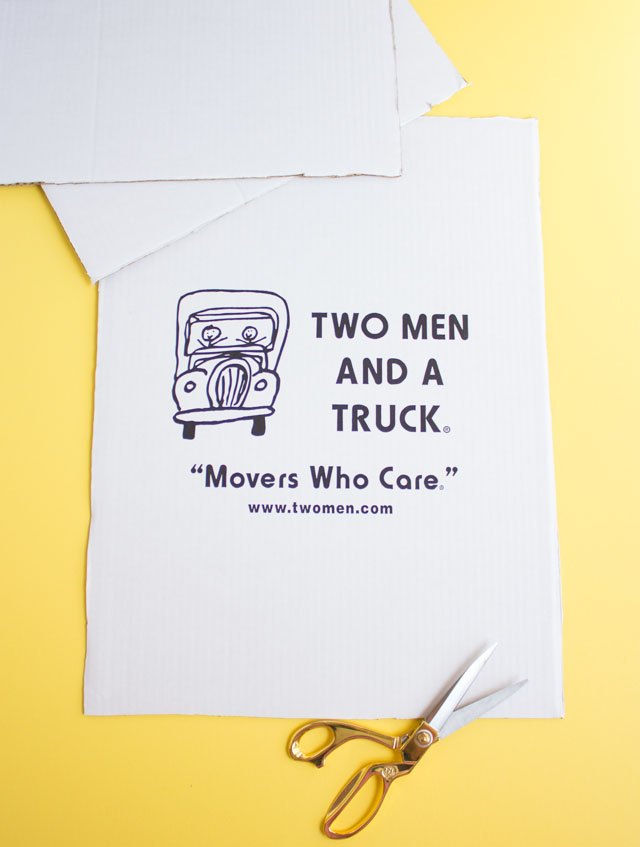 2. Cut a variety of rectangles out of the remaining pieces of the box. You can freehand cut the triangles without worrying about being too exact. Use the lines of the corrugated cardboard to help you create straight lines.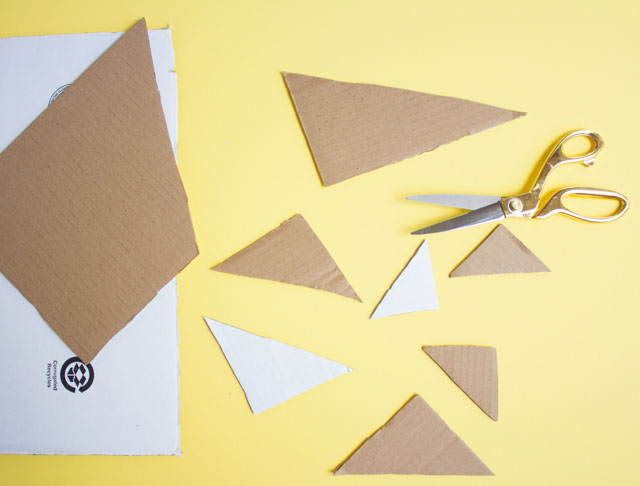 3. If needed, you can use a small pair of detail scissors to trim any excess cardboard.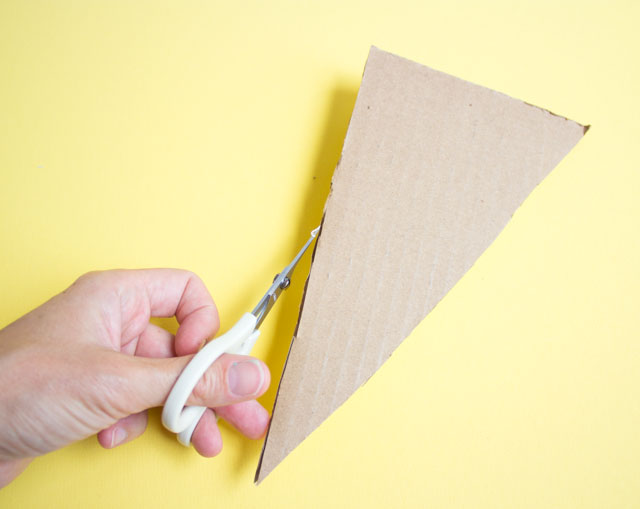 4. Use a foam brush and acrylic craft paints to paint one side of each triangle. I used a variety of greenish blue colors with a touch of pink! Let dry and apply a second coat.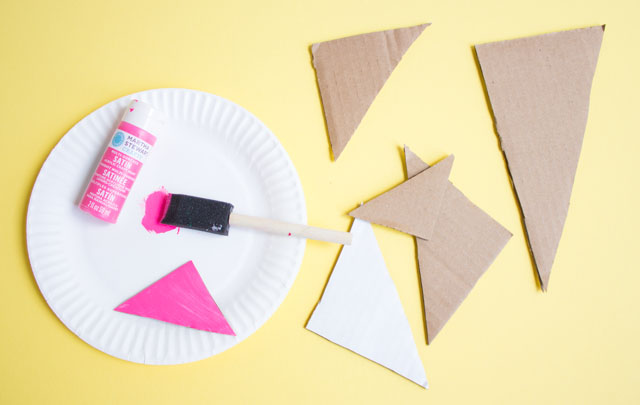 5. Paint the front of each cardboard panel with two coats of craft paint. The cardboard may buckle a bit when wet with paint but will lie down flat again once dry.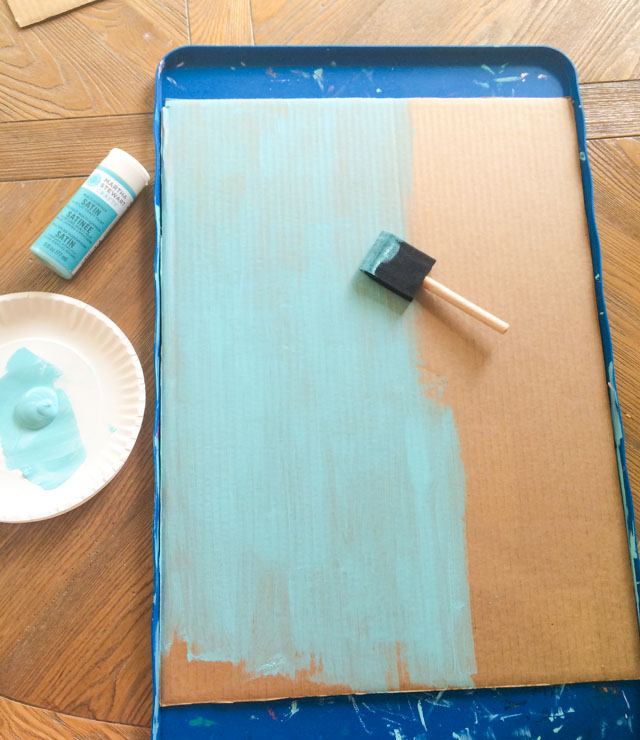 6. Once all the triangles are dry, lay them out on each panel and experiment with different groupings until you get the look you want. Then adhere one triangle at a time to a panel by adding a generous dab of hot glue on the back.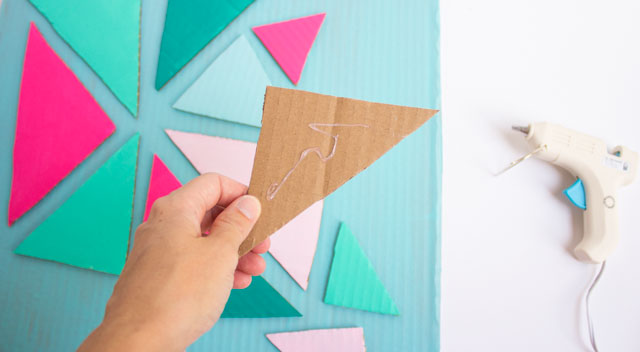 7. Hang your finished artwork on the wall by placing a 3M Command strip on each of the four corners of the backside of the cardboard. This will ensure that it lies flat against the wall.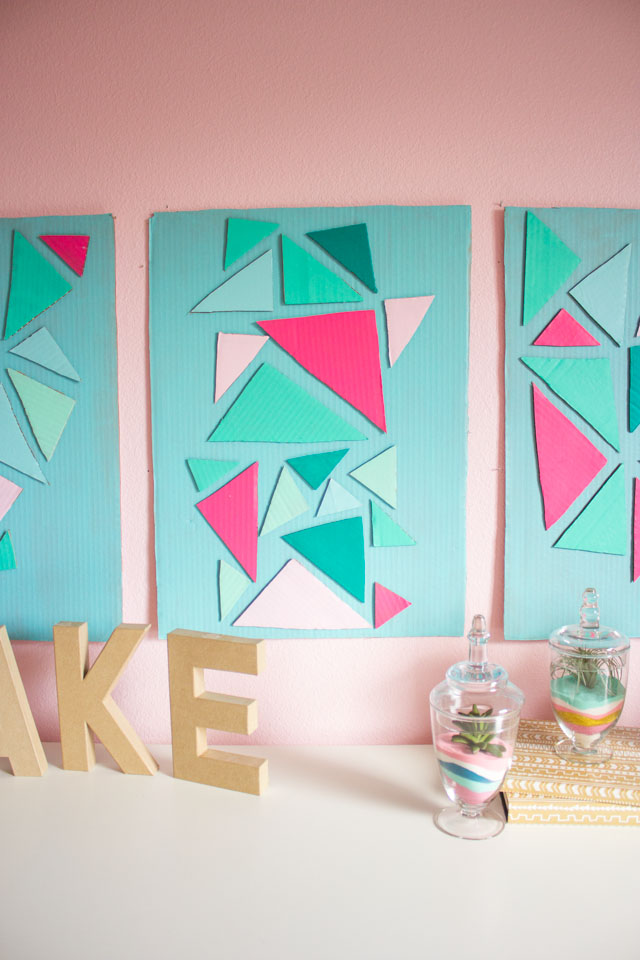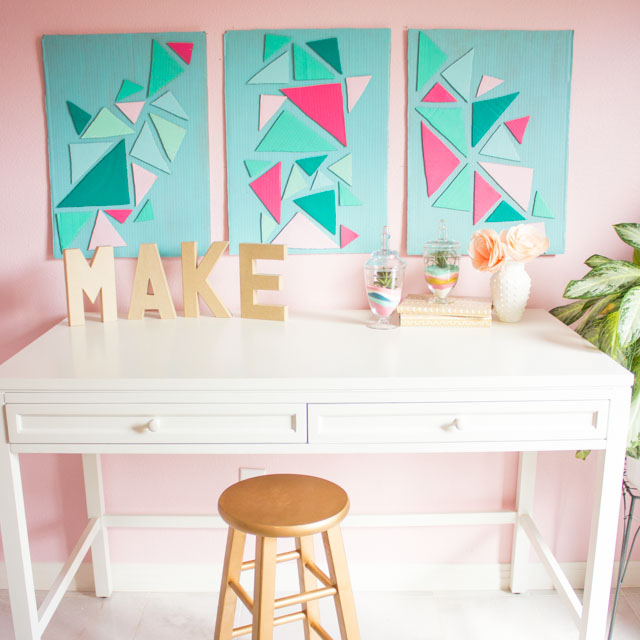 Enter the Great Cardboard Craft-Off!

Contest Overview:
Show off your crafting skills by creating anything you can imagine out of cardboard.
Submit a photo of your creation through the
Two Men and a Truck Facebook app
for a chance to win one of three grand prizes:
Prizes:
1st – $1,000 Visa gift card, Cricuit Explore Air Gold Edition with accessories
2nd – $500 Visa gift card, Singer 3223G Simple Sewing Machine with accessories and $50 Jo-Ann Fabric's gift card
3rd – $250 Visa gift card, Instax Mini 8 with film, scrapbook, and accessories
This post is sponsored by Two Men and a Truck.