Giant Wooden Snowflakes with Pom-Poms!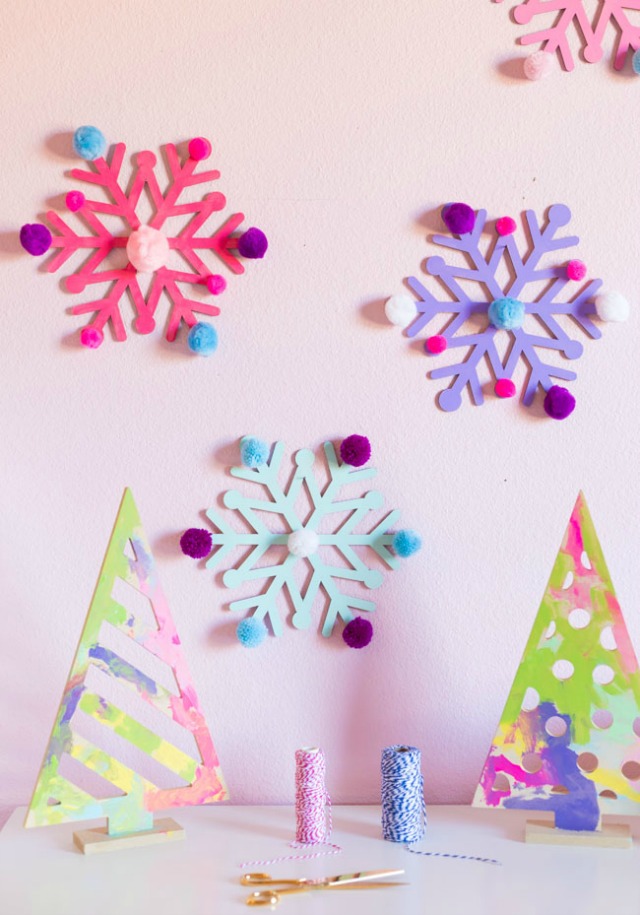 DIY Giant Wood Snowflake Craft
I had a vision for these giant wooden snowflakes from Oriental Trading the second I saw them. My vision? Pom-poms, of course! I thought a wall of these snowflakes painted in pretty pastel colors and dotted with fluffy pom-poms would make me so happy. It turns out my hunch was correct! This is such a simple and fun way to inject some color into your holiday decor. I love how these look on the wall above my desk.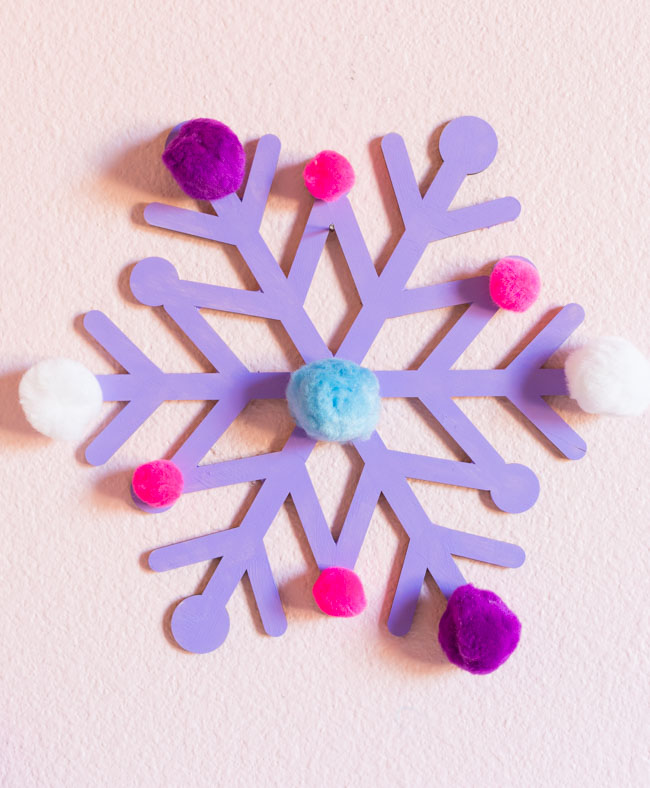 I painted these pastel colors, but you could use whatever color palette you want to match your decor. Snowflakes don't have to be white! I styled the wooden snowflakes with some modern wood Christmas trees that my daughters painted years ago. They are still some of my favorite Christmas decor, because of the little hands that made them. 😉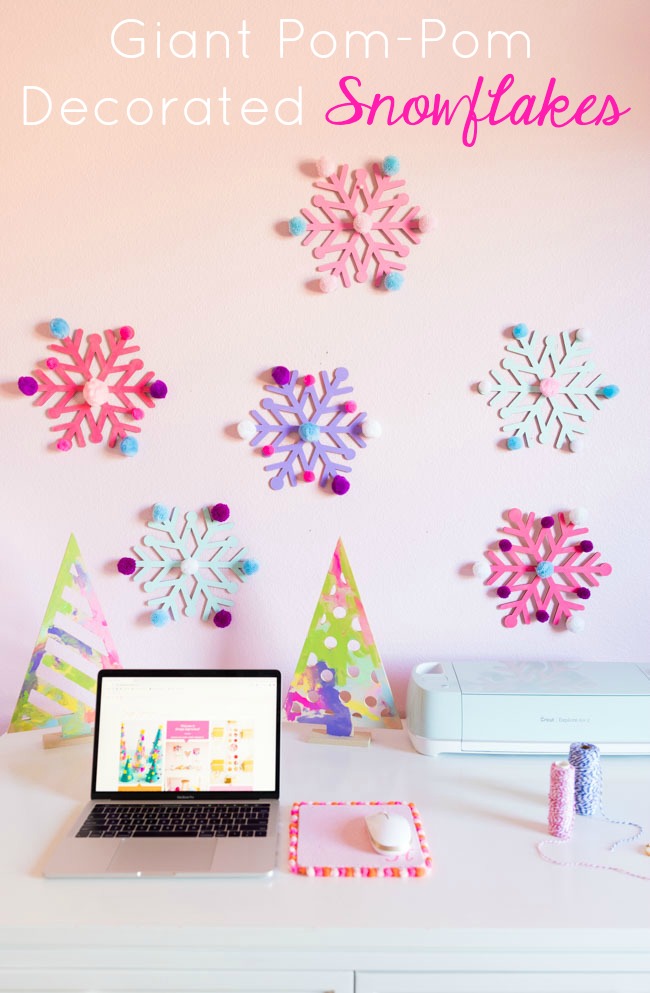 Supplies for Giant Wood Snowflakes
How to Decorate Wooden Snowflakes
1. Paint the front of each pom-pom with acrylic craft paint and a foam brush. Let dry and add a second coat of paint if needed. I used a couple shades of pink, purple and light blue for my snowflakes. I think the trick to making these look good is to stick with a limited color palette of 3-4 colors.
2. Attach a variety of pom-poms to each snowflake using hot glue. I used a mix of craft pom-poms and yarn pom-poms in colors that complemented the paint colors I chose. I added the pom-poms primarily to the tips of the snowflakes, but you can get creative on how you add yours!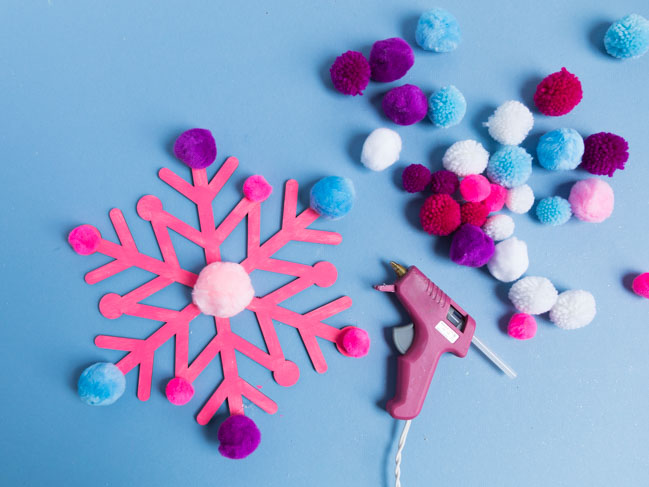 3. Finish by hanging your giant snowflakes with a small nail or 3M Command Hooks.
I created this wall decor for $10 worth of giant wooden snowflakes – my kind of project! I may just have to keep these up past Christmas.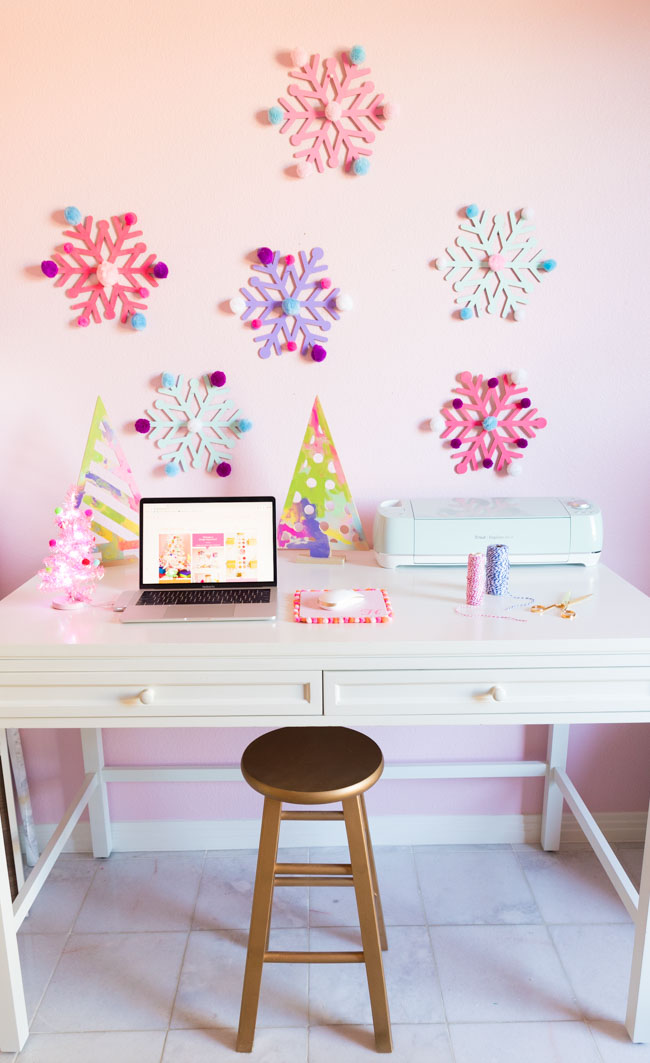 Are you a fellow pom-pom lover? Then don't miss my other colorful pom-pom crafts!
Thank you to Oriental Trading for providing the supplies for this project.