How to Pack for the Pool: 10 Pool Bag Essentials
I love an impromptu trip to our neighborhood pool on a hot summer afternoon. But it is never easy to get out the door with a 3 year old and 5 year old in tow, so a well-stocked pool bag ready to go is a must! Today I'm partnering with Kandoo to share my top 10 pool bag essentials, and I have a tutorial for this colorful beach bag for you too. Can you guess what it's made from?!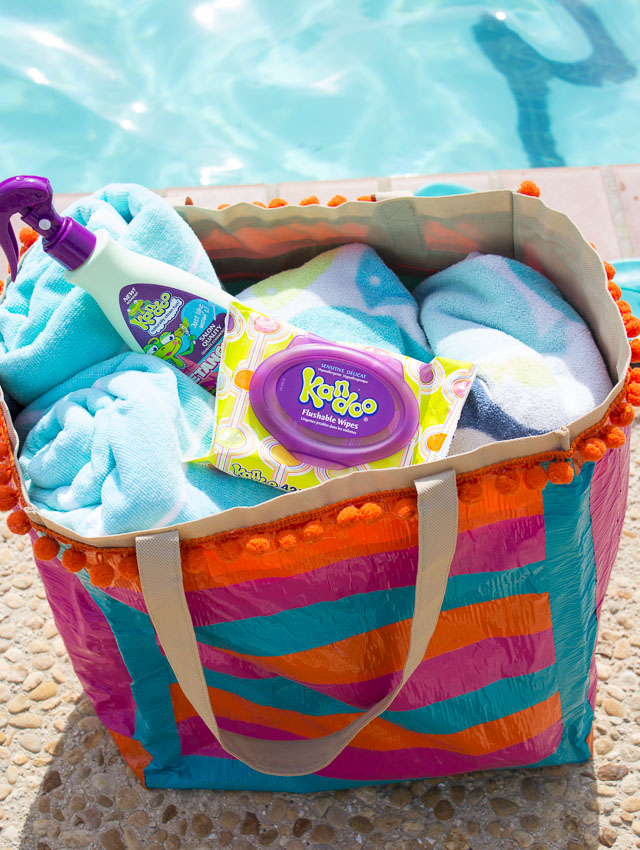 I keep my beach bag hanging up in our laundry room along with our swimsuits, flip flops, towels, etc. so they are all in one place. Here are the 10 things you'll almost always find in my bag!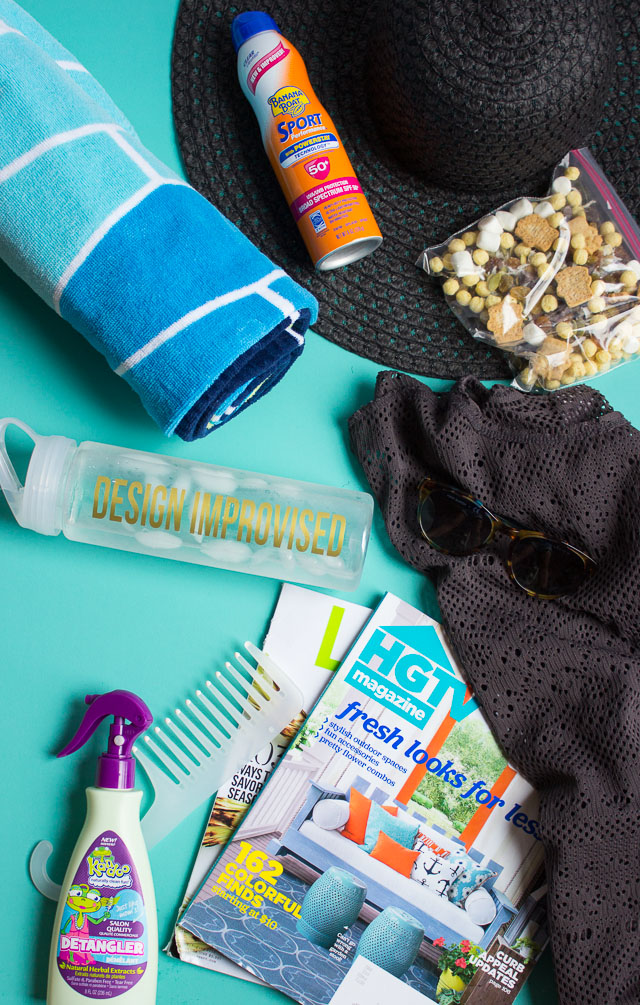 My Top 10 Pool Bag Essentials
1. Towel
I'll start with the most obvious one you don't want to forget. I store clean towels ready to go in our beach bag. I bought a couple beach towels from Target to add to our stash, and they are just the right size.
2. Sunscreen
Another obvious one but so important! I try to put sunscreen on my daughters and myself before we leave the house as I know the second they see the pool they'll want to jump in. However, I always bring extra with me to reapply if needed. I have been a spray sunscreen convert – it is just so much easier to apply than the cream with kids that don't stand still!
3. Swim Coverup
This crocheted cover-up provides just the right amount of coverage and has a cute tie around the middle.
4. Sunglasses
The sun is hot in Texas! It's hard to go outside without them, so these are a must-have in my pool bag. Here's my favorite pair this season.
5. Floppy Hat
I bought my first floppy beach hat this summer and I'm hooked! Would you believe my black straw hat was only $3 at Walmart? Not only is it fun to wear, it provides that extra coverage that my 35 year old skin needs.
6. Comb and Detangler
In case we need to run anywhere directly from the pool I like to have a detangler, comb, and some extra hair ties to whip our hair into shape.
7. Cold Drinks
It never fails…within minutes of getting into the pool my kids are hungry and thristy! I like to bring a separate cooler bag with some water and juice boxes.
8. Snack
We have a go-to pool snack – our summer snack mix! It hits the spot when you have worked up an appetite swimming and are craving something salty and sweet. Check out our "special recipe"!
9. Wipes
A pack of wipes can be a lifesaver for a number of things – from chocolate-covered faces, to a runny nose, to an emergency toilet paper replacement if the pool bathroom happens to be out! These kids wipes are great because they are flushable.
10. A Good Read
Often times it is wishful thinking, but I can't head to the pool without grabbing something to read. For me, that usually means one of my favorite magazines. I'm happy if I can manage to flip through a few pages while watching the girls in the pool.
Last but not least, don't forget the bag! This year I decided to make my own…out of a reusable shopping bag and duct tape. Yep, you read that right! I've got the tutorial for you below. 😉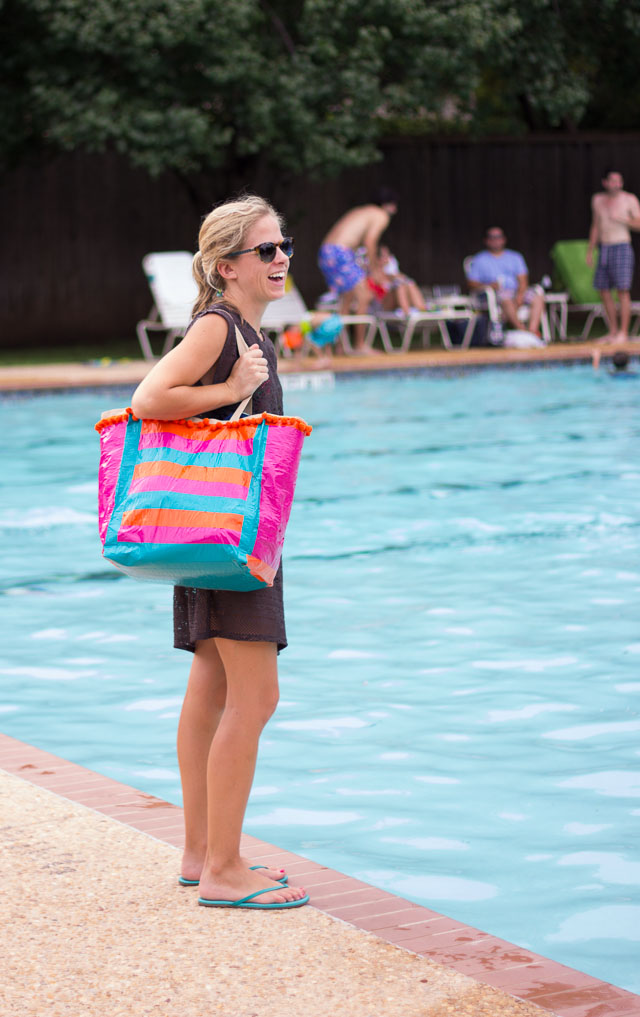 We all have at least one of these reusable shopping bags at home right? If you're like me, you've amassed a whole collection, and some just aren't that pretty! This project was inspired by an idea I saw in the book Upcycling Celebrations. Here's what you'll need to make your own:
Supplies for DIY Duct Tape Decorated Pool Bag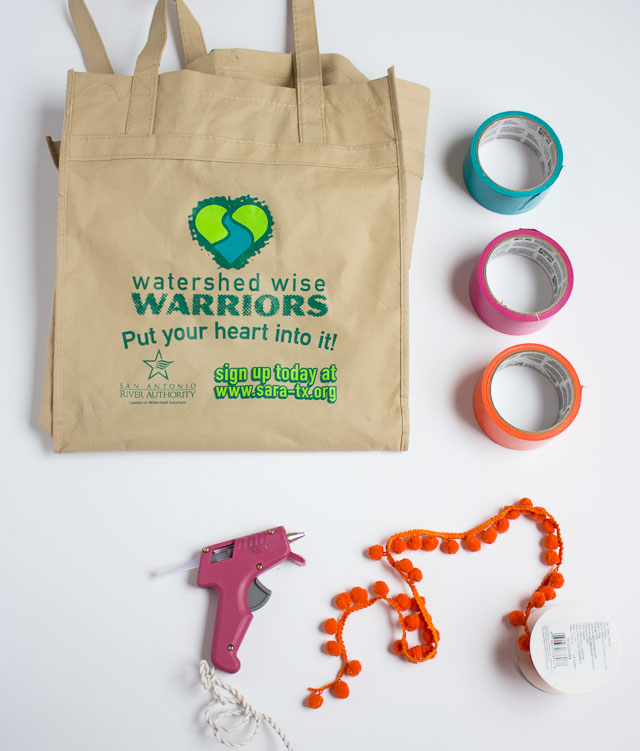 How to Make a DIY Duct Tape Decorated Pool Bag
1. Start on the front side of the pool bag by covering it with strips of duct tape. Start at the bottom and work your way up. Duct tape sticks especially well to itself, so you'll want to overlap the strips slightly. Also, tearing the duct tape into strips is easier than cutting it – your scissors get gunky quickly and won't cut!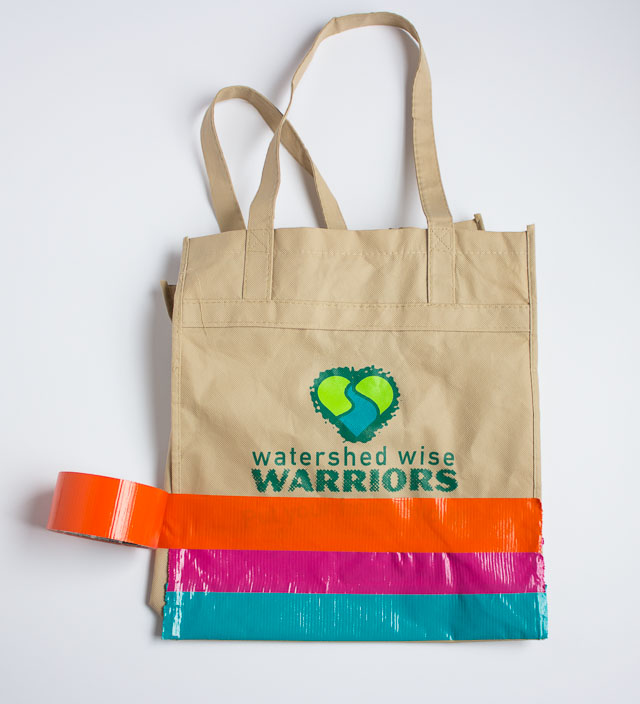 2. I ran vertical strips of a single color down the sides of the bag, but you can cover it however you want. Don't worry about the raw edge of the tap at the top, you'll be covering that with pom-pom trim. I lined the edges with a strip of blue duct tape that I folded over the edge to bridge the two sides together.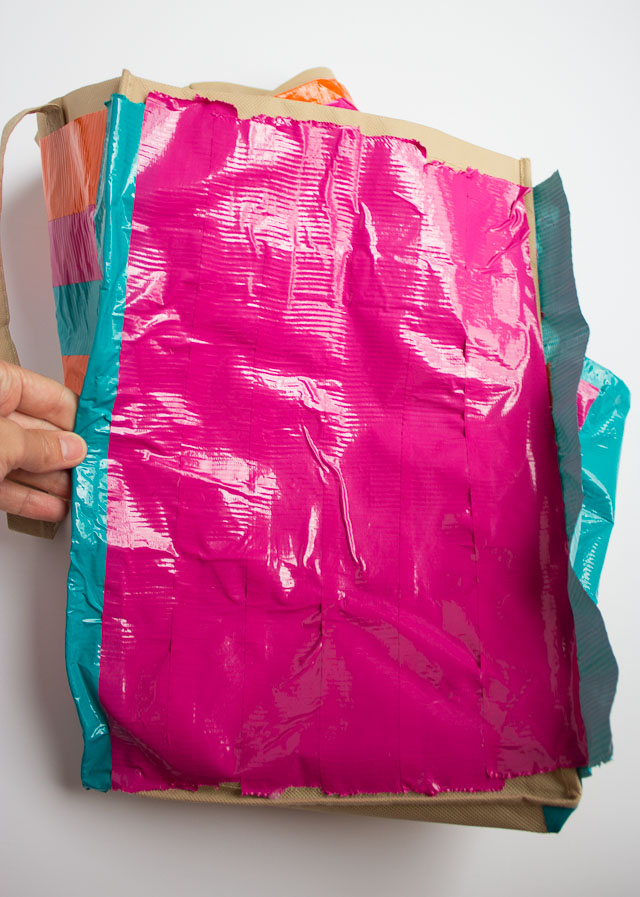 3. Keep working your way around the bag, covering the bottom as well. If needed add a bead of hot glue under the tape at the top and bottom of the bag to secure it in place.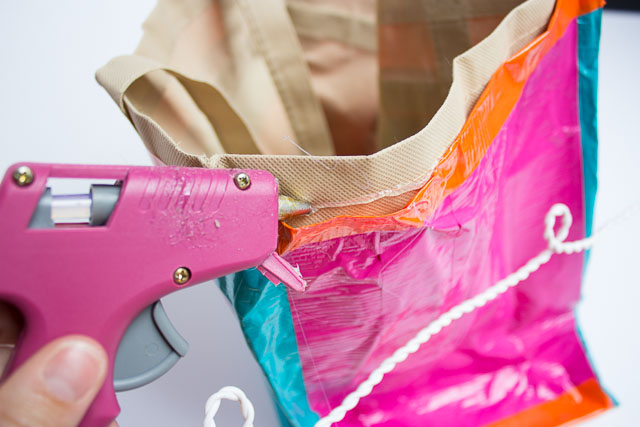 4. Finish with pom-pom trim along the top to disguise any raw edges and add a little bit of flair!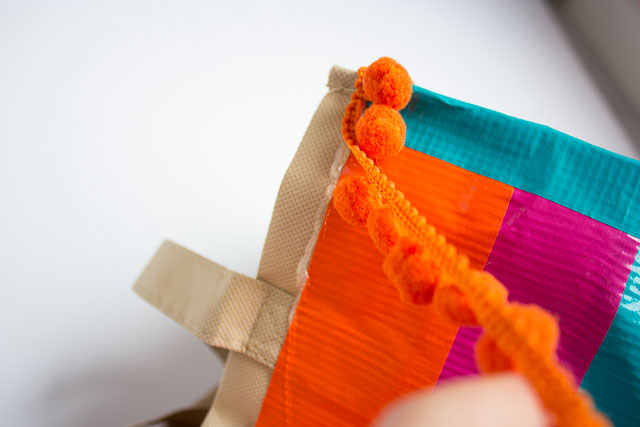 What do you think? Want to try making one of your own? Everyone at the pool will be asking you where you bought it! 😉

This post is a part of the Happy Homes Campaign with KSW Media. Thanks to Kandoo for sponsoring this project and today's conversation. All content and opinions as always, are my own.