Laundry Room Makeover with The Land of Nod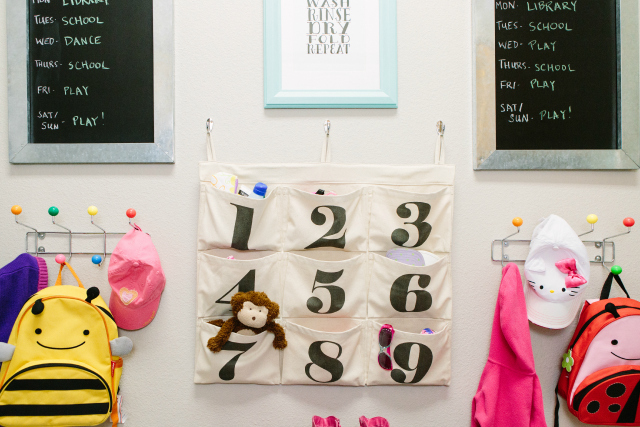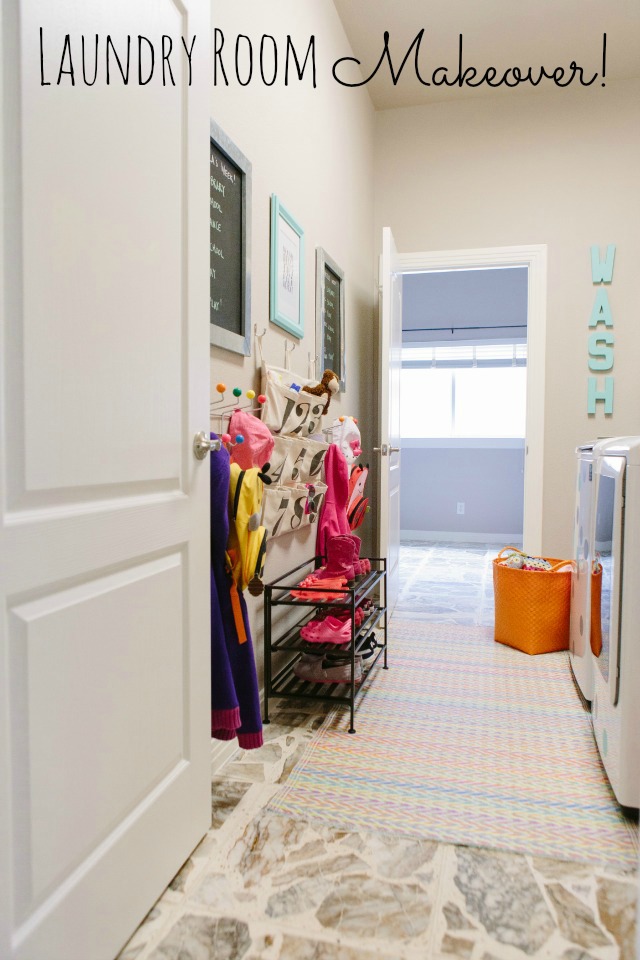 If you asked me the household chore I disliked the most, it would be laundry hands down. But now with my new cheery laundry room, it may have just moved down on the list!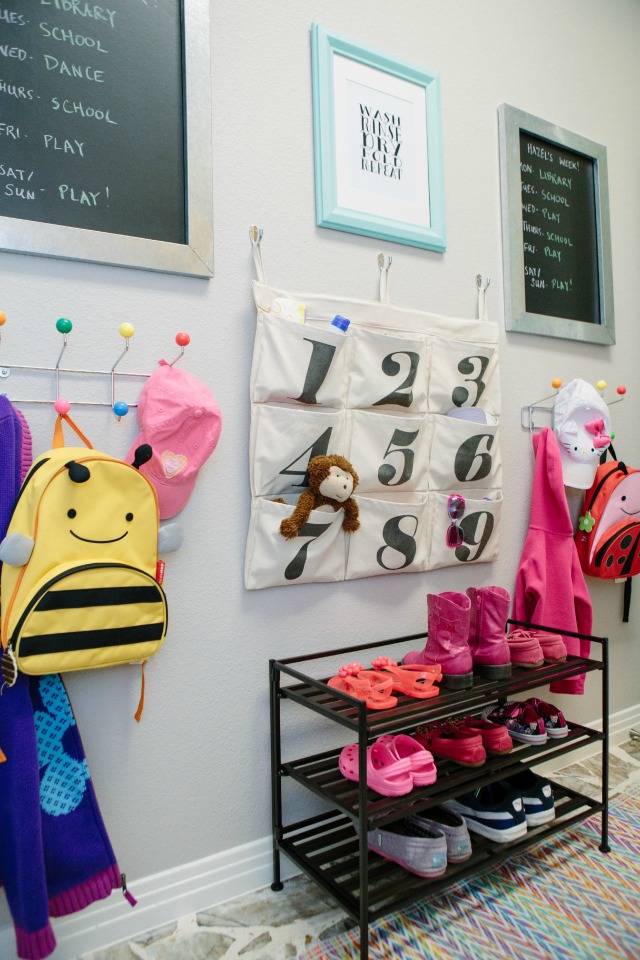 I was so excited to have a full laundry room when we moved to our new home last summer – a big step up in space from the closet with a stacked washer and dryer we had in Chicago.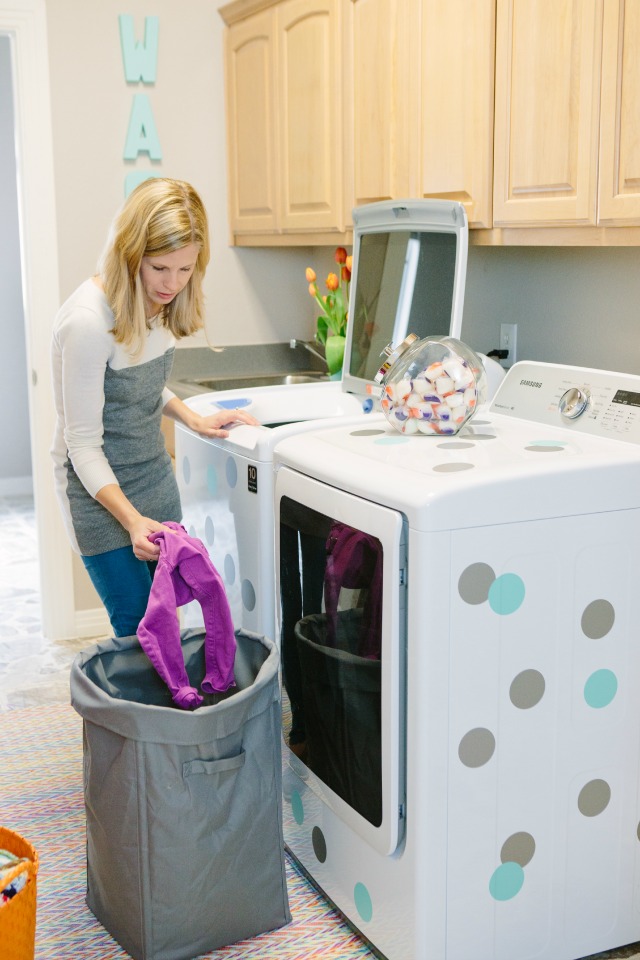 However, I wasn't sure what to do with the room. The blah cabinets and big blank wall needed help. Someday we'll paint the cabinets and do more of a renovation, but for now I wanted to have fun with the room (in hopes that it would make doing laundry more fun!).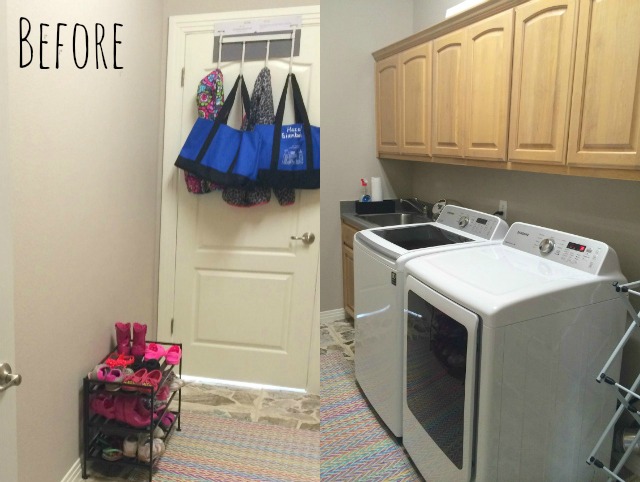 I reached out to my friends at The Land of Nod. I thought their bright and colorful storage and decor pieces would be perfect to brighten up the room and help it function as a mudroom for my girls as well. They were game to bring Land of Nod to the laundry room! Here's what I did in case you want to cheer up your laundry room a little as well:
1. Give the washer and dryer a makeover! Turn these boring appliances into something to smile at with colorful polka dot decals. It is as simple as peel and stick and they are completely removable (just peel off with no harm to the appliances).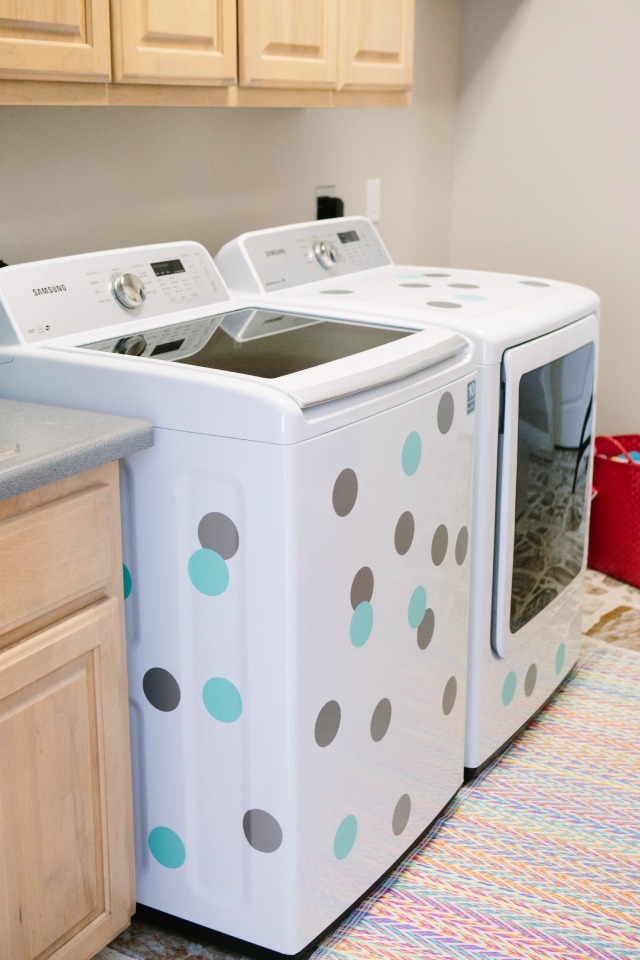 2. Make use of wall space –
Our laundry room is pretty narrow, but the long blank wall offered untapped storage opportunities. The addition of colorful wall hooks and a pocket cubby along with a
shoe rack
from
Target
corrals quite a bit of stuff.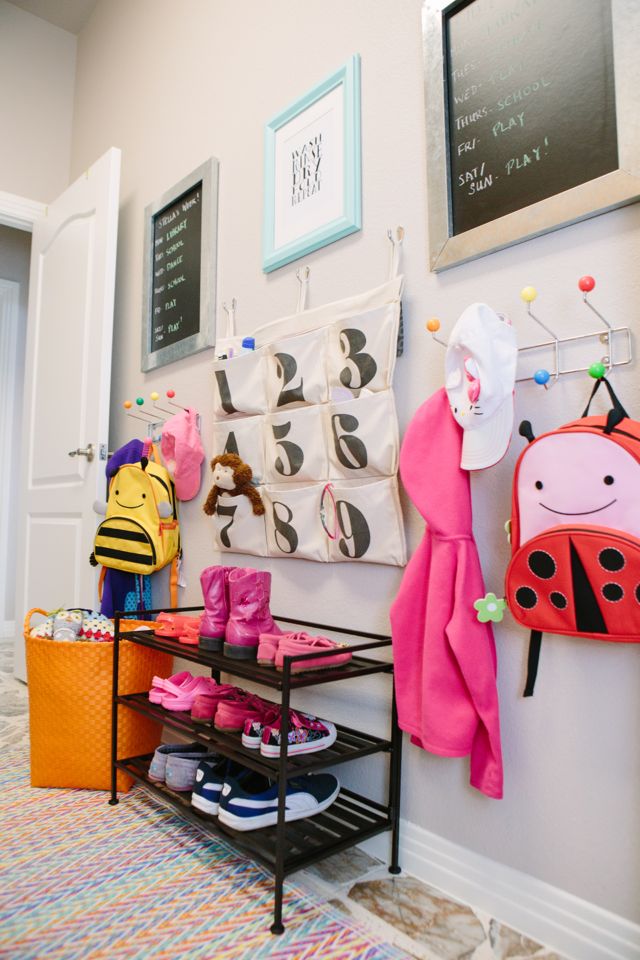 3. Keep it at kids height – By giving each of my girls their own set of hooks and a row in the numbered wall cubby, I'm hoping it encourages them to hang up their coats and bags when they come home rather than dropping them on the floor as usual. So far, I've had about a 50% success rate!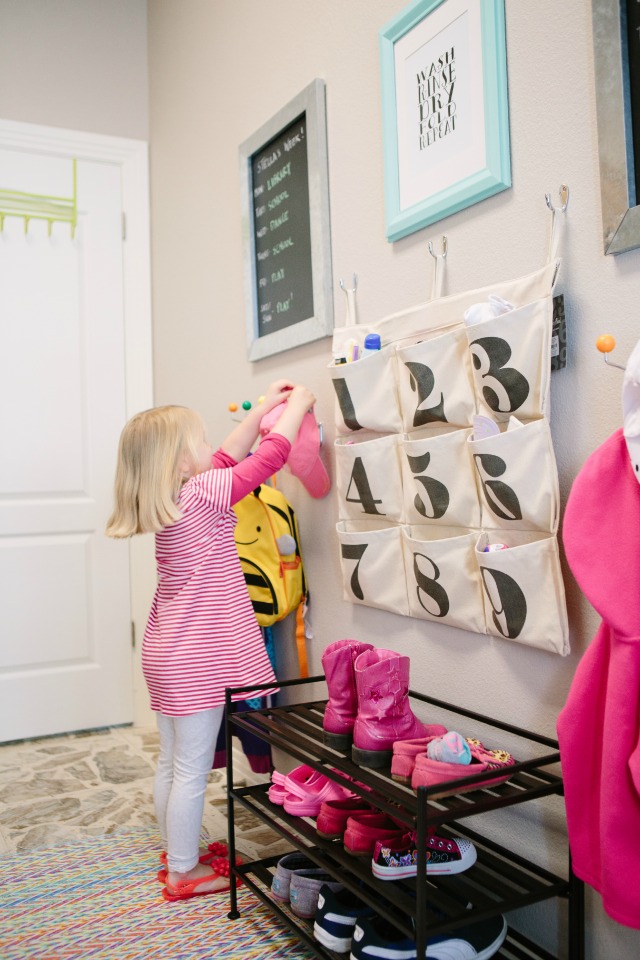 The pockets in the wall cubby hold everything from extra socks, to hats, to sunscreen… and the occasional monkey.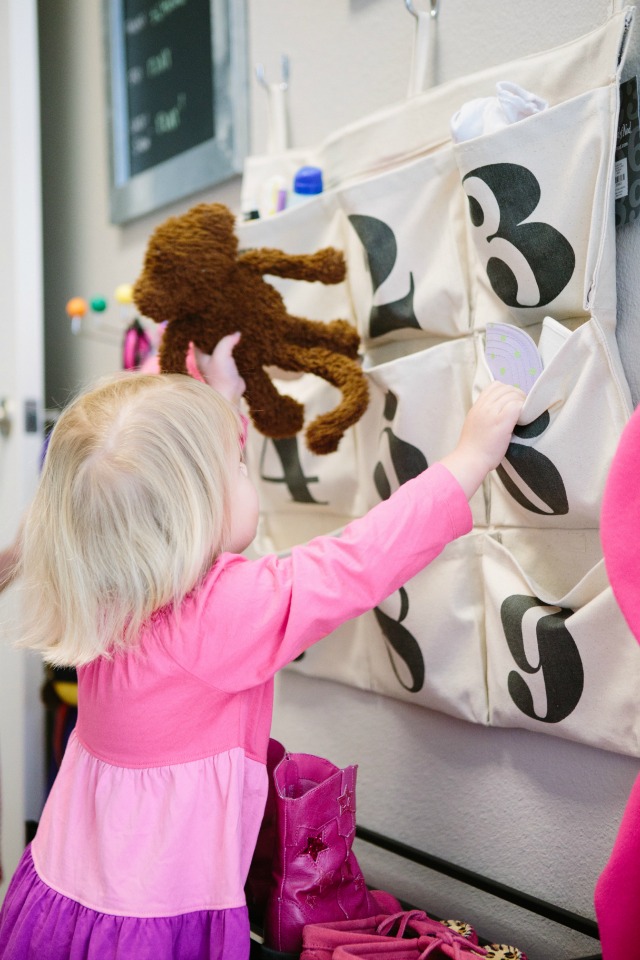 4. Stay organized with chalkboards – the addition of chalkboards with the girls' "schedules" helped designate each spot on the wall as their own. As you can see my girls have very rigorous weeks. 😉 Not looking forward to the days when these chalkboards will be filled with all sorts of sports practices and after-school activities!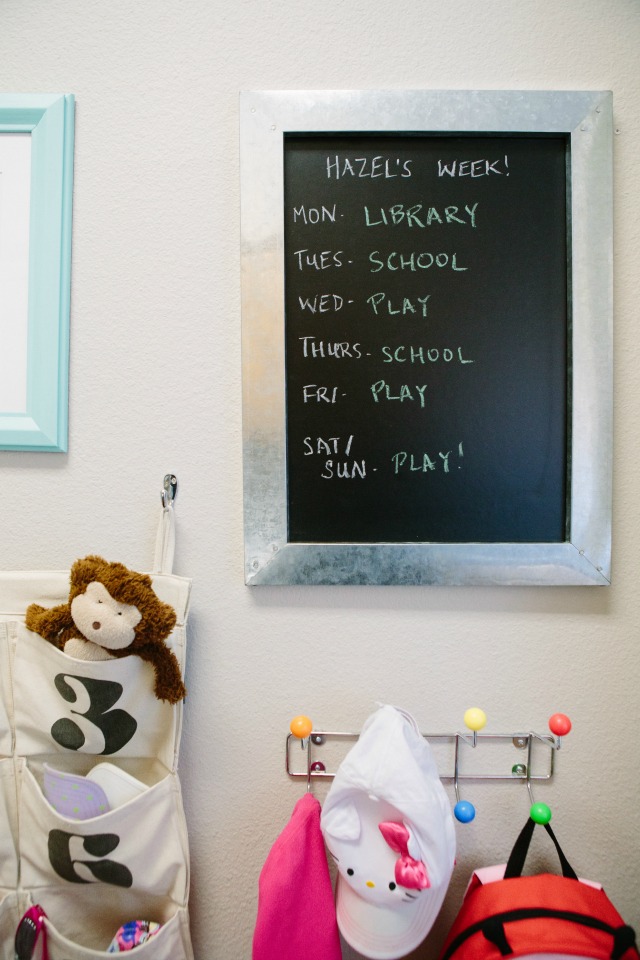 5. Swap in some new baskets – something as simple as trading our old plastic laundry basket for some of these colorful woven ones immediately made an improvement in my overall outlook toward laundry! In addition to using the baskets to sort laundry, I have one basket designated for the girls' pool toys and towels so they are ready to go as soon as warm weather hits here in San Antonio.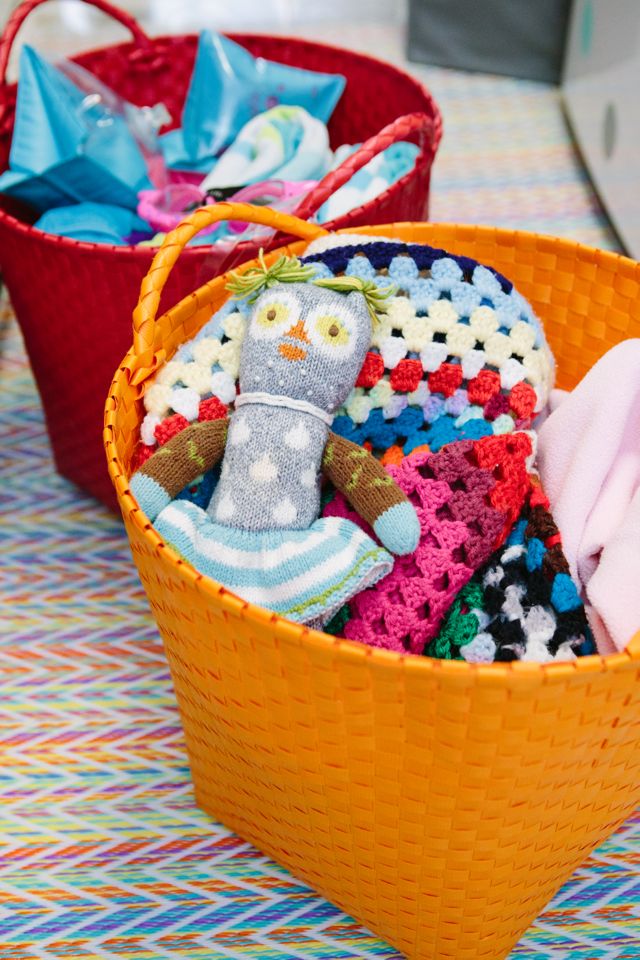 6. Add some pretty details – don't overlook the laundry room as a place to put a little wall art. I made the "WASH" letters by painting inexpensive paper mache letters (affiliate link). I loved this whimsical canvas from the Land of Nod. Who wouldn't want to be carried away by a huge set of balloons when they are surrounded with a mountain of laundry?!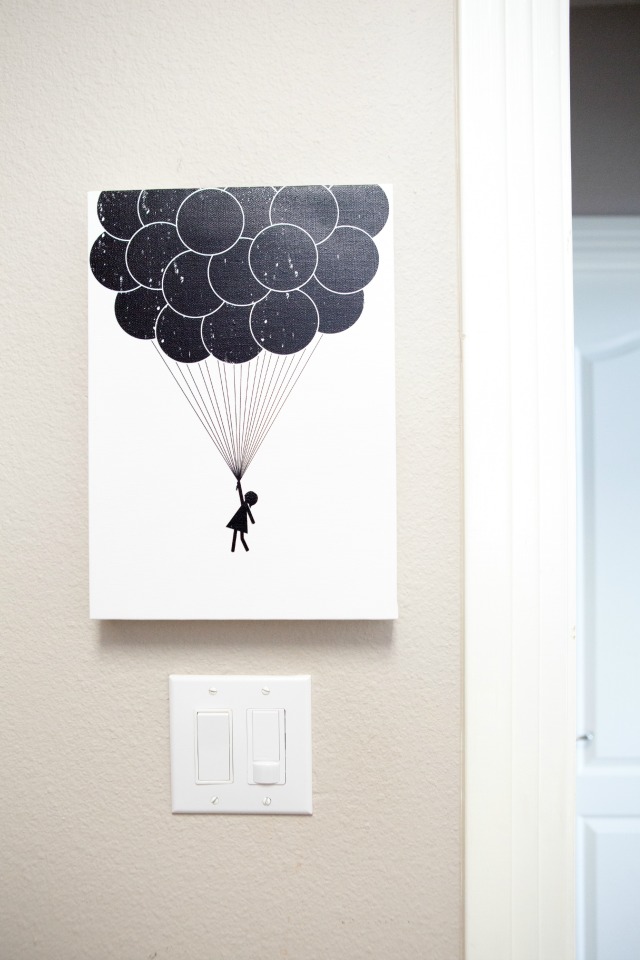 So excited to have tackled this room in our home! Now off to do some laundry..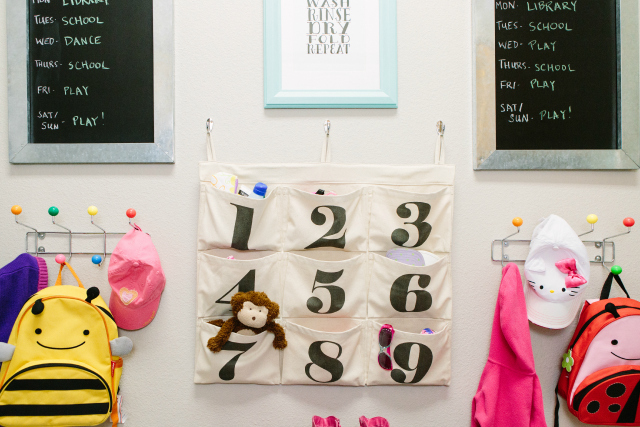 This post was sponsored by The Land of Nod. All content and opinions are my own.
Photos by Candice Stringham.