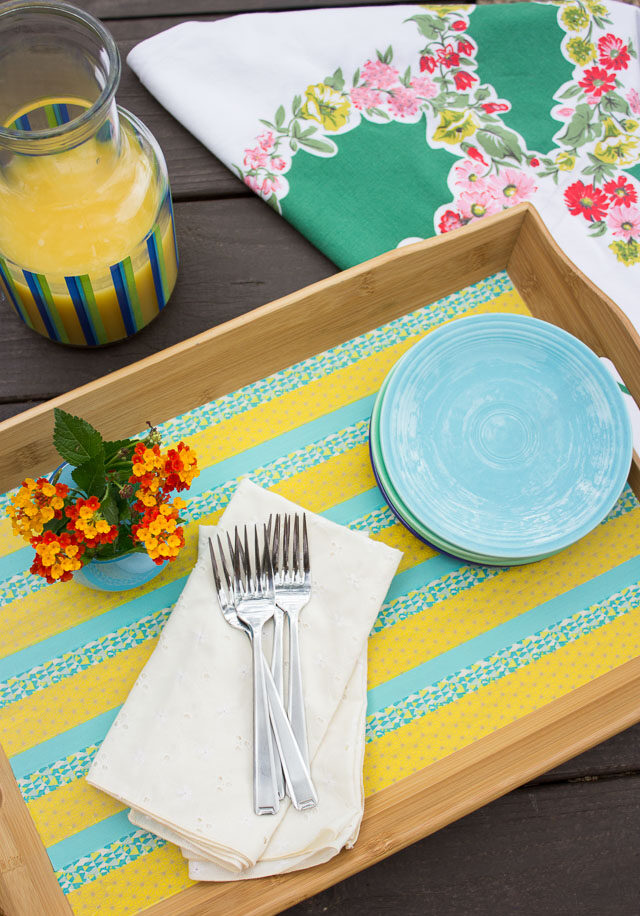 Washi Tape Tray Makeover
Introducing my washi tape tray makeover! Serving trays are a must-have for outdoor summer entertaining – they save you lots of trips from the kitchen to the patio and they make great serving surfaces on an outdoor chair or ottoman. I have a whole collection of trays that I put to use on a daily basis, many of them I've snagged at the Goodwill for a couple dollars. If you have an old serving tray at home, I've got a fun 30 minute makeover you can try!
I had a plain wood tray just waiting for a little DIY touch with washi tape. I chose a sunny yellow and beachy blue for a summery look. Read on for the step-by-step tutorial for making your own washi tape tray:
This post contains affiliate links. See full disclosure.
Supplies for Washi Tape Tray
How to Decorate a Serving Tray with Washi Tape
1. Start at the bottom
Start at the bottom edge of the tray and roll out a length of tape smoothing down with your finger as you go. I liked to slightly overlap my pieces of tape to prevent any of the tray showing through and help them stick to each other better.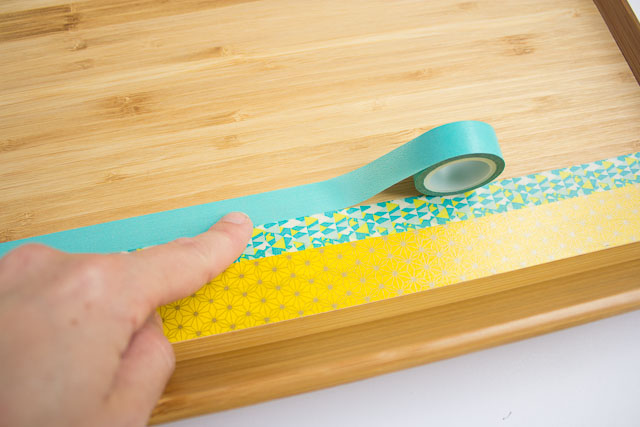 2. Trim edges
To make a clean edge along the tray, I ended up using an exacto blade (I would recommend using a handle with it, I only have a blade!). But it worked really well to cut the tape cleanly and leave a nice straight edge on the tape to start the next row with.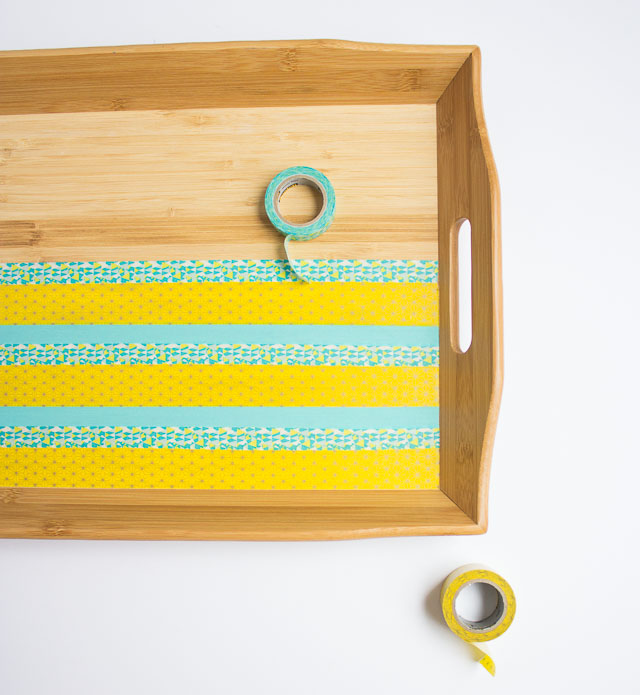 3. Cover tray
Keep going until you cover the tray. You may need to trim the width of your last piece with the exacto knife to make it fit just right.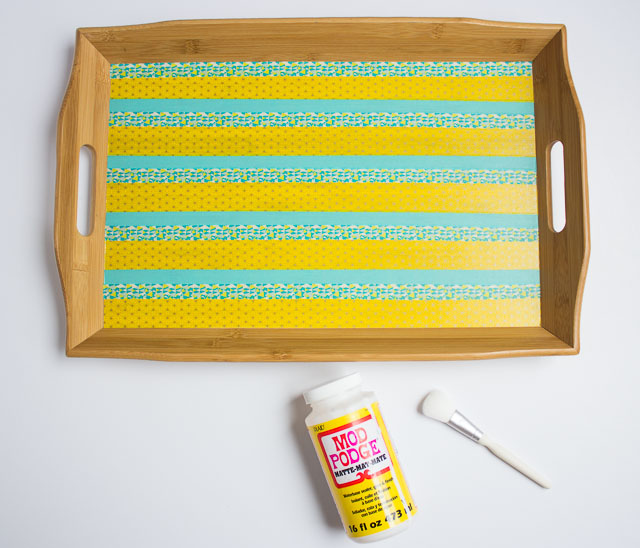 4. Seal with Mod Podge
Add a couple layers of Mod Podge (letting dry between coats) to seal the tape and help make it water resistant.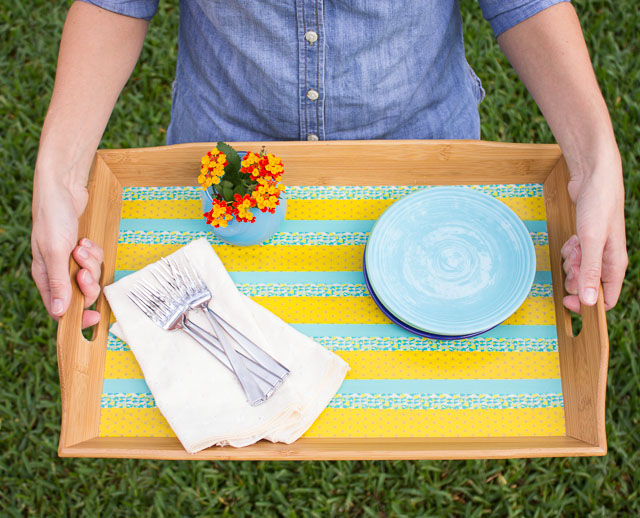 We love eating outside as much as we can. Whether it is a dinner from the grill or a weekend breakfast on our picnic table. Whatever the meal, I will use at least 2-3 trays to bring everything we need to the backyard. I got to use my new tray for this al fresco breakfast we had a couple weekends ago: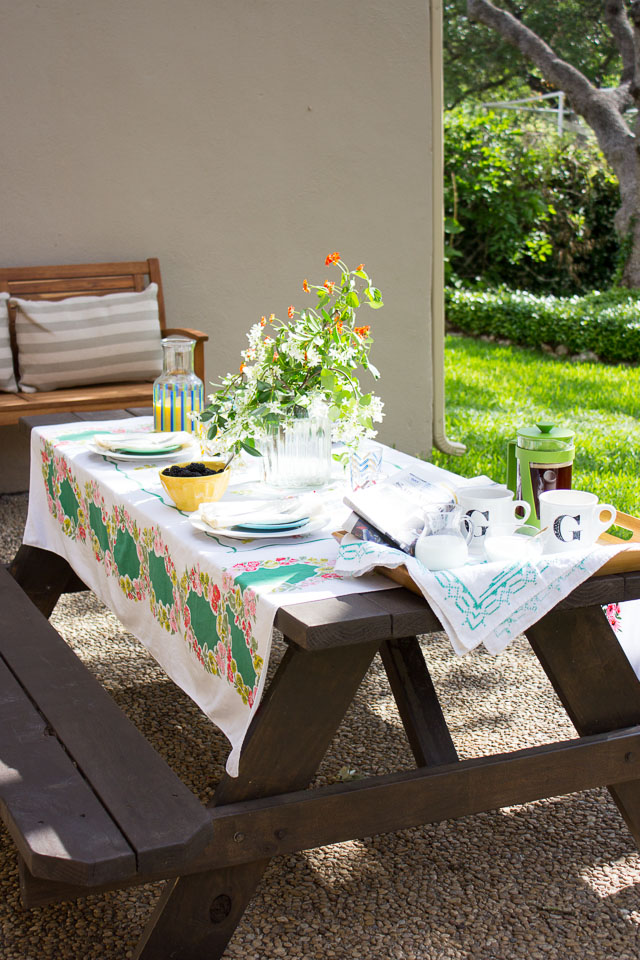 Love this washi tape tray?