6 Simple Steps to Dining Al Fresco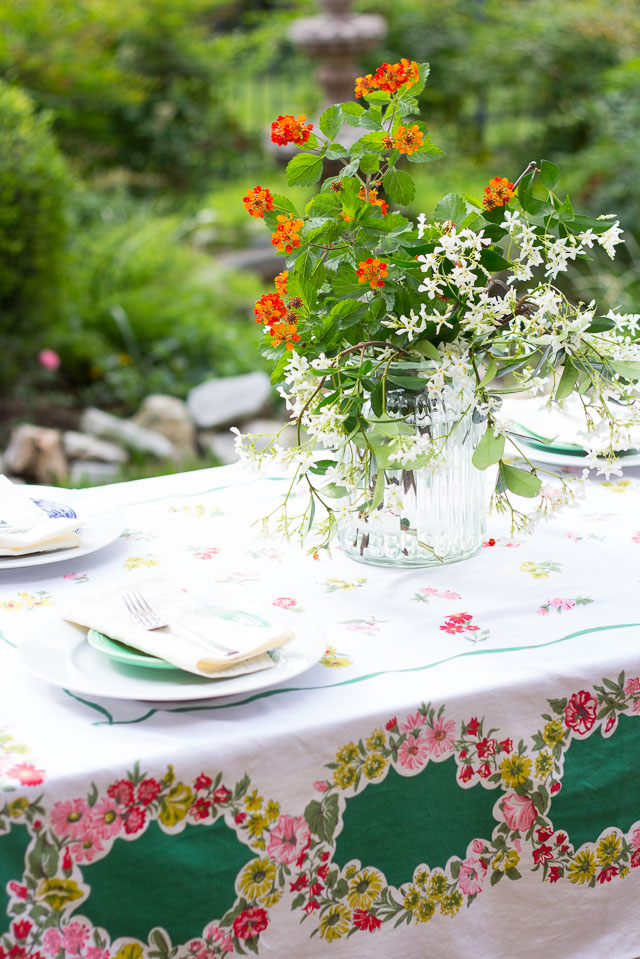 Tips for Dining Al Fresco
I am a huge fan of al fresco dining. As I tell my girls, "food just tastes better outside." It's so true! While my husband loves to grill, my favorite meal to eat outside is actually a leisurely weekend breakfast. Especially here in Texas, the temps can heat up fast and the morning is the perfect time to get outside and enjoy some fresh air before the heat (and mosquitos!) take over.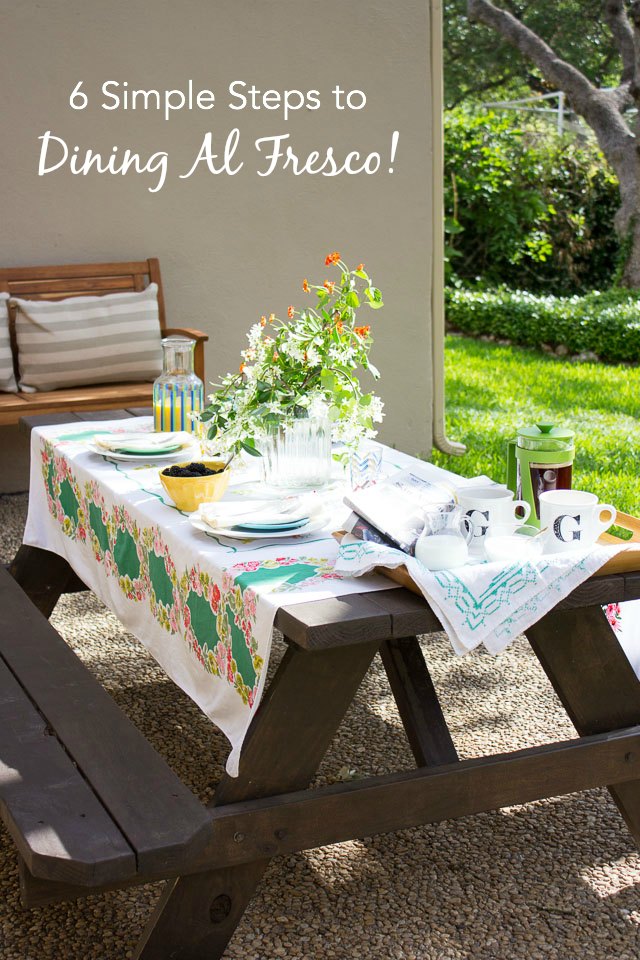 While this breakfast set-up in our backyard picnic table may look fancy, it's just me playing with some of my thrift store "treasures" and some flowers from our backyard (one of my favorite things to do while my girls are watching their morning TV shows and my husband is sleeping in)!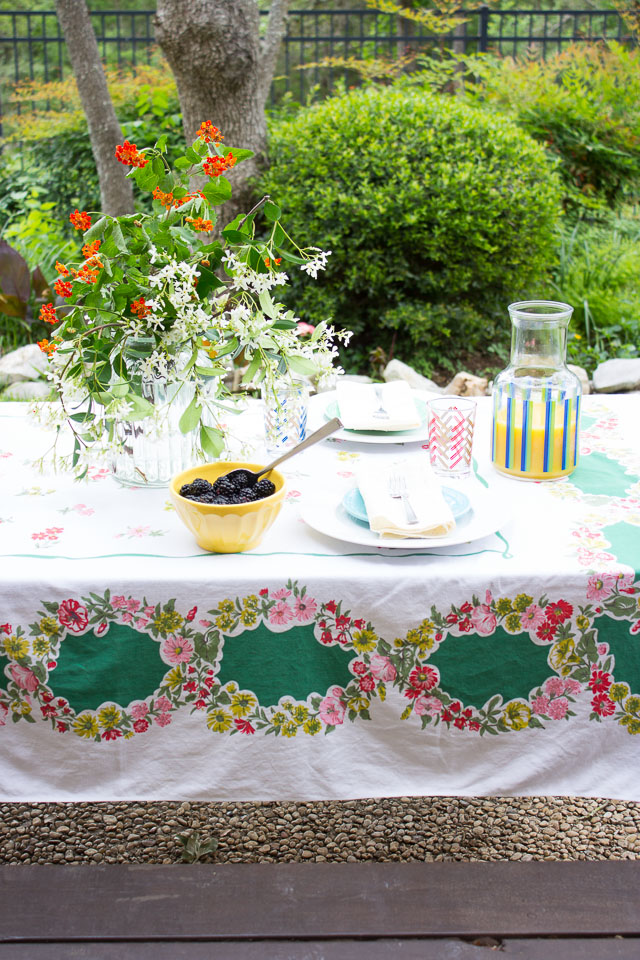 Here are my 6 key components for a special al fresco meal (no expensive restaurant needed):
6 Tips for Dining Al Fresco in Your Backyard
1. Start with a pretty tablecloth
Totally necessary? No! Does it make it feel special? Yes! I have a collection of floral-patterned tablecloths that I've picked up at flea markets over the years. They are perfect for using outdoors – not only do they create a clean surface on our outdoor table, they wash up great.
2. Cloth napkins won't blow away and melamine won't break!
I also love using cloth napkins outdoors. The main reason – they don't blow away in the wind! I found these pretty eyelet ones at a garage sale. Melamine dishes are a must for outdoor eating as they won't break if you drop them but are heavier (and prettier) than paper plates.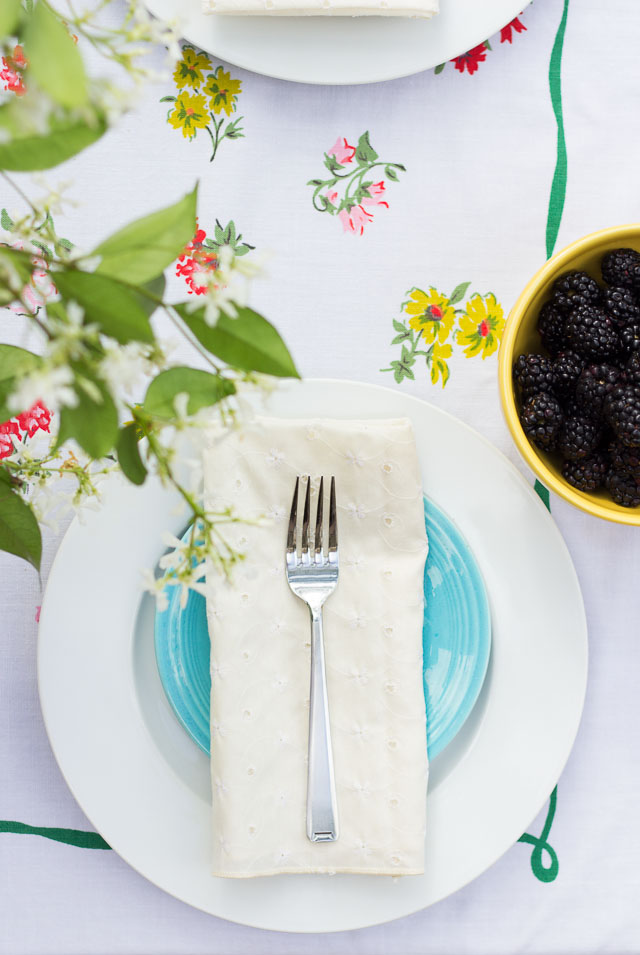 3. Save trips to the kitchen with serving trays
Having a couple serving trays on hand will help you corral dishes and food to save you multiple trips back and forth to the kitchen. I dressed up this plain wood tray with patterned washi tape and love how it turned out. You can get the tutorial here!
4. Add some backyard blooms
This arrangement looks like a million bucks (if I say so myself!) and it is literally just a few cuttings from our jasmine vines and lantana bush in a glass vase from the Goodwill. I think any backyard arrangement can look gorgeous – just find something blooming and pair it with some pretty greenery from a bush, vine, or leafy plant. You can't go wrong!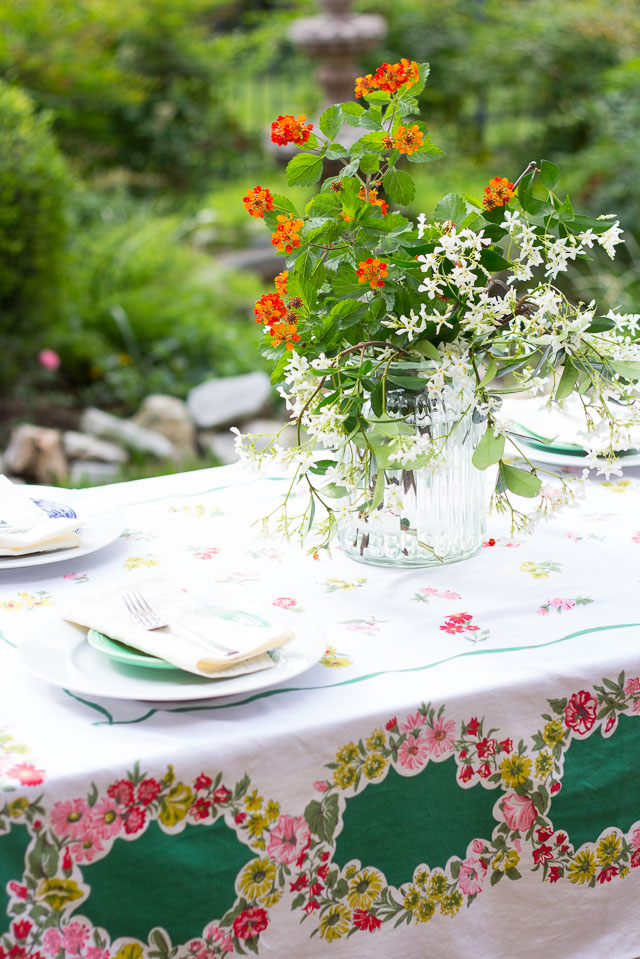 5. Keep the food simple
I typically have so much fun decorating the table, the food is kind of an afterthought – ha! I like to keep the food simple and portable and usually just make a batch of muffins or an egg casserole with fruit. For this brunch I made individual egg sausage casseroles in a muffin tin.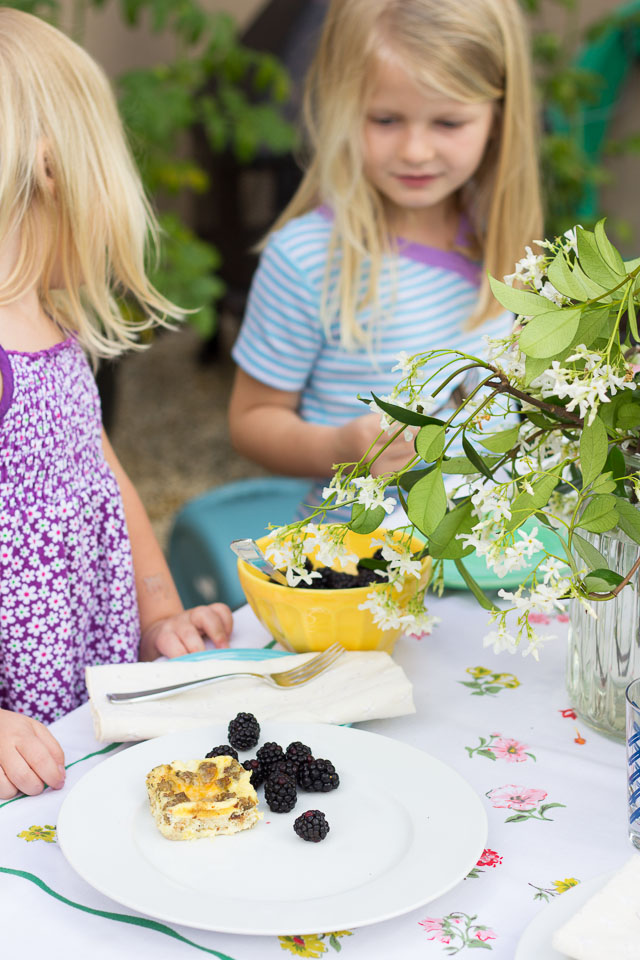 6. Coffee and a newspaper is a must
This is really the highlight of a weekend breakfast right?! I love using our french press because it is portable and a fun change from the Keurig we use during the week.