5 Modern Rock Painting Ideas to Try this Summer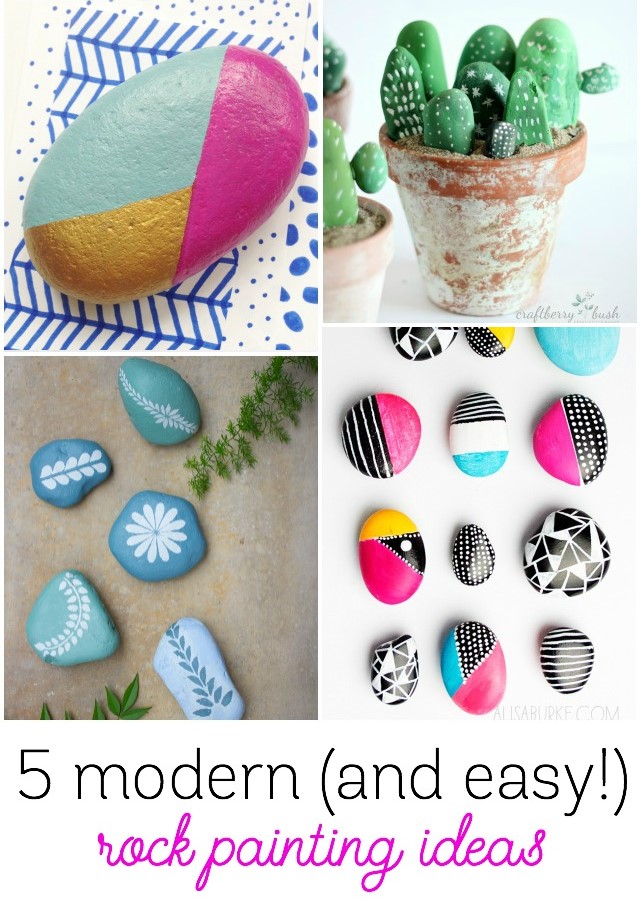 Rock Painting Ideas
It appears that you all enjoy a good rock painting project based on the love you gave my stenciled garden rocks yesterday, so I thought I would round up a few more favorite ideas for your summer inspiration. These are all modern and grown-up friendly. Unlike some of the crazy intricate painted rock designs I came across, these are all quite easy too!
1. Color-blocked rocks – so cool, so colorful, so simple! These would make fun gifts.
2. Cactus rocks – oh my gosh, I love this idea! Cactuses are so chic right now – I am seeing them pop up everywhere in the blog world. I would love to make a pot of these for my mother-in-law in Tucson!
3. Gold rocks – the simplest of them all and you just can't go wrong with gold. Scatter a couple of these next to a potted plant or in a coffee table vignette for modern decor that cost nothing.
4. Stenciled rocks – in case you missed these, I painted rocks with a coat of chalk paint and a leafy stencil for a botanical look that would look pretty indoors or out!
5. Geo painted rocks – these are the most involved of all the rock ideas, but if you are feeling like pulling out some paint and getting creative one afternoon, then this is the project for you. These were turned into magnets – so cool!