A Cozy Coffee Date with Glade Candles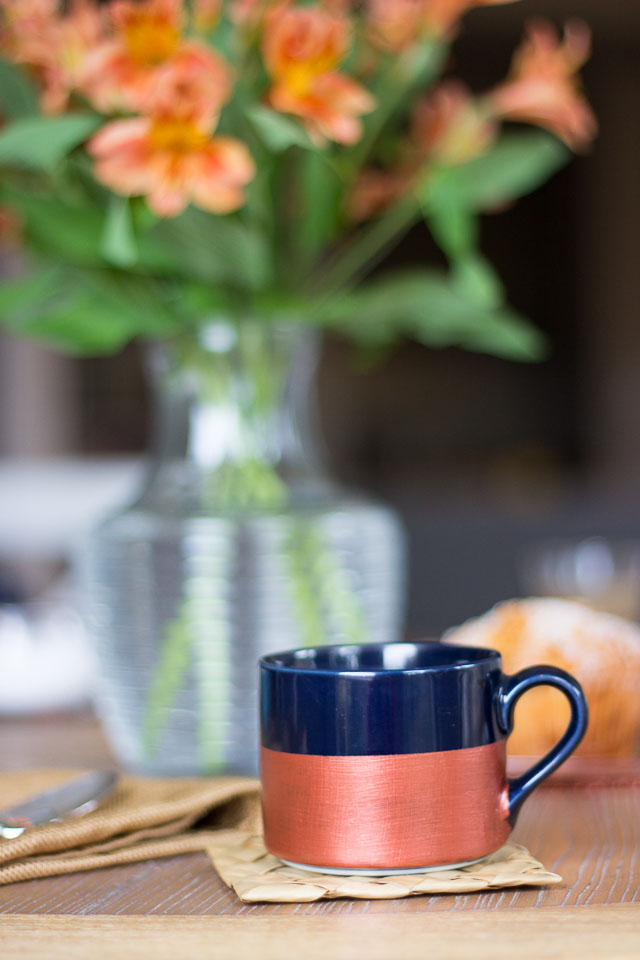 How to Host a Coffee Date
Now that the excitement of the holidays are over, I have been slowing things down and staying close to home. It's time to host a coffee date! Today I'm partnering with Glade to share my idea of cozy home entertaining. Lately for me that has been sharing a cup of coffee with a friend while our kids play together in the playroom. If we can steal a few quiet moments of conversation without being summoned to help with a toy or settle a sharing dispute, I consider it a success!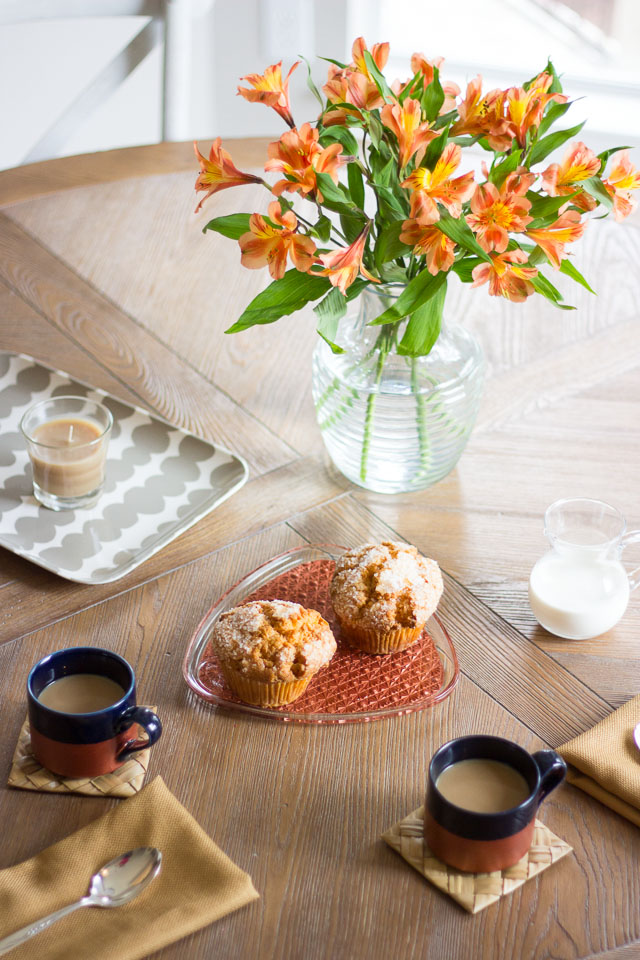 If I know we have friends coming over for a playdate, I try to plan ahead and pick up a few muffins and fresh fruit at the store. An inexpensive bouquet to brighten up the kitchen table is also a nice touch. These pretty alstroemeria are my favorite supermarket flower. Not only are the often the most affordable (this bunch cost $4), they are also some of the prettiest and last the longest.
When I walk into a friend's home and they have a candle lit, I immediately feel cozy, don't you? I try to create the same cozy vibe in my home. Especially in the winter months, I think a candle is such a comforting sight.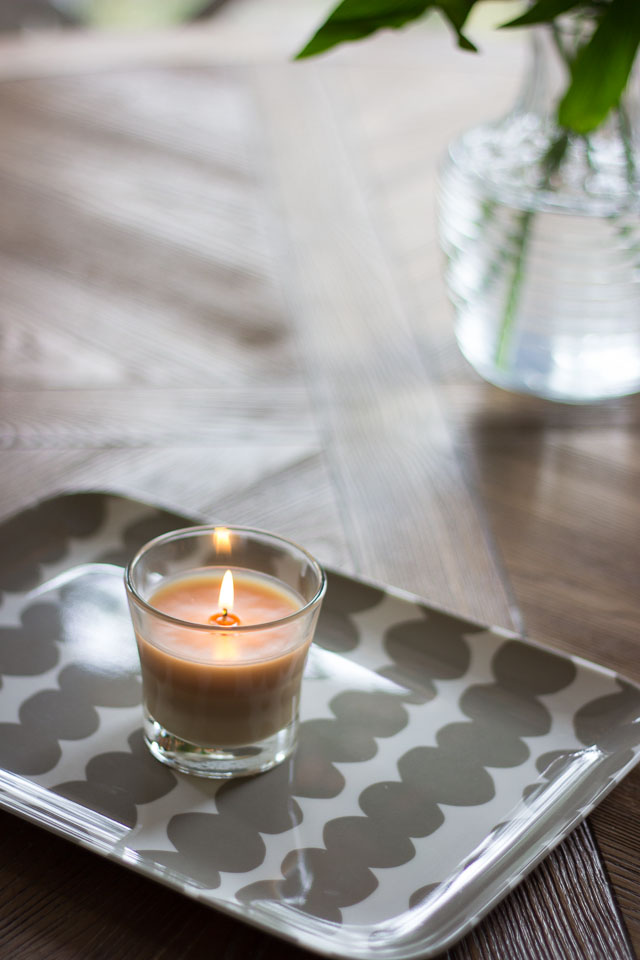 Glade sent me their Cashmere Woods candle that has all my favorite scents mixed together – citrus, oak, and vanilla. Perfect for a winter morning coffee date!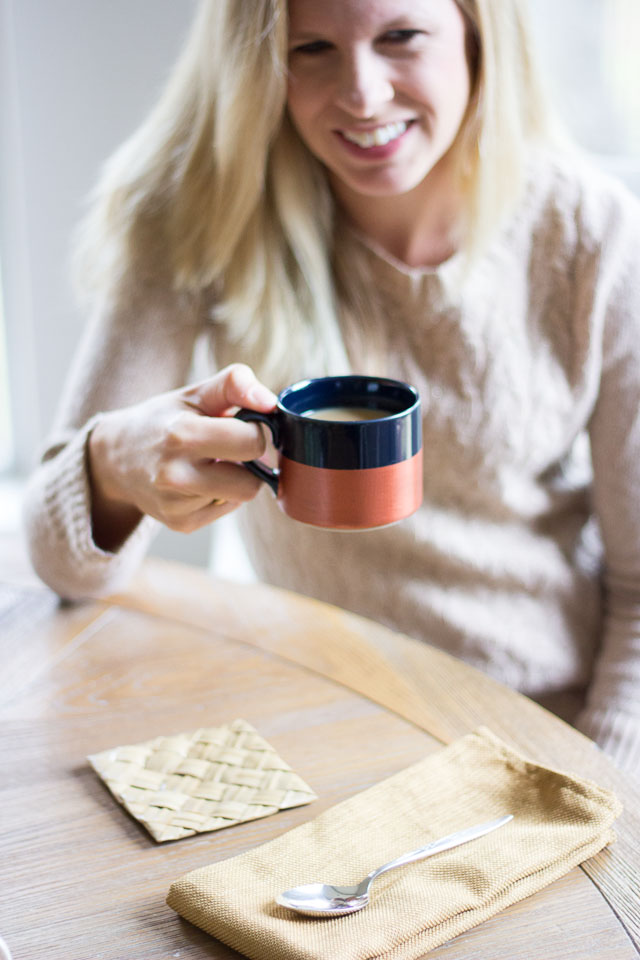 Of course, I try to incorporate a handmade component to my entertaining whenever I can! I recently gave these thrift store mugs a metallic makeover and was excited to put them to use.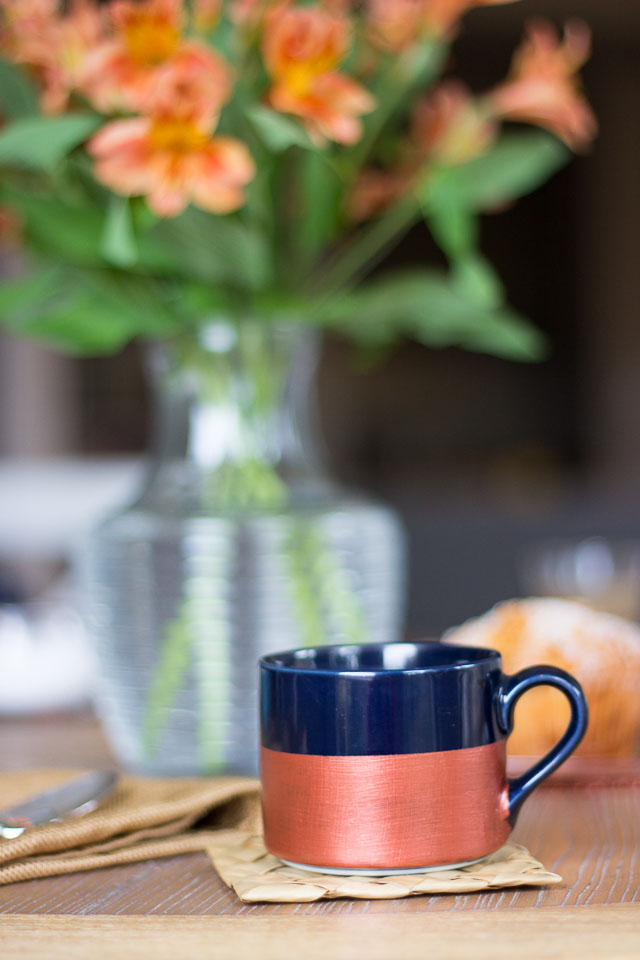 These metallic mugs are so simple to make! Read on for the tutorial:
Supplies for Metallic Painted Mugs
Plain ceramic mugs – if you don't have any old ones on hand, head to the thrift store! I found mine at the Goodwill for 50 cents a piece
Martha Stewart Multi-Surface Metallic Paint – I used the Rust color and paired it with a dark blue mug, but the options are endless like gold paint paired with a black mug, silver paired with white
Masking tape
Foam brush
How to Make Metallic Painted Mugs
1. Wash and thoroughly dry the mugs. Tape off the bottom section of the mug with masking tape. Make sure you position the tape low enough so that your mouth doesn't touch the painted area when you take a sip! Also be sure to tape off any of the handle that you don't want covered in paint. Run your fingernail along the edge of the tape to prevent any paint from seeping underneath.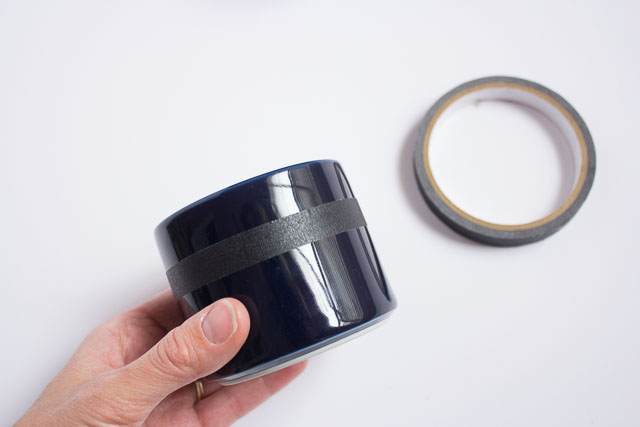 2. Use your foam brush to apply an even layer of paint to the area below the tape. Let the first coat dry completely before adding another coat (the directions say to wait an hour between coats, but I probably only waited 30 minutes!). I covered the mug in 4 coats, changing the direction of the brush strokes with each coat to create a smoother surface.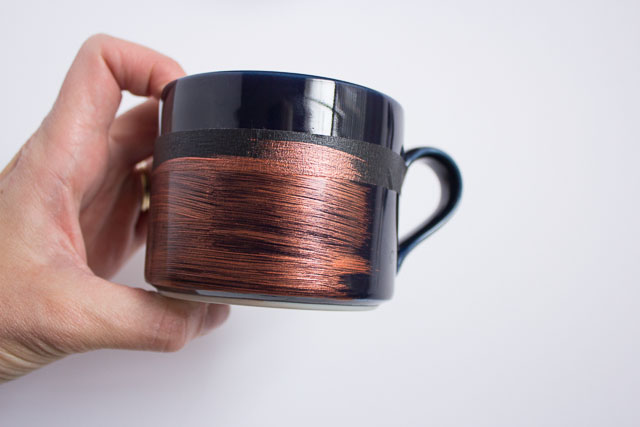 3. After your last coat, carefully peel off the tape, peeling away from the paint. For the Martha Stewart paint, you need to let it cure for 21 days. UPDATE: The paint says it is dishwasher safe, but mine came off in the dishwasher after a wash, so I would definitely hand wash and avoid scrubbing the painted area.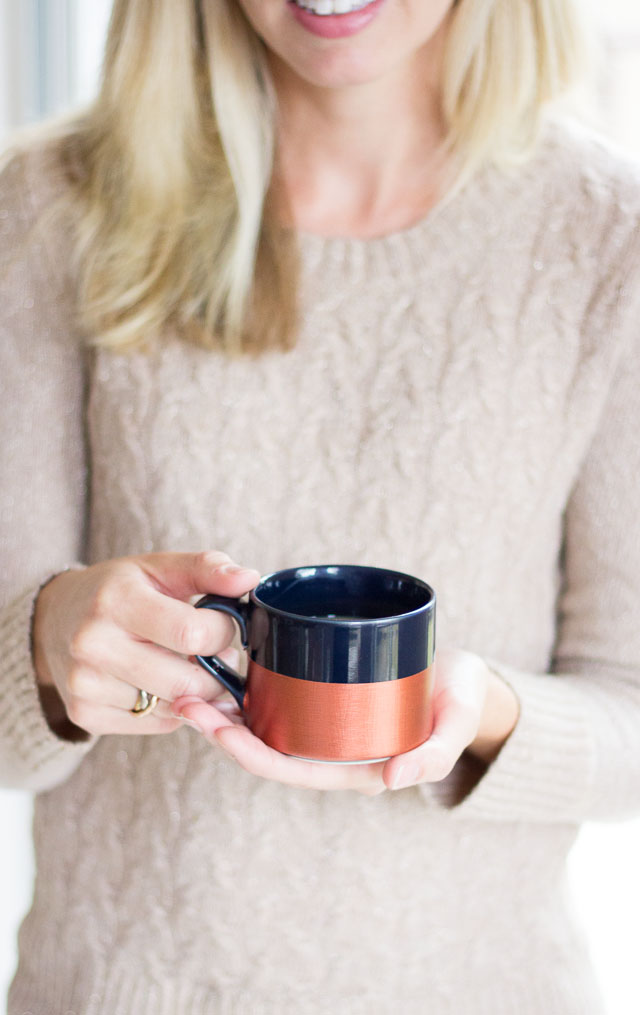 I paired my new mugs with another recent thrift store DIY project – my metallic retro plates!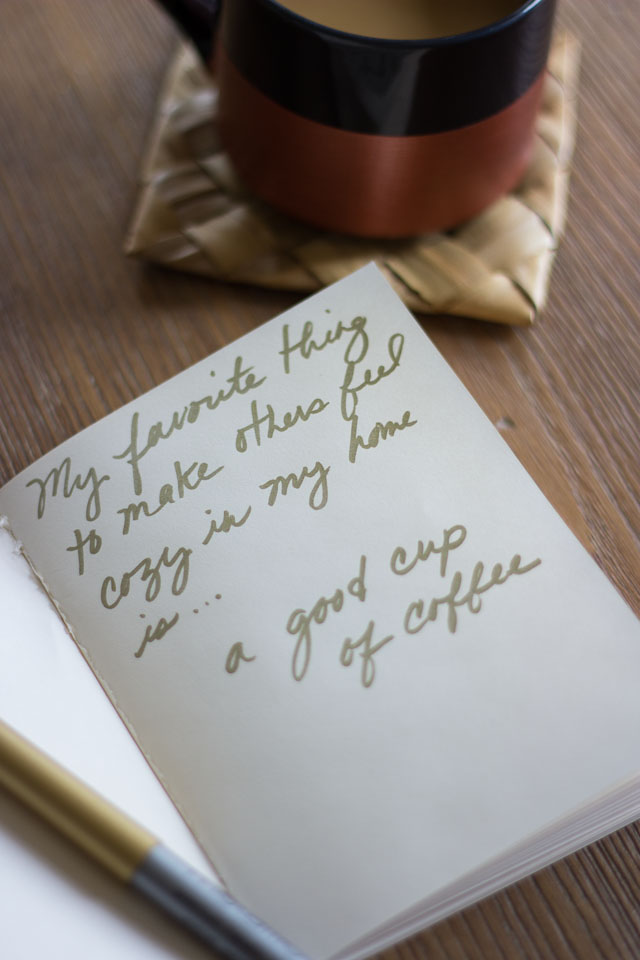 This post is sponsored by Glade. All content and opinions are my own.