Our Exciting Kitchen Makeover: Before and After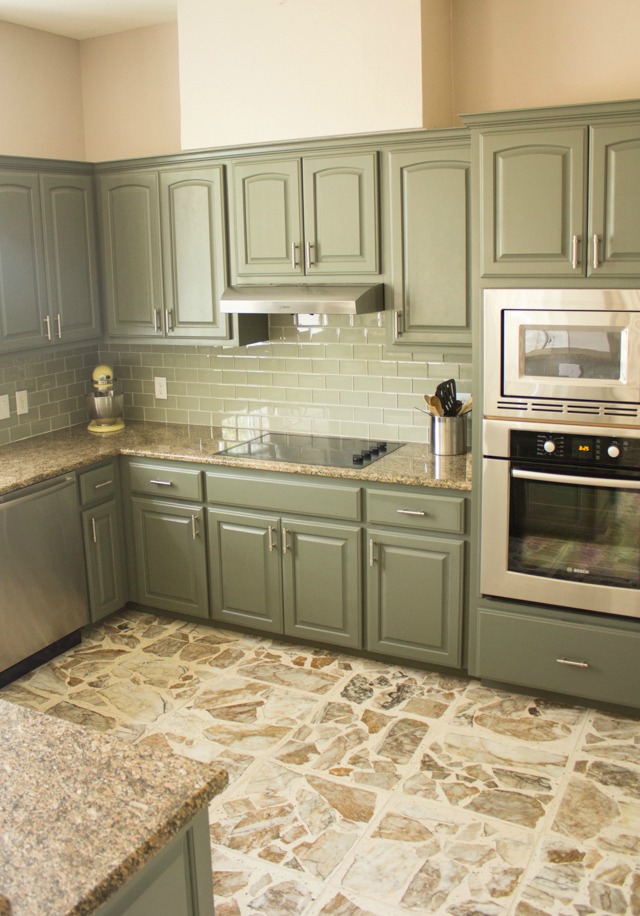 Our Exciting Kitchen Makeover: Before and After
It's time for our kitchen makeover reveal! It's amazing what paint (in our case, Sherwin-Williams Thunderous!) can do to transform a space: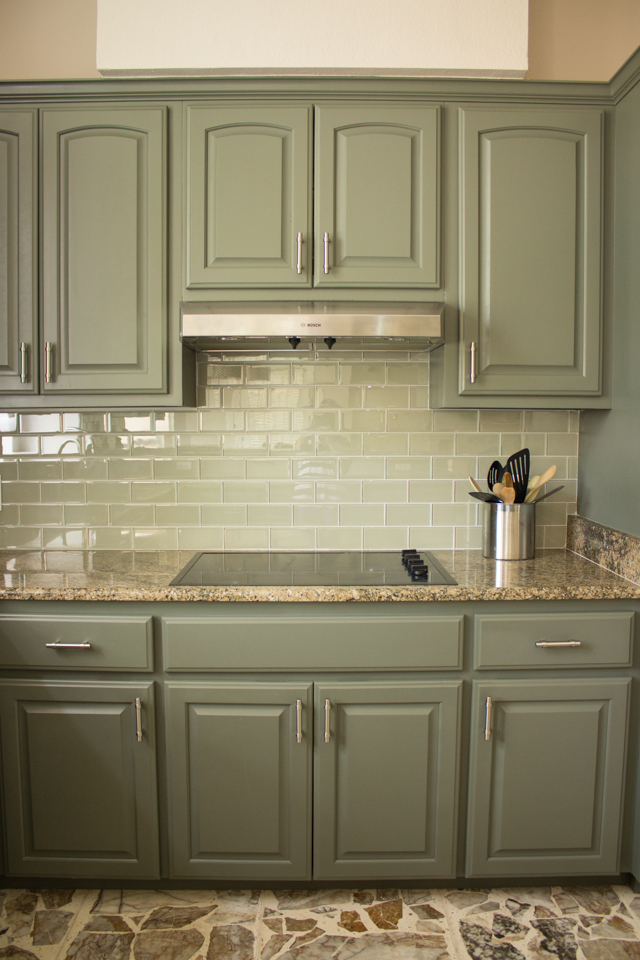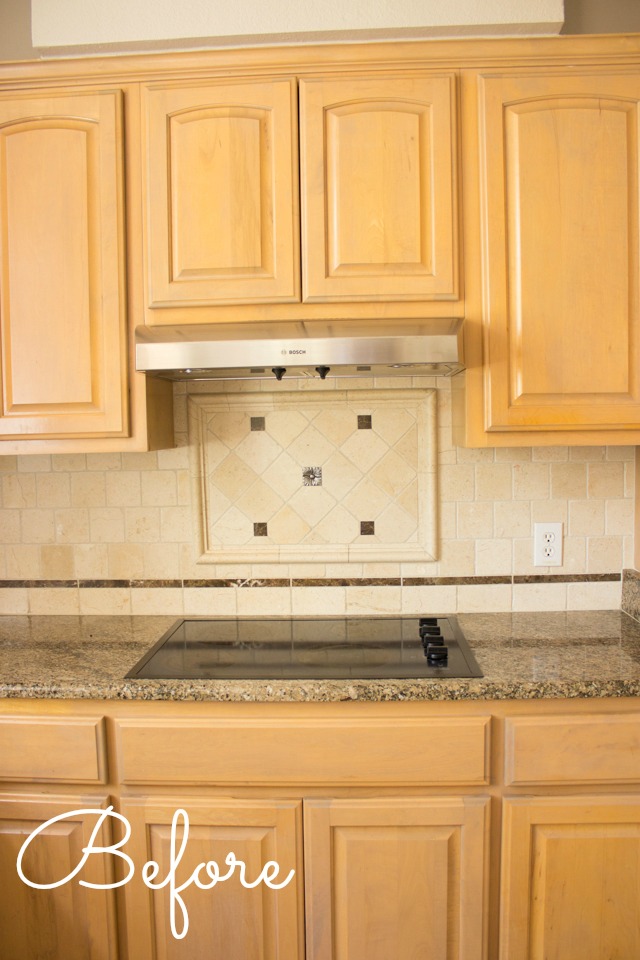 We had a contractor paint the cabinets as well as add hardware to them and replace the travertine backsplash with subway tile. It was a little nerve-wracking trying to choose paint and backsplash colors while still in Chicago. We just gave it our best guess and held our breath that it would work well together once it was all up. Thankfully it did – I'm so excited about the results!
Kitchen Makeover Before and After – Remodeling Tips
Here are a few takeaways from our kitchen makeover –  while we didn't do the work ourselves I learned a few things along the way:
1) Paint is a great first step, but hire professionals!
Just painting the cabinets can transform the space. We used Sherwin Williams' Thunderous color on the cabinets. Painting them yourself can be a huge undertaking and if you want your painted cabinets to last, I highly recommend using a professional cabinet painter. While we used a general contractor for our initial painting in 2013, we hired Paper Moon Painting to repaint them in 2020. Unlike our original contractor, Paper Moon Painting specializes in cabinet painting. They serve the San Antonio and Austin area if you are local and in need of a great painter!
All painted cabinets require some maintenance to address chips and dings that develop from wear and tear. However, a quality paint job can minimize these issues. Paper Moon Painting took the time to sand our cabinets, prime them, and then spray them with a furniture-quality lacquer finish (rather than oil- or latex-based paints). The lacquer finish is durable, smooth, and free of brushstrokes. Our original painters did not prime the cabinets and brush painted them, leading to a noticeable difference in quality. Consider it a lesson learned!
2) Don't overlook the power of lighting
We added some pendant lights over the counter area where there were previously none (one of the three pendants broke during installation so we are waiting for another one to come in). In addition to providing some additional lighting over the food prep area, they also help set the tone of the kitchen.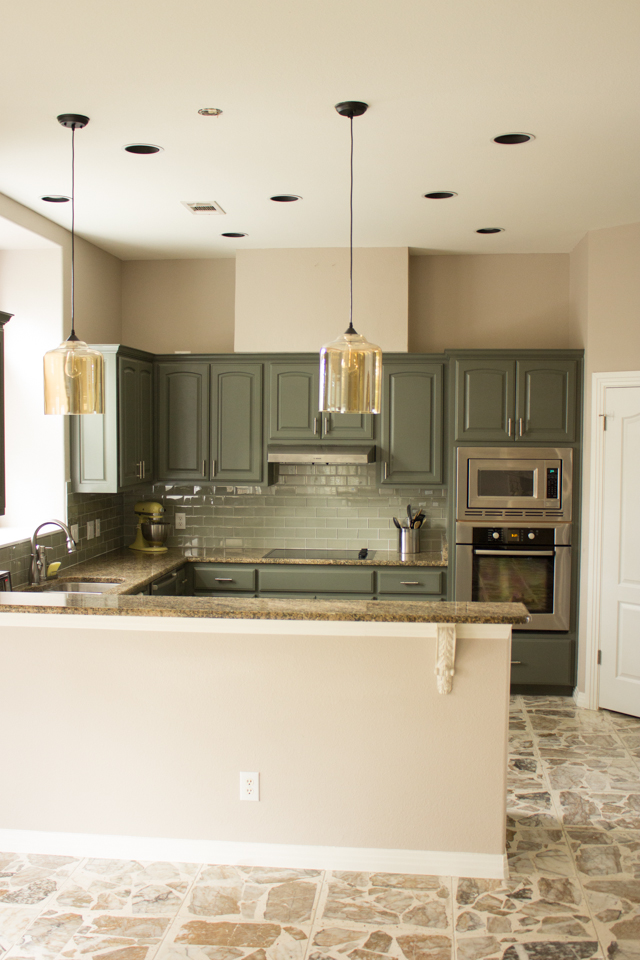 The amber glass of the pendants adds a nice warmth to the room and the Edison bulb inside puts off a cool industrial glow at night!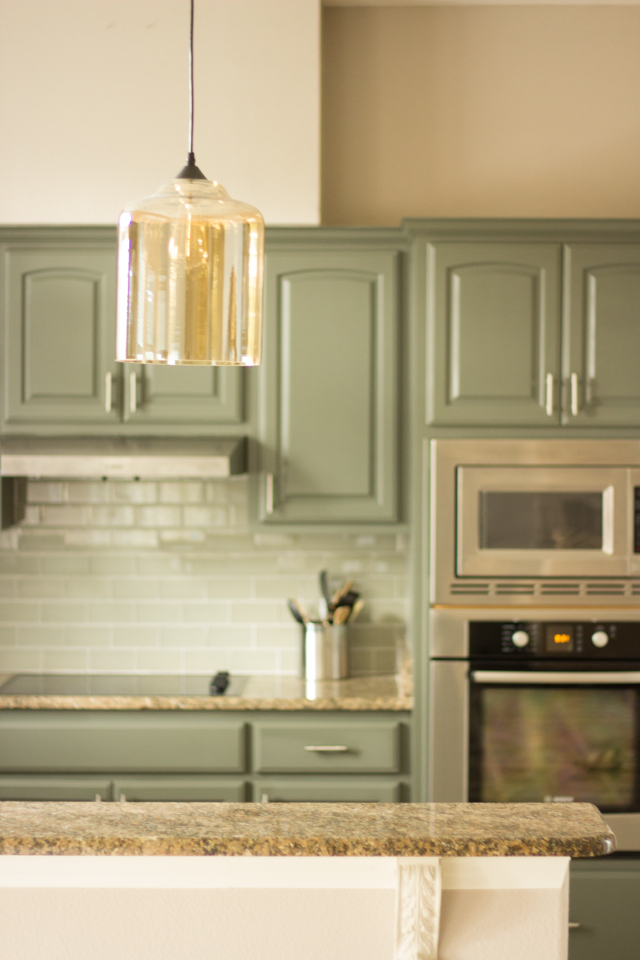 3) Hardware helps
Adding some hardware to the cabinets changed their look considerably. It also saves the cabinets from the wear and tear of handling them directly. The finish on the original cabinets had started to wear off in the areas that were frequently grabbed.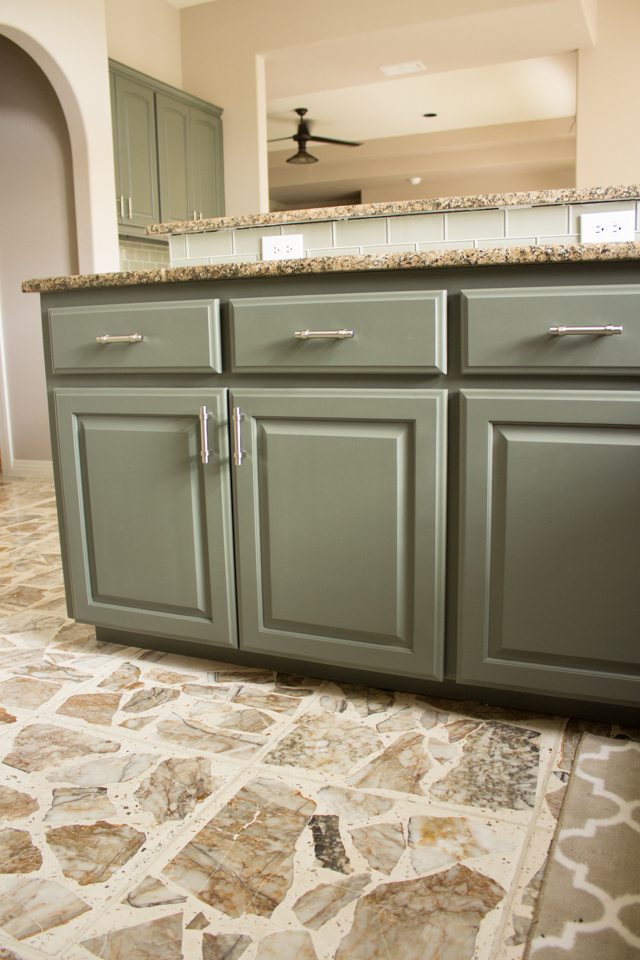 4) Invest in key areas
While the original travertine backsplash wasn't bad, we realized that replacing it would be key to truly changing the style of kitchen and decided it was worth the additional cost.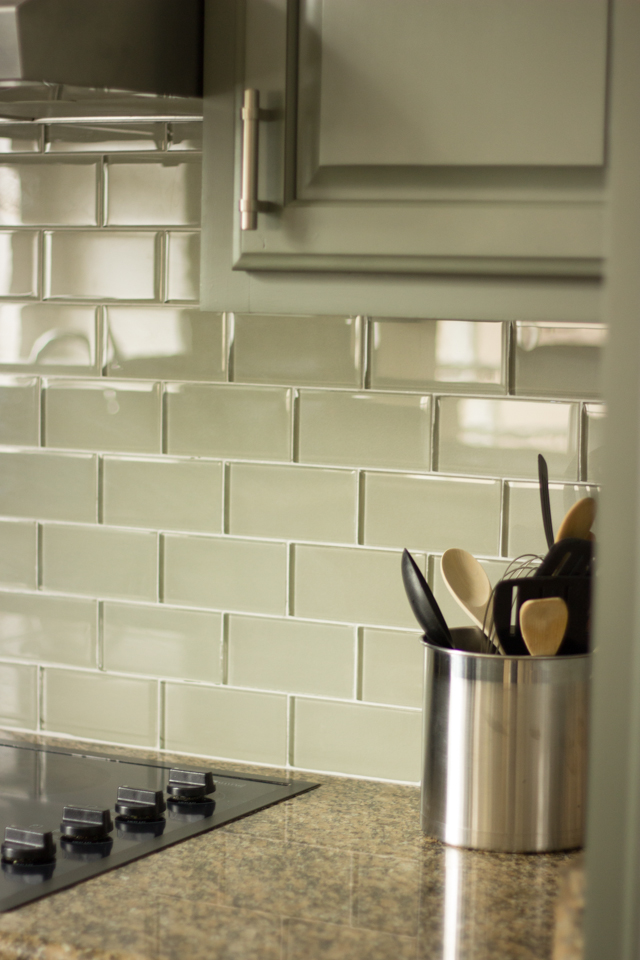 5) Aim for consistency in finishes
Think beyond your kitchen to other parts of the house. For instance we chose brush nickel for the fixtures in kitchen and the cabinet pulls, and carried that through the bathroom fixtures as well. The style of pendant lights works well with the other lighting we added in other areas of the house.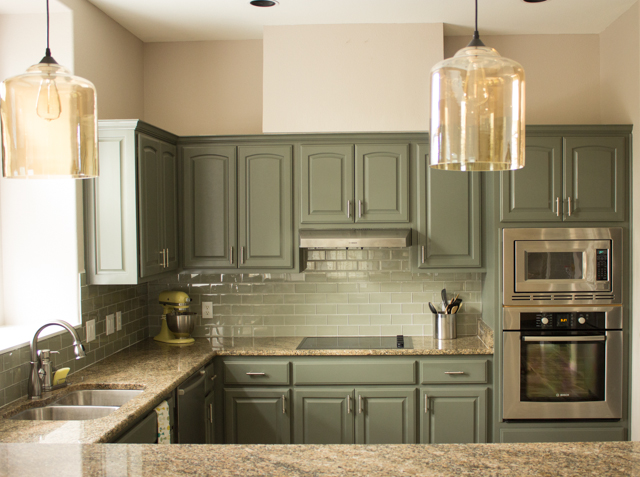 6) Add additional color and pattern through accessories
Now I'm in the process of incorporating some fun rugs, dishtowels, etc. to give the space some character. I want to create a little coffee station with a tray for spoons, sugar, etc. next to my coffee pot – currently a work in progress!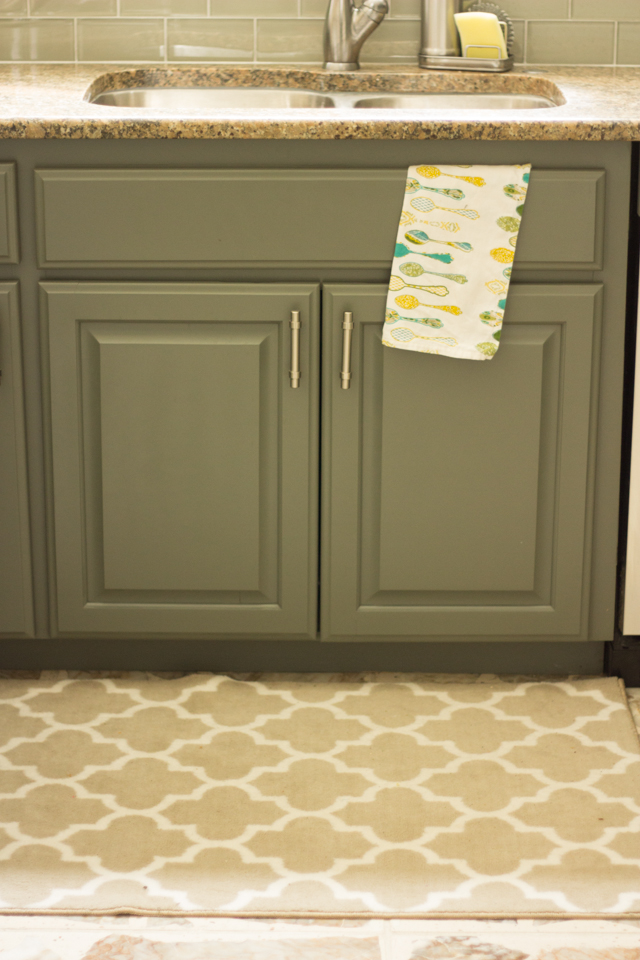 7) Use inspiration images
Finding a couple kitchens that I particularly loved was a big help in being able to envision how this space could look.
It was a fun process to see it all come together. I am looking forward to enjoying this kitchen for many years to come. Hope you like the results! Want to check out the other rooms in our home? Here's our home tour!
Kitchen Makeover Update – November 2020!
As I mentioned above in tip #1, we had our cabinets repainted by Paper Moon Painting in 2020 (7 years after our original paint job). Here is how the cabinets look today! We took the opportunity to update them with some sleek new black hardware while we were at it: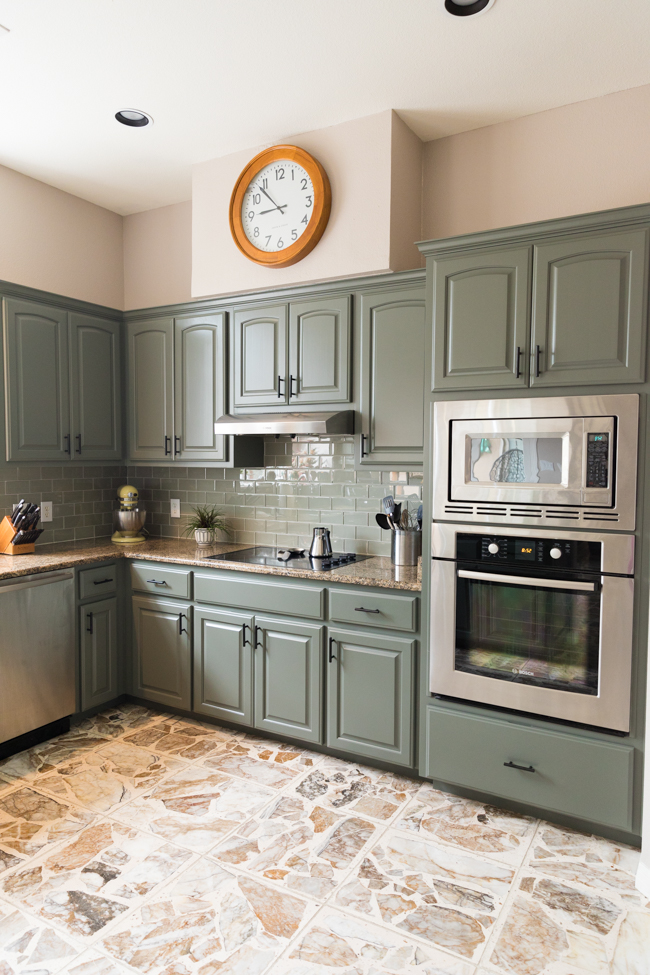 Their lacquer finish creates such a smooth cabinet front! I'm still loving this cabinet color seven years later. I know these cabinets will stay looking great for many years to come!