Create a Special DIY Coffee Station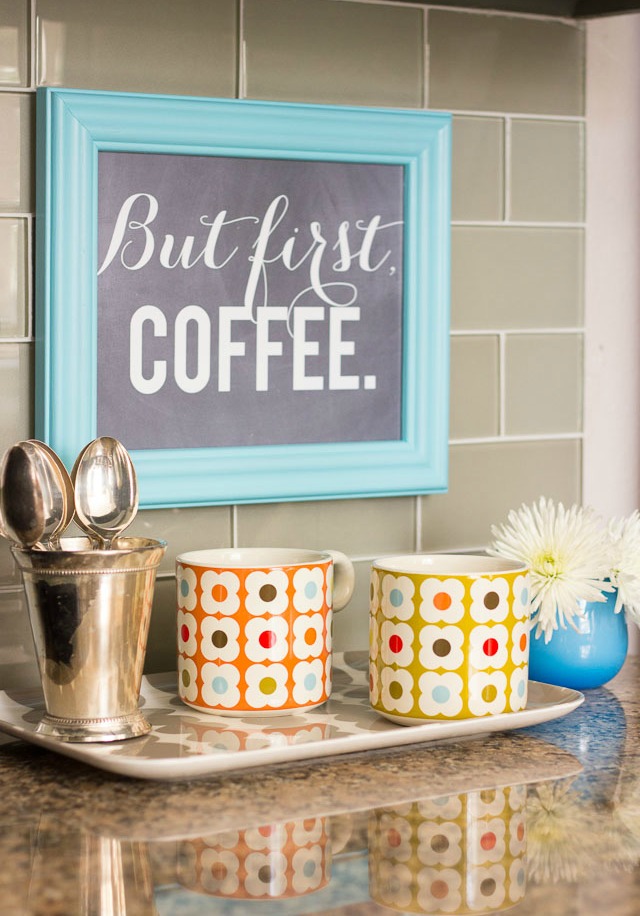 Do you have a morning coffee ritual? If so, you need a DIY Coffee Station! It is silly how much I enjoy my first cup of coffee here each morning. Having those few quiet minutes to myself before the rest of the family gets up is priceless. I savor every moment of the calm before the storm! Somehow, carving out a spot on my kitchen counter just for coffee makes the ritual extra special.
This post contains affiliate links. See our full disclosure.
It might only be a little corner of my kitchen, but this new DIY coffee station makes me very happy. If you're not a coffee drinker, you could improvise on this idea to create a tea station or even a hot cocoa station for the winter. Here's how to create your own:
My Favorite Coffee Station Finds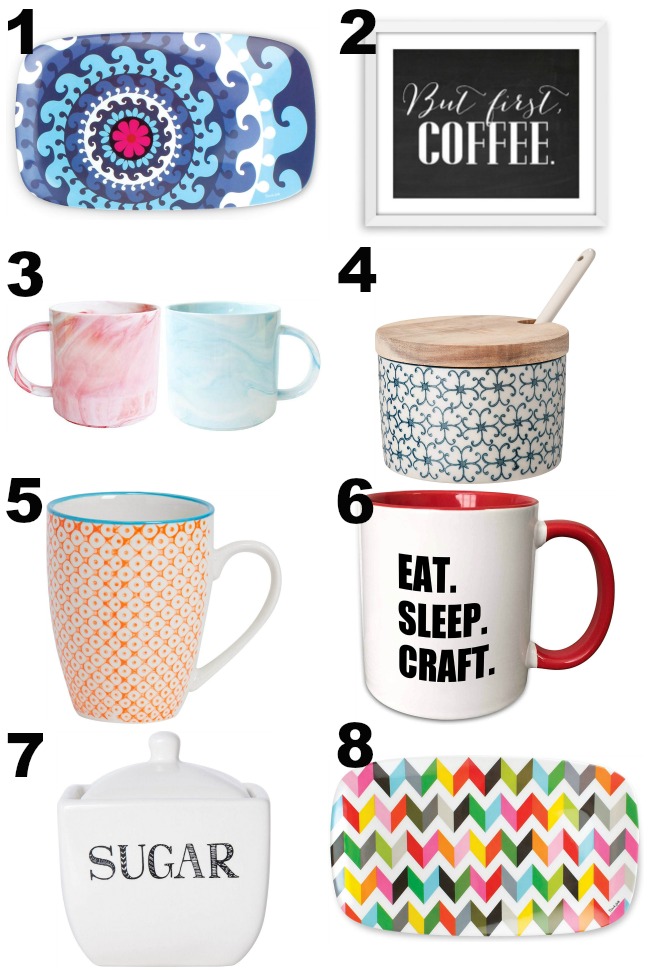 How to Create a DIY Coffee Station
1. Start with a small tray to help set the area apart
I found a patterned melamine tray to corral my coffee accessories. At 9″x 12″, it is the perfect size to hold a sugar bowl, spoons, and a couple of your favorite coffee mugs. You could also give a makeover to an old tray like I did here.
2. Put a couple of your favorite mugs on display
Mugs with pretty patterns or a favorite saying are especially fun to display on your coffee station. I found these colorful Orla Kiely mugs at the Goodwill!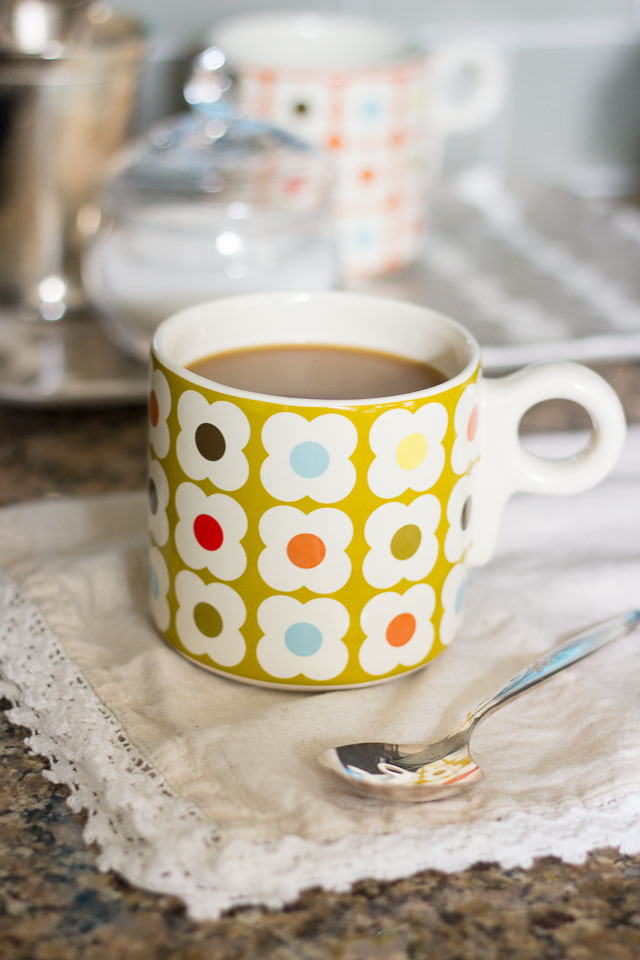 3. Add a pretty sugar bowl
If you like sugar in your coffee, it is nice to have it right there on hand.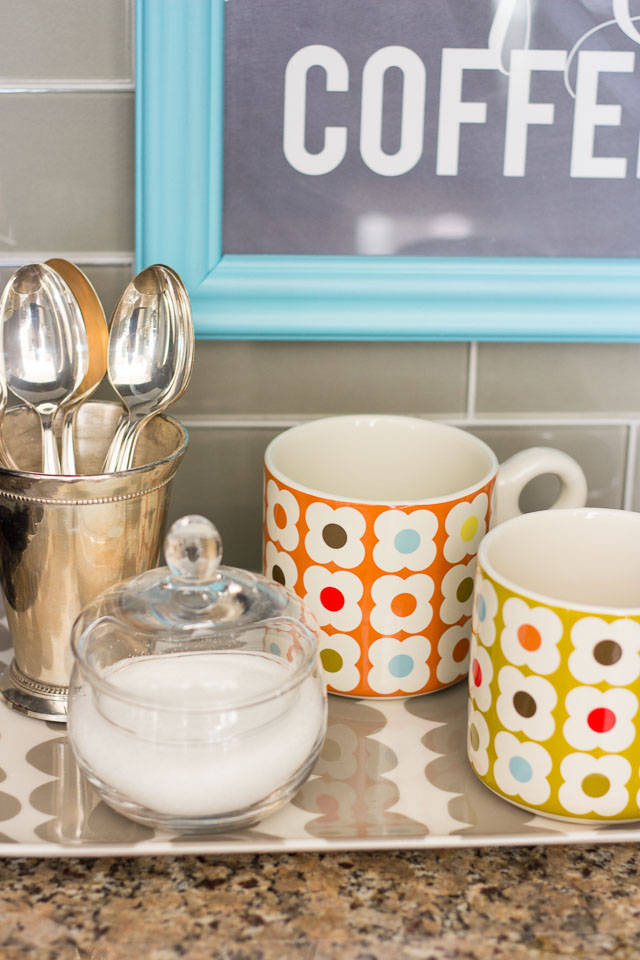 4. Fill a decorative cup with spoons
I displayed some special spoons from my Grandma in an old mint julep cup.
5. Incorporate a little coffee art
I love the idea of using art in the kitchen. I found a "But First Coffee" printable on Etsy. It is my motto most days! I framed the printable and attached it to our backsplash with 3M Command Strips.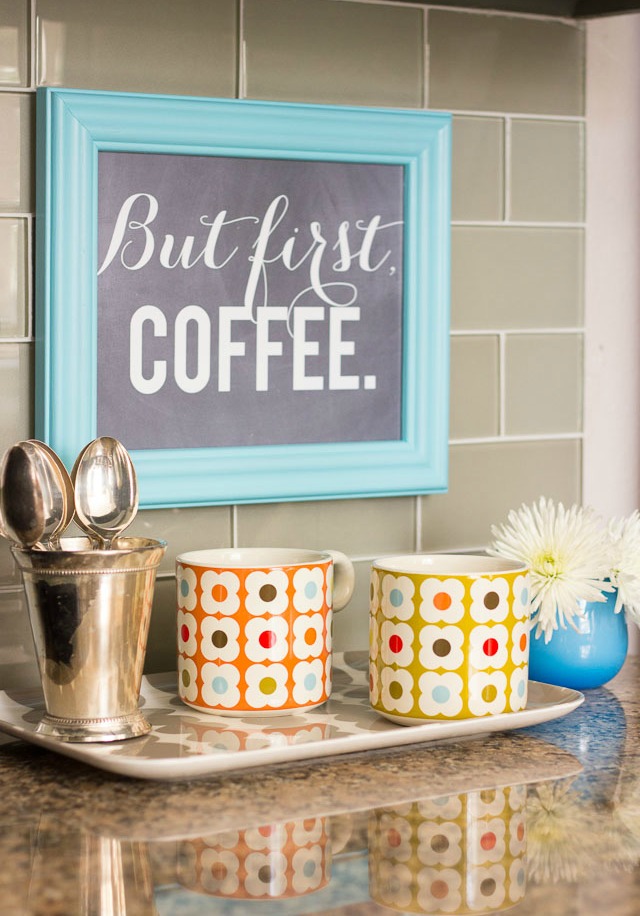 6. Utilize the drawers and cabinets around your DIY Coffee Station
No need to do circles around your kitchen first thing in the morning to get a spoon out of one drawer, coffee out of the pantry and sugar out of the cabinet over the refrigerator! To keep everything at arm's length, I use the drawer directly under my coffee station to hold all my Keurig k-cups (I love Cafe Ole coffee from HEB, our local grocery store!). I used a low open tray to keep them corralled. The cabinet above the coffee maker holds all the coffee mugs.