DIY Pumpkin Wearing a Face Mask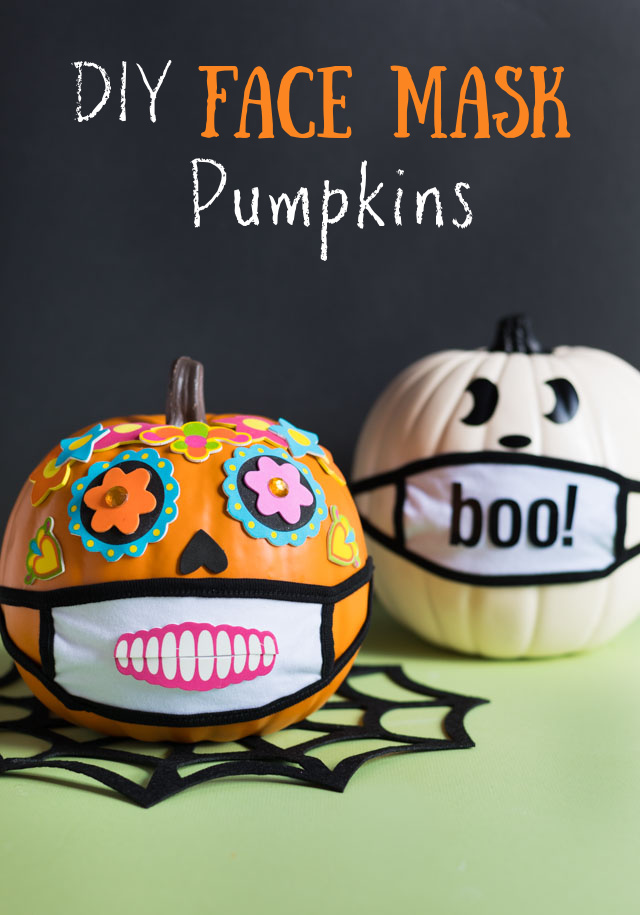 DIY Pumpkin Wearing a Face Mask
2020 calls for a different type of pumpkin decorating. Introducing a pumpkin wearing a mask! I thought it was only fitting to have a face mask pumpkin decorated to represent our new normal. I'm betting a lot of us an extra face mask lying around for this project. I paired mine with some simple pumpkin face decorations to make a Day of the Dead pumpkin and ghost pumpkin wearing masks. However, the options are endless for this silly project.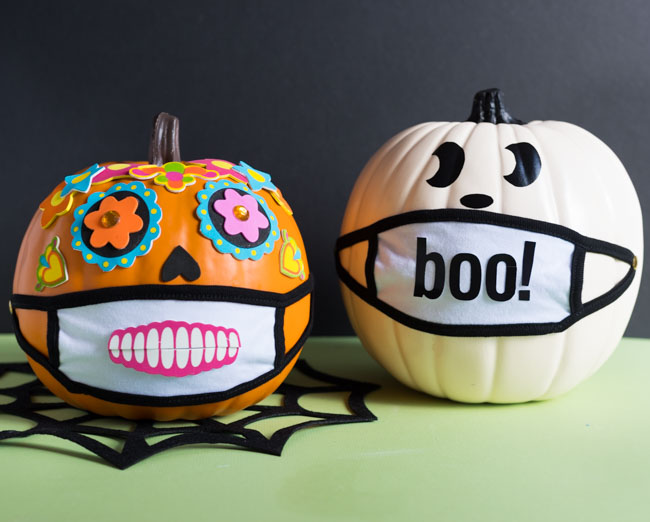 This post contains affiliate links. See our full disclosure.
I found that a 9″ faux pumpkin and a child's size mask paired perfectly together. You could always put a mask on a real pumpkin as well! A simple peel and stick pumpkin face decorating kit works really well for this project. All the supplies I used are from Oriental Trading.
Supplies for Covid Face Mask Pumpkins
How to Make Sugar Skull Face Mask Pumpkins
Step 1: Prep your supplies
I used a 9″ foam pumpkin and this peel and stick Day of the Dead pumpkin decorating kit along with a child's sized mask.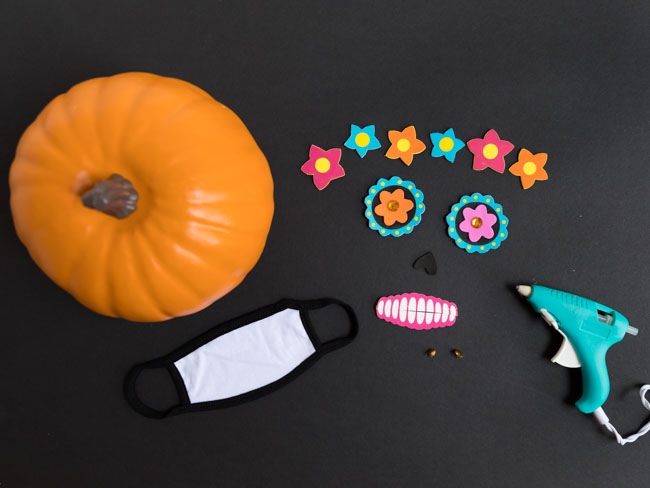 Step 2: Add the sugar skull eyes and nose
Position the eye and nose stickers high enough on the pumpkin so there is plenty of room for the mask below. A peel and stick pumpkin decorating kit makes it a breeze, and simple enough for young kids to make!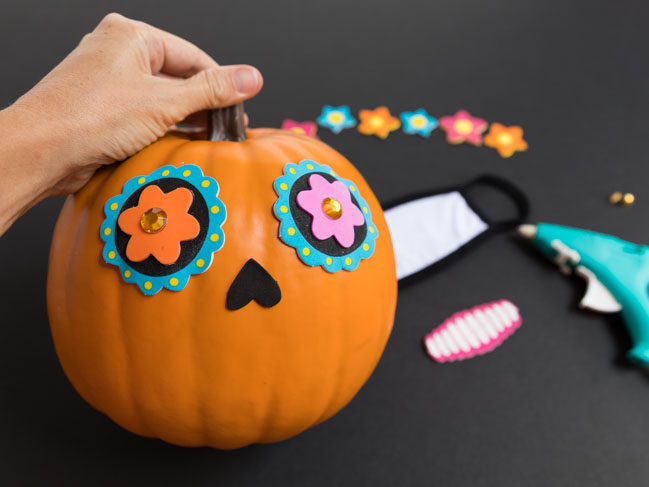 Step 3: Attach the mask to the pumpkin
Use thumbtacks to attach the mask to the sides of the pumpkin, pulling it taught. You could also use a dab of hot glue if you don't have thumbtacks.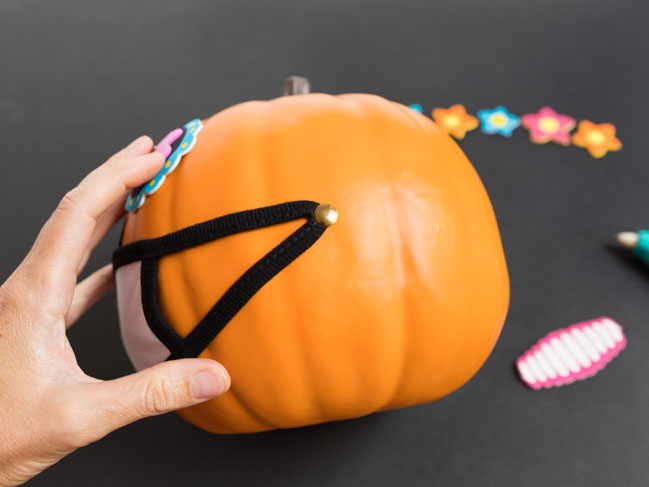 Step 4: Finish embellishing your pumpkin
I added a few more decorative sugar skull stickers, including the mouth to the outside of the mask!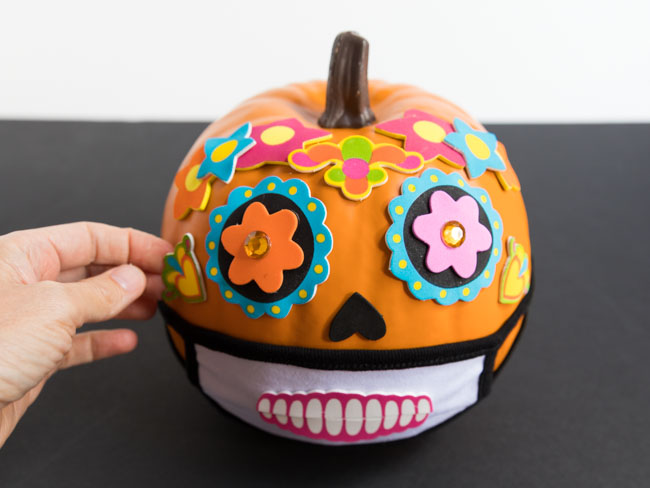 Didn't it turn out so cute? The Day of the Dead pumpkin decorating kit comes with three different designs including a sugar skull cat, so you can make an entire family of masked pumpkins if you want!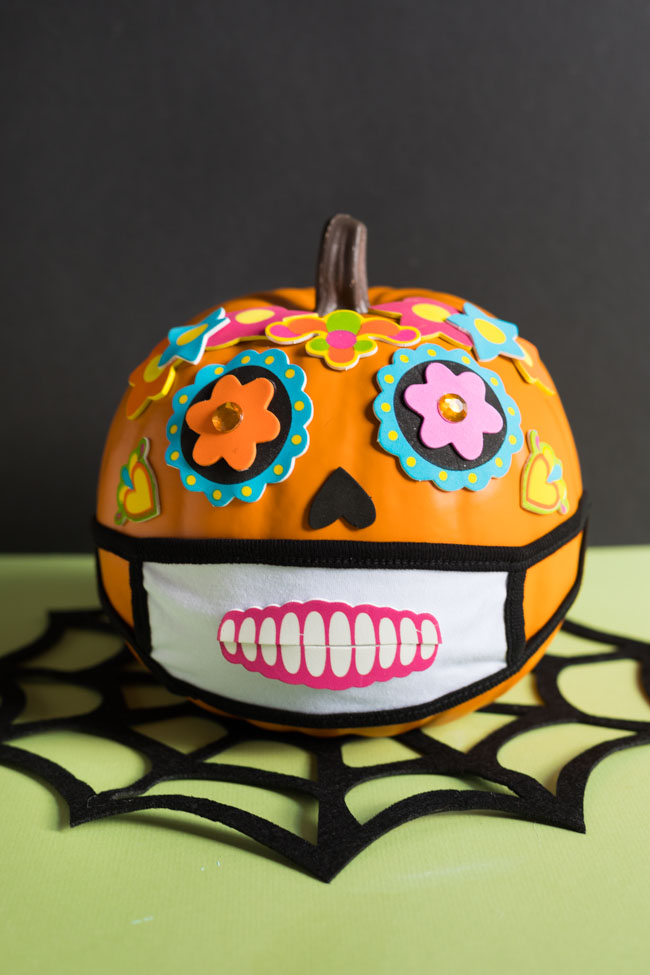 How to Make a Ghost Face Mask Pumpkin
Step 1: Prep your supplies
For the ghost pumpkin, I used a 9″ white pumpkin, a pair of ghost eyes and a nose cut from black removable vinyl, and black letter stickers to spell "BOO". You can also cut letters from the vinyl if you have a cutting machine.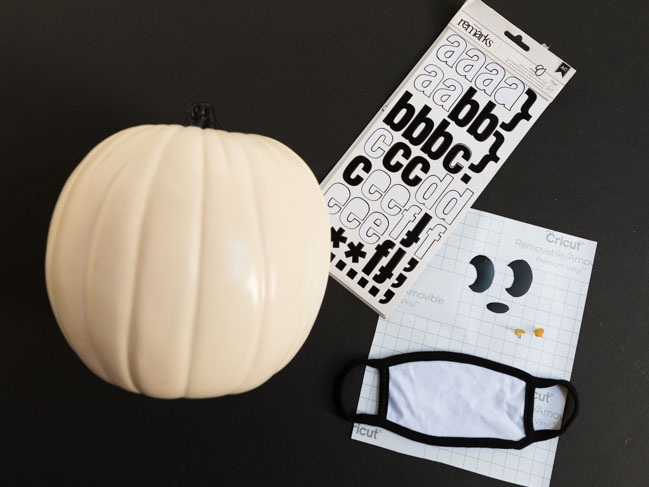 Step 2: Attach the mask to the pumpkin
Use thumbtacks or hot glue to attach the mask to the front of the pumpkin.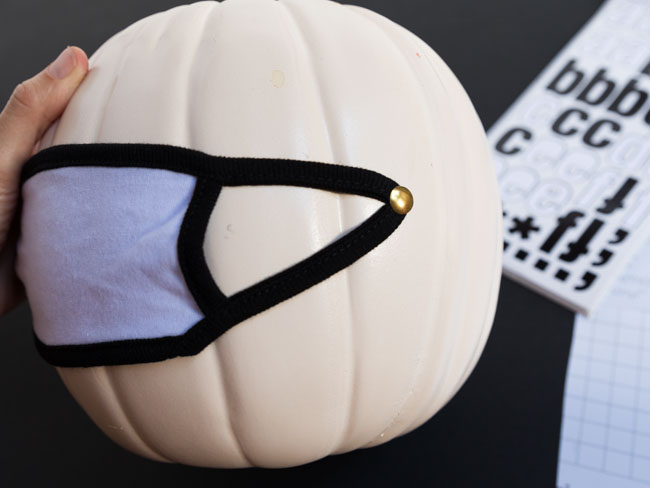 Step 3: Add vinyl accents to mask
Add the vinyl eyes and nose to the pumpkin above the mask. Add the letter stickers to the front of the mask to spell BOO!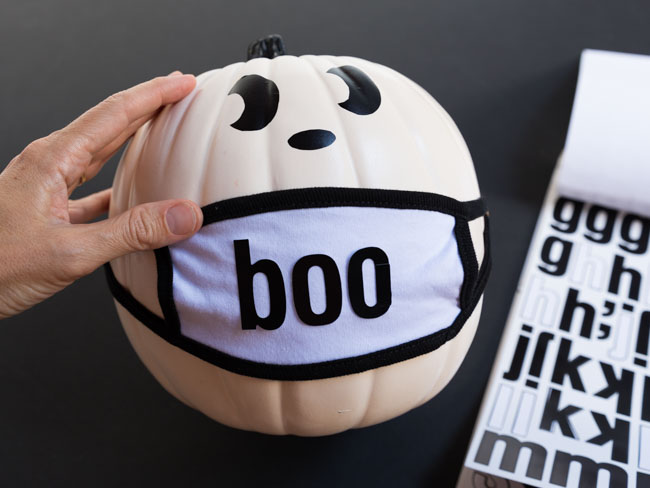 This one is my favorite, I think! What version of a masked pumpkin would you make?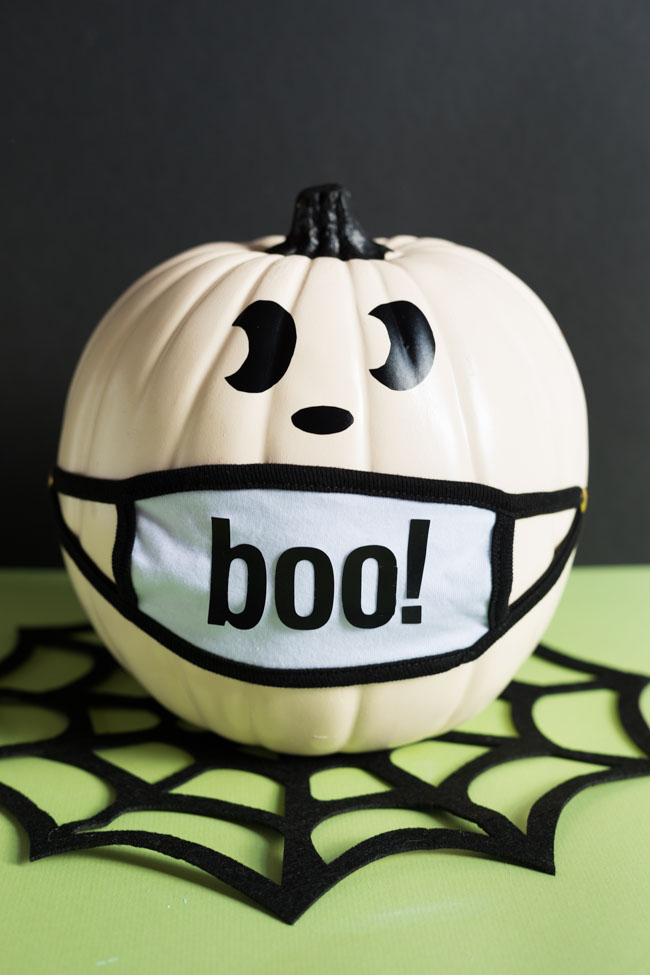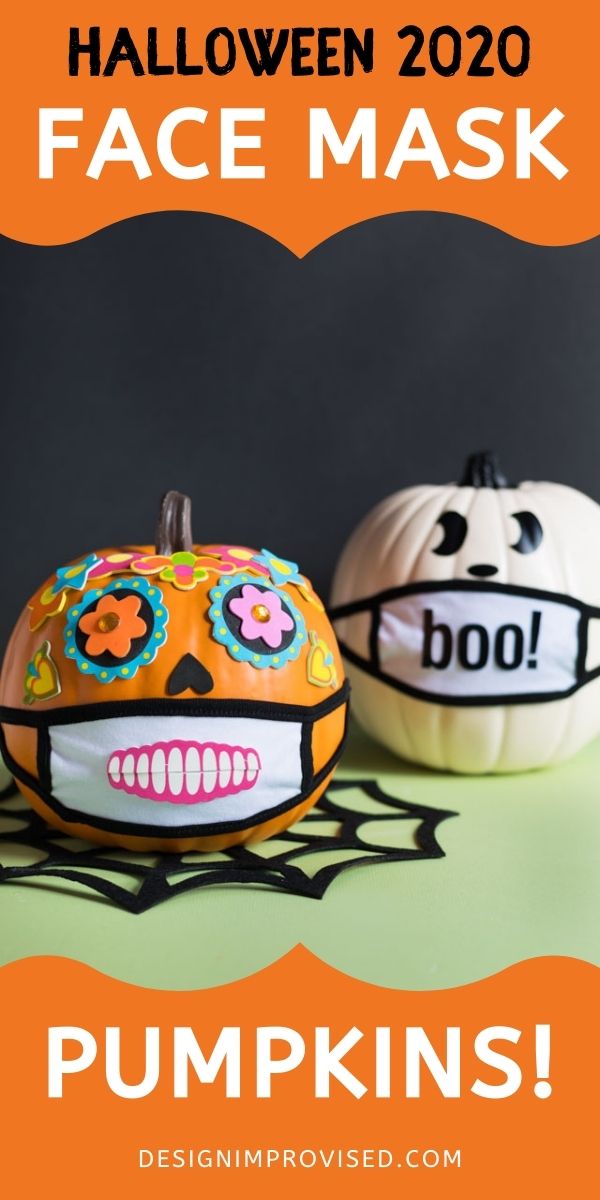 Like this pumpkin wearing a face mask idea?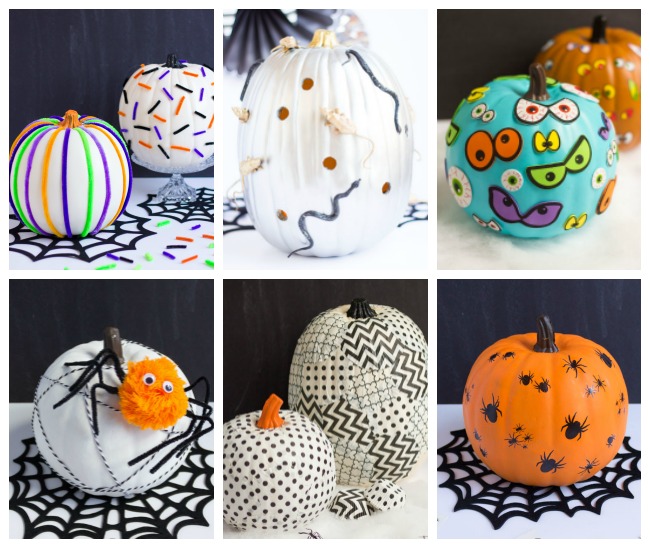 Thank you to Oriental Trading for providing the supplies for this post!