Spread the word with VOTE pumpkins!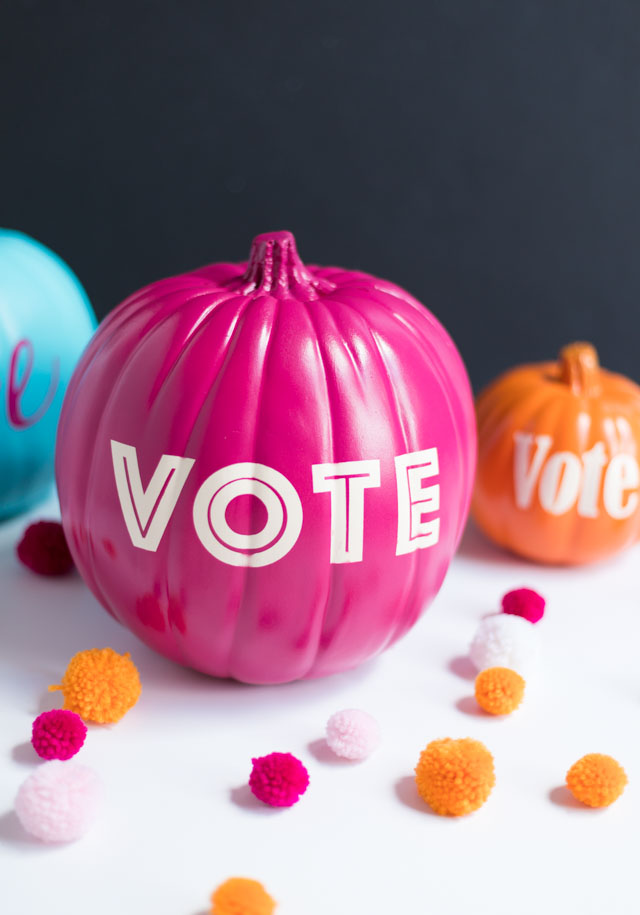 Make Go Vote Pumpkins
If you're reading this post, I really hope you're planning to vote in the upcoming election, and are spreading the word to others. These "VOTE" pumpkins are one way to get the word out. As women in particular, we owe it to those who fought for the 19th Amendment 100 years ago. A fight that incredibly took over 70 years. The least we can do is spend a few minutes at the polls in their honor.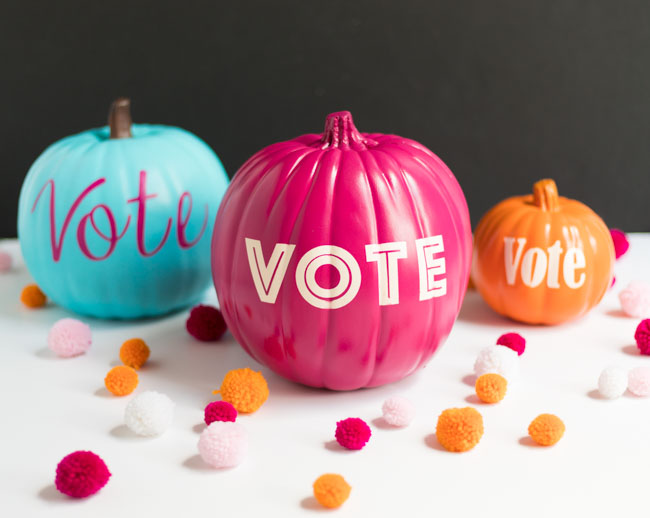 I know politics can be so divisive and downright disheartening, but the ability of each of us to have a say, is what makes the country great. In the 2016 election, around 100 million eligible voters couldn't be bothered to vote. How depressing is that? Imagine if those 100 million voices had been heard.
Three Things to Do Before Election Day
1. Educate yourself on your local and state candidates
While the presidential race gets all the headlines, it is all the local and state elections that matter just as much. Over the last 10 years or so I've made a concerted effort to educate myself on local politics, and let me tell you, it isn't always easy to find information on the candidates and the issues. But the information is out there with a little work to find it. My favorite resource is vote411.org. If you enter your address, the website provides you with information on each of the candidates on your local ballot, including a profile on them and their stances on key issues. Here in Texas, the non-partisan League of Women Voters is also a great resource.
Take the time to know who you are voting for. Many of these local races can be decided by a handful of votes, literally. So whatever you do, don't vote randomly! Head to vote411.org and start reading up.
2. Go vote early, and in person
Early voting varies by state, but here in Texas starts on October 13. That gives you so many options to get to the polls without having to deal with the long lines on Election Day. Don't wait until November 3rd to vote. If you can vote in person, do it. To find early voting locations in your county, just Google your county's name with "early voting locations". Also double-check to see what form of ID you'll need to bring to the polls.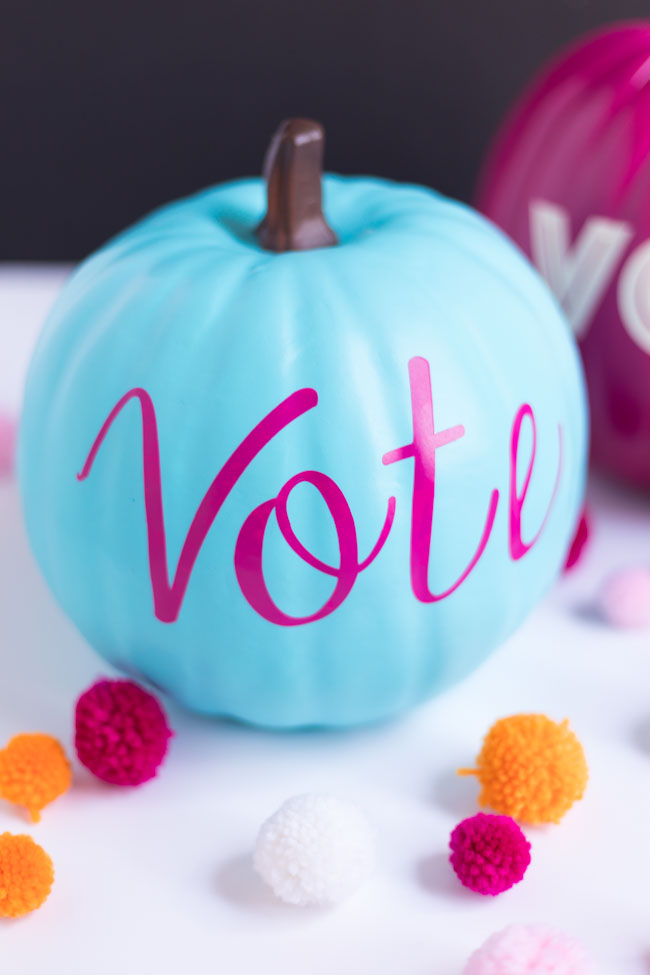 3. Spread the word
Do you know a friend or family member that is disenfranchised and thinking they'll sit this election out? Don't let them! Encourage friends to vote by sharing information about early voting and local polling sites on your social media. Help them find information on local candidates. We can all do our part. If nothing else, make a VOTE pumpkin and put it on your front porch. 🙂 Here's how to make them if you'd like to make your own!
Supplies for Go Vote Pumpkins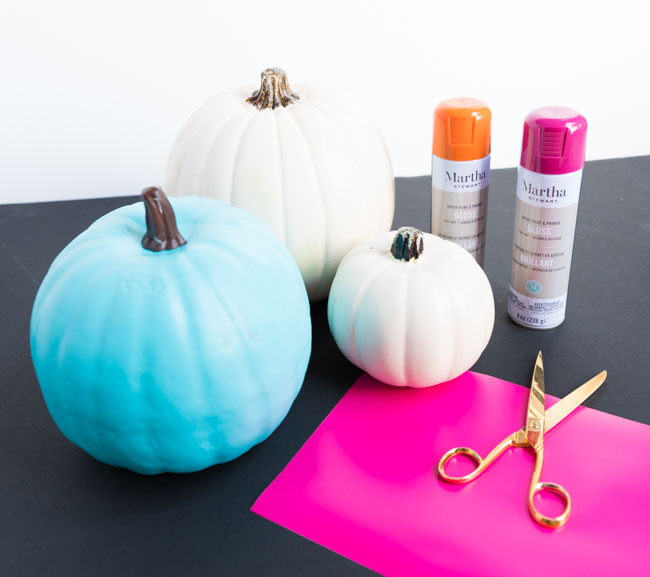 How to Make Vote Pumpkins
Step 1: Add vinyl words to pumpkin
Use a cutting machine to cut out "VOTE" on removable vinyl. Add the letters to the pumpkin, smoothing them down carefully over the pumpkin ridges. It doesn't matter what color of vinyl you use for this technique, as you will be removing it after you spray paint the pumpkin.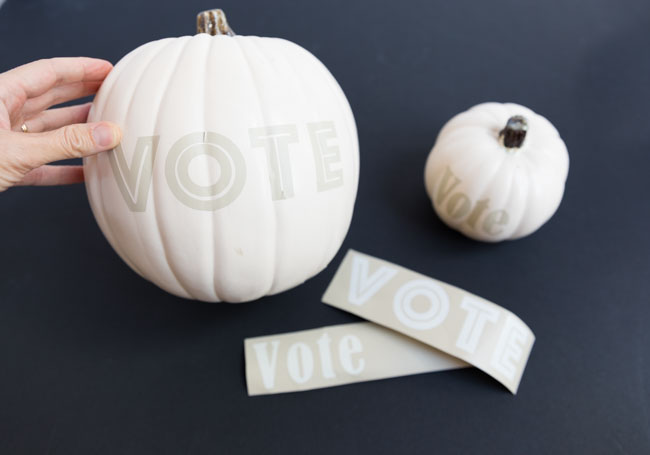 Step 2: Spray paint the pumpkin
Cover the pumpkin with an even coat of spray paint. I used Martha Stewart spray paint for mine, but any will work. Pick a fun bright color to make the words really pop!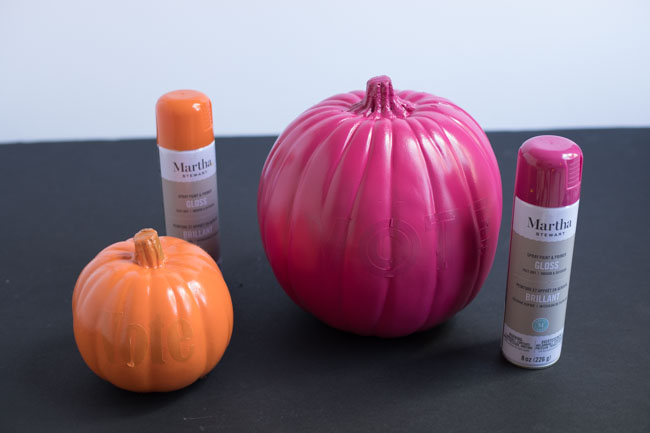 Step 3: Remove the vinyl letters
Once the pumpkin is dry, carefully peel off the vinyl letters to reveal the white pumpkin underneath!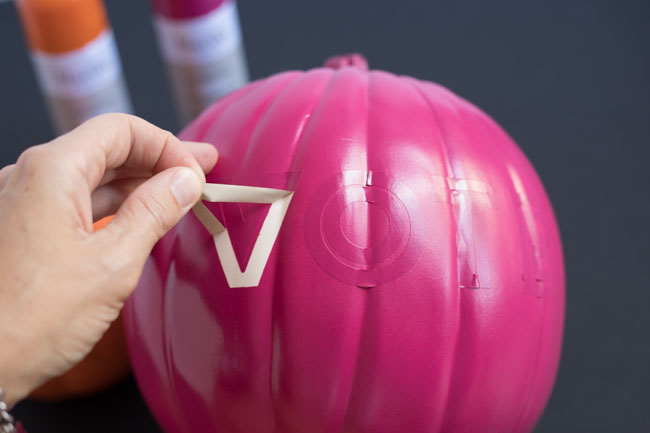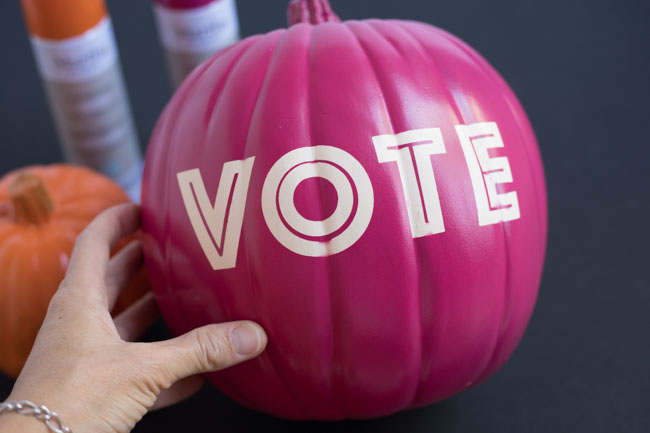 Rather than doing this resist technique, you can also just put the vinyl letters directly on the pumpkin like I did with the teal pumpkin and pink vinyl. Lots of options for these.
Whether you make these or not, GO VOTE!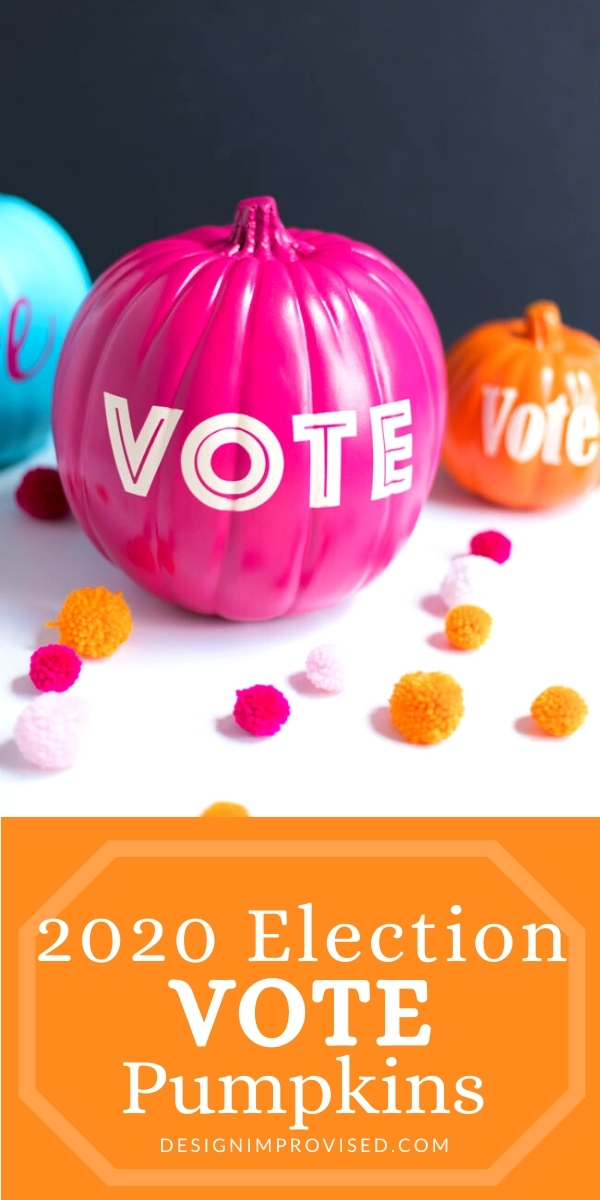 Like these DIY pumpkins?