Cherry Icebox Cookies – a Texas Favorite!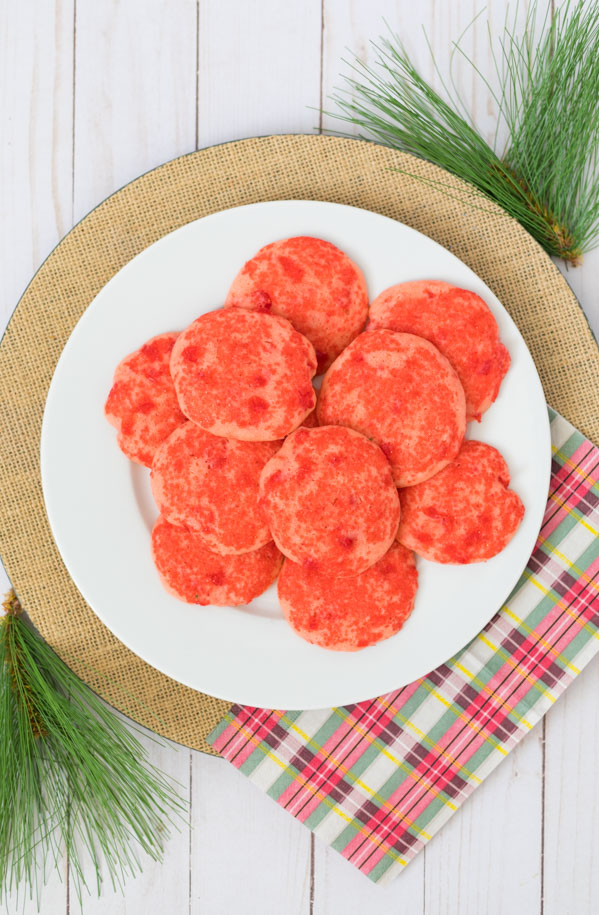 Cherry Icebox Cookies Recipe
If you're a Texan, there's a good chance you've heard of the cherry icebox cookies made by Collin Street Bakery. Located on busy Highway 35 near Waco, it is a popular pit stop between the drive from San Antonio to visit family in Dallas. I tried my first cherry icebox cookie thanks to my sister-in-law who would often stop at the bakery and bring some to us on her visits from Dallas. They an irresistible pinkish red, with a juicy cherry taste thanks to the maraschino cherries used in the dough.
I'm sharing these cherry icebox cookies as part of a virtual cookie hop I'm doing with 4 of my favorite bloggers. See below for their recipes!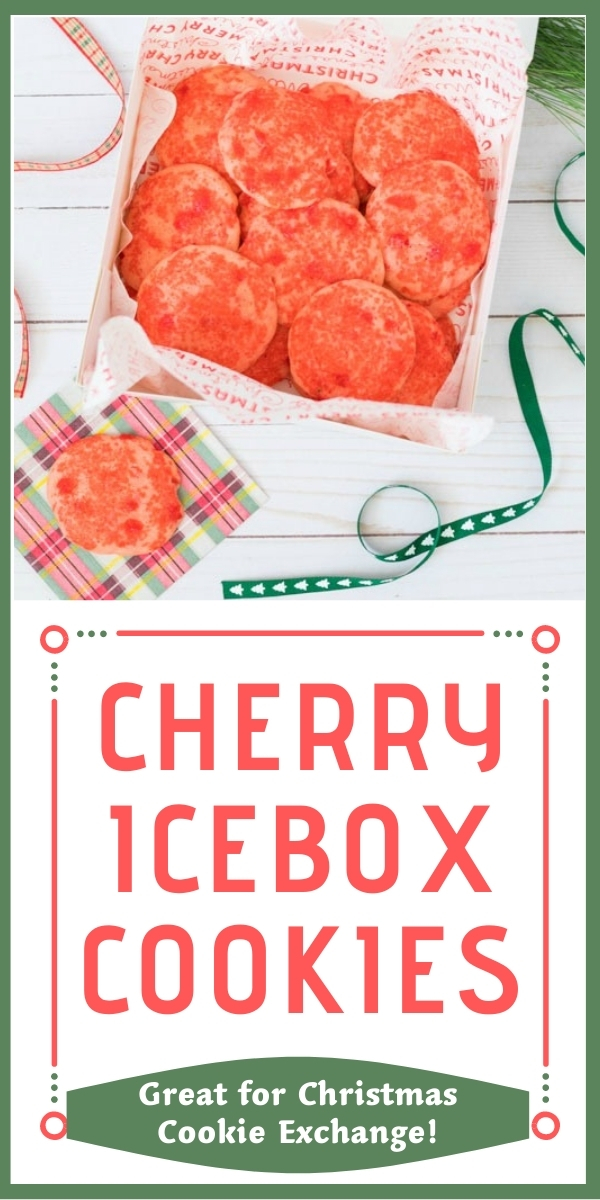 This post contains affiliate links. See our full disclosure.
Cherry Icebox Cookies
The recipe I'm sharing today is adapted from one I found in my local San Antonio Express newspaper. Yep, I still clip recipes from the newspaper, just like my grandma always did! It was originally printed in the cookbook Urban Cowgirl by Sarah Penrod. These aren't a perfect replica of the Collins Street Bakery cookies (their recipe is still secret!). However, it is a fun twist on a typical soft sugar cookie. The maraschino cherry flavor is subtle and not overwhelming. The cherries create a perfect red hue for Christmas cookies, especially when topped with red sanding sugar. If you like to make a plate of Christmas treats to give as gifts, these cookies add a perfect pop of holiday color to the mix!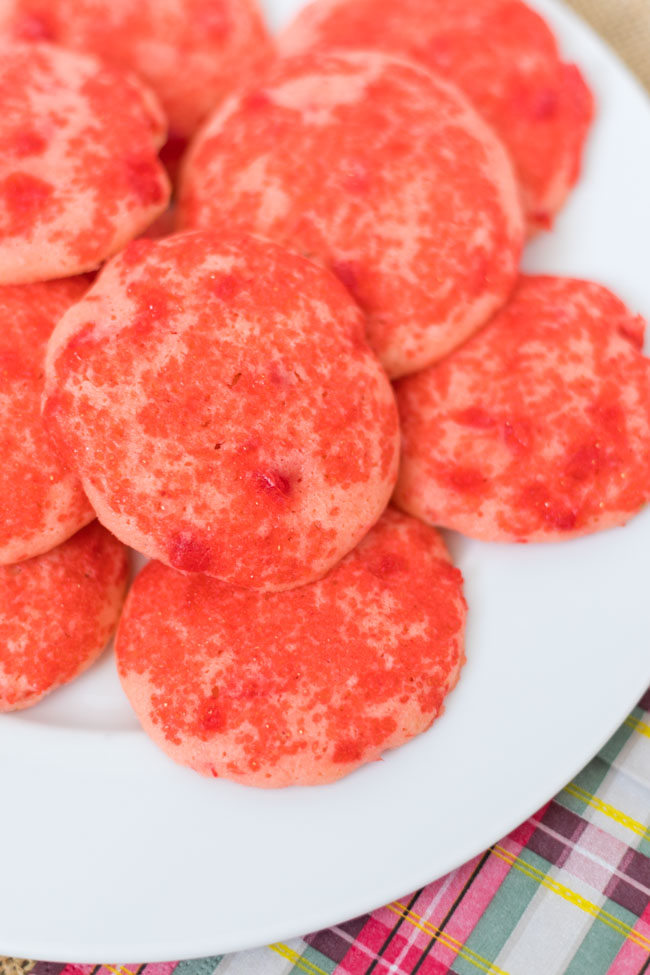 What are Icebox Cookies?
Icebox cookies also go by "refrigerator cookies". They are traditionally made by rolling the dough into a log and then refrigerating (typically overnight). Then the dough log is sliced into rounds and baked. However, I came up with what I think is an easier method. Rather than rolling the dough, I kept in a covered mixing bowl in the refrigerator overnight. Then I rolled the dough into walnut sized balls and gently pressed down with a glass dipped into sugar. I found that trying to slice the dough perfectly as too sticky and tricky, so this method worked perfectly!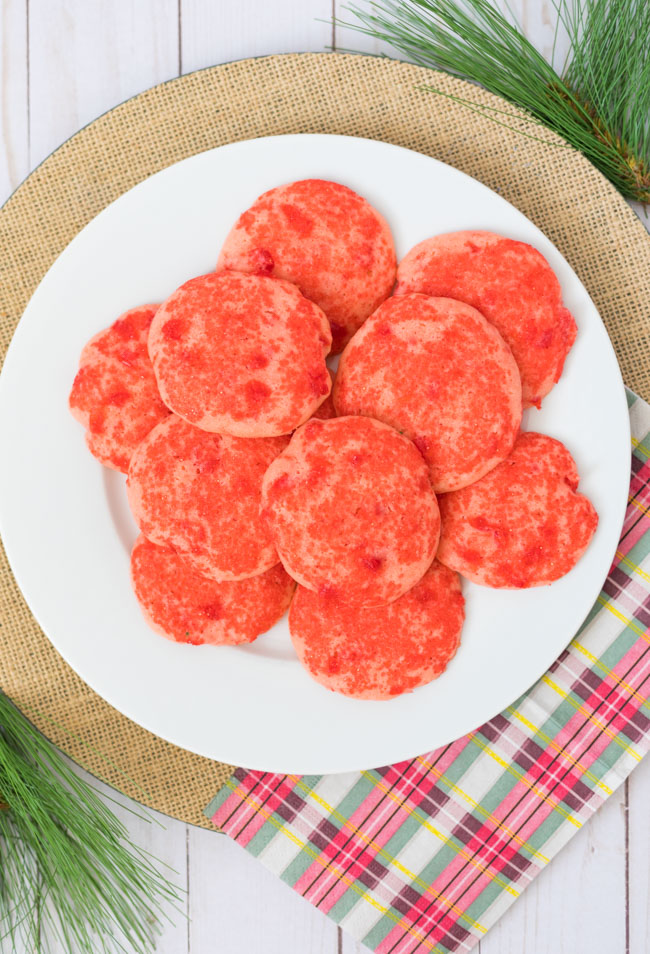 Virtual Christmas Cookie Exchange
I am sharing these cherry refrigerator cookies as part of a virtual cookie hop! In addition to these Texas-inspired cookies, don't miss out on these other yummy ideas perfect for holiday baking: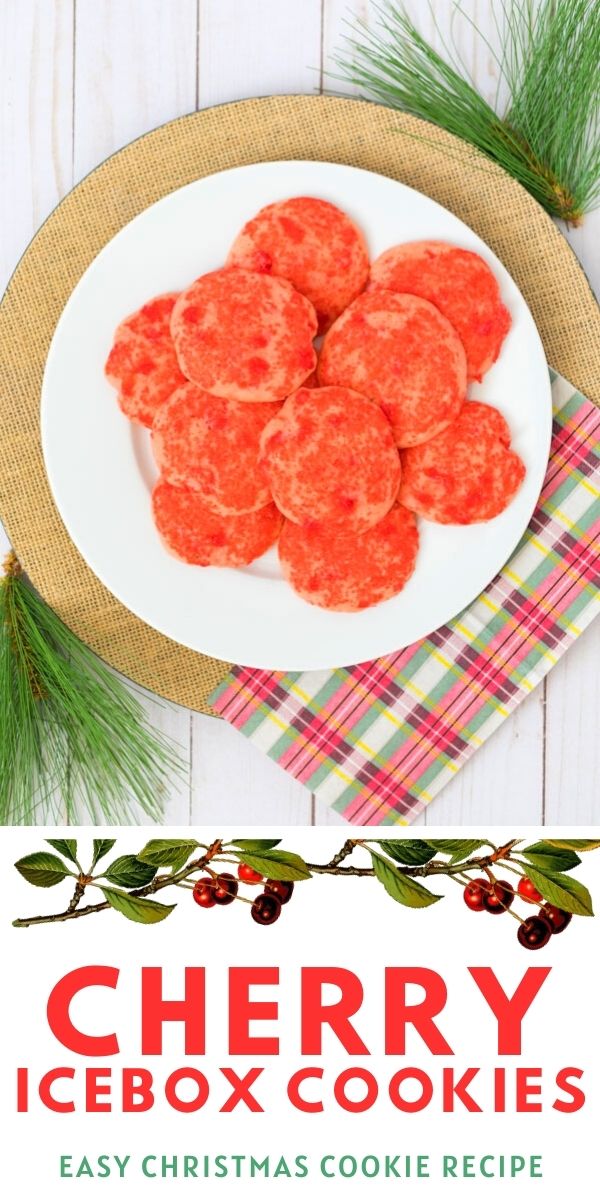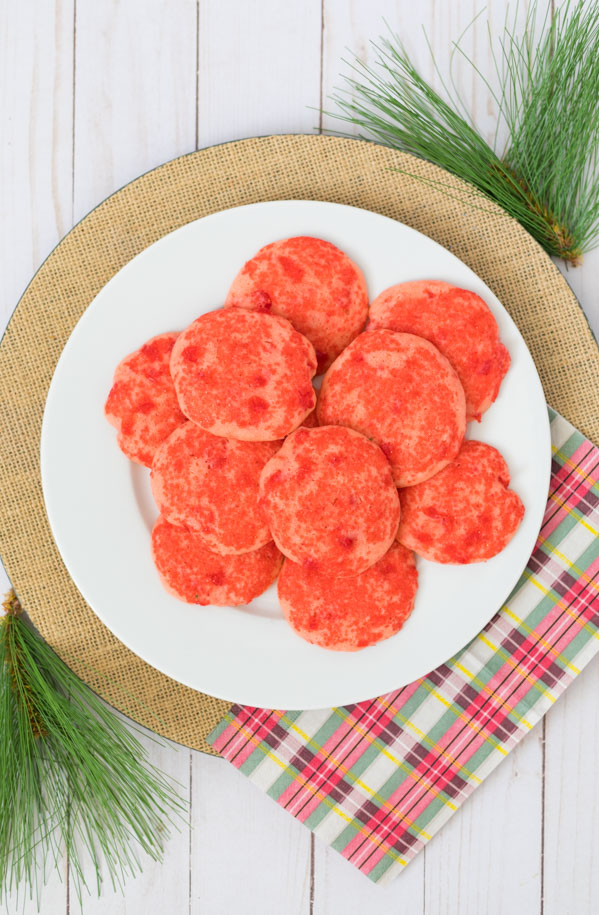 Yield:

2 dozen
Cherry Icebox Cookies (PRINTABLE RECIPE)
Additional Time:
12 hours
Total Time:
12 hours
25 minutes
These cherry icebox cookies are a soft sugar cookie with a subtle maraschino cherry flavor. They add the perfect touch of festive red to your Christmas cookie platter!
Ingredients
1 c.  butter, softened
1 c. white sugar
1/4 c. brown sugar
2 eggs
1 tsp vanilla
1 (16 oz.) jar of maraschino cherries
1 T. lemon juice
2 1/2 c. flour
1 1/2 t. baking powder
1/2 t. salt
Red decorating sugar
Instructions
Beat together the butter and sugar until fluffy. Beat in the eggs and vanilla extract.
Drain the cherries and chop into small pieces. Add to the mixture along with the lemon juice until blended.
In a separate bowl combine the dry ingredients (except for the decorating sugar) well with a fork or whisk. Add to the wet ingredients and mix together until the dough is formed.
Cover the mixing bowl with plastic wrap and refrigerate overnight.
Preheat the oven to 375 degrees.
Use you hands to make walnut-sized balls of dough. Place the balls on a cookie sheet. Pour some red decorating sugar on a plate and press the bottom of a glass into the sugar. Press the sugared glass onto each dough ball to form a round.
Bake for 10 minutes. Let cool on cookie sheet a few minutes before transferring to a rack.
Notes
This recipe is adapted from a "Urban Cowgirl" by Sarah Penrod