5 Steps to a Colorful Boho Bedroom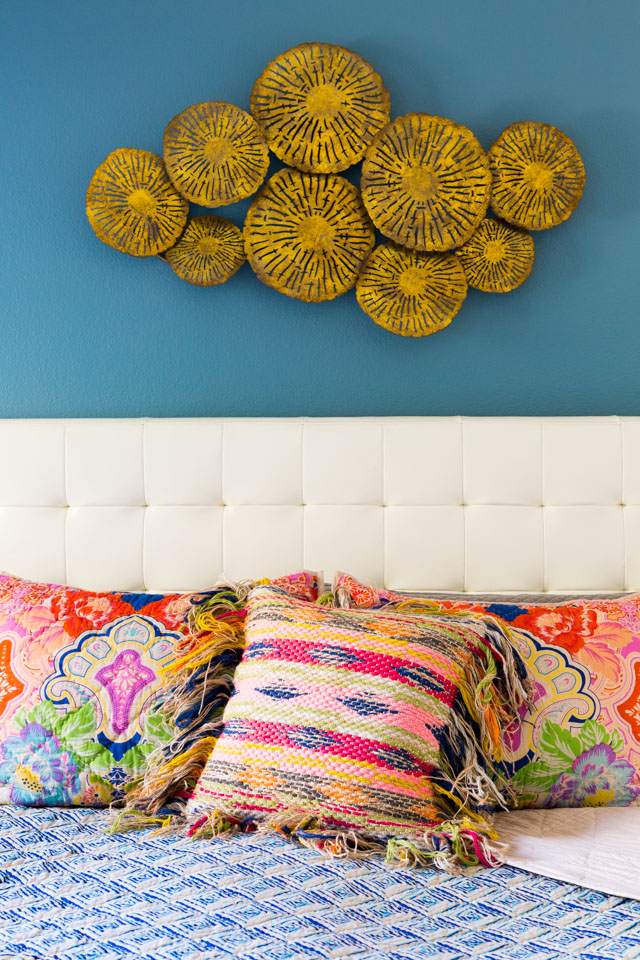 How to Decorate a Colorful Boho Bedroom
With the new year I've been yearning for even more color and pattern in my life! It is amazing how you can completely change the look of a bedroom by the bedding alone. While keeping the wall color, furniture, lamps, and rug the same I was able to transform our bedroom with bohemian decor into a colorful, cozy boho bedroom and chic oasis!

This post contains affiliate links. See our full disclosure.
Bohemian Bedroom Makeover – Before and After Photo
Check out the before and after photos of the room. We were able to keep the big pieces of our bedroom the same such as the bed, rug, and lamps. We just swapped in a few new pieces such as the comforter, bedding and accent pillows, and a new piece of wall art. What a difference it makes!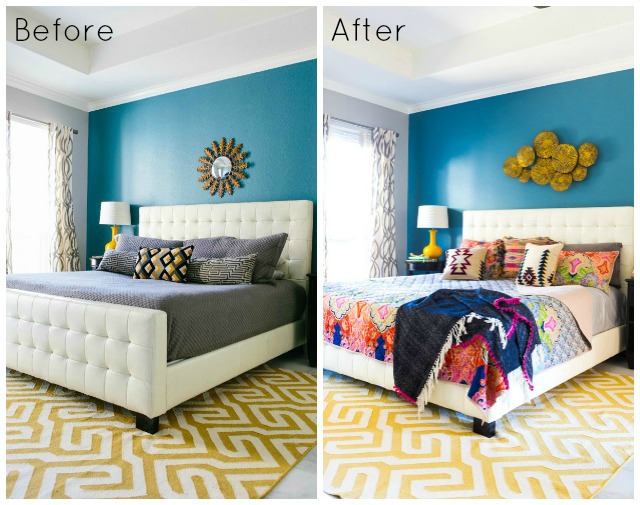 Even though I liked our master bedroom before, it had been that way for a few years and I was looking to mix up the style while keeping the furnishings the same. The bohemian quilt with its bold mix of colors and patterns was the first thing that caught my eye. The exact quilt I used is no longer available, but here is a similar boho quilt. The quilt was what inspired me to go from modern and streamlined to a more free-flowing bohemian look. Here are some simple ways to bring a bit of boho style to your bedroom:
5 Steps to a Colorful Boho Bedroom
1. Set the tone with a bold quilt or duvet
Bohemian, boho, or boho chic style – whatever you like to call it – can take on a variety of forms, but one thing you'll almost always find in a boho style bedroom is an eye-catching quilt or comforter on the bed. This is your chance to set the color palette for the room, so make it a bold one!
You can never have too many accent pillows in a boho bedroom! I layered in some wool kilim and aztec boucle fringe style pillows on my bed. Boho style allows you to mix designs from around the world, like the Turkish influences of the kilim pillows and the Southwest style of the boucle fringe pillow.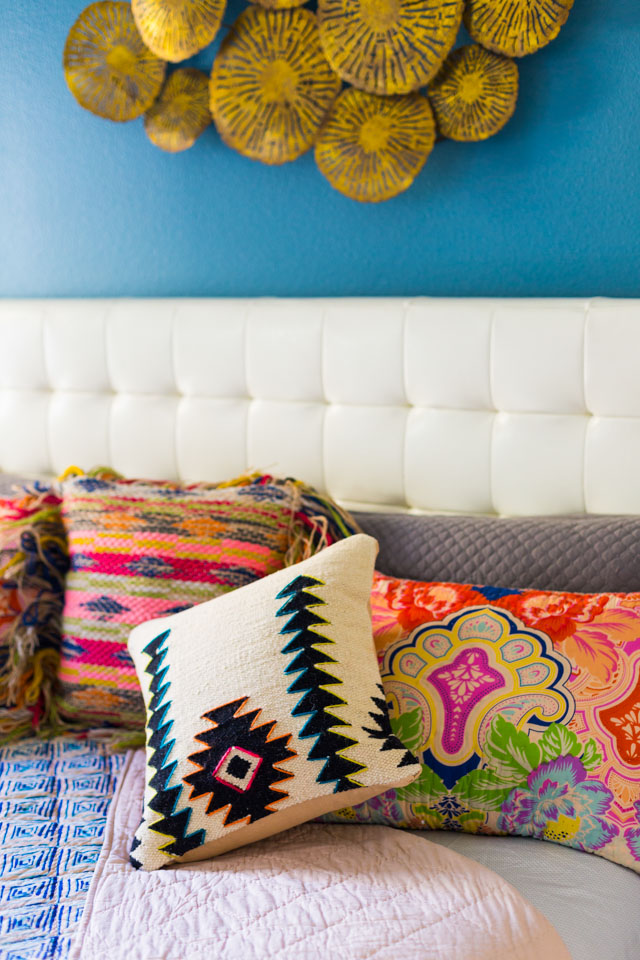 3. Incorporate a range of textures and patterns
The pillows are a great place to start experimenting with different textures and patterns, but you can also layer in a soft throw on the edge of the bed, a sculptural piece of art, or natural woven baskets. Our rug already had a bold pattern so I looked for bedding and pillow patterns that would play well with the rug. The trick to mixing patterns is varying the size of the pattern (such as the intricate floral pattern of the quilt paired with the big geometric pattern on the black & tan kilim pillows), but finding a way to tie them all together. I used a little DIY embroidery to help coordinate the pillows with the colorful bedding (see below!).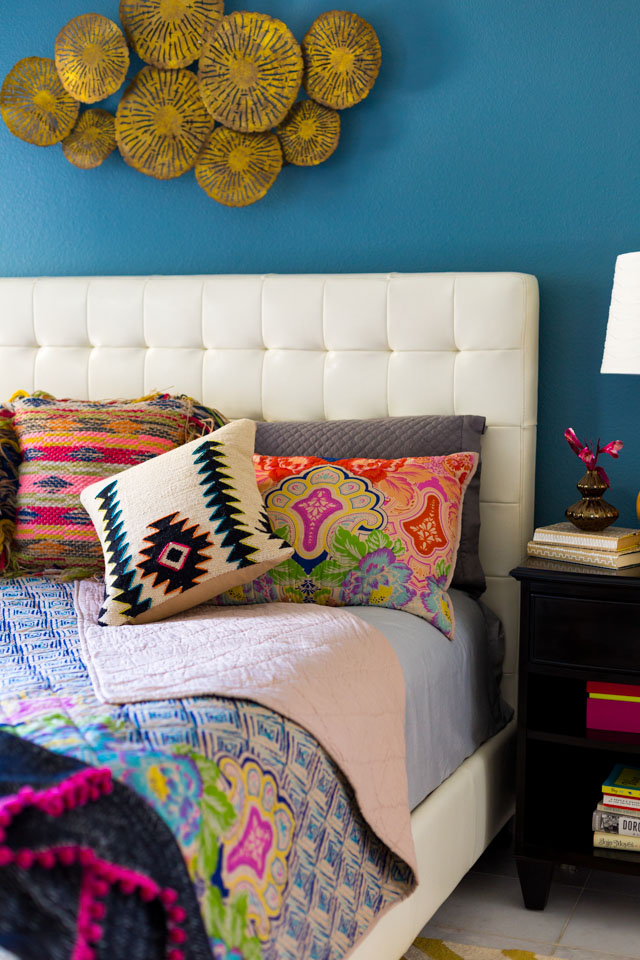 4. Add a DIY touch
There is a real eclectic, homespun feel to boho style so it is the perfect opportunity to incorporate some handmade elements. I had fun updating a couple of the Home Decorators pieces with a little Design Improvised flair! Remember, you don't have to sew a pillow from scratch, you can start with a great store-bought pillow and make it even better.
Embroider Pillows with Yarn
I updated the black and tan pillows by embroidering the edges of the design with colorful yarn: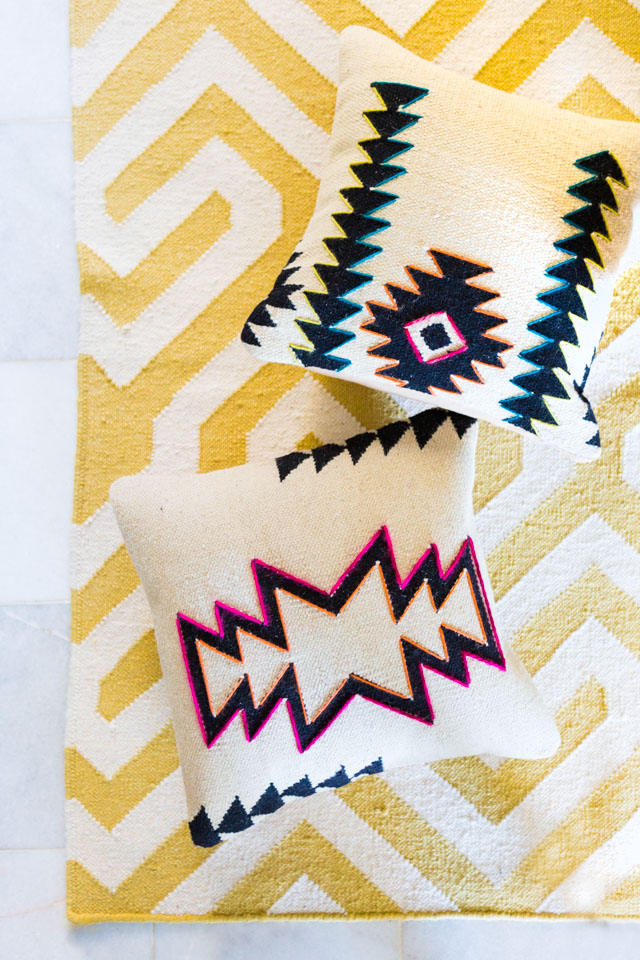 I'm no embroiderer, but this is as easy as it gets! Just remove the pillow insert and thread a length of yarn through a darning needle. Stitch around the design by making long stitches. So easy!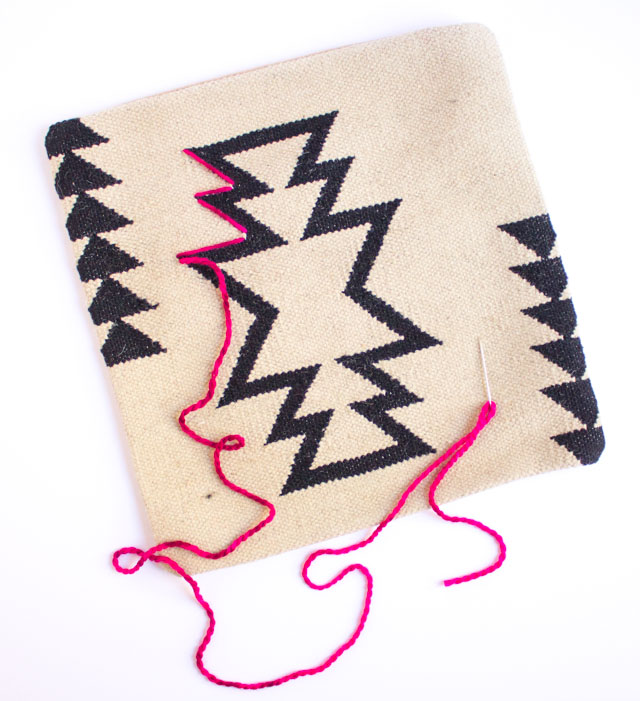 Add Pom-Pom Fringe to a Throw
I added a pop of color to a black herringbone throw by running a length of bright pink pom-pom fringe down the side!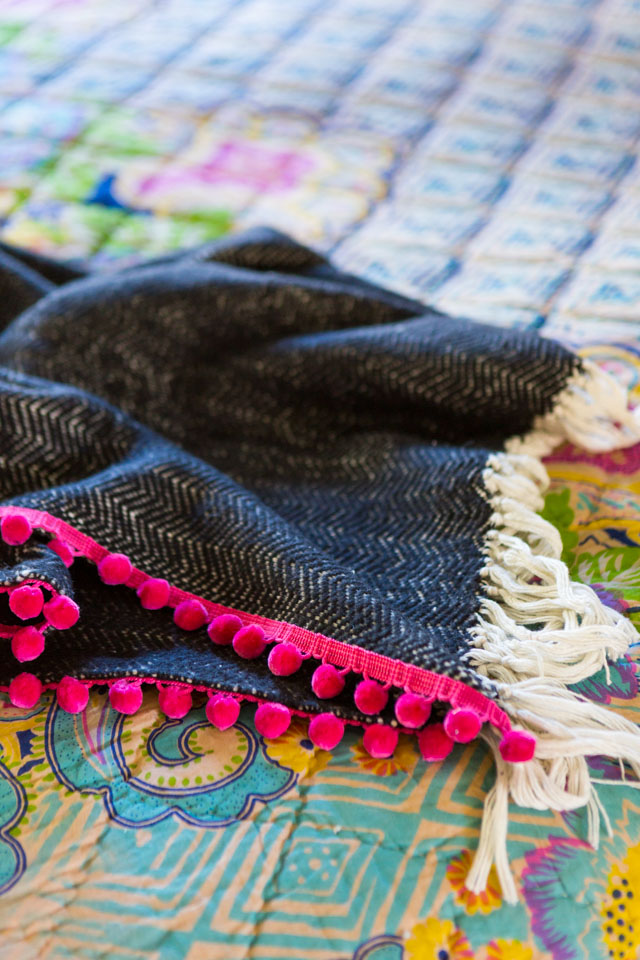 To add the fringe, I just ran a bead of fabric glue down the long edge of the throw and then pressed the fringe down into the glue as I went along. I repeated on the other long side of the throw and it worked great! If you have a sewing machine at home, you can also run a stitch through the trim.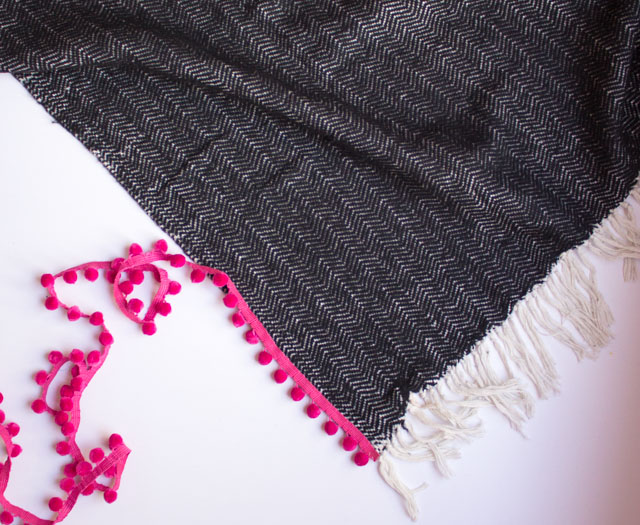 5. Mix in some warm metallics and a touch of nature
For a final touch I switched out our sunburst mirror for this pretty metallic wall sculpture. It has that global look that works well with the boho style.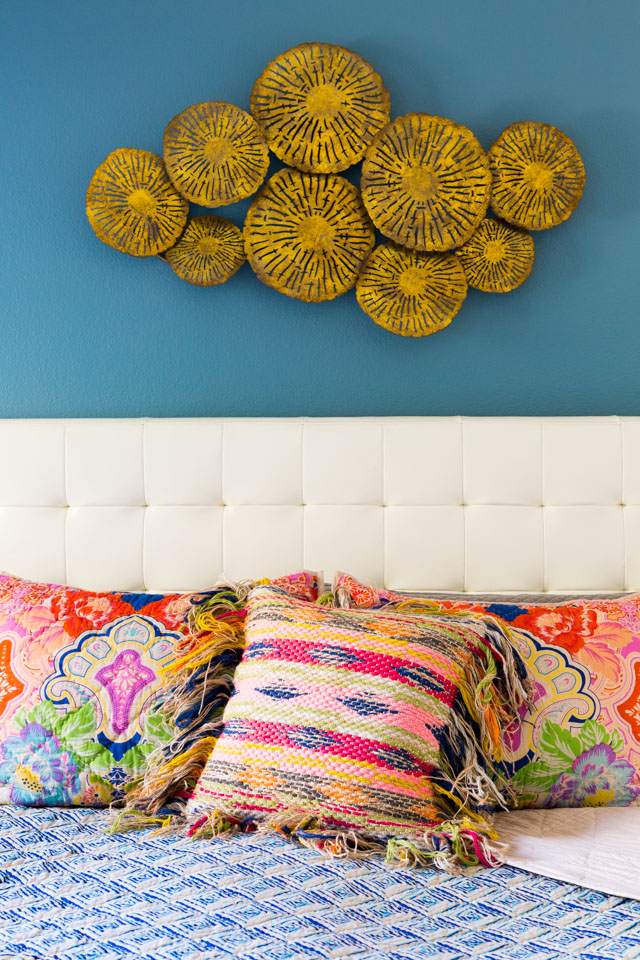 A touch of natural greenery – whether a couple overflowing houseplants or a vase of colorful flowers will always look at home in a boho room! These pretty vases are the perfect small size to put on a bedside table and come in a set of 5 different colors and sizes.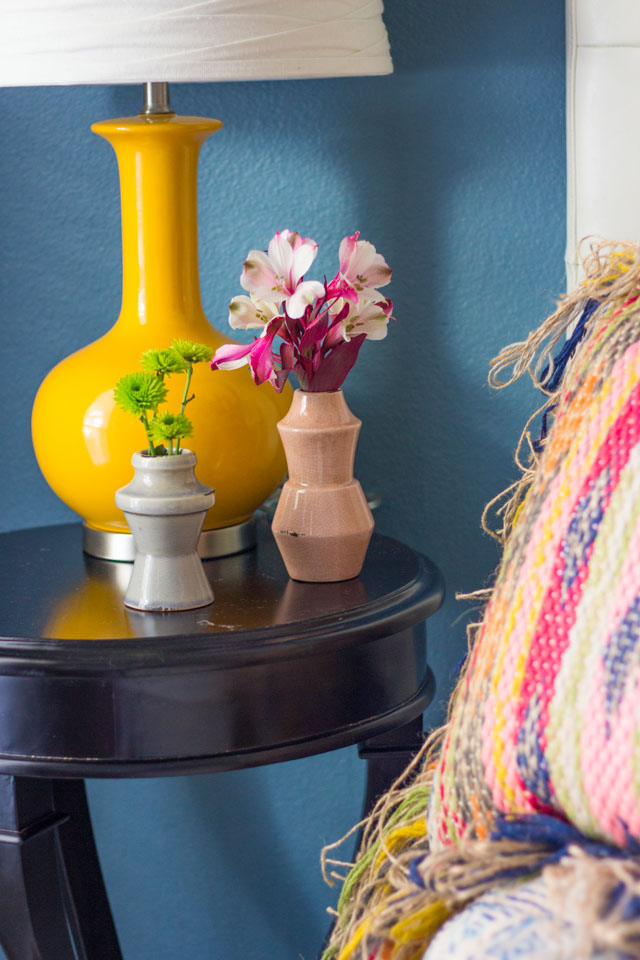 That's it! I officially accomplished adding a lot more pattern and color to our bedroom (and my husband was kind enough to go along with it!). If you're looking to change up your bedroom, start with the bedding first. You might be surprised just how different the space can look without investing in new furniture.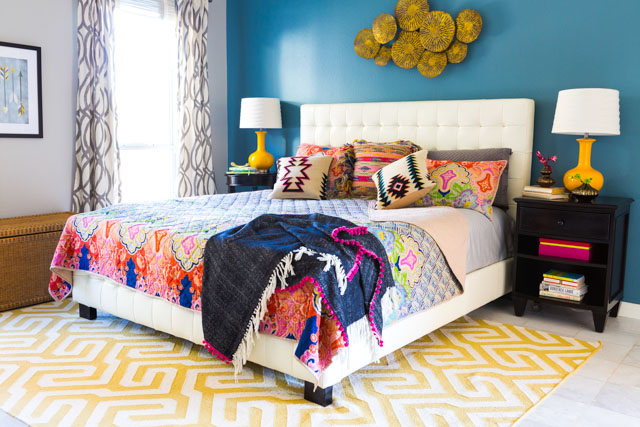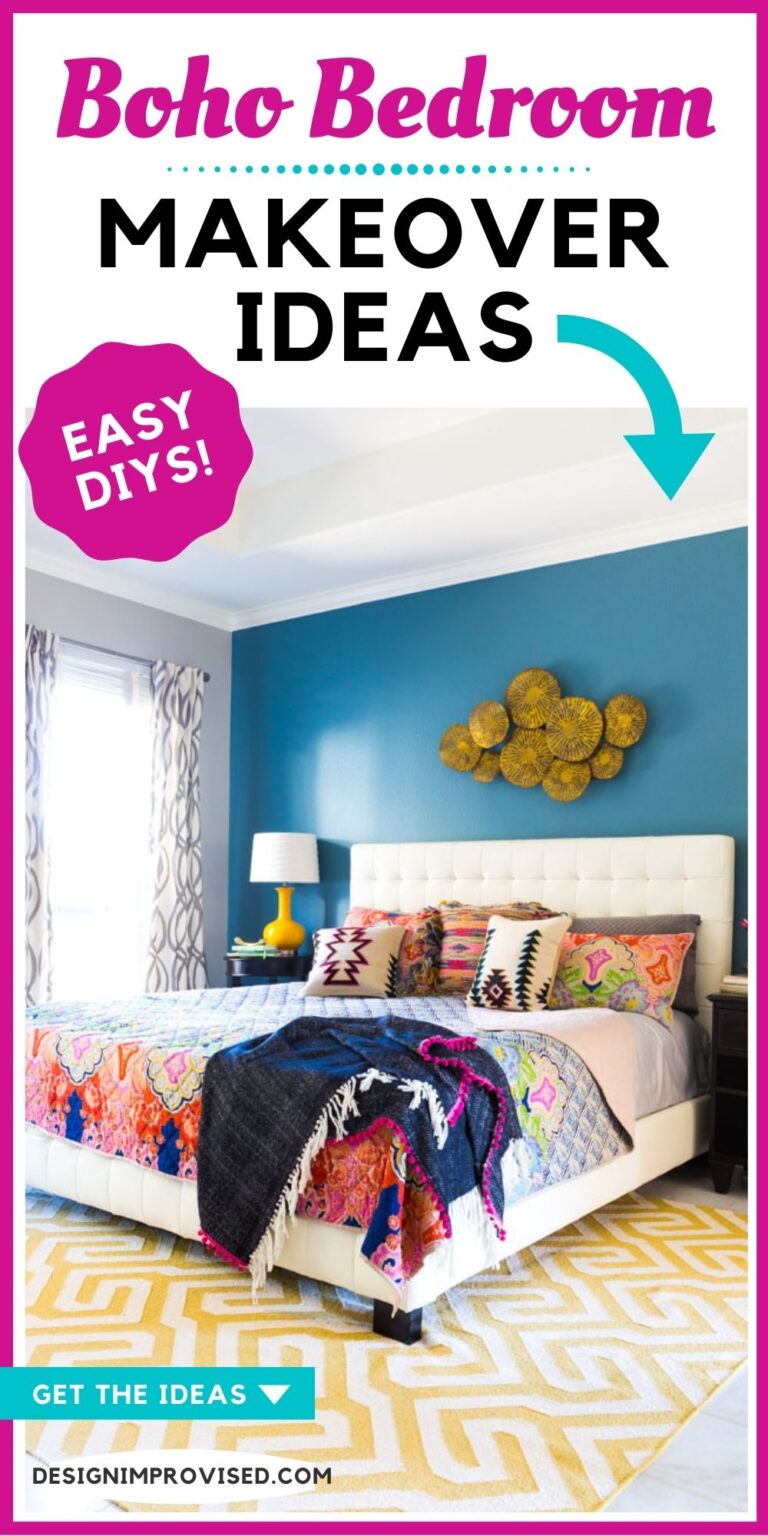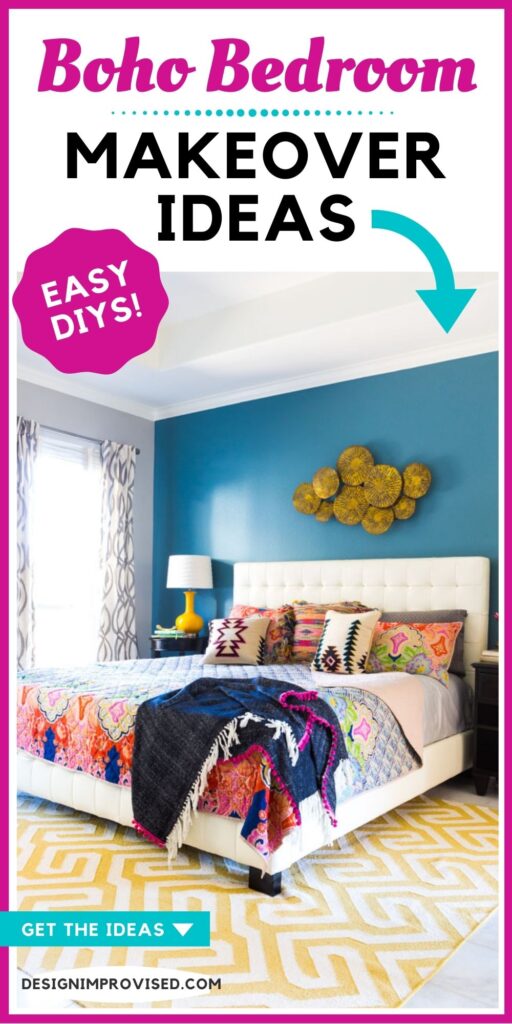 This post is sponsored by Home Decorators Collection. Photos by Candice Stringham.